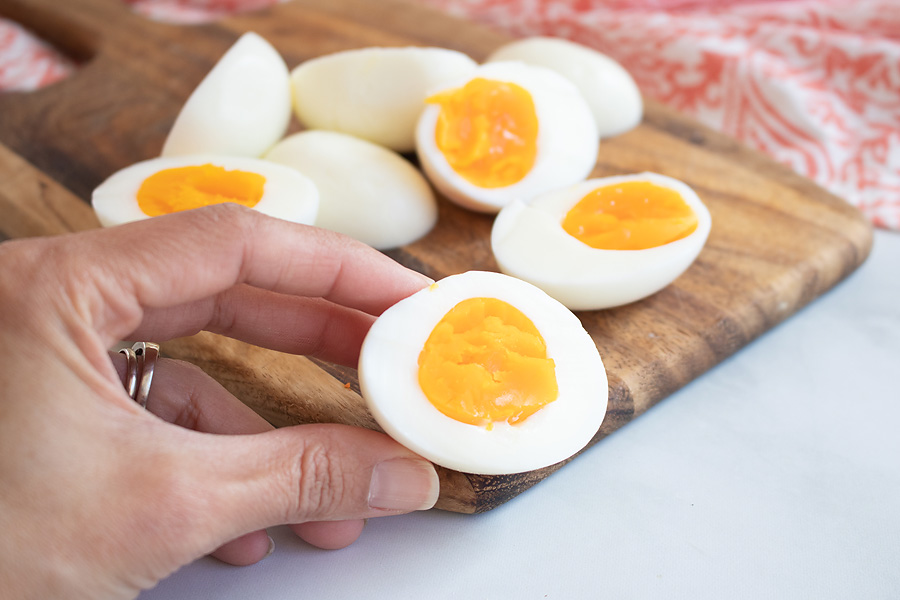 Ready for the greatest cooking secret of all time? That's right — cooking the perfect hard-boiled egg is maybe one of the most sought-after cooking skills on the planet. And now you have the perfect step-by-step guide to getting the perfect hard- or soft-boiled eggs using your Instant Pot, or other pressure cooker or slower cooker.
Hard-boiled eggs are the perfect snack food. They're loaded with protein, they easily fit into a bag, and they're incredibly satisfying. (Pro-tip: sprinkling some everything bagel seasoning on a hard-boiled egg and enjoy…)
The only problem is — how long do you hard boil eggs on a stovetop? Let them boil too long, and you have dry egg yolks, don't let them cook long enough, and you're drinking your eggs.
Using an Instant Pot pressure cooker takes the guesswork out of perfect hard-boiled eggs.
By pressure cooking, instead of boiling eggs on a stove, you save time, and you're guaranteed the consistency you're looking for.
This instant pot hard-boiled eggs recipe is:
Simple
No-hassle
Mess-free
Foolproof
The ingredients are: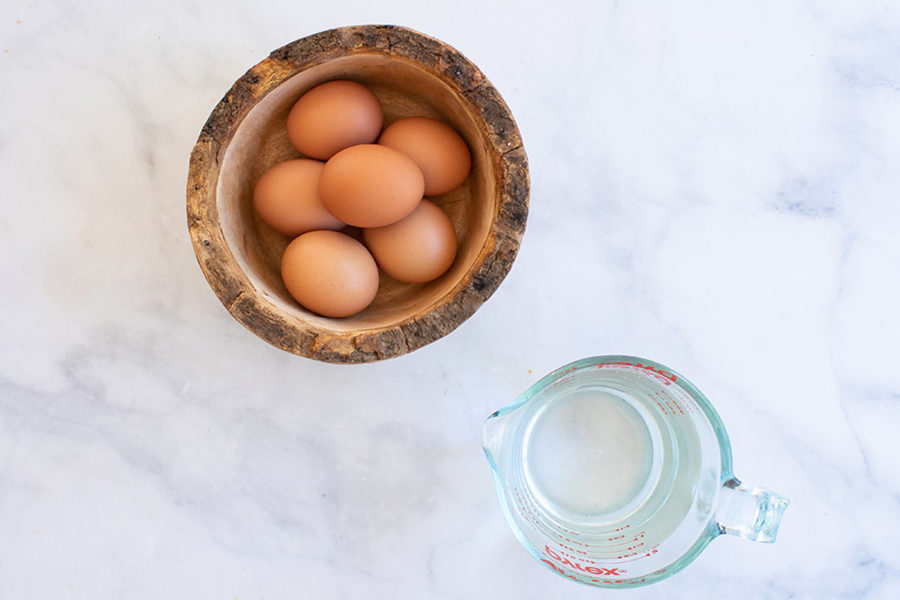 How to Make Instant Pot Hard Boiled Eggs
Instant Pots act just like an electric pressure cooker for cooking all your favorite foods in a fraction of the time. Don't let the process of cooking eggs get in the way of you enjoying this fantastic protein food.
Begin by placing a trivet (or egg rack) into the bottom of your Instant Pot, then place eggs onto the trivet and pour in water.
Replace the lid and close the Instant Pot, turning the seal into the lock position.
Cook on high pressure by pressing the manual button +5 minutes.
Meanwhile, prepare an ice-water bath by adding one cup of ice to a large bowl and also fill with one cup of water.
Once the eggs are done, remove the lid and pressure release slowly. Add the eggs to the prepared ice bath with tongs.  Let cool for 5 minutes, then peel your cooked eggs and make one of your favorite egg recipes like egg salad or deviled eggs.
Alternatively, leave them in their shell for a grab and go snack (or easter eggs!)
How to Enjoy Your Hard-Boiled Eggs
Hard-boiled eggs aren't just delicious and keto-friendly, they're also extremely versatile. Here are just a few ways to use your eggs, while keeping meals fresh.
On the go, with a bit of salt or everything bagel spice
Add chopped or whole to salads
Make your own egg salad with clean, keto-friendly ingredients. Enjoy on crisp leaves of lettuce or with some keto-friendly crackers.
Instant Pot Boiled Egg Cooking Tips
Lock your steam valve before pressure cooking (a common mistake!)
If your eggs are undercooked, check one by cracking it open, then put everything back into the pressure cooker for 3-5 more minutes.
To peel hard-boiled eggs, let them cool to room temperature, so you don't burn your hands. (These should peel perfectly)
Hard-boiled eggs keep in the refrigerator for up to one week.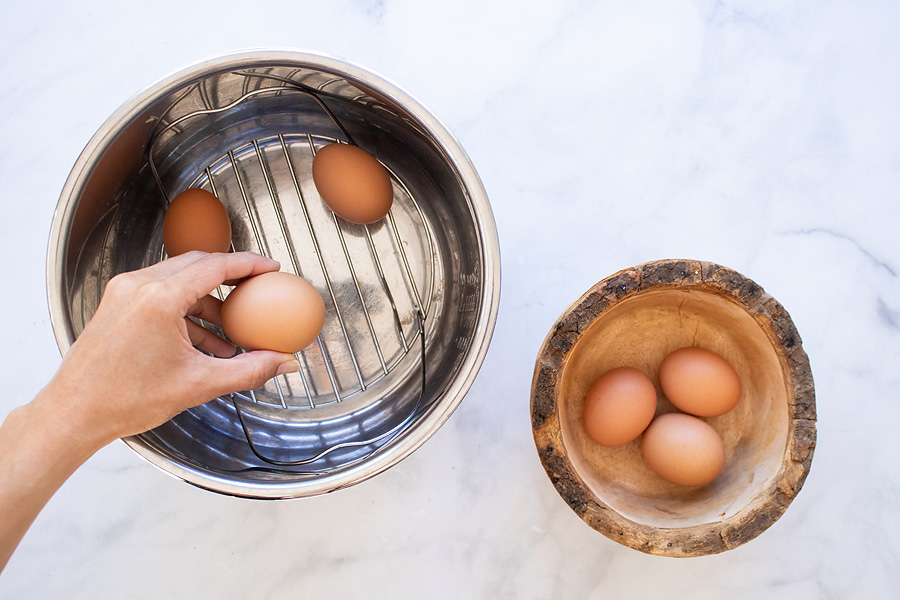 Health Benefits of Instant Pot Eggs
Protects Your Eyes
Eggs are a fantastic source of the phytonutrients lutein and zeaxanthin. These two nutrients, which can be found in yellow-colored plants like marigolds, and have an affinity for the retina of your eye.
In your eye, lutein and zeaxanthin act as antioxidants, protecting your eyes from the ever-pervasive blue light that you're exposed to from technology like computer screens.
Research shows that these nutrients can help combat eye diseases like cataracts and macular degeneration[*][*].
Excellent Source Of Protein
All animal products come packed with protein, but eggs take the cake when it comes to protein quality (especially egg whites).
That's because eggs not only contain all the amino acids your body needs in the correct proportions, but their bioavailability (the ability of your body to process and use them) is superior to most other protein-rich foods[*].
For this reason, eggs are considered the "gold standard" when it comes to protein-rich food sources.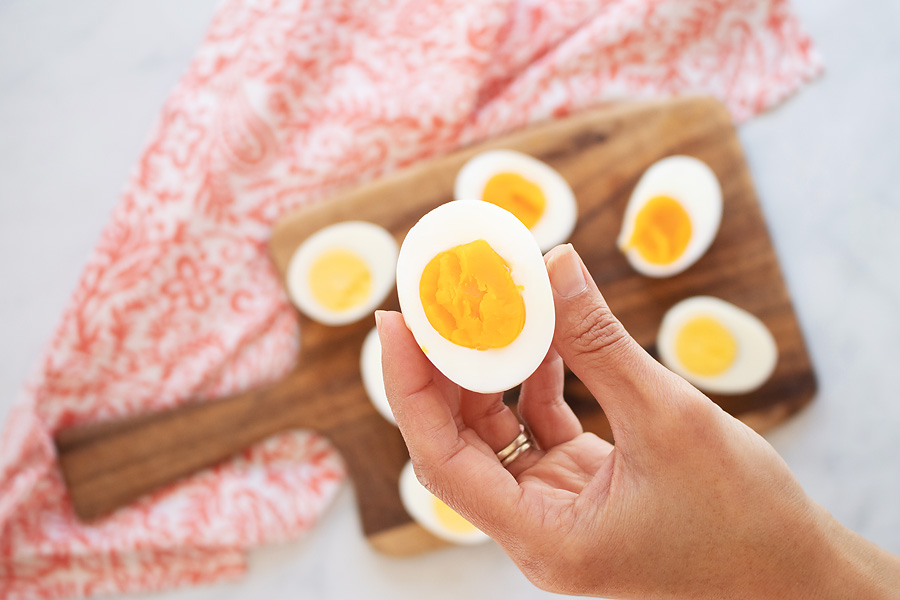 Print
How to Make the Perfect Instant Pot Hard Boiled Eggs
Author:
Cook Time:

15 minutes

Total Time:

15 minutes

Yield:

6

eggs

1

x
Instructions
Place the stainless steel trivet into the bottom of the Instant Pot, then add the eggs, and pour in water.

Replace lid and close Instant Pot.  Turn the seal into the lock position.

Cook on high pressure by pressing MANUAL +5 minutes. 

When the timer goes off, naturally release pressure for 5 minutes.

Prepare an ice bath by adding 1 cup of ice to a large bowl and also fill with 1 cup of water. Remove the lid and add eggs to the prepared ice bath.  Let cool for 5 minutes before peeling.
** Add 1-2 additional minutes of cooking time for firmer yolks **
Nutrition
Serving Size:

1 egg

Calories:

72

Fat:

5g

Carbohydrates:

0g

Protein:

6g
Keywords: instant pot hard-boiled eggs