Making the switch to a low carb or ketogenic diet may come off as a highly intimidating task, but it doesn't have to be. If you're struggling with the idea of giving up some of your favorite high carb foods, have no worries.
One of the easiest ways to transition to a low carb or keto diet is to simply find low carb substitutes to your favorite foods.
Seems easy enough, right?
You can find low carb alternatives for almost anything (seriously, check this out) — with crackers being no exception. Along with chips, crackers are one of the most popular side dishes and snacks out there today.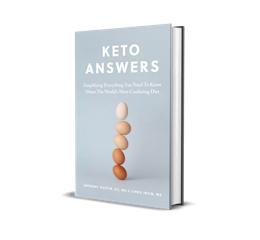 Keto Answers Book
Have a conversation with a leading keto doctor and keto researcher at your fingertips so you can feel better and keto with confidence.
Buy Now
Have you ever seen the cracker aisle? They even have their own shelf in the organics section of your average grocery store. That right there should tell you just how much Americans like their crackers.
And while finding a low carb or keto option for cracker is less challenging than before, making up your own low carb substitutes is one of the best ways to ensure you're staying within your macronutrient goals — and the abundant variety doesn't hurt, either.
What Are Crackers and Why Aren't They Low Carb Friendly?
Crackers are typically made out of flour, with different seasonings added into the dough to give them their unique flavors.
The word "cracker" is a fairly broad term, as they come in many different shapes and sizes. With their abundant versatility and ability to be eaten on their own or accompany a main dip dish, meats and cheeses, there's no wonder why they've become such a staple in diets all across the world today.
Crackers are even used as a palate cleanser in different food and drink tastings — meaning they are eaten for a purpose none other than cleansing the taste buds and preparing them for a new flavor.
Just imagine how high that carb count can reach, huh?
While crackers can largely differ when it comes to macro counts, they can average around 80 calories per every five crackers. These 80 calories include ten grams of net carbs, one gram of protein, and four grams of fat.
However, some crackers are placed into the "cookie" category — such as graham crackers and digestive biscuits. These tend to be sweeter options, with honey added into during their production. One serving of graham cracker (one large rectangle) makes up 60 total calories, including ten grams of net carbs, one gram of fat and one gram of protein.
While most crackers don't necessarily offer any health benefits, some crackers make the cut. Crackers made with multi-grains are abundant in vitamin B, iron and are a great source of fiber.
However, the question still remains — are crackers considered low carb or keto friendly?
While ten grams of net carbs per every five crackers isn't terrible, the flour that crackers are made up of are neither good for you or keto friendly. So, what are some low carb substitutes for crackers that will allow you to have more than a handfuls worth?
4 Low Carb Substitutes for Crackers
Sure, there are some great prepackaged, low carb cracker options out there today. However, the choices are limited and they can get a bit pricey.
To be able to have the ultimate side dish or crispy snack, you are better off making your own.
So, what are the best low carb substitutes for crackers? Some of these alternatives include:
#1: Cheese Crackers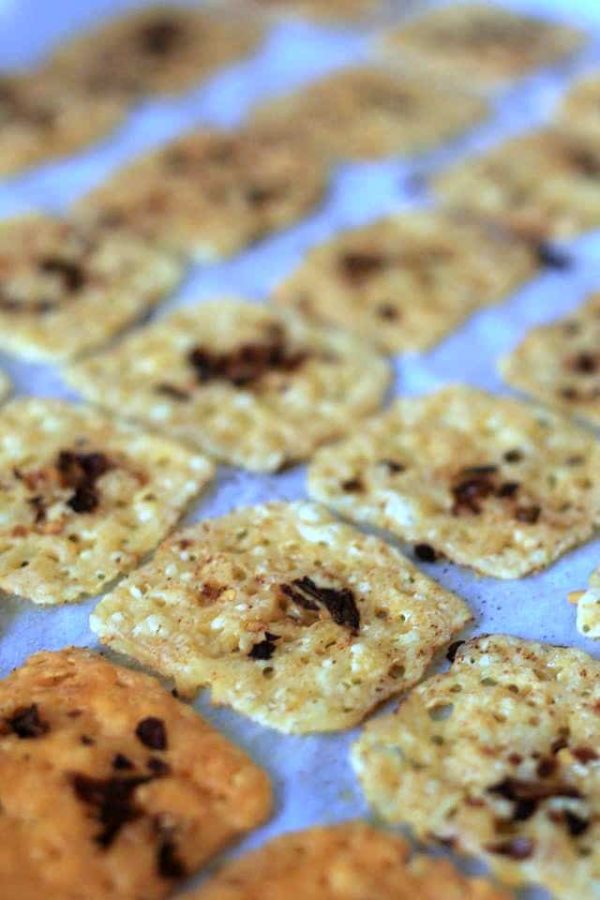 Image: Keto Friendly Cheese Crackers
Perhaps one of the most popular crackers out there today are the basic cheese crackers. Cheese crackers have the ability to go with almost any flavor or taste you can imagine. While your average cheese cracker can be a bit higher in carbs than you may like,luckily there are several simple recipes out there to make the ultimate low carb cheese cracker.
One f the easiest ways to make low carb cheese crackers includes only two ingredients — cheese slices and seasoning. Cheese slices can be found pre-sliced and packaged, or ordered from the deli counter at your local grocery store.
When it comes to seasoning, you can really use your own judgment, depending on if you plan on serving the crackers up with any other dips or flavors. Baking these cheese slices requires nothing more than placing the slices out on parchment paper, decorating them with your preferred seasonings and then baking them in the oven at 350 degrees for 20 to 25 minutes.
These keto friendly cheese crackers are the perfect low carb alternative, providing a total of 110 calories per one ounce. These calories include nine grams of healthy fats, one gram of net carbs and seven grams of protein.
#2: Sour Cream and Chives Crackers
Image: Sour Cream and Chive Crackers (Egg-Free)
If you're looking for a cracker that is fit to snack on all by itself, sour cream and chive crackers are the way to go. With their intense flavor and easy-to-follow directions, you'll be able to whip these crackers up in no time. Besides being a tasty treat, these crackers are sure to keep you in ketosis with this particular low-carb friendly recipe.
The ingredients needed to make these sour cream and chive crackers include two cups of almond flour, chives, two and a half ounces of full fat sour cream and garlic powder. Sure, two and a half ounces of sour cream may seem a little intimidating for individuals new to a ketogenic diet. But for keto veterans, the benefits of full fat sour cream are too good to ignore. Some of these benefits include being jam-packed with vitamins and minerals. Some of these key compounds include vitamin A, vitamin C, vitamin E, vitamin K, thiamin, riboflavin, folate, pantothenic acid, calcium, iron, magnesium, phosphorus, potassium, sodium and zinc.
Who knew crackers could provide so many health benefits?
If you're making a big batch of 80 crackers, get ready to be amazed by the macro count. One cracker is 19 calories, with only less than half of one gram of net carbs, one and a half grams of fat and less than one gram of protein.
Have you ever heard of a cracker being practically carb free?
While the macronutrients are what make these crackers a great low carb substitute, the easy preparation doesn't hurt either. All you have to do is combine all the ingredients together and spread them out onto a baking sheet, set the oven at 250 degrees and leave them to bake for 50 to 60 minutes.
#3: Rosemary Parmesan Chia Seed Crackers
Image: Rosemary Parmesan Chia Seed Crackers
Looking for another low carb cracker alternative that comes packed with as much flavor as they do nutritional value? These crackers have some ingredients you may not typically expect to see in a cracker. These low carb crunchy bites include raw sunflower seeds, chia seeds, parmesan cheese, egg, grass-fed butter and fresh garlic powder.
Sunflower seeds have been a common snack for some time now, but what makes them so great? Some of their health benefits include their ability to improve skin health, blood sugar and cholesterol levels, thyroid function and even help reduce the risk of heart disease.
In order to make these bad boys all you have to do is grind up the sunflower and chia seeds and then combine the rest of the ingredients until it comes to a dough-like consistency. Roll the dough out onto parchment paper and bake for 40 to 45 minutes at 300 degrees. These low carb cracker substitutes turn out to about 18 grams of fat, two grams of net carbs and eight grams of protein per four crackers. With only two grams of net carbs you are guaranteed to maintain ketosis while still getting a decent amount of protein as well.
#4: Almond Flour Crackers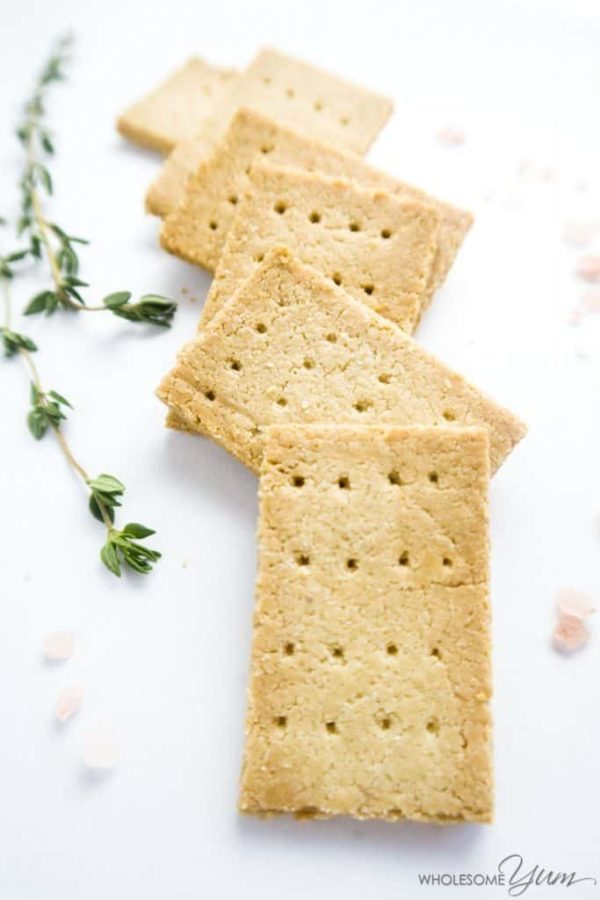 Image: 3-Ingredient Paleo Crackers
Maybe you're looking for a cracker with less flavor, that has more versatility like the traditional Ritz cracker. With only three ingredients, this low carb cracker alternative is perfect to create with any dips or seasonings of your preference. Along with being a great low carb flour substitute, almond flour is loaded with health benefits — providing you with quality nutrients while ensuring you stay in ketosis.
Almond flour is lower in both carbs and fiber in comparison to coconut flour. It also has the ability to improve the health and overall function of your heart along with helping improve cholesterol and blood sugar levels, and improving overall energy levels as well.
To make your own low carb almond flour crackers, all you need is one egg, sea salt and, you guessed it, two cups of almond flour. Mix all the ingredients to create a dough consistency, roll it onto parchment paper and cut it into rectangles. Once you do that, place them into the oven to bake for eight to twelve minutes at 350 degrees. Five crackers make up a total of 226 calories, including 19 grams of fat, four grams of net carbs and nine grams of protein.
Are you stressing about starting a low carb or ketogenic diet but worry you won't be able to have your favorite crackers and dip? No need to worry. With the abundant choices of low carb cracker substitutes out there today, you'll never need to worry about being at a loss for your favorite appetizing snack.