Making the switch to a low-carb or ketogenic diet may seem intimidating, but it doesn't have to be. One of the easiest ways to transition to a low-carb or keto diet is to simply find low-carb substitutes to your favorite foods. (Hello, keto crackers.)
You can find low-carb alternatives for almost anything, and crackers are no exception. Along with chips, crackers are one of the most popular appetizers and snacks. 
And while finding keto-friendly crackers is less challenging than before, making your own keto crackers is one of the best ways to ensure you stay within your macronutrient goals.
Why Aren't Crackers Low-Carb Friendly?
While crackers can largely differ when it comes to macro counts, they can average around 80 calories per every five crackers. These 80 calories include around 10 grams of net carbs, 1 gram of protein, and 4 grams of fat[*]. 
However, some crackers are placed into the "cookie" category — such as graham crackers, and digestive biscuits. These tend to be sweeter options, with honey added during production. 
One serving of graham crackers (one large rectangle) makes up 60 total calories, including 10 grams of net carbs, 1 gram of fat, and 1 gram of protein[*].
While most crackers don't necessarily offer any health benefits, some crackers make the cut. Crackers made with multi-grains are abundant in vitamin B, iron, and are a great source of fiber[*]. 
However, the question still remains — are crackers considered low-carb or keto-friendly? 
While 10 grams of net carbs per every five crackers isn't terrible, the flour crackers are made of is neither good for you or keto-friendly. 
4 Low-Carb Substitutes for Crackers
Sure, you can find prepackaged, low-carb cracker options at your local market. However, the choices are limited, and they can get a bit pricey. For the ultimate side dish or crispy snack, you are better off making your own. 
Here are four easy recipes to create your own keto crackers:
#1: Cheese Crackers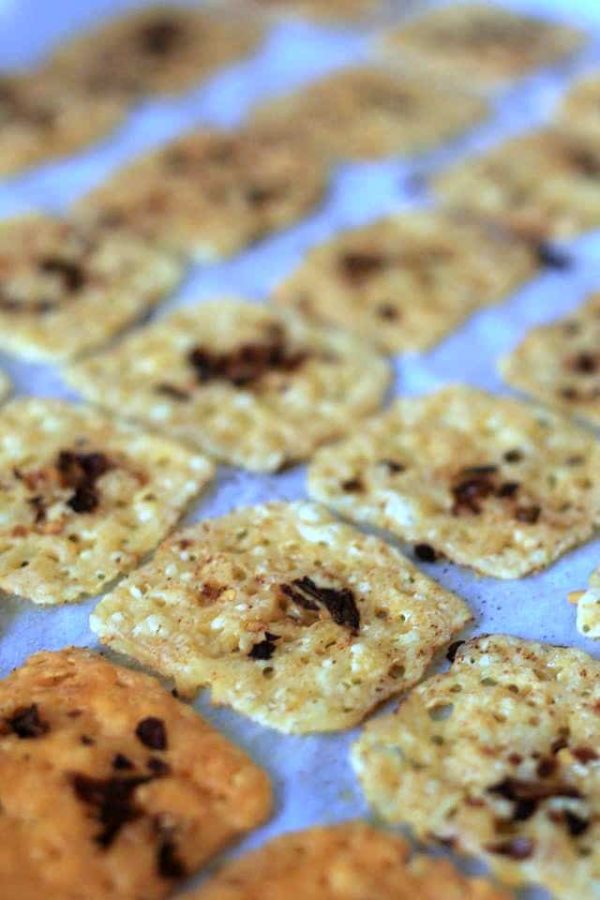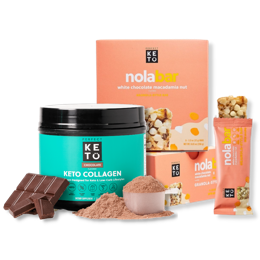 Browse our curated collection of fan-favorites and discover your new favorite snack or supplement.
Shop Best Sellers
Image: Keto Friendly Cheese Crackers
One of the most popular crackers available is the basic cheese cracker. This sugar-free cracker can go with almost any flavor or taste you can imagine. While your average cheese cracker can be higher in carbs, there are several simple recipes to make the ultimate low-carb cheese cracker. 
One of the easiest ways to make these gluten-free and grain-free crackers is to use only two ingredients — cheese slices and seasoning. Cheese slices can be found pre-sliced and packaged, or you can order them from the deli counter at your local grocery store. Cheddar cheese is one of the best options for this recipe.
When it comes to seasoning, you can really use your own judgment, depending on what other dips or flavors you plan to serve. Black pepper, oregano, and thyme are yummy choices.
Instructions: 
Place the cheese slices on parchment paper, and sprinkle them with your preferred seasonings.

Bake them in the oven at 350°F for 20 to 25 minutes. 
This keto-friendly appetizer is the perfect low-carb alternative, providing a total of 110 calories per 1-ounce serving. These calories include 9 grams of healthy fats, 1 gram of net carbs, and 7 grams of protein. 
#2: Sour Cream and Chives Crackers
Image: Sour Cream and Chive Crackers
If you're looking for a cracker which is perfect for snacking by itself, sour cream and chive crackers are the way to go. With their intense flavors and easy-to-follow directions, you'll be able to whip these crackers up in no time. Besides being a tasty treat, these crackers are sure to keep you in ketosis.
The ingredients for these sour cream and chive crackers include:
2 cups of almond flour 

Chives 

2 1/2 ounces of full-fat sour cream 

Garlic powder
Instructions:
Combine all the ingredients together, spread them onto a baking sheet with a rolling pin, and slice them using a pizza cutter. 

Set the oven at 250°F, and leave them to bake for a total time of 50 to 60 minutes or until golden brown. 

Remove them from the oven, cool them to room temperature, and break them.
Two and a half ounces of sour cream may seem intimidating for individuals new to a ketogenic diet. But for keto veterans, the benefits of full-fat sour cream are too good to ignore. 
Some of these benefits include being jam-packed with vitamins and minerals. Some of these key compounds include vitamin A, vitamin C, vitamin E, vitamin K, iron, magnesium, zinc, and more[*]. 
If you're making a batch of 80 crackers, get ready to be amazed by the nutrition facts. One cracker is 19 calories, with less than 0.5 grams of net carbs, 1.5 grams of fat, and less than 1 gram of protein. 
Store them in an airtight container to keep them crispy and fresh for longer. These crackers can be paired with mozzarella, cream cheese, or your favorite spread.
#3: Rosemary Parmesan Chia Seed Crackers
Image: Rosemary Parmesan Chia Seed Crackers
If you're looking for another low-carb snack packed with both flavor and nutritional value, these crackers are the real deal. They're made with ingredients you may not expect to see in a cracker.
These low-carb, crunchy bites include:
Raw sunflower seeds 

Chia seeds

Parmesan cheese

Egg 

Grass-fed butter

Fresh garlic powder 
Sunflower seeds have been a popular snack for years because of their immense health benefits, including the ability to improve skin health, blood sugar, cholesterol levels, thyroid function, and even help reduce the risk of heart disease[*]. 
Instructions:
Grind the sunflower and chia seeds.

Combine the rest of the ingredients until you get a dough-like consistency. 

Roll the dough onto parchment paper or cookie sheet, cut it into squares, and bake for 40 to 45 minutes at 300°F. 
These keto crackers deliver about 18 grams of fat, 2 grams of net carbs, and 8 grams of protein per 4 crackers. With only 2 grams of net carbs, you are guaranteed to maintain ketosis while still getting a decent amount of protein. 
If you'd like to mix things up, substitute the sunflower and chia seeds for sesame seeds and flax seeds, or sprinkle with poppy seeds.
#4: Almond Flour Crackers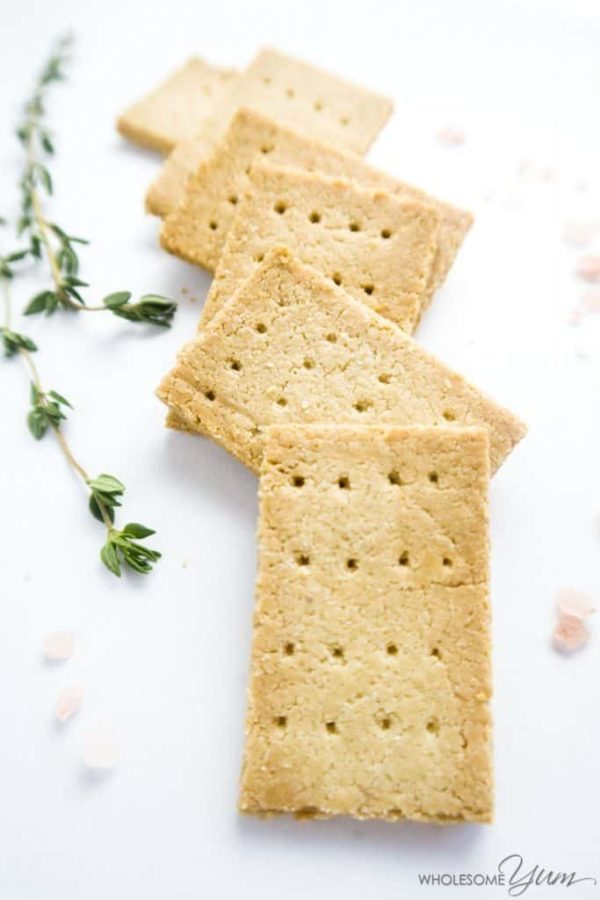 Image: 3-Ingredient Paleo Crackers
Maybe you're looking for a cracker with less flavor and more versatility, like the traditional Ritz cracker. 
With only three ingredients, these keto crackers are perfect with dips or seasonings. Along with being a great low-carb flour substitute, almond meal is loaded with health benefits — providing you with quality nutrients while keeping you in ketosis. 
Compared to coconut flour, almond flour is lower in carbs and fiber. It also has the ability to improve the health and overall function of your heart, along with promoting better cholesterol and blood sugar levels and increasing overall energy levels [*][*][*]. 
To make your own low-carb almond flour crackers, all you need is:
1 large egg 

Sea salt 

2 cups of fine almond flour
Five crackers make up a total of 226 calories, including 19 grams of fat, 4 grams of net carbs, and 9 grams of protein. It's delicious, and you don't have to worry about the carb count.
Instructions: 
Mix all the ingredients to create a dough-like consistency. 

Roll it onto a piece of parchment, and cut it into rectangles. 

Place them into the oven to bake for 8-12 minutes at 350°F.
These keto-friendly, paleo crackers recipe will easily become one of your go-to low-carb recipes and a staple on your ketogenic meal plan.
Keto Crackers: A Great Low-Carb Snack
When you transition to a ketogenic diet, you don't have to give up your favorite snacks. With a few smart swaps and substitutions, you can continue eating your treats without worrying about getting kicked out of ketosis. With the abundant choices of low-carb-cracker substitutes, you'll never be without your favorite appetizing snack.
For dips and spreads inspiration, check out these recipes: 
For the best low-carb snacks and keto recipes, consider looking at these articles: