Whether you're having a busy week at work or feeling uninspired in the kitchen, there are times you might find yourself ordering more takeout than others (quarantine, anyone?). But ordering from your favorite restaurant doesn't have to get in the way of your health goals. In fact, there are several ways you can turn your restaurant order into a healthy takeout option.
Because most menus are packed with carbs, calories, sugar, sodium, and other unwanted additives, we'll first explore some keto swaps for common ingredients like bread and fried foods.
Then, we'll dive into some of your favorite chains to identify healthier options that also keep you in ketosis (no more plain brown rice and bland chicken breast to stay healthy).
How to Order Healthy Takeout (And Stay Keto) 
Whether you're ordering Chinese, Mexican, or Greek… whether you're browsing the menus of a fast food chain like Wendy's or McDonald's, there are a few easy swaps that you can always use to keep carbs and calories a bit lower.
Swap Bread for More Veggies
Carbs are hard to avoid. From sandwiches, subs, burgers, tacos, and wraps, you're bound to come across a massive amount of carbs when you're ordering takeout.
Luckily, most restaurants are getting used to easy veggie swaps. For instance, wraps and sandwich bread are easily swapped for collard greens or lettuce wraps. Burritos can be put in bowls and some chains are even offering cauliflower rice as an alternative to the real thing.
You can also make a salad bowl for a burrito, burger, or taco. This would be a great hack at Chipotle, where you can build a salad bowl, or at Taco Bell or a Mexican food fast joint, as well.
Even things like flatbread and thin-crust pizzas pack an enormous punch when it comes to carbs, so it's best to avoid those altogether.
Avoid "Fried" and Go for "Grilled" Meat and Fish
If you get fried chicken, there is likely a high amount of carbs due to the breading and cooking technique. You can make your own fried chicken at home in a keto-friendly way, but major chains won't do that themselves!
Instead, always opt for grilled or roasted meat and fish. Avoid breading of any kind (even gluten-free) and opt for glazes and gravies on the side. Even certain marinades can come packed with sugar, so be aware of hidden carbs.
Get Sushi in a Veggie Wrap or Sashimi
Sushi and other Japanese dishes like miso soup can be a great healthy option for takeout, but you'll have to avoid the rice if you want to stay in ketosis. Instead, you can ask if it's possible to replace the rice with greens in your sushi. Or opt for some spicy tuna on a bed of greens.
Fresh sashimi is also a great option, packed with healthy fats and protein. Omega-3 fats in fish also help lower inflammation and protect the heart[*].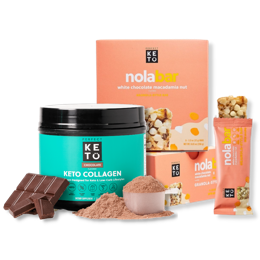 Browse our curated collection of fan-favorites and discover your new favorite snack or supplement.
Shop Best Sellers
Ditch Dressings and Sauces for Olive Oil
Not only do dressings tack on calories for a fresh salad, but they can be higher in carbs, sodium, and sugar, which is not keto-friendly.
So, instead, keep that salad a healthy takeout option by swapping out the dressing for olive oil, some salt, pepper, and a squeeze of lemon. This is light and refreshing, and the olive oil also provides some healthy monounsaturated fat. Be careful with certain kinds of vinegar like balsamic. Even these can come with an extra dose of sugar you don't need.
Plus, according to studies on the Mediterranean Diet[*], olive oil may also help lower inflammation, promote heart health, and boost longevity.
Avoid Certain Terms
Nuts are a great option for the keto diet since they're packed with healthy fats, protein, and naturally low in carbs.
But "candied pecans," "maple-glazed walnuts," and other sweetened nuts are packed with sugar and added carbs.
Avoid terms like:
Honeyed
Sweetened
Glazed
Candied
Crunchy
Crispy
Toasted
Breaded
And any other term that suggests added sugar, carbs, and bad fats.
Popular Healthy Takeout Options
Ordering healthy takeout doesn't have to be complicated. If you find yourself stuck inside with only delivery options available, your best bet is to stick with low-carb, low-calorie options. Avoid fried food and get all dressings, toppings, and gravy on the side.
Fresh, whole foods are always best, but there's definitely a time and a place for some takeout.
But remember: calories still matter on a keto diet. So, even though healthy fats are recommended, it's important to watch how much you're eating as well as sticking to your macros.
McDonald's
Try the McDonald's Bacon Ranch Grilled Chicken Salad with guacamole for a boost of fat and flavor as a great lunch option.
For breakfast, each popular breakfast sandwich has about 29 grams of carbs, but ordering without the muffin will take the carb content to 2 grams or fewer. If you order two of them and ditch the muffin, you can get around 12 grams of protein, and without the carbs.
Always avoid the french fries and opt for double the lean protein on your salad, or more guac to help fill you up.
Taco Bell
Order the Grande Scrambler in a bowl without the tortilla wrap to ditch the carbs. It is an easy fix and you will get some great protein from the eggs. In a pinch, you might also be able to turn the burritos into low-carb salads, ditching the rice and beans and leaving the dressing on the side.
Fajitas are always a good option at any Mexican restaurant. Just add them to a bed of lettuce with some cheddar cheese and guacamole and you're all set.
Panera Bread
Get the Caesar Salad With Chicken. Just say no to the croutons, as those are made with bread and are not keto-approved.
And while breakfast is tricky, you can get The Power Breakfast Egg Bowl with Steak which has steak, tomatoes, avocado, and two eggs. It has just 5 grams of carbs and 20 grams of protein.
Or go with The Power Breakfast Egg White Bowl with Turkey, which contains egg whites, spinach, bell peppers, and basil and comes in at just 7 grams of carbs and 25 grams of protein.
Chipotle
You can order most burrito bowls as keto-friendly since you just add in meat, greens, avocado, pico de gallo, and sour cream. But you can also order the Keto Salad Bowl, which is now on the menu.
A salad with meat or chicken (or you can combine), some grilled vegetables, and guacamole has about 14 grams of total carbs, 8 of which are fiber, to make the net grams lower. Plus, you will get around 30 grams of protein to boost satiety.
Starbucks
Low-carb options at Starbucks are possible. They have snacks like popcorn and nuts, plus some keto-friendly egg bites (that also happen to be delicious).
When it comes to ordering coffee at Starbucks, things can get a little more complicated. Make sure to avoid all syrups and whipped cream. Non-fat and low-fat milk (and most nut milks) can also have hidden carbs, so black coffee and coffee with heavy cream are your best options.
Subway or Jersey Mike's
You can order a "sub in a tub" where you ditch the sub (the bread) and swap for salad greens for a salad bowl, and you can save up to 40 grams of carbs in the meal.
Instead, or a turkey and provolone, a California sub, a chicken salad, or club supreme but in a tub to make it under 10 grams of carbs or fewer.
At Subway, try the Double Chicken Chopped Salad with avocado, which has 10 grams of total carbs, 4 grams of fiber, and 36 grams of protein.
Kentucky Fried Chicken
Fried chicken can have around 8–11 grams of carbs per medium-size piece. Whereas grilled chicken has fewer than 1 gram of carbs per piece.
As for side dishes, green beans contain 2 grams of net carbs per serving and are by far the best option. Coleslaw is next, at 10 grams of digestible carbs.
Arby's
Basically any sandwich can be keto without the bread or sweet sauces. Just get it without the bread. For instance, the Smokehouse Brisket with Gouda cheese, a bit of sauce, and a side salad will take you back a mere 5 grams of carbs. Plus, it contains 32 grams of protein to fill you up.
Or get the Roast Turkey Farmhouse Salad, made with turkey, bacon, cheese, mixed greens, and tomatoes, since it has only 8 grams of carbs, 2 gram of fiber, and 22 grams of protein.
Ordering Healthy Takeout
Eating out isn't always the best option if you're trying to lose weight or just stay healthy. Most restaurants (especially fast-food chains) pack their entrees with extra calories, unhealthy fats, and tons of hidden carbs.
But in a day and age when takeout might be the only option, having healthy alternatives is a must. Always opt for veggies instead of bread and tortillas. And double up on lean protein and healthy fats to keep you full.
For more keto-friendly fast food options, check out this article.