You've likely been hearing about low-carb dieting for some time now. People often boast about the health benefits — balanced blood sugar levels, weight loss, lowered blood pressure, and more.
If you're thinking about dipping a toe into the low-carb pool, you're in the right place. Although it may sound intimidating at first, a high-fat, high-protein, low-carb diet is actually a lot easier to follow than you might think.
Depending on where you're starting from with your carb intake, you could need to do a bit of diet overhaul, or perhaps you just need a few adjustments.
Regardless of your starting point, having some tools to rely on will make following a low-carb diet much easier.
This article outlines what a low-carb meal plan can look like, including low-carb recipes and food lists. You may be surprised by the multitude of food choices available to you.
Low-Carb Eating: A Refresher
What Is Low-Carb?
Many people mistake a low-carb diet for a ketogenic diet. While all keto diets are low-carb, some low-carb diets still include too many carbs to be considered keto.
For instance, the Institute of Medicine suggests that carbohydrate intake falls between 45% and 65% of your diet[*]. Therefore, anything below that 45% range could be considered low-carb.
If you look at that from a calorie standpoint, for someone who consumes 2000 calories a day, 40% of which are carbs, that would be 800 calories a day from carbs. From a grams perspective that's 200 grams of carbs a day — well over the keto limit.
While there aren't any hard and fast rules as to what is considered low-carb, keto has one indisputable hallmark — ketosis. If you're eating enough carbs to prevent your body from entering a state of ketosis, then you're not eating a keto diet.
The number of carbs that you can eat while still being able to attain ketosis varies from person to person but is typically below 50 grams.
For some people, eating over 50 grams of total carbs a day will kick them right out of ketosis. For others, however, a net carb count of 50 grams or more may be fine. You'll need to troubleshoot for yourself to figure out what your daily carb threshold is.
For a more in-depth explanation of the difference between low-carb and keto, check out Low Carb Vs. Keto: What's The Difference ad Why It Matters.
For the purpose of this article, all the low-carb suggestions are designed to help you achieve a state of ketosis.
What To Eat On a Low-Carb Diet
Despite popular belief, there are actually a wide range of foods that you can eat on a low-carb diet. Unlike some other diet plans, there's really only one guideline — keep your carbs low.
Here is a list of low-carb foods that you can enjoy freely
Vegetables
Vegetables are a cornerstone of a low-carb diet. However, you need to know which veggies to focus on and which to avoid. Low-carb vegetables include: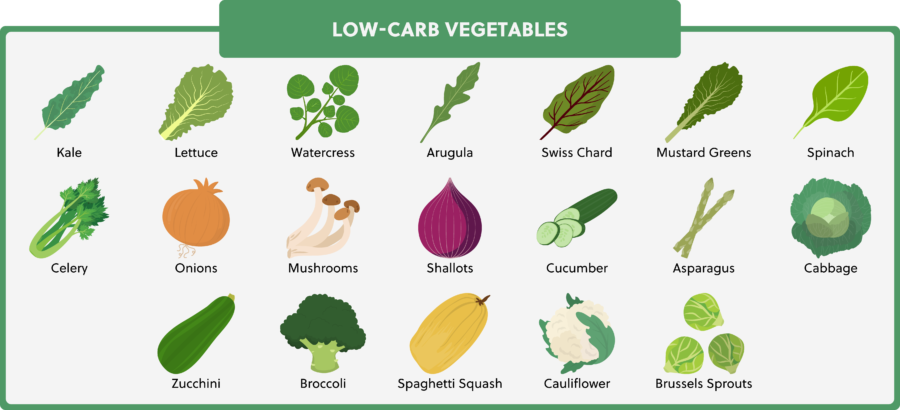 Kale
Lettuce
Watercress
Arugula
Swiss chard
Mustard greens
Spinach
Celery
Onions
Mushrooms
Shallots
Cucumber
Asparagus
Cabbage
Zucchini
Broccoli
Spaghetti squash
Cauliflower
Brussels sprouts
Fruit
While fruit tends to be higher in sugar, there are a few exceptions that you can enjoy:

Blueberries (½ cup)
Raspberries (½ cup)
Blackberries (½ cup)
Strawberries (½ cup)
Lemons
Limes
Avocado
Protein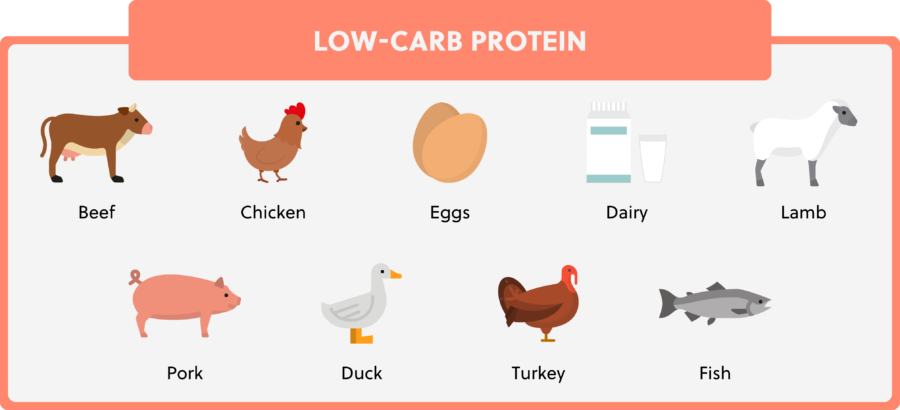 Beef
Chicken
Eggs
Dairy
Lamb
Pork
Duck
Turkey
Fish (salmon, mackerel, halibut, sardines, snapper, cod, tilapia, etc.)
Dairy (as long as you digest dairy well, then you can consume most full-fat dairy products. However, keep an eye out for low-fat versions because they often contain more carbs).
*Note — when following a low-carb, high-fat diet, you can opt for the fattier cuts of meat.
Fat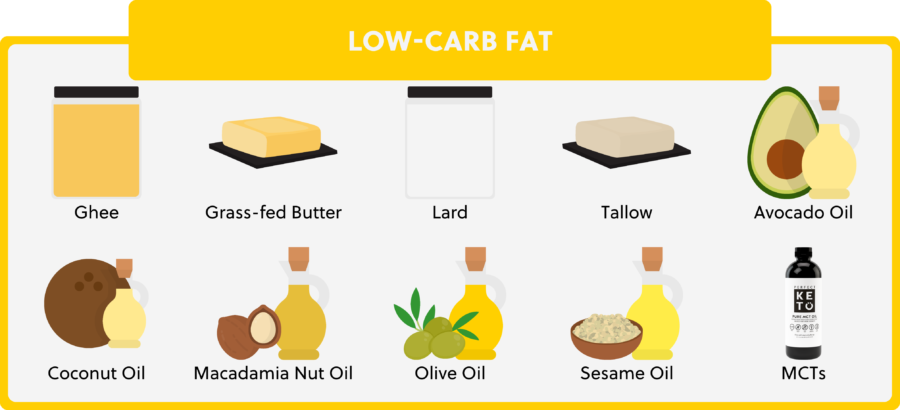 Animal fats like ghee, grass-fed butter, lard, and tallow
Oils from plants like avocado oil, coconut oil, macadamia nut oil, olive oil, and sesame oil
MCTs(medium-chain triglycerides)
Although there's technically only one guideline for low-carb eating, if health is your goal, then keeping food quality in mind is also essential. Make sure to buy organic whenever possible, and if you can find grass-fed beef and free-range chicken that's also ideal.
What To Avoid On a Low-Carb Diet
Now that you're familiar with what to enjoy on a low-carb diet let's take a look at what to avoid.
Vegetables
While all vegetables are nutrient-dense, with tons of vitamins and minerals, there are some that also come packed with carbs. You may be able to include small amounts of these vegetables once you know what your personal carb threshold is, but in the beginning it's best to avoid them altogether.

Potatoes
Sweet potatoes
Yams
Peas
Corn
Parsnips
Fruit

Oranges
Pineapple
Apples
Pears
Grapes
Peaches
Plums
Nectarines
Mangoes
Kiwi
Dried fruits
Grains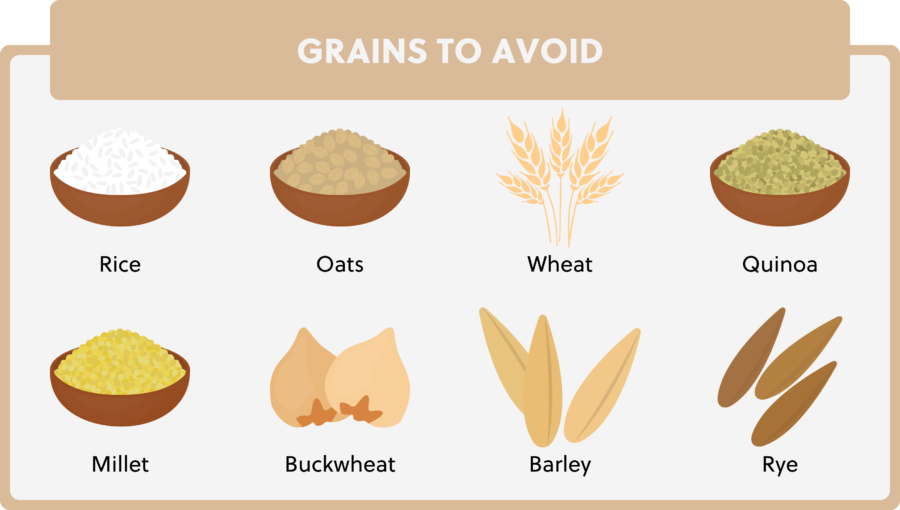 Rice
Oats
Wheat
Quinoa
Millet
Buckwheat
Barley
Rye
Packaged Foods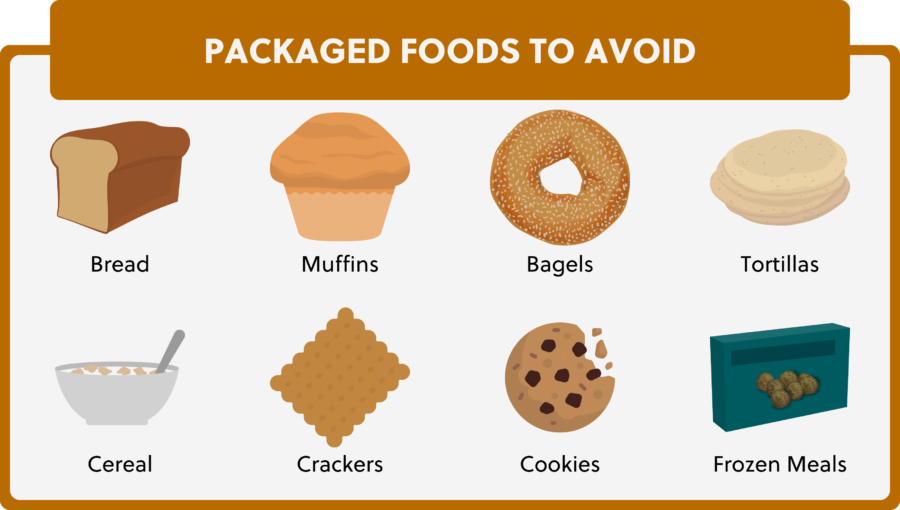 Bread
Muffins
Bagels
Tortillas
Cereal
Crackers
Cookies
Frozen meals (typically high in carbs, sugar, and processed ingredients)
Beverages
Lemonade
Fruit juice
Energy drinks
Soda (Coke, Ginger Ale, Root Beer, Sprite)
Beer
Mixed drinks (high sugar ones like margarita's, pina coladas, and mojitos)
Store-bought coffee drinks with added sugar (lattes, mochas, etc.)
Other
Beans
Nut butter with added sugar
Bacon made with added sugar
Low-fat dairy products
Desserts (ice cream, brownies, cakes, etc.)
Beverages To Enjoy On a Low-Carb Diet
Many people have their low carb diets completely dialed in. They have no problem loading up on veggies, protein, and healthy fats to keep them fueled. However, one crucial arena that's easy to forget is beverages.
You may think you're doing great following low-carb, but if you're still indulging in sugar-laden beverages, you'll never make it past the keto mark.
Here is a list of beverages that are safe to consume on a low-carb diet.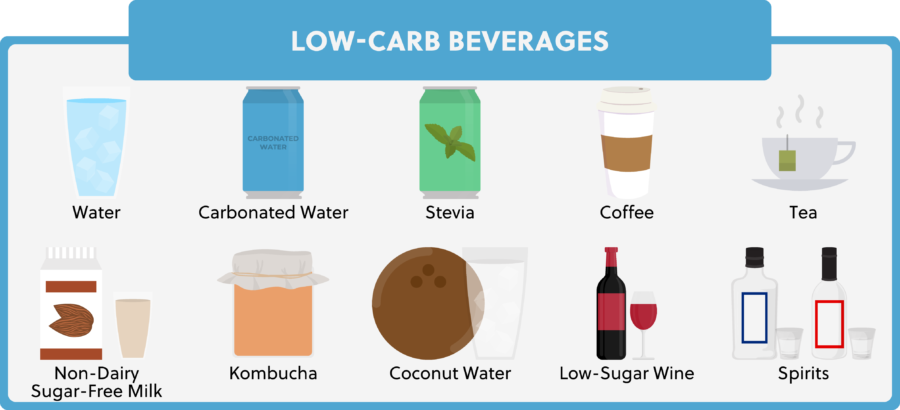 Water (by far the most important)
Carbonated water (La Croix, San Pellegrino, etc.)
Stevia (stevia-sweetened soda)
Coffee (without the extra pumps of syrup and sugar)
Tea (green tea, black tea, herbal tea, iced tea)
Non-dairy sugar-free milk (cashew milk, hemp milk, flax milk, coconut milk, almond milk).
Kombucha (watch for added sugar)
Coconut water
Spirits (tequila, vodka, whiskey, brandy, cognac)
For a full list of keto-friendly beverage,s plus some fun recipes, check out Keto Drinks: What You Can and Cannot Drink on Keto.
Snacks To Enjoy On a Low-Carb Diet
No matter what diet you're following, having simple and satisfying snacks is a key to success. On a low-carb diet, there are plenty of snack options including: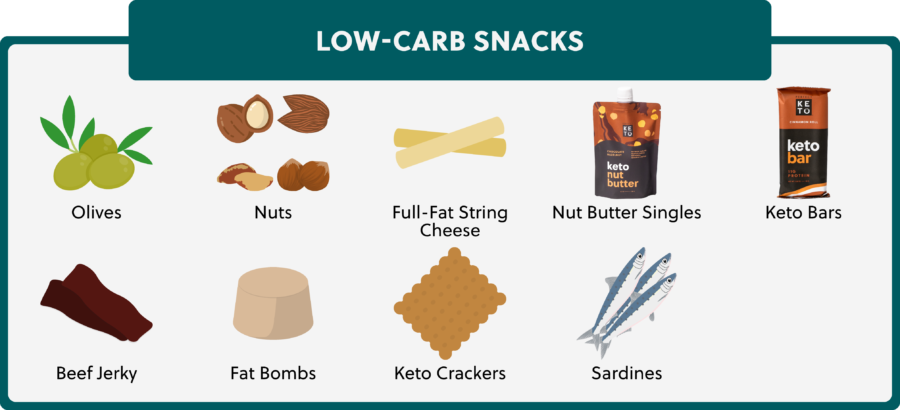 Olives
Nuts (macadamia nuts, almonds, hazelnuts, brazil nuts, etc.)
Full-fat string cheese
Nut butter singles
Beef jerky
Fat bombs
Keto crackers
Sardines
For more ideas, check out The Best Keto Travel Snacks: 14 Low-Carb Snacks To Banish Hunger.
A Sample Low-Carb Menu for One Week
If you're just beginning your low-carb journey, it's easy to fall into a food rut. You know what's safe to eat, and you probably have a good idea of what you should avoid at all costs, but there are a lot of in-between options that fall into the gray area.
This one-week low-carb meal plan is an excellent tool to help you get into ketosis while keeping things exciting. You can mix and match meals, eat breakfast for dinner, or add in your own substitution. The only guideline is to keep those carbs low.
Day 1
Thought you couldn't enjoy pancakes on the keto diet? Think again. Start the week off right with these delicious, fluffy pancakes. They only take 15 minutes to make, so they're a perfect on-the-go option.
If you really want to up your nutrient density, this buddha bowl is packed with fresh veggies, herbs, and spices.
Mac and cheese on the keto diet? That's right. Switching out the macaroni for cauliflower makes this dish deliciously low-carb and keto-friendly.
Made with just three simple ingredients, these kale chips are the perfect snack if you're looking for something on the light side.
Day 2
Missing your morning oatmeal? Try this low-carb keto-friendly version. It's packed with fiber, and you can switch out the toppings for variety.
This cheesy, warming, rich, and creamy soup is an excellent choice for the cooler days. Pair it with some keto crackers for a little extra crunch.
Second only to cauliflower, spaghetti squash is a keto-dieters saving grace. You can turn any Italian pasta dish into a keto masterpiece with this simple substitution. Enjoy this creamy carbonara with some fresh herbs sprinkled on top.
These keto bars are basically like a mini keto meal. Fantastic for on-the-go mornings or to carry you through your afternoon.
Day 3
Have you ever made a smoothie that was so good you wanted to slow down and eat it with a spoon? This low-carb smoothie bowl takes your standard protein shake to the next level. Sprinkle it with your favorite keto toppings — shaved coconut, crushed walnuts, nut butter, raspberries, whatever you fancy.
If you're a Chinese food fan, then you may be missing that side of fried rice in your life. This dish tastes excellent both hot or cold. Make it ahead for lunch in the afternoon or cook it up on the spot.
An American classic. While meatloaf is traditionally a lower carb dish, this keto meatloaf removes the bread crumbs, ketchup, and sugar that often sneak their way into the classic recipe.
Looking for a little crunch in your day? You can make a big batch of these crackers ahead of time and snack on them all week. Packed with fat and protein, they'll keep your blood sugar smooth and steady.
Day 4
These egg muffins make a perfect on-the-go breakfast option, and also double as a protein-packed keto snack. Make them fresh in the morning and bring a couple with you for an afternoon pick-me-up.
Who needs bread when you have bell peppers? Enjoy this crunchy take on a traditional turkey sandwich.
If you're in keto for the long-haul, you'll need to find alternatives to your carb-heavy favorites. This keto pizza recipe offers all the cheesy goodness of your traditional pizza — guilt-free.
Even keto dieters can experience a mid-day slump from time to time. This latte not only wakes you up, but it provides protein to keep you going.
Day 5
You'll feel like a kid again indulging in this crunchy and satisfying breakfast cereal. You can enjoy it with some whole milk, on top of full-fat keto yogurt, or throw it on a smoothie bowl.
You will not believe this BBQ beef sandwich is keto-friendly. The homemade sauce omits the sugar but retains that delicious smokey BBQ flavor you know and love.
This hearty and satisfying soup is full of nutrient-dense veggies, cheese, and sausage. Think deconstructed lasagna without the carb load.
Not everyone has time to spend preparing snacks for the week. That's where these pre-packaged macadamia nuts come in huge — just open the bag and enjoy.
Day 6
These are not your run of the mill coffee shop variety muffins. Packed with fat, fiber, and protein — there will be no sugar crash today.
Skip the taco truck; you've got everything you need with these zesty beef tacos. Add some guac, or switch out for chicken if that's your style.
Fire up the grill for some keto shish kabobs. Don't have a grill? No worries, you can make this recipe with baked chicken and vegetables as well.
If your sweet tooth is calling whip up a batch of these delicious fat bombs. They'll not only satisfy your sweet tooth, but they'll keep you full until dinner.
Day 7
This breakfast casserole is a fantastic option if you like to cook ahead. You can double the recipe if you're cooking for yourself and someone else for the week, or just make ahead on Sunday for breakfast all week.
This quick and delicious recipe is ready in just 15 minutes. It's crunchy, sweet, satisfying, and full of nutrient-dense ingredients. You can play around with the veggies, but the cabbage is essential for the crunch.
Don't get stuck in the chicken and beef keto rut. These tender pork chops add a bit of variety to your standard protein choices.
All the crunch of a cracker — minus the carbs. These spicy and savory crisps make an excellent snack or a perfect vehicle for Mexican inspired dips.
The Takeaway: Try a Low-Carb Diet
In general, a well-balanced low-carb diet plan will focus on whole foods, while avoiding starchy vegetables and whole grains.
If you crave mac and cheese, pizza, and cookies, there are plenty of easy low-carb recipes that will fit the bill. But the best part of being low-carb is that after a while, cravings for these types of foods typically diminish.