Christmas is a special time of year. It seems like the world pauses for a brief moment and all that matters is family, festivities, and fun.
At the same time, however, it can be an incredibly stressful time of year if you haven't planned accordingly.
If you're stressing about the upcoming holiday season and worried that Christmas dinner is going to throw you off track — stress no more. This guide to Christmas dinner is full of keto recipes that are so rich in flavor your guests won't even guess they're low-carb.
So without further ado, your keto holiday menu awaits…
Main Dishes
As the star of Christmas dinner, your main dish needs to impress. These ketogenic protein options are twists on your favorite classics. You'll find everything from pork roast to low-carb lasagna.
#1 Instant Pot Holiday Pork Roast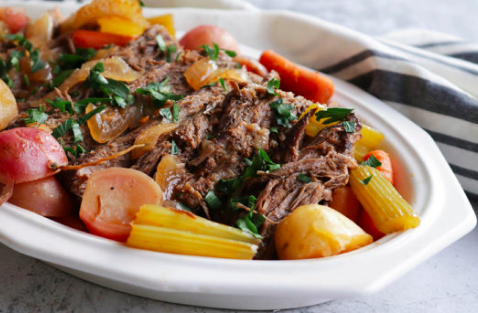 This holiday pork roast is a fantastic way to switch it up from your standard turkey dinner. It's packed with flavor, and nets out at only two grams of carbs per serving.
Check out this delicious holiday pork roast.
#2 Keto Meatloaf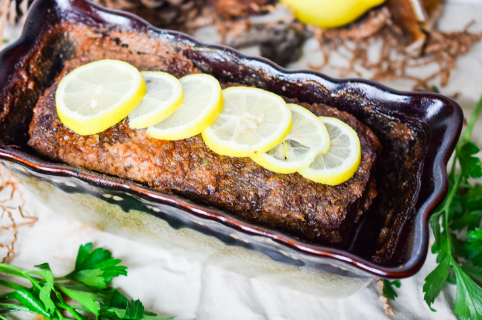 While meatloaf may seem like an obvious choice for keto-dieters, you may be surprised to learn that this protein dish often has sneaky sources of sugar added. This keto meatloaf is sugar-free, low carb, and bursting with flavor. Check out this savory keto meatloaf.
#3 Garlic and Herb Pork Loin Roast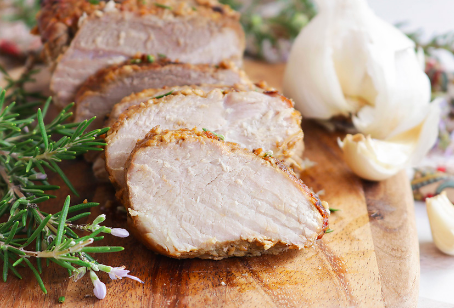 Ths juicy pork loin roast offers a savory main with hints of garlic and mustard. It pairs beautifully with some cauliflower mac and cheese or creamed spinach. Check out this juicy garlic and herb pork loin roast.
#4 Keto Beef Stew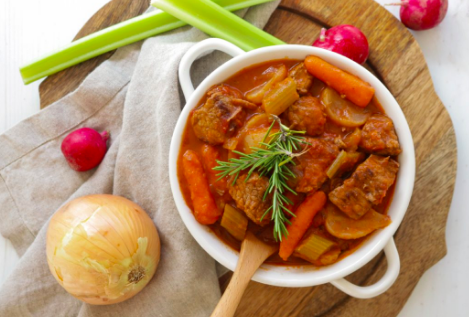 Beef stew is a warming and comforting main dish. It goes great with a side of cauliflower mash, or poured over some cauli rice. Check out this comforting keto beef stew.
#5 Crispy Parmesan Crusted Chicken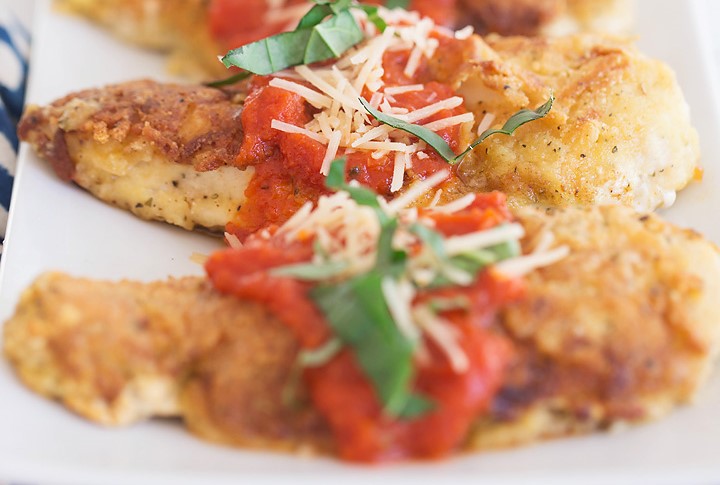 Unlike traditional parmesan crusted chicken, this keto version skips the breadcrumbs for a crispy, cheesy, satisfying chicken recipe your entire dinner party can enjoy.
Check out this crispy parmesan crusted chicken.
#6 Crispy Salmon with Pesto Cauliflower Rice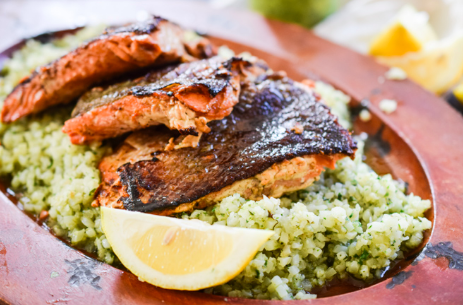 Switch up your protein by adding fish to the menu this year. Crispy salmon on top of a pesto cauli rice is a meal all its own, with only six net carbs per serving. Check out this delicious crispy salmon recipe.
#7 Low-Carb Keto Lasagna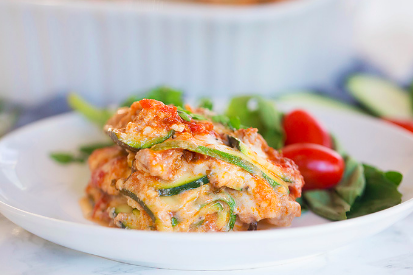 Italian for Christmas? This keto version of Italian classic switches out lasagna noodles for zucchini noodles to not only enhance the nutrient-density but cut the carbs significantly. It pairs great with a glass of keto-friendly red wine. Check out this low-carb keto lasagna.
#8 Chicken Cordon Bleu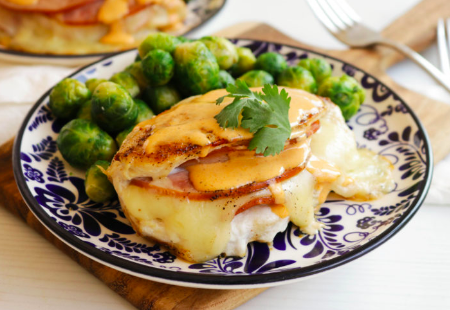 If you like to cook to impress this chicken cordon bleu will blow your dinner guests away. It's the perfect balance of creamy, cheesy, and savory. Pair it with veggie-heavy sides like brussels sprouts or asparagus. Check out this creamy chicken cordon bleu.
#9 BBQ Baked Pork Chops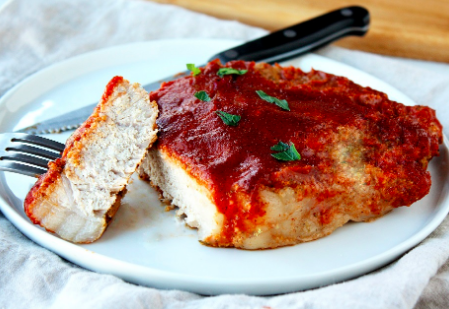 These juicy BBQ pork chops make a fantastic Christmas dinner dish. Sprinkle the finished products with some green herbs to make them extra festive. Check out these flavorful BBQ baked pork chops.
#10 Cheesy Chicken Casserole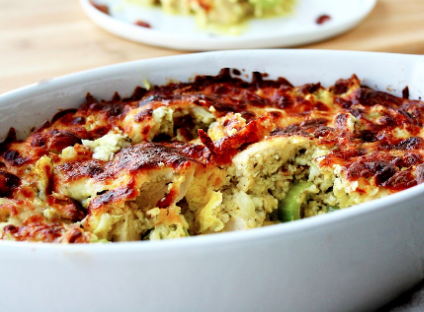 Oh, the classic holiday casserole. This cheesy chicken dish is warm, rich, satisfying, and flavorful. With a crispy topping and a warm and soft middle — you'll be wanting seconds and maybe even thirds. Check out this cheesy chicken casserole.
Sides
If you're looking for some easy keto low-carb recipes to serve as a side dish, look no further. These keto holiday sides are veggie-heavy, packed with nutrients, and add a festive flair to your dinner table.
#1 Low-Carb Stuffing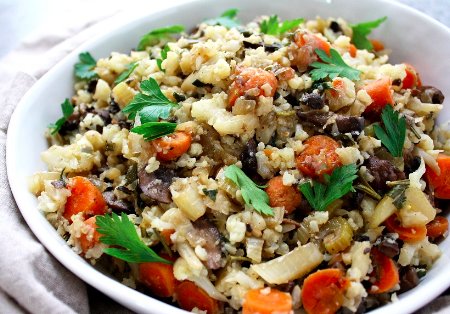 This keto twist on a holiday classic is essential for any dinner menu. Switching out the bread for cauliflower offers a lighter, lower-carb version with all the flavor of the original. Check out this savory low-carb stuffing.
#2 Garlicky Cauliflower Mashed "Potatoes"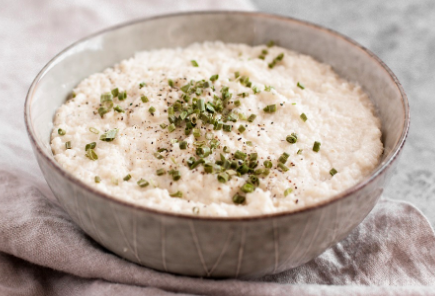 It's just not a Christmas meal without some mashed potatoes. This keto-friendly version skips the carbs by relying on the keto-dieters favorite vegetable — cauliflower. This recipe is so rich and garlicky you won't even notice the difference. Check out this delicious garlicky cauliflower mashed potato recipe.
#3 Crispy Keto Bacon Wrapped Asparagus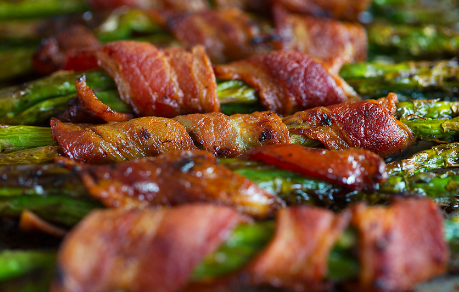 One of the benefits of following a keto diet is the abundance of bacon. If you haven't tried wrapping your asparagus in some juicy bacon, then wait no more — you'll never look at asparagus the same way again. As always, make sure you're using high-quality, nitrate-free bacon. Check out these crispy keto bacon wrapped asparagus.
#4 Balsamic Roasted Turnips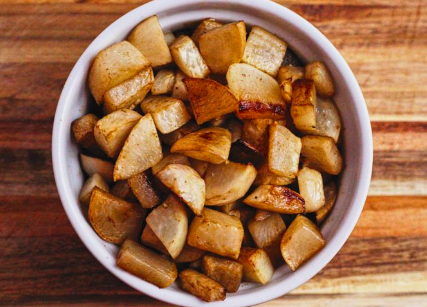 Who needs potatoes when you have turnips? This low carb version of a classic makes for a perfect side dish. Pro tip: if you have any gravy or dressing, make sure to drizzle a bit on top of these roasted turnips for a little extra flavor. Check out these balsamic roasted turnips.
#5 Creamed Spinach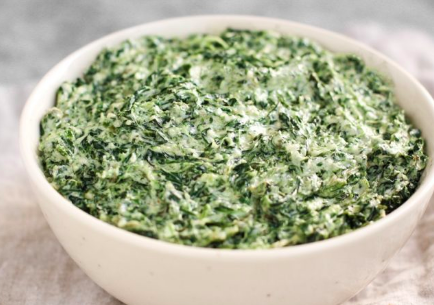 Even your most picky eaters will have a difficult time turning down this rich, creamy spinach dish. It can also double as a dip if you have any raw carrots, celery, or broccoli. Check out this creamed spinach recipe.
#6 Cauliflower Mac and Cheese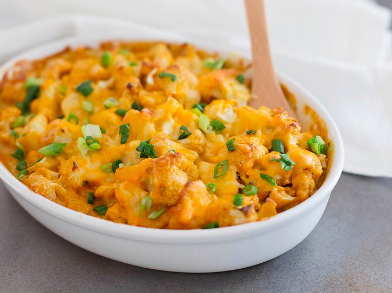 Make sure you save some of this mac and cheese for the adult's table, the kids at your holiday gathering will go nuts for it. Check out this delicious and nutritious cauliflower mac and cheese.
#7 Fluffy Low-Carb Biscuits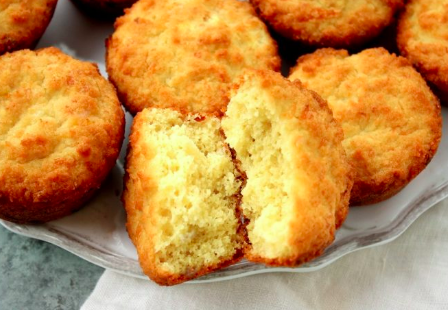 Just because you're preparing a keto meal doesn't mean you can't enjoy some fresh biscuits on the side. These fluffy, warm biscuits are the perfect carb-substitute. Check out these fluffy low-carb biscuits.
#8 Grilled Asparagus with Lemon herb Vinaigrette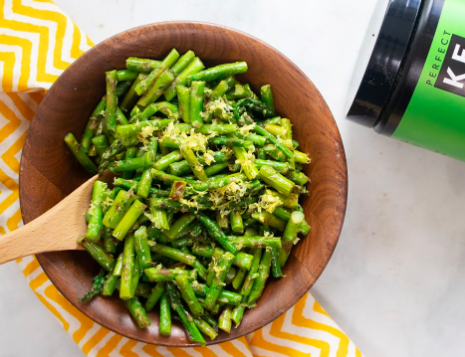 If you were worried about getting enough nutrients into your Christmas dinner, this asparagus with lemon herb recipe is your failsafe. The dressing comes packed with Perfect Keto Microgreens to ensure you're getting your fair share of vitamins and minerals. Check out this grilled asparagus with lemon herb vinaigrette recipe.
#9 Cheesy Keto Scalloped "Potatoes"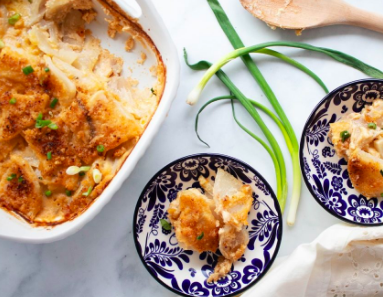 Scalloped potatoes are one of the most popular side dishes you can make. They're rich, creamy, cheesy, and incredibly satisfying. Of course, this keto version swaps out potatoes for turnips — brilliant. Check out these cheesy keto scalloped potatoes.
#10 Brussels Sprouts with Bacon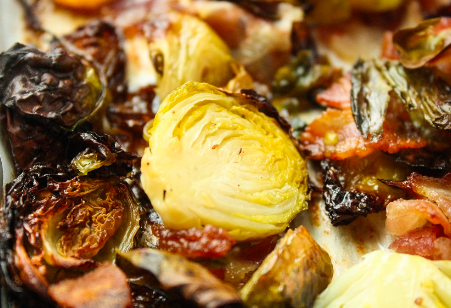 You won't have a hard time getting the kids to eat their greens this holiday. Serve these brussels sprouts as is, or add a drizzle of creamy sriracha aioli. Check out these flavorful brussels sprouts with bacon.
Appetizers
Start out your keto Christmas dinner with some appetizers to keep your guests happy. Unlike your run-of-the-mill cheese and crackers, these apps are creative, fun, and incredibly tasty.
#1 Simple Keto Meatballs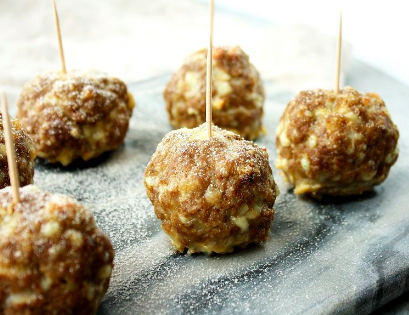 Get your guest's appetite going with these protein-packed appetizer meatballs. A mixture of high-quality beef, cheese, and spices will have everyone going back for seconds. Check out these simple keto meatballs.
#2 Brown Butter Buffalo Bites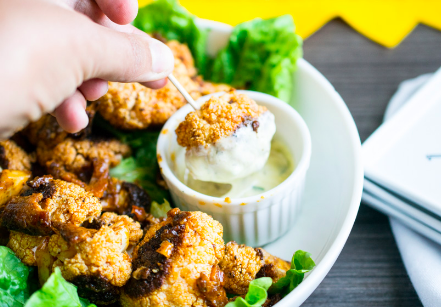 While buffalo wings are an American classic when it comes to apps, these bites replace the chicken with cauliflower to cut both the carbs and calories. You have to save some room for dinner, don't you? Check out these crunchy brown butter buffalo bites.
#3 Keto Mozzarella Sticks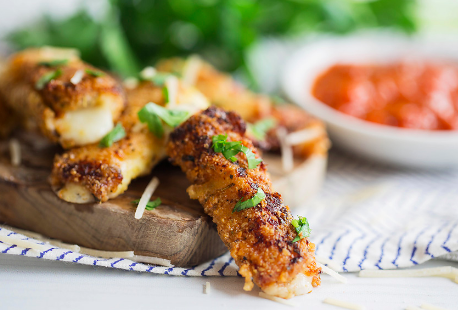 Mozzarella sticks anyone? These cheesy delights go great with a side of marinara (sugar-free, of course), or you can serve them as-is. Check out these cheesy and chewy keto mozzarella sticks.
#4 Cheesy Stuffed Mushrooms with Bacon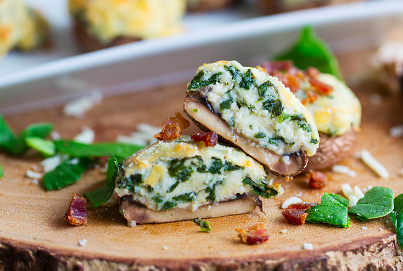 Everyone loves some stuffed mushrooms. This deliciously savory recipe is ready in just 25 minutes, and contains only one net carb per mushroom. Plate them up and enjoy! Check out these cheesy stuffed mushrooms with bacon.
#5 Cauliflower Fritters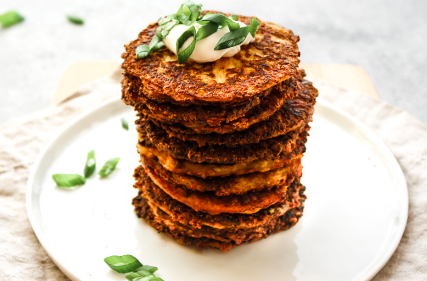 If you want to offer your guests a little something crunchy before dinner, these cauliflower fritters fit the bill. Plate with them a dollop of whipped cream, or a small bowl for dipping. Check out these crispy cauliflower fritters.
#6 Lemon Avocado Boats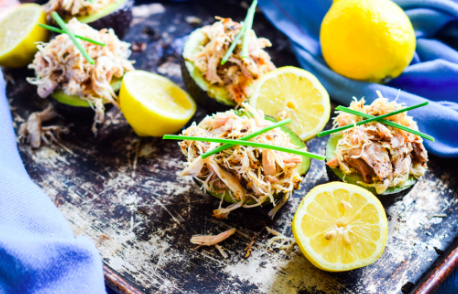 These lemon avocado boats are not only adorable, but they're delicious and full of nutrients as well. They're incredibly satisfying with 26 grams of fat and 26 grams of protein — so make sure your guests don't go too crazy on these before dinner. Check out these lemon avocado boats.
#7 Keto Jalapeno Poppers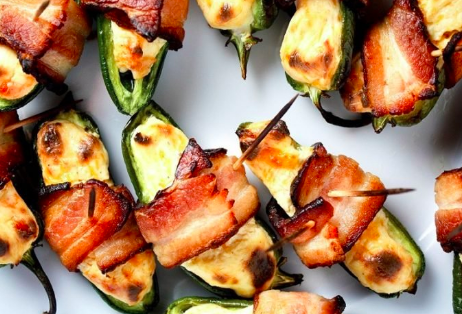 These keto-friendly jalapeno poppers are always a favorite at the appetizer table — if they make it that far. With crispy bacon on the outside and warm soft cheese on the inside, you just need to make sure that your guests don't fill up on these rich and creamy apps before dinner. Check out these flavorful keto jalapeno poppers.
#8 Creamy Keto Crab Dip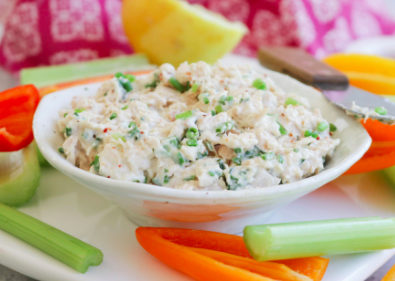 Crab dip is a classic app, and this recipe is loaded with fat and protein. Chop up some celery, peppers, and carrots to dip into this delicious and creamy crab dip. Alternatively, you can whip up a batch of keto crackers for a crunchy seafood app. Check out this creamy keto crab dip.
#9 Avocado Deviled Eggs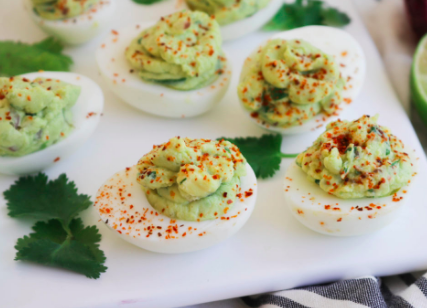 These smokey, creamy deviled eggs take the original recipe to the next level with the addition of avocado. Make a double batch — your guests won't be able to eat just one. Check out these avocado deviled eggs.
#10 Low-Carb Salmon Patties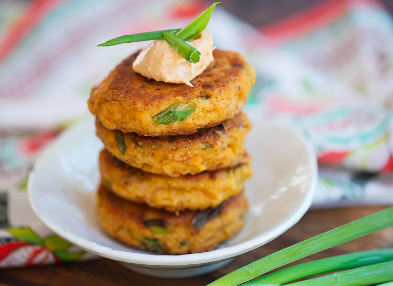 These salmon patties are an omega-3 rich version of traditional crab cakes[*]. Serve them fresh out of the oven with some spicy sriracha sauce. Check out these satisfying low-carb salmon patties.
Desserts
Nothing takes you back to your youth like Christmas desserts. Whether you're looking for something dairy-free, gluten-free, or grain-free — you'll find the perfect dessert for your Christmas dinner here.
And of course, all of these options are sugar-free and low-carb.
#1 Peppermint Mocha Keto Cake Pops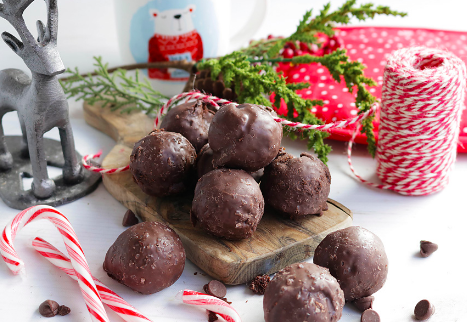 Nothing says the holiday's like some peppermint cake pops. And with only two net carbs per pop, you can indulge guilt-free with these chocolatey bites. Check out these peppermint mocha keto cake pops.
#2 Raspberry Keto Christmas Cookies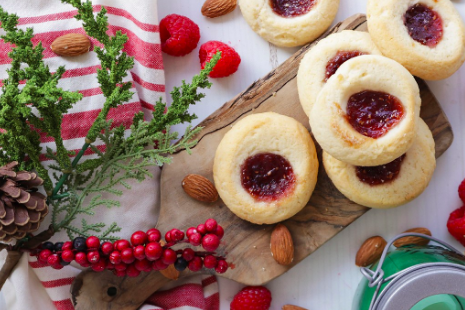 Thumbprint cookies are a Christmas classic. These rich and buttery treats are balanced with a drop of raspberry preserves for a low-carb, fruity dessert. Check out these festive raspberry keto christmas cookies.
#3 Keto Fudge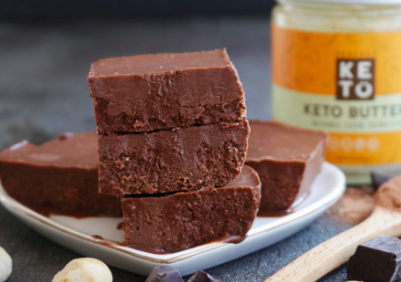 If you're missing the Christmas fudge recipe your aunt used to make every year, this keto fudge is for you. As rich and delicious as the original, this low-carb alternative will have you reminiscing about holidays past. Check out this rich keto fudge.
#4 Buttery Shortbread Cookies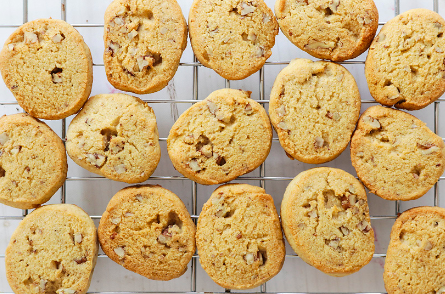 When it comes to cookies, shortbreads are already the most buttery and rich option out there. And these keto cookies are made with grass-fed butter, so you're getting all the benefits of CLA and omega-3 fats as well[*][*]. Check out these buttery shortbread cookies.
#5 Velvety Keto Pumpkin Pie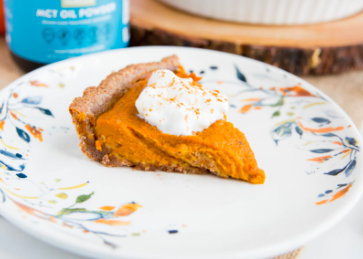 This keto-friendly version of a holiday classic contains only 150 calories per serving, with only 3.5 net carbs and 13 grams of fat. It's sugar-free and flavorful-full. Serve it with a side of keto vanilla ice cream. Check out this velvety keto pumpkin pie.
#6 Trail Mix Chocolate Bark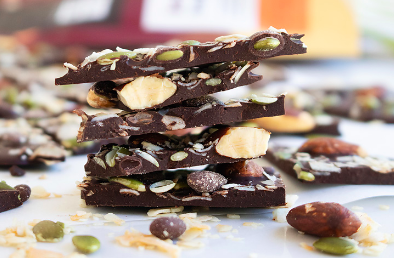 Chocolate bark is another Christmas classic. This keto version adds trail mix full of healthy fats to provide you with a little extra nutrition while you indulge. Check out this sweet and savory trail mix chocolate bark.
#7 Low-Carb Ginger Snap Cookies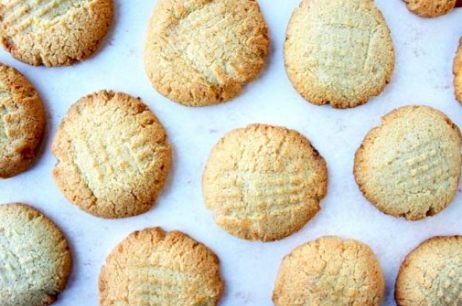 Remember ginger snap cookies from when you were young? Sure, they're around all year, but they really make a big debut around the holiday months with their warming, spicy flavor. Dip these classics in some hot chocolate or warm milk. Check out these spicy low-carb ginger snap cookies.
#8 Avocado Brownies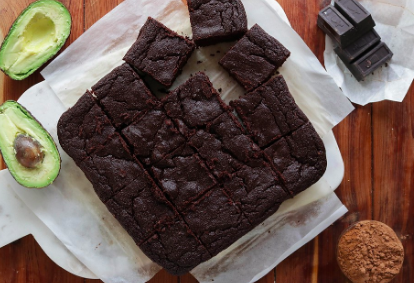 Adding avocado to your brownies not only increases the moisture, but it also ups the heart-healthy monounsaturated fat content[*]. The keto brownies are soft, chewy, and chocolatey. You can add a sprinkle of swerve on top to create a more festive look (it kind of looks like light snow fall). Check out these rich and chocolatey avocado brownies.
#9 Pumpkin Spice Fat Bombs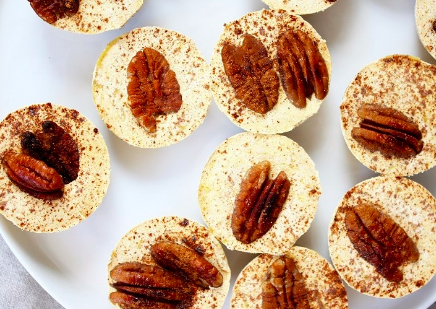 It wouldn't be a keto menu without a fat bomb recipe. These festive fat bombs incorporate the flavors of the holidays to bring you a filling and satisfying dessert. They're traditionally topped with pecans, but you can add any nut you like. Check out these festive pumpkin spice fat bombs.
#10 Keto Flan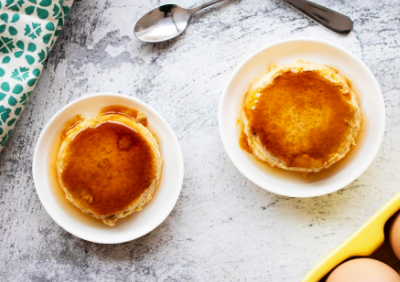 If you really want to impress your guests, whip up these mini keto flans. One flan only contains 150 calories, with 15 grams of satiating fat and only two net carbs. Pair them with some low-carb eggnog or if that's too rich, a lovely ginger tea. Check out this creamy keto flan.
#11 Decadent Low-Carb Cheesecake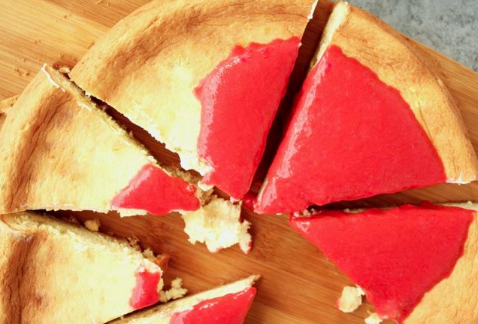 Cheesecake is naturally high-fat, making it a no-brainer choice when it comes to keto desserts. Add the raspberry cream sauce for a more festive flair. Check out this decadent low-carb cheesecake.
Beverages
Your holiday meal isn't complete without some festive beverages. You can go the boozy route, or keep it wholesome with some hot chocolate.
Either way, snuggling up on the sofa with one of these beverages will make your Christmas evening feel extra delightful.
#1 Creamy Keto Hot Cocoa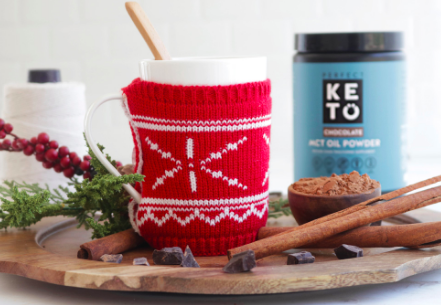 There's nothing like cozying up to a fire after a Christmas dinner with a hot chocolate in hand. This hot chocolate cuts the carbs and boosts your energy with some MCTs for a little after-dinner pick me up. Check out this creamy keto hot cocoa.
#2 Pumpkin Spice Hot Chocolate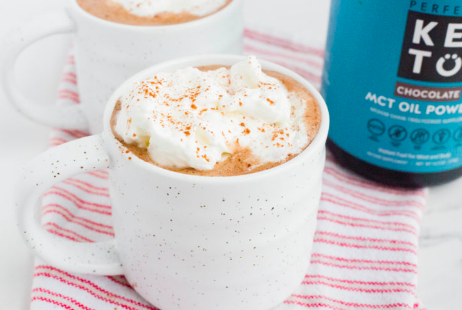 If you're more of a pumpkin fan, this variation adds some holiday spice for festive hot cocoa. It goes great with ginger snap cookies or shortbread cookies. Check out this pumpkin spice hot chocolate.
#3 Spicy Lemon Drop Martini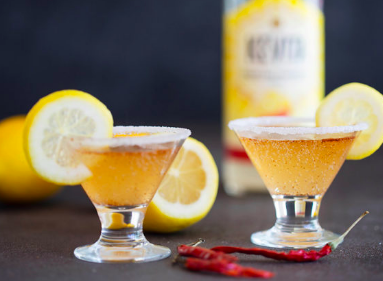 Keep it classy and low-carb with a spicy boozy beverage offering at your Christmas gathering.
Check out this spicy lemon drop martini.
#4 Keto Sangria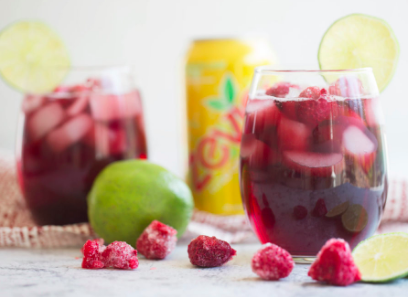 You don't have to save your sangria for the Summer; this bright red beverage goes great with your holiday appetizers. Check out this keto sangria.
Happy Holidays!
You won't find these keto Christmas recipes in your grandmother's cookbook. But even though times are changing — you don't need to sacrifice flavor for health.
These holiday recipes are packed with nutrition, and devoid of sugar-spiking carbs. So when it comes time to plan your holiday dinner don't stress, there are more than enough keto-friendly options out there to keep your guests happy, and you on track.