Finding low-carb substitutes for traditional drinks is especially important when following a ketogenic diet. When it comes to milk, you might be curious, "Is almond milk keto?"
Almond milk, as you probably already know, is made from raw almonds and filtered water. It's a popular plant-based drink that appeals to individuals who cannot consume dairy due to milk allergy or lactose intolerance (*). Moreover, almond milk offers many benefits, making it a wonderful addition to any diet.
Learn more about almond milk on keto in this guide. We'll discuss the carbohydrates in almond milk, how much you're allowed to drink, and other low-carb alternatives to try.
Is Almond Milk Keto-Friendly?
Almond milk can be a good option for people on a keto diet. As a keto-friendly drink, it may replace fresh cow's milk, which contains more carbohydrates in a 240 ml serving (*). Note that many versions of almond milk exist, which vary in their carb count. To ensure you get the fewest possible carbs, be sure to choose unsweetened almond milk.
Other reasons almond milk is great for those on a keto diet include:
Low glycemic index: Glycemic index (GI) refers to how quickly a type of food raises your blood sugar. Almond milk has a GI rating of 25, which is low, making it a good option for people with diabetes or those who are at risk.
Low in calories: In general, calorie counting is not necessary on keto since low-carb, high-fat foods are satiating. As a result, you're unlikely to overeat. However, for those who aren't losing weight or have plateaued on keto, excess calories might be the culprit. Besides being low in carbs, almond milk has only 41 calories in a 240 ml serving (*).
Micronutrients: Almond milk is also a source of important micronutrients, such as vitamin D, vitamin E, calcium, and potassium. One of the ways to prevent nutrient deficiencies when starting keto is by consuming a variety of food sources that provide various nutrients.
Carbs in Almond Milk
Almond milk has only 0.62 grams of net carbs (less than 1g net carbs) in a 240 ml serving or one cup (*). The same serving size also provides 3.63 grams of fat, mostly from heart-healthy monounsaturated fats, and 1.53 grams of protein (*). That being said, almond milk makes an ideal drink for keto dieters.
Given that almond milk is very low in carbs, it leaves room for other low-carb sources in your diet. This means you can consume a cup of almond milk, plus nutritious options like green veggies and avocados without exceeding 50 grams of carbs per day.
How Much Almond Milk Can You Have on Keto?
You can include one to three cups of almond milk in your daily meal plan for a total of just 1.86 grams of net carbs. Have one alongside delicious foods for breakfast, lunch, and dinner without worrying about getting kicked out of ketosis.
Other Keto-Friendly Milk Alternatives
If you're looking for other keto-friendly options to consume besides almond milk, the good news is that there are a lot more that you can enjoy. Below are good alternatives to almond milk and their respective carbs in one 240 ml serving: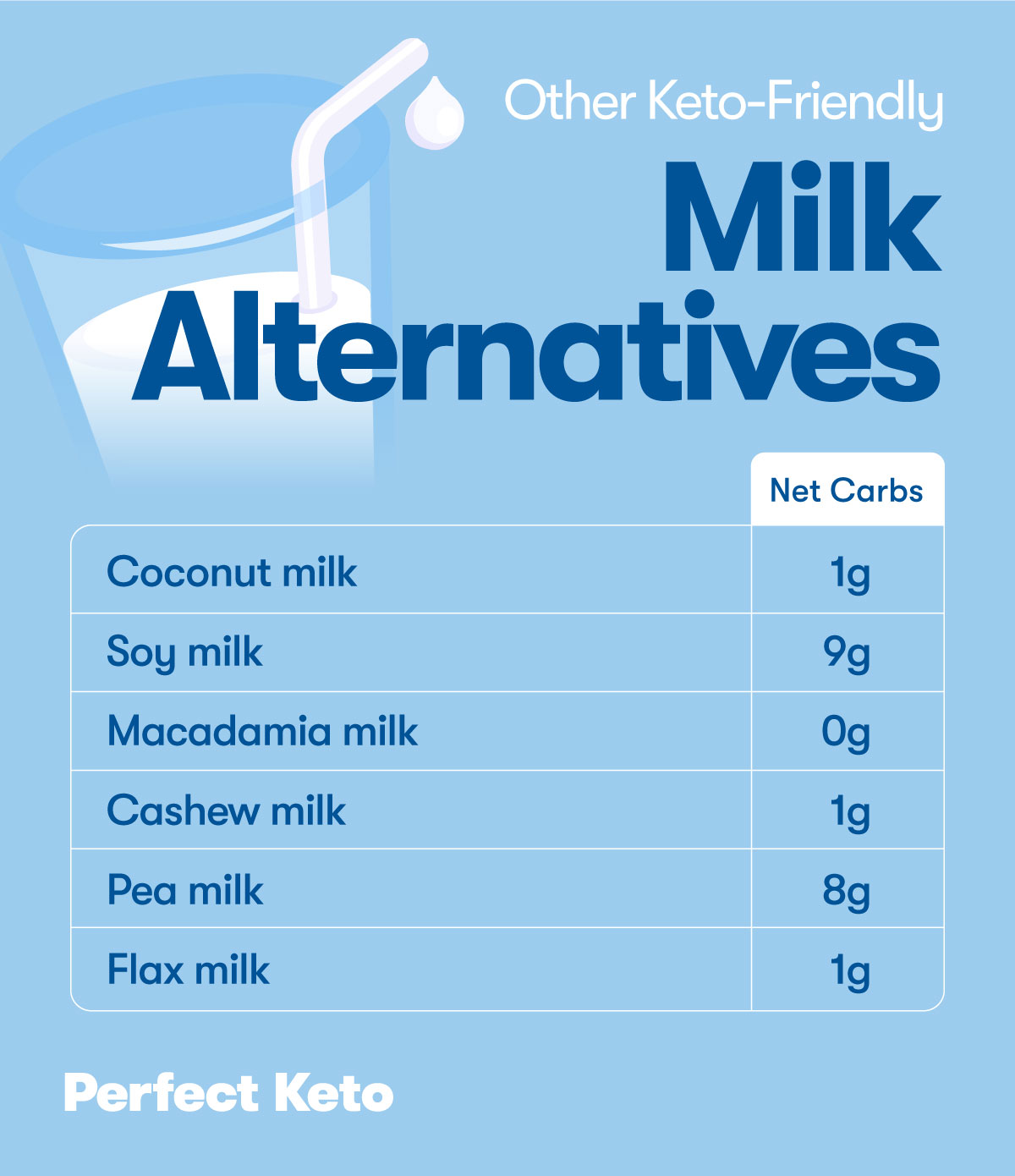 The Bottom Line
As a low-carb, low-calorie, and dairy-free drink that's safe to consume if you have lactose intolerance, almond milk for keto dieters is a popular choice. Enjoy one to three servings of almond milk daily while staying in ketosis.
If you're just starting the keto diet and want more options, try other plant-based milks, such as coconut milk, soy milk, macadamia milk, cashew milk, pea milk, and flax milk. Remember to always choose unsweetened varieties to avoid added sugars.
12 References