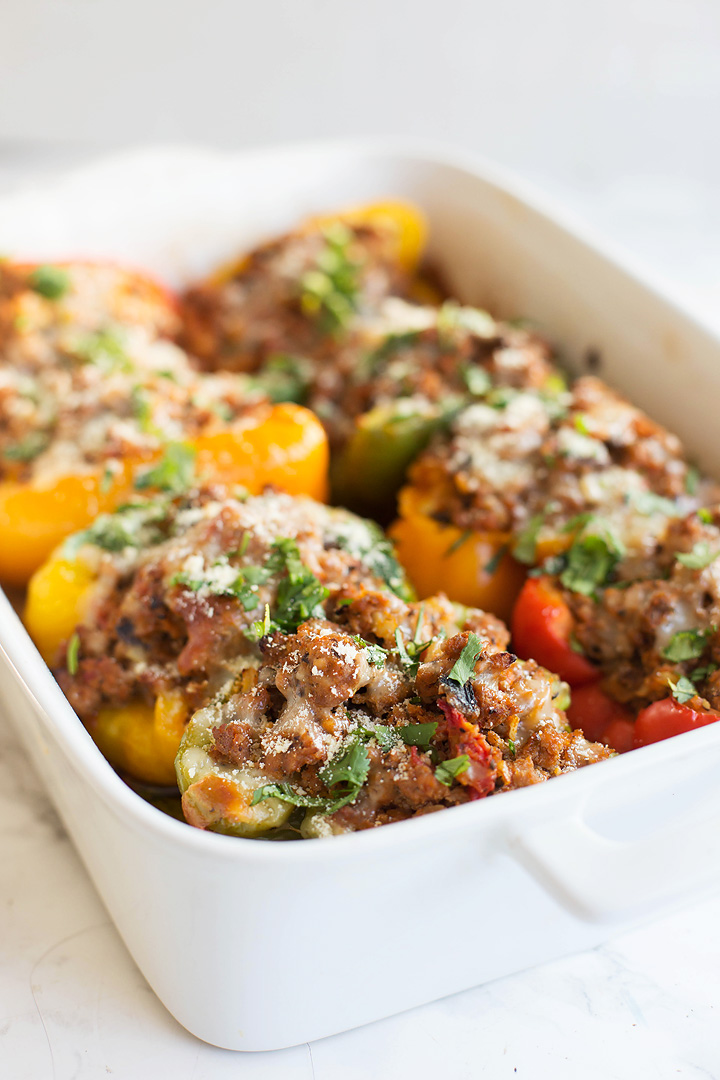 Keto stuffed peppers are a wonderful low-carb meal that works well within a keto diet. They're delicious, nutritious, filling, and certain to be a crowd-pleaser. Plus, they're an entire meal in one, combining healthy fats, quality protein, and tons of veggies.
This healthy recipe for keto stuffed peppers combines all the classic flavors of Italy such as spicy sausage, tangy tomato, oregano, and sweet basil, but leaves out the carb-heavy pasta or rice you might expect. Instead, you'll find that low-carb veggies are used to substitute the white rice or quinoa found in more traditional stuffed peppers recipes.
This recipe is sure to be the next addition to your weekly meal prep lineup. Read on to learn how to make traditional stuffed peppers keto-friendly, which ingredients you'll need, and the incredible health benefits packed into this simple recipe.
How to Make Low-Carb Stuffed Peppers
These spicy Italian stuffed peppers are so colorful and enticing, they're hard to resist. Fortunately, you don't have to. The main ingredients found in this recipe include:
Spicy Italian sausage
Bell peppers
Cauliflower
Mushrooms
Traditional stuffed peppers are typically made with rice filling. To reduce the total carb count, rice cauliflower is used in its place (if you don't have cauliflower rice on hand, you can use one of these keto-friendly rice substitutes). In addition to boosting the volume of this dish, cauliflower also has a wide array of health and nutritional benefits.
Where to Find Cauliflower Rice
Over the past few years, cauliflower rice has become the "it" low-carb alternative to regular rice. Many paleo and keto recipes call for cauliflower, making it a common ingredient on store shelves. You can usually find pre-riced cauliflower in the produce aisle. If you can't find it with other fresh veggies, check the frozen section (although fresh cauliflower rice is recommended over frozen).
If your store doesn't carry cauliflower rice, you can make your own. Simply buy a head of cauliflower, chop into small florets, then grind in a food processor until "rice grains" form.
Recipe Substitutions for Keto Stuffed Bell Peppers
The great thing about keto stuffed peppers is how versatile they are. If you don't have a specific ingredient on hand, you can easily swap it out for another found in your cupboards. Here are a few easy ingredient substitutions you can make, while keeping the same flavor profile:
Bell peppers: Virtually any bell pepper will work in this recipe, so use whatever you have on hand. Green peppers, red peppers, or yellow peppers all work.
Tomato sauce: While making your own homemade tomato sauce is certainly applauded, you can substitute jarred marinara sauce for the tomato paste, chicken broth, and Italian seasoning to speed up the process. (Just read the labels to avoid added sugars.) You can also use diced tomatoes in place of tomato paste.
Italian sausage: If you don't have Italian sausage on hand, you can create your own meat mixture from a blend of ground beef, ground pork, and extra Italian seasoning.
Cauliflower rice: Although cauliflower is the most common substitute for rice, many non-starchy vegetables can be used in these low-carb stuffed peppers. Finely chop or "rice" zucchini, yellow squash, or broccoli to achieve a similar effect.
Recipe Variations: Other Stuffed Pepper Recipes
While this particular stuffed peppers recipe has an Italian twist, you can easily modify it to enjoy a wide range of flavors. Here are four main courses you can create from this low-carb recipe:
Philly steak peppers: Stuff green bell peppers with sauteed onions, sliced flank steak, and provolone cheese for a gluten-free take on your favorite sandwich.
Tex-Mex style peppers: Substitute taco seasoning (a blend of cumin, chili powder, and garlic powder) for Italian seasoning, add American cheese instead of mozzarella and parmesan, and top with sliced avocado and cilantro for a low-carb approach to Taco Tuesday.
Cheeseburger stuffed peppers: For an easy low-carb meal, saute yellow onions, ground beef, and salt and black pepper over the skillet. Stuff the ground beef mixture inside your bell peppers, top with cheddar cheese, then place inside a baking dish. Bake until the cheese is melted and peppers are soft.
Lasagna stuffed peppers: To make lasagna stuffed peppers, simply follow the recipe below to the letter, but swap out parmesan for ricotta cheese. Bake your peppers according to the recipe instructions, and you'll be rewarded with a cheesy low-carb lasagna casserole.
Benefits of Cauliflower
While there are many healthy advantages to this recipe, cauliflower makes it perfect for the keto diet. Besides being low in carbohydrates, below are three health benefits of cauliflower you may not know about.
#1: Rich in Vitamins
Cauliflower is rich in vitamins, especially vitamin C[*].
One serving (one cup) contains over 75% of the daily recommended value. Vitamin C is responsible for the growth, development, and repair of all tissues in the body. It's also involved in a wide variety of functions such as collagen production, boosting the immune system, wound healing, and the maintenance of bones, cartilage, and teeth[*].
#2: Packed With Antioxidants
Cauliflower contains compounds like carotenoids and tocopherols which act as antioxidants. These help reduce oxidative stress and free radicals caused by the environment, help fight chronic diseases, and can also aid in balancing hormones[*].
#3: May Help You Lose Weight
Cauliflower is both low in calories and high in fiber[*]. This cruciferous vegetable helps to keep you feeling fuller longer which can reduce the amount of your overall food intake. Cauliflower can also reduce constipation and improve digestive issues which can contribute to weight gain[*].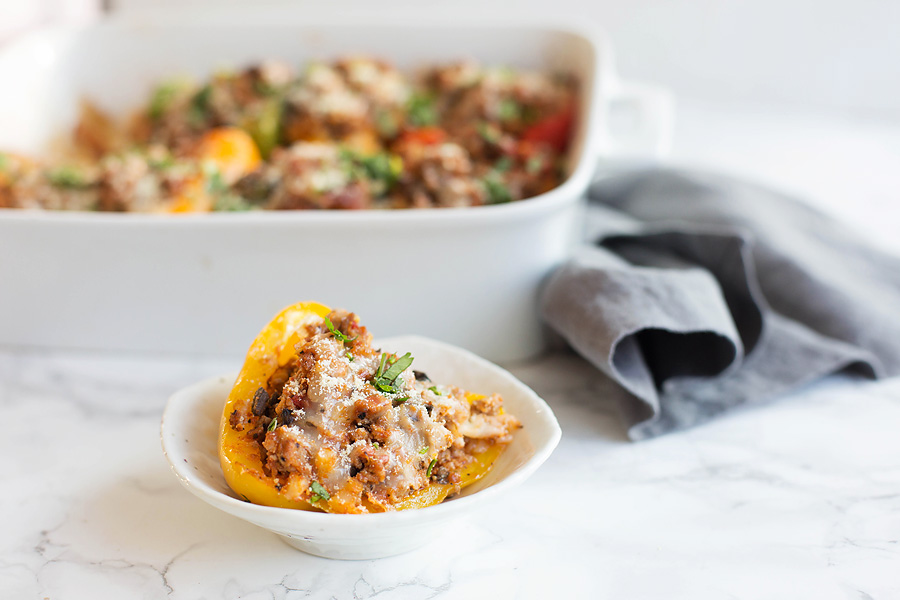 Add These Low-Carb Stuffed Peppers Into Your Weekly Meal Prep
Whether or not you're on a ketogenic diet for weight loss, exercise performance, mental focus and clarity, or for health concerns, recipes such as these spicy Italian stuffed peppers will make you wonder how you ever ate any other way. They're packed with nutrients and health benefits, taste incredible, and are easy enough to make and portion out for your busy weekdays.
Print
Spicy Italian Keto Stuffed Peppers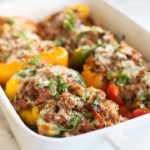 These low-carb keto stuffed peppers are loaded with classic Italian flavors and make for the best quick and easy weeknight meal.
Author:
Prep Time:

10 minutes

Cook Time:

25 minutes

Total Time:

35 minutes

Yield:

6

stuffed peppers

1

x
Category:

Dinner

Cuisine:

Italian
Instructions
Preheat oven to 350℉.

Add olive oil to a large pan set to medium heat.

Brown Italian sausage for 3-4 minutes.

Add onions, mushrooms, riced cauliflower, salt, pepper, and Italian seasoning until vegetables are mostly tender, about 5 minutes.

Add tomato paste and broth. Stir well to combined. Simmer filling for 8-10 minutes under low-medium heat.

Stir in parmesan cheese. Adjust seasoning if needed.

Slice peppers in half (lengthwise) and scoop in filling. Top with mozzarella cheese and bake for 20-25 minutes until tops are golden brown. Garnish with fresh basil.
Nutrition
Serving Size:

1 stuffed pepper

Calories:

298

Fat:

18g

Carbohydrates:

Net Carbs: 8g

Protein:

27g
Keywords: italian keto stuffed peppers