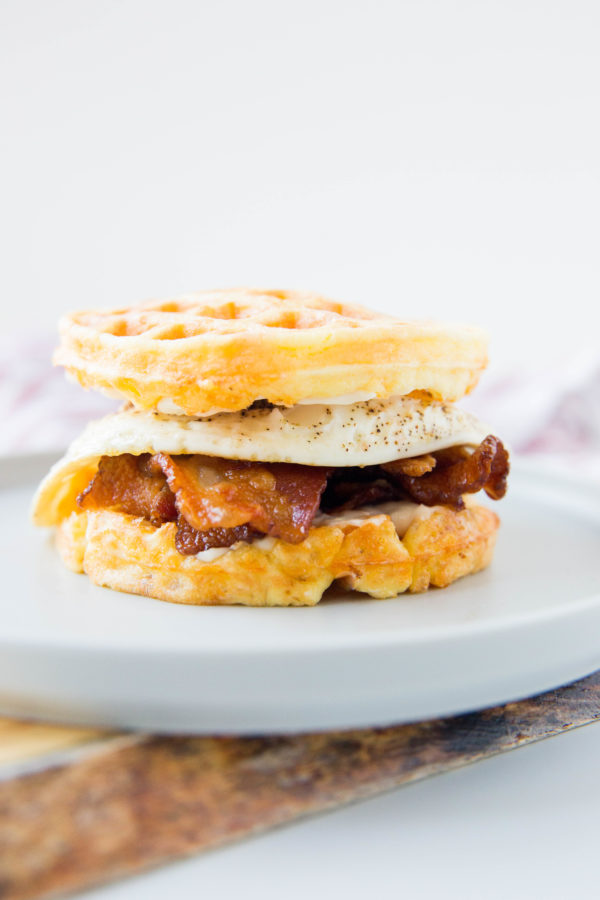 Take your basic chaffle recipe and throw on an egg and some bacon, and you've got yourself a low-carb breakfast sandwich.
Cheese waffles (AKA chaffles) are the newest twist on keto bread. You can forget about throwing your frozen almond flour loaf in the toaster, chaffles are made fresh to order. And the best part about this alternative sandwich bread is that each piece contains less than one net carb. 
If you want to add even more flavor, you can toss some garlic powder into the chaffle mix for a garlic bread breakfast chaffle.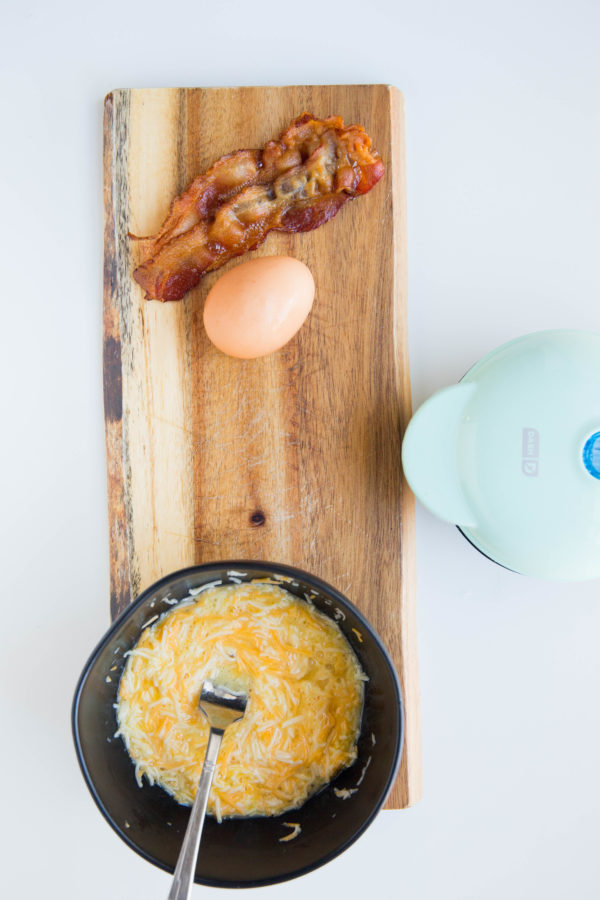 This keto chaffle recipe is:
Eggy

Comforting

Filling

Savory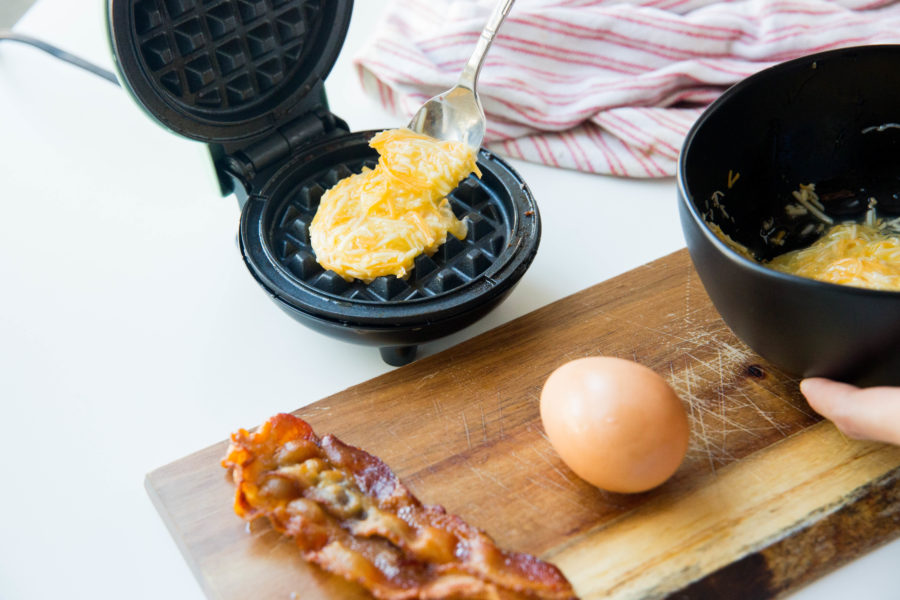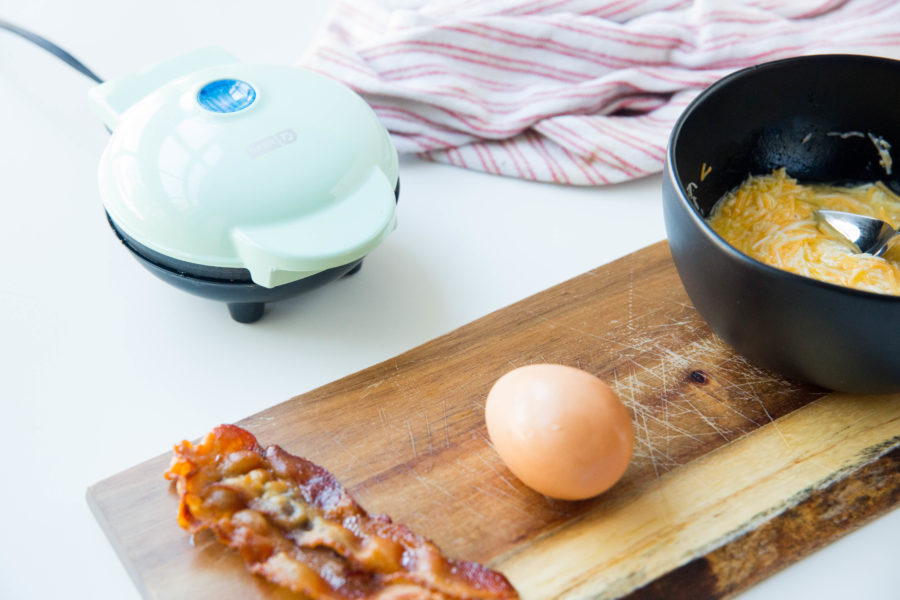 The main ingredients are: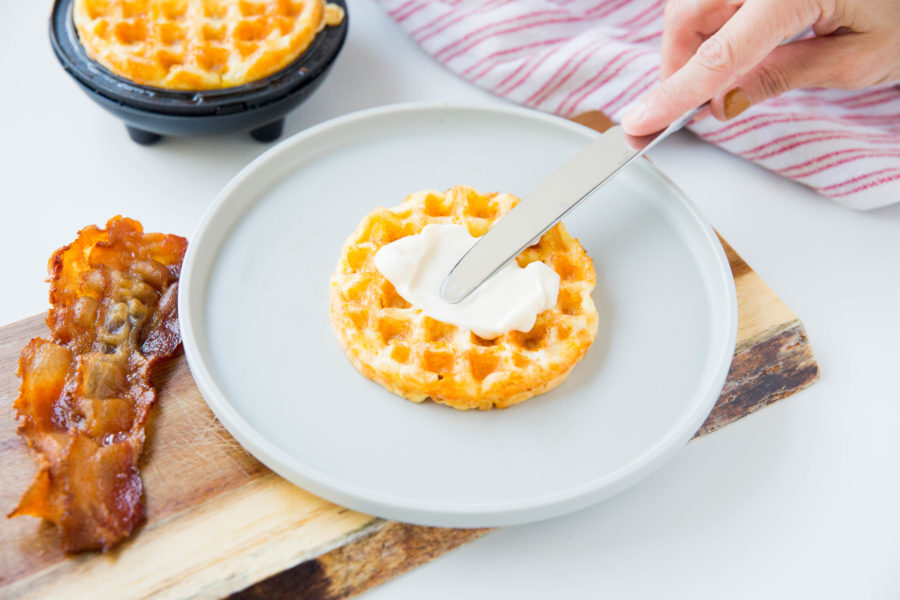 Optional additional ingredients:
Mozzarella cheese

Italian seasoning

Avocado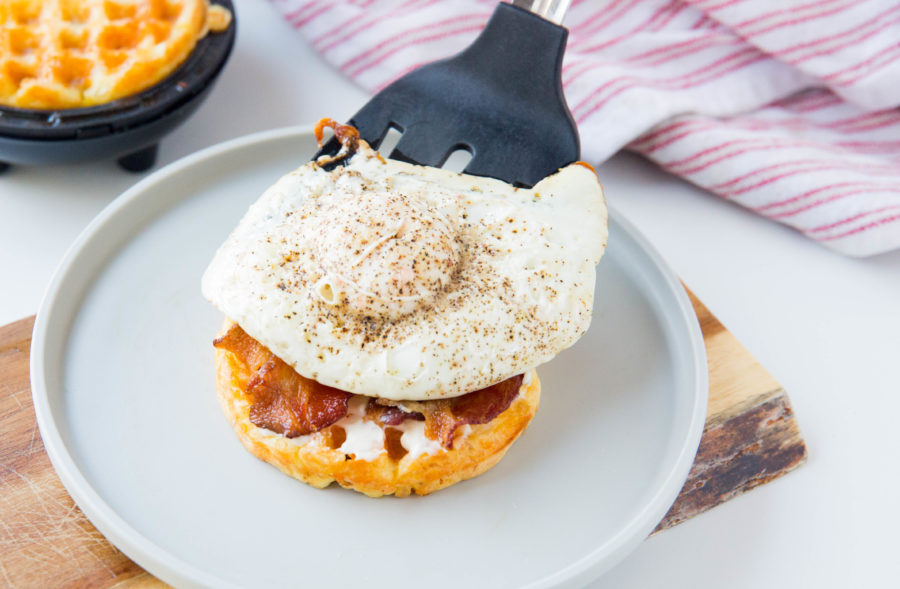 3 Health Benefits of This Chaffle Breakfast Sandwich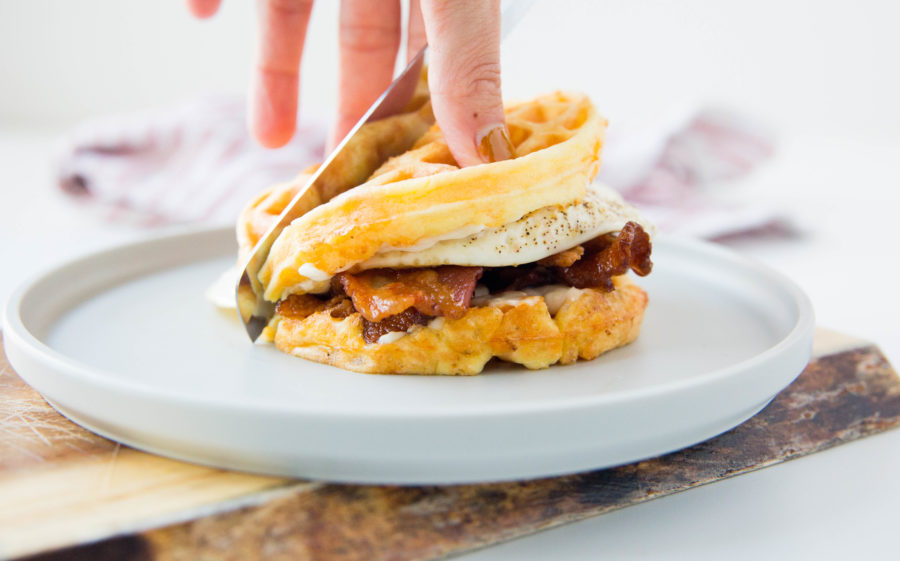 #1: Promotes Eye Health
Vision is one of our senses that is often taken for granted. If you have perfect vision, you really don't give it much thought — until you start squinting to read that dinner menu in a low-lit restaurant. 
But staying on top of your eye health can make a world of difference as you age, and it's never too soon to start. 
Eggs provide a rich source of the antioxidants lutein and zeaxanthin[*]. In your body, antioxidants fight off free radicals and protect against oxidative damage. Lutein and zeaxanthin, however, have an affinity for your eyes, making them superstar nutrients when it comes to eye health. 
In your retina, they act as defenders against blue light, otherwise known as UV rays, which have been indicated in diseases of the eye like cataracts and macular degeneration[*].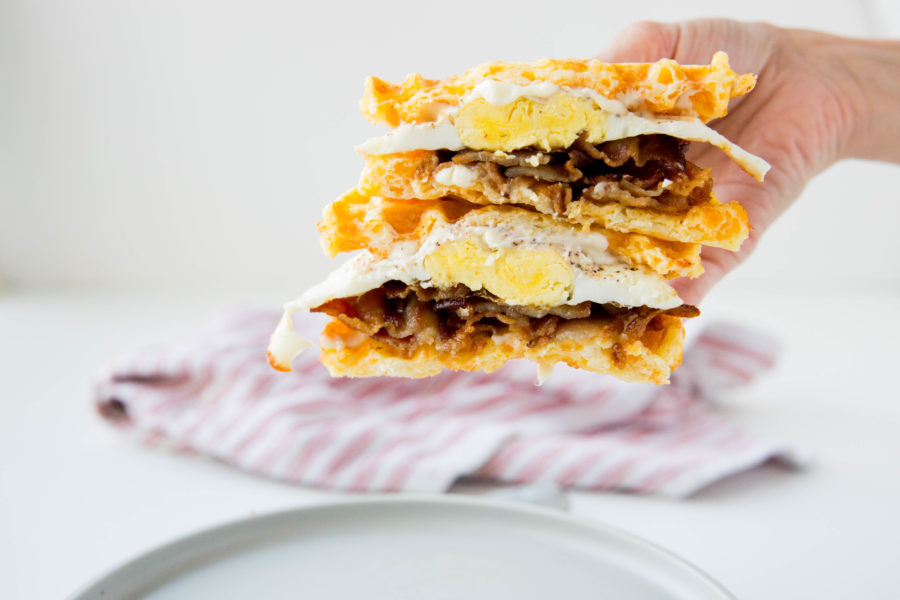 #2: Supports Heart Health
Gone are the days where full-fat dairy was vilified as a potential risk factor for heart disease. Twenty years ago, it was common practice to load your shopping cart with skim milk, low-fat yogurt, and "light" cream cheese. 
Luckily science put an end to that horrific trend, and now you're free to enjoy the rich and satisfying mouthfeel of full-fat dairy. 
But there's much more to the dairy story than its contribution to a decadent meal. In fact, research is now showing that a type of fat that's found in dairy products, heptadecanoic acid, may actually protect you again heart disease. 
One study even found that circulating levels of this fatty acid was inversely correlated with both cardiovascular disease and stroke. In other words, consuming full-fat dairy may protect your heart from heart disease[*].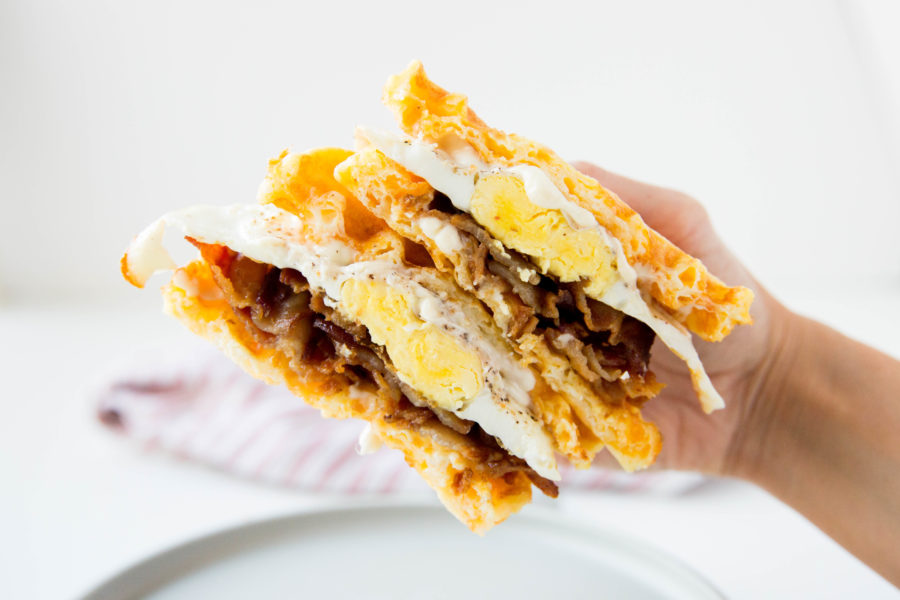 #3: Rich In B Vitamins
Pork is a great source of B vitamins, especially vitamin B6, B12, and B1[*]. While as a group of vitamins, your B's are essential for energy production, each B vitamin has its own unique contributions to your health. 
For instance, vitamin B6 is crucial for the health of your skin, with low levels often showing up as dermatitis or cracking around the corners of your lip. It also plays a role in your immune system, along with your cognitive function[*]. 
Thiamine, or vitamin B1, on the other hand, plays an essential role in your metabolism. It serves as a cofactor for enzymes that help to break down glucose, amino acids, and lipids. 
Animal studies also show a strong correlation between low levels of thiamine and Alzhiemer's disease[*].
And finally, vitamin B12 is a critical component of proper red blood cell formation, neurological function, and DNA synthesis[*].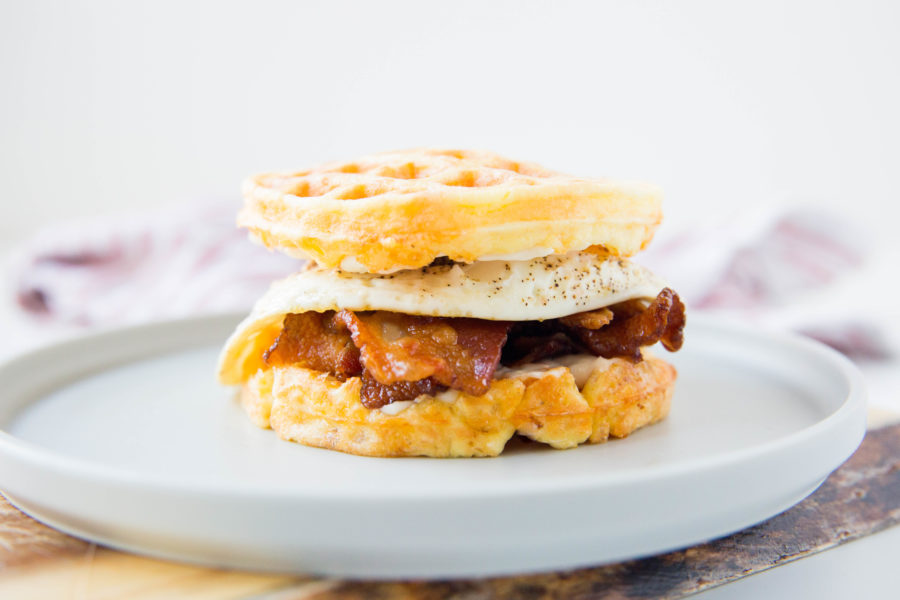 Print
Keto Breakfast Chaffle Sandwich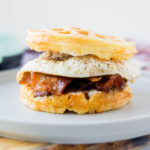 Looking for an easy keto diet breakfast? How about some savory chaffles. 
While there are plenty of recipes out there for keto muffins and sweet chaffles, sometimes you need a little something savory in the morning. 
The chaffle craze isn't going anywhere, so if you haven't gotten on board, it may be time to grab your Belgian waffle maker (or mini waffle maker) and whip up some breakfast sandwich chaffles. 
This recipe is sugar-free with no added sweeteners making it a perfect choice for keto low-carb recipe lovers. 
Author:
Total Time:

10 minutes

Yield:

1

sandwich

1

x
Scale
Ingredients
For the chaffle
Sandwich fixings
2 teaspoons

mayonnaise

1

–

2

pieces bacon

1

egg
Instructions
Heat the mini waffle iron

While the waffle iron is heating, mix the shredded cheese and egg in a small bowl.

Spoon out half of the mixture onto the waffle maker and cook for 3-4 minutes, or until waffles are desired crispiness.

In small pan, cook the bacon until golden brown and crispy, and set aside.

Using the same small pan, cook the egg to desired doneness, adding sea salt and pepper to taste.

Add the mayonnaise, bacon, and egg to the chaffle.
Nutrition
Calories:

346.6

Fat:

27.9g

Carbohydrates:

1.2 Net: .7)

Fiber:

.5

Protein:

22.5