From giving you more energy to suppressing your appetite, MCT oil is a must-have on the keto diet. If you already know why it should be a daily part of your keto life, you can skip ahead to the top tips on how to use this oil and check out the easy recipes that follow. But if this is the first time you're hearing about it, keep reading.
What MCT Oil Is and Why It's Worth Using
Before you dive into how to use MCT oil, you should have a basic understanding of what it is. This way, you'll why it's worth your time, when to use it, and how it can help you reach your keto goals.
Since there's already a comprehensive guide to MCT oil benefits, this guide will offer a brief recap. MCT stands for medium-chain triglycerides, a form of saturated fatty acids.
Chemically, there are four different strains of this oil, and each one depends on how many carbon atoms it has.  
Caproic acid – 6 carbons

Caprylic acid – 8 carbons

Capric acid – 10 carbons

Lauric acid – 12 carbons
The caproic and caprylic acid strains are better for you because fewer carbons take less work for your body to process and use. 
When inside your body, MCTs create ketones[*]. These are energy molecules that become the preferred source of fuel once you reach ketosis. One powerful attribute that comes with MCTs is that they don't need digestive enzymes to be broken down. They're readily available energy once consumed. 
A huge difference between glucose and ketones is the latter is far less reactive in the body. So the energy boost from MCT oil is steady instead of fluctuating throughout the day.
Health Benefits of MCT Oil
Having more energy is only one benefit associated with MCT oil and its subsequent ketone production. Here are a few other important perks you'll also score[*][*][*][*] :
Better mental clarity and sharpness

Higher thermogenesis (i.e., your body's ability to burn calories)

Improved cognitive health

Diabetes prevention

Normal hormonal functioning

Improved physical performance

Help with weight loss and weight maintenance
To get to these powerful benefits, MCTs must be extracted from whole foods like coconut oil or palm oil and then converted into usable forms such as MCT oil or MCT oil powders, which you can then eat or drink. 
Do this for a clean, fast-acting energy source without the overstimulation and crashes typical of glucose-backed options.
How to Use MCTs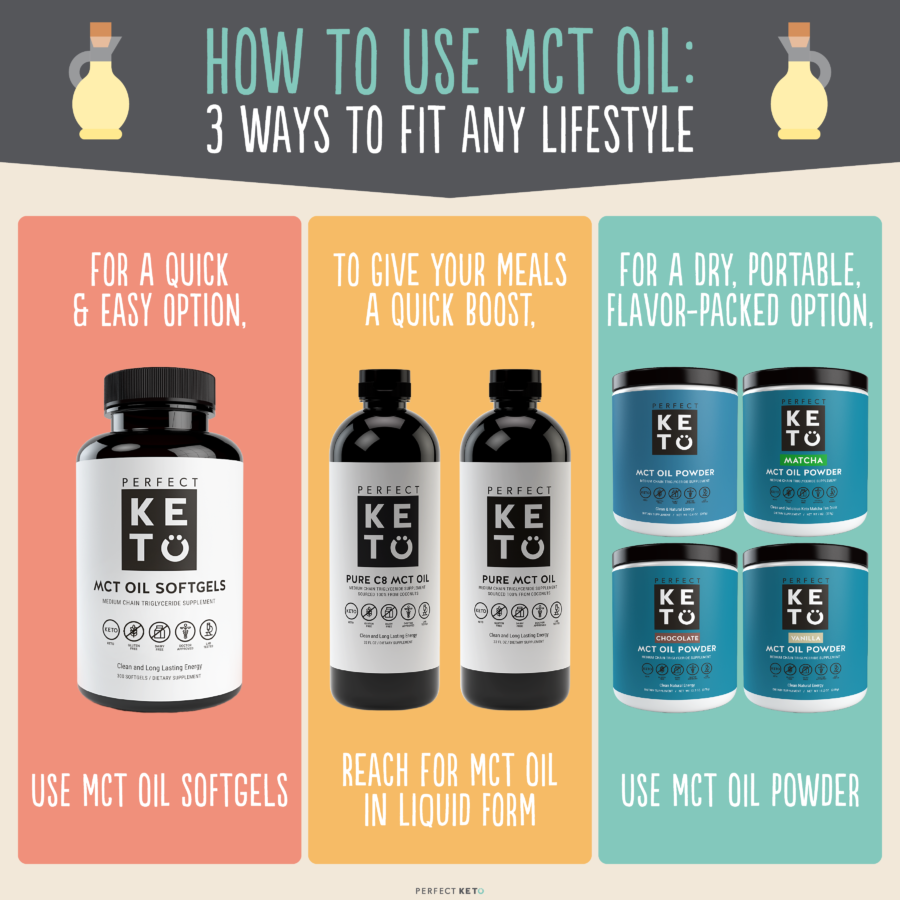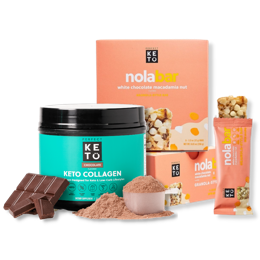 Browse our curated collection of fan-favorites and discover your new favorite snack or supplement.
Shop Best Sellers
Fortunately, there are a few ways you can start including MCTs in your daily routine depending on your lifestyle.
Start with the easiest first.
Quick and Easy MCT Oil Softgels
If you're short on time or just want something to take on the go, an MCT oil soft gel capsule may be right for you. These are especially handy when traveling as you don't have to carry a big container of powder. You can pack enough soft gels ahead of time, or you can take them before you leave for the day.
Along with being convenient, soft gels are flavorless and odorless. This makes them ideal for anyone with super-picky taste buds.
Boost Your Meals With Liquid MCT Oil 
If you're trying to reach your macros but you're falling short on fat each day, add a tablespoon of liquid MCT oil to your morning coffee or pre- and post-workout drinks and smoothies. This can help you hit your macro targets and put you one step closer to reaching ketosis and losing weight.
The good thing about the liquid form of MCT is the taste is so neutral it won't affect your drinks or meals. You can even add it to your salad dressings or keto recipes for an instant boost to the nutritional value of your meals and snacks. 
Dry and Portable MCT Oil Powder
A powdered MCT oil turns any drink into a creamy, decadent delight. And it works for both hot and cold drinks. This means you can add the powdered form to your coffee, tea, and smoothies to elevate your taste buds and nutrition levels.
Powders are also easy to mix, so they don't require a blender. Just stir your powdered MCTs right in water if you're short on time. This powder can also help you stay in ketosis when you travel, as it lacks the mess of oils when it spills.
But powdered MCT oils don't just elevate your drinks. As you'll see shortly, when they're added to recipes, they can turn your dishes into craveable snacks and meals bursting with nutrition and flavor.
MCT Oil Powder vs. MCT Oil Liquid
There are a few pros and cons to consider with each form of MCT oil. Learn how to use it by comparing the liquid and powder forms.
Pros and Cons of Liquid
MCT oil in liquid form is less processed and doesn't come with added fillers or chemical additives. So when it comes to low-heat cooking, liquid MCT oil is ideal. It can also be used as a base for a healthy salad dressing or even a sauce for your favorite zoodles.
But there are some issues to consider:
It can be greasy.

MCT oil in liquid form can be greasy, so recipes can get a little too oily. You have to be careful about measuring it, including for your coffee or tea.

Oil is tougher to travel with.

This is especially true if it spills or leaks in your suitcase.

Oil has a low smoke point.

Baked recipes and high-heat ones are off-limits.

It's harder to mix with other powdered supplements.

Supplements such as

collagen protein

or an

exogenous ketone base

tend to clump.

May be difficult to digest.

You might experience stomach problems if you have gastrointestinal issues and sensitivities, or if you start out with too much in the beginning without letting your body adjust.
To reduce common symptoms such as gas, diarrhea, digestive discomfort, and irritability, start with a low amount and gradually increase your consumption. Taking MCT oil on an empty stomach may also ease stomach irritation.
Pros and Cons of Powdered
Compared to liquid MCT, the powdered option is:
Easier to travel with.

Whether in Ziploc bags or plastic containers attached to your shaker bottle, MCT oil powder is less messy when you're on the go.

Easier to mix.

You can add your MCT powder to both your

exogenous ketone base

and

collagen protein

smoothies with seamless blending and zero clumping.

More versatile with cooking.

Use it in baked recipes, or stir it in your favorite keto-friendly pancake mix or oatmeal.

Easier to digest.

Since the powder is easier on your digestive system than the liquid form, you'll be able to increase your intake and turn up your ketone producing signals.

Creamier texture.

This is great if you don't like an oily consistency.
It's important to note that many MCT oil powders on the market are loaded with chemical additives and fillers. Some even contain sweeteners with the same blood sugar spiking effect as glucose, which could kick you out of ketosis.
That's why it's essential to pay attention to the label and list of ingredients any time you shop for an MCT powder — or any other keto supplement for that matter.
You also want to make sure the MCT oil powder you choose has the right kind of fiber. Low-quality fibers are often added as a way to bulk up the product while cutting costs. But if the MCT-to-fiber ratio is off, you won't reap all the health benefits.
When Should You Take MCT Oil?
The short answer: Whenever you need energy.
Your body will burn MCT oil almost instantly for fuel. This means you'll want to time your intake for those points in your day when your body desperately craves an energy boost.
You can do this before your workout or during that afternoon slump. MCT oil should give you an energy kick to power you through your day. Try adding MCT oil to your food anytime you need a healthy dose of fat to meet your macros or stave off hunger. Also, MCT can be found in Perfect Keto Pre-Workout Drink.
The fastest way to consume MCT oil is by drinking it in your tea or boosted coffee. But if you want to get more creative, you can also add it to your favorite recipes.
9 Keto Recipes With MCT
These recipes will show you how to use MCT oil and help enjoy tasty, health-boosting food and drinks.
#1: Boosted Coffee
The fastest, easiest way to jump on the MCT oil bandwagon is by adding a scoop of MCT oil powder to your boosted coffee.
Not only will this create a creamy, frothy texture, it will also give you an energetic and mental boost to start your day on the right foot. Expect the same results when you add it to your smoothies. You can use this instead of coconut oil, and it tastes just as great. 
#2: Citrus Keto Green Smoothie
In this bright green and keto-friendly smoothie recipe, you'll find MCT oil in its liquid form instead of powder to keep the texture thin enough to sip through a straw.
Thanks to the micronutrients green powder, there's also a nice boost of enzymes, organic fruits and veggies, and that citrus flavor you might often miss while on keto.
#3: Keto Oatmeal
This keto oatmeal recipe replaces carby oats with flax meal and chia seeds, so you'll have a filling, low-carb, keto-friendly version.
Then, kick this recipe up a notch with a vanilla-flavored powdered form of MCT oil to add both creamy texture and a sweet taste you'll think about all day.
#4: Matcha Latte Pancakes
Don't want to give up pancakes just because you follow keto? You don't have to.
With these matcha latte pancakes, you can enjoy pancakes again while also getting a healthy serving of MCTs, vitamin E, and magnesium. 
#5-#7: Fat Bombs
Fat bombs are an awesomely quick and easy way to satisfy your cravings and get a mouthful of fatty nutrients. If you're new to fat bombs, try one (or all) of the following recipes.
Knowing how to use MCT oil isn't limited to morning meals and snacks. As you'll see in these last two recipes, MCT oil also works well in dinner and dessert recipes.
#8: Shrimp Stir Fry
If you're craving gluten-free takeout without carbs and sugar-filled sauces, consider this shrimp stir fry recipe instead.
You'll have the health benefits of MCTs, and you'll only fork over 9 grams of carbs instead of the triple digits you'd see with traditional takeout.
#9: Chocolate Keto Bars
Have this homemade keto chocolate bar on hand when sweet cravings strike. The MCT oil and maca powder will give you a nutritional boost while satisfying your sweet tooth. Also, MCT can be found in Perfect Keto's Bars.
Start Using MCT Oil Today
If you're ready to start using a high-quality MCT oil, you'll need to decide whether a soft gel, liquid or powder form is right for you. You can also find the Perfect Keto MCT Powder in our Perfect Keto Starter Kit.
You may find a combination of more than one type works best for your lifestyle, so feel free to experiment until you find one that you like.
If you'd like to learn a bit more before you jump right in, check out these resources:
By making this oil part of your daily routine, you'll give your brain and body the boost it needs to reach and maintain ketosis and capture all the associated health benefits that come with it.