If you're used to a standard green smoothie or berry smoothie in the morning or post-workout, you know that smoothie recipes can get old fast.
Not with this spicy-sweet cinnamon smoothie.
With almond milk, stevia-sweetened Vanilla Whey Protein, MCT Oil Powder, and a hefty serving of blood sugar-balancing cinnamon, this smoothie is a sweet treat — without the sugar.
Most smoothies call for high-sugar fruits like frozen bananas and apple slices to add a sweet taste and texture. Not only do those flavors get old, but those super sweet fruits will definitely kick you out of ketosis.
Instead, this cinnamon roll smoothie will help keep your blood sugar balanced with plenty of good fats and protein powder.
Plus, without chopping fruits and veggies, there's very little prep time and barely any cleanup. All you could ask for from a healthy breakfast.
So, swap your banana smoothie for this cinnamon smoothie to feel full for hours and keep your blood sugar in check.
The natural sweetness of ground cinnamon plus vanilla protein provides that sugar-free sweetness you know and love. And with only four ingredients, you know exactly what you're getting.
This smoothie recipe is:
Refreshing
Satisfying
Gluten-free
Sweet
The main ingredients in this MCT Oil Powder Cinnamon Smoothie include:
Optional additional ingredients: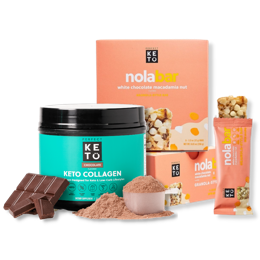 Browse our curated collection of fan-favorites and discover your new favorite snack or supplement.
Shop Best Sellers
Health Benefits of This Cinnamon Smoothie
#1. Rich In Potent Antioxidants
Cinnamon is a spice that's often taken for granted. We know it, and we love it, but when it comes to its profound health benefits, it's often sidelined by other spices like ginger and turmeric.
So you may be wondering: what's so great about cinnamon? Cinnamon is a potent antioxidant.
Cinnamaldehyde, an antioxidant found in abundance in cinnamon, is anti-inflammatory, heart-protective, anti-bacterial, and immune boosting[*][*].
A bit of cinnamon may also help you keep blood sugar stable, as well as contribute to better cholesterol levels[*].
#2. Promotes Muscle Growth
If you've ever tried to put on muscle, you know it can be a challenge. Balancing your workouts with cardio and resistance training, plus trying to figure out what to eat can be a barrier right from the get-go.
Well, there's a reason you see bodybuilders chugging protein shakes next to the weight machines at the gym. Whey protein is an excellent source of branched-chain amino acids (BCAAs).
BCAAs are protein building blocks that help build and repair muscle. And whey protein happens to be a rich source of leucine, a BCAA that is shown to directly stimulate a signal to enhance muscles growth[*].
#3. Beneficial for Weight Loss
Consuming medium chain triglycerides (MCTs) has been directly linked to trimming your waistline and assisting with overall fat loss.
One way MCTs support weight loss is by enhancing satiety.
When overweight men were given MCTs or long chain fatty acids with their breakfast, the MCT group experienced a significant reduction in hunger. This reduction in hunger, in turn, led to decreased food consumption at later meals[*].
MCTs not only keep you satisfied for extended periods of time, but they may also boost your ability to burn fat as compared to long chain fatty acids. And if that wasn't enough — MCTs may also stimulate more energy expenditure.
That means you get a boost to your metabolism while simultaneously burning more fat[*].
MCT Oil Powder Cinnamon Smoothie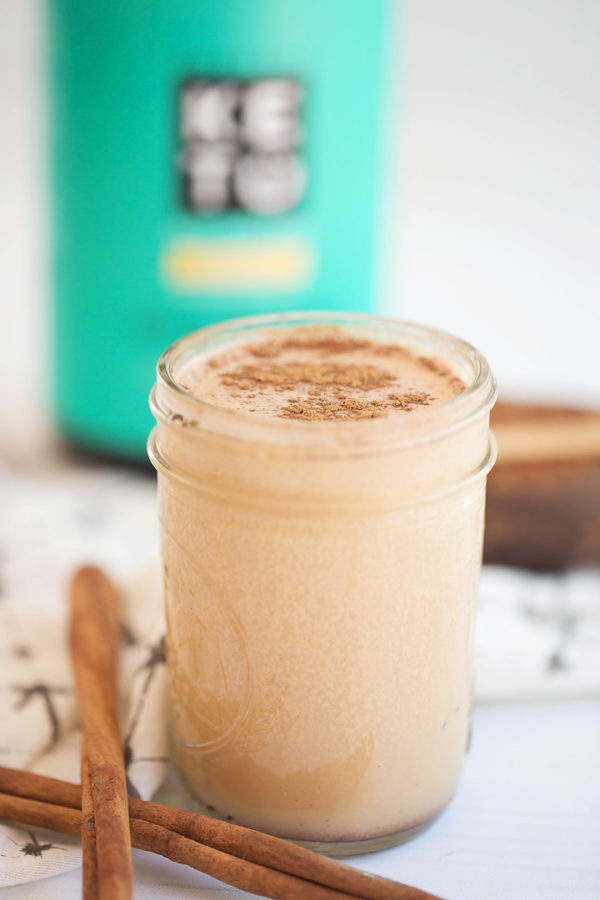 Forget the skim milk, maple syrup, bananas, and all the other high-carb smoothie ingredients. This cinnamon smoothie is packed with protein and fat to keep you full and satisfied and keep your blood ketones soaring.
All you need is one scoop Perfect Keto MCT Oil Powder, one scoop Perfect Keto Vanilla Whey Protein Powder, one teaspoon cinnamon, and one cup almond milk.
Add some ice, blend together, and you have a delicious morning treat.
Print
MCT Oil Powder Cinnamon Smoothie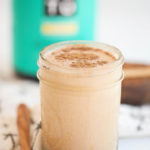 Grab some almond milk, one teaspoon cinnamon, some MCTs and whey powder, and you have a delicious gluten-free, keto-friendly, cinnamon smoothie
Author:
Prep Time:

1 minute

Total Time:

1 minute

Yield:

1

Serving

1

x
Instructions
Add all ingredients to a high-speed blender and blend until well-combined.

Serve chilled and enjoy!
Nutrition
Serving Size:

1 Serving

Calories:

223

Fat:

11.5g

Carbohydrates:

4g (0.3g net)

Fiber:

3.7g

Protein:

25.1g
Keywords: cinnamon smoothie