Many keto-dieters avoid Indian food because of the carb-heavy naan and rice. Also, how can you possibly know what's in all of those rich sauces when you eat at Indian restaurants?
Luckily, it's simple to recreate your favorite Indian dishes in your keto-friendly kitchen. Simply swap the rice for cauliflower rice and skip the naan.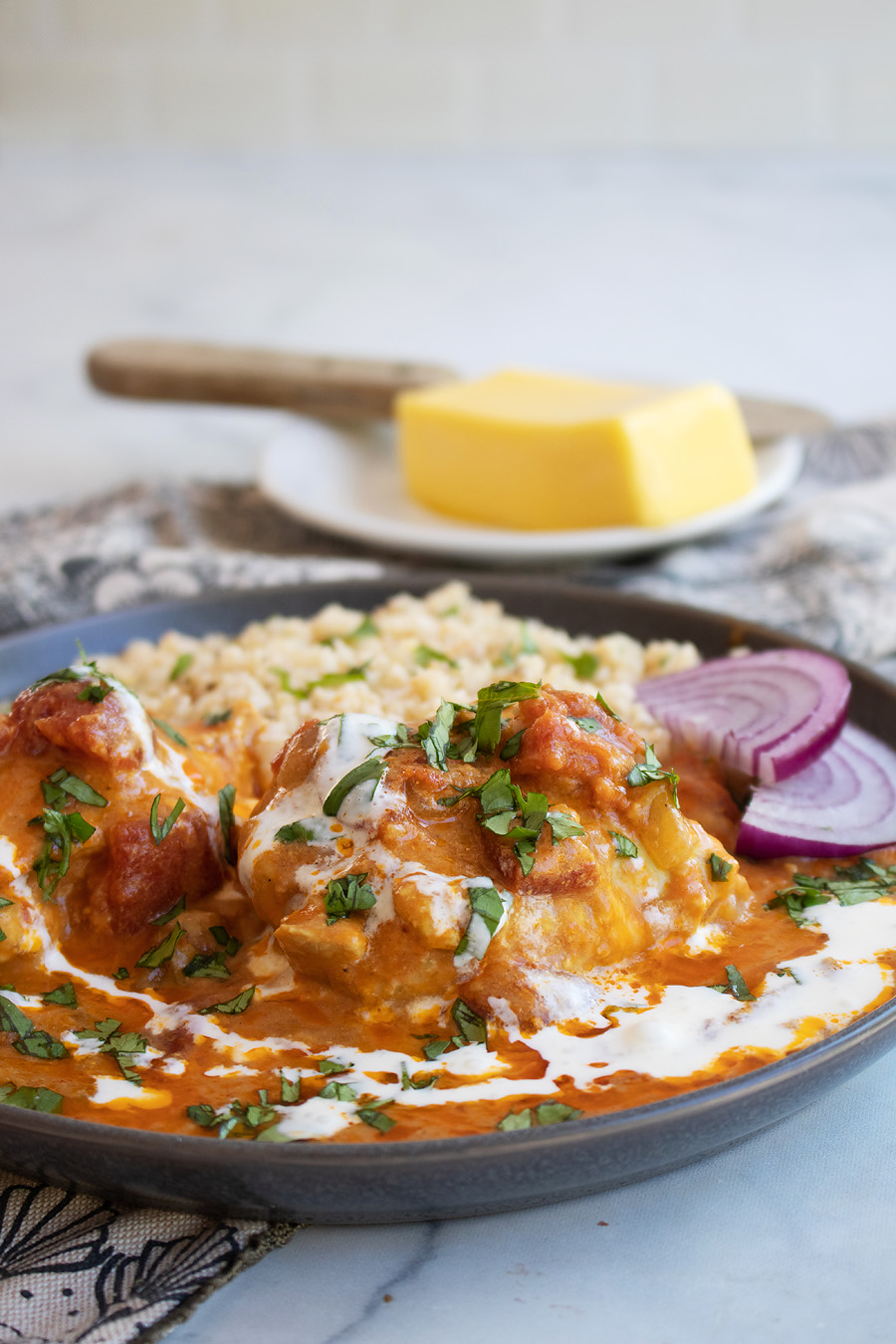 This keto butter chicken recipe is warming and comforting, but so delicious, you'll want to make it year-round. And since this savory dish only gets better after a night in the fridge, it's the perfect recipe for batch-cooking.
Simply make a big batch and make it last all week!
This low-carb butter chicken is:
Spicy
Creamy
Savory
Delicious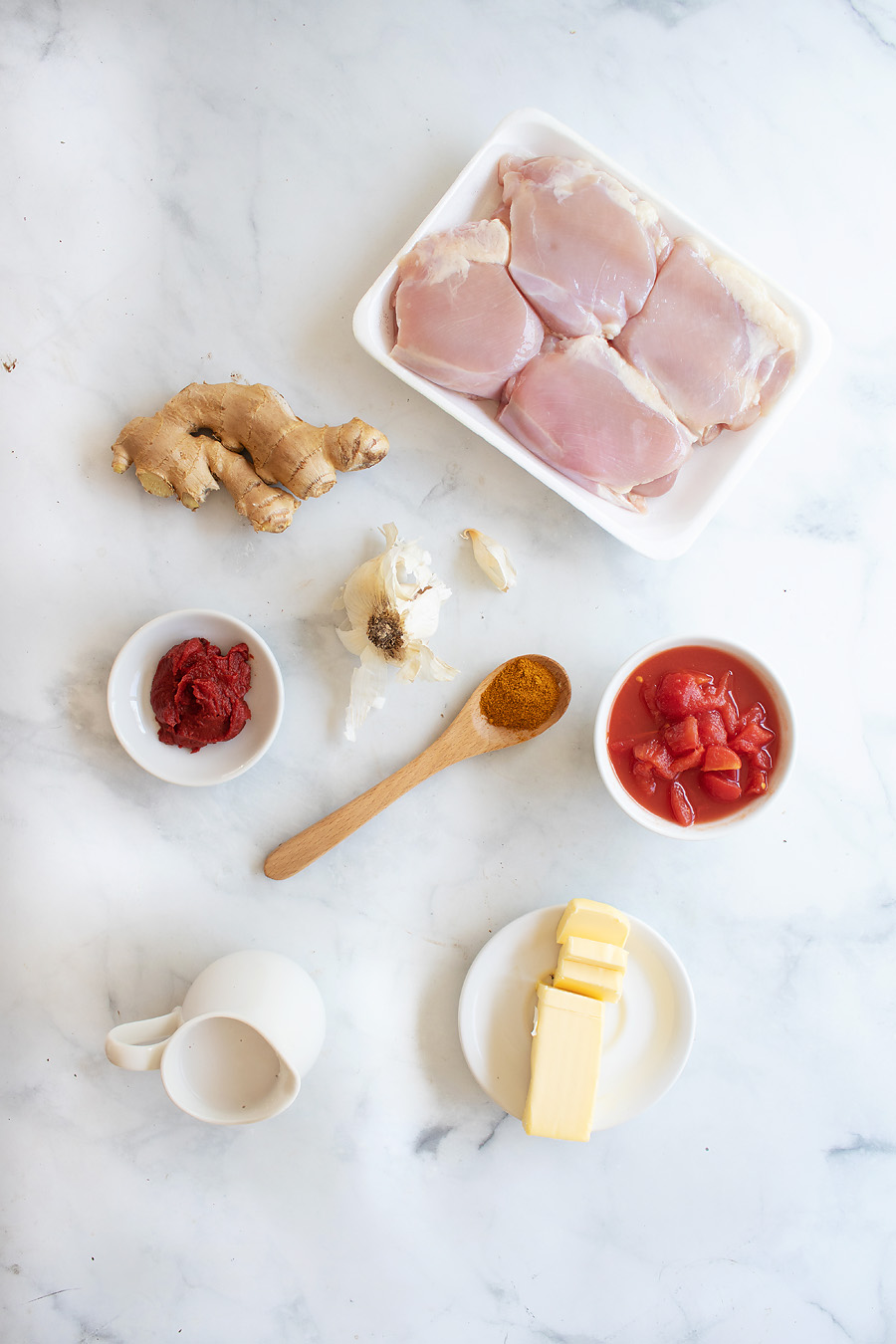 The main ingredients are:
Optional additional ingredients:
3 Health Benefits of This Instant Pot Keto Butter Chicken
#1: Protects Your Skin
Did you know that your skin is actually considered an organ? In fact, it is the largest organ in your entire body.
Although often overlooked, the health and protection of your skin is of utmost importance. This organ not only serves as a protective barrier to the outside world, but it also aids in detoxification, prevents dehydration, and controls your body temperature[*].
Nutrients found in your food can help protect your skin, and prevent damage from UV rays like sunburn and even skin cancer.
The phytonutrient class of carotenoids happens to be particularly helpful in protecting your skin. And lycopene, which can be found in tomatoes, has a significant skin-protective effect by decreasing sensitivity to harmful UV rays[*].
#2: Supports Heart Health
Consuming a diet that's rich in nutrients is an excellent way to support your heart health.
And meals like this keto butter chicken are loaded with ingredients that provide nutrients to every cell in your body. Onions, in particular, contain a phytonutrient that may have a special effect on the health of your heart.
Quercetin is a type of polyphenol (antioxidant) that can be found in abundance in onions. Quercetin seems to have antihypertensive activities in your body. In other words, it can help lower your blood pressure and relax your blood vessels.
Elevated blood pressure is one of the primary risk factors for heart disease, and being able to manage this marker can have a significant benefit on the health of your heart[*].
#3: Anti-Inflammatory
Curry powder is made up of a blend of spices that are commonly used in Eastern cuisine. Although the ingredients in curry powder can vary, the majority of blends include turmeric as one of the main spices.
In general, curry powder is meant to be warming and therefore can help stoke the fires of digestion. In addition to it's warming qualities, many curry powders impart anti-inflammatory benefits due to the turmeric content.
Turmeric contains compounds called curcuminoids, which are largely responsible for its anti-inflammatory activity. As an herbal medicine, turmeric has been used for thousands of years in Ayurvedic medicine to treat inflammatory conditions.
Modern medicine is now learning that turmeric and its constituents may be beneficial in a range of inflammatory conditions. Some of these conditions include common ailments like cancer, pancreatitis, arthritis, and inflammatory bowel disease[*].
Instant Pot Keto Butter Chicken
If you don't have an Instant Pot, no worries — you can use any type of slow cooker for this Indian dish.
You can also feel free to play around with the ingredients a bit. Coconut milk works great if you don't have coconut cream, and you can even dilute some heavy whipping cream as well.
Adding in different herbs like fenugreek, ground cumin, and paprika can also work to enhance the flavor if you're looking for more spice.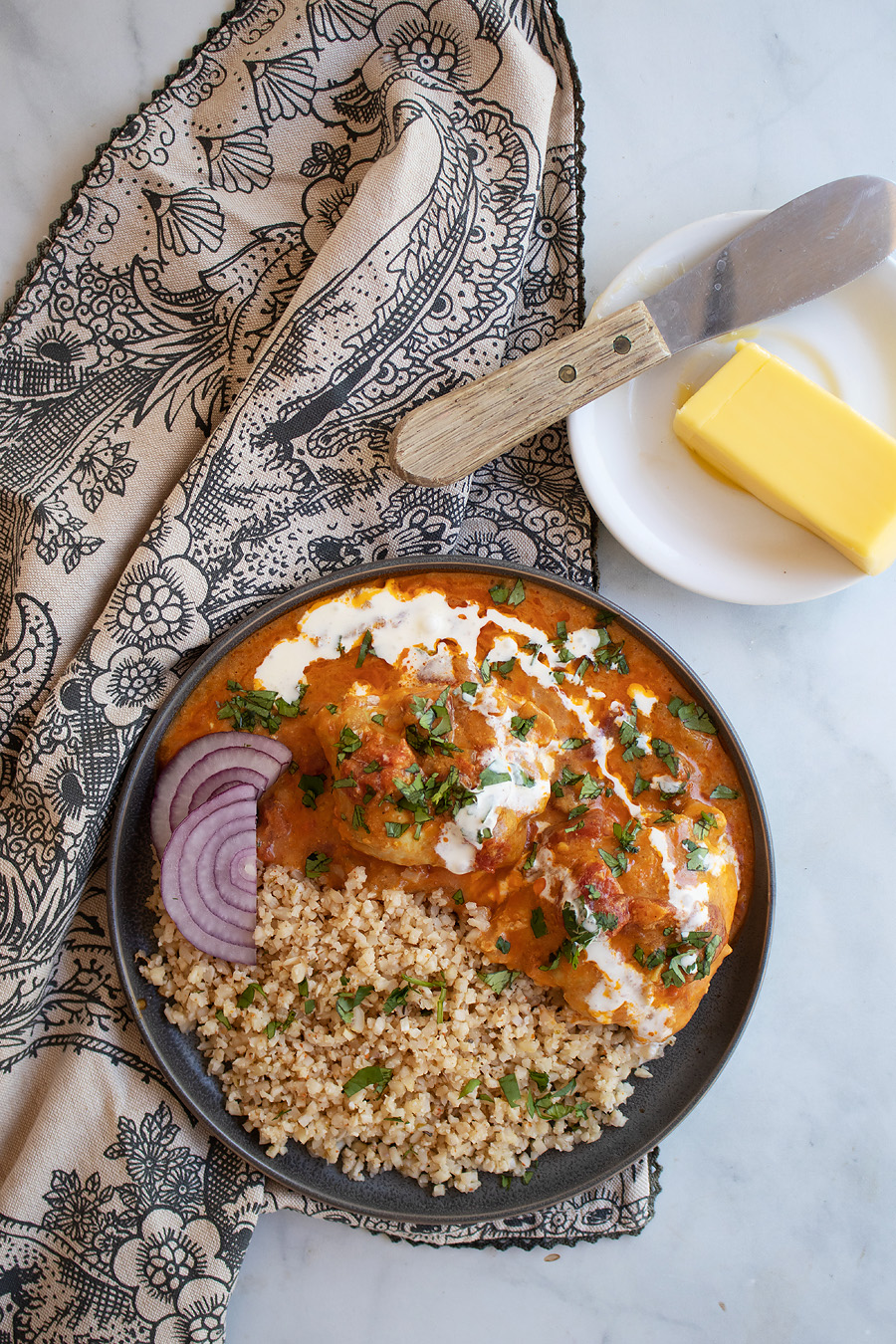 Print
Instant Pot Keto Butter Chicken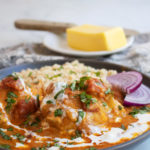 Love Indian food? This keto butter chicken is a must-try. Skip the rice and naan and substitute your meal with some keto-friendly cauliflower rice.
Author:
Total Time:

20 minutes

Yield:

4

servings

1

x
Instructions
Remove lid and turn Instant Pot on, press SAUTE + 10 minutes.

Add butter and yellow onions to the bottom of the pot.  Saute for 2-3 minutes. Stir in tomato paste, garlic, ground ginger, curry powder, salt, and pepper.  Add chicken thighs. Stir and cook for an additional 2-3 minutes until fragrant.

Add tomatoes, chicken stock, and heavy cream.  Stir until well combined.

Turn Instant Pot OFF, then back ON by pressing MANUAL + 20 minutes.  Replace lid and close valve.

When timer goes off, manually release pressure.  Carefully remove lid and stir. Adjust seasoning to taste.  Serve with cauliflower rice, extra butter, and a drizzle of heavy cream/coconut cream if desired.  Garnish with fresh cilantro and a pinch of Garam Masala seasoning blend.
Notes
OPTIONAL:
Cilantro leaves, extra butter, heavy cream, and garam masala seasoning blend.
Nutrition
Serving Size:

½ cup

Calories:

344

Fat:

23g

Carbohydrates:

7g (5g net)

Fiber:

2g

Protein:

28g
Keywords: keto butter chicken