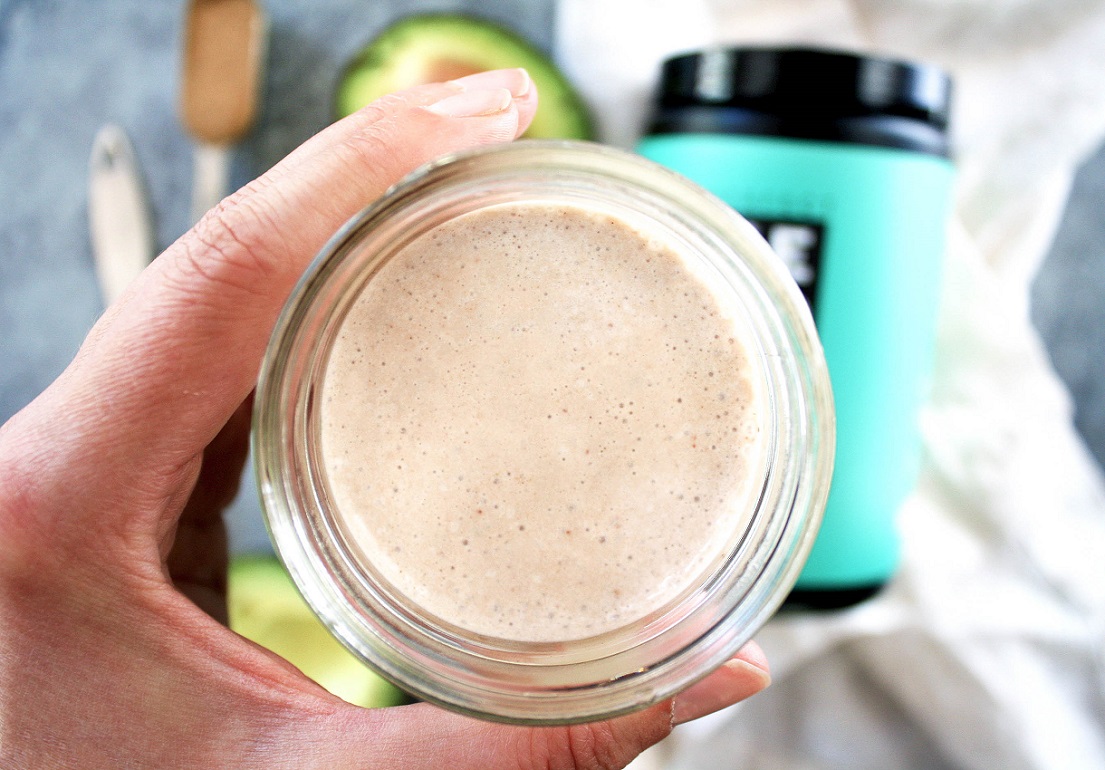 Breakfast is one of the most challenging parts of a low-carb keto lifestyle. Especially if you can't eat eggs or you're just sick of them.
If you're looking for egg-free keto breakfast ideas, this low-carb, high-protein keto chocolate smoothie is for you.
Packed with nutrients and healthy fats, this chocolatey protein shake will keep you going for hours.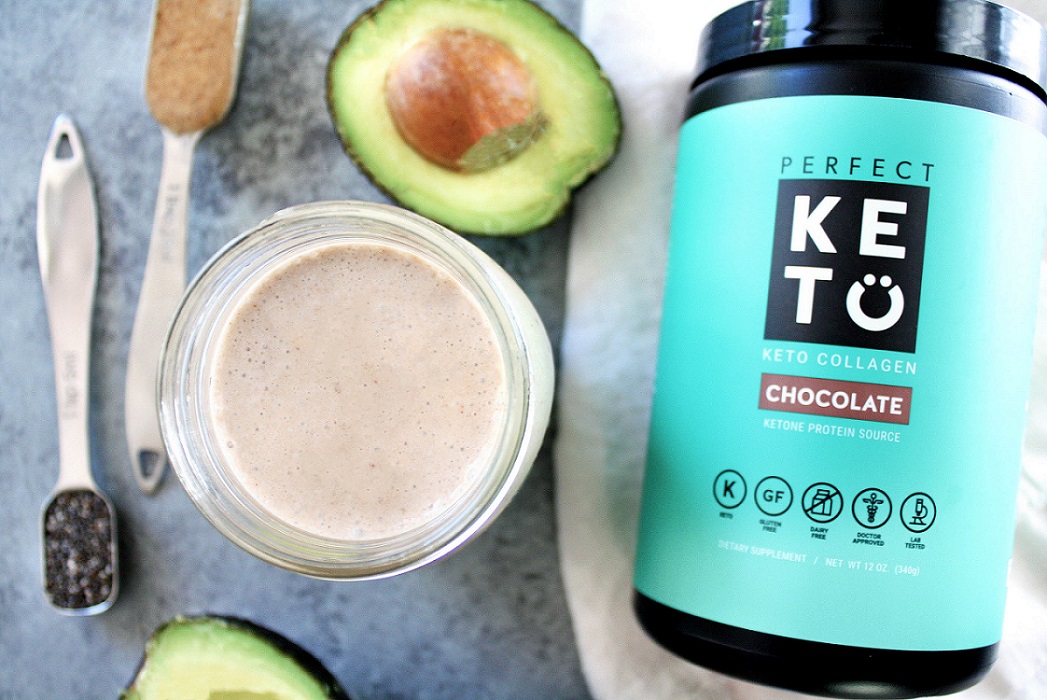 The main ingredients in this Keto Chocolate Smoothie include:
Optional ingredients:
Sprinkle of sea salt
Chopped nuts
Sugar-free chocolate chips
This collagen-rich smoothie is:
Creamy
Chocolatey
Nutty
Filling
Packed with protein
Easy to whip up in minutes
Gluten-free, soy-free, with a dairy-free option
The Perfect Grab-N-Go Low-Carb Breakfast
Before you started a ketogenic diet, your grab-n-go breakfast options probably included a breakfast bar, instant oatmeal, or a pre-made chocolate shake — none of which are keto-friendly. Most of which contain questionable ingredients.
With your options (and time) limited, you might be wondering, "What can I eat in the morning and still stay keto?"
Smoothies are ideal keto recipes for anyone who has little to no time to spare in the mornings. If you own a to-go cup or a mason jar with a twist-off lid, you can pour your smoothie from blender to container, toss it in your bag, then head out the door.
Make Your Smoothie Prep Even Easier
Just as you prep your week's meal plan, you can easily meal prep your breakfast smoothies. Rather than chopping and cleaning every morning, have all your ingredients ready to go, so you don't waste time prepping ingredients. Here are a few tips you can try:
On Sundays, take the time to prep, chop, and portion out many commonly used ingredients. Chop up your vegetables or low-sugar fruits, then store them in the fridge or freezer to use throughout the week.
Portion out five days' worth of solid ingredients into separate mason jars, leaving out the liquid. Each day, you can toss the contents of the mason jar into the blender, add your liquid. and blend.
If you own a NutriBullet, you can pour tomorrow's smoothie ingredients directly into the blender cup with a reusable lid. In the morning, simply add your liquid and blend.
How to Make a Low-Carb Smoothie
When you picture smoothies, you might envision bright, tropical beverages loaded with fruit. While these might be a tasty treat, they can wreak havoc on your blood sugar and aren't a part of a low-carb keto diet.
An ideal keto smoothie will have several components:
A liquid
A protein source
A fat source
Something to give it a creamy texture
Follow the guidelines below to build a smoothie that's low in carbohydrates and high in protein and healthy fats.
#1 Start With a Base of Vegetables and Low-Carb Fruits
Most smoothie recipes blend apples, bananas, berries, and almost every other fruit imaginable into a high-sugar concoction. To make yours low-carb, you will eliminate most fruits and focus on veggies instead. Here are a few ingredients to keep in stock:
Avocados: Avocados add a thick, creamy texture and add a hefty serving of healthy fats. Don't worry — avocados tend to take on the flavor of your other ingredients (like chocolate), so your smoothie won't taste like guacamole.
Berries: Berries are one of the only low-sugar fruit options allowed in keto smoothies, and it's still best to limit these to one handful or so per day.
Leafy greens: Kale, spinach, and other greens add valuable vitamins and minerals to a smoothie, and blend easily with the other ingredients. You can also get these already clean and frozen to make your smoothie-making process even easier.
#2 Add Protein, Healthy Fats, and Dietary Fiber
Once you select the fruits and vegetables for your smoothie, it's time to add a dose of protein and healthy fats. This will add substance to your smoothie, keeping you full until lunchtime. The following proteins work well within the keto diet:
Nut butter: Almond butter, macadamia nut butter, and seed butters are a great way to add fat, protein, and flavor to your smoothie. Perfect Keto Nut Butter is a blend of nuts and other fats that make a delicious, creamy addition to any smoothie.
Protein powder: It's important to consume between 15–20 grams of protein at breakfast, which can be difficult to find in a grab-n-go meal. Consider adding Perfect Keto Collagen Protein to or a high-quality whey protein isolate to your smoothie to hit your protein requirements.
Coconut oil, MCT oil, or coconut butter: Like nut butters, coconut butter and coconut oil thicken the texture of your smoothie while adding extra healthy fats.
Nuts, seeds, and other toppings: If you're someone who loves toppings on your smoothies, consider adding chopped pecans, cocoa powder, chia seeds, toasted coconut flakes, or roasted sesame seeds.
If necessary, keto-friendly sweeteners: If you want your chocolate smoothie to taste more like a chocolate milkshake, consider adding monk fruit or stevia to your smoothie.
In the recipe below, you'll combine almond butter or nut butter with Perfect Keto Chocolate Collagen, giving you almost 50 grams of fat, 14 grams of protein, and just 2 grams of net carbs in one glass. It tastes just like a chocolate peanut butter cup.
#3 Blend With a Keto-Friendly Liquid
Once you select your solid ingredients, it's time to add a liquid and ice cubes. Select a beverage that is low in carbohydrates, free of sugar, and completely natural.
You can easily blend your smoothie with water, but this can make your smoothie a bit tasteless and runny. To add some flavor and a creamier texture, try using one of the following ingredients:
Unsweetened nut milk: Nut milks like sugar-free almond milk are an excellent, dairy-free option that work very well in smoothies — just be sure to double-check the ingredients and select a brand without added sugar or flavors.
Full-fat coconut milk: Packed with healthy saturated fats, coconut milk and coconut cream are some of the most common ingredients in keto smoothies.
Keto-friendly dairy options: If you're not sensitive or allergic to dairy, you can use heavy cream or heavy whipping cream in low-carb smoothies. Dairy-based milks from skim to whole fat are off limits, though — the carb and sugar levels are too high.
Enjoy This Low-Carb Smoothie Tomorrow Morning
On busy mornings, this peanut butter chocolate smoothie will be your saving grace. It takes a total prep time of just five minutes, which can be cut down to two minutes if you prep your ingredients in advance. Plus, it's thick, rich, and creamy — just like a chocolate peanut butter shake, but with healthier, nutrient-dense nut butters.
Feel free to try different variations of this low-carb recipe, but always remember to include:
Veggies or low-sugar fruit
A healthy fat
A protein source
A keto-friendly liquid, like unsweetened almond milk
Now, onto the recipe — and bottoms up!
Print
Keto Collagen Chocolate Smoothie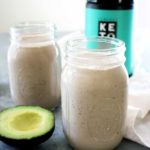 This keto collagen chocolate smoothie is a delicious alternative to your morning power coffee or an anytime energy boost when you need it. Note: This recipe yeilds 2 servings. The nutrition facts are for 1 serving only.
Author:
Prep Time:

5 minutes

Total Time:

5 minutes

Yield:

2 Cups

1

x
Category:

Drinks

Cuisine:

American
Instructions
Add all ingredients to blender and blend until well-combined.

Serve and enjoy!
Nutrition
Calories:

529.5

Fat:

51

Carbohydrates:

8 (Net carbs: 4)

Fiber:

4

Protein:

14.5
Keywords: keto collagen chocolate smoothie