These keto crunch chocolate bars check off all the boxes. They're gluten-free, grain-free, sugar-free, dairy-free, vegan, paleo, and best of all…no-bake.
Every ingredient in this bar recipe is well thought out in terms of both taste and quality. For instance, the Perfect Keto Nut butter is made with mostly macadamia nuts and some cashews — no peanut butter here.
And of course, when it comes to the chocolate chips, you'll be sourcing some sugar-free chocolate (you can find some on Amazon). Search under "keto chocolate" or "unsweetened chocolate."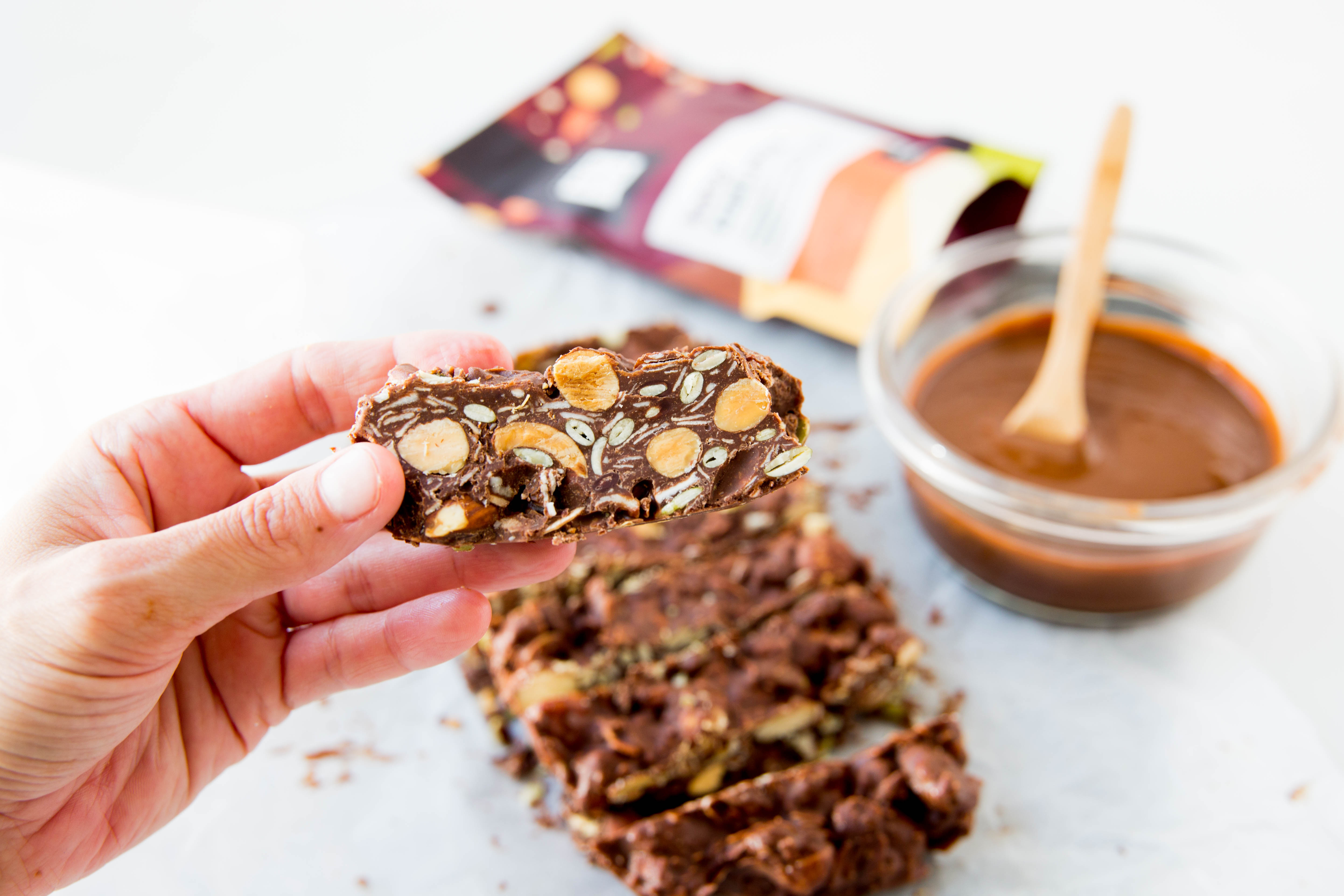 Keto low-carb diets can be just as satisfying and delicious, if not more, than high-carb diets. You just need the right recipes to keep life interesting.
Make sure to store your bars in an airtight container, and enjoy all week.
These low-carb crunch bars are:
Sweet
Crunchy
Delicious
Flavorful
The main ingredients are: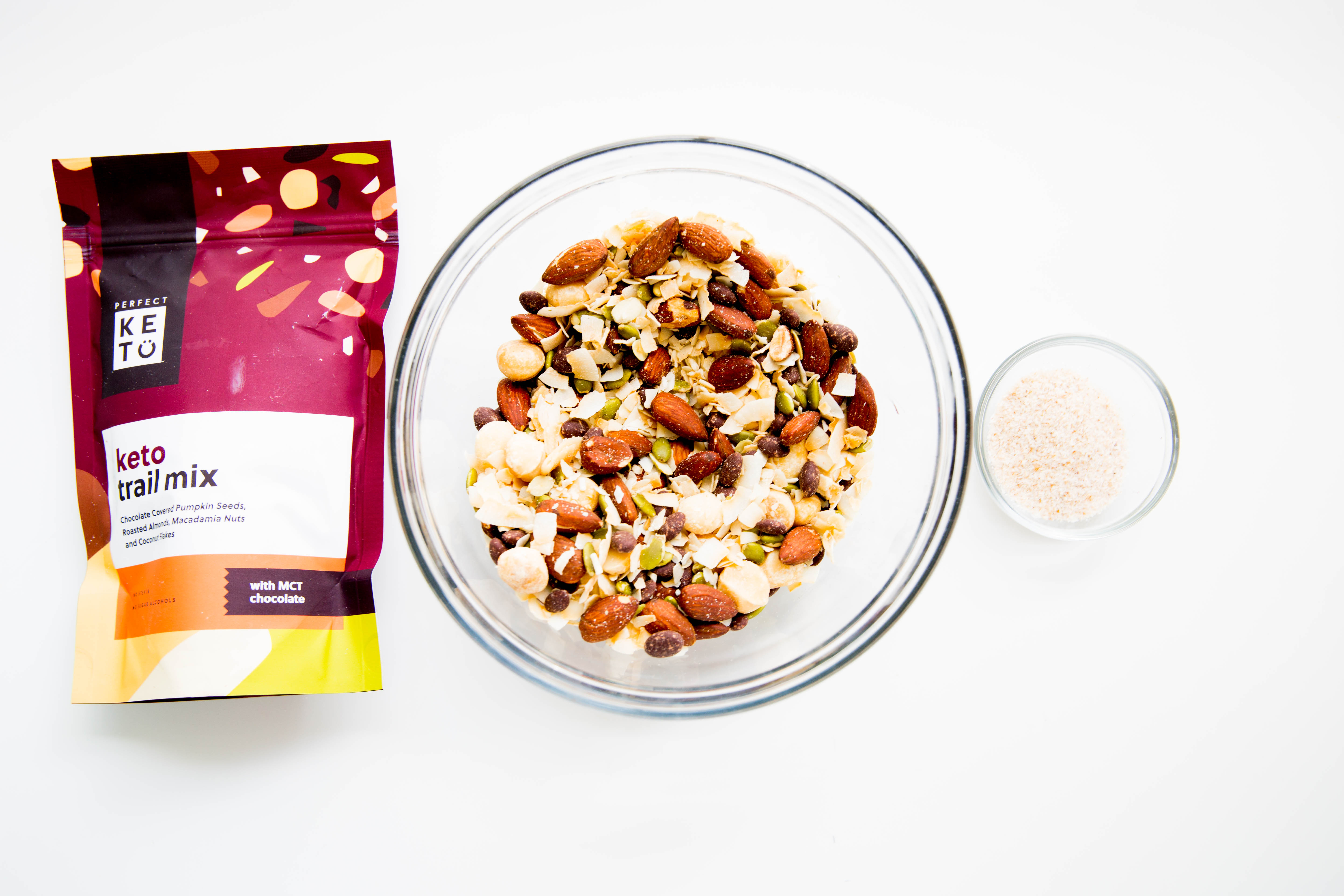 Optional additional ingredients:

3 Health Benefits of Keto Crunch Bars
#1: Improves Digestion
Psyllium husk acts as a great binding agent when it comes to ketogenic cooking and baking. In can take the place of ingredients like eggs and gluten, and imparts a pretty neutral flavor.
The reason psyllium works so well as a binder is because it made up of mostly soluble fiber. Soluble fiber can absorb a large amount of water, and create a thick and gelatinous consistency.
The same action that works in your food preparation works in your gut. When you consume psyllium, it will absorb water in your gut and can create a bulk laxative effect. This allows for smoother passage of your stool through your digestive tract[*].
#2: Supports Heart Health
The risk of heart disease in the U.S. is as high as ever. The standard Western diet, with loads of carbs and sugar, not only lacks heart-supportive nutrients but contributes to the risk for heart disease. That's likely one of the reasons why so many people feel great on a low-carb diet.
While most plant foods are great sources of antioxidants, chocolate happens to be especially rich in polyphenols. Research shows that the polyphenols in chocolate can support the health of your heart by regulating blood pressure and reducing blot clots.
It's believed that polyphenols activate nitric oxide (NO), which helps with the dilation of your blood vessels. When your blood vessels dilate it allows for smoother transit of blood through your arteries.
They also possess anti-inflammatory properties, which can contribute to the health of the blood vessel walls[*].
#3: Anti-Inflammatory
Macadamia nuts are unique among the nut family for their high levels of monounsaturated fats. These fats, also known as omega-9s, possess both antioxidant and anti-inflammatory properties.
In one study, researchers gave a group of volunteers a diet with 15% of their calories coming from macadamia nuts for four weeks. After the trial period, when they tested several health markers to see if the macadamia nuts contributed to any changes.
The researchers found that macadamia nut consumption resulted in a significant decrease in both oxidative stress and inflammation. What's more, they also found a reduction in thrombosis — which is blood clot formation[*].
Keto Chocolate Crunch Bars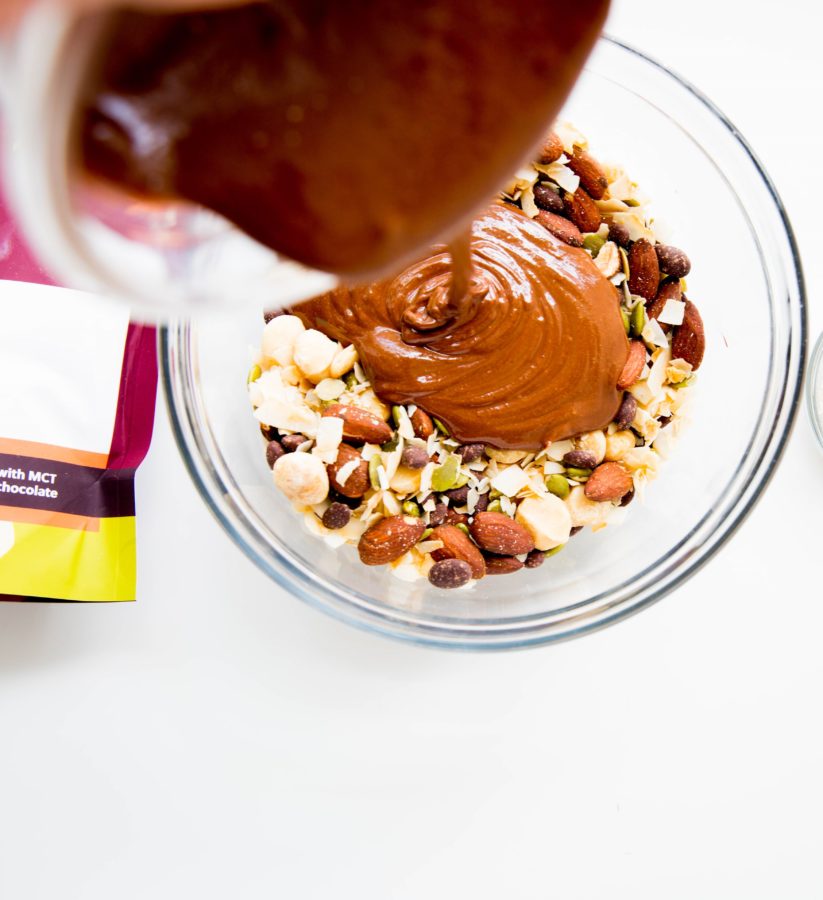 Having snacks that you can take on-the-go is essential for a well-planned ketogenic diet.
While overwhelming hunger is usually not an issue for keto-dieters, you still need to be able to get proper sustenance throughout your day.
Keto granola and trail mix make excellent snacks, but if you want to mix it up, these keto crunch bars make a delicious option.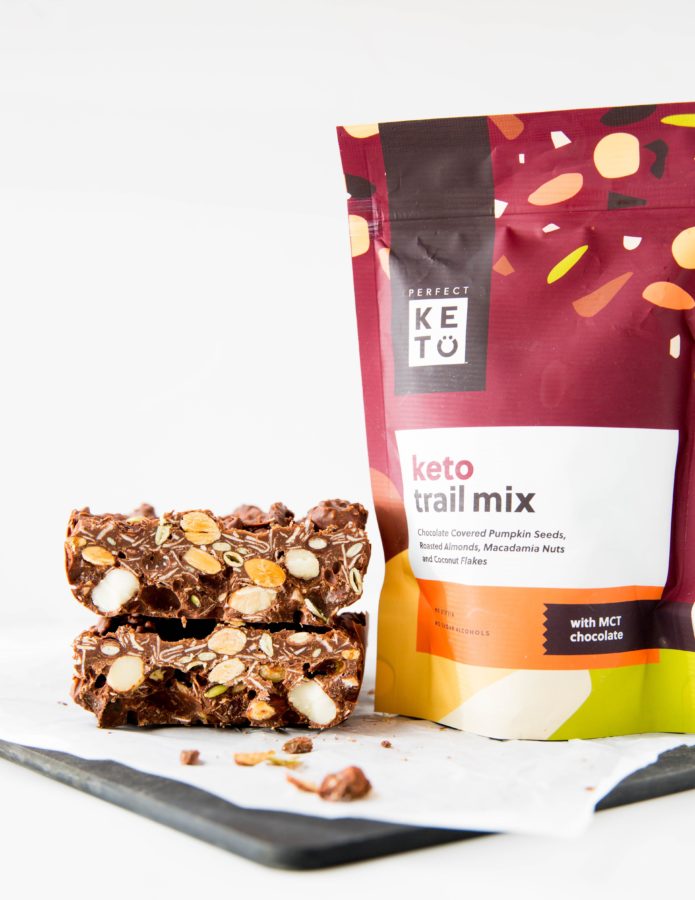 Print
Keto Chocolate Crunch Bars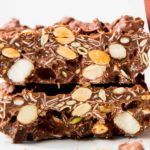 These keto crunch bars are gluten-free, dairy-free, vegan, grain-free, and no-bake. They're excellent for the on-the-go low-carb dieter and full of flavor.
Author:
Prep Time:

5 minutes

Cook Time:

25 minutes (setting time)

Total Time:

30 minutes

Yield:

8

slices

1

x
Instructions
Place the trail mix in a medium-sized bowl and set aside.

In a medium pot of medium-low heat, add in the chocolate chips, cacao powder, perfect keto nut butter, and coconut oil, stirring until well combined.

Remove from heat and stir in the psyllium husk.

Pour the chocolate mixture into the bowl with the trail mix, stirring until well incorporated.

Line a loaf pan with parchment paper.  Pour chocolate and trail mix mixture into the loaf pan, spreading equally. 

Place in the fridge or freezer for 20-25 minutes to harden.  Remove from the fridge, let sit for 3 minutes, slice, and serve.
Notes
 Add a scoop of Chocolate Perfect Keto Collagen to take these bars to the next level!
Nutrition
Serving Size:

1 slice

Calories:

290.8

Fat:

24.9g

Carbohydrates:

11g (6g net)

Fiber:

5g

Protein:

6.75g
Keywords: keto crunch bar recipe