on June 9, 2018
Whether you are looking for a quick dish for a BBQ, picnic, or get together, or just need something quick and easy to batch cook for the week, this is a recipe worth trying.  This easy keto egg salad is creamy and velvety, but also offers a nice bit of tang that will have you coming back for a second serving.  Since it only requires a handful of ingredients and takes virtually no time to prepare, you will be well on your way to hitting those protein and healthy fat macros on a ketogenic diet.
The main ingredients in this recipe are:
Eggs are perhaps one of the healthiest foods on the planet.  They are loaded with nutrients, vitamins, minerals, protein, and healthy fats.  Most people don't know this, but eggs can actually help reduce the risk of certain diseases, protect our eye and skin health, and can even boost our brain power.
Why are eggs so healthy?
Eggs can help reduce the risk of heart disease and improve cardiovascular health.  They are considered a heart healthy food mainly due to the omega 3 fatty acid content and quality-sourced, free-range chickens produce nearly double the amount compared to caged-raised eggs.  These healthy omega 3 fats help to reduce triglycerides and lower cholesterol. Eating eggs is also a great way to increase HDL or "good" cholesterol.

Egg yolks contain two specific antioxidants: lutein and zeaxanthin which can help counteract degeneration of the eyes, and reduce the risk of cataracts and glaucoma.  These nutrients actually filter out high energy blue spectrums of light that cause damage to our eyes.

Another nutrient found within eggs is choline.  This is essential for brain health because it helps to maintain the structure of cell membranes and plays a vital role in neurotransmitters which help brain cells communicate with one another.  Choline can also help with mood, memory, and cognitive function.
Despite misinformation the general public has been given in previous years, whole eggs and egg yolks specifically are now certainly considered to be extremely nutritious for us.  They are a wonderful food to incorporate into any ketogenic meal plan and this creamy keto egg salad will help break up the monotony of those boring scrambled eggs most people have every morning.  Make a big batch of this and try it on top of some toasted keto bread for an amazing meal to start your day.
Print
Easy Keto Egg Salad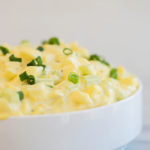 Turn those leftover hard boiled eggs into the creamiest keto egg salad you've ever had using only a handful of simple ingredients.
Author:
Total Time:

10 minutes

Yield:

1 1/2 cups

Category:

Sides

Cuisine:

American
Ingredients
7 large whole eggs (hard boiled, peeled, finely chopped)
1/2 cup mayonnaise
1 tsp lemon juice
1 teaspoon mustard
1/4 cup green onions (thinly sliced)
2 stalks celery (finely chopped)
1/2 teaspoon salt
1/4 teaspoon pepper
Instructions
Add all ingredients to a medium sized bowl until thoroughly combined.

Adjust seasoning as desired.

Refrigerate or serve immediately.

Garnish with extra green onions if desired.
Nutrition
Serving Size:

1/4 cup

Calories:

217

Fat:

22g

Carbohydrates:

1g

Protein:

7g