How many keto avocado recipes do you have in your low-carb meal plan?
Because if you're only slicing up avocados or mashing them for guacamole, you're not using this keto diet superfood to its greatest potential.
Packed with fiber and healthy fats and low in net carbs, avocado is one fruit you should be eating every day.
So whether you're looking for unique recipes to break out of your avocado rut, or you're just looking for more healthy fats and fiber for your diet — this roundup has you covered.
You'll find 40 delicious keto avocado recipes ranging from smoothies, appetizers, and sides to main dishes and even desserts.
7 Satisfying and Delicious Keto Avocado Smoothies
Similar to spinach, you can add avocado to a smoothie without ruining the taste or flavor of the original recipe.
However, unlike spinach, avocados do alter the texture of smoothies — in a good way.
Instead of having a watery smoothie that's more like a chunky juice, you'll have a thicker drink that resembles a milkshake in consistency. That's why these revamped keto smoothies are so creamy, delicious, and crave-worthy.
Fortunately, since they're packed with low-carb, filling ingredients instead of sugar and junk, they'll actually keep you satisfied and banish hunger pangs.
Treat yourself to one of these energizing, guilt-free keto smoothies to start your day or as a special pick-me-up in the afternoon:
1. Low-Carb Keto Chocolate Collagen Smoothie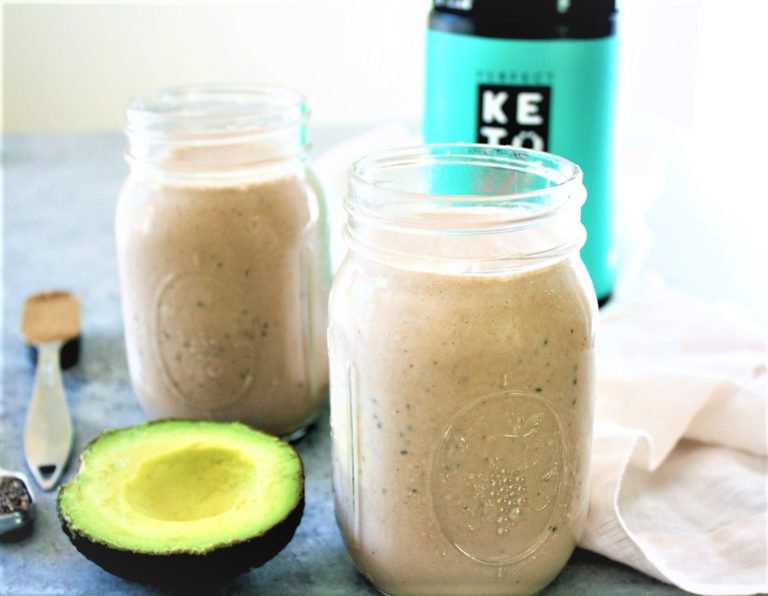 Avocado isn't the only star ingredient in this keto chocolate collagen smoothie.
As the name suggests, you'll also find chocolate collagen protein powder, which gives you a nice dose of protein and adds a delicious chocolate flavor.
Our collagen also contains MCTs for another nutritional boost to support stable energy levels and better mental focus and concentration.
And that's not all.
This smoothie also calls for chia seeds, which add bulk and fiber to make your smoothie more filling for almost zero net carbs.
You'll also find a spoonful of our nut butter for rich flavor and long-lasting satiety.
With so many filling ingredients, you can use this smoothie as an on-the-go meal for times when sitting down to eat is not in your schedule.
The next smoothie is also packed with superfoods besides avocado.
2. Keto Avocado Matcha Smoothie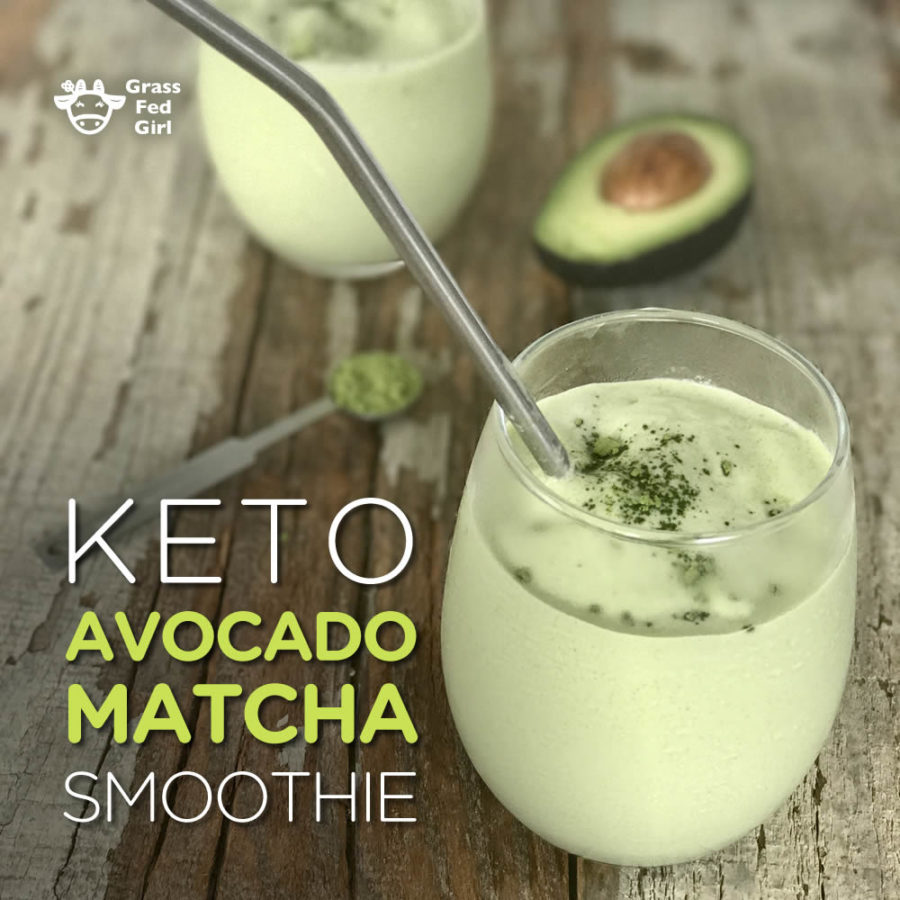 If you're not the type to start your day with chocolate, try this lighter tasting keto avocado matcha recipe that's just as filling.
Matcha is a powdered form of green tea leaves and it's growing in popularity due to its incredible antioxidant powers — it contains 137 times more antioxidants than traditional green tea[*].
To capture those benefits, this recipe uses Perfect Keto Matcha Powder, along with avocado and a few other low-carb ingredients to make a creamy, healthy smoothie.
You'll have a filling way to get your matcha in, aside from enjoying it as tea or a matcha tea latte, and you'll score all the benefits that come with consuming MCTs.
The next keto recipe is also a member of the bright green smoothie club.
3. Keto Avocado Smoothie with Walnuts and Collagen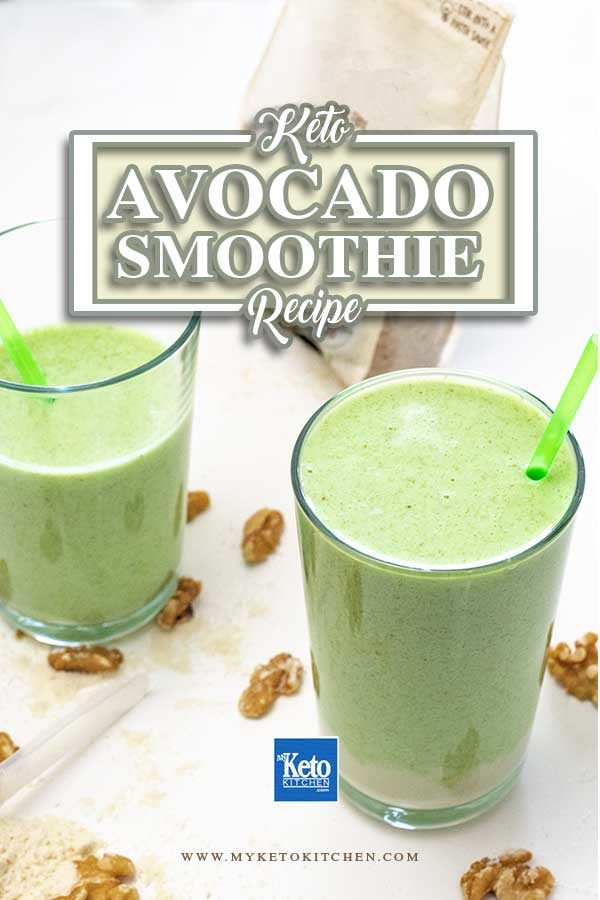 For a slightly nutty smoothie using avocados, this keto recipe may surprise you.
This time you'll need vanilla collagen protein powder and walnuts, which help create a creamy, nutty smoothie that won't weigh you down despite filling you up.
If you're looking for a keto smoothie closer to a milkshake in consistency, don't scroll past this next recipe.
4. Thick Keto Chocolate Shake with MCTs + Collagen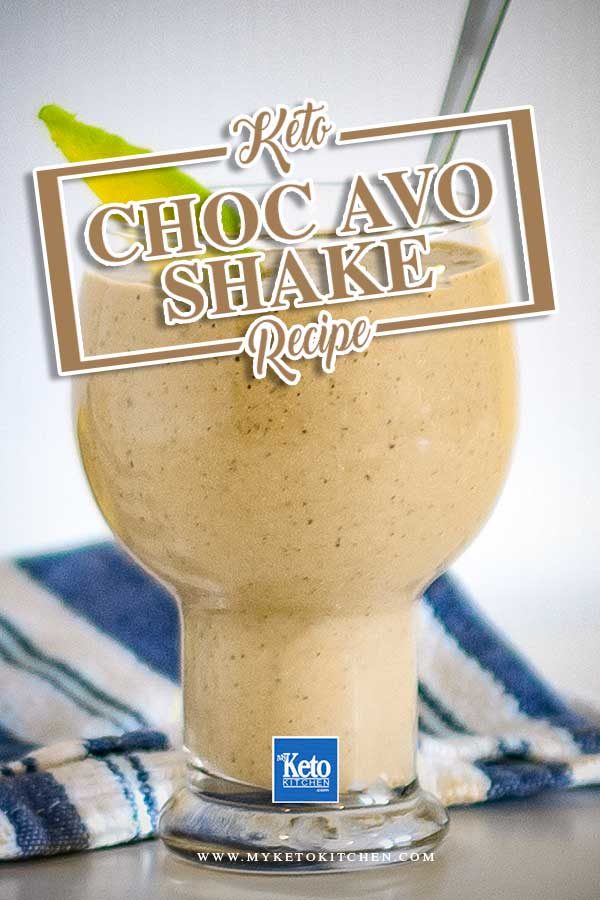 This keto chocolate avocado shake takes flavor to the next level.
On top of including chocolate collagen, avocado, and chia seeds, it also has a splash of vanilla and a pinch of cinnamon for a little extra flavor.
Though drinking this one will feel like you're cheating, each smoothie is only 232 calories, 1g of net carbs, 15.5g of fat, and 12.4g of protein.
With macros like that, you can feel good about making a healthier choice that's also delicious.
The next set of keto smoothie recipes leans on the sweeter side.
But instead of chocolate flavors, you'll find fresh fruits, herbs, and even a little coconut.
5. Keto Avocado Coconut Smoothie With Chia & Spinach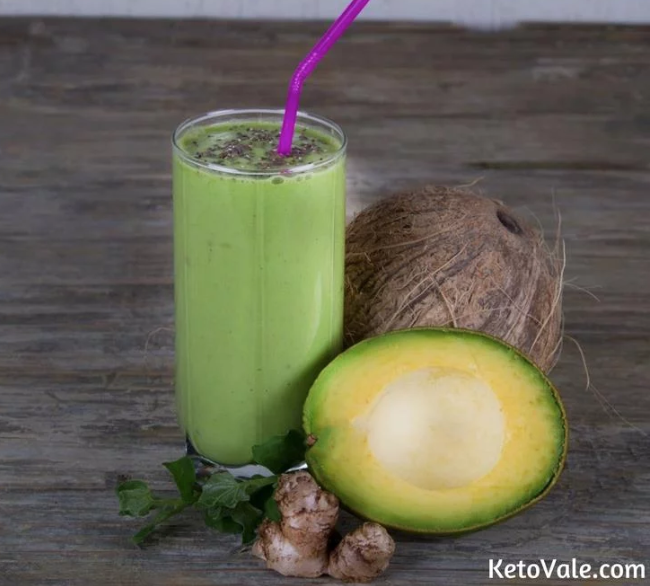 If sweet tropical flavors are what you're missing on a keto diet, this avocado coconut smoothie can help satisfy your craving without adding a huge amount of sugar.
And the next smoothie has a bit more fruit than this one.
6. Raspberry Keto Avocado Smoothie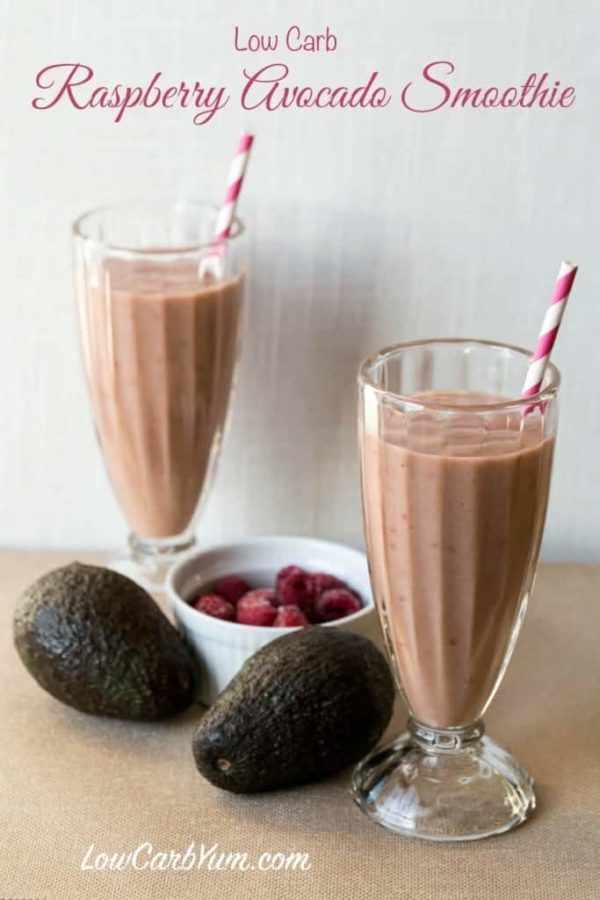 If avocado isn't one of your favorite foods, or your kids are picky eaters and hate the taste of avocado, this low-carb raspberry avocado smoothie recipe is the one you're looking for.
It works really well for sneaking in avocados, so all you have to do is throw your serving into the blender or food processor with the other ingredients and you won't even taste it in there.
Not only is this smoothie dairy-free, it only requires five simple ingredients.
Looking to take your smoothie game up a notch? Scroll on.
7. Ginger Basil Avocado Smoothie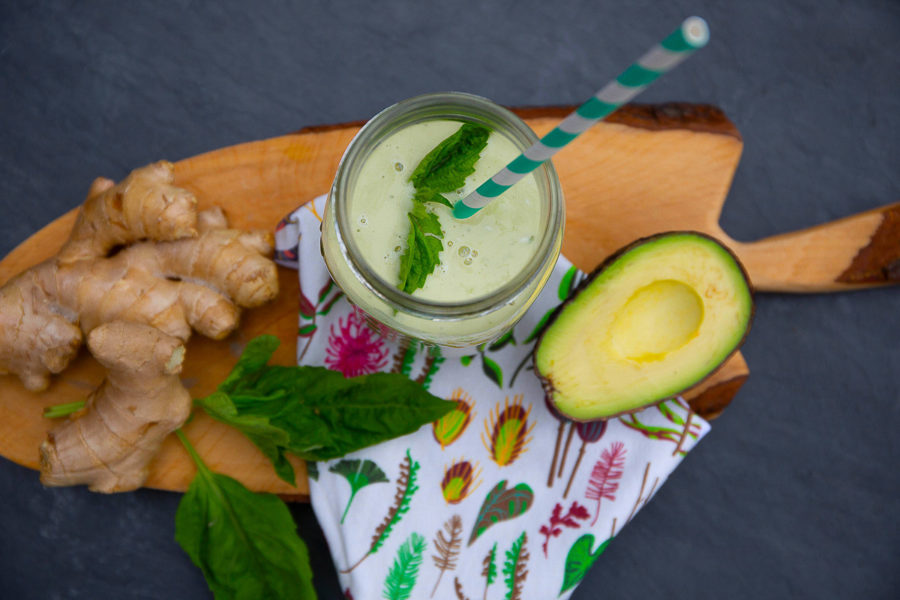 Rather than settle for a plain ol' chocolate or vanilla smoothie, you can have one that's completely different and bursting with excitement.
The combination of ginger and basil works really well in food and it's even better in this keto avocado smoothie.
Add a scoop of vanilla whey protein or collagen protein and you'll turn what would have been a juice into a filling smoothie you can drink in between meals or after a workout.
But if you prefer eating your meals to drinking them, the next set of keto recipes is probably better for you.
Stuffed Keto Avocado Recipes
Thanks to their bowl-like shape, avocados make the perfect base for your favorite keto meals.
Once you scoop out the pit, you'll have a replacement for bread, baked potatoes, or tortillas brimming with healthy fats and fiber.
It may sound strange at first, but after checking out these 12 low-carb recipes, you'll wonder why you haven't put your avocados to better use sooner.
1. LCHF Avocado Egg Bowls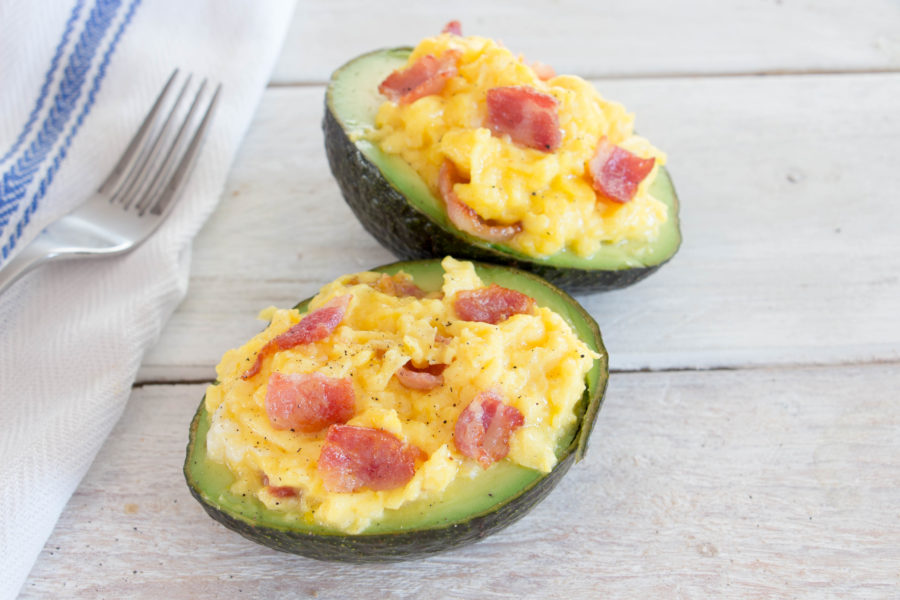 Enjoy avocados with your eggs? Well how about eggs in your avocado bowls?
For this easy beginner recipe, whip up scrambled eggs with cut-up strips of bacon and spoon this mixture right into the de-pitted avocado flesh.
Before diving into a few lunch options, here's one more low-carb, high-fat (LCHF) recipe using avocado, bacon, and eggs in a completely different way.
2. Bacon Wrapped Egg Stuffed Avocado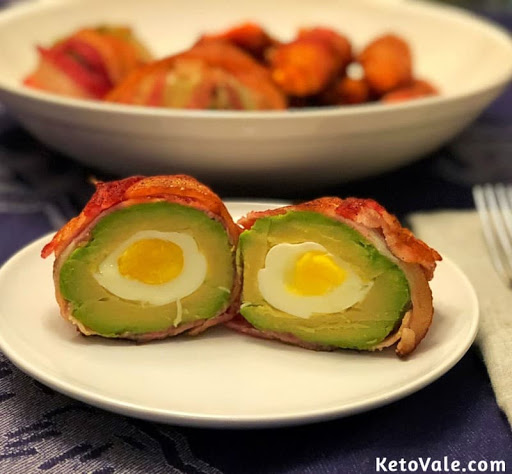 For a keto take on Scotch eggs, this bacon-wrapped egg stuffed avocado is the ultimate definition of a low-carb high-fat keto breakfast recipe.
While it does require a bit more work than the first recipe in this category, it only looks complicated and takes just 10 minutes to put together.
However, you will need about 40 minutes of cook time after that to finish it off. This recipe may not be on your weekday breakfast meal plan, but it could still work on the weekends or if you're entertaining friends for brunch.
The next stuffed keto avocado recipes are great for lunch or dinner.
3. Lemon Chicken Avocado Boats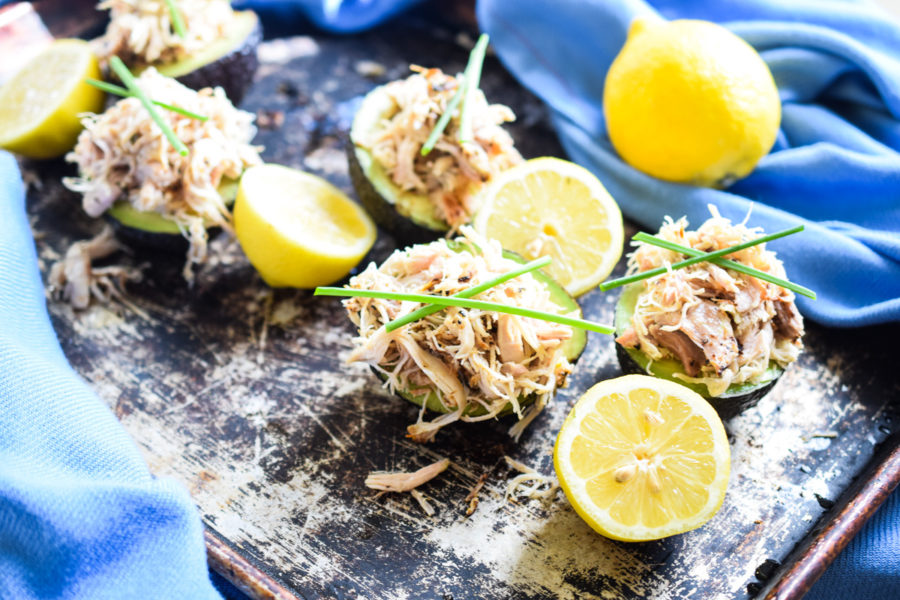 For a delicious, light, and satisfying lunch, try these lemon chicken avocado boats that won't weigh you down or make you feel like you need a nap afterward.
With fresh ingredients, clean protein, and healthy fats, this dish is energizing on top of being satiating. And it's also quick to make and easy to pack.
The next stuffed avocado recipe uses chicken, but the flavor profile definitely has more of a kick.
4. Cajun Chicken Stuffed Avocado Recipe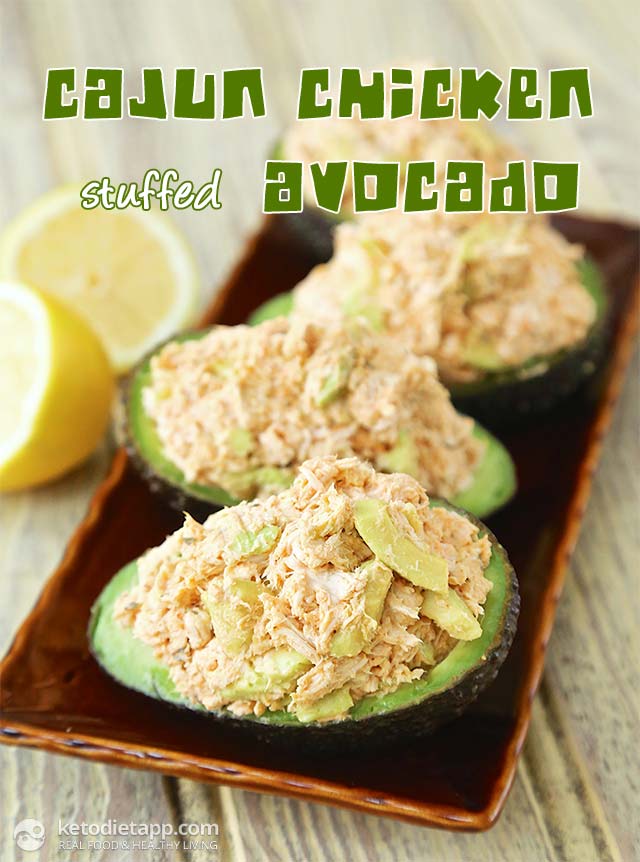 If you prefer a bit of spice in your chicken salad, this stuffed keto avocado recipe is worth a try.
It's similar to a buffalo chicken salad, but it swaps out hot sauce for herbs and spices like thyme, paprika, onion powder, garlic powder, and cayenne pepper.
The next stuffed avocado option transforms a classic recipe so those going low-carb on keto don't have to give it up.
5. Low-Carb BLT Stuffed Avocado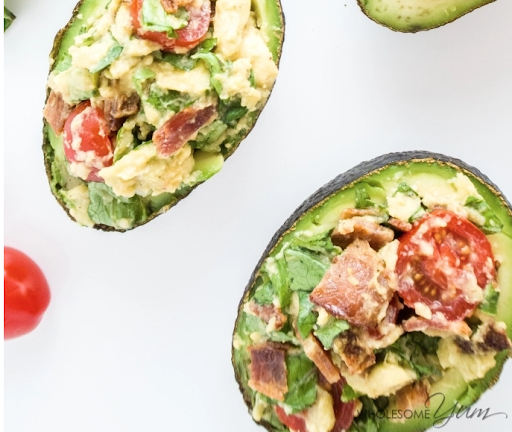 While traditional BLTs with high-carb bread are off-limits on a keto diet, that doesn't mean you have to ditch the flavor combination altogether.
This genius recipe for BLT stuffed avocados lets you swap the bread for a keto-friendly staple (i.e., avocado bowls) to score the same combination of flavors you're craving.
The next keto avocado recipe also helps you recreate a classic.
6. Loaded Twice Baked Faux Potato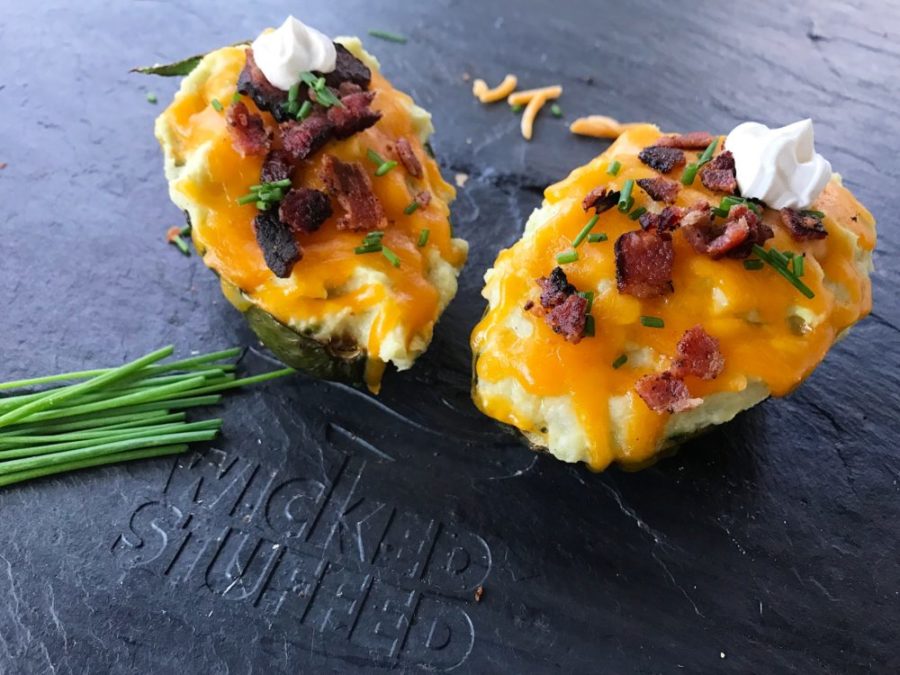 Serve this faux baked potato to your friends and family and they'll all be fooled by what's underneath the melted cheese layer.
Though it only looks like a starchy baked potato, it's actually cauliflower mash tucked between the avocado flesh and the cheese.
If you're missing baked potatoes on a ketogenic diet, but not the crazy high carb count, give this recipe a try. Chances are, you won't even remember them.
The next recipe puts a modern avocado twist on a classic Italian recipe.
7. Caprese Stuffed Avocado Recipe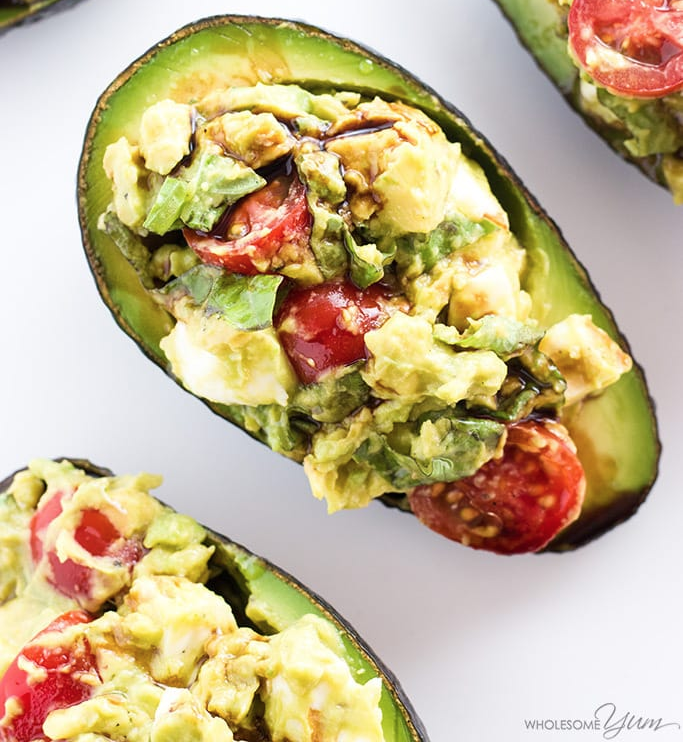 Since a traditional caprese salad involves slices of mozzarella, tomato, fresh basil, and a drizzle of vinaigrette, it's already a great dish on a low-carb diet.
But it's even better with avocado.
This gives you all of the same caprese flavors and more healthy fats, which can help you hit your macro targets with ease.
Plus, as Maya from Wholesome Yum mentions, it's a great way to use up extra avocados before they go bad.
The next recipe is another low-carb stand-in for an Italian staple most people switching to keto would never dream of having: bruschetta.
8. Low-Carb Bruschetta Stuffed Keto Avocado Recipe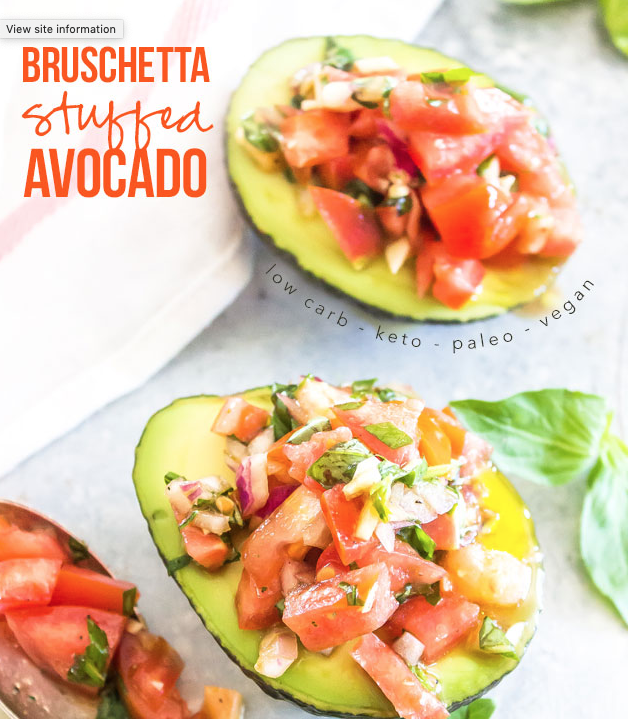 You can make bruschetta keto-friendly if you ditch the high-carb Italian bread for slices of keto bread.
But if you don't have time to bake low-carb bread, you can always call on trusty avocado.
This bruschetta stuffed avocado recipe offers a much tastier, filling option which will have less of an impact on your blood sugar levels.
Enjoy this as an appetizer or in place of a side salad and you'll have a nice dose of fiber per serving size (or half an avocado).
The next two keto avocado recipes have a southwestern flair.
9. Stuffed Avocado Taco Bowls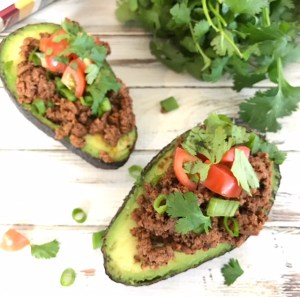 Similar to bruschetta, you have the option of making low-carb tortillas if you're really craving tacos on keto.
But avocados are way easier than making homemade keto taco shells if you're short on time.
Take these avocado taco bowls, which you can assembled and cook in just 15 minutes. Prep them for a quick dinner after a long day, or pack them up as leftovers the next day.
If you plan to do the latter, keep your avocados whole until you're ready for lunch and your toppings in a separate container. By the time you're ready to eat your avocado, it won't be one big brown mess.
The next recipe is just as easy thanks to its limited ingredient list.
10 3-Ingredient Mexican Stuffed Avocado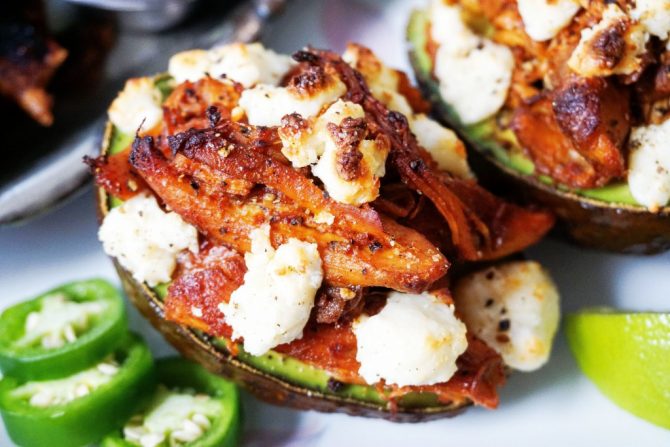 While this Mexican stuffed avocado recipe sounds similar to the last one, it has a completely different flavor profile.
Instead of seasoned ground beef for the taco filling, you'll find shredded chicken simmered in spices, shallots, garlic, and lime juice.
You'll also see queso fresco in this recipe, which gives it a creamy, melty cheese layer on top.
And if you want to take it a step further, add a few crumbled bacon pieces on top.
Switching gears, the final two avocado recipes in this section are seafood based.
11. Salmon Stuffed Avocado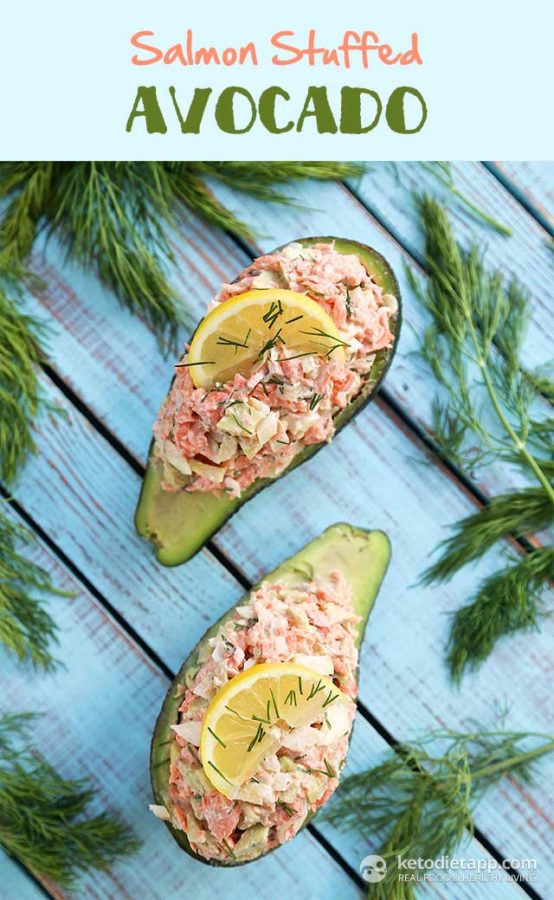 Tuna salad isn't the only fish salad you can stuff in an avocado.
Salmon, shrimp, and sardines all work well when combined with mayo or sour cream, low carb additions like celery or pickles, and the right spices.
This salmon stuffed avocado recipe proves it.
Using fresh dill, lemon, and a whole salmon fillet, this recipe balances bright flavors with tons of healthy, filling fats.
The following recipe may also inspire the menu for your next low-carb seafood night.
12. Shrimp Stacks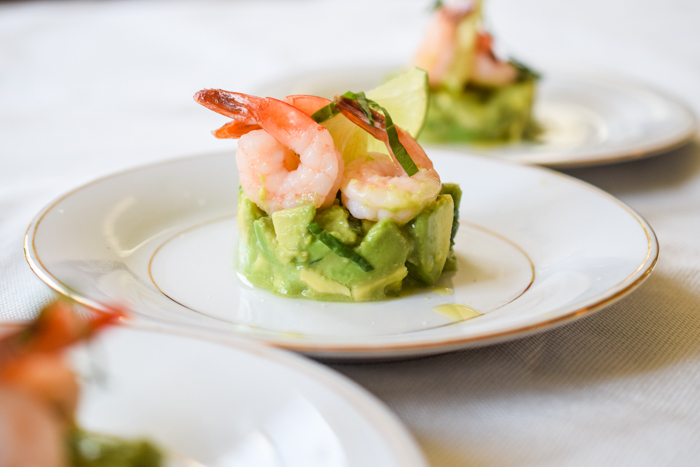 If you only have 15 minutes to prepare dinner, check out this easy shrimp stack recipe that only takes five minutes of prep time and 10 minutes to cook.
Whether you use it for a party or a weeknight dinner at home, you and your guests will certainly be impressed by its elegant simplicity and killer flavors.
Up next you'll find two avocado-based dressings you can use on salads or even add to these shrimp stacks.
Keto Avocado Dressings
Making your own dressings on a ketogenic diet helps in many ways.
First, you can control the ingredients and the macros by choosing keto-friendly options like avocados, coconut oil, and MCT oil over store-bought dressings made with cheap vegetable oils.
Second, you'll always have a delicious dressing on hand that won't kick you out of ketosis.
So if you're making a salad at home, taking one to work, or want to drizzle a little more flavor on keto recipes like shrimp stacks, for example, you can without sabotaging your hard work.
This convenience will make it hard to go back to questionable store-bought dressings again.
Plus, you can use these avocado dressings as dips to help you and your kids add extra low-carb veggies to your diet without a struggle.
1. 5-Minute Keto Avocado Dressing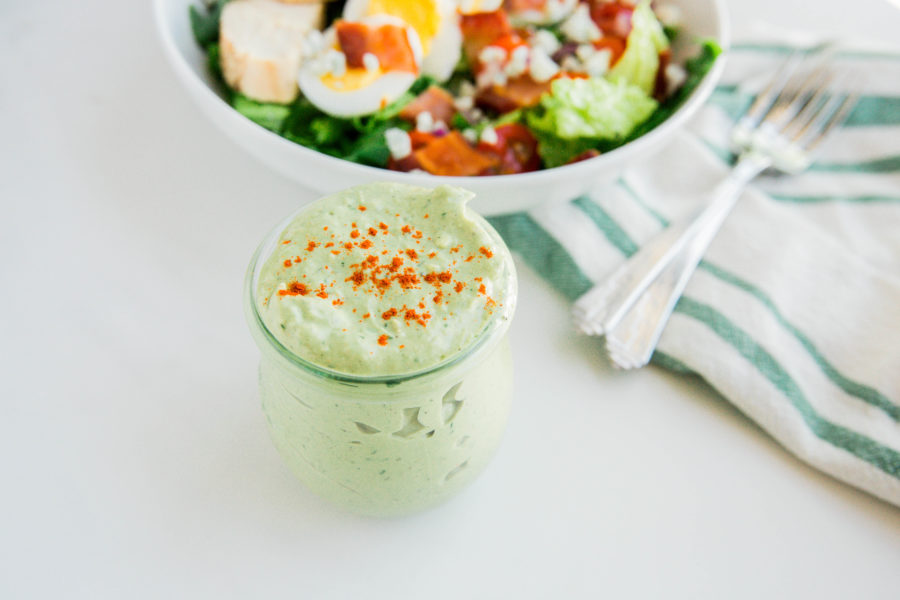 If the thought of making your own dressing sounds daunting, don't sweat it.
This 5-minute keto avocado recipe is foolproof for beginners and even kids.
With just a few ingredients, you'll have a beautiful and delicious dressing you can put over salads, eggs, and even the salmon avocado toast in this guide.
The flavors are versatile and work well with so many dishes, a characteristic shared by this next dressing too.
2. Avocado Lime Cilantro Ranch Dressing and Dip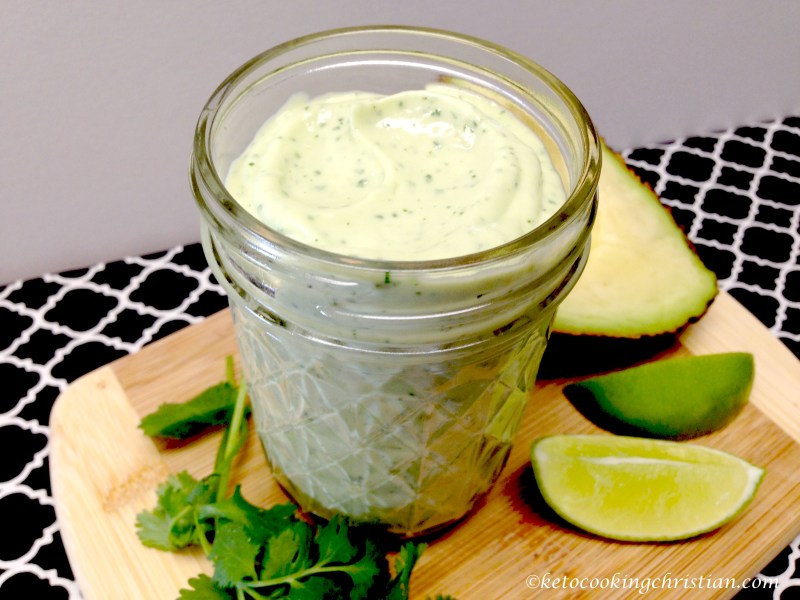 Although this avocado lime cilantro ranch dip may look similar to the previous recipe, there are several key differences between the two.
While the first recipe uses yogurt for a light dressing more liquid in consistency, this recipe is made with sour cream, mayonnaise, and heavy cream, so it's thicker and creamier like a dip.
Pair it with raw low-carb veggies like broccoli or cauliflower florets, keto crackers, and cheese for a winning crudite platter or afternoon snack.
Similar to the last recipe, you can also use this keto dip to crank up the flavors of your favorite keto foods like burgers, salads, tacos, lettuce wraps, cooked brussels sprouts, and more.
You can even use it to top the appetizers in this next set of recipes.
12 Clever Keto Avocado Recipes
From entrees and side dishes to an avocado-based drink, you'll have plenty of ways to reach your avocado goals with keto recipes like:
1. Refreshing Smoked Salmon Keto Avocado Toast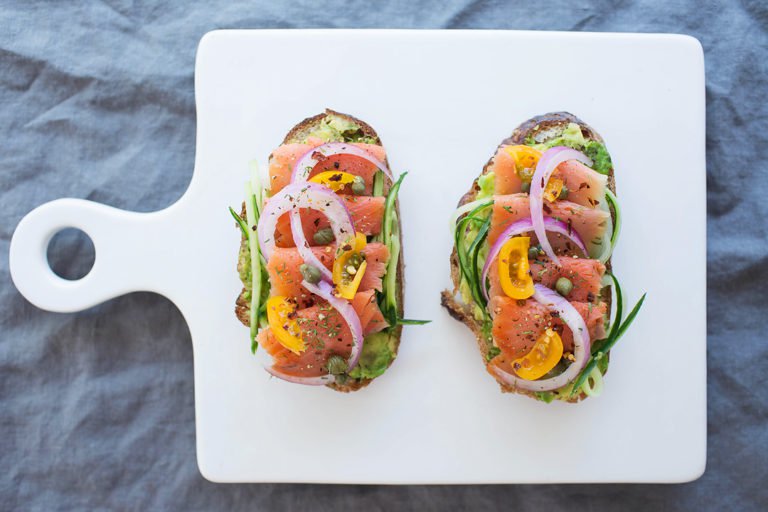 Avocado toast is one of the easiest, most customizable breakfast options you can make keto when you have the right low-carb bread options.
This recipe, unlike other avocado toasts out there, includes smoked salmon to boost the protein content and add healthy omega-3s to every serving.
Put together this keto avocado toast recipe for breakfast or lunch — it's satisfying, fun to eat, and doesn't require many ingredients or time to get right.
2. Avocado and Egg Fat Bombs and Deviled Eggs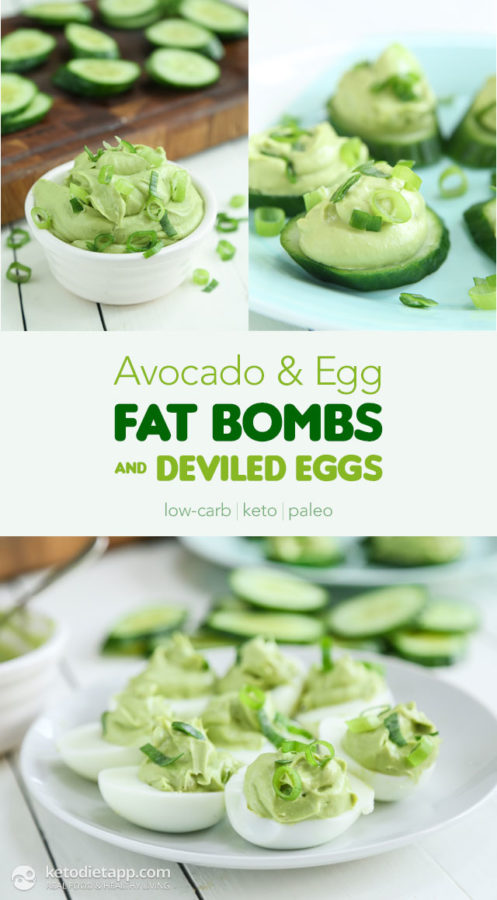 When you think of fat bombs, chocolate peanut butter cups and other sweet treats probably come to mind.
But just as this roundup of 35 keto fat bombs shows, there are plenty of savory options out there, including this avocado and egg fat bombs and deviled eggs recipe.
Other than the bright green color, these deviled eggs taste exactly like the recipes you're used to — if not better.
The low-carb swaps just make them higher in healthy keto-friendly fats. And that makes them an ideal afternoon fat bomb when you need a quick snack.
While these may be a little too time-consuming for you to make when you're hungry, this next recipe offers similar flavors and doesn't take quite as long to prepare.
3. Avocado Egg Salad Sandwich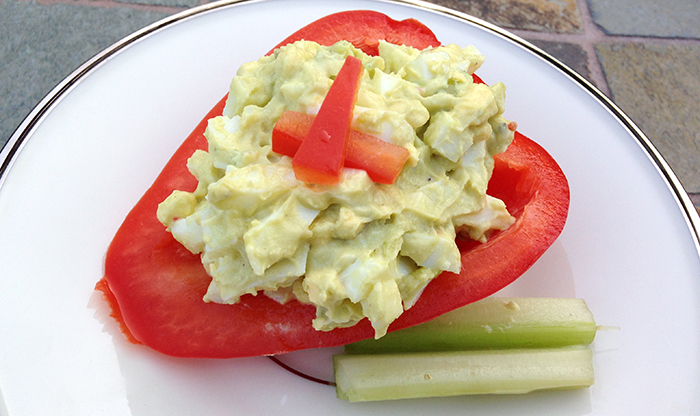 Rather than going through all the steps to make deviled eggs from scratch, you can achieve a similar flavor combination with less effort by going with this spicy avocado egg salad sandwich.
This recipe is also a lifesaver when your cooked eggs don't separate cleanly from their shells when you're trying to make deviled eggs. Instead of throwing the batch of rough eggs away, chop them up to make this egg salad.
As you can see in the image above, the recipe saves calories and adds vitamins and minerals by going with a red bell pepper as the "sandwich" instead of bread. You could also use romaine leaves or lettuce cups.
Make a batch of avocado egg salad for lunch and pair it with the next recipe for a low-carb soup and sandwich combo.
4. Avocado Soup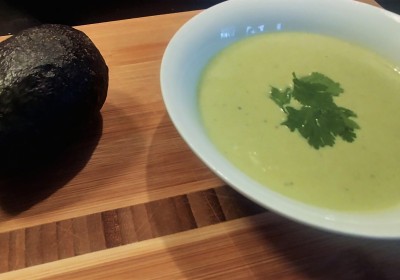 You don't need to wait for a cold or rainy day to enjoy this creamy keto avocado soup.
With simple ingredients like chicken broth, avocado, onion, and garlic, you can make this easy soup anytime you're feeling like a nutrient-dense meal.
Enjoy it on its own, pair it with a salad or keto sandwich, or use it as an appetizer before your main dish.
The next recipe is best used as an appetizer or side.
5. Jalapeno and Cilantro Avocado Appetizer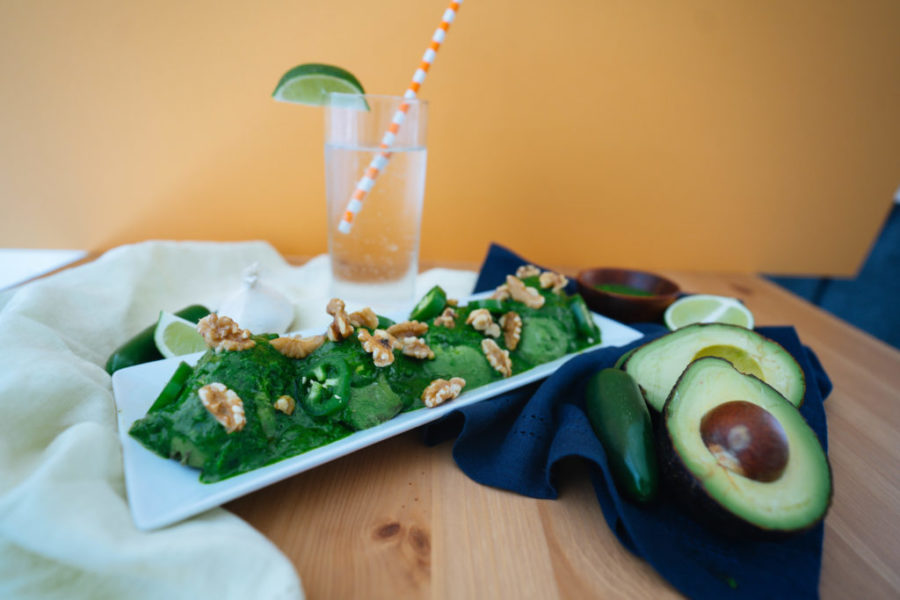 It's not every day you see a new avocado recipe, but this jalapeno and cilantro appetizer is just that.
Simply drizzle a homemade dressing of fresh jalapenos, cilantro, lime, shallots, olive oil, salt, and black pepper over perfectly ripe avocados.
6. 2 Keto Salsa Recipes Packed with Avocados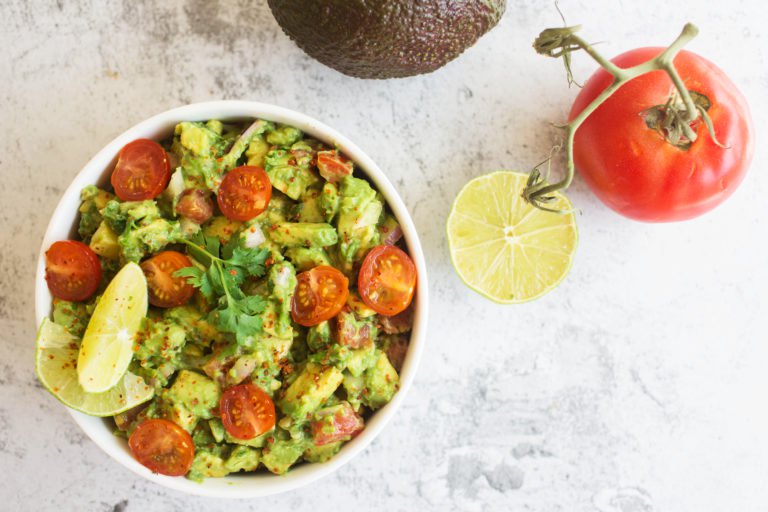 Many traditional salsa recipes are tomato-based and watery. While okay for some dieters' macros in moderation, too many tomatoes can easily cause your carb intake to creep up.
As a keto-friendly alternative, you can switch the ingredient ratio with this easy chunky avocado salsa recipe to have more filling avocados over tomatoes.
And if this doesn't satisfy your salsa craving, try this low-carb roasted tomatillo salsa verde, which is also heavy on the avocados.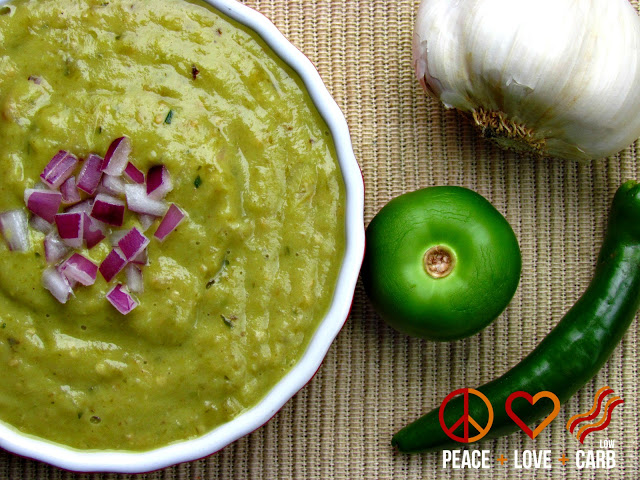 Another option to top your tacos or burgers with is a freshly made keto guacamole.
7. Keto Guacamole 2 Ways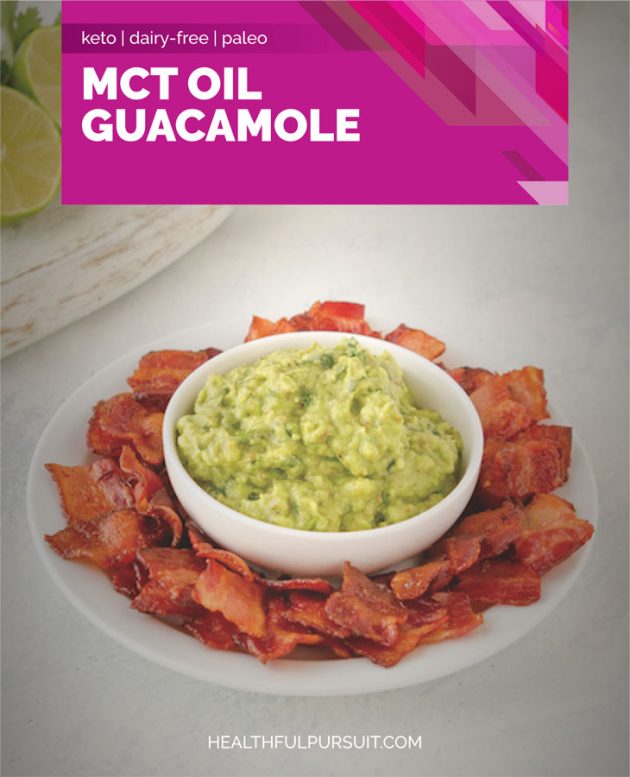 Guacamole is by far the most famous conduit for avocados.
But if you're sick of standard guacamole, take a peek at these two keto recipes you probably haven't tried:
In this first one from Healthful Pursuit, Leanne cleverly adds our MCT oil to boost the healthy, energizing fats in her guacamole recipe.
She also uses well-cooked bacon pieces instead of high-carb chips for dipping, making this even more keto-friendly.
As for the second guacamole recipe, you may be a fan of avocado paired with salmon, but have you ever combined them to make wild sockeye salmon guacamole?
This nutritional boost not only adds more healthy omega-3s and protein, but also creates a satisfying dip that doubles as a light lunch.
Simply pair it with keto crackers or add it to a lettuce wrap.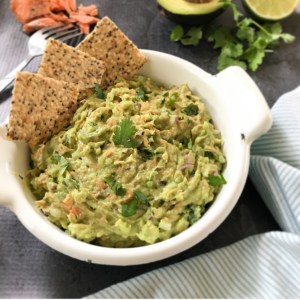 This next dip also gets a low-carb makeover thanks to the help of avocados.
8. Avocado Hummus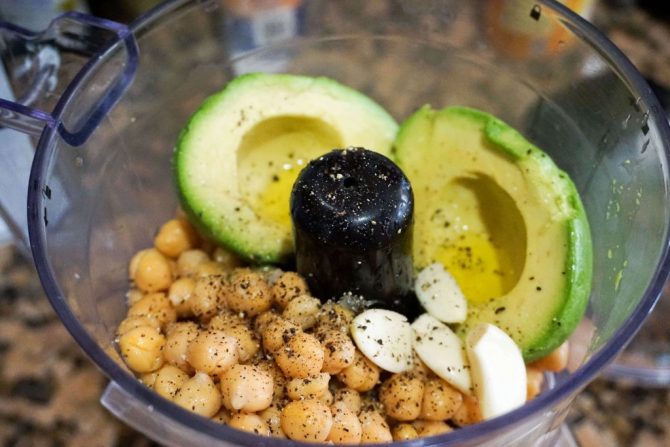 Traditional hummus recipes are loaded with chickpeas, a high-carb legume that's anything but keto-friendly.
But if you're missing the taste of hummus on a ketogenic diet, there is a way to capture the same specific flavor without kicking yourself out of ketosis.
With this avocado hummus recipe — which uses avocados to slash the chickpea ratio — you'll have a surprisingly similar texture and taste without all the carbs.
You won't feel deprived and you'll still be able to reach your weight loss goals.
For another easy dip option, this next keto avocado recipe is eye-catching and will be a hit with party guests and family alike.
9. Dairy-Free Basil Avocado Dip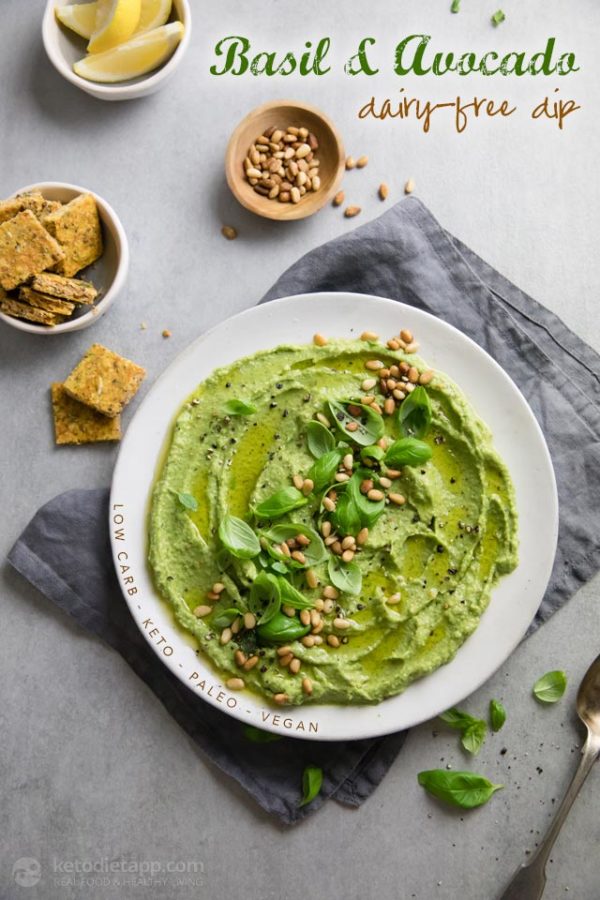 Take a break from hummus to try a new dip loaded with flavor: dairy-free basil avocado dip.
As delicious as it is visually appealing, this dip is similar in taste to pesto and only requires six ingredients other than salt and pepper.
It will be a hit with keto crackers or used as a spread on keto bread for sandwiches or avocado toast.
Up next are two side dishes that may also become your new high-fat go-tos.
10. Keto Avocado Fries with Dipping Sauce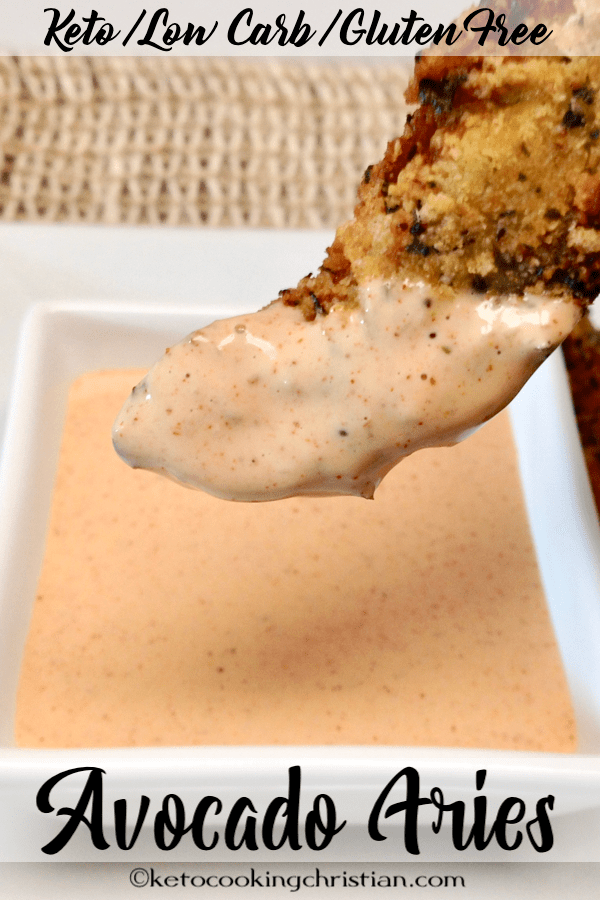 If you haven't tried avocado fries yet, you've been missing out. They're better than potato French fries, far more filling, and fit within your low-carb macros.
First, you coat slices of avocados in a grain-free "breading" made of almond flour, pork rinds, parmesan cheese, and spices.
Fry up the breaded avocado slices in a pan, cool, and dunk into the accompanying low-sugar sauce.
The next recipe also uses avocado in an interesting way to create a delicious keto version of a classic snack and topping.
11. Low-Carb Pickled Avocado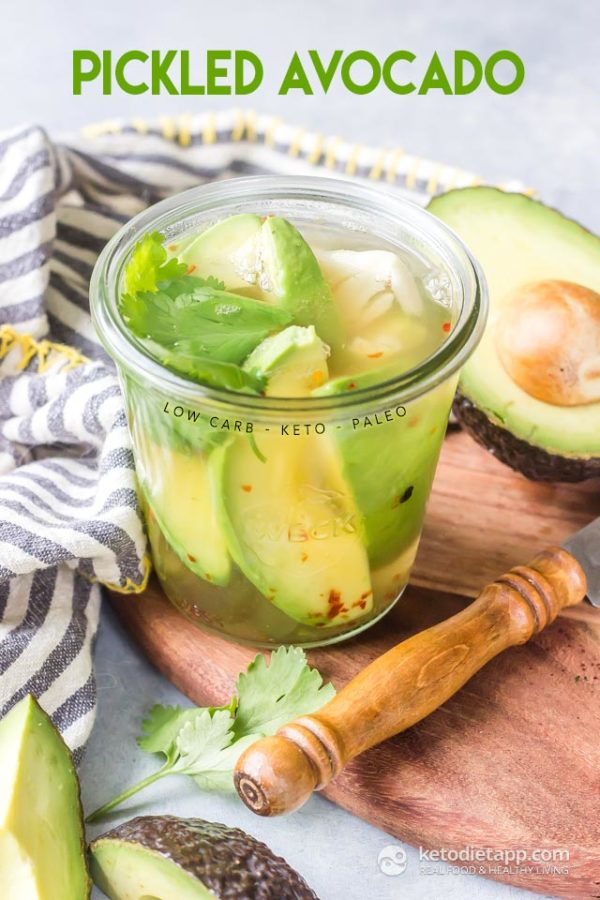 Since pickles are made from cucumbers, they're technically safe on keto as long as you don't choose brands that soak their pickles in sugar.
And since they're full of sodium, pickle juice is also a great way to add some electrolytes — minerals that get low during your transition into keto.
As a delicious homemade alternative, you can pickle avocados yourself to create the perfect snack, burger topper, or side.
Use this pickled avocado recipe and you'll impress everyone who tries them.
The next recipe may also do that since it's definitely an attention-grabber.
12. Avocado Milk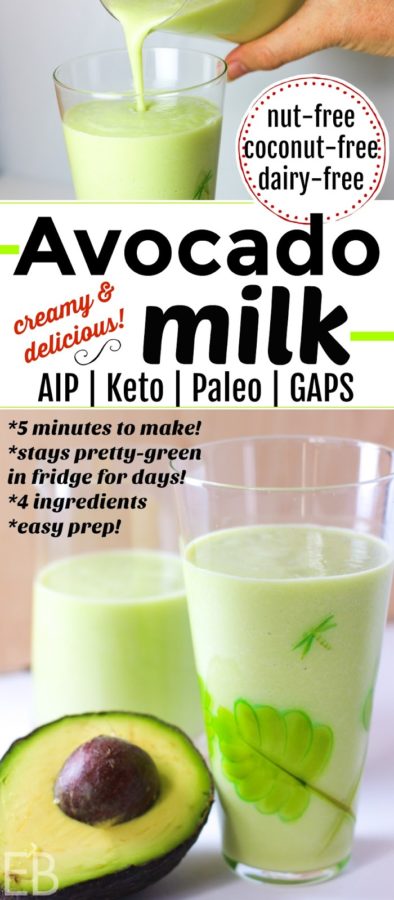 Before you brush off avocado milk because it's a weird green color, you should know this high-fat milk is dairy-, coconut-, and nut-free, making it ideal for people and families with food sensitivities.
And after you try this keto version, you'll wonder why it took so long to realize it even existed.
This creamy avocado drink resembles a Shamrock Shake in color but is far better nutrition-wise.
Plus, it only requires five ingredients — avocados, water, gelatin, stevia, and vanilla (optional). And it stays the same shade of bright green for a few days, according to the recipe creator.
Since you can't taste the avocado, this faux milk makes a wonderful option for picky kids and adults looking to eat more avocados even if they're not crazy about them.
Another hack for adding more avocados to your diet is hiding them in desserts.
7 Delicious Low-Carb Dessert Recipes Starring Avocado
Before you shake your head at the idea of adding avocados to your beloved keto dessert recipes, you should know doing so doesn't affect the taste.
Avocados serve as a neutral base to add creamy texture and a dose of healthy fats, fiber, and vitamins, and minerals.
Score all the incredible health benefits that come with eating avocados, but none of the avocado taste.
Go ahead and try any of these recipes to see for yourself:
1. Low-Carb, Gluten-Free Keto Brownies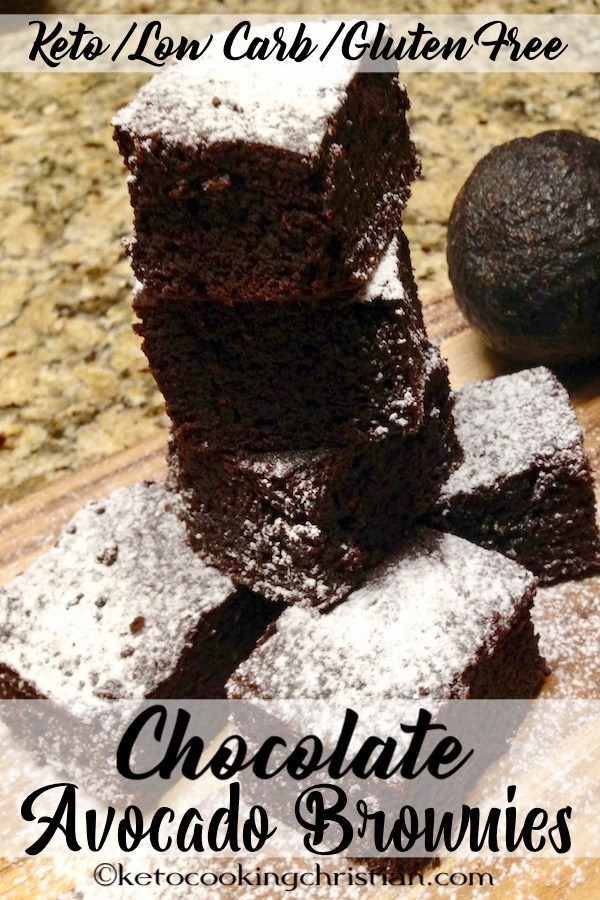 If rich, fudgy brownies are what you're craving on keto, give this brownie recipe a go. You'll be pleasantly surprised by how the avocado helps to create the perfect gooey texture you're after.
And if you don't have the ingredients to make this recipe, or you'd prefer another option, this avocado brownie recipe is slightly different and just as delicious.
The next keto avocado recipe is from the same recipe creator as the first brownie on this list.
2. Silky Chocolate Avocado Mousse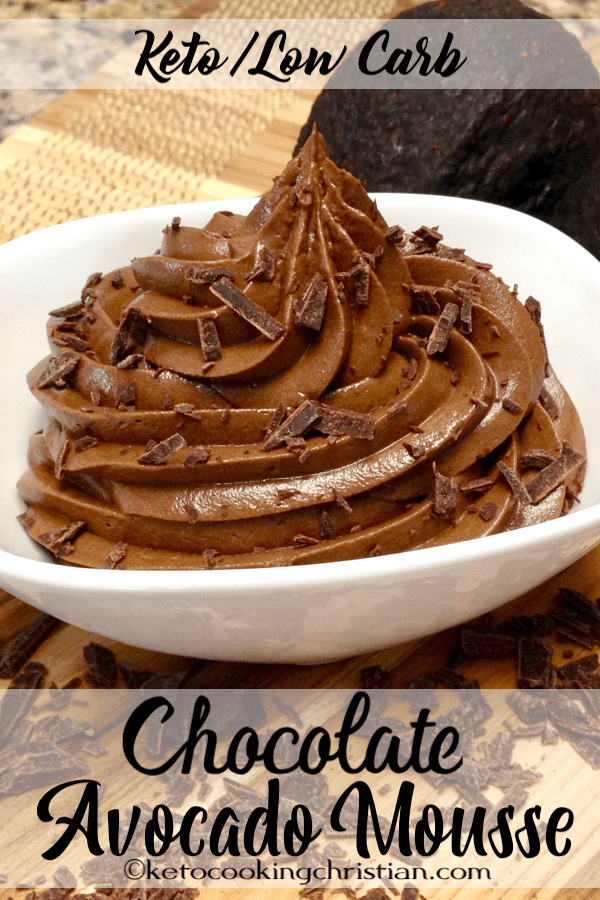 Avocados can also be used to make a chocolate mousse that's low-carb and as light and airy as more traditional versions loaded with sugar.
Despite being sugar-free, both the flavor and texture are right on point, if not better.
Each serving only clocks in at 219 calories, 20g of protein, 5g of carbs, and 3g of protein, which means you can easily weave it into your macros without sabotaging ketosis.
If mousse is too light and you want something a little more substantial and indulgent, check out this next keto avocado recipe.
3. Chocolate PB Avocado Fat Bomb Pudding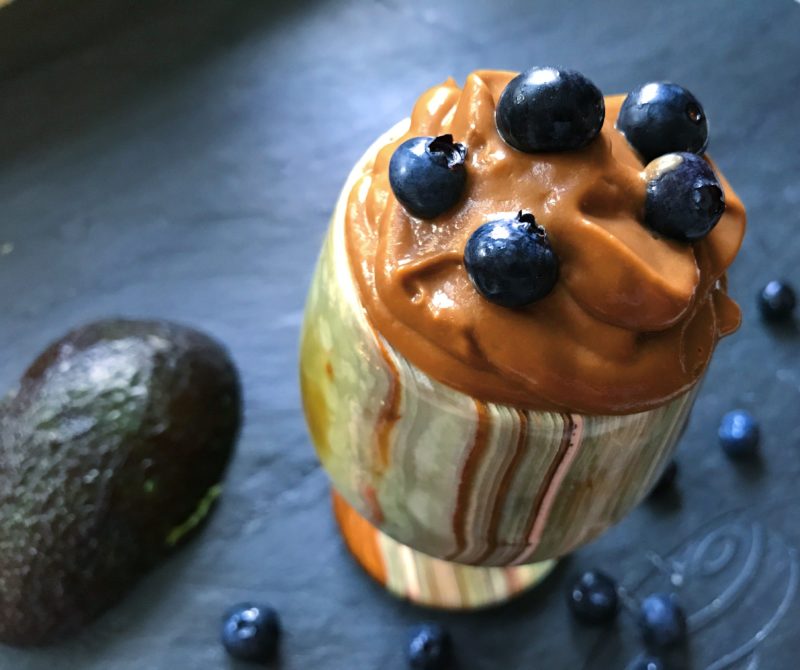 This chocolate peanut butter avocado fat bomb pudding combines the best of both worlds, as the name suggests.
What the name doesn't give away is the fact that this pudding also contains MCT oil powder.
When added to your recipes, this powerful ingredient gives your recipes an extra nutritional boost that not only increases the fat content but also helps support:
Mental clarity and focus
Sustained energy levels
Cognition and mental clarity
Proper metabolic and cellular function
The best news is you can whip up this dessert just like you would a smoothie; dump everything into a blender, mix until well-combined, and enjoy.
So if you're looking for a rich, decadent dessert, but you don't feel like making a batch of brownies or being tempted by a whole pan of them, this recipe is calling your name.
On the other hand, readers who enjoy baking will love satisfying their craving for double-chocolate chip cookies with the next avocado recipe.
4. Flourless Avocado Fudge Cookies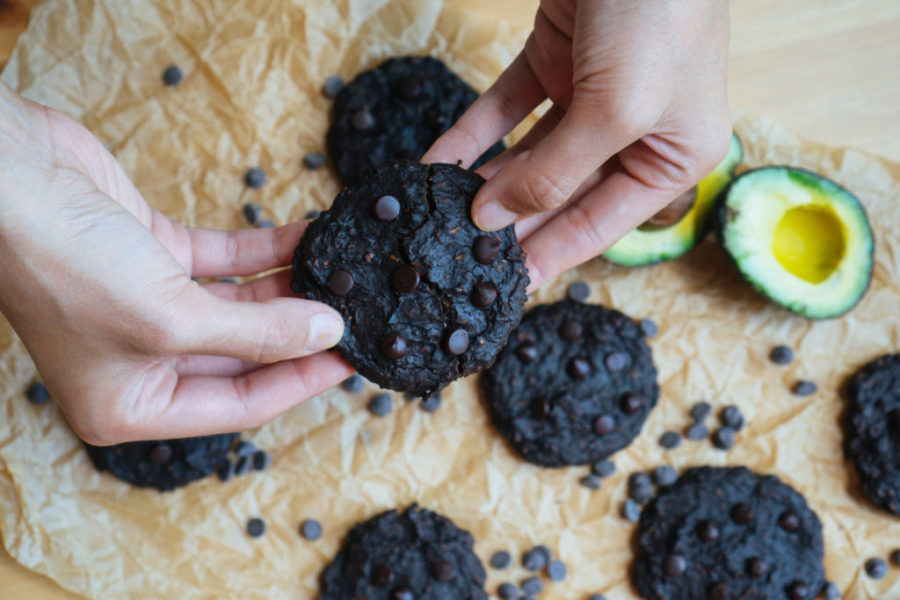 You probably weren't expecting a double chocolate chip cookie in this avocado-themed keto diet recipe roundup.
But all it takes is a few swaps in the ingredients list to make them work while you're in ketosis.
Here's how: unlike traditional cookies, this flourless avocado fudge cookie recipe uses ingredients like shredded coconut, avocados, and a sugar-free sweetener.
That's what keeps these cookies low-carb and free of flour.
Aside from that, you'll just need one large egg, baking powder, stevia-sweetened chocolate chips, and a dash of pink salt, which means you may already have what you need to make these low-carb cookies.
If you have enough shredded coconut left over, you may be able to tackle this next recipe too.
5. Keto Avocado Ice Cream Bars with Coconut and Brazil Nuts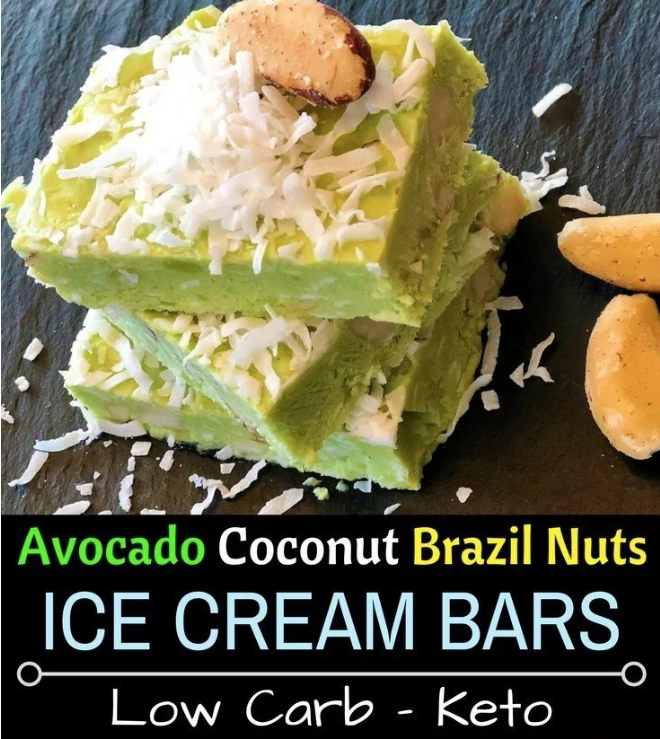 These avocado coconut ice cream bars don't look like your average ice cream on a stick.
To get this eye-catching shade of green ice cream, you'll mix avocados with heavy cream and Greek yogurt.
Then the added brazil nuts and shredded coconut give the bars fiber, texture, and a nutty, tropical flavor to mask the avocado.
As fun to eat as they are delicious, they make a refreshing treat — especially if you need a break from chocolate.
But if you do prefer chocolate, especially as ice cream, there's an avocado-infused recipe for you up next.
6. Dairy-Free Keto Chocolate Avocado Ice Cream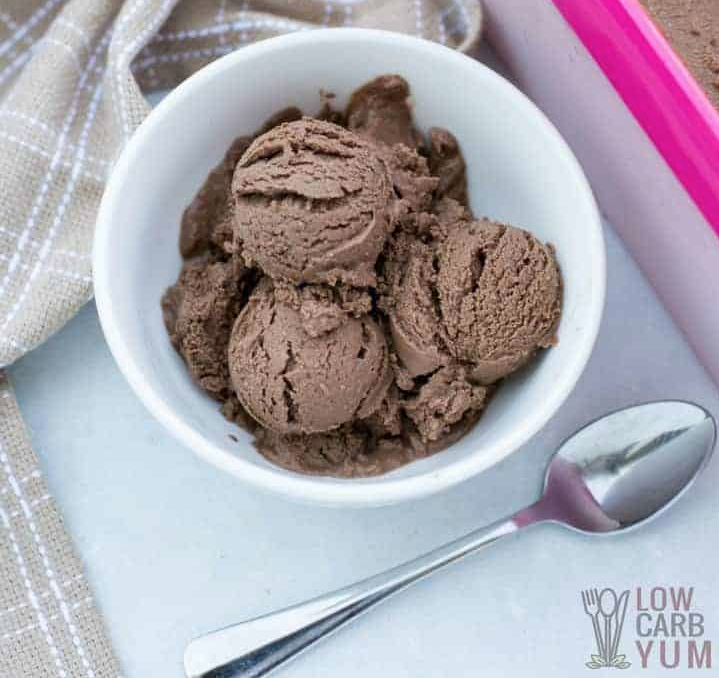 While there are a few low-carb ice cream options on the market, it's not difficult to make your own when you have an ice cream maker.
Turn out this dairy-free keto chocolate avocado recipe and you'll have a fresh batch whipped up in under 40 minutes — including both prep and churn time.
The next dessert recipe also uses an ice cream maker, but the result has a totally different flavor and way to serve it.
7. Avocado Ice Cream in the Shell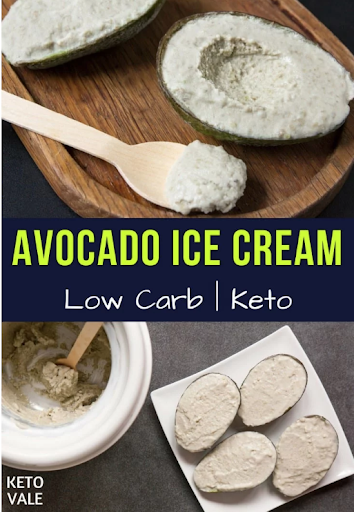 For a delicate vanilla ice cream, try this avocado recipe that only requires five ingredients and 10 minutes of prep, similar to the last one.
A neat feature of this recipe is that the ice cream is poured right back into the avocado shell, which serves as a nice little bowl you can eat out of.
Though serving this keto ice cream in the avocado shell may give away the secret ingredient, you'd never guess it by the taste.
5 Reasons to Eat Avocados on Keto
Americans are obsessed with avocados. And while this may seem like another trendy superfood craze, this fruit's glory is the real deal[*].
Here are just five reasons why avocados deserve all the attention they're getting:
1. Avocados Are Nutritional Powerhouses
They're packed with 19 vitamins and minerals and healthy monounsaturated fats.
There's almost no better food when you're in keto than avocados, as the macro breakdown for one California avocado shows they have[*]:
227 calories
2.67g of protein
21g of fat
11.75g of carbs
9g of fiber
2.75g of net carbs
So, for less than 3g of net carbs, you'll be adding over 20g of healthy fats to help your body kick-start and maintain ketosis.
Healthy fats in avocados also make it easier for your body to absorb nutrients from the foods you eat — especially fat-soluble vitamins like A, D, E, and K.
2. Avocados are Excellent for Your Heart and Gut
Half the participants in one study significantly lowered their total cholesterol simply by adding avocados to their diet[*].
Three-fourths of those participants also lost weight or stayed the same, even with the increased calories and fat from avocados in their macros.
And thanks to all the fiber in just half of one avocado, study participants reported more regular bowel movements, too.
3. Avocados Help Support Weight Management
Some clinical studies show that consuming half an avocado per day may decrease overall hunger and help you feel satiated sooner and longer[*].
This may help you eat fewer calories over the course of the day so it's easier for your body to create a deficit for weight loss.
The monounsaturated fatty acids found in avocados may also help prevent dangerous abdominal fat and help lower the risks of complications from diabetes[*].
4. Avocados May Help Protect Against Cancer
Phytochemicals in avocados have been studied for their anti-carcinogenic properties, which combat oxidative stress and may prevent the development of cancer.
Avocados are rich in phytochemicals such as terpenoids, carotenoids, phenols, and glutathione.
While more research is needed, there's evidence to suggest that avocados may be able to decrease your risks of developing throat and mouth cancer.
Data shows the higher your intake of foods with glutathione, the lower your risks for developing those cancers[*].
5. Avocados May Prevent Metabolic Syndrome
Metabolic syndrome includes the cluster of conditions including heart disease, obesity, and type 2 diabetes.
Scientists discovered that when people ate avocados, they also[*]:
Consumed more vegetables, which increased their intake of vitamins, minerals, and healthy fats.
Had a lower intake of added sugars.
Ate a better diet overall.
Eating avocados was enough for study participants to reduce their weight, waist circumference, and BMI, all of which helped lower their risks for metabolic syndrome.
Now it's easy to see why you should make avocados a staple in your keto diet.
But if you're wondering how to do that beyond adding avocado slices to your favorite low-carb dishes, you can use these 40 keto recipes for inspiration.
One of the easiest ways to sneak in more avocados, especially if you don't care for their taste, is by mixing them into low-carb smoothies.
Conclusion
Are you surprised by all the ways you can use avocados on a ketogenic diet?
Now that you know these clever options exist, bookmark this page so you can refer back to it anytime you need ideas for adding avocados to your keto meal plans.
Avocados are low-carb, high-fat, and packed with fiber, vitamins, and minerals, making them the perfect superfood.
With the versatile, delicious recipes in this roundup, you can look forward to highlighting avocado or concealing it from picky eaters.
Don't forget to share how you made these keto avocado recipes in the comments or in our private Facebook group! We'd love to hear how they turned out!