Flan is the perfect dessert. With vanilla extract, plenty of egg yolks, and a caramel sauce coating, most flan has an eggy, custard flavor that rivals creme brulee or creme caramel.
But flan is packed with sugar and sugar-free, low-carb flan recipes are hard to come by.
The key to a perfect keto dessert is adding in just the right ingredients to keep the carb count low, without messing with the taste and texture. This low-carb flan does the trick.
Sugar substitutes like monk fruit and blackstrap molasses take the place of insulin-spiking table sugar while maintaining the mouthfeel that makes flan so delectable.
This low-carb flan is:
Sweet
Creamy
Delicious
Flavorful
The main ingredients in this creamy low carb dessert are:
Optional additional ingredients:
3 Health Benefits of Keto Flan
#1: High in Antioxidants
Vanilla extract is widely used in dessert recipes to provide that smooth vanilla flavor that everyone loves. What many people don't realize is that vanilla is loaded with health benefits — antioxidant activity being one of them.
A compound in vanilla, called vanillin, has been shown to impart a myriad of health benefits including tumor- suppression, anti-inflammatory, and pain suppressing. This same compound is also responsible for vanilla's antioxidant activity[*].
Antioxidants are essential compounds for maintaining the balance of your body. Oxidative stress is a natural process that's happening in your body all the time. Issues occur, however, when your oxidative stress is far greater than the antioxidant activity in your body.
Studies in rats show that vanillin can quench free radicals and thereby resolve oxidation stress[*].
#2: Monk Fruit Suppresses Fat Accumulation
Just when you thought the keto diet couldn't get better, here's a dessert that tastes amazing and won't pack on the pounds.
Switching out regular sugar for monk fruit is the key to making this flan keto, but it also may be the key to getting your fat cells burning.
A compound in monk fruit, called mogul, suppresses fat accumulation by inhibiting the progression of your pre-adipocytes (fat cells) into mature fat cells. One way that mogrol may affect your fat metabolism is by inhibiting the process of turning carbohydrates into fat in your body[*].
#3: Boosts Brain Function
Eggs are a fantastic source of the nutrient choline. Choline serves many functions in your body, from cell membrane structure to DNA synthesis to maintenance of a healthy nervous system.
One of the most well-known benefits of choline, however, is its role in brain health.
Choline is essential for the production of the neurotransmitter acetylcholine, which is responsible for memory and cognitive function.
High choline intake is associated with a decreased risk for Alzheimer's disease and increased cognitive performance[*].
Low-Carb Keto Flan
This recipe is simple, but it does take some time to prepare, so be sure to plan ahead.
When you're ready to get started on this keto flan gather your ingredients and preheat your oven to 350 degrees Fahrenheit.
Using a small saucepan or kettle, boil some water and fill a baking dish with water to about 1-inch.
In a separate small bowl, mix your syrup and molasses and then pour evenly into the bottom of four small ramekins.
On the stove, add your heavy cream, salt, sweetener, vanilla, eggs, and egg yolk in a small pot and set to low heat. Mix together until the sweetener has dissolved and all ingredients are well combined.
Slowly pour or spoon this mixture on top of the syrup mixture in the ramekins, and then carefully place the ramekins into the water bath in the baking dish in the oven.
Bake the flan for 40-45 minutes, or until the top is slightly browned and firm.
Once the flan is done, remove it from the oven and let it cool for about 20 minutes. From here you can let the flan chill in the refrigerator for three to four hours before serving.
Add sugar-free caramel sauce, chocolate chips, or coconut shavings to the flan for even more flavor.
Print
Low-Carb Keto Flan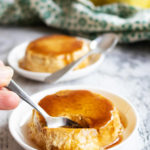 Made with egg yolk, heavy cream, and healthy sugar substitutes, this keto flan is gluten-free, and sugar-free. It's the perfect low-carb dessert, complete with keto caramel sauce.
Author:
Cook Time:

45 minutes

Total Time:

3-4 hours

Yield:

4

flans

1

x
Instructions
Preheat oven to 350°F. Boil a kettle or pot of water on the stove. Place a casserole or baking dish in the oven and pour hot water to fill 1-inch.

Mix syrup and molasses in a small bowl. Divide and pour into the bottom of 4 small ramekins.

Heat heavy cream, salt, sweetener, vanilla, eggs, and egg yolk in a small pot set to low heat. Whisk until very smooth and well combined.  

Cook for 2-3 minutes just until the sweetener is dissolved. Spoon mixture on top of the syrup/molasses mixture.  

Carefully place the ramekins into the casserole dish and bake for 40-45 minutes until the surface is firm, but soft.

Remove from oven and let ramekins cool for 20 minutes. Chill in the fridge for 3-4 hours until completely firm.
Nutrition
Serving Size:

1 flan

Calories:

153

Fat:

15g

Carbohydrates:

2g

Fiber:

0g

Protein:

4g