What if I told you there was a way to enjoy cake on keto?
Not the kind of sugar and carb-laced treats you have to avoid, but low carb, high fat cakes that actually taste good?
You'd probably roll your eyes and say, "Yeah, right!"
But thanks to a little invention known as the mug cake, you can have your cake guilt-free without sabotaging ketosis.
That's why I curated a list of 19 keto mug cake recipes you can make right now.
You'll learn:
From new favorites like brownies and muffins to classics like yellow and chocolate cake, these delicious recipes will make your tummy smile without sabotaging your health goals.
You certainly can't say the same about a regular, full-sized cake.
So let's get the scoop on these little cups of joy.
Here's What You Should Know About Mug Cakes
As the name suggests, mug cakes are literally a delicious single-serving of cake (or other baked good) that can be whipped up fairly quickly (some in as little as one or two minutes) in a mug using only a microwave.
Wondering why you bake the cake in a mug?
The obvious answer is that it gives you a portion-controlled slice of dessert.
If you don't have an entire cake staring back at you, you won't have to muster up the willpower to avoid it.
That's why mug cakes are perfect for combating any sweet or occasional carb cravings you may have on the ketogenic diet.
Instead of cheating on keto when you're celebrating or feel like treating yo' self, you can reach for a keto-safe mug cake.
But make no mistake — while you may be able to fit these mug cakes within your macros, it's not a habit you should get used to.
Do this and you'll miss out on other important nutrients.
The good news is there's more to the story here.
Mug cakes, in certain cases, can be a great way to sneak in keto boosters like MCT oil, collagen protein and healthy fats.
This powerful combination of ingredients can help you feel incredible on keto and give you a nice energy boost.
So let's start with the easiest keto mug cake recipes first now that you know just how sweet they are.
These Keto Mug Cakes Only Take Two Minutes or Less to Bake
If you're new to the mug cake game, these next three recipes are a great place to start.
They take less than two minutes to bake yet they're all packed with flavor.
#1: 2-Minute Chocolate Mug Cake Recipe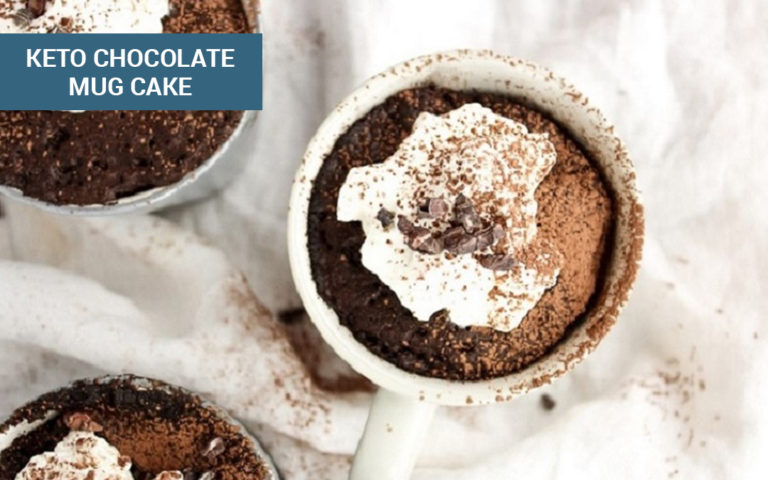 This easy chocolate keto mug cake recipe uses ingredients you probably already have on hand — like cocoa powder, coconut oil, heavy cream, and a large egg. It also comes with a macro breakdown that won't eat up most of your daily budget.
For just 207 calories and 6.6g of net carbs, you'll get 15.5g of fat, 9.2g of protein and a yummy low-carb slice of cake you'll actually enjoy.
And if you like a little bit of spice with your chocolate (who doesn't?), try this next recipe.
#2: Flourless Chocolate and Chai Mug Cake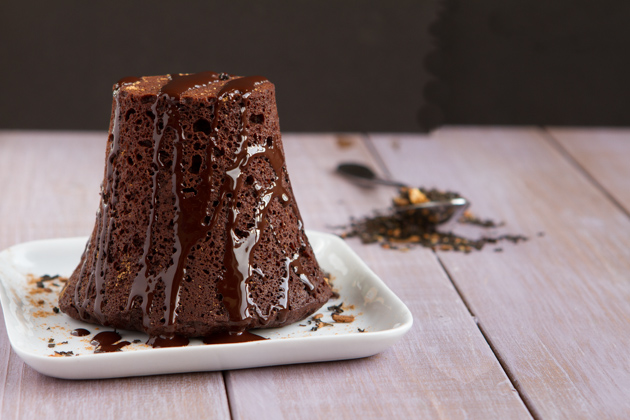 When the colder weather starts to creep in, so do the cravings for a nice spiced chai, at least for me.
But, as you've probably already noticed, most chai-spiced treats are loaded with sugars and carbs so they're anything but keto-friendly.
Fortunately, this flourless chocolate and chai mug cake recipe exists.
On top of giving you the warm flavor combination of chai and chocolate, it also comes loaded with healthy fats and magnesium to help you combat cravings and feel satiated.
But if two minutes is one minute too many, this next recipe is for you.
#3: 1-Minute Chocolate Mug Cake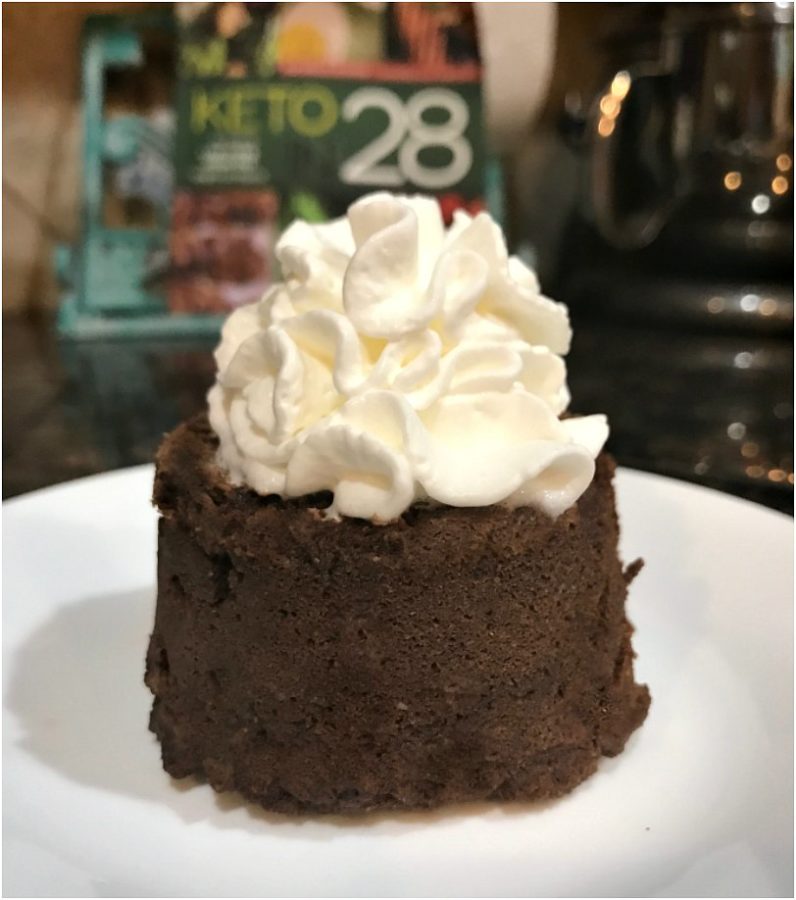 It's true that one minute is all it takes to whip up this sugar free chocolate mug cake recipe.
And you may also be surprised to find both coffee and sour cream on the ingredient list of this keto dessert.
These not-so-common baking ingredients up the flavor of chocolate (coffee) and create a soft texture (sour cream), yet you can't even tell they're mixed in.
Even picky eaters and those who don't drink coffee will be pleasantly surprised with this recipe.
Speaking of chocolate…
Take Your Pick: Chocolate or Vanilla?
The next few keto recipes are either #TeamChocolate or #TeamVanilla. I personally prefer the former, but I've offered both in case you're in the vanilla category ????.
#1: Collagen and Chocolate Mug Cake Recipe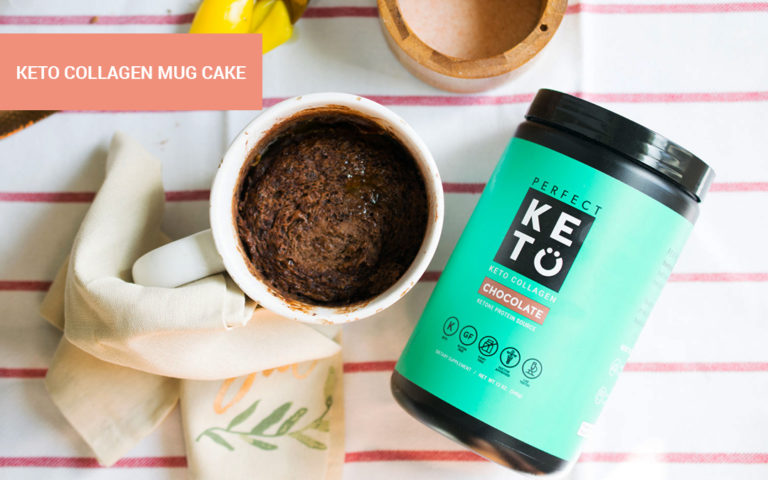 While the first few recipes were also chocolate flavored mug cakes, this one takes the cake since it delivers a healthy dose of collagen too.
Collagen peptides have been shown to:
Strengthen bones, joints, connective tissues and ligaments
Improve your gut lining
Boost your skin, hair and nail health
So you'll look and feel good both inside and out — and you get to reap all those benefits thanks to a "slice" of cake.
You're welcome.
This next recipe also packs double duty perks.
#2: MCT Powder Chocolate Cake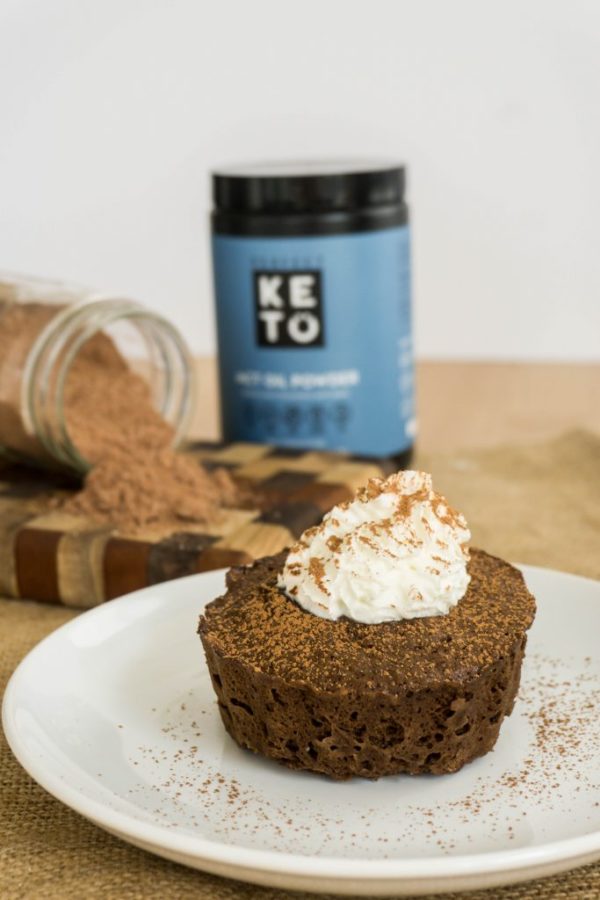 In this chocolate MCT mug cake, you only need six simple ingredients — including baking powder, cocoa powder, and MCT oil powder –and one minute to cook.
In return for your small investment, you'll get a tasty cake loaded with MCT oil, which supports:
Mental clarity
Sustained energy levels
Proper cellular function
Optimal metabolic activity
Each serving contains a whopping 27g of fat, 2g of net carbs and 11g of protein.
This recipe also gives you the option of creating a lava cake version too (i.e., cake with a gooey center), which the next recipe also shares.
#3: Chocolate Lava Mug Cake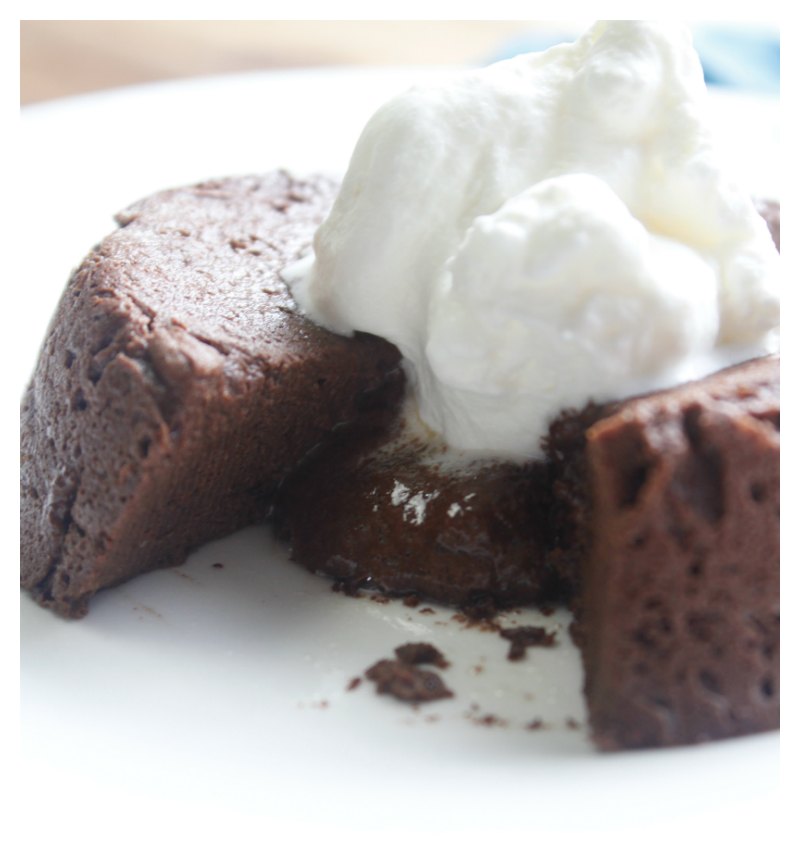 Molten chocolate lava cake may seem off-limits on keto, but this keto-approved recipe shows you can have your gooey-center cake and eat it in ketosis too.
#4: Gluten-Free Chocolate Cake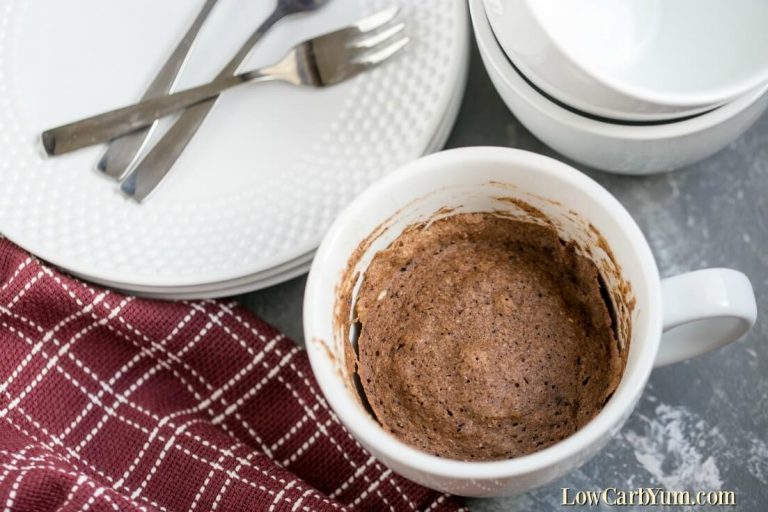 On the surface, this gluten-free chocolate mug cake (made gluten-free thanks to coconut flour) looks like the rest of the ones on this list but there's a huge difference here: it's also made with exogenous ketones and collagen peptides — oh, and it includes chocolate chips too.
Exogenous ketones are energy molecules (ketones) produced outside of your body (exo).
When used as a supplement to a healthy keto diet, exogenous ketones can help you:
Reach ketosis faster, especially if you've had too many carbs
Sustain a keto diet long term
Support weight loss as your body switches to fat for fuel
Improve mental clarity
As for collagen, there are just as many benefits, including:
Brain and Alzheimer's protection
Prevention and treatment of heart disease
Healing Leaky Gut Syndrome and damage to the gut lining
Easing knee and joint pain
Improving back pain
Boosting the health of your skin and nails
You'll get all these health perks in a gluten-free, paleo and keto-approved dessert that clocks in at just 281 calories.
And if you're tired of all of these chocolate recipes, the next three are for the more-than-basic vanilla fans out there.
#5: Vanilla Bean Cake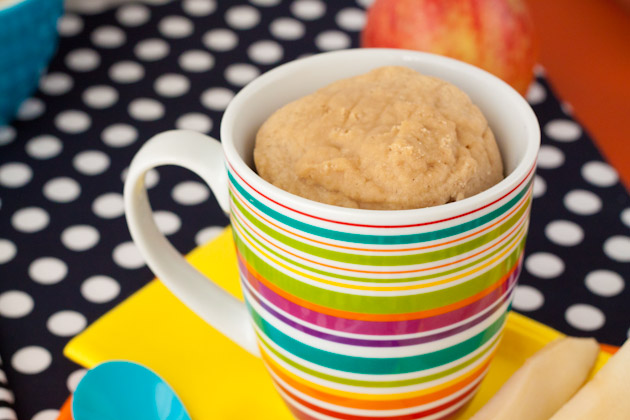 This vanilla bean mug cake recipe is similar to the chocolate one just before it.
With just one calorie more (282 calories total), you'll still score 13.4g of fat, 23.8g of net carbs and 11g of protein.
Plus, it's also:
Dairy, gluten and grain free
Paleo friendly
Soy and sugar free
Vegetarian
This means you can satisfy almost any sweet tooth in your family, despite having what only seems to be dietary restrictions to work with. And you won't have to sacrifice flavor to do so.
#6: Gluten-Free Vanilla Bean Mug Cake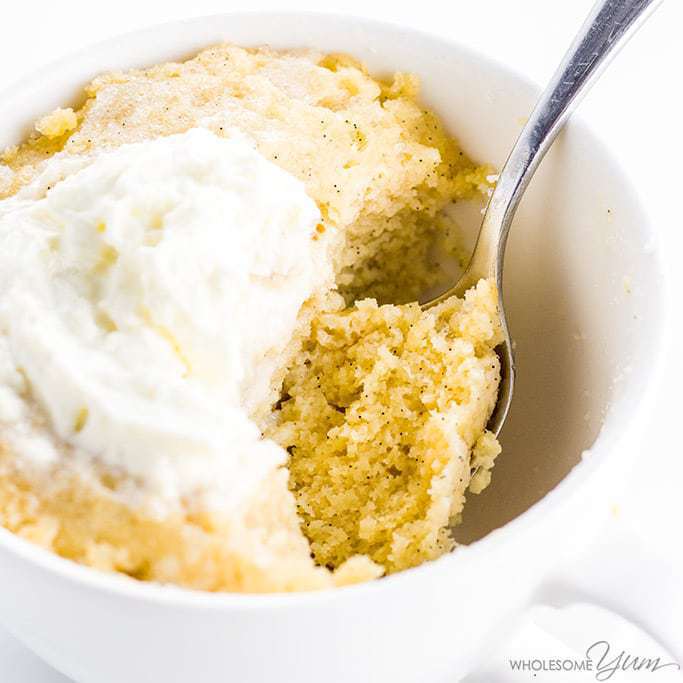 This vanilla mug cake made with coconut and almond flour is also gluten-free and keto and paleo approved.
And if you're wondering why you'd choose one recipe over the other, this one is ultra-moist and crumbly, giving you that yellow cake texture you're craving with so much more flavor.
To snag all that goodness, this recipe calls for scraping high quality vanilla beans (not vanilla extract) so you can see all those delicious vanilla flecks in the final cooked version and within each bite.
#7: Vanilla Keto Mug Cake (Nut-Free Option Available)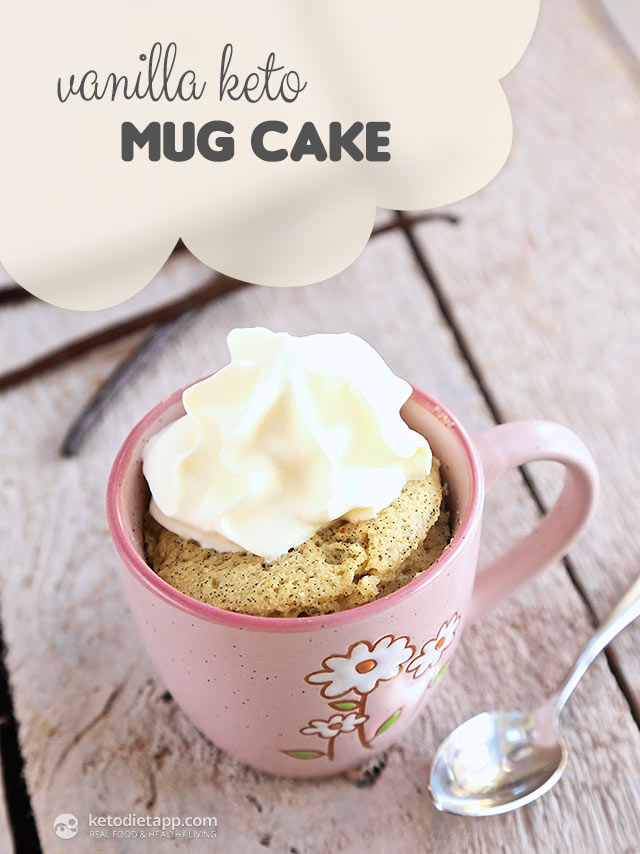 You'll also find those delicate little vanilla bean flecks in this keto mug cake recipe.
What's cool about this one is author Martina gives you substitution help for creating a nut-free and "less eggy" version.
With classics like chocolate and vanilla taken care of, let's move over to the world of more advanced mug cake flavors next.
Sweet Mug Cake Recipes for Every Keto Palate
Move over, chocolate and vanilla! These five recipes take sweet flavors to the next level of keto mug cakes:
#1: Pumpkin Spice Mug Cake Recipe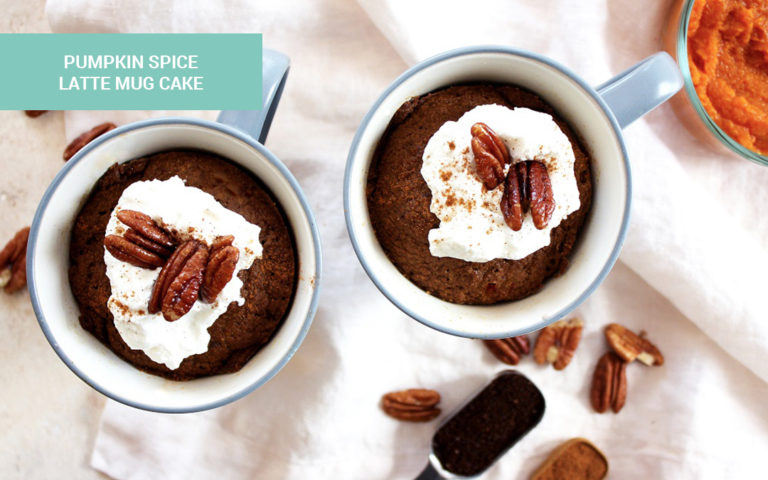 Pumpkin spice is similar to chai: when autumn rolls around the corner, cravings for this deliciously sweet and spicy flavor go way up.
And I'm right there with ya!
The problem is, pumpkin spice anything is usually keto-unfriendly, the same as with chai.
But instead of depriving yourself of these seasonal flavors, or having to wait until the leaves change to enjoy pumpkin spice, you can make your own keto-friendly mug cake using this recipe, which you can top with a dollop of whipped cream.
Each serving contains 27g of fat, 8.2 net carbs and 13g of protein, which is a much better breakdown than you'd find in treats like Starbucks' pumpkin spice bread — which has 15g of fat, 58g of carbs, 38g of sugar and 6g of protein, if you're wondering[*].
#2: Red Velvet Cake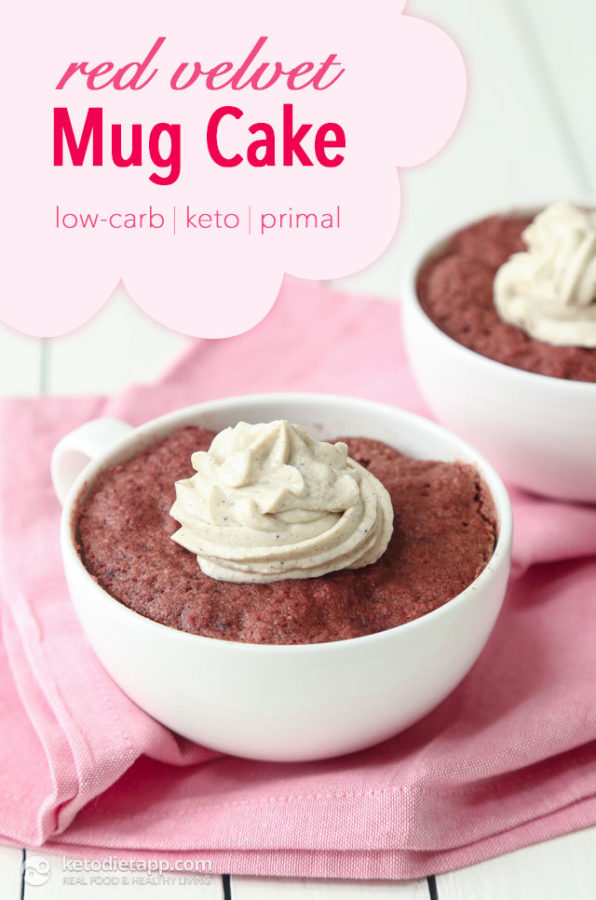 On the other hand, red velvet is one of those flavors best enjoyed year-round and thanks to this recipe, you can do just that. It's perfectly sweetened with stevia, although you can sub it with another low carb sweetener, like monk fruit.
Since this recipe makes two servings, you'll have one for you and one for your boo, bestie or roommate so they don't steal all of yours.
#3: Cinnamon Mug Cake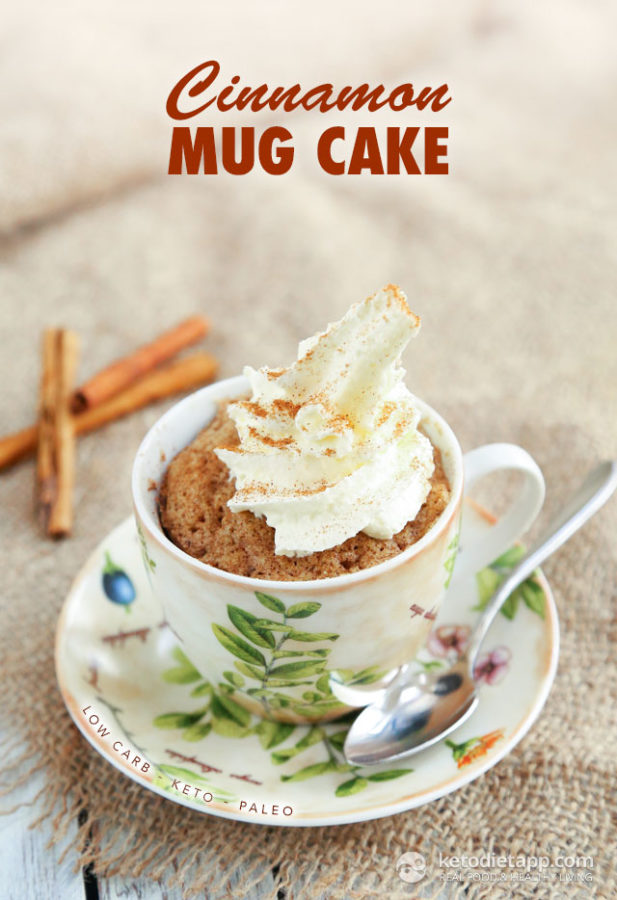 If you're looking for a cake that isn't too sweet, only has a hint of spice and reminds you of the best snickerdoodle ever, this low carb cinnamon mug cake checks all the boxes.
Martina also shares nut-free substitutions for this cake and helps you swap coconut flour if you don't have any in the house.
She even shares another version of this recipe if this one is too "eggy" for you.
#4: Cinnamon Flaxseed Low Carb Muffin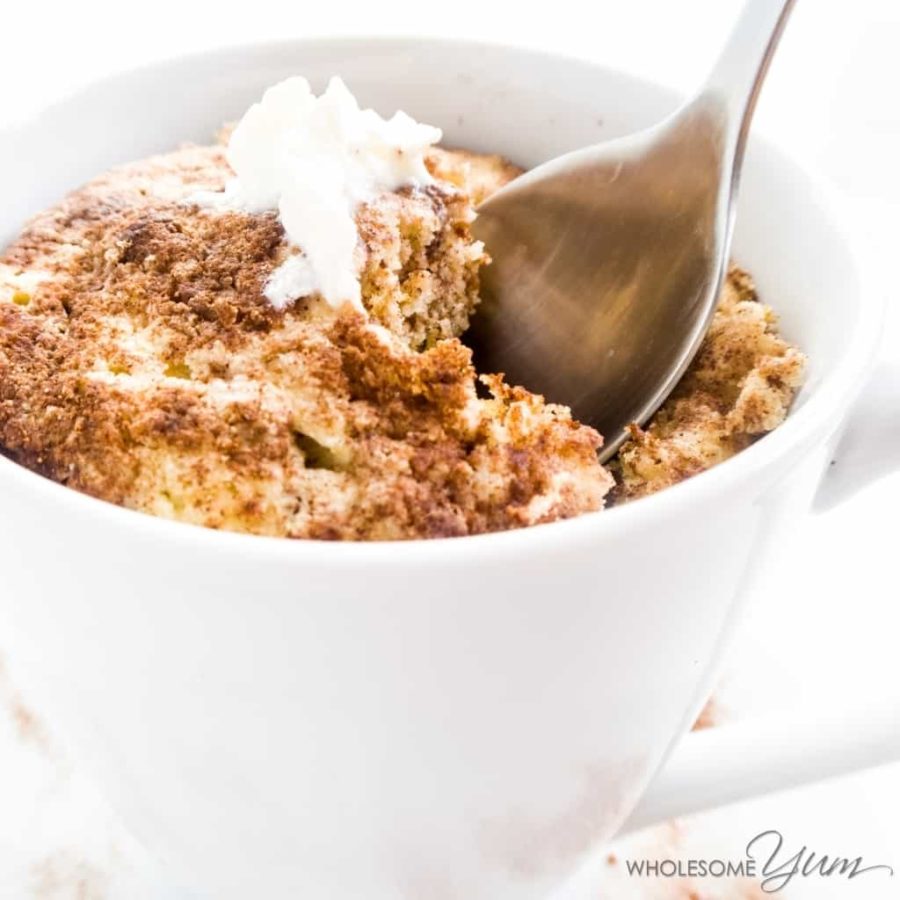 Ever crave a nice, big bakery muffin with your bulletproof coffee?
If you don't want to waste the calories, sugars or carbs on one, you can make this guilt-free cinnamon flaxseed muffin instead.
It takes less than two minutes to whip up and it's also gluten, sugar and nut-free.
It's even safe for your Paleo friends too.
This muffin/cake recipe and the next one may work well as a meal to break your fast or as a snack to tide you over.
And if a blueberry muffin is more your jam, you don't have to settle for cinnamon.
#5: Blueberry Mug Cake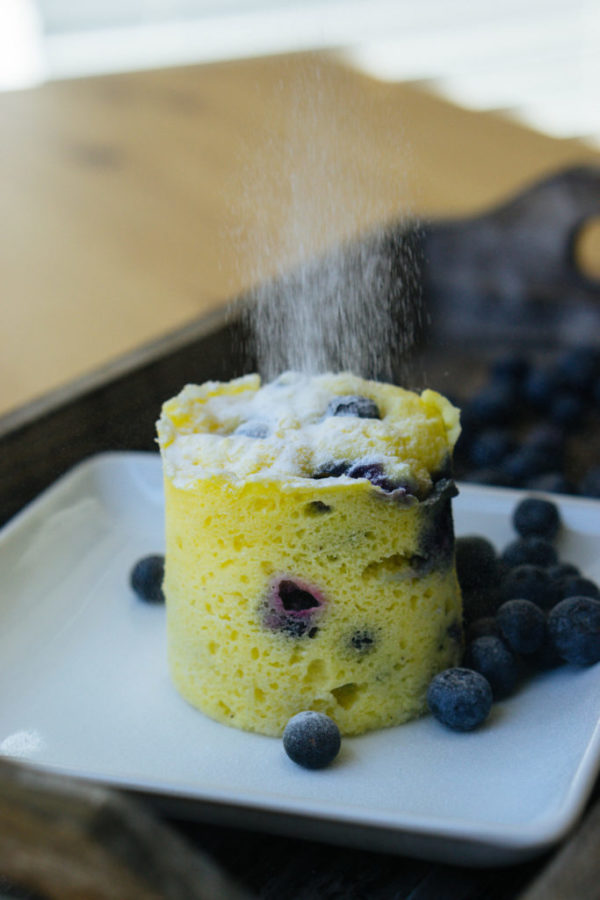 With this low carb blueberry mug cake recipe, you'll still be able to enjoy the flavors of a blueberry muffin without sacrificing your ketosis goals.
Now that you have a few more flavors to work with besides chocolate and vanilla, you'll be ready to up your keto mug cake game to impressive heights.
These Mug Cakes Are On a Whole Other Level
You'll find unique desserts, crossover recipes and even a savory mug cake in this final section, so buckle up for the wild ride:
#1: Banana Mug Cake Recipe (Think: Ooey Gooey Banana Bread)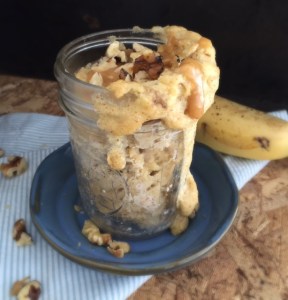 For mornings or afternoons when warm banana bread fresh out of the oven is what you're craving, this banana mug cake recipe will be a lifesaver.
With chopped walnuts and half a ripe banana, you'll have all the flavors of the real thing without blowing too much of your carb allowance for the day.
#2: Chocolate Brownie in a Mug Recipe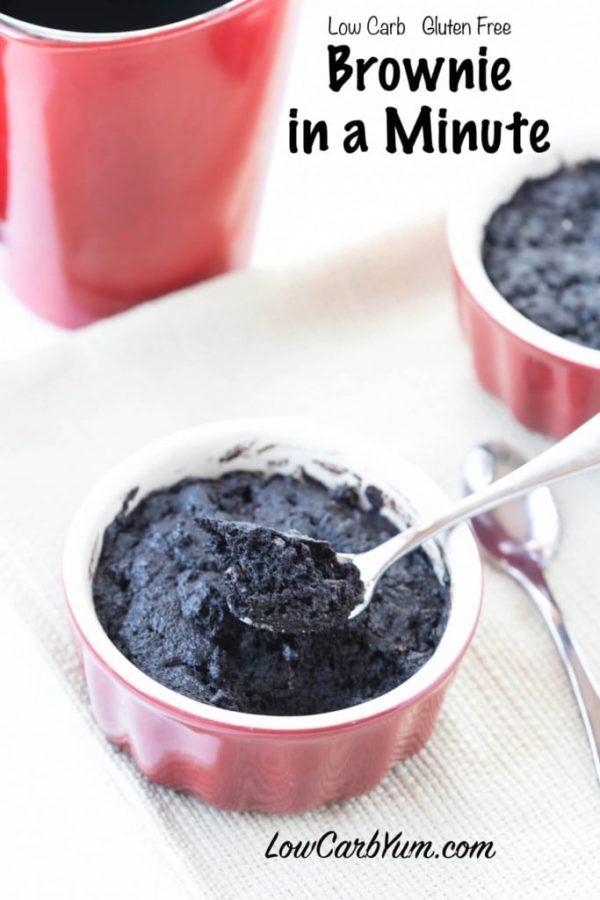 If an ooey, fudgy dark chocolate brownie sounds better than anything with fruit in it, this 1-minute mug brownie recipe is for you.
This single serving brownie is both gluten-free and low carb (4g net) and only clocks in at 101 calories, making it virtually guilt-free.
#3: Pesto Mug Muffin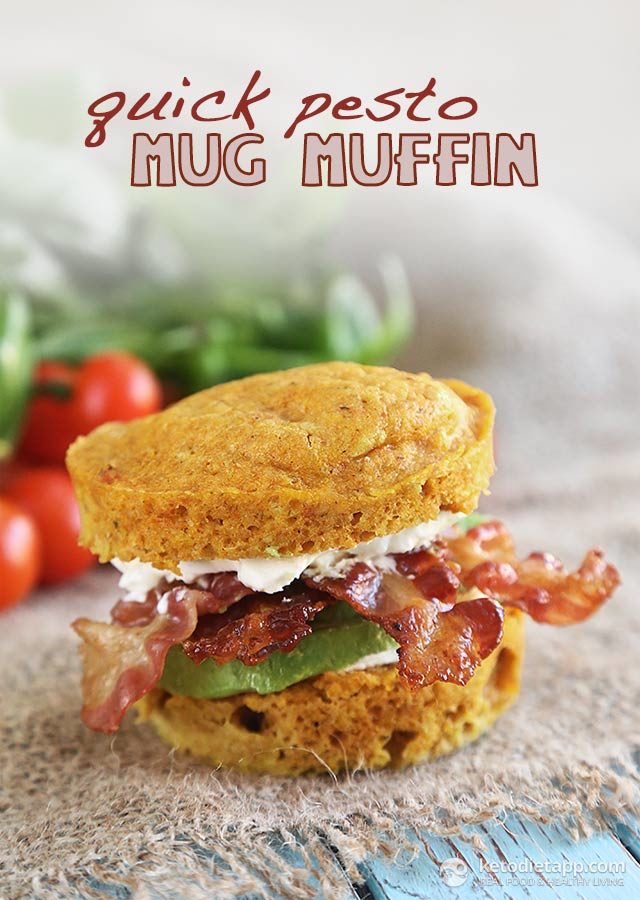 So far I've talked about dessert mug cake recipes but that's not all there is.
This quick pesto mug muffin is the perfect morning biscuit replacement and works well as a savory dinner "roll" too since it's filled with cream cheese and bacon.
Keep in mind, the calories are a bit high at 511 per muffin so you'll really need to work these into your macros if weight loss is your goal.
#4: 1-Minute Muffin in a Mug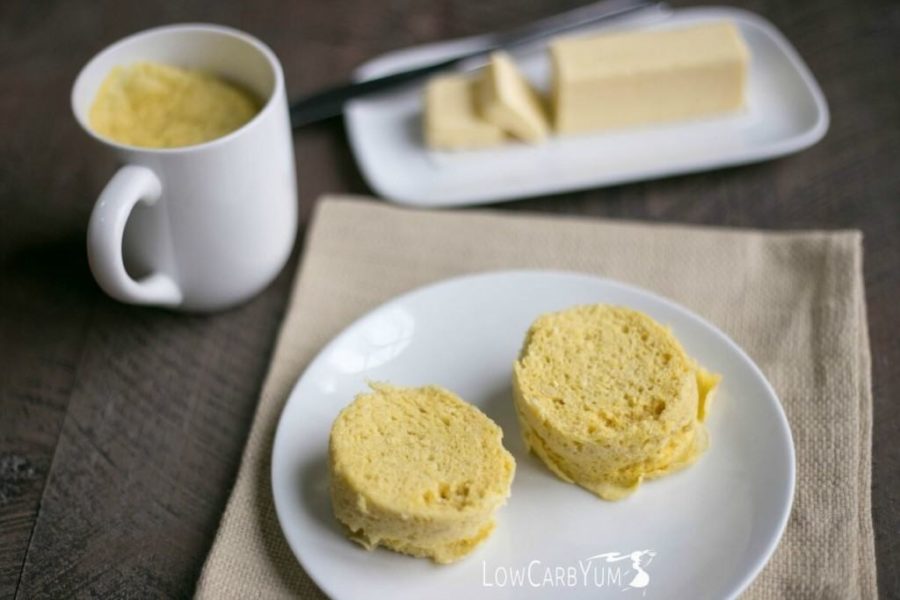 For a lower calorie option (120 per roll), use this recipe instead.
It only takes one minute of cook time in the microwave and it comes loaded with 8.4g of fat, 2.4g of net carbs and 6.2g of protein.
Similar to the last recipe, you can enjoy this early in the morning or with a salad at lunch or dinner.
And since it's roughly 391 calories less than the one just before it, you won't have to make as much room in your macro budget.
Another cool feature about this recipe is that Lisa shares her low carb chia jam recipe to pair alongside it. Yum!
19 Keto Mug Cake Recipes to Choose From
With these 19 recipes to consider, the only question remaining is which one you'll try first.
My vote is to start simple with the first few recipes. Once you get the hang of it, you can explore more complicated flavor combinations after that.
Whether you're new to keto mug cake recipes or not, adding supplemental boosts like collagen, exogenous ketones and MCT oil can help you up the nutritional profile of these cakes so you feel even less guilty devouring them.
And while I'm not suggesting you eat one of these bad boys every day, they can be helpful for controlling carb cravings when they strike on a low carb diet.
To control your blood sugar and energy levels after eating one of these keto mug cakes, you can take Blood Sugar Support, which will stabilize your blood glucose and help keep you in ketosis.
Since these are keto-friendly mug cake recipes, you won't have to gorge on sugars and carbs to satisfy your sweet tooth.
Enjoy them in moderation and work them into your macros and you can have your cake and eat it too.