Fried chicken is an American classic. No matter where you are in the country, it's part of the culinary landscape, and when done right, nothing beats it. Crispy breading encasing juicy, perfectly cooked chicken is just about as satisfying as it gets. The only problem is that it's not keto-friendly.
The breading on your typical fried chicken is usually made with white flour, egg, and maybe some cornmeal, depending on where you are in the country. Obviously, the white flour and cornmeal won't pass keto muster, but that doesn't rule out the possibility of enjoying some delicious keto fried chicken.
There are some great keto-friendly substitutions for the flour and cornmeal that you might not have thought of and that's where this keto fried chicken recipe comes in handy.
Baked, Not Fried
You won't need a deep fryer filled with overly processed vegetable oil for this recipe because you aren't deep frying it — you're baking it.
Rest assured though, this low-carb, gluten-free, keto fried chicken recipe tastes just like your old favorites and even gets golden brown and crispy like the classic versions.
This low-carb meal is great for anyone following a keto diet because it has less than 1 total carb per serving. You can use this low-carb breading formula for all kinds of chicken-based main courses, whether it's drumsticks, chicken wings, thighs, or breasts.
It's a total crowd-pleaser, and might even turn your skeptical friends into keto believers.
Next time your friends want to break out the chicken tenders, breading, deep fryer, and harmful vegetable oils like canola oil, offer up this recipe instead.
This keto "fried" chicken is:
Spicy
Flavorful
Crunchy
Hot
The main ingredients in this low-carb chicken recipe are:
Chicken
Crushed pork rinds
Eggs
Optional seasonings:
You might be asking yourself where the pork rinds come in. That's the secret ingredient — they're the base for the breading. The easiest way to crush them is to place them into a paper or plastic bag and then use a rolling pin to flatten them out. To kick this recipe up a notch, choose a flavor of pork rinds you know you love, like BBQ or chili lime.
3 Health of Benefits of Baked Keto Fried Chicken
Fried chicken isn't likely the first food on your list when you're looking for healthy options. In fact, when done the old-fashioned way, it's kind of the opposite. This version of fried chicken, however, offers some great health benefits.
#1: Supports Heart Health
When you think of fried chicken, heart health may not be the first thing that comes to mind. But with ingredients specifically chosen for their health-boosting qualities, you're doing your body good.
For example, eggs are a great source of the carotenoid lutein. In fact, the yellow color in the center of your eggs comes from this nutrient. Lutein is also found in the marigold flower, giving it that brilliant golden color.
But the real benefit of lutein isn't just its ability to enhance the color of eggs and flowers — research shows it may also boost heart health.
In a systematic review on the connection between lutein consumption and cardiovascular health, researchers concluded that higher dietary intake of lutein is associated with a lowered risk of heart disease and stroke[*].
Another heart health-boosting ingredient is garlic. Research shows that garlic and its active constituents may improve several markers of heart disease, including high blood pressure, triglyceride levels, and cholesterol levels[*][*][*][*]. Opt for pasture-raised eggs to get the most nutrients.
#2: Boosts Immunity
Garlic is a front runner when it comes to immunity-boosting plants. When garlic is crushed, it releases a compound called allicin, which has been the topic of several studies related to immune health.
Allicin is just one of the many compounds in garlic that can support immune health. Garlic consumption reduces the duration and intensity of common colds and flu and may do so by enhancing the function of your immune cells[*][*].
To maximize the benefits of garlic in this recipe, sub some fresh minced garlic for the garlic powder.
Paprika is another good-for-you spice in this recipe. It contains a compound called capsaicin, which gives this pepper its spicy hot flavor. Research shows that capsaicin can aid your immune defenses and boost your body's ability to defend against autoimmune diseases[*].
#3: Helps With Weight Management
Pasture-raised chicken is an excellent way to supply your body with much-needed protein that's essential for optimal health.
Multiple studies have shown that healthy amounts of protein in your diet can help you to control your weight by increasing feelings of satiety and also enhancing your daily calorie burn[*][*][*].
Cayenne pepper is an excellent spice to support your weight loss goals. Studies show that it can improve your metabolism and may aid in the reduction of inflammation that can often contribute to weight gain[*][*].
Tips for Prepping Your Keto Fried Chicken
This keto fried chicken recipe is simple yet super flavorful. And with a prep time of just 15 minutes and a cook time of 40 minutes, you'll have it on your plate in under an hour.
Prepping your ingredients and tools will save you time in the long run.
For this recipe, you'll need a baking sheet with a baking rack on top. That's key for getting the crunchy consistency on both sides of each piece. Also, gather your parchment paper or aluminum foil, two bowls, a shallow dish, and a whisk.
Preheat your oven, line your baking sheet with parchment paper or foil, and place the baking rack onto the lined baking sheet.
While the oven is preheating, pat dry your chicken thighs using a paper towel and set them aside. Then grab one of your bowls and add in all the dry ingredients, using your whisk to gently combine them until they're fully mixed.
Transfer half of that mixture to your shallow dish.
Grab the second bowl and add in the egg, keto-friendly mayonnaise, hot sauce, and mustard. Using the same whisk, combine the wet ingredients.
This next part is where the magic happens. Grab one of your patted-down chicken pieces and dip it into the egg wash, coating it evenly, and then dip it into the shallow dish with the dry ingredient mixture.
Fried chicken hack: Use one hand for the wet ingredients and one hand for the dry to prevent clumping and mess.
Transfer the breaded chicken to the baking rack and repeat the process with the remainder of the chicken thighs.
If you start to run out of the dry ingredient mixture just add the reserved mix from earlier.
Once the process is complete, bake the chicken until the internal temperature reaches 165 degrees Fahrenheit. This will probably take around 35-40 minutes, depending on the thickness of the chicken thighs.
Once the chicken is finished, allow it to cool slightly before serving.
Print
Keto Fried Chicken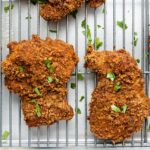 Looking for the best keto fried chicken recipe? This crunchy chicken includes pork rinds (or almond flour), eggs, and garlic powder for the perfect keto-friendly taste and crunch.
Author:
Prep Time:

15 minutes

Cook Time:

40 minutes

Total Time:

55 minutes

Yield:

6

pieces

1

x
Instructions
Preheat oven to 425°F and line the baking sheet with parchment paper or aluminum foil and place baking rack on top.
Using paper towels, pat each piece of chicken dry. Set aside.
In a small mixing bowl, combine dry ingredients. Whisk together until fully incorporated. Transfer half of dry ingredients to a shallow dish.
In a separate bowl, mix together egg, mayonnaise, hot sauce, and mustard.
Dip the pieces of chicken, one at a time, into egg wash then into dry ingredients, flipping over multiple times to fully cover chicken in the dry breading mixture.
Transfer breaded chicken to the baking rack set atop a baking sheet. Continue breading the remaining chicken thighs.
Bake until internal temperature reaches 165°F, about 35-40 minutes, depending on the thickness of the chicken thigh. Allow them to cool slightly before serving.
Notes
If you don't have pork rinds handy, no problem. You can also use almond flour, almond meal, or even coconut flour. If your supermarket is out of chicken thighs, sub chicken breasts or drumsticks instead.
You can also use this recipe in an air fryer or deep fryer with a heart-healthy, keto-friendly oil like coconut oil, avocado oil, lard, tallow, or duck fat.
Nutrition
Serving Size:

1 piece

Calories:

372

Fat:

23g

Carbohydrates:

0.9g (0.6g net)

Protein:

41.2g
Keywords: Keto Fried Chicken