on January 22, 2018
I know what you're thinking.
How can fried chicken be ketogenic?
This keto fried chicken is made with ground seeds and seasoning for a pop of flavor that comes to a beautiful brown bake in the oven with only 4 grams of net carbohydrates!
Not only is this keto fried chicken delicious, but it is filled with amazing health benefits. Some of the ingredients include:
Avocado oil

Sunflower seeds

Sesame seeds

Chicken thighs
Avocado Oil
One consistent ingredient you often see in our recipes is avocado oil. Avocado oil is easily one of our favorite oils to use in cooking due to its abundance of nutrients.
Not only does avocado oil have many nutrients itself, but it allows for increased absorption of other antioxidants from foods it is paired with. Avocado oil is high in monounsaturated oleic acid, an omega-9 fatty acid that helps to reduce the risk of heart disease (the number one killer in the country) by raising levels of the body's "good" cholesterol, high-density lipoprotein (HDL).
Avocado oil has even been used to treat both osteoarthritis and rheumatoid arthritis due to its anti-inflammatory effects. Not only has avocado shown a decrease in inflammation, but also a stimulation on the molecules in connective tissues in the body. [*]
Sunflower Seeds
Sunflower seeds provide two powerful nutrients, vitamin E and folate, which are responsible for the improvement of cardiovascular health. Only ¼ of a cup contains over 60 percent of the daily recommended value of vitamin E. Vitamin E balances cholesterol, fights free radicals, repairs damaged skin, balances hormones and even has the ability to improve your eyesight.
Sesame Seeds
Sesame seeds are another main ingredient in this keto fried chicken that are a nutritional powerhouse.  
Sesame oil from the seeds contain two phenolic compounds, sesamol and sesaminol. The oil from the sesame is rich in linoleic and oleic acids. [*] These are omega-6 fatty acids that need to be consumed through your diet because the human body doesn't have the enzyme to produce it naturally. Luckily for us, these fatty acids are found in a lot of foods in the ketogenic diet such as walnuts, flax seeds, pumpkin seeds, etc.
Thinking there's no way you'll ever be able to have fried chicken on the ketogenic diet? Think again! Save this recipe for your next meal prep or a group gathering for a delicious meal that will satiate and fulfill those cravings.
Nut and dairy free. This shake and bake style crispy chicken uses ground seeds and seasoning for a flavorful fried chicken that bakes up crispy in the oven.
Print
Low Carb Crispy Keto "Fried" Chicken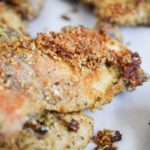 I know what you're thinking. How can fried chicken be low-carb? But we've crafted the perfect keto fried chicken recipe to satisfy that craving.
Author:
Prep Time:

10 minutes

Cook Time:

30 minutes

Total Time:

40 minutes

Yield:

4

Category:

Dinner

Cuisine:

American
Ingredients
2 tablespoons avocado oil
1 cup sunflower seeds
1/2 cup sesame seeds
1 teaspoon fine himalayan salt
1 teaspoon ground black pepper
1 teaspoon dried italian herbs
1 pound boneless skinless chicken thighs, about 8
Instructions
You will need a large tupperware or freezer bag.

Pre-heat oven to 425F.

Grease a sheet pan with the avocado oil.

Grind the sunflower seeds, sesame seeds and seasonings in a food processor or high powered blender. Grind to a fine crumb texture.

Add the seasoned seed mix to  a freezer bag or large container with a lid.

One at a time add a chicken thigh to the bag or container and shake until well coated then place it on the oiled sheet pan.

Repeat with all of the chicken.

Roast for 30 minutes, turning the chicken thighs over with tongs after 15 minutes.
Nutrition
Calories:

463

Fat:

27g

Carbohydrates:

7g

Fiber:

3g

Protein:

33g
Keywords: keto fried chicken