St. Patrick's Day is a holiday filled with mashed potatoes, dark beer, and green-colored treats. But that doesn't mean you have to forgo St. Patty's celebrations just because you're keto.
If you're searching for low-carb, keto recipes to replace all the potatoes, soda bread and Guinness, you're in the right place.
In the pot of gold that is this roundup, you'll find shamrock-themed breakfast, lunch, dinner, and dessert recipes, as well as classic Irish dishes gone low-carb.
Keep reading to learn how to have a keto St. Patrick's Day without sacrificing all your hard work.
Green Recipes for a Low-Carb Saint Patrick's Day Breakfast
These breakfast options for St. Patrick's Day may be green in color, but there's nothing artificial about them.
Unlike the artificial food coloring in green-frosted donuts, cookies, or the McDonald's Shamrock Shake, these shamrock-themed recipes use green-colored veggies and superfoods.
The result is a much healthier holiday.
Plus, these keto recipes will provide you with all the energy you need to power through this special day.
Wake up and eat them for breakfast or plan on making them later in the day when you break your intermittent fasting:
#1: Shamrock Eggs with Braised Spinach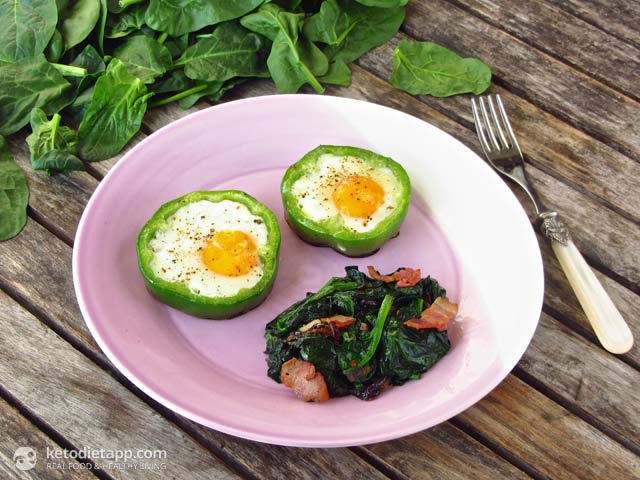 If you look closely at the inside of the green peppers in this shamrock eggs with braised spinach recipe, you may notice the shape almost looks like a four-leaf clover.
Combine that with the two types of green veggies — the peppers and the spinach — and you have a subtle, yet healthy way to kick off your holiday.
Bonus: It only takes 15 minutes from start to finish to bring this colorful meal together.
The next low-carb recipe isn't as quick to make but it's certainly worth the extra effort.
#2: Spicy Keto Deviled Eggs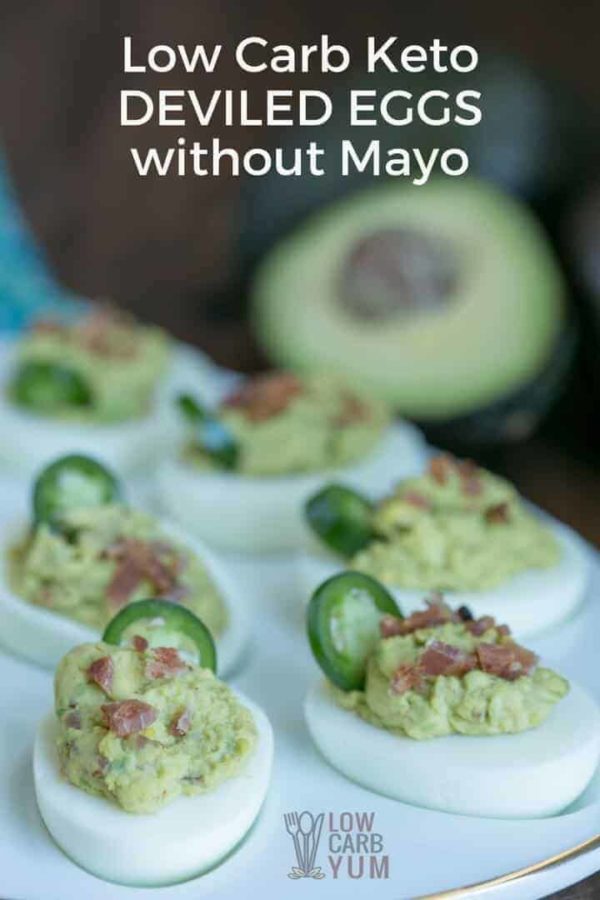 Deviled eggs may not be on a traditional Irish menu, but thanks to the avocado and jalapenos, this recipe is welcome on any green-themed table.
Prepare a batch ahead of time so you can nosh them for breakfast or lunch, or bring them to a festive holiday party.
Not only will they be a hit flavor-wise, but they'll also help you stay on track without too much fuss.
And if you're too strapped for time to make this recipe, the next option takes less than five minutes to impress.
#3: Citrus Keto Green Smoothie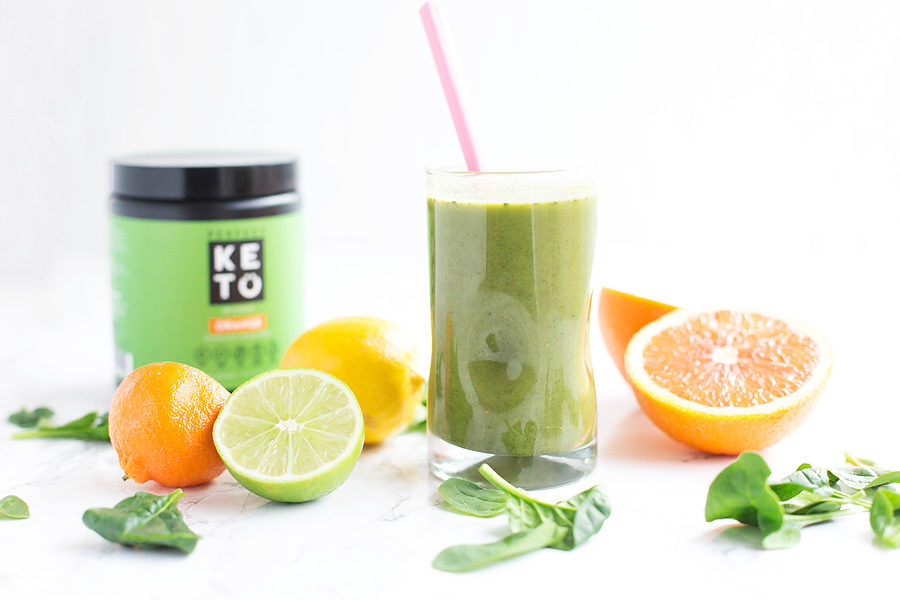 Have less than five minutes to make breakfast in the AM?
You can still get in the green-themed holiday spirit and have a healthy start to your day with the help of this citrus green smoothie recipe.
Unlike most store-bought smoothies, this recipe swaps sugar and carbs for a healthy serving of fats — to the tune of 20g per smoothie. More fat will help keep you full for hours, or until you're ready for an Irish-themed dinner.
This smoothie is also packed with micronutrients from fresh spinach, lemon and lime juice, and the zest of an orange, which give you the same energizing flavors of a green smoothie and orange juice without the sugar crash.
Now, if you've been on a ketogenic diet for a bit and you're past the OJ cravings in the morning, you may want to try this next bright green drink, which is just as uplifting minus all the citrus.
#4: Iced Matcha Latte with MCT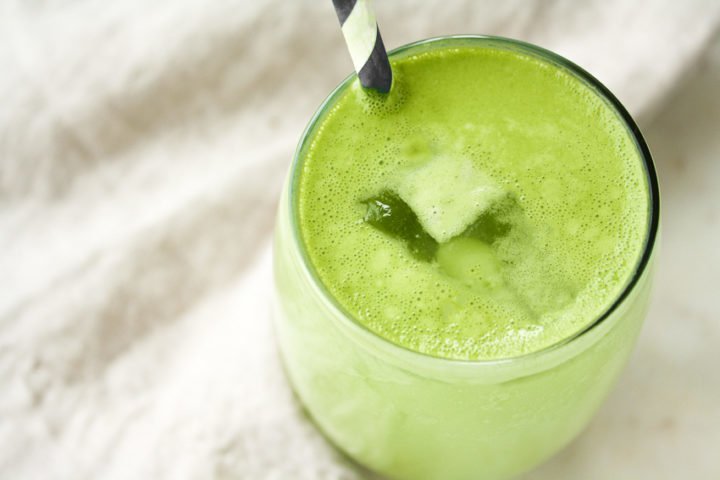 If you're not familiar with this awesome superfood, matcha is green tea that's ground into a fine, bright green powder, making it one of the best ingredients to use on a day to celebrate all things green.
It's also what turns this iced latte that gorgeous leafy color.
Matcha contains an abundance of antioxidants, plus a small serving of caffeine, making it great for clean energy throughout the day.
However, unlike coffee, matcha gives you a calm, focused energy boost without the jitters.
So if you want a break from coffee but you're worried about not having enough energy to make it past the afternoon slump, give the matcha and MCT oil combo in this recipe a try.
And if you prefer your AM beverages hot, this next matcha recipe may be your four-leaf clover.
#5: Comforting Matcha Latte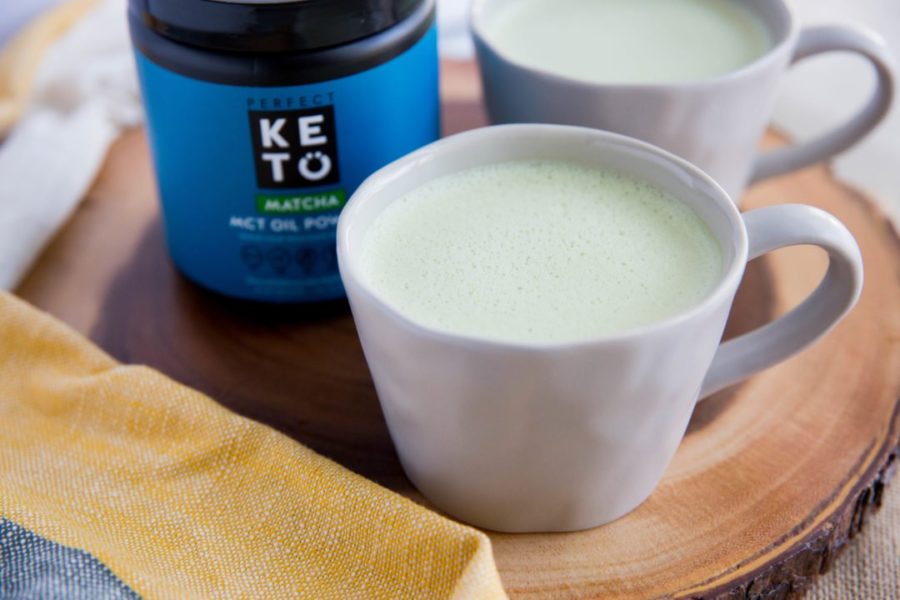 While this hot matcha latte isn't as bright as the iced version, it's just as loaded with antioxidants and flavor as the last recipe. And you still get a hint of green color to celebrate the holiday.
Plus, by making this latte at home, you can skip the coffee shop line, avoid unhealthy additives, and keep life sugar-free without stress.
Homemade versions also help you avoid temptation when it comes to the green pastries and shamrock cookies in the glowing display case at the coffee shop.
The last recipe in this category gives you another way to use matcha to kickstart your St. Patty's Day festivities.
#6: Energy-Boosting Matcha Chia Seed Pudding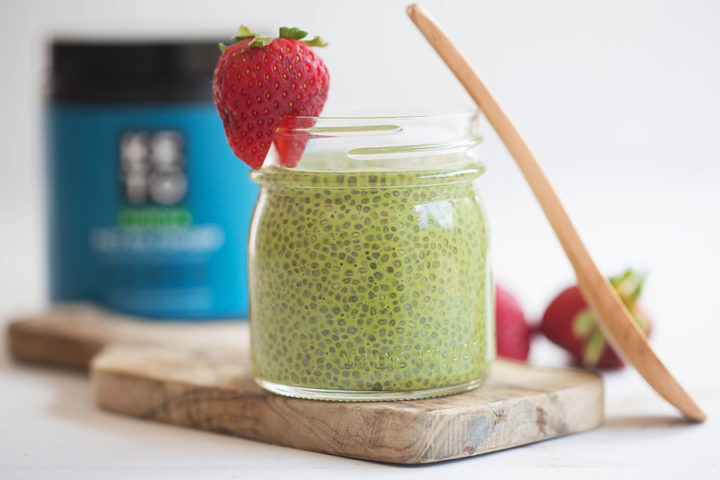 If you want to start your day with an egg-free breakfast and you need a little more substance than a drink, this grassy-colored matcha chia seed pudding makes an ideal choice.
What's nice about this recipe is it only takes five minutes to mix together and then it sits in the fridge overnight.
So you can make it the night before and have one less task to think about on the holiday morning.
Each half-cup serving gives you 18g of fat and 11g of protein — which is close to two eggs worth — for just 1g of net carbs and 274 calories.
Chia seeds provide a low-carb source of fiber and keep your digestion running smoothly. They also help you feel fuller sooner and for longer between meals.
But chia seeds aren't the only healthy ingredient in this pudding.
With the addition of matcha, you'll also access science-backed benefits like:
A boost to your immune system
Improved heart health
Better blood sugar control
Greater weight management and weight loss
Positive, calm moods
Those perks make it easy to see why you should include matcha to your daily routine.
While these untraditional green recipes will get you in the spirit of St. Patrick's day, the next set will help you keep classic Irish traditions without sabotaging ketosis.
Low-Carb Makeovers for Classic Irish Dishes
You don't have to settle for green-colored foods alone to celebrate St. Patrick's Day.
These next seven keto recipes show you can enjoy traditional Irish fare without getting kicked out of ketosis.
The first recipe in this category is perfect if you're entertaining or going to a holiday party and need something that won't blow past your carb limit.
#1: Broccoli Cheese Pie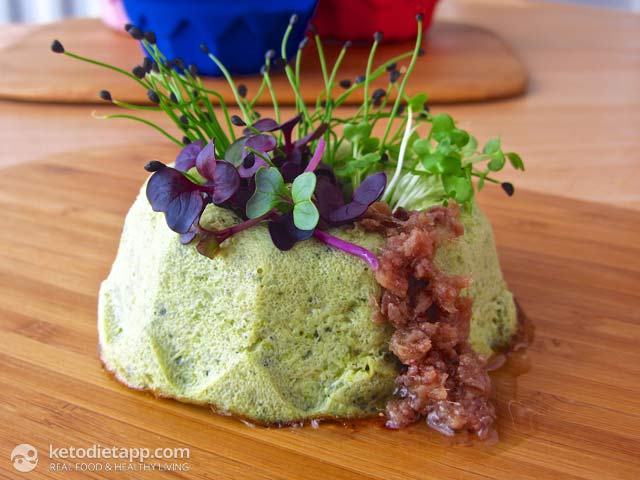 This grain-free broccoli cheese pie isn't just the right color –the flavors are out of this world.
Serve this for St. Patty's and they'll see it's possible to go low-carb without sacrificing flavor.
The next recipe also proves you can enjoy traditional corned beef on a keto diet.
#2: Keto Corned Beef with Low-Carb Mustard Cream Sauce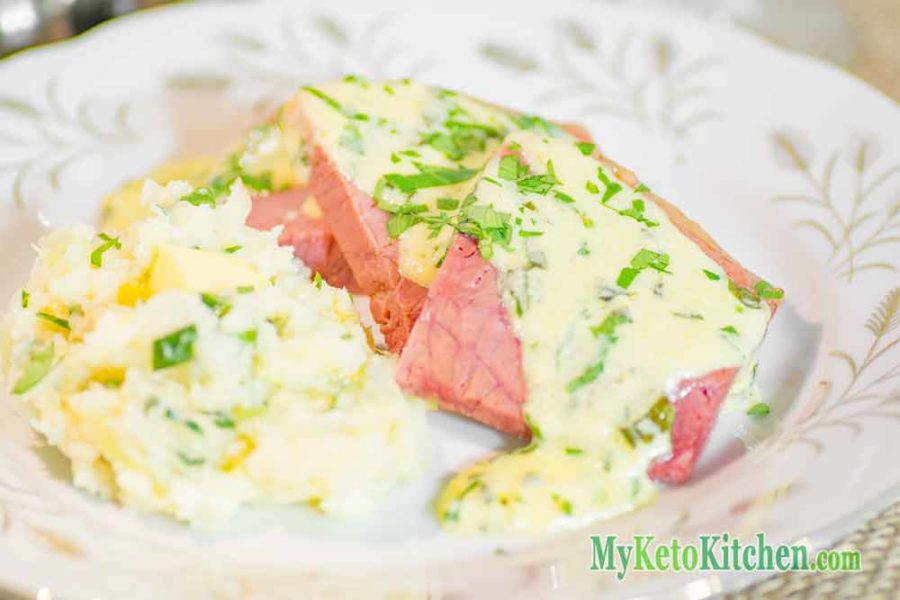 If you're craving traditional corned beef for Saint Patrick's Day, you're on track to celebrate the holiday right.
Try this keto-friendly recipe in an Instant Pot, slow cooker, or on your stovetop.
Depending on the method you choose, your homemade corned beef will be ready in 3-7 hours.
This recipe also has instructions to make a creamy mustard sauce you can drizzle on top of your corned beef and on any cauliflower mashed potatoes you make.
You can also pair this with another holiday classic, a colcannon, to round out your meal.
#3: Colcannon Side Dish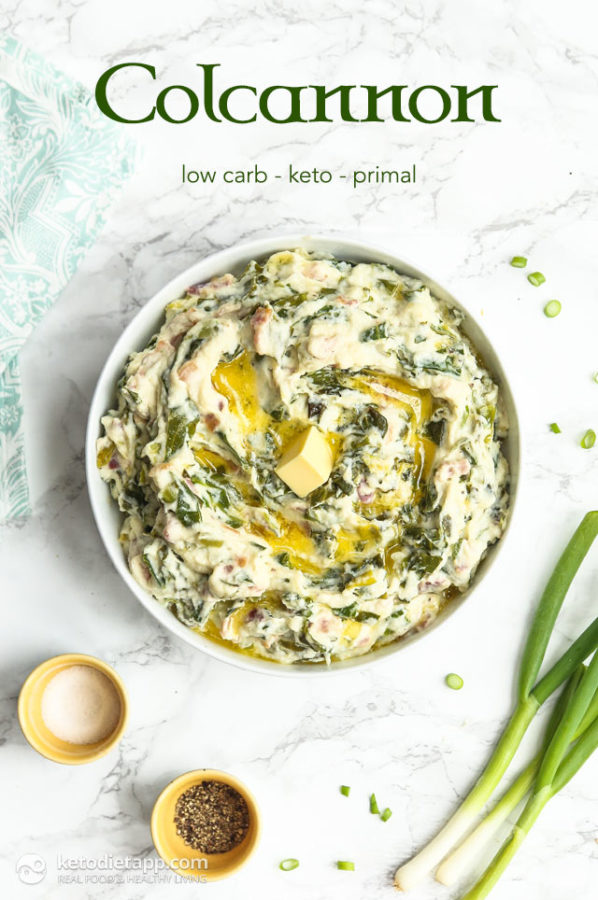 Colcannon is a traditional Irish side dish usually made with potatoes and cabbage, according to the recipe creators behind this low-carb alternative.
To make colcannon keto-friendly, you simply swap the potatoes for cauliflower. And since cauliflower is just as neutral as potatoes, the flavor profile remains so similar you won't even notice the substitute.
This colcannon recipe is from the same author as the corned beef recipe above. Pair them together for a wildly traditional Irish meal.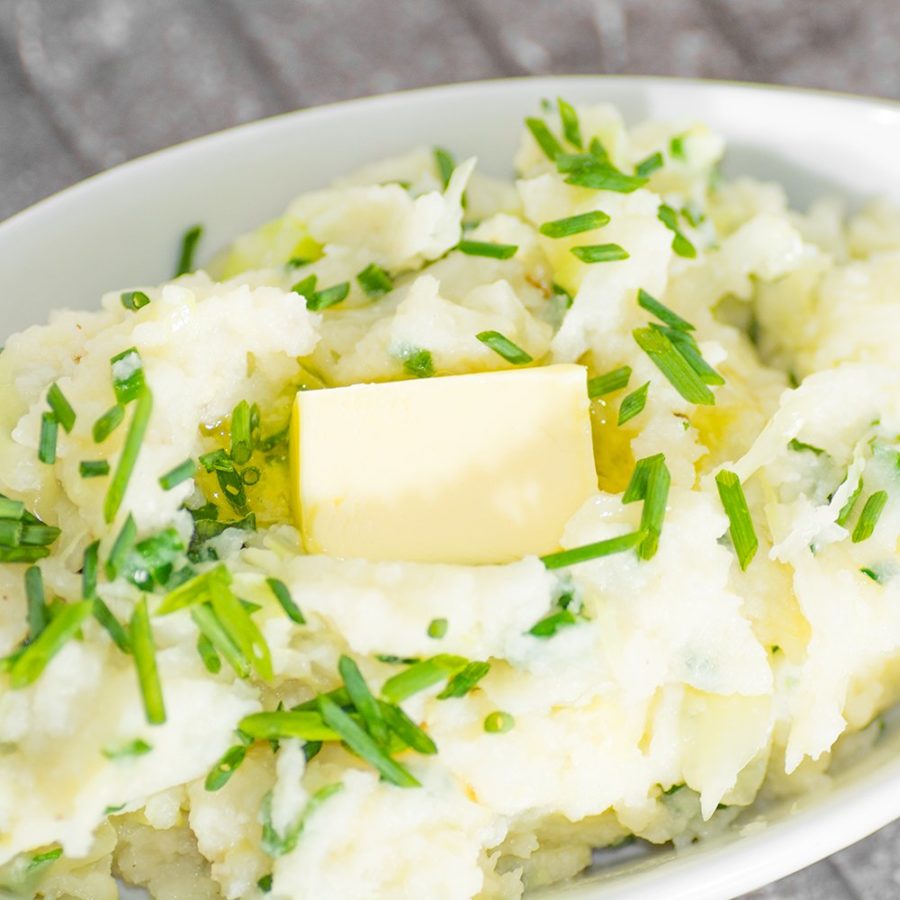 While the two recipes are similar, the first is more traditional and the second whittles down the ingredient list to just the bare essentials to keep life simple.
To save even more time, check out this next recipe combining both classic dishes into one holiday-worthy feast.
#4: Corned Beef and Cabbage Colcannon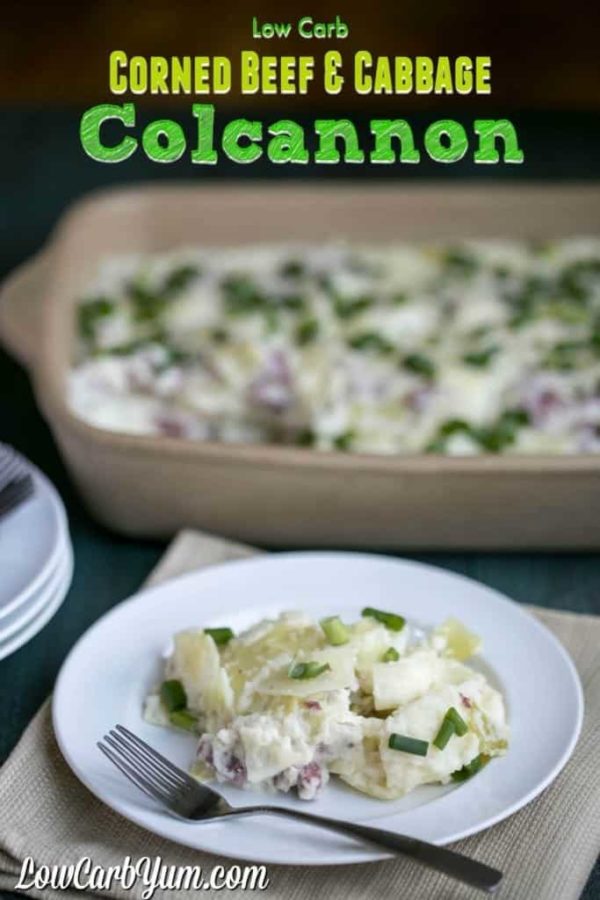 If you're looking for an easy recipe you can set-and-forget, this corned beef and cabbage colcannon recipe is what leprechaun dreams are made of.
All you have to do is gather and prepare all your ingredients at once, throw everything together in a casserole dish, and bake according to the recipe. You can even have your kids help out.
Lisa of Low Carb Yum, the brilliant recipe creator, also shares a few helpful shortcuts to cut down your prep time further.
In less than 30 minutes from start to finish, you'll have a tasty, keto-friendly Irish meal your whole family will enjoy.
The next recipe also takes a classic dish and turns it into an easy and delicious low-carb casserole.
#5: Lazy Low-Carb Cabbage Roll Casserole Recipe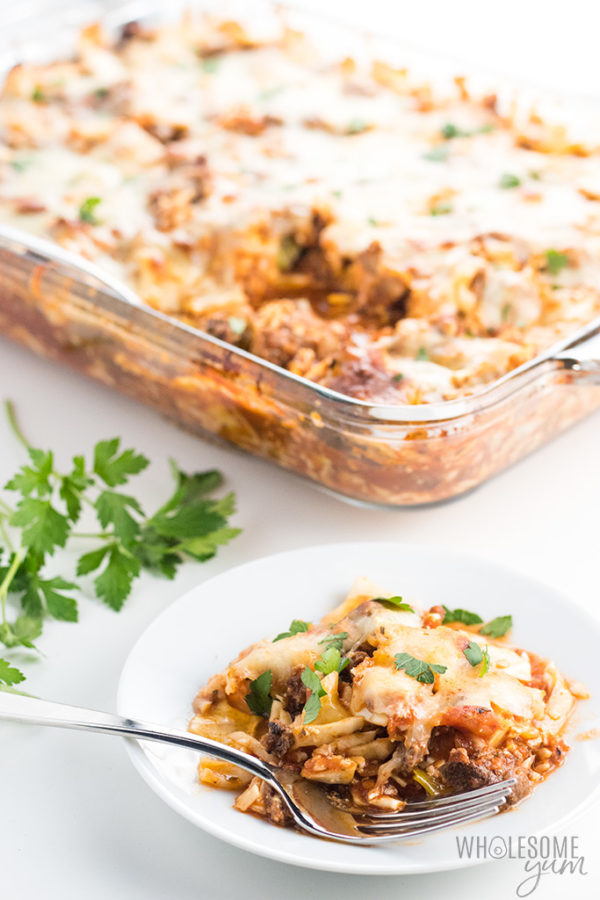 Cabbage rolls are another staple menu item for Saint Patrick's Day.
Lucky for you, it's a breeze to recreate this dish as a keto-friendly casserole without missing any of the flavors in the original version.
You may even like this one better since the top layer is made of gooey cheese.
The next low-carb recipe is another special option for the holiday, and one you might want to add to your regular keto meal plan.
#6: Weeknight Keto Beef Stew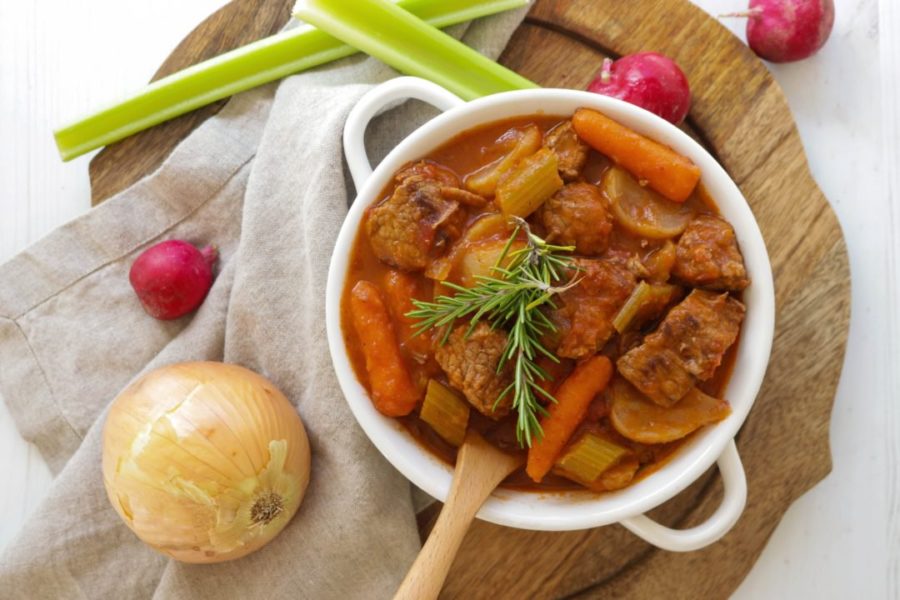 When Saint Patty's rolls around in the middle of windy, cool March, stews become the comforting, filling dish you use to celebrate.
And if you live in a cold climate, warming soups and stews are always a good idea, especially when you make them with healing bone broth.
Bone broth made from grass-fed beef or chicken bones is packed with special amino acids that help support skin, bone, ligament, and gut health.
In this beef stew recipe, you'll get all the benefits of bone broth, plus micronutrients from all those low-carb veggies.
So whether you enjoy this dish on the holiday or any other day, you'll be doing your body a huge favor.
Before hopping over to dessert recipes, there's one more dish that's popular with people happy for shamrocks:
#7: Keto Chicken Pot Pie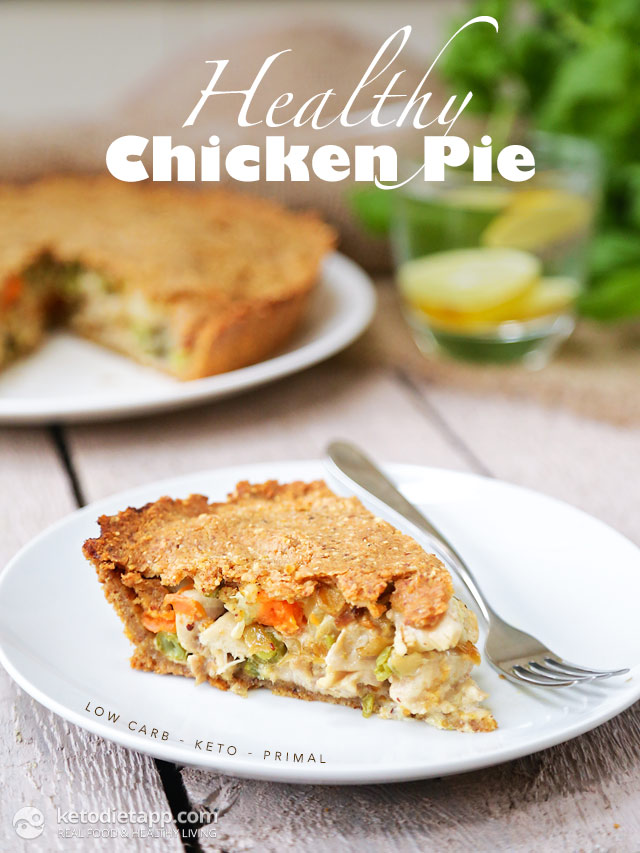 Normally you don't find chicken pot pie on the menu for St. Patrick's Day because shepherd's pie takes center stage.
But this pie crust is too good not to share.
Plus, you can easily convert this recipe into a shepherd's pie version.
So you can either indulge in this savory chicken pot pie as is, or swap the filling with beef stew for a more traditional Irish feel.
If you decide to opt for the shepherd's pie, be sure to drain all the liquid from the beef before you top your pie with cauliflower mash.
Now you have two easy keto-friendly recipes and the choice of which to use for the holiday.
If you're throwing a party, make both and let your guests decide which one they want you to make again.
Up next, you'll find low-carb dessert recipes to impress any guest at your St. Patrick's Day party — whether they're keto or not.
Keto St. Patrick's Day Desserts Better than a 4-Leaf Clover
Each dessert on this list shares the bright green color of shamrocks to celebrate the spirit of St. Patty's, but they're all completely different in flavor.
That means you can make one, two, or all of them and have a smorgasbord of keto dessert options for you and your family and friends.
The first recipe is so simple you may already have everything you need.
#1: 5-Ingredient Keto Green Cookies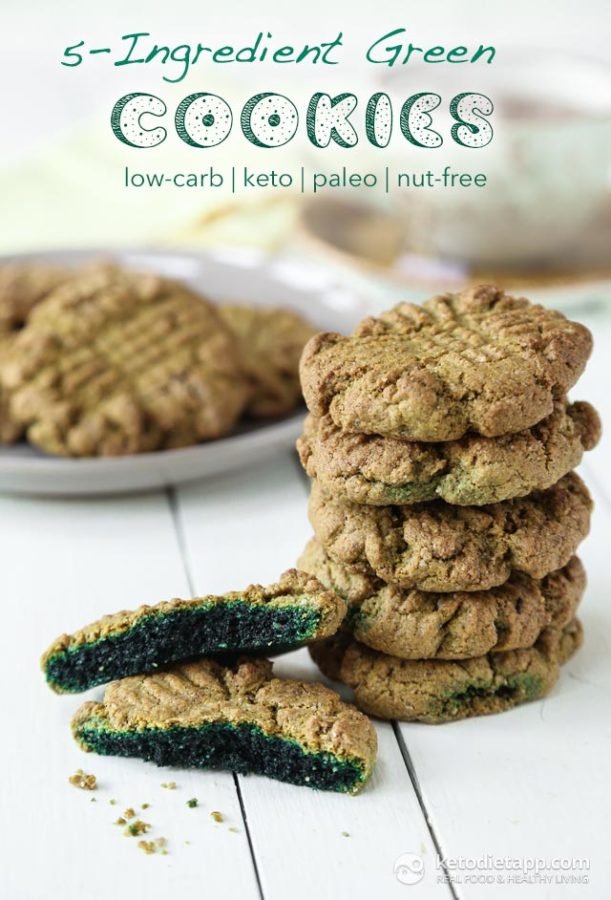 Despite looking like they have an artificially green center, these keto cookies are actually filled with SunButter. Perfect for Irish-themed cookie trays, the ground sunflower seeds naturally turn the batter a dark emerald green.
Each of these cookies is also packed with as much as 25% of your daily intake of magnesium, according to the recipe creator.
So you'll have a festive and fun treat that delivers one of the most vital electrolytes your system needs. And they taste great.
The next St. Patty's day dessert is a little more decadent.
#2: Low-Carb Gluten-Free No Bake Irish Cream Cheesecake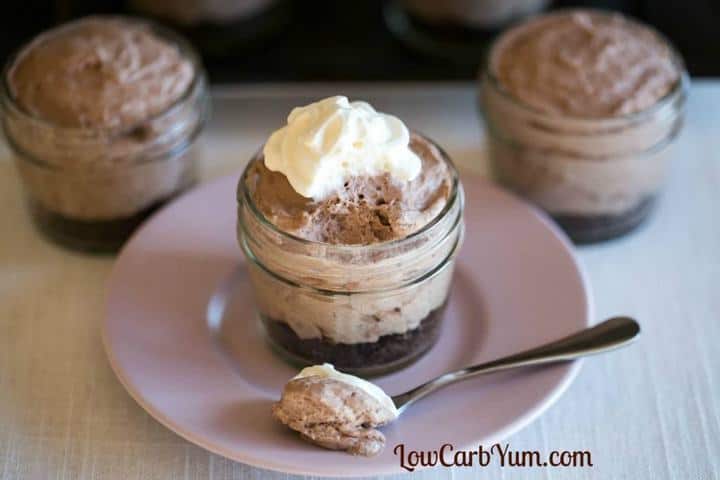 Although traditional Irish coffee recipes contain loads of sugar, these individual Irish cream no-bake cheesecakes capture all the flavor, have none of the sugar, and actually feel like a guilty holiday treat.
There's an indulgent cake base, a creamy cheesecake layer, and whipped heavy cream to top it all off.
You'll definitely feel more satisfied eating this dessert than drinking a coffee or sugary Irish cream liqueur made with artificial ingredients.
Keep in mind, if you're going to make this dessert, be sure to save enough room in your macro budget since each serving is 522 calories, 5g of net carbs, 42g of fat, and 6.5g of protein.
For a lighter dessert that won't break your daily macro bank, check out the next keto recipe.
#3: Luscious Coconut Matcha Truffles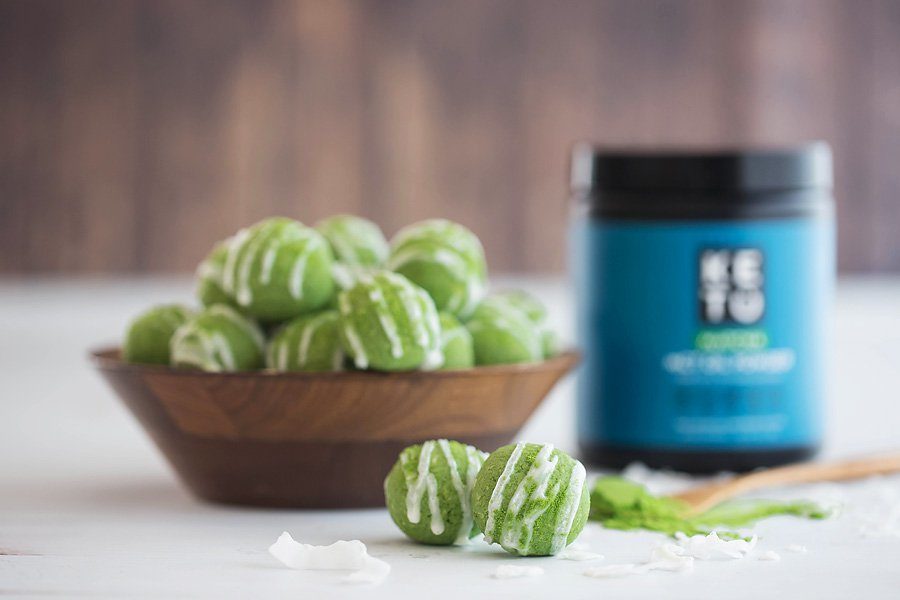 A year-round favorite, these coconut matcha truffles are especially good around St. Patty's day.
Their bright green color is from matcha tea powder, which is known for its massive amount of antioxidants.
Matcha also may have heart-healthy benefits and is packed with calming L-theanine, which is also great for brain health. Not bad for a keto dessert!
Whether you're in it for the health benefits, the flavor, or the green color, you won't regret trying these truffles.
The next two desserts also cover multiple bases.
#4: Mint Chip Popsicles with Microgreens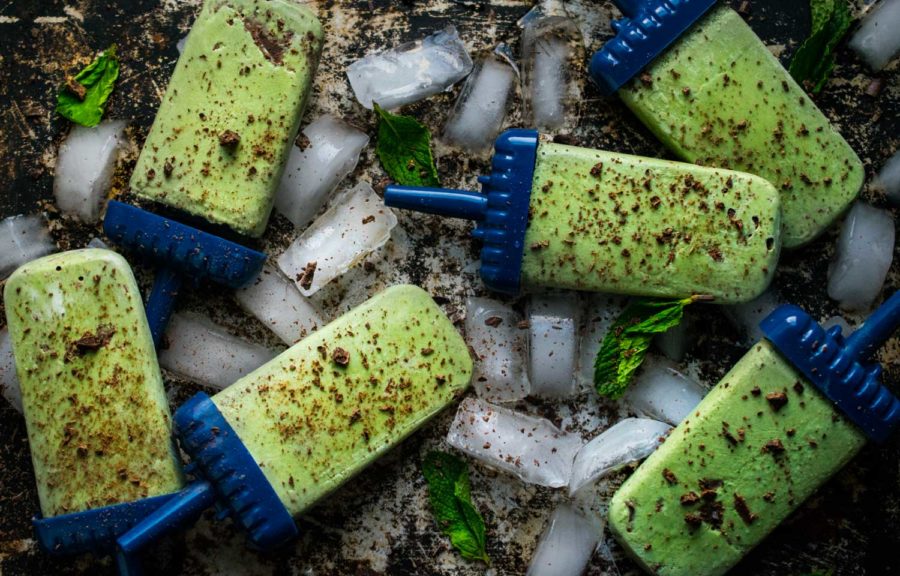 If you're missing mint chocolate chip ice cream on a ketogenic diet, these mint chip popsicles are a delicious stand-in.
Using full-fat coconut milk, mint leaves, and a scoop of Perfect Keto Microgreens Powder, you'll have the same creamy texture and minty flavor of ice cream and four servings of fruits and veggies per popsicle.
Ready for another sweet treat that's also packed with micronutrients? Then, keep scrolling.
#5: Shamrock Shake Copycat Recipe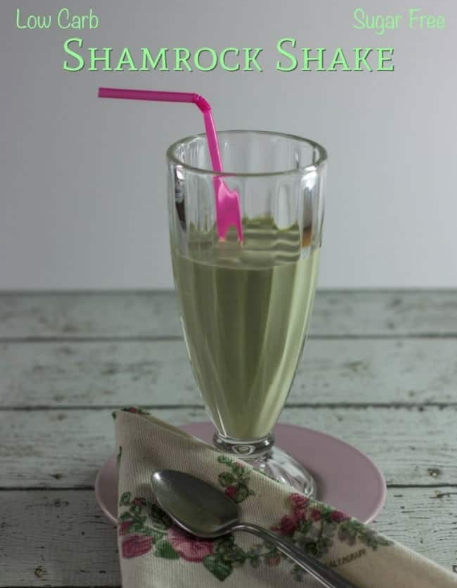 Avoid heading to your local McDonald's for a Shamrock Shake this St. Patrick's Day and you'll be thankful later.
A small Shamrock Shake will run you 460 calories, 63g of sugar, and 74g of carbs[*]. That's roughly four days worth of carbs if you're following a 20g per day carb intake.
Good thing this sugar-free recipe makes a tastier and healthier replacement.
One all-natural Shamrock Shake alternative is just 354 calories, 6.8g of carbs, 31.5g of fat, and 2.8g of protein.
And the green color in this shake comes from fresh spinach or spinach powder, depending on what you have on hand, something McDonald's can't say since they use artificial food dyes.
Another popular drink, Baileys Irish Cream, is just as loaded with sugar.
But the luck of the Irish wins again as a keto-friendly version of this exists, too.
#6: Low-Carb Copycat Baileys Irish Cream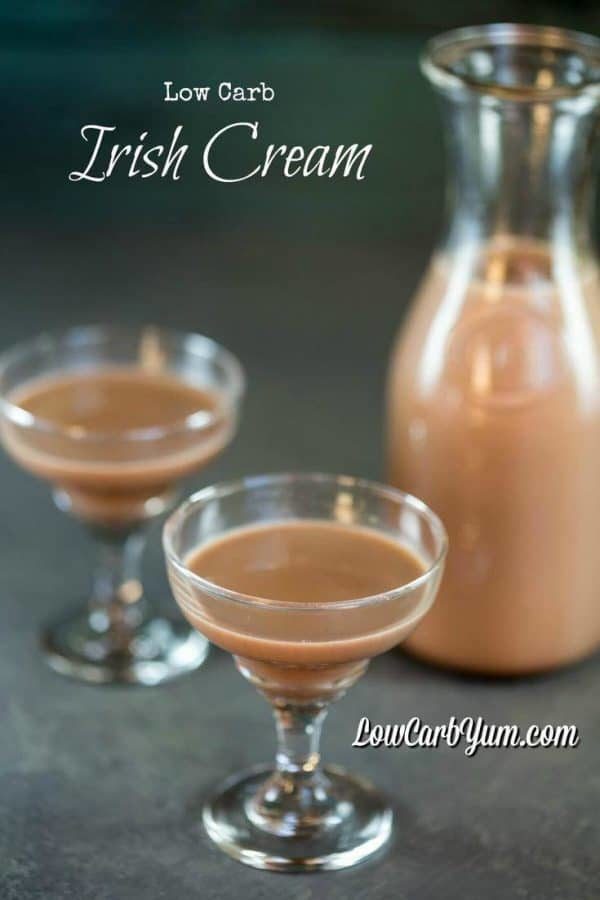 You may not be surprised to learn Baileys Irish cream contains far too many carbs and sugar to be safe on a ketogenic diet.
A one-ounce shot comes in at 7.4g of carbs and 5.9g of sugar, which can kick you out of ketosis in just one drink[*].
And those numbers only work if your drink is made to those exact proportions, which doesn't always happen at a bar or restaurant. Your drink could contain much more blood-sugar blasting carbs than that.
So, avoid the headache and the blood sugar crash and make this copycat recipe to stay in a fat-burning ketogenic state. It's delicious and just 1g of carbs per drink.
For a truly Irish flare, add a shot to a cup of hot coffee and top it off with homemade whipped cream for a traditional Irish Coffee.
For a more refreshing drink — without the alcohol — opt for the next Irish-themed beverage.
#7: Non-Alcoholic Cucumber & Lime Cooler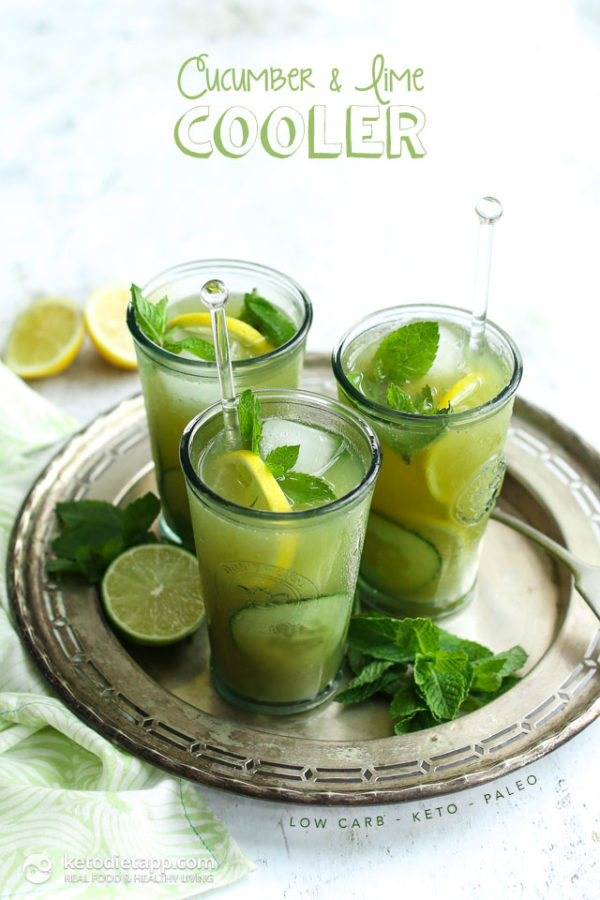 Just because it's St. Patrick's Day doesn't mean you need to drink booze.
Alcohol can cause you to overeat and makes you more likely to choose high-carb junk foods.
For more tips on drinking alcohol on keto, check out this guide.
So this year, it may be better for you to ditch the alcohol and try this sugar-free cucumber and lime cooler for St. Patty's (and any day after that).
Of course, you could always add vodka or tequila for a refreshing cocktail to help replace those high-carb green beers.
With this recipe and the rest on this list, you now have plenty of low-carb St. Patrick's Day food and drink options to add to your keto meal plan for the holiday.
A Word Of Caution About Drinking In Keto
Drinking alcohol can be a healthy part of any low-carb or ketogenic diet. But there are a couple of things to keep in mind.
First, alcohol is never a health food. Alcohol may help you relax a bit, but beyond that, it's not good for you.
Second, when you drink alcohol, your body preferentially processes the alcohol instead of burning fat and creating new ketones for fuel.
That means, your weight loss or energy goals could get waylaid by enjoying a few cocktails.
Also remember, keto can make it easier and faster for you to feel a buzz when drinking alcohol.
So if you are going to drink, enjoy St. Patrick's Day responsibly by not driving, using a ride-sharing app, or staying home to party altogether.
Now share this page with a friend or bookmark it so you have exactly what you need to make these recipes on St. Patrick's Day!