Thinking you're alone in wondering what tzatziki is, let alone how to go about making it? You're not the only one. While this amazing dip is perfect to pair with a gyro or protein of your choice, it's uncommon name in households across the country is what truly sets it apart. So what is this cuisine and what makes it the perfect low carb dish?
What is tzatziki?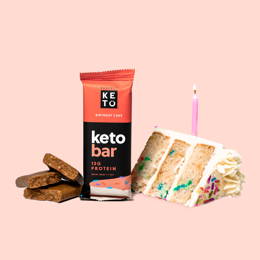 Birthday Cake Keto Bars are here!
The answer to your sweet tooth. 17g of fat, 3g of net carbs, incredibly delicious.
Shop Now
From greek origin, this appetizer  was first seen dating all the way back from the Ottoman Empire. WIth it's base being made up of mainly yogurt, this side dish is often served cold, being the perfect dip or topping for the protein of your choice. This recipe in particular uses a pound of grass-fed lamb meat and a pound of grass-fed ground beef.
While the average ingredients found in tzatziki dip aren't too high in carbs, certain dairy foods like yogurt have some hidden carbs that could seriously push you over your macro goals for the day. For this low carb recipe, try using a coconut milk or cream to get in those healthy fats while keeping the same consistency as traditional tzatziki dip.
Another component of this recipe that makes it stand out from classic tzatziki recipes is the addition of micro greens. The Perfect Keto Micro Greens Powder adds 14 servings of 22 fruits and vegetables in every scoop. Not only are you getting a tasty meal — you're guaranteed to receive all the benefits of fruits and veggies you may otherwise be missing out on on a low carb, ketogenic diet due to their high carb count. While this powder is the perfect fit to add in to this tzatziki, feel free to add it in with smoothies, drinks or any other food that could use a nutrition boost.
Are you struggling with searching for different low carb or keto friendly recipes that give you all the variety you hope for?
Stop worrying!
This gyro with micro green tzatziki is a great dish to bring to a party for your loved ones or to keep at home during a quiet night in. Add these ingredients to your shopping list to pick up the next time you're at the store to prepare the ultimate nutrient-packed dip.
Print
Keto Gyro with Creamy Tzatziki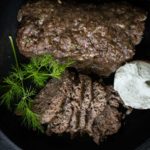 This keto gyro with green tzatziki using coconut milk as yogurt is a great low carb alternative to the classic greek dish.
Author:
Prep Time:

10 minutes

Cook Time:

35 minutes

Total Time:

45 minutes

Yield:

6

1

x
Category:

Dinner

Cuisine:

American
Scale
Ingredients
1

pound pastured lamb (For the Gyro Meat)

1

pound 92% lean, pastured, ground beef (For the Gyro Meat)

4

cloves garlic, minced (For the Gyro Meat)

1 tablespoon

minced fresh parsley (For the Gyro Meat)

1 tablespoon

minced fresh mint (For the Gyro Meat)

2 teaspoon

fine Himalayan salt (For the Gyro Meat)

1 teaspoon

black pepper (For the Gyro Meat)

1/2 teaspoon

Chinese 5 spice (For the Gyro Meat)

1

egg (For the Gyro Meat)

2 tablespoon

s avocado oil (For the Gyro Meat)

1 cup

coconut cream, from chilled full fat coconut milk cans (Green Tzatziki)

4

cloves garlic (Green Tzatziki)

2 tablespoon

s dried dill weed (Green Tzatziki)

1/4 cup

peeled, seeded and diced cucumber (Green Tzatziki)

1/2

–

1

scoop Perfect Keto Micro Greens (Green Tzatziki)
Juice of

1

lime (Green Tzatziki)

1 tablespoon

coconut vinegar (Green Tzatziki)

1/2 teaspoon

fine Himalayan salt (Green Tzatziki)

1

heart of romaine (Salad)

1/2

red onions (Salad)

1

tomato (Salad)
Instructions
Pre-heat oven to 400F.

In a large bowl combine the lamb, beef, herbs, garlic, seasonings and eggs.

Smear one tablespoons of avocado oil on the center of a sheet pan. Shape a 10x3x2 inch long on the sheet pan and coat with the second tablespoon of oil.

Roast for 30 minutes

In the meantime combine all of the sauce ingredients in a blender and combine until smooth. This sauce will be very thick! Once it's refrigerated it will be solid, so you will have to set it out to soften.

So delicious, you might want to eat it by the spoonful, that's ok!

Once the gyro meat is done, it will be firm and browned all over. Remove it from the oven and let it rest for 5-10 minutes. Then use a sharp knife to cut the loaf into thin slices.

Serve then with the superfood sauce over shredded lettuce with red onion and tomatoes!
Nutrition
Calories:

437

Fat:

32g

Carbohydrates:

6g

Fiber:

1g

Protein:

31g
Keywords: keto gyro with green tzatziki