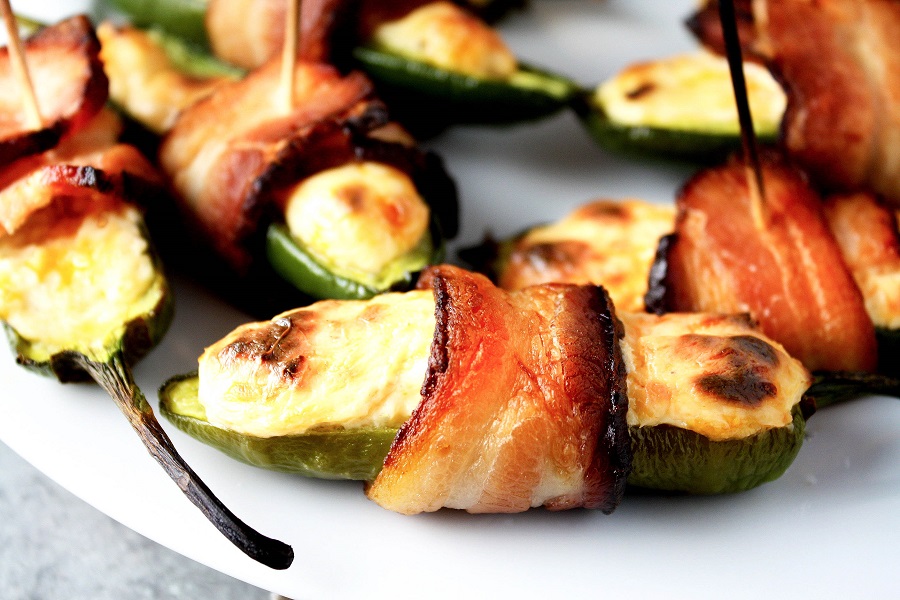 This easy low-carb recipe is a guaranteed crowd pleaser. Whether you're entertaining friends for dinner or throwing a Superbowl party — no one's passing up a taste of these delicious poppers.
The best part is that they couldn't be easier to make. With just a few ingredients and a cook time of 15 minutes, you'll have your home smelling of bacon and cheese in no time.
These low-carb appetizers are:
Creamy
Flavorful
Hot
Savory
The main ingredients are:
Optional additional ingredients
Avocado
Turkey bacon
Pepper jack cheese
3 Health Benefits of These Keto Jalapeno Poppers
#1: Supports Weight Loss
Jalapeño poppers for weight loss? It sounds ridiculous, but jalapeños may actually help promote weight loss in several ways.
That hot sensation you get in your mouth when you bite into your popper comes from a compound called capsaicin. Capsaicin not only heats up your mouth when you consume it, but it seems to have a thermogenic role on your metabolism — creating more heat and a greater calorie burn[*].
In addition, capsaicin may also have a weight loss promoting effect specifically targeted to your abdominal area. Researchers find that upon consumption of capsaicin-containing foods, more fat cells around your middle tend to be broken down and used for energy[*].
And if that wasn't enough, it also seems that capsaicin taken before a meal can reduce that amount of food that people eat.
It should be noted, however, that the reduction in food consumption only led to about a 75 calorie decrease in the meal[*].
#2: Supports Heart Health
Dairy often gets a bad rap from many health authorities. From heart diseaseto skin issues, many people want to put down dairy. But the question of quality is often overlooked by those folks that demonize this nutrient dense food.
In fact, recent research is showing a correlation between dairy consumption and reduced risk of heart disease. How about that[*]?
When you buy dairy that comes from grass-fed cows, you get a whole different nutrition profile than dairy from grain-fed cows. For example, when cows are allowed to graze, their milk becomes rich in beneficial fatty acids.
Both omega-3 fatty acids as well as a fatty acid compound called conjugated linoleum acid (CLA) can be found in grass-fed dairy[*][*].
CLA has been associated with reduced risk of heart attack, and omega-3's are often recommended as supplementation to prevent cardiovascular disease[*][*].
#3: Rich In Vitamin C
Jalapeños are a great source of vitamin C, with one pepper containing about 10% of your daily needs. And let's be honest, you're not going to eat just one of these delicious poppers[*].
Vitamin C performs a wide variety of roles in your body. As an antioxidant compound, its effects are wide-reaching. For instance, human trials show that it can help reduce your blood pressure and may decrease your risk for heart disease[*][*].
Vitamin C also plays an essential role in skin health. It not only enhances the production of collagen, but it can also help your body to heal conditions like bed sores.
What's more, it can help protect your skin from harmful UV rays that can cause sunburn, or worse, skin cancer[*][*].
Keto Jalapeno Poppers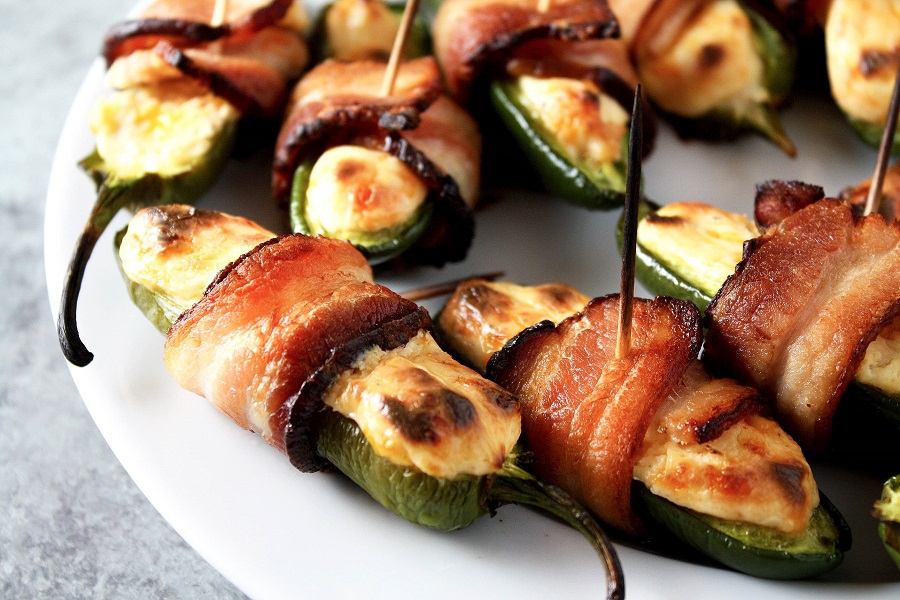 Are you ready to make some delicious bacon wrapped jalapeno poppers?
This recipe is a keto-friendly favorite among low-carb dieters and non- low carb dieters alike.
The mixture of the hot and spicy peppers, with the cool and creamy cheese, makes for the perfect combination on your pallet.
And they couldn't be easier to prepare.
Start by slicing your jalapeños half lengthwise, and then put them aside.
Microwave your bacon until it's crispy, about 3 minutes, and put that aside to cool.
In a small bowl mix together your cream cheese, cheddar cheese, salt, and pepper. Microwave your cheese mixture for 15 seconds to soften, and then mix well.
Line your jalapenos up on a baking sheet and carefully fill the inside of the peppers with cheese.
It can be helpful to use a plastic baggie with a corner cut off to ensure you don't make too much of a mess.
Finally, wrap your jalapenos with the cooked bacon, and place in the oven to bake for 15 minutes.
Print
Keto Jalapeno Poppers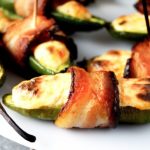 Thinking you can't have jalapeno poppers on a low carb diet? Think again. These keto jalapeno poppers are keto-friendly and delicious.
Author:
Prep Time:

10 minutes

Cook Time:

20 minutes

Total Time:

30 minutes

Yield:

16

1

x
Category:

Sides

Cuisine:

Mexican
Instructions
Preheat oven to 375 degrees and line baking sheet with parchment paper.

Place bacon slices on paper towel-lined plate and microwave for 3 minutes. Set aside to slightly cool.

In a medium bowl, add cream cheese, shredded sharp cheddar, salt, and pepper and microwave for 15 seconds. Stir together.

Carefully scoop cream cheese mixture into plastic baggie. With a scissors, snip off corner of baggie and pipe contents into jalapenos.

Wrap bacon slices around jalapenos and pin with toothpick.

Place jalapenos on prepared baking sheet and bake for 15 minutes.

Increase oven heat to broil and broil for 2-3 minutes, watching to ensure cream cheese does not burn.

Remove from oven and allow to cool slightly before eating.
Nutrition
Serving Size:

1

Calories:

79

Fat:

6.6g

Carbohydrates:

1g (0.8g net)

Protein:

2.9g
Keywords: keto jalapeno poppers