Burgers, brats, french fries — is there anything that doesn't go well with ketchup? Well, if you're following a low-carb keto diet, then a store-bought bottle of tomatoes and sugar probably isn't the best choice. If you've been on the hunt for keto ketchup, your search ends here.
If you've been on a search for the perfect ketogenic-friendly replacement for your favorite condiment, look no further. You'll be surprised at how effortless making your own ketchup truly is.  This version is sugar-free, contains no suspicious ingredients, and takes less than 2 minutes to make.
How to Make Keto Ketchup 
Unlike regular ketchup, this keto ketchup is gluten-free, vegan, keto, paleo-friendly, and contains no sugar. If you look at the nutrition facts below, you'll see it's also free of preservatives and doesn't contain a trace of high fructose corn syrup or brown sugar.
If you're of the mindset that a homemade ketchup is above your pay grade, rest assured you are perfectly capable of whipping up this recipe. In fact, this low-carb ketchup requires just one step: Pour all of the ingredients into a mixing bowl, and whisk until it thickens into a smooth puree. To speed up the process (and save yourself a little elbow grease) you can also use an immersion blender.
Main Ingredients in This Ketchup
Most of the ingredients in this homemade sugar-free ketchup should be items already stocked in your cupboards. However, there are two you may not recognize, which you'll learn about below.
The main ingredients in this low-carb ketchup recipe include:
Tomato paste
Spices
Zero-sugar sweetener
Yacon syrup
FAQs for Homemade Sugar-Free Ketchup Recipe 
If this is your first time making low-carb ketchup, you're sure to have a few questions. Hopefully these responses to commonly asked questions will set you up for success.
What Kind of Low-Carb Sweetener Is in Keto Ketchup?
This recipe calls for Lakanto monk fruit sweetener, but you could use any low-carb, zero-sugar sweetener. In case you've never heard of it, monk fruit comes from a green gourd plant that originates in Southwest Asia. It's incredibly sweet — 250 times sweeter than regular white or brown sugar — but it doesn't spike your blood sugar[*].
Monk fruit has zero carbs, zero calories, and ranks zero on the glycemic index. And while that sounds like a super sweet deal, it's not the only keto-friendly sweetener that can make those claims. Other suitable sweeteners include stevia, erythritol, and Swerve (a combination of both stevia and erythritol). If you have one of these three sweeteners left over from baking another low-carb sweet treat, feel free to use it in place of monk fruit in this recipe.
What Is Yacon Syrup? 
Like monk fruit and the other sweeteners mentioned above, yacon syrup is a low-carb substitute for table sugar. As the name suggests, it comes from the yacon vegetable — a starchy tuber that grows in the shape of a potato. While its original vegetable may contain starch, yacon syrup has been shown to help weight loss and improve fasting glucose levels, making it a viable option for keto dieters[*].
Yacon syrup can be purchased in specialty stores or online with retailers such as Amazon. Unlike monk fruit, yacon syrup does have some traces of carbs and sugar. In one serving size (one teaspoon), yacon syrup contains 7 calories, 2 grams of sugar, and 4 grams of carbs.
Are Tomatoes Keto-Friendly? 
In general, tomatoes should always be eaten in moderation on a ketogenic diet. They contain higher amounts of natural sugars and carbohydrates that can kick you out of ketosis if eaten in excess. That being said, they have nutritional benefits that should not be ignored.
One of the greatest ways to get some of these benefits (and remain in ketosis) is using tomato paste. It's richer in flavor, more concentrated, lower in carbs, yet still contains the same nutrients as regular tomatoes. One of these nutrients is an antioxidant called lycopene, which you'll learn about below.
Recipe Notes: Substitutions for Keto Ketchup
There are a few ingredients that can be substituted in the below recipe. Please note that these substitutions may make small changes in the taste and texture of your ketchup.
Garlic powder: You can also substitute ground cloves of garlic — look in the canned veggie section of your grocery store for minced garlic in a jar.
Cayenne: If you're not a fan of spice, you can substitute paprika and cumin for a not-so spicy yet complex flavor.
Apple cider vinegar: While apple cider vinegar creates a nice tang that you might expect from ketchup, BBQ sauce, and other condiments, you can also substitute white vinegar.
What Is Lycopene and How Does It Support Your Health?
This tomato ketchup contains a nutrient called lycopene, found in whole tomatoes and tomato paste. Lycopene is known to have several health benefits, including those below.
#1: Lycopene Is Rich in Antioxidants
In a world now full of chemicals, pesticides, processed foods, and other toxins that are harmful to your body, ensuring that you have antioxidants in your meal plan is a must. Lycopene helps protect your body against these toxic elements and reduces the amount of damage they cause. It can also play a role in preventing and slowing many types of cancer, including breast and prostate cancer[*].
#2: It Can Help Improve Cognition
Studies show that lycopene may help delay the onset and progression of Alzheimer's disease by counteracting cell damage in the brain. It combats specific mitochondrial interactions found within this vital organ. Lycopene is a strong phytonutrient that can also be beneficial in reducing seizures and repairing the brain from previous seizures[*].
#3: Lycopene Can Help Alleviate Neuropathy
Promising research shows eating foods rich in lycopene (like tomatoes) can help alleviate pain caused by nerve damage. It expresses pain inhibiting capabilities in your body, helping those  who suffer from complications of diabetes, HIV/AIDS, spinal diseases, and many other neurological disorders[*].
Enjoy This Ketchup With Your Favorite Keto Low-Carb Recipes
The next time your bunless keto burger calls for a healthy serving of your favorite condiment, try this keto ketchup recipe. Keep it in your regular meal prep rotation so that you'll always have a jar on hand in the fridge. Ketchup is also perfect to use in meatloaf, perfect for dipping your keto friendly fries in, and also makes a great base for thousand island dressing.
With only 2 grams of total carbs and 1 gram of net carbs per serving, this keto ketchup fits perfectly within a low-carb diet. To use it in your favorite keto recipes, make a batch then store it in an airtight container in the fridge. This keto ketchup should stay fresh for up to one week.
Print
Fresh Keto Ketchup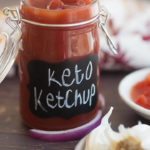 Ditch the store-bought bottles and whip up this quick and easy homemade keto ketchup that is full of rich tomato flavor, but without the added sugars.
Author:
Total Time:

2 minutes

Yield:

20

servings

1

x
Instructions
Add all ingredients into a large bowl. Whisk well to combine. Adjust salt and sweetener to taste.
Nutrition
Serving Size:

1 serving

Calories:

20

Fat:

0g

Carbohydrates:

2g

Fiber:

1g

Protein:

0g