on August 19, 2018
Benjamin Franklin once said, "If you fail to plan you plan to fail."
Fitness and nutrition is no exception. By doing a little extra work upfront, you can set yourself up for success. Meal prep is the best way to do so — plan your meals in advance (even snacks!) so you don't find yourself reaching for a sugary, carb-heavy food in a pinch.
Meal prep saves you time, money, and effort, and greatly increases the chance you'll stick to the diet. In this keto meal prep guide, we'll cover exactly how to prep for keto, kitchen tools that can make your life easier, money-saving tips and some mouth-watering make-ahead recipes to use in your weekly rotation.
3 Research-Backed Reasons to Meal Prep on Keto
If you ever thought you could rely on motivation only to lose weight (or form any healthy habit), you probably realized this strategy is futile. It's not just you — nobody can maintain unshakeable motivation all the time.
Research shows planning significantly increases your likelihood of success compared to motivation alone. A study published in the British Journal of Health Psychology showed that 91% of participants who scheduled exercise worked out at least once per week. Only 35% of the group that didn't schedule it in worked out at least once per week[*].
In case you need some convincing, here are three more reasons to start meal prepping right away.
#1: Meal Prep Conquers Decision Fatigue
Decision fatigue is the reason why people like Obama wear the same clothes every day. We humans have limited willpower, and the more decisions we have to make, the less likely we are to make the right one.
Researchers analyzed 1,100 decisions to release prisoners on parole made by judges over the course of a year. According to the New York Times, "prisoners who appeared early in the morning received parole about 70 percent of the time, while those who appeared late in the day were paroled less than 10 percent of the time."
In other words, the parole decision had very little to do with the crime or circumstances and far more to do with the number of decisions the judge previously made that day[*].
Just like with the judge, every small decision you make reduces your willpower. When you meal plan, you reduce the amount of choices you have to make about what to eat each day, removing willpower from the equation.
#2: Meal Prep Helps You Save Time and Money
If you can commit to a couple hours per week on meal prep, you'll save countless hours during the week on shopping, cooking and choosing meals. Plus, planning your meals spares your budget, preventing food waste.
Meal planning ensures you use everything you buy and helps you stick to the essentials. It also gives you an idea of how much to budget weekly for groceries.
#3: Meal Prep Can Help You Achieve Ketosis
One of those most difficult things about sticking to the ketogenic diet is calculating your macros. By following a keto-friendly meal plan, you have a better chance of sticking to your macro goals.
Perfect Keto offers several keto meal plans you can follow, with the macros and calories calculated for you:
How to Start Keto Meal Prepping
Successful meal prep requires some basic equipment and essential ingredients. These tools and pantry staples will save time in the weeks to come.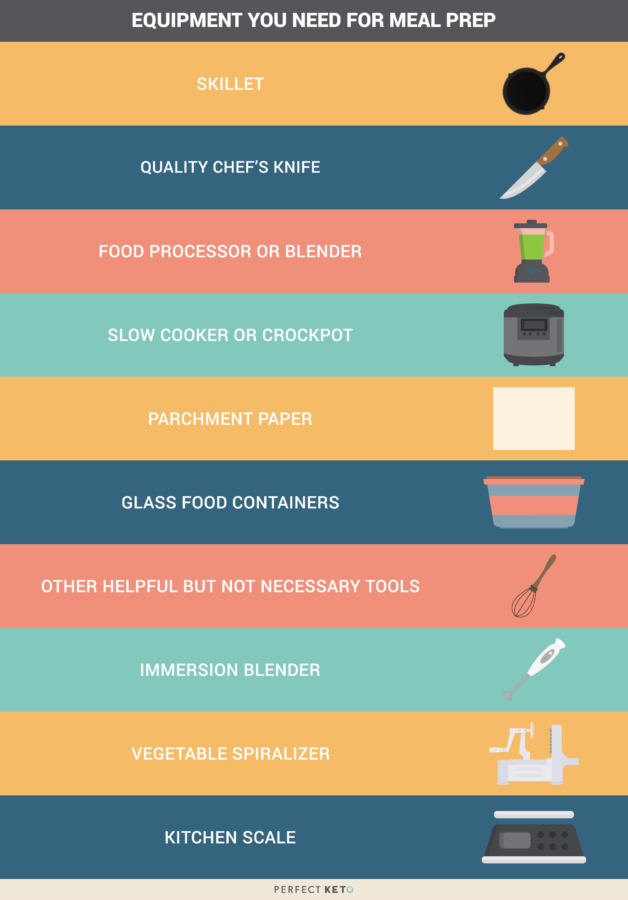 Helpful Kitchen Tools
These are the basics you'll need for quick and easy keto-friendly meals. If you don't already have them, you can easily search Amazon or Craigslist for affordable options.
Skillet
To get the most for your dollar, invest in a cast iron skillet that will hold up to cooking for many years. These are easy to clean and safer than using a cheap Teflon-covered pan — plus it helps keep your iron levels up.
Quality Chef's Knife
Good knives are essential for any meal prep. High quality is crucial here, as low-quality knives can slip and slide, making them a potential hazard. Look for a proper chef's knife that will allow you to chop and slice with ease.
Food Processor or Blender
A food processor can help prepare cauliflower rice, homemade nut butters, keto salad dressings, keto smoothies and healthy coffee drinks. Ninja is a good brand for both because they offer a processor/blender set for a good price and quality.
Slow Cooker or Instant Pot
A slow cooker is perfect for "setting and forgetting" your keto meals as they cook. It's easy to throw everything in and let it work its magic while you do other things. An Instant Pot is a useful tool for quickly making homemade both broth and soups.
Parchment Paper
Parchment paper is great for preventing sticking when baking, whether it's in a casserole dish or on a baking sheet.
Glass Food Containers
If you work away from home, containers let you break up recipes into individual servings to grab and go. Glass is better than plastic because it's microwave safe, and keeps the harmful chemicals in plastic out of your body.
Other Helpful Tools
While these options aren't necessities for meal prepping, they can make the process easier (and much more enjoyable).
Immersion Blender
Immersion blenders are affordable, not bulky and perfect for beating eggs, blending broth, making sauces like mayo and whipping cream and so much more.
Vegetable Spiralizer
This can save you a ton of money if you love gluten-free "pasta," like zucchini noodles. While you can buy pre-spiralized veggies at the store, it's more cost effective to make your own at home.
Kitchen Scale
If you plan to weigh your food, you need a kitchen scale. This can be helpful for those new the keto diet or who are struggling to stay in ketosis and want to be more precise.
Pantry Essentials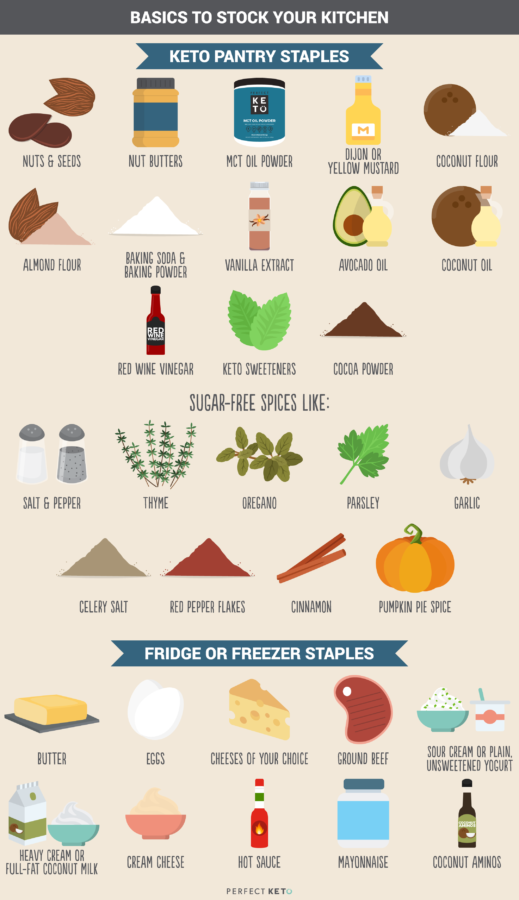 Here are several simple keto staples to keep on hand. These are common ingredients in many recipes, and will prevent additional trips to the store.
Keto Pantry Staples
Nuts and seeds
Nut butters
Sugar-free spices like:

Salt and pepper
Thyme
Oregano
Parsley
Garlic (powder or garlic cloves)
Celery salt
Red pepper flakes
Cinnamon
Pumpkin pie spice

Dijon or yellow mustard
Coconut flour
Almond flour
Baking soda and baking powder
Vanilla extract
Avocado oil
Coconut oil and other healthy, high-fat oils
Olive oil
Red wine vinegar
Keto sweeteners like stevia or monk fruit
Cocoa powder
Fridge or Freezer Staples
Butter (preferably grass-fed)
Eggs (preferably free-range and pastured)
Cheeses of your choice
Ground beef (preferably grass-fed — see our Grass-Fed Beef Guide)
Sour cream or plain, unsweetened yogurt
Heavy cream or full-fat coconut milk
Cream cheese
Hot sauce
Mayonnaise
Coconut aminos
Know How to Calculate Your Macros
To choose the right recipes, you'll need to know your target calories and macros for each day. If you don't know them yet, use our Macronutrient Calculator below.
Instructions
Select the Standard Ketogenic Calculator for a classic ketogenic diet of 75% fat, 20% protein, 5% carbohydrate (recommended)
Select Specialized Macronutrient Calculator to input specific amounts of fat, protein, and carbohydrate
Activity Level
Choose what describes you best
Calorie Intake Goal
Options
Input "0" to maintain your bodyweight
Input a surplus percentage for weight gain
Input a deficit percentage for weight loss
Note
5-10% is a small deficit
10-20% is a moderate deficit
20-30% is a large deficit
Advanced Fields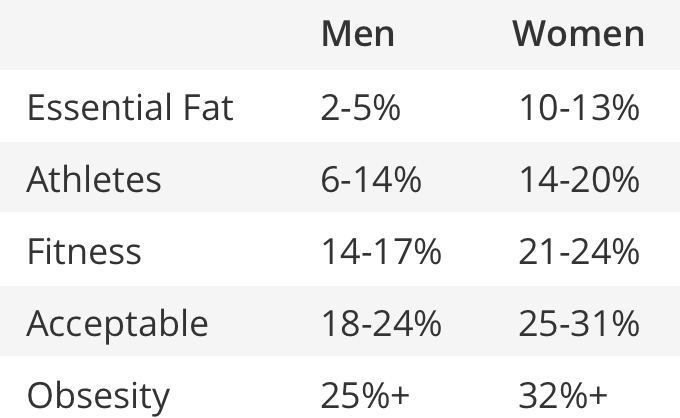 Input Your Protein Ratio
Guide to picking your protein ratio
To maintain muscle, leave protein ratio between 0.60 to 0.80 grams per lb of lean body mass (1.3 to 1.7 grams per kg LBM)
To gain muscle, the protein ratio should be between 0.8 to 1.2 grams per lb of lean body mass (1.7 to 2.3 grams per kg LBM)
Input Your Total Carb Intake
Input the grams of carbs you want to consume on a daily basis