Benjamin Franklin once said, "If you fail to plan you plan to fail." And your keto lifestyle is no exception. By doing a little extra work up front, you can set yourself up for success. Keto meal prep is the best way to do so — plan your meals in advance (even snacks) so you don't find yourself reaching for a sugary, carb-heavy food in a pinch.
In this keto meal prep guide, you'll not only learn how to prep for keto and find kitchen tools that can make your life easier, but you'll also get money-saving tips and delicious make-ahead recipes that you'll want to make time and time again.
How to Start Keto Meal Prepping
Successful keto meal prep requires some basic equipment and essential ingredients. These tools and pantry staples will save you time in the weeks to come.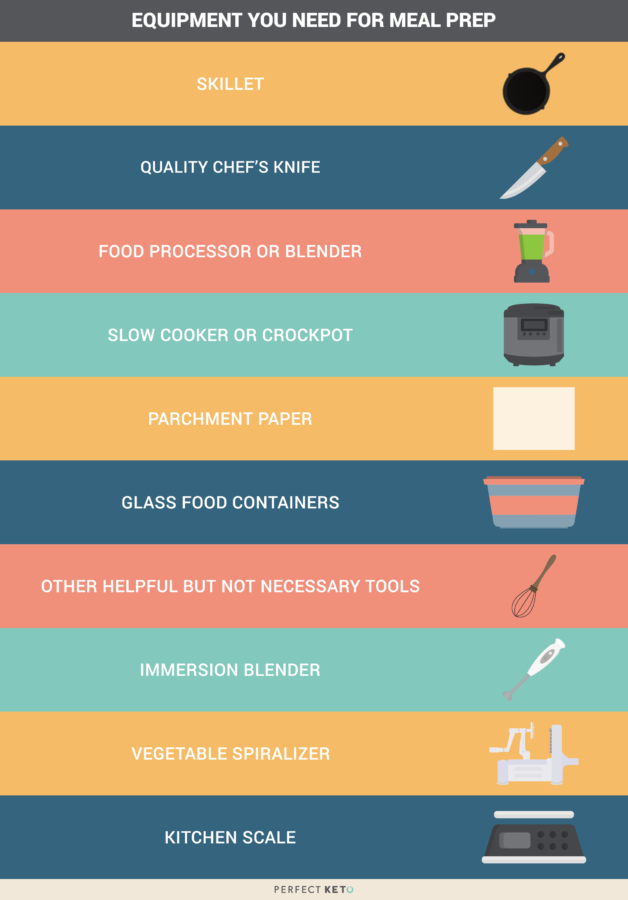 Helpful Kitchen Tools
These are the basics you'll need for quick and easy keto-friendly meals. If you don't already have them, you can easily shop online for affordable options.
Skillet
To get the most for your dollar, invest in a cast-iron skillet that will hold up to cooking for many years. These are easy to clean and safer than using a cheap Teflon-covered pan — plus it helps keep your iron levels up[*].
Quality Chef's Knife
Good knives are essential for any meal prep. High quality is crucial here, as low-quality knives can slip and slide, making them a potential hazard. Look for a proper chef's knife that will allow you to chop and slice with ease.
Food Processor or Blender
A food processor can help prepare cauliflower rice, homemade nut butters, keto salad dressings, keto smoothies, and healthy coffee drinks. Ninja is a good brand because it's well made and offers a processor and blender set at a good price.
Slow Cooker or Instant Pot 
A slow cooker is perfect for "setting and forgetting" your keto meals as they cook. It's easy to throw everything in and let it work its magic while you do other things. An Instant Pot is a useful tool for quickly making homemade both broth and soups.
Parchment Paper
Parchment paper is excellent to prevent sticking when baking, whether it's in a casserole dish or on a baking sheet.
Meal Prep Containers
Glass meal prep containers with a lockable lid will help keep your meals tasting fresh all week. After meal prepping your low-carb recipes at the start of your week, portion them and store in the containers to grab on your way out the door each morning.
Other Helpful Tools
While these options aren't necessities for meal prepping, they can make the process easier (and much more enjoyable).
Immersion Blender
Immersion blenders are affordable, easy to handle, and perfect for beating eggs, blending broth, making sauces, keto mayo, whipping cream, and so much more.
Vegetable Spiralizer
This can save you a ton of money if you love gluten-free "pasta," like zucchini noodles. While you can buy pre-spiralized veggies at the store, it's more cost-effective to make your own at home.
Kitchen Scale
If you plan to weigh your food, you need a kitchen scale. This can be especially helpful if you're new to the keto diet or struggling to stay in ketosis and want to be more precise.
Pantry Essentials
Below are some simple keto staples to keep on hand. These are common ingredients in many recipes and will prevent additional trips to the store.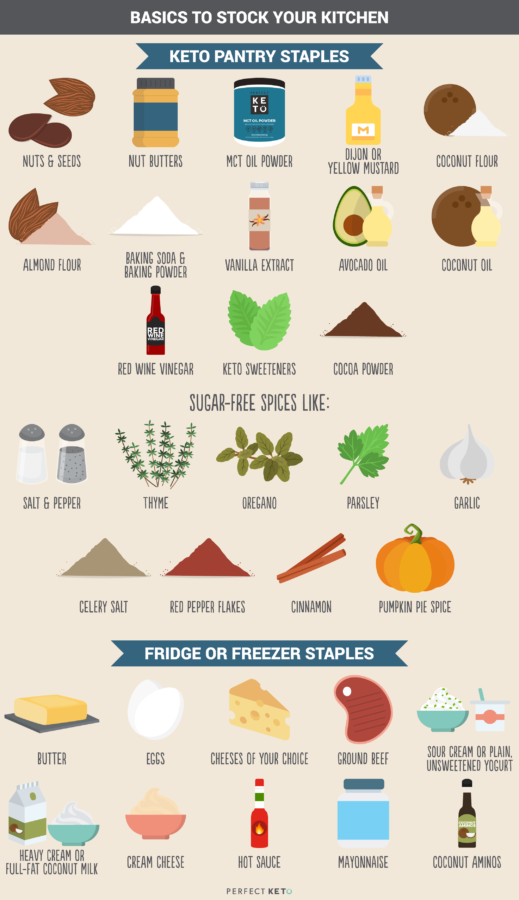 Keto Pantry Staples
Nuts and seeds
Sugar-free spices like:

Salt and pepper
Thyme
Oregano
Parsley
Garlic (powder or garlic cloves)
Celery salt
Red pepper flakes
Cinnamon
Pumpkin pie spice

Dijon or yellow mustard
Coconut flour
Almond flour
Baking soda and baking powder
Vanilla extract
Avocado oil
Coconut oil and other healthy, high-fat oils
Olive oil
Red wine vinegar
Keto sweeteners like stevia or monk fruit
Cocoa powder

Fridge or Freezer Staples

Butter (preferably grass-fed)
Eggs (preferably free-range and pastured)
Cheeses of your choice
Ground beef (preferably grass-fed — see our Grass-Fed Beef Guide)
Sour cream or plain, unsweetened yogurt
Heavy cream or full-fat coconut milk
Cream cheese
Hot sauce
Mayonnaise
Coconut aminos
Know How to Calculate Your Macros
To choose the right recipes, you'll need to know your target calories and macros for each day. If you don't know them yet, use our Macronutrient Calculator below.
What unit of measurement do you prefer?
How active are you?
What is your weight goal?
Maintain your weight
Keep at 0%
Gain muscle
Enter 1 to 50%
Lose weight
Enter -1 to -50%
Hint
5 to 10% is a small gain/loss
10 to 20% is a moderate gain/loss
20%+ is a large gain/loss
What is your body fat %?
| | | |
| --- | --- | --- |
| 2-5% | 10-13% | Essential Fat |
| 6-14% | 14-20% | Athletes |
| 14-17% | 21-24% | Fitness |
| 18-24% | 25-31% | Acceptable |
| 25%+ | 32%+ | Obesity |
How much do you want to consume?
We've prefilled these consumption amounts for beginners to intermediate keto-ers for the best results. If you're more advanced, adjust as needed.
Protein Ratio
Grams of protein per pound of lean body mass
Adequate protein should be eaten on a ketogenic diet. For most people, it is undesirable to lose muscle mass. Set this ratio at a minimum of .8g/lb of lean body mass. Increase the ratio based on your strength goals and exercise demands.
Net Carb Intake
It is highly recommended that on a ketogenic diet, you keep your carb intake to 5% or less of total calories. This works out to be an average of 30g net carbs a day.
Get your results
Enter your email address to see your results. You'll also receive:
The FREE Perfect Keto Recipe Book
Exclusive discount on your first order
Newsletter with keto articles & recipes
3 Simple Steps for Easy Keto Meal Prep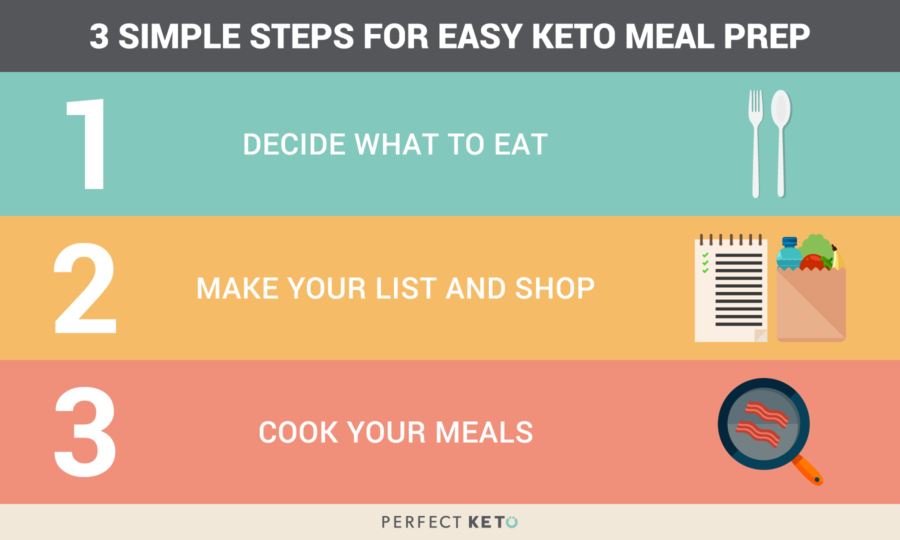 Everyone meal preps a little differently, but following this basic structure is the best place to start:
#1: Decide What to Eat
Choose one day of the week to sit down and outline your meal plan for the next seven days. Take the following scenarios into account:
Calculate how many meals you'll eat each day of the week for breakfast, lunch, and dinner, including any snacks or desserts if you plan to have them. Put these into a calendar or make it a list broken down by each day of the week. Use recipes that already have calories and macros listed so it's easy to fit them into yours.
Account for how many people will be eating the meals and whether or not you plan to have leftovers the next day or a new meal each day.
Keep it simple by having the same meal more than once. You'll be able to save cooking time by doubling a recipe and enjoying leftovers.
Write down the recipes for each meal and the exact ingredients you'll need for them.
Decide which day(s) you'll shop for ingredients and cook the meals. Some people prefer to do all in one day, while others prefer to break it up.
Pro tip: Choose easy recipes with just a few ingredients, and find recipes that have similar ingredients, such as the same meats or vegetables. This makes for a shorter shopping list, faster cooking, and less stress.
#2: Make Your List and Shop
Using the ingredients from each recipe, compile your shopping list. Break it down by food categories, preferably starting with foods you encounter first at your grocery store.
Make sure you include exact amounts of each ingredient and stick to your list only. Remember to shop for whole foods like meat, eggs, and vegetables. Don't get overwhelmed by packaged products advertised as keto.
A good rule of thumb is to shop the perimeter of the grocery store, because that's where the butcher and produce sections are concentrated.
#3: Cook Your Meals
Time to cook — this can be a little tricky at first, but it gets easier with practice. Here are some tips:
Read your whole recipe and figure out which steps take the longest. Start with those. If you need to slow-cook a chicken, for example, get that started first so you can chop vegetables or make cauliflower rice as you wait.
Have all ingredients out and ready before you begin a recipe. Reaching into the fridge or pantry for things as you read them wastes unnecessary time.
Pre-chop veggies and pre-prepare meats before you start cooking. You'll be able to toss these ingredients into the oven, skillet, or food processor right away when needed.
Once meals are cooked, separate them into containers so they're ready to go for the week.
Pro tip: Label each container with a sticky note listing the meal inside, what day of the week it's for, its macros and the date it was prepared.
Meal Prep Money Saving Tips
If saving money is one of your main goals of meal prepping, below are some additional tips.
Choose recipes with seasonal produce. In-season vegetables and fruits are usually cheaper and more likely to be on sale.
Visit your local farmer or farmer's market. Speak with these people. It's likely you can find good deals on higher-quality meats and dairy products by buying locally.
Avoid packaged foods as much as possible. Packaged foods are almost always more expensive. That bagged and pre-washed spinach is super convenient, but it's much pricier than washing it yourself at home. Forfeiting a little convenience in these areas can save a lot of cash.
Look for special offers, discounts, and coupons. Search online or look for deals at the store or in the mail. Sign up for grocery store email newsletters to get notified about deals.
Buy in bulk. Bulk items are often cheaper per pound, and you can freeze some items to use as needed.
Make or grow your own items. If you have the time, making your own stuff can save money and is usually much healthier. Here are just a few examples of items you can grow or make on your own instead of buying them at the store:

Keto mayo
Salad dressings and sauces
Ghee
Pesto
Sauerkraut
Ketchup
Mustard
Bacon or sausage
Coconut or almond flour
Coconut or almond milk
Sun-dried tomatoes
Low-Carb Keto Meal Prep Recipes
Not sure what to make? These healthy meal prep recipes below are made with just a few ingredients and are great make-ahead options. You're sure to find grab-n-go breakfast ideas, perfectly-portioned lunches, scrumptious chicken recipes, and reinvented comfort food with very few net carbs per serving.
Keto Breakfast Recipes
Not sure what to eat once granola, oatmeal, and cereal are removed from your diet? Try these low-carb breakfast recipes for your busiest mornings.
Keto Recipes Perfect for Lunch or Dinner
These low-carb meals work great for lunch or dinner. Make a large batch of each on Sunday, then enjoy throughout the week.
Low-Carb Snacks and Side Dish Recipes
Here's a tip that may sound counter-intuitive: If weight loss is a goal, keep snacks on hand. By keeping a few healthy, low-carb snacks handy at all times, you're less likely to reach for a bag of chips, pretzels, or a granola bar to hold you over.
Low-Glycemic Dessert Recipes
Can't fight your inner sweet tooth? Try these sweet yet low-carb dessert recipes.
Start Planning to Succeed Today
Pre-planning and prepping meals in advance will make everything easier for you on the keto diet. You'll save time, money, and sanity each week. Plus, you're far more likely to stick to your keto diet successfully if you put a plan in place. Use the tips in this guide to get started, and you'll soon develop a rhythm that works best for you.