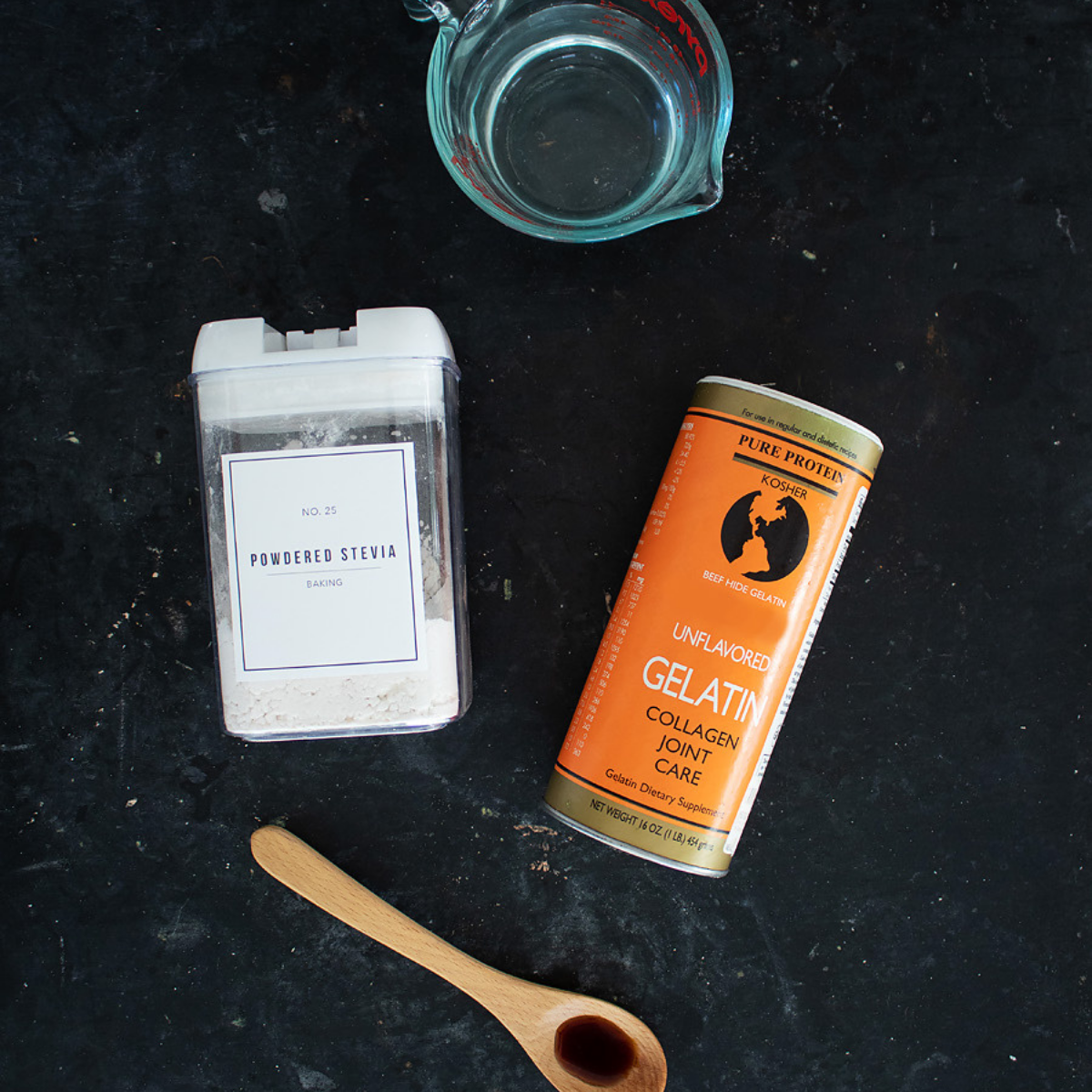 Every now and then you come across a recipe that comes together like magic. A recipe that is so easy to make, has very simple ingredients, and whips up in no time.  These low calorie marshmallows are definitely one of those recipes! An added bonus is that they are actually healthy and absolutely delicious! You will never look at a traditional marshmallow the same ever again and will find yourself wanting to make these little confections all year long.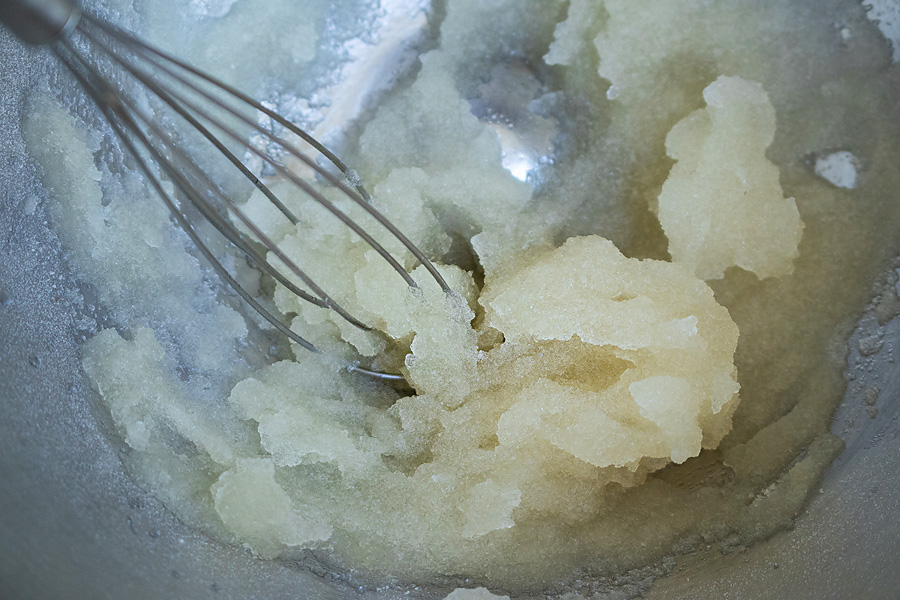 Homemade Keto Marshmallow Inspiration
One of my favorite parts about Winter is whipping up a big cup of hot chocolate and sitting in front of the fire on an extra chilly day. Prior to starting a ketogenic diet, my cup of cocoa was always filled to the brim with a huge handful of marshmallows. The combination of the rich hot chocolate after some of the marshmallows have started to dissolve, is pure Winter bliss!
However, when I first started a ketogenic diet I figured that my Winter cocoa tradition would come to an end because there was no way I would ever eat another marshmallow ever again. That was until I discovered homemade keto marshmallows would save the day!
I remember testing this recipe for the first time and thinking, "There is no way this is going to turn into fluffy marshmallows. Not a chance!" Lo and behold though, they did come together like magic and my Winter hot cocoa tradition was saved.
I know, the thought of making homemade marshmallows might intimidate you, but rest assured we have you covered. This recipe for keto friendly marshmallows is so easy to make and like I said, is pure magic!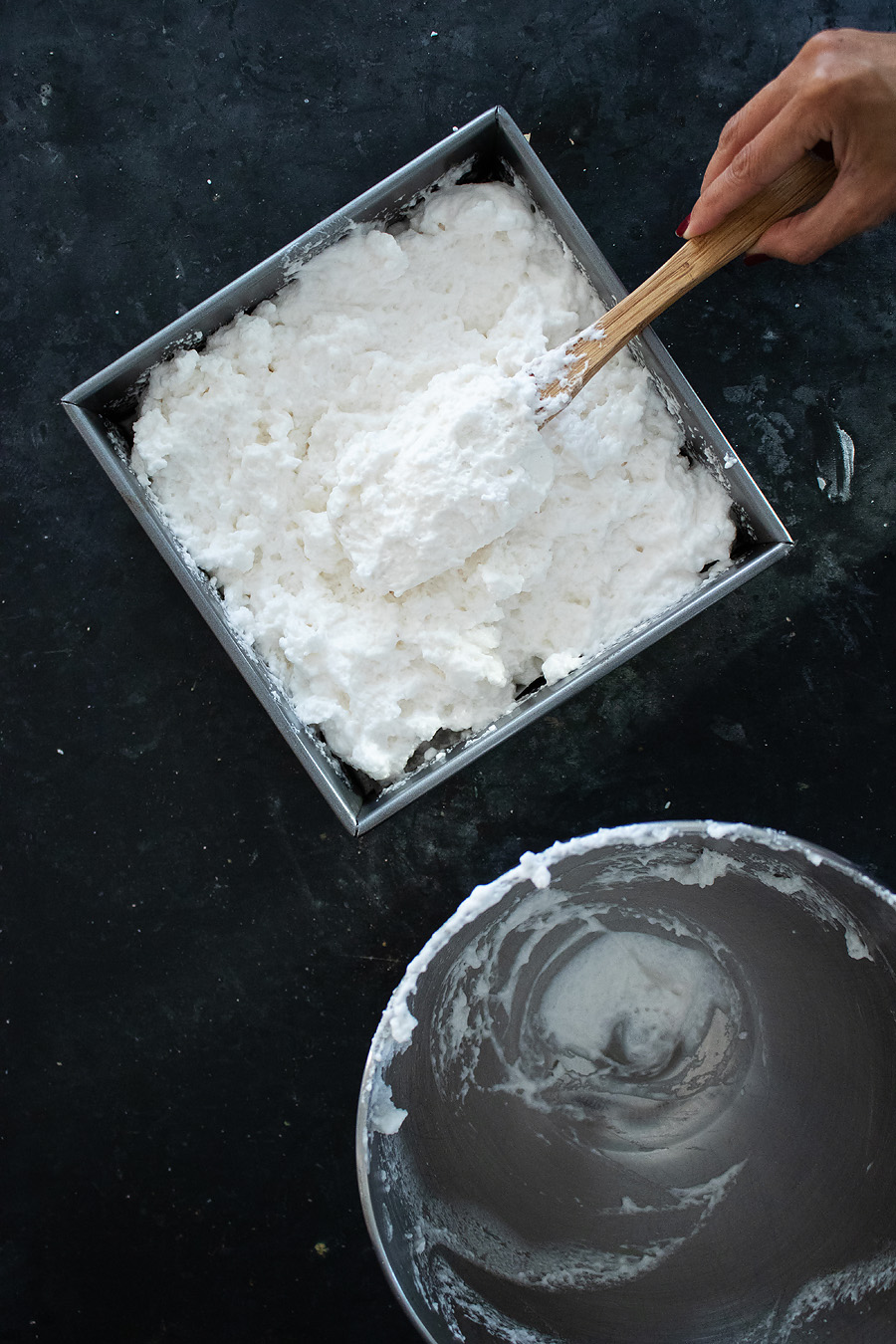 Homemade Keto Marshmallow Ingredients
Water: filtered or tap water is fine, luke warm not hot
Gelatin: You can either use traditional, unflavored gelatin or try a grass-fed gelatin for the added nutritional benefits.
Powdered Monk Fruit: Monk fruit is a keto friendly and sugar free alternative to regular powdered white sugar.
Vanilla Extract: Brings out a rich and unique flavor to any dessert.
Salt: A touch of salt balances out the sweetness of the powdered monk fruit and boosts the rich vanilla flavor.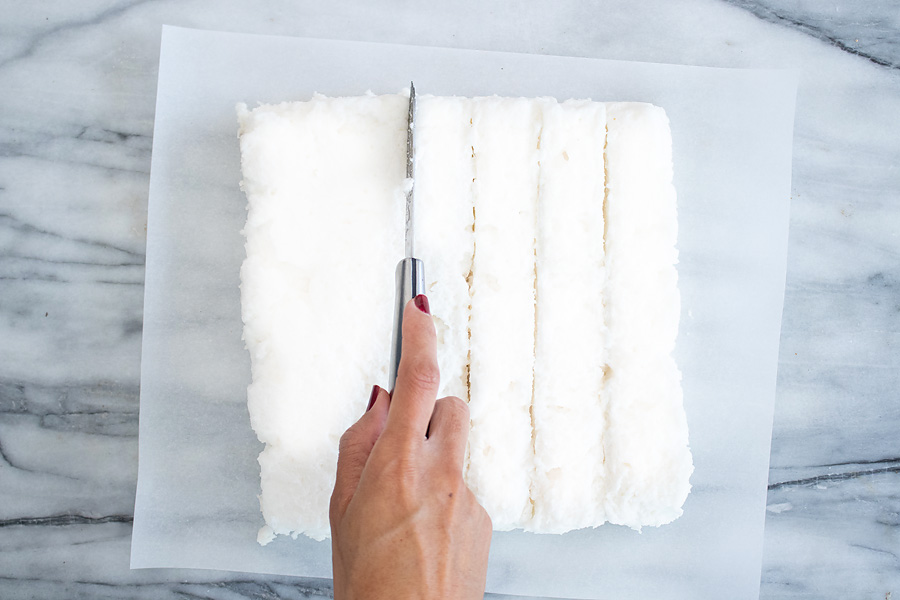 Tools You for Homemade Keto Marshmallows
Stand Mixer- This recipe can be made with a hand held mixer or whipped by hand, but trust me when I say bring out the stand mixer! The mixture will need to whip for at least 10 minutes.
9×9 Pan- You can choose a pan based on how thick you want your marshmallows. For thick ones, a 9×9 pan will be perfect. For thinner marshmallows, a 9×13 pan would work great.
Sharp Knife- You can cut these low carb marshmallows into any shape you would like or even use cookie cutters, but to make things easy simple use a large, sharp knife to cut them into small squares or rectangles.
Spatula- When transferring mixture into your pan, a nice big spatula will be very helpful to get every last bit of the goey mixture out of the bowl.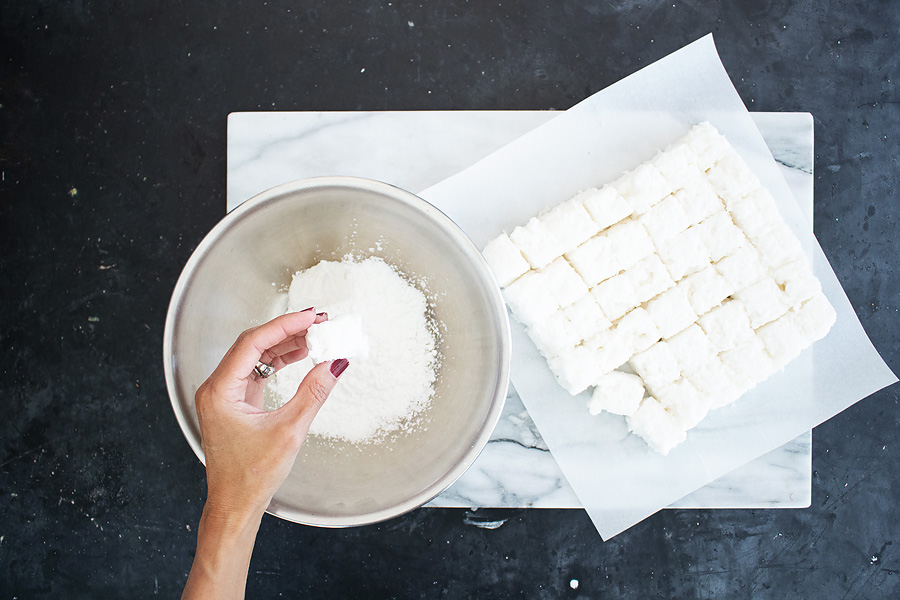 How to Make Homemade Keto Marshmallows
Bloom gelatin. Add water to a large bowl or stand mixer and sprinkle in the gelatin. Whisk well until dissolved and let sit for 1-2 minutes. If you are using a grass-fed gelatin, simple combine with water and whisk until dissolved.
Make simple syrup. In a small saucepan set over low-medium heat, add water and powdered monk fruit. Whisk until sweetener is completely dissolved. Remove from heat and stir in vanilla extract.
Combine gelatin & simple syrup. With the stand mixer on and set to medium speed, slowly drizzle the syrup into the gelatin mixture. Once combined, turn the mixer up to medium-high and let whip for 8-10 minutes until stiff peaks form. It may take longer depending on your climate.
Transfer & Cool. Quickly transfer the keto marshmallow mixture to your pan and even out the top using an offset spatula or large knife. Let sit out to dry and firm up, then refrigerate overnight and cut into little cubes.
Dust with powdered monk fruit.  You can lightly dust all sides of the marshmallows with extra monk fruit if desired or simply sprinkle some over the top.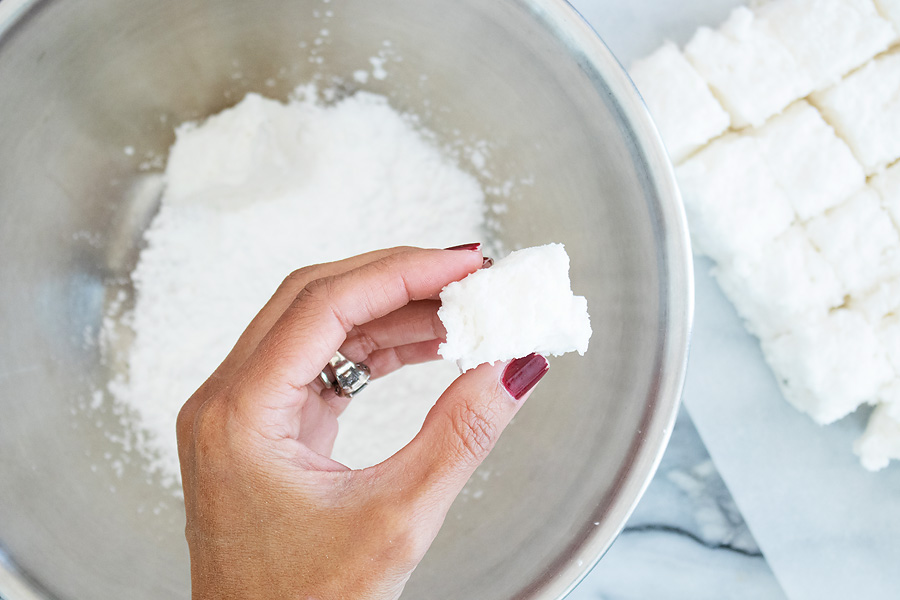 Homemade Keto Marshmallows FAQs
Can I use a different sweetener?
These keto friendly marshmallows are best when made with monk fruit, allulose, or xylitol. Xylitol creates a more dense and chewy texture while allulose makes the marshmallows a bit more fluffy and light. If using allulose, you will need to use more because it is not as sweet as monk fruit or xylitol. Please note that xylitol is toxic to dogs, so be careful when using it in your baking.
How do I store these homemade keto marshmallows?
Once you have cut your marshmallows into your desired shapes, let them dry out a bit at room temperature. Once more firm, place them in an airtight container lined with parchment paper in a single layer. If you need multiple layers, simply add parchment paper in between them.
Can you roast these keto marshmallows?
Unfortunately these keto marshmallows do not toast up the same as traditional marshmallows. Because it lacks the sugar and corn syrup, the crystallization will not occur with keto friendly sugar replacements. You can try very short bursts of heat or fire just to warm them a bit, but they will dissolve under any more heat.
Can you change the flavor of these keto marshmallows?
Absolutely! Instead of using vanilla extract, try adding a few drop of peppermint extract for a fun and festive twist! You can also add ¼ cup of cacao powder to your mixture before beating to stiff peaks for a chocolate keto marshmallow.
Print
Homemade Keto Marshmallows: Light, Fluffy, Perfectly Chewy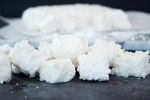 Author:
Total Time:

15 minutes

Yield:

16

servings

1

x
Scale
Ingredients
1 1/4 cup

water (divided)

3 tablespoons

grass fed gelatin

1 1/2

  cups powdered monk fruit

2 teaspoons

vanilla extract

1

pinch of salt
Instructions
Line a 9×9 pan with parchment paper or coat with non-stick cooking spray or coconut oil.  Set aside.

Add gelatin and 1/2 of water to a large bowl or stand mixer.  Whisk well to until dissolved.  Set aside.

Add remaining water, powdered sweetener, and salt to a small saucepan set over low heat.  Cook for 1-2 minutes until sweetener is completely dissolved, water should be hot but not boiling.  Remove from heat and stir in vanilla extract.

With your stand mixer on low, slowly drizzle simple syrup into gelatin mixture.  Increase speed to high and whip for 10-12 minutes until mixture has doubled in size and forms stiff peaks.

Transfer mixture to prepared pan and smooth out the top.  Let sit out for a few hours before cutting and storing in an airtight container.
Nutrition
Serving Size:

1- 1" square

Calories:

3

Fat:

0 g

Carbohydrates:

2 g(Net Carbs: 2 g)

Fiber:

0 g

Protein:

1 g
Keywords: keto marshmallows