Looking for ways to make your favorite summertime drinks low-carb and sugar-free?
The 15 recipes in this roundup have all your beach and poolside beverages covered.
You'll find summertime classics from cocktails and mocktails to lemonades and Arnold Palmers. And all of them are sugar-free, low-carb, and will keep you in ketosis as you sip.
Everyone wants to celebrate during the summer, but high-sugar summer drinks like piña coladas and margaritas will take you out of your keto game for days afterward.
Embrace healthy living instead and whip up a batch of your favorite summer drink and enjoy the weather.
This first set of recipes offers up five smoothies for a cooler alternative to a hot-cooked meal.
5 Low-Carb Smoothies to Keep You Cool and Satisfied
Smoothies are a great way to sneak in a nutritious meal without using heat from your oven or stove.
This makes smoothies the ideal summer drink to enjoy for breakfast or lunch on a keto diet.
And many work well when used as pre- or post-workout fuel, too.
Plus, smoothies are packed with filling, satiating ingredients like whey and collagen powder, which other drinks on this list (like the low-carb cocktails) may lack.
Sip on one of these and you'll be cool and satisfied in the sun or in the shade until your next meal:
#1: The Perfect Keto Green Smoothie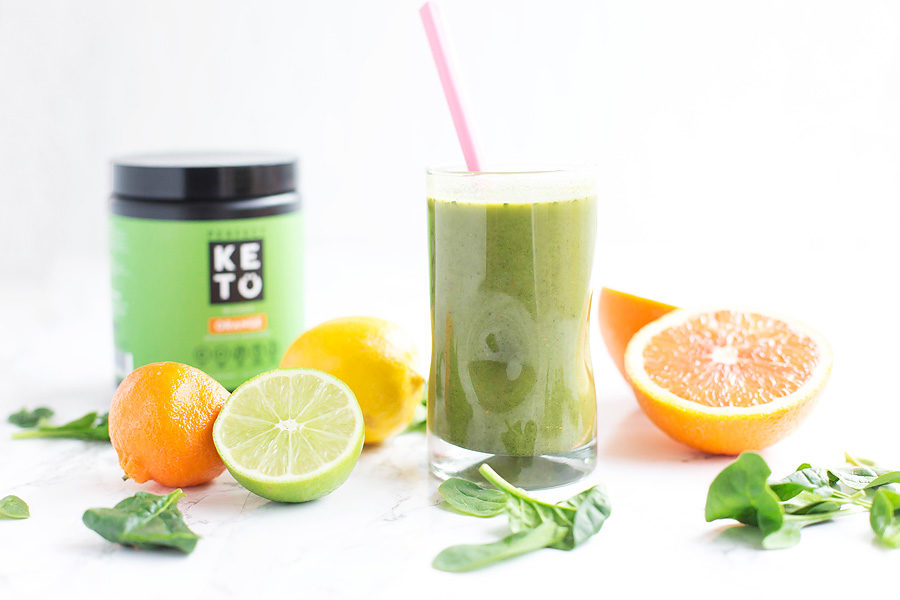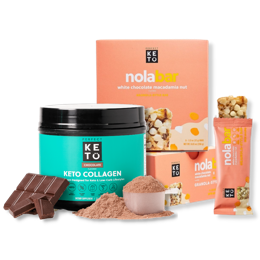 Browse our curated collection of fan-favorites and discover your new favorite snack or supplement.
Shop Best Sellers
Try this citrus smoothie recipe if you're missing sweet green smoothies and want a healthier, refreshing choice.
With orange zest and both lemon and lime, you won't even realize it's low-carb.
And since it has spinach, MCT oil, and Perfect Keto's Micronutrients Greens Powder, you'll get the nutritional boost a smoothie should have without the sugar spike.
To learn more about crafting the perfect keto green smoothie, check out this resource.
You can also start your day with a coffee smoothie.
#2: Delicious Keto Iced Coffee Smoothie (Two Ways)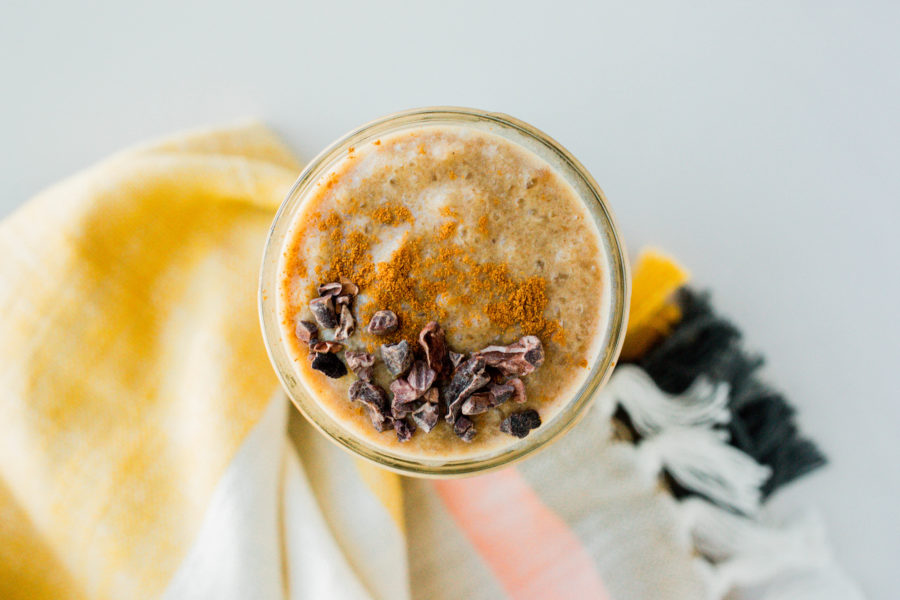 Sure, you could still go to coffeehouses like Starbucks on keto but you're better off making your own low-carb drinks.
Not only can you control the sugar and the ingredients per cup but you'll also save money doing it yourself.
It's easy to become a barista-at-home thanks to these two recipes:
The first is a simple keto iced coffee smoothie (pictured above) while the second makes an upgraded keto-friendly cinnamon dolce breakfast latte.
And if coffee isn't your thing, you may prefer matcha instead.
#3: Iced Matcha Latte with MCTs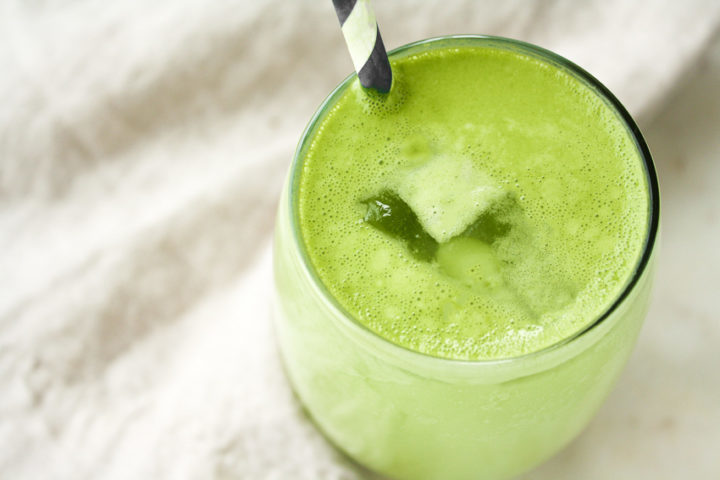 For the easiest smoothie, this iced matcha latte recipe only calls for three simple ingredients: ice, almond milk, and Perfect Keto Matcha MCT Oil Powder.
It's great for when you want a light smoothie to sip outside or start your day. But it's not nearly as filling as the next keto summer drink recipe.
#4: Energizing Maca Keto Smoothie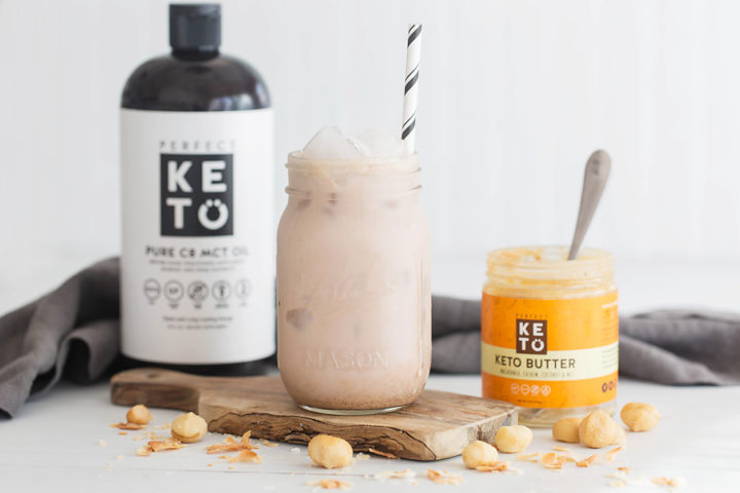 If you want the health benefits of matcha but can't stomach the taste, this maca keto smoothie will not disappoint.
Maca, just like matcha, will give you a nice energy boost. And unlike coffee, this extra energy comes without the caffeine jitters that make people antsy and anxious.
Plus, maca boasts incredible perks for your health, such as improved libido and a boost to your memory and focus.
Even better news? This smoothie uses the delicious combination of nut butter and MCT oil to help disguise any trace flavors of the maca, which isn't known for it's awesome flavor.
So if you want to get more into maca but you can't handle the taste, you need this smoothie in your life.
The next recipe is more like a milkshake (and it's still keto-friendly).
#5: Exogenous Ketone Vanilla Bean Smoothie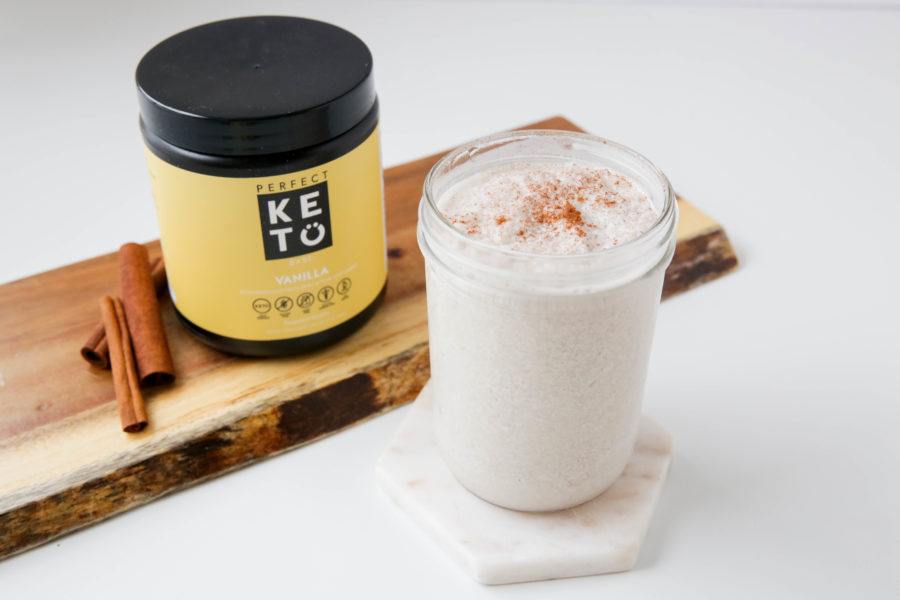 If summer means milkshakes and ice cream parties, check out this low-carb recipe for a creamy, vanilla bean smoothie.
Its fantastic flavor will remind you of a vanilla old fashioned milkshake — but it won't kick you out of ketosis. Rather, this smoothie may actually give your body more fuel to work with.
You can thank the addition of exogenous ketones for this. And for not having to worry about blood sugar crashes after drinking it.
Bonus: This smoothie can also be made dairy-free.
So if you're craving a milkshake this summer, give these sugar-free smoothies a go.
These recipes — and the next group — will quickly prove a keto diet can be flexible and delicious.
4 Keto-Friendly Sugar-Free Lemonades and Teas
If strawberry lemonades and sweet teas are your go-to pool drinks, you don't have to ditch them on a keto diet.
You just need to replace the high-sugar versions you're used to with low- or no-carb recipes.
These keto summer drink recipes will quench your thirst when it's hot out, minus the sugar hit:
#1: Refreshing Matcha Green Tea Lemonade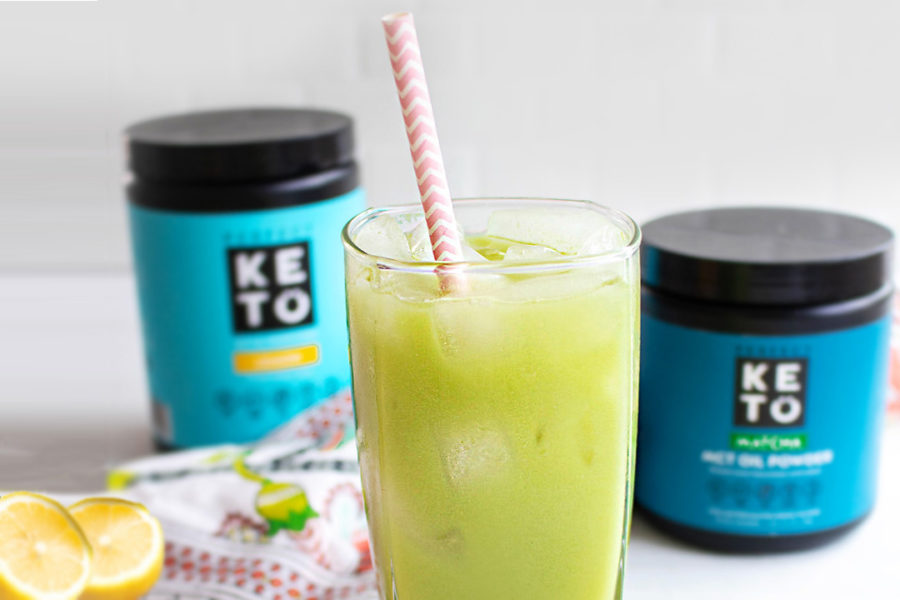 Don't let the matcha in this delicious lemonade deter you from giving it a chance.
Since it also contains Perfect Keto's Perform Sports Drink, this powerful combination of nutrients creates an upgraded lemonade perfect for any time of the day.
A scoop of Perform drink contains:
MCTs, a fast-digesting fuel source
BCAAs, which can help with performance and recovery
Creatine for increased muscle output
Beta-alanine for increased strength and power
Exogenous ketones known as BHB, or beta-hydroxybutyrate
Besides a boost in energy, exogenous ketones can also be helpful for combating cravings.
If you're not a fan of the taste, this recipe uses fresh lemon juice for the sugar-free lemonade base to hide the matcha.
Now you can see why you shouldn't judge this lemonade by its cover or name. Same goes for the next recipe.
#2: Refreshing Keto Greens Lemonade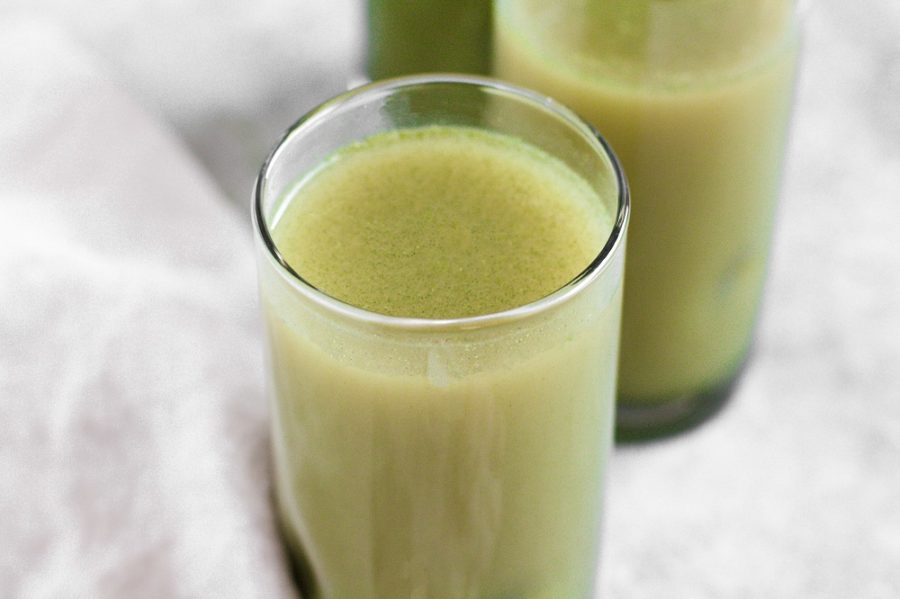 This refreshing, low-calorie keto drink resembles a green juice in its nutrient profile but tastes just like a summertime lemonade.
The addition of Keto Greens Powder gives you 26 vegetables and fruits per scoop. This helps fill in the micronutrient gap you may have since omitting high-carb fruits and veggies on keto.
There's also pink Himalayan salt to help you replenish any lost electrolytes from the summer heat.
So it's the perfect drink after a long day in the sun or to prevent the keto flu.
Now, if you're looking for a keto-friendly version of an Arnold Palmer, this next recipe is like summer in a glass.
#3: Perfect Keto Perform Iced Tea Lemonade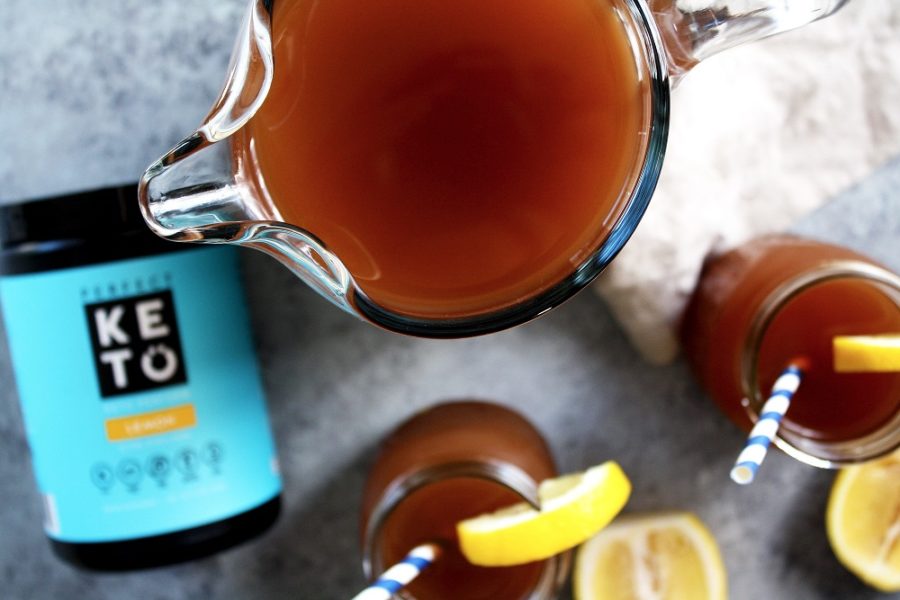 Named for an American pro golfer, an Arnold Palmer is a drink made with half lemonade and half iced tea. While either of those beverages can be very sugary solo, this tasty recipe combining both is not.
Instead of clocking in at 19g of sugar and 12g of carbs like some Arnold Palmers, this low-carb drink boasts zero net carbs[*].
The calories are also drastically different at 20 per serving in the keto recipe versus 80 in the popular commercial version (almost 4x as much!)[*].
This next keto iced tea recipe is made for sipping on the porch.
#4: Refreshing Keto Peach Tea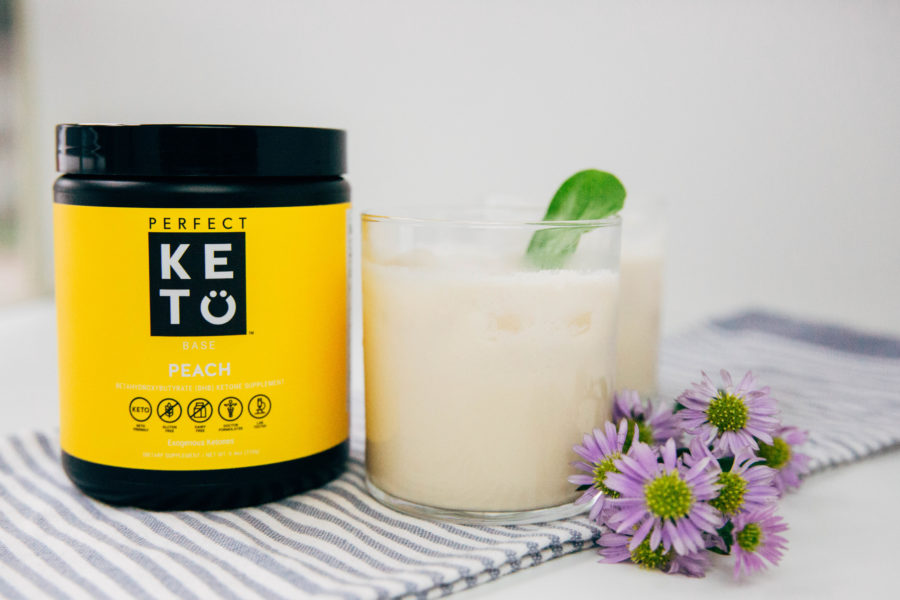 If peach tea is your go-to summer drink, ditch the store-bought versions in favor of this juicy keto peach tea.
The sweet flavor screams summertime but won't sabotage your blood sugar levels.
Since it contains exogenous ketones, each sip gives you energy to power through your day and party well into those late summer nights.
Although you may want to switch to alcoholic drinks by then…
6 Keto Summertime Cocktails and Mocktails
Low-carb spiked club sodas may be your first idea to bring to the beach, but you should give them a second thought.
Since they contain alcohol, companies like Truly and White Claw are not required to list their ingredients on the cans. So many don't.
Others contain questionable ingredients even if they are listed on the label.
So instead of decoding which spiked seltzers fit your healthy living goals, spend a few minutes making your own.
Try these keto cocktails — which can easily be turned into mocktails — and you won't reach for anything else this summer:
#1: Buzzy Raspberry Lemonade Spritzer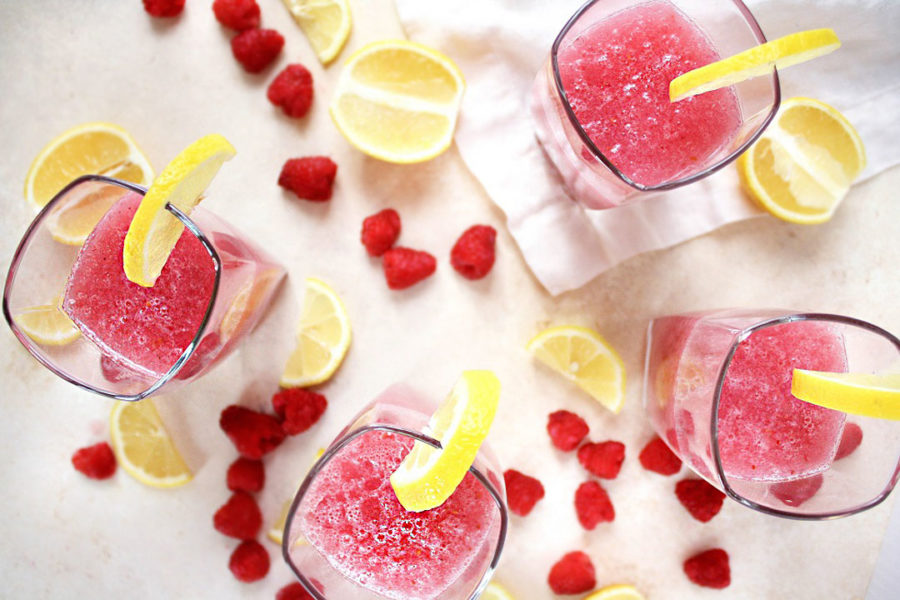 This low-carb spritzer has the same carb count as those popular club soda drinks — 2g of net carbs — but it's very different nutritionally speaking.
Instead of containing a mix of empty ingredients, this summer drink has fresh raspberries and our Perfect Keto Perform.
To make it a summer cocktail safe for a ketogenic diet, add 1 oz. of vodka or tequila, both are keto-friendly in moderation.
Tequila's an excellent addition for this next recipe too.
#2: Sugar-Free Strawberry Peach Margarita That's Also Gluten-Free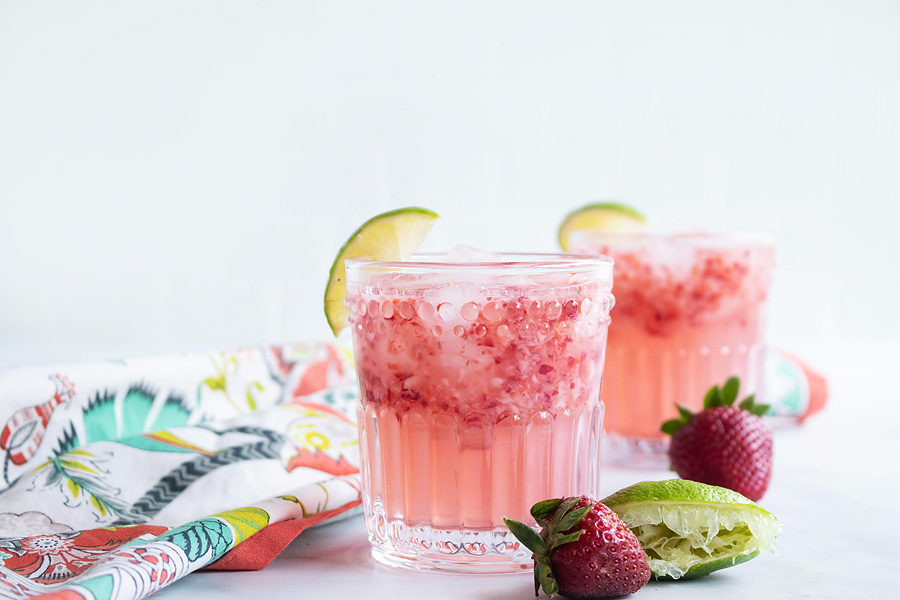 Craving a sweet, bold margarita on a hot summer day?
This sugar-free strawberry peach recipe is the most Instagrammable drink you'll snap all summer.
While a typical restaurant margarita racks up 23g of sugar and 25g of carbs, this one has a total carb count of just 3g per drink[*].
For a lighter, sweeter alternative to margaritas, you may want to try low-carb Palomas.
#3: Keto Paloma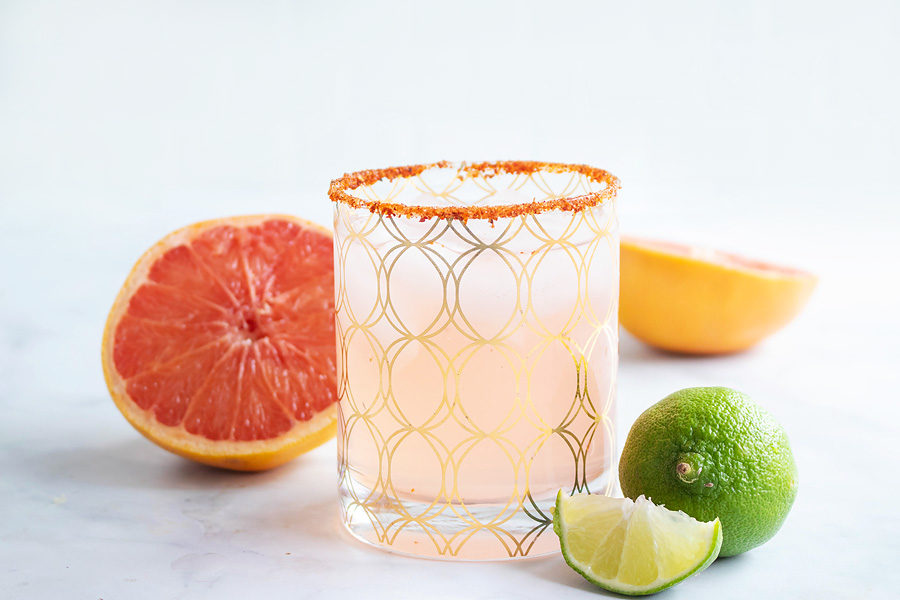 If you've never had one, Paloma is summer vibes in a glass.
Combining fresh grapefruit, lime juice, and tequila gives this refreshing summer drink a sweet margarita-like quality without the jolt of sugar.
Keto Paloma will make fans out of people who aren't even following a low-carb diet. That can also be said about this next recipe.
#4: Sparkling Strawberry Low-Carb Mojito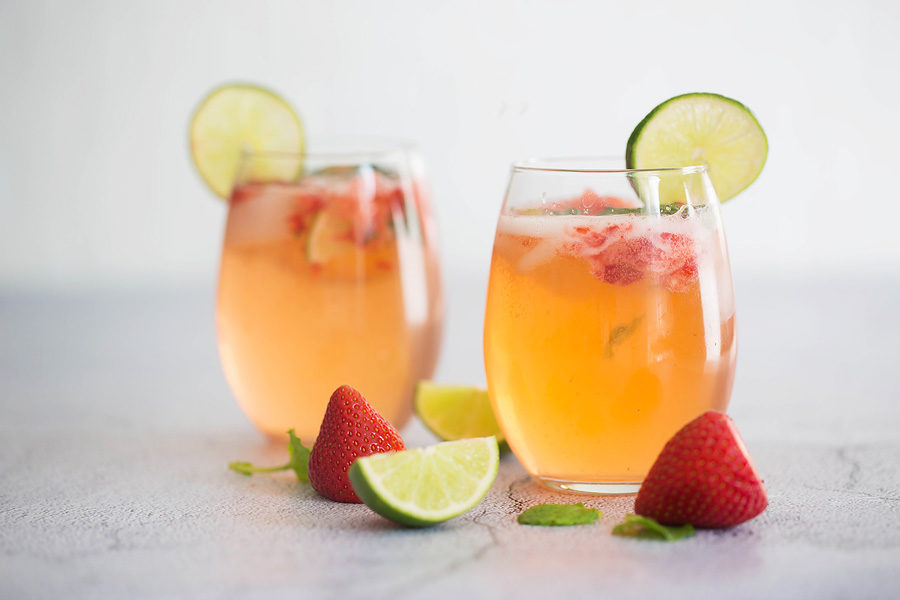 Classic mojitos are loaded with just as many carbs, calories, and sugar as margaritas, making them off-limits on a ketogenic diet.
Luckily, this strawberry low-carb mojito makes for a better stand-in. It only contains 4g of net carbs and 110 calories per drink.
Just combine lime wedges, mint leaves, white rum, stevia, fresh strawberries, and a Key Lime La Croix sparkling water to make this crisp summer drink.
You could also deviate from tradition and turn this into a vodka mojito if you prefer. Both options taste just as great.
The next recipe capitalizes on rum's summertime popularity.
#5: Citrus White Rum Keto Cocktail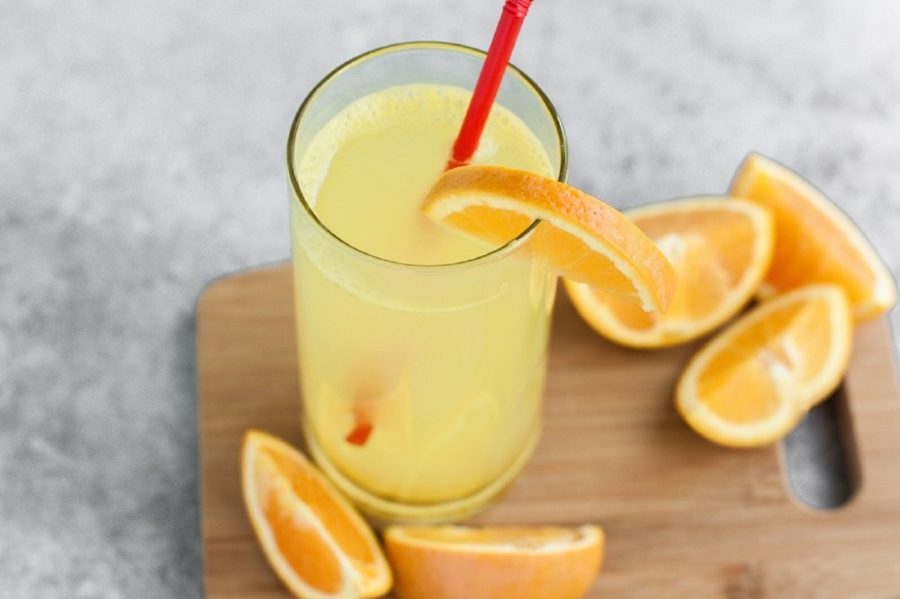 Despite the fruit, classic rum punch drinks aren't any better for you than a mojito or margarita.
So if you're looking for a rum punch swap, use this citrusy white rum keto cocktail recipe to capture the same flavor.
You'll find lemon, ginger, and orange zest in this recipe so you'll have sweetness without the sugar.
Each drink is less than 1g of net carbs, which is nowhere near what you'd find in a traditional rum punch.
For even more flavor, you can also top this cocktail with fresh mint leaves.
The final drink in this roundup is just as refreshing and fruity — and still keto.
#6: Light and Refreshing Keto Sangria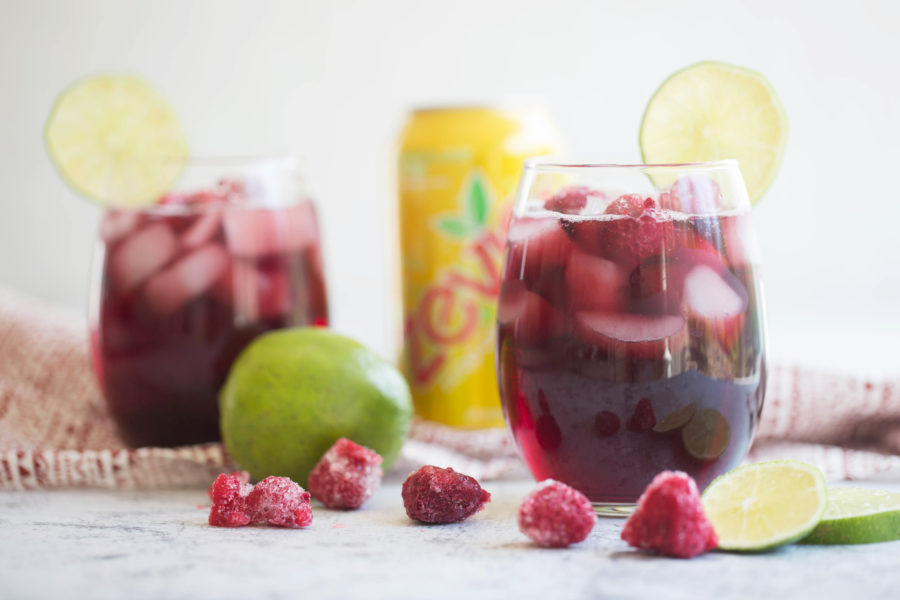 Sangria is another popular summer drink that seems like a good idea when you're hot.
But besides the carbs in the wine, sangrias are full of just as much sugar as pina coladas, Moscow mules, mojitos, and rum punches.
However, that doesn't mean all sangria recipes are a no-go on a low-carb diet.
This easy drink recipe for a knock-off sangria tastes even better than classic recipes.
Not only is it both light and sweet, it's also gluten-free and can be made with either white or red wine.
You'll also find citron vodka and Zevia (a sugar-free soda) in that recipe, which makes it feel like it's both a cocktail and sangria.
This can help satisfy two cravings. So instead of needing two separate drinks you can sip on this one and be done.
Keep in mind, just because these drinks are low-carb doesn't mean you have a free pass to consume them without limits.
If weight loss is your goal on a keto diet, drinking will halt your fat burning and it can lead to overeating since your inhibitions are lowered.
So it's best to have these drinks in moderation — one to two drinks tops — and try to limit this to one or two times per week, at most.
Sticking to this will help you feel good, reach your goals, and flaunt your beach bod.
Enjoy These Keto Summer Drinks and Mocktails Today
These 15 keto summer drink recipes show you don't have to miss out just because you're on a low-carb diet.
Work these refreshing drinks into your ketogenic diet menu plan and use them for barbecues, beach days, baseball games, and all your summer activities.
This flexibility may make it easier for you to reach or remain in ketosis. Share them and you may inspire your friends and family to join in on your quest for better health.
For more free keto drink recipes you can enjoy throughout the year, check out our complete list of drink recipes here.
It's also a good idea to bookmark this page so you can refer to it throughout the summer and beyond.