For most people, salads are synonymous with boring diet food. Not anymore. Whether you're on a low-carb or keto diet, or you're just looking to spice up your summer menu, these keto salad ideas are here to make your mouth water.
This list has everything from a classic Cobb (with a keto twist) to unique plays on the classic Cesar salad. But there's one thing that each one of these recipes has in common: they're all packed with flavor.
Get ready to make salads a huge part of your healthy keto or low-carb lifestyle with these incredible keto salad ideas.
20 Satisfying Keto Salad Ideas
#1 Easy Keto Chicken Salad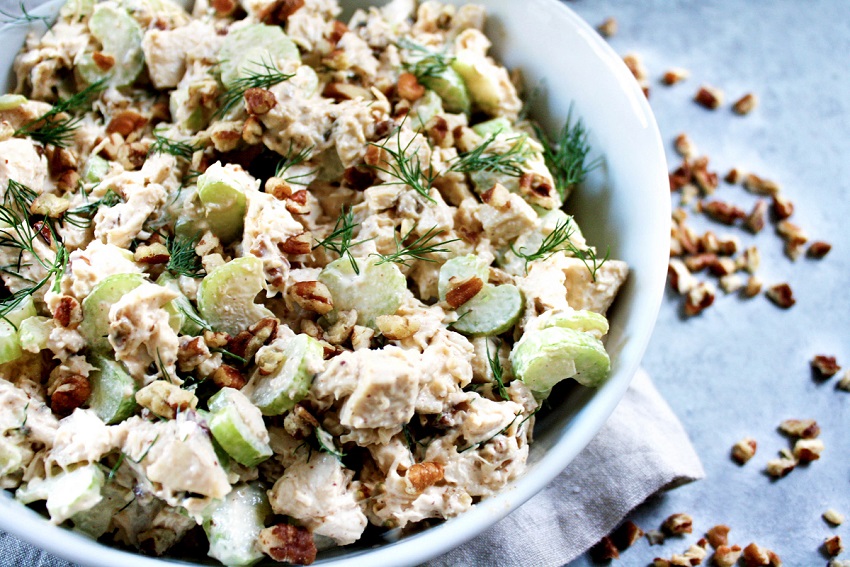 This easy keto chicken salad is a perfect on-the-go meal if you're short on time. Simply add all ingredients to a mason jar, pour in your dressing, and go. You can also swap out the chicken for some tuna salad to mix things up.
#2 Cobb Salad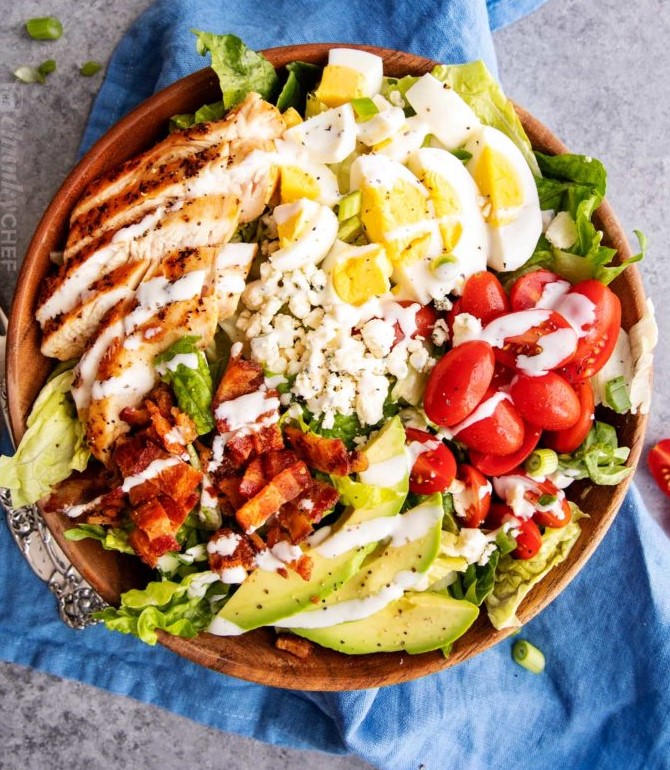 Cobb salad is always a favorite, and the best part about these flavorful salads is that most of the time, they're already keto. This recipe includes a creamy homemade keto ranch dressing that you can make in bulk to use on other dishes as well. It's packed with protein (17 grams), and clocks in at only six net carbs.
#3 Spinach Salad with Warm Bacon Dressing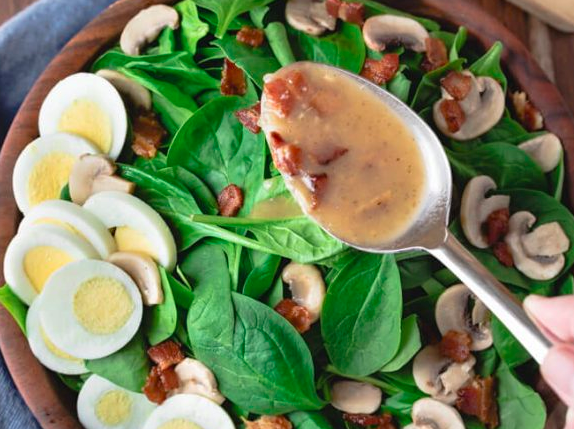 The warm bacon dressing in this keto spinach salad takes the flavor to the next level. Customize your salad with protein-rich ingredients like shrimp or chicken to hit your daily protein goals and stay feeling full for hours.
#4 Pesto Chicken Avocado Salad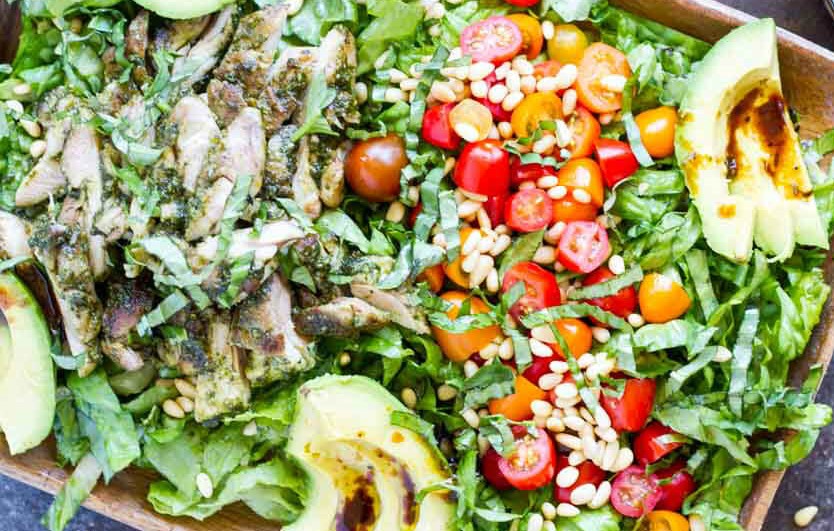 Pesto is one of those condiments you could add to almost any meal to give it some extra flavor. The combination of pesto, chicken, and veggies in this pesto chicken salad will leave you wanting for nothing. Dress it up with pine nuts, or any other nut or seed of choice, and don't forget those fragrant fresh basil leaves.
#5 Egg Salad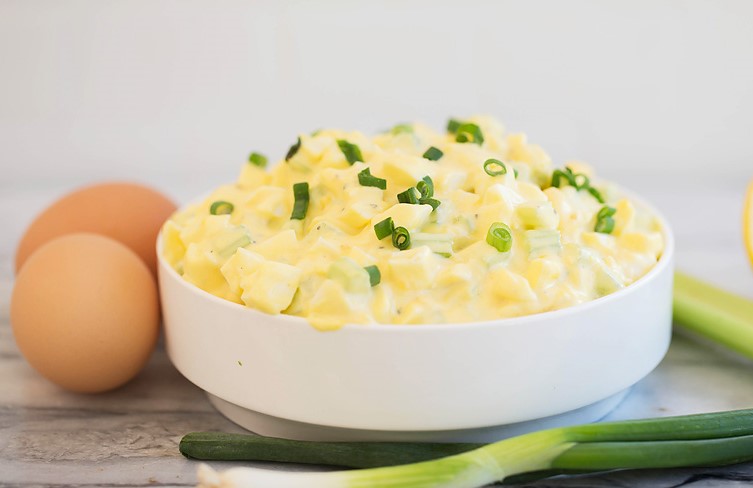 Egg salad is a classic dish that can be served plain, on top of a greens salad, or wrapped up in a lettuce wrap. This recipe offers a plethora of variations, including extra spice, added avocado, bacon, and dill, or an extra hit of protein with some chicken.
#6 Kale Salad with Avocado and Lemon Garlic Vinaigrette

If you're looking for a delicious way to get your kale in, this kale salad with avocado is your answer. The lemon garlic vinaigrette adds a pop of flavor, with the parmesan and avocado giving you a smooth creaminess. One serving is only 242 calories and six net carbs, so go ahead and add a little protein on there if you feel so inclined.
#7 Creamy Cucumber Salad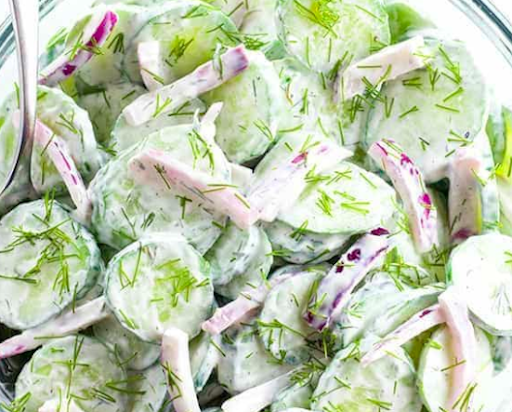 If you're looking for something on the lighter side, this creamy cucumber salad makes an excellent side dish to your main meal. It's packed with flavor coming from dill, lemon, and garlic, and It goes great with some grilled chicken or baked salmon. One serving is only 86 calories with six net carbs.
#8 Broccoli Salad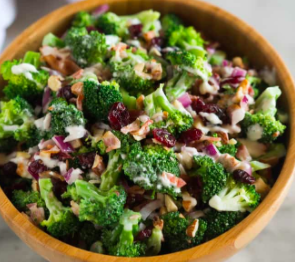 This broccoli salad is loaded with flavorful ingredients like onion, cheddar, bacon, and ranch seasoning. The sour cream and mayo give it a creamy texture, and the broccoli adds a perfect crunch. One serving contains only five grams of net carbs and 12 grams of protein, making it the perfect keto meal or side dish — depending on how hungry you are.
#9 Keto Greek Salad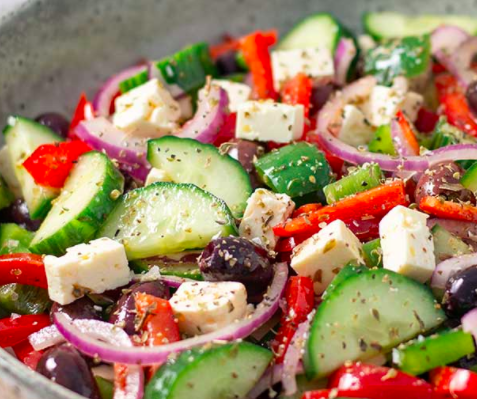 There's nothing like a fresh Greek salad with tomato, cucumber, feta, onion, pepper, and olives. Top it with some olive oil and vinegar dressing, and you have the perfect keto summer salad. This recipe doesn't have to cut any corners to fit into a keto diet and eat up because each serving only contains four net carbs.
#10 Keto Taco Salad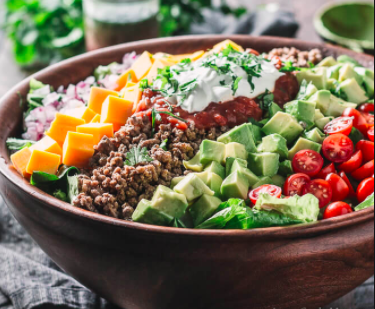 Tacos may be off-limits on keto, but taco salad certainly is not. This salad is seasoned with delicious Mexican spices like cumin, chili powder, and paprika, and it's loaded with all your Mexican dish favorites like avocado, cheese, and salsa.
#11 Zesty Chili Lime Keto Tuna Salad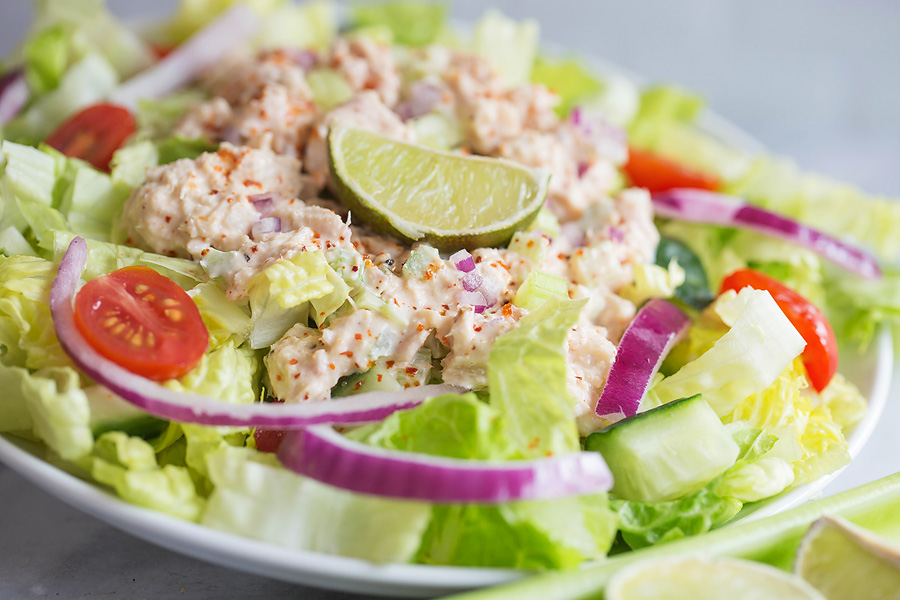 Tuna salad is one of the quickest meals you can prepare. You're welcome to mix this one up, but the recipe as it is creates the perfect balance of lime, spice, and creaminess. Wrap it in some lettuce or throw it on top of some greens to dress it up a bit.
#12 Keto BBQ Salad with Shredded Chicken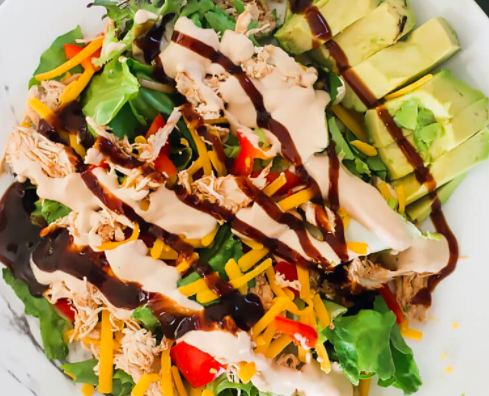 BBQ sauce makes everything taste good, but this BBQ Salad is packed with delicious ingredients that take the whole salad game up a notch. Sour cream, garlic powder, cheddar cheese, and avocado — yes, it's still considered a salad. In fact, one serving is less than 300 calories and contains only six net carbs.
#13 Keto Prosciutto Arugula Side Salad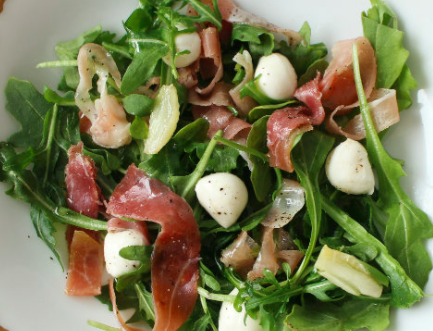 This prosciutto arugula salad will take you on a journey to a piazza in Italy. The ingredients are simple; prosciutto, arugula, fresh mozzarella, black pepper, olive oil, and garlic. It makes an excellent side dish, or if you want to add more protein like chicken or salmon, it can serve as your whole meal.
#14 Cucumber, Tomato, Avocado Salad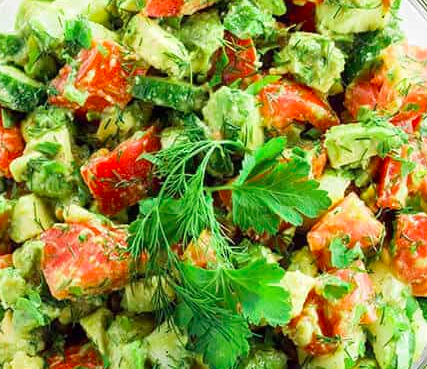 Sometimes a salad can be just as delicious as it is simple. This cucumber, tomato, avocado salad is the perfect example of how taking simple, fresh ingredients and combining them together can create a masterpiece of flavor. A small shout out to the fresh dill and parsley.
#15 Simple Seaweed Salad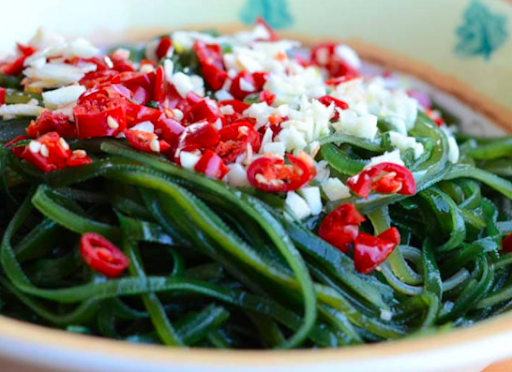 Fan of sushi? How about that delicious seaweed salad that comes on the side? While the traditional recipe is a bit too sweet to be considered keto, this low-carb version brings the same flavors and textures, without the carbs. If you've never cooked with kombu before, be sure to cook it until tender.
#16 Caesar Egg Salad Lettuce Wraps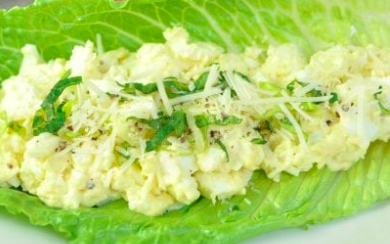 Caesar salads are great, but this caesar egg salad recipe mixes it up a bit by switching out the traditional chicken with egg salad — then wrapping it up in lettuce. And if you're looking for the perfect way to make hard-boiled eggs, the trick is in the recipe notes.
#17 Keto Curried Chicken Salad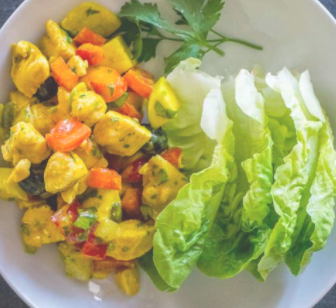 Looking to spice up your salad a bit? This keto curried chicken salad recipe gives you one of the most popular Indian dishes in a salad format that's incredibly easy to throw together. One serving is 385 calories and just five measly net carbs. And watch out for that secret ingredient — that's right, they put blueberries in there.
#18 Shrimp and Cauliflower Salad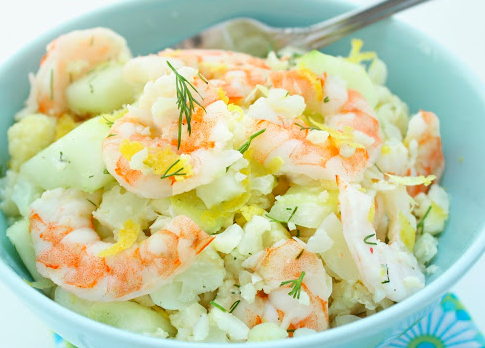 Cauliflower is one of the most popular low-carb, gluten-free grain alternatives out there. In this shrimp and cauliflower salad, cauliflower serves as a rice alternative, combined with other fresh ingredients like cucumber, dill, and lemon for a simple yet incredibly flavorful dish.
#19 Easy Salmon Salad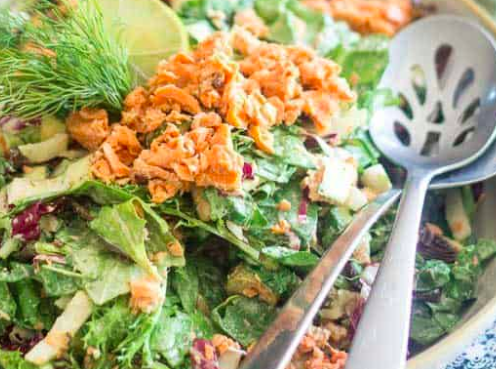 This salmon salad is not only easy to make, but it's incredibly hearty and satisfying. Sliced green olives, mushrooms, avocado, and walnuts — this salad's got it all. And with 27 grams of protein per serving, you've got yourself a full meal in this dish.
#20 Southwest Steak Salad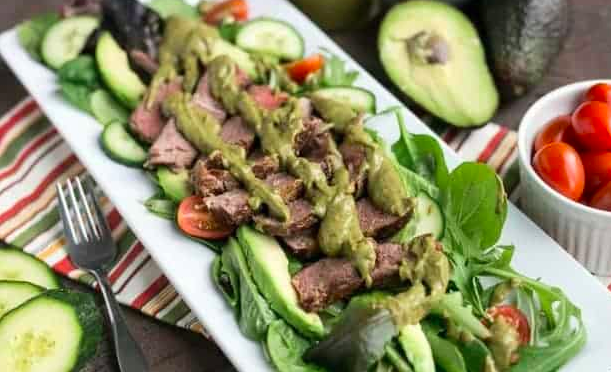 A keto salad roundup wouldn't be complete without an honorary steak salad. This Southwest steak salad twist adds some avocado, fresh cilantro, and lime, to pair with your juicy ribeye steak. With 53 grams of fat, 36 grams of protein, and just 6 grams of carbs, this is a true keto salad.
The Takeaway: Salads Don't Have to Be Boring
These aren't the salads you'll find in your grandma's cookbook, but they're sure to stand the test of time nonetheless. Add some excitement to your meal prep with these unique and tasty salad concepts.
Who said salad had to be boring?