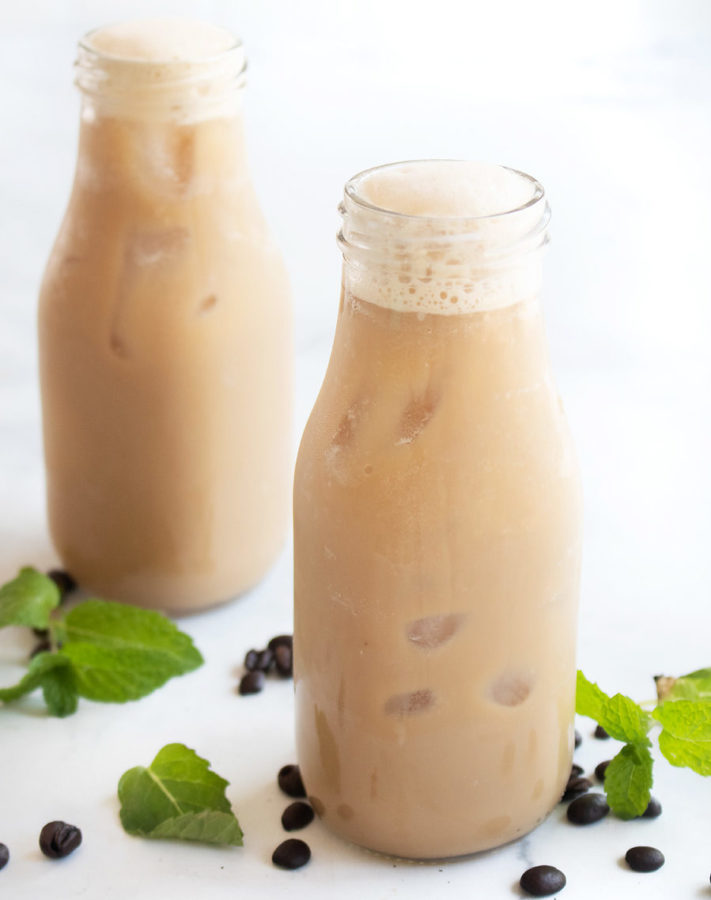 Peppermint mochas are one of the most popular coffee drinks on any coffee shop menu. Starbucks made the peppermint mocha latte popular, along with its massive sugar and carb content — not great for a low-carb diet. Or for your blood sugar levels.
This low-carb option is perfect for your keto diet, with only 1 net carb and a delicious, creamy mocha taste. Add two to three drops of peppermint extract and some keto whipped cream and you've got a classic keto peppermint mocha.
And with a hefty scoop of chocolate collagen powder with MCT powder, this peppermint mocha has some health benefits as well.
Use full-fat coconut milk, coconut cream, or heavy whipping cream for plenty of healthy fat that will keep you going for hours.
This keto peppermint mocha is:
Refreshing
Sweet
Uplifting
Gluten-free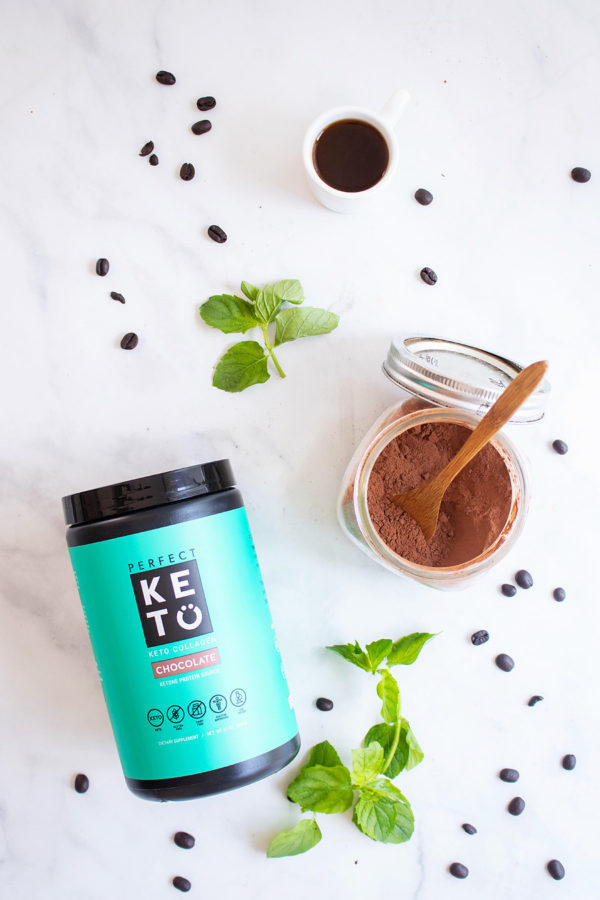 The main ingredients are:
Coffee
Peppermint extract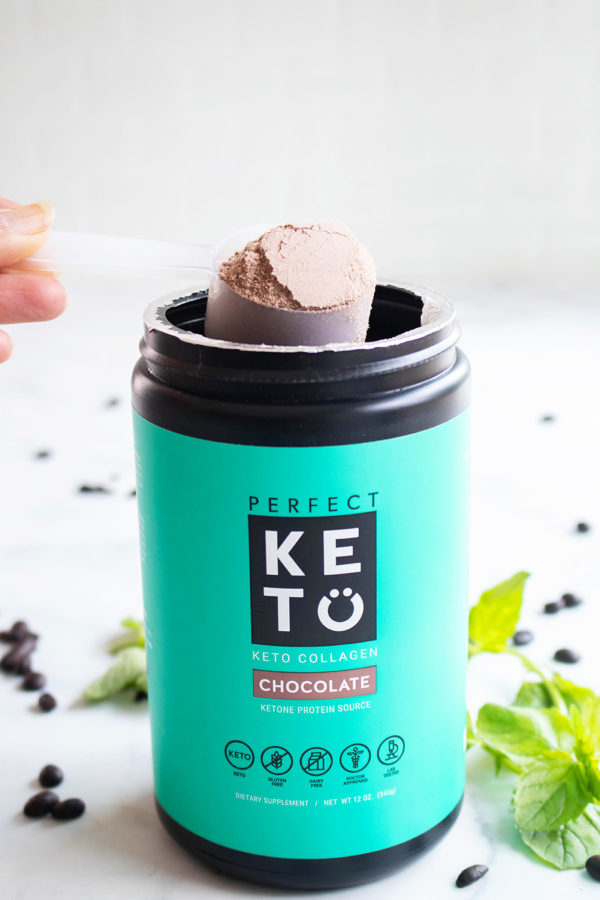 Optional additional ingredients
One more
A touch of monk fruit if you like it a little sweeter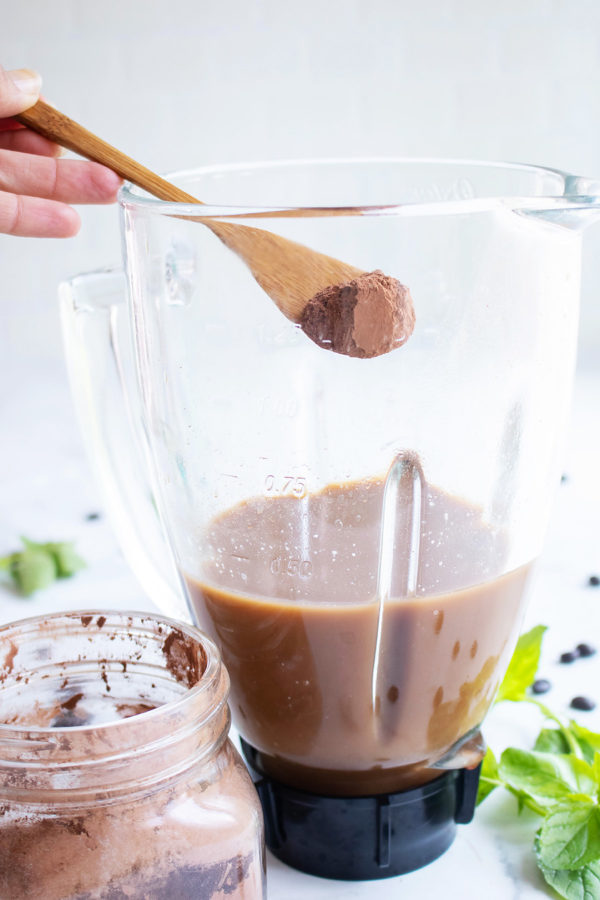 3 Health Benefits of This Homemade Peppermint Mocha
#1: Boosts Mental Performance
Peppermint and chocolate are a match made in heaven. Adding a few drops of peppermint extract to this coffee beverage turns an everyday mocha into a full-on treat.
But did you know that peppermint may also boost your mental performance?
Coffee's bound to get you going in the morning with its caffeine content, but the real brain enhancing magic of this beverage lies in the mint.
In one study, researchers gave a group of adults peppermint extract then assessed their mental performance. The peppermint not only enhanced the performance of cognitive tasks, but it also decreased signs of mental fatigue that would typically accompany these tasks[*].
#2: Supports Bone Health
Bone health becomes increasingly important as you age. Your bones are made up of minerals, proteins, and collagen, and each of these nutrients are essential for the integrity of your skeletal system.
While many people take care to get enough calcium for their bone health, collagen is often overlooked.
For people with osteoarthritis and osteoporosis, supplementing with collagen may offer a therapeutic advantage to assist in strengthening their bones. But even if you don't have a bone or joint related disease, collagen remains an essential nutrient to bone health and strength[*][*].
#3: Enhances Physical Performance
It should come as no surprise that coffee can boost your physical performance by getting you going before a workout. But the benefits of caffeine go beyond a little pick-me-up.
When you drink caffeine before exercise, it can significantly improve for time to exhaustion, meaning you get to work out longer and harder. One of the ways caffeine may provide more energy is by signaling your fat cells to break down fat for energy.
With an increased number of fatty acids available for energy, your body can keep going and going. In fact, free fatty acid (FFA) content can double in just one hour after caffeine consumption and remain elevated for at least four hours[*][*].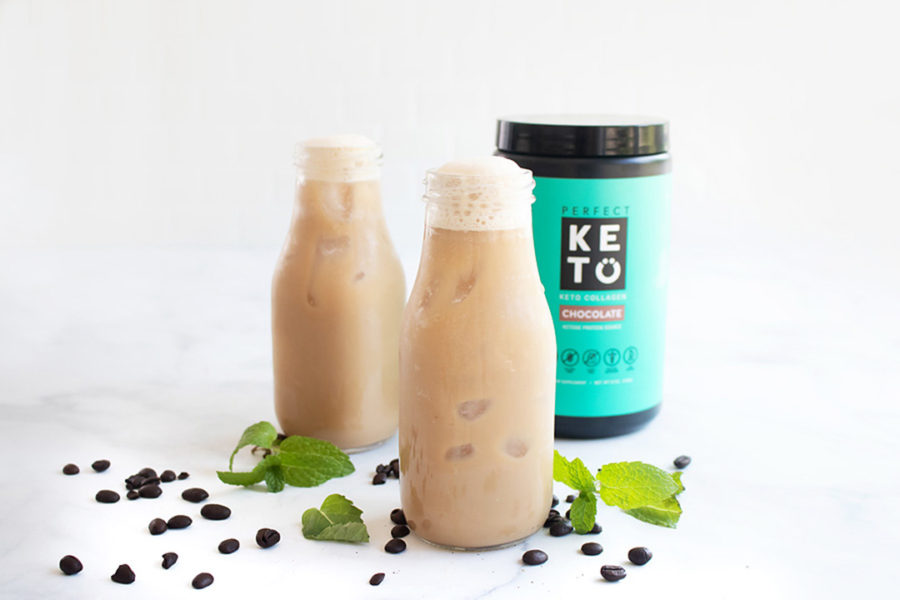 Keto Peppermint Mocha Latte
While a classic Bulletproof mocha contains MCT oil and butter, this keto peppermint mocha keeps you going with high-fat coconut milk or cream, collagen powder, MCT powder, and peppermint extract.
And what about Starbucks' peppermint mochas? They're packed with sugar and other questionable ingredients. And even if you get the sugar-free syrup, you're definitely not getting the health benefits of coconut milk, high-quality cacao powder, or real peppermint extract.
This keto peppermint mocha is more than just a sweet coffee drink. Each carefully chosen ingredients imparts its own health benefits to make every sip worthwhile.
Peppermint adds a refreshing flavor and a boost of brain power. Collagen supports your joints and bones to keep your athletic performance top notch. And the caffeine helps liberate your fat cells, so you have extra energy to burn.
Sounds like a pretty solid combo for a keto coffee.
The best part? The prep time for this mint mocha is only five minutes.
So let's get started.
Gather your Perfect Keto Chocolate Collagen, cacao powder, peppermint extract, and creamer.
Put on a pot of coffee, or make some brewed espresso or French press.
Once your coffee is ready, add it to a high-speed blender along with your cacao, peppermint, Perfect Keto Chocolate Collagen, and cream.
Blend on high until all of your ingredients are well combined.
Pour into a coffee cup or a glass full of ice if you want an iced coffee.
You can top it off with some keto whipped cream, keto chocolate syrup, sugar-free chocolate chips, or dark chocolate.
With just 1 gram of total carbohydrates, this peppermint mocha recipe is one you'll want to keep handy during the summer and winter — especially since it's as good cold as it is hot.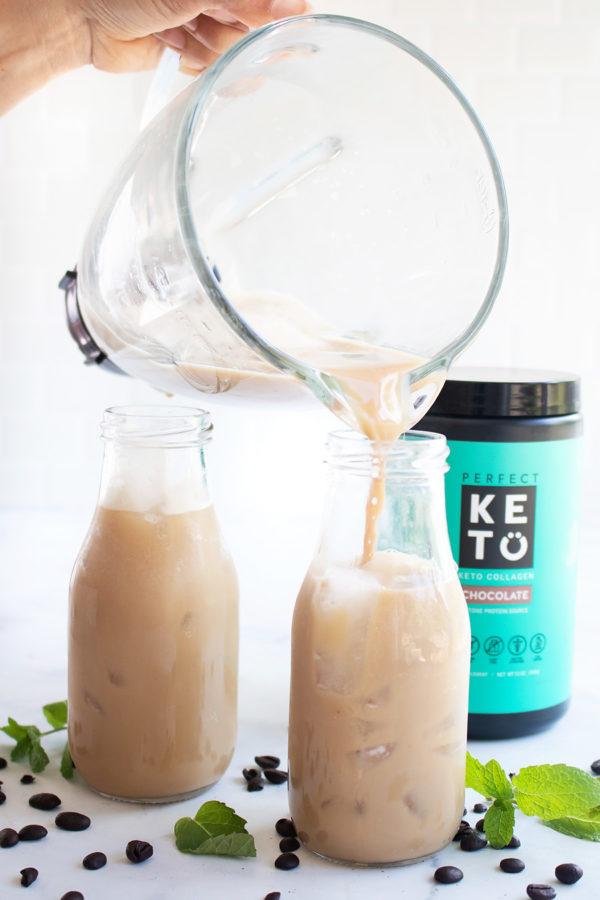 Print
Keto Peppermint Mocha Latte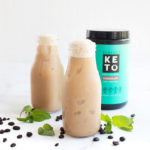 This Starbucks copycat peppermint mocha is keto, low-carb, and delicious — but completely sugar-free. Top with whipped cream for a net carb of just 1 gram.
Author:
Total Time:

5 minutes

Yield:

2 cups

1

x
Instructions
Add all ingredients to a high-speed blender and mix on high until smooth. You can also use an immersion blender.

Divide and serve with whipped cream, cacao powder, and a sprig of fresh mint if desired. Serve over ice or hot.
Nutrition
Serving Size:

1 cup

Calories:

92

Fat:

8 grams

Carbohydrates:

1 gram

Fiber:

0 grams

Protein:

5 grams
Keywords: keto mint mocha