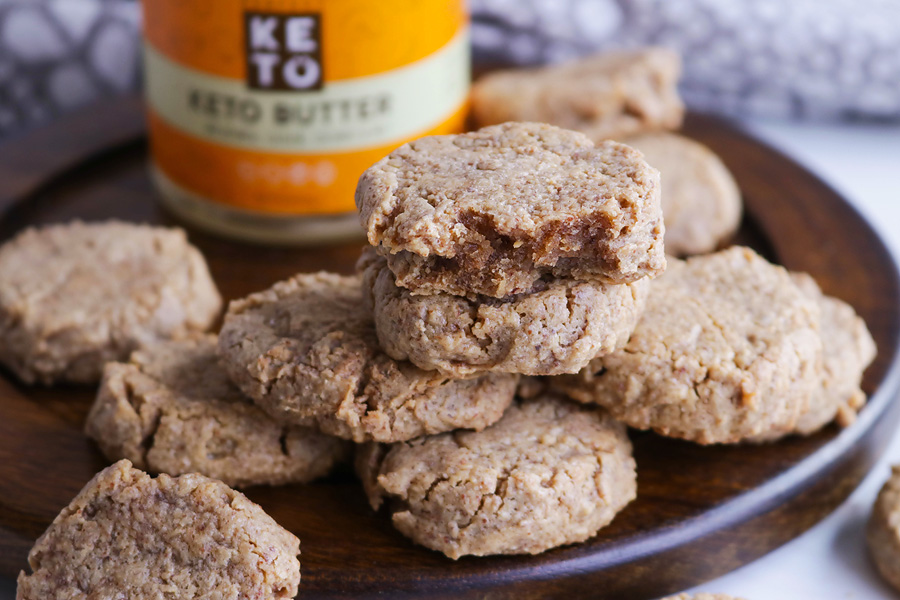 If you're looking to round out your classic cookie recipes (keto-style), you've found the ultimate replacement for traditional peanut butter cookies.
With no added sugar, this keto cookie recipe doesn't just replace the carbs, but it sneaks in some health benefits as well. And the carb count? Only 1.6 net carbs per serving.
And of course, it's gluten-free, sugar-free, paleo, flourless, and keto-friendly.
This is an easy recipe that you can make on the fly as long as you have all the ingredients (and there are only four).
These low-carb cookies are:
Sweet
Comforting
Satisfying
Chewy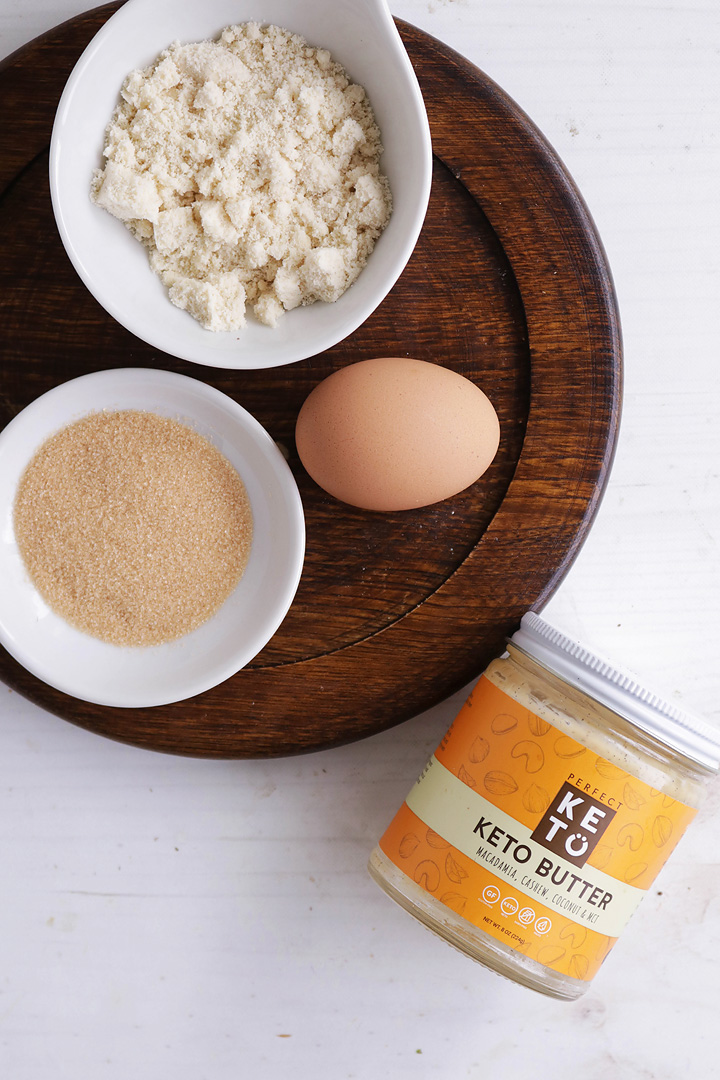 The main ingredients are: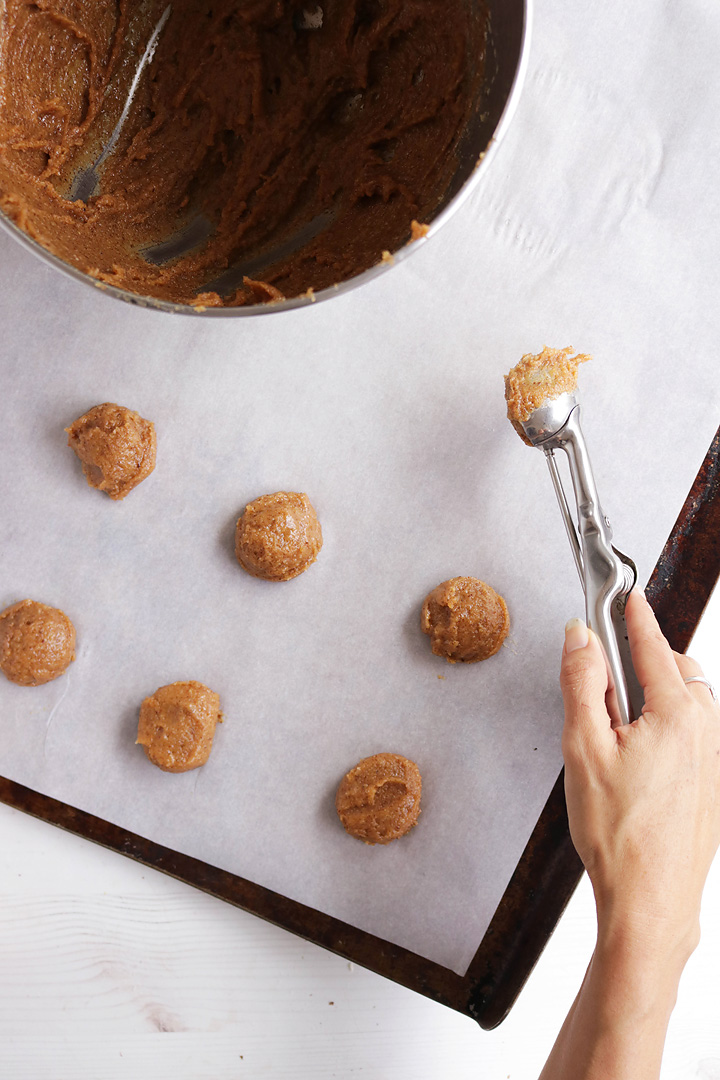 Optional additional ingredients
Health Benefits of Keto Nut Butter Cookies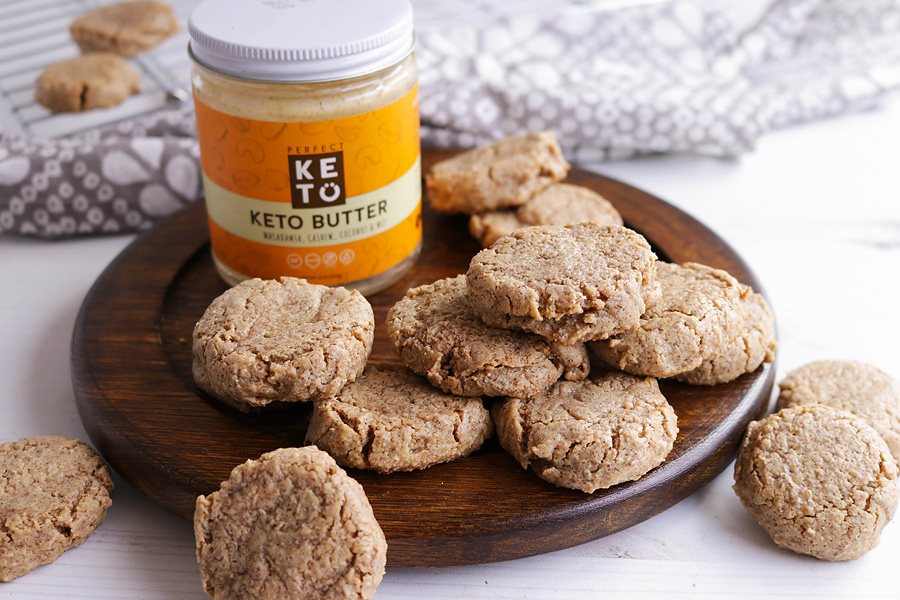 Packed With Healthy Fats
Everyone loves a good peanut butter cookie. The problem is, most peanut butter cookie recipes are actually loaded with sugar and wheat flour. And here's the thing; when it comes to nuts, peanuts are low man on the totem pole in terms of health benefits (yes, even natural peanut butter).
That's why even keto peanut butter cookies fall short when it comes to health benefits.
This nut butter cookie recipe, however, switches things up and uses cashews, macadamia nuts, and almonds in place of peanuts and wheat flour. The result? A cookie that's devoid of sugar and wheat, and rich in healthy fats.
Macadamia nuts, cashews, and almonds are all rich sources of omega-9 (monounsaturated fats)[*][*][*].
Some health benefits associated with monounsaturated fats include:
Fantastic Source of Vitamin E
Almonds are a rich source of vitamin E  — a fat-soluble vitamin. One of vitamin E's primary roles in your body is to protect the integrity of the membranes that surround your cells. It does this through its antioxidant activity.
You can think of your cells membranes like a wall that keeps intruders out and the contents of your cells safe. If this wall is weak, your cells become more vulnerable. And since you naturally produce oxidative stress daily, your body needs a way to safeguard against potential damage.
For this reason, when you consume vitamin E, it has a natural affinity for your cell membranes.
The best part about getting your vitamin E from nut-based sources like almonds is that vitamin E requires fat in order to be properly absorbed. So you won't just be consuming vitamin E with these cookies, you'll be optimally absorbing it as well[*].
Keto Nut Butter Cookies
Alright, all you nut butter fans — it's time to satisfy that sweet tooth with some delicious nut butter keto cookies.
Begin by preheating your oven to 350 degrees.
Next, line your cookie sheet with parchment paper and place it to the side. If you're worried about the cookies sticking, you can use coconut oil to line the sheet as well.
Grab a large mixing bowl, and add in your ingredients — powdered sweetener, egg, almond flour, and nut butter.
Note: for your powdered sweetener, you can use whichever brand you like (Lakanto monk fruit, swerve, stevia); just make sure it's a natural low-carb sweetener and not an artificial sweetener like aspartame or sucralose.
Mix all the ingredients together until they're well-combined. Now, using your hands or a cookie scoop, roll the cookie dough into little dough balls and place them on the baking sheet.
Place the baking sheet into the pre-heated oven and bake for 12-15 minutes, or until they're golden brown.
These cookies should be chewy and a little crumbly, but not falling apart.
Let them cool to room temperature, and serve, placing any extras in an airtight container for later.
Baking tips:
If you want to make nut butter chocolate chip cookies, all you need to do is add some sugar-free dark chocolate chips to the cookie dough before baking.
You can also add a little bit of sea salt to these sugar-free cookies if you like.
If you prefer your cookies to be more crunchy, you can bake them for an extra couple of minutes — just keep an eye out, so they don't burn.
And finally, if you don't have any almond flour on hand, you can replace it with coconut flour. The same goes for Perfect Keto Nut Butter — in a pinch just use almond butter instead.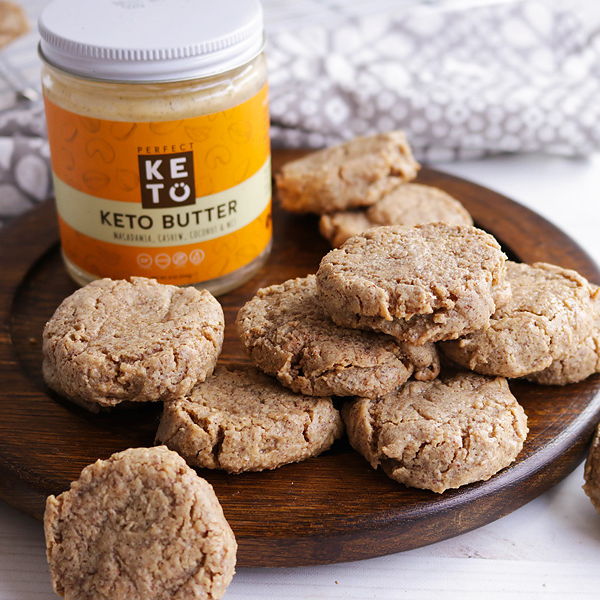 Print
Keto Nut Butter Cookies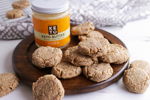 Upgrade your peanut butter cookie recipe with these keto nut butter cookies. They're gluten-free, sugar-free, low-carb, paleo, keto-friendly, and flourless.
Author:
Prep Time:

5 minutes

Total Time:

20 minutes

Yield:

15

1

x
Instructions
Preheat the oven to 350 degrees Fahrenheit.

Line a baking sheet with parchment paper and place to the side.

In a large bowl, combine all the ingredients together and mix.

Using your hands, roll the dough into one inch balls.

Place the balls on the baking sheet.

Bake for 12-15 minutes or until golden brown.
Nutrition
Calories:

148.6

Fat:

13.6g

Carbohydrates:

1.6g

Protein:

3.7g