Nuts might silently be holding you back from ketosis, so it's important to understand which nuts are the best for a nutrient dense, gut-friendly, ketogenic diet. You might be wondering if they are okay to eat, after all, they're tasty and high in fat. They are also widely marketed as being super healthy. But maybe you've heard some conflicting information about nuts and aren't sure if they fit into the ketogenic diet and promote ketosis. Let's set the record straight in this guide to the pros and cons of nuts on a ketogenic diet.
The quick answer is that you absolutely can have nuts on the keto diet—but it's best to do so with some knowledge under your belt because the issue isn't black and white. It's important to weigh both the benefits of eating nuts versus the downsides.
To help you make an informed decision about how nuts fit into your keto diet, let's take a look at both the pros and cons of eating them for this lifestyle.
Nuts on a Ketogenic Diet: Pros
Nuts are packed with benefits for the average person as well as for the keto dieter.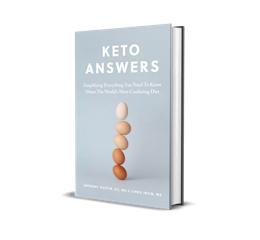 Keto Answers Book
Have a conversation with a leading keto doctor and keto researcher at your fingertips so you can feel better and keto with confidence.
Buy Now
Nuts are High in Healthy Fats
In terms of the high fat on a keto diet, nuts have great macros. As you know, the fats help you stay fuller, more satisfied, and in nutritional ketosis. If you choose the right types of nuts, you'll be getting mostly fat.
For example, just a serving (which is an average handful—around one ounce) of almonds (dry roasted) has 14 grams of fat, and the same amount of macadamia nuts provides you with 21 grams.
Nuts are Low in Carbohydrates *
Big asterisk here. In general, and when eaten in moderate quantities, nuts are low in carbs and great for a ketogenic diet. Make no mistake that if we are crushing cashew butter at all hours, we might be in for some trouble.
Again, generally speaking, in proportion to their fat content, nuts are pretty low in carbs. Looking at the examples below, an ounce of the almonds would have about 2.9 grams of net carbs and the same amount of macadamia nuts would have 1.5 grams. It's important to account for net carbs over total carbs, since nuts contain fiber, which is indigestible. Therefore, net carbs refer to the number that is usable by the body. Check out the Perfect Keto Guide to Net Carbs for more.
What does an ounce of nuts look like? 28 almonds would do it. It's approximately a small handful or the size of a golfball. Here is a great guide to eyeballing food portions and becoming a macro ninja.
While many nuts are typically low in carbs, they aren't all created equal. Here are the net carb counts in a 1 oz. portion of commonly eaten nuts: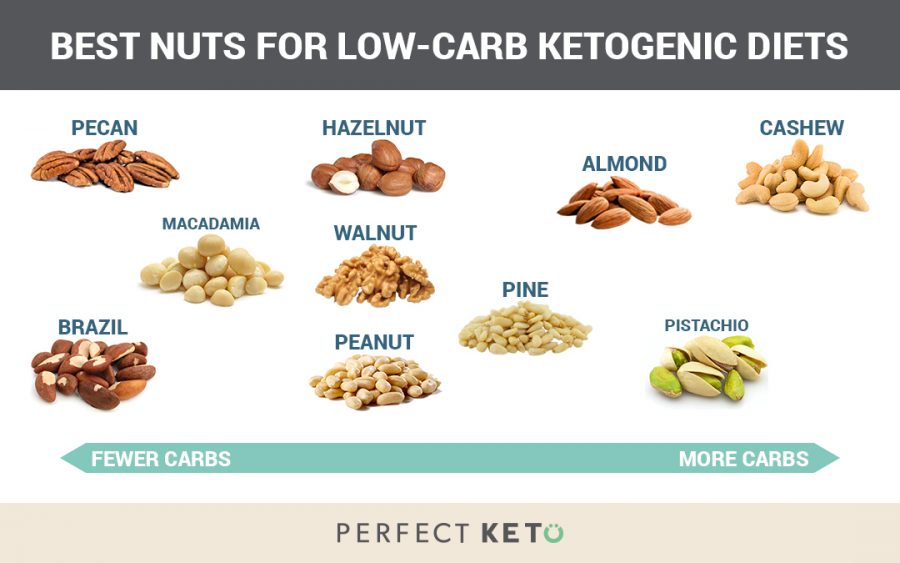 You'll want to focus more on those with lower carb counts like macadamia nuts, walnuts, or pecans. These are much safer, as the higher fat count also makes them more satisfying and harder to overeat. Be mindful of these numbers when choosing the type of nut, and remember to continue monitoring your ketone levels for any changes.
To make sure you don't overeat nuts, use the Perfect Keto Macro Calculator below to find your individual levels of fat, carbs, and protein.
Calculate Your Macros With the Keto Calculator
What unit of measurement do you prefer?
How active are you?
What is your weight goal?
Maintain your weight
Keep at 0%
Gain muscle
Enter 1 to 50%
Lose weight
Enter -1 to -50%
Hint
5 to 10% is a small gain/loss
10 to 20% is a moderate gain/loss
20%+ is a large gain/loss
What is your body fat %
| | | |
| --- | --- | --- |
| 2-5% | 10-13% | Essential Fat |
| 6-14% | 14-20% | Athletes |
| 14-17% | 21-24% | Fitness |
| 18-24% | 25-31% | Acceptable |
| 25%+ | 32%+ | Obesity |
How much do you want to consume?
We've prefilled these consumption amounts for beginners to intermediate keto-ers for the best results. If you're more advanced, adjust as needed.
Protein Ratio
Grams of protein per pound of lean body mass
Adequate protein should be eaten on a ketogenic diet. For most people, it is undesirable to lose muscle mass. Set this ratio at a minimum of .8g/lb of lean body mass. Increase the ratio based on your strength goals and exercise demands.
Net Carb Intake
It is highly recommended that on a ketogenic diet, you keep your carb intake to 5% or less of total calories. This works out to be an average of 30g net carbs a day.
Get your results
Enter your email address to see your results. You'll also receive:
The FREE Perfect Keto Recipe Book
Exclusive discount on your first order
Newsletter with keto articles & recipes
Perfect Keto founder Dr. Anthony Gustin (@dranthonygustin) realized nuts can be tricky to eat on keto — so he formulated his own keto-friendly nut butter with macadamia, cashew, coconut, and MCT oil, and has eaten countless jars by now. Follow him for more keto tips!
Nuts are High in Nutrients
Nuts contain a good dose of vitamins and minerals that are good for your health, including some that aren't found in as much abundance in other foods, such as magnesium, selenium, and manganese. They also contribute fiber, which isn't the case for other high-fat keto foods.
Nuts are Convenient
Even the wastelands of health like gas stations have nuts, so they're a pretty ideal keto snack when on the go and a good alternative to buying chips or other crunchy, salty snacks that can kill your ketosis.
Convenience is a huge component to maintaining your ketosis and a low will power ketogenic diet. This is the main reason Perfect Keto created a pure MCT Oil Powder, for a premium source of healthy quick fats, you can carry around. It's so important to not find yourself in the situation where you hit the panic button and reach for something terrible for your diet, just because it's your only option at the moment. Read more on why MCT supplements are crucial here, but for now, back to the nuts.
Nuts can make transitioning to a low-carb and ketogenic diet easier at the beginning since nut flours make great substitutes for wheat or other grains in bread and baked goods. However, these should be limited over time and are best for use when getting through the tougher transition period into fat burning.
Nuts are Anti-Inflammatory
Studies have shown intake of polyunsaturated fats, fiber, magnesium, and L-arginine found, all of which are found in nuts, may help reduce the risk of type 2 diabetes, heart disease death, and some inflammation markers in the body. In addition, nuts provide antioxidants that are protective for the body, so this is mostly a concern if you're eating them in large amounts daily.
Why is anti-inflammatory a good thing? Think about if you hurt your finger and it becomes inflamed. Acute inflammation can be a good thing and indicate your body is healing itself. Chronic inflammation means that a specific part of the body is no working well for long periods of time. If these are your gut organs, which deliver nutrients to your body and produce most of your serotonin, you are going to be performing at a vastly sub-optimal level.
Perfect Keto founder Dr. Anthony Gustin has a great podcast episode with the Healthy Gut Girl, on Stuff Your Doctor Should Know. They do a deep-dive on why gut health is so important on a ketogenic diet.
Nuts on a Ketogenic Diet: Cons
Now that we've covered what's good about keto nuts, let's go over some drawbacks to eating them that you'll also want to consider.
Nuts are High in Calories (and Sometimes Carbs)
I'll never forget the times I used to carry Costco-sized tubs of mixed nuts in my car and mindlessly snack, assuming I was "being healthy" until I looked at the label, did some quick (but not easy) math, and realized I just downed 800 calories in a few handfuls. Gasp.
Nuts are pretty high in calories. They're also really easy to overeat (a serving is about a handful, and we all know that's easy to take down in seconds), so while most are low in carbohydrates, too many servings will bump that carb content right up.
Plus, many nuts are salted and may have been roasted in a tasty oil. That makes them really enticing and can lead to overeating or binging on them, which can cause weight gain as well as kick you out of nutritional ketosis. With that in mind, if you find yourself feeling out of control around nuts, you might be better off staying away from them altogether.
Nuts Contain Anti-Nutrients
Despite the beneficial nutrients that nuts contain, they also have a lot of phytic acid, which might prevent mineral absorption of calcium, zinc, and iron. It can also make them hard to digest for some people. For this reason, you might want to only eat nuts that are roasted, soaked, or sprouted.
Whether or not you include nuts as part of your ketogenic diet is an individual choice. Remaining conscious of the calories and carb content, focusing on high fat and low carb nuts like pecan, brazil nuts, or macadamia nuts, and eating in moderation is really key.
That being said, nuts aren't an essential part of the ketogenic diet. If you notice that they're causing you issues like weight gain, taking you out of ketosis, or causing digestive problems, cutting them out might be the best option. Overall, it's about finding what will work best for you over the long-term.
Summary
Nuts can be used as a convenient tool for a nutrient dense, gut-friendly, ketogenic diet, but they are a double-edged sword that can be one of the things that silently hold you back.
Find the right nuts (high fat, low carb)
Be mindful of how much you are eating
Sources:
https://www.ncbi.nlm.nih.gov/pubmed/18296371
http://onlinelibrary.wiley.com/doi/10.1046/j.1365-2621.2002.00618.x/abstract