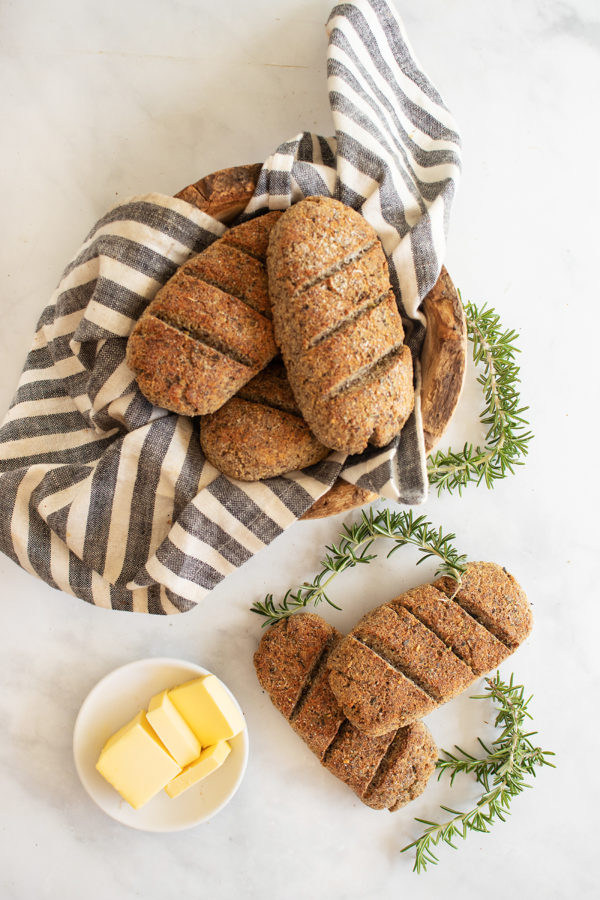 Bread can be one of the hardest things to give up on a low-carb diet. 
That's where this keto bread recipe comes in. While a lot of keto-friendly bread is dense and crumbly, this sourdough is the opposite. It uses multiple leavening agents to achieve a moist, airy, chewy texture, with the perfect level of tanginess.
This low-carb sourdough bread is gluten-free, sugar-free, and grain-free, and it fits perfectly into a paleo or keto diet.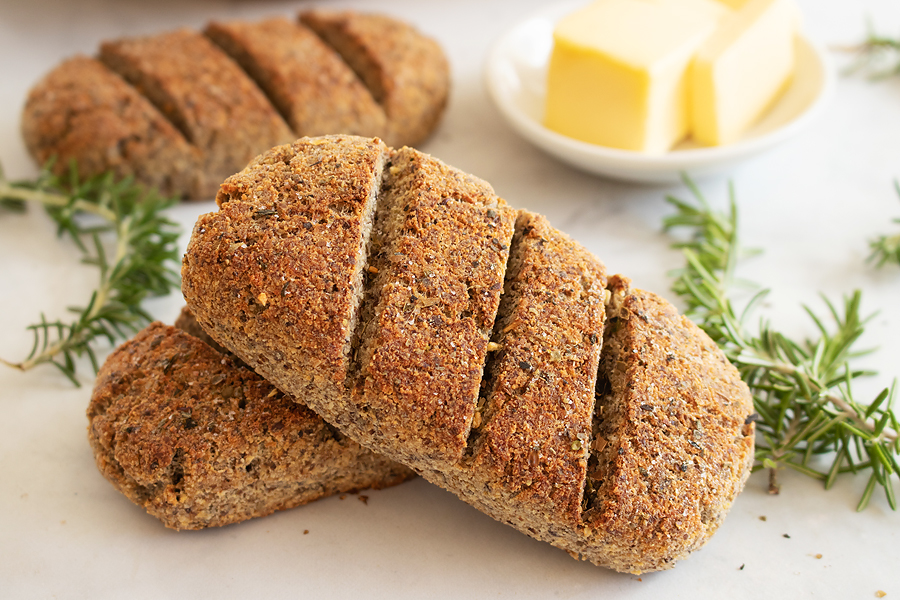 The Secret to Great Low-Carb Bread
Like many keto bread recipes, this sourdough has almond flour and coconut flour as its base. 
The trouble with these flour substitutes — and the reason so many keto breads are dense and dry — is that they don't rise the way normal flour does. 
Coconut flour absorbs a lot of the moisture that would usually make bread rise, and almond flour is heavy, which makes it difficult to achieve a light, airy texture.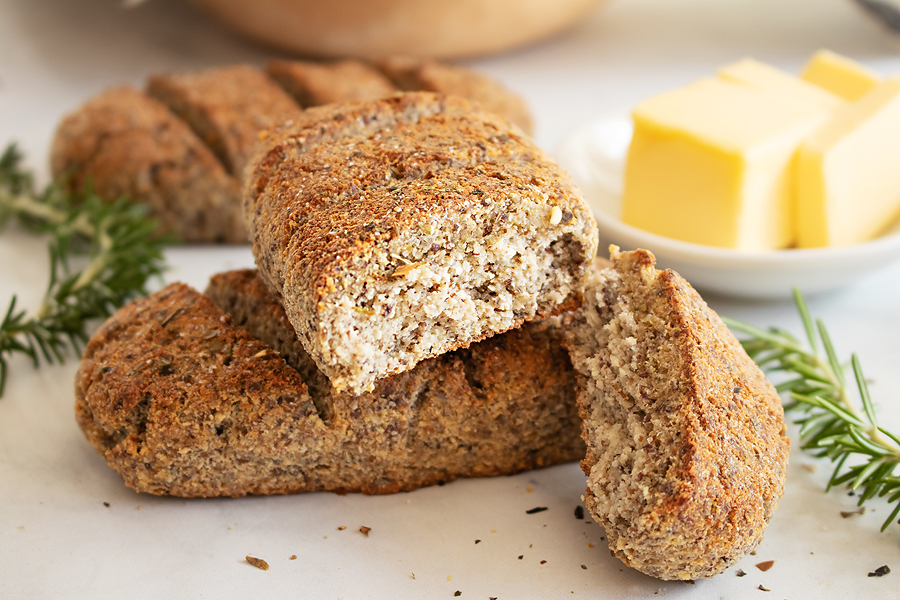 This recipe addresses both of those problems. It uses psyllium husk to create chewiness and retain moisture, and three different leavening agents — egg whites, baking powder, and baking soda — to make sure the sourdough rises properly and doesn't collapse under the weight of the flour. 
The result is a deliciously tangy keto sourdough that actually looks, feels, and tastes like real bread.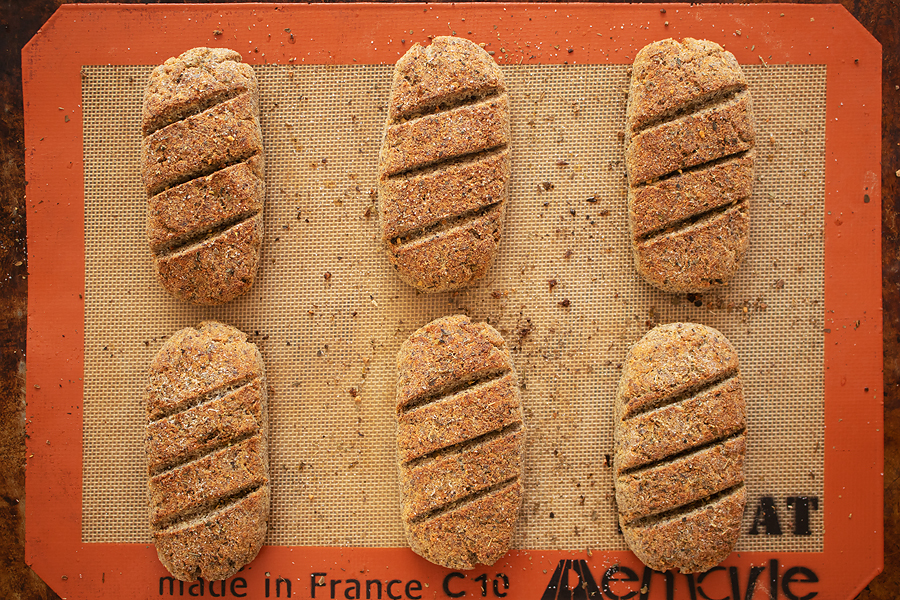 Make Your Own Psyllium Husk Powder for Keto Bread
Psyllium husk improves texture and moisture in low-carb breads. But not all psyllium husk is created equal. 
You can get psyllium husk in whole or powdered form, and the type you get actually makes a big difference when it comes to low-carb baking. You want to make sure you get whole psyllium husk — NOT pre-made psyllium husk powder. 
The psyllium husk powder is very finely ground, and has had a chance to settle during storage. It will end up making your bread flat and dense. 
Instead, buy whole psyllium husk and powder it yourself using a coffee grinder, spice grinder, or food processor. 
This seems like a small detail, but it makes a much bigger difference than you'd think when it comes to the bread's final texture.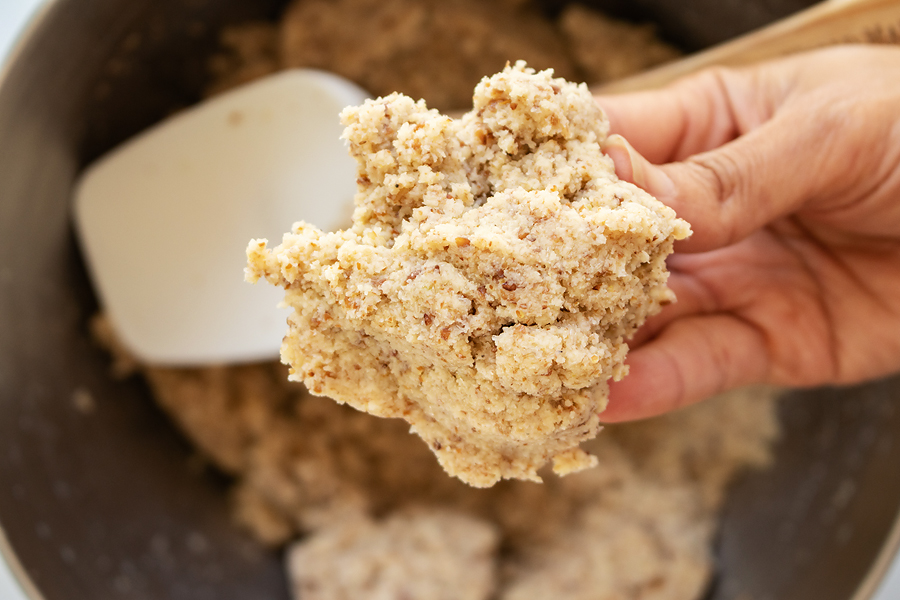 Can You Make Keto Sourdough Bread Without a Sourdough Starter?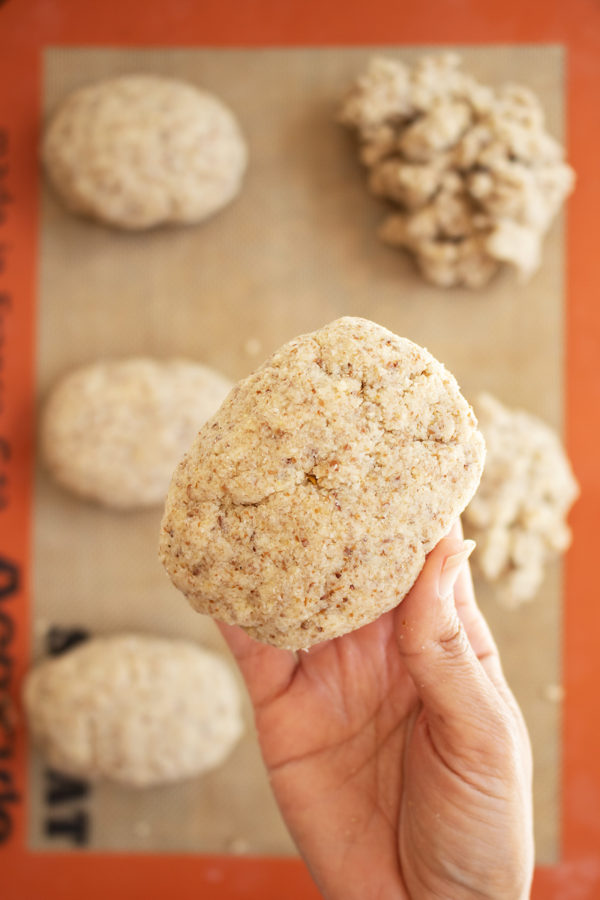 Yes, you can. Normally, you make sourdough with a sourdough starter, which is flour that has been taken over by sourdough yeasts and lactic acid bacteria. 
In traditional sourdough, the yeasts and bacteria eat sugars in the flour, producing acid that flavors the sourdough and carbon dioxide (CO2) that makes the bread rise. 
When you aren't using grains, sourdough starters don't work so well. Fortunately, there's an easy workaround. 
Without a sourdough starter, you need two things: something to make the bread sour, and something to make the bread rise. 
For rise, this recipe uses egg whites, baking powder, and baking soda, which provide plenty of lift.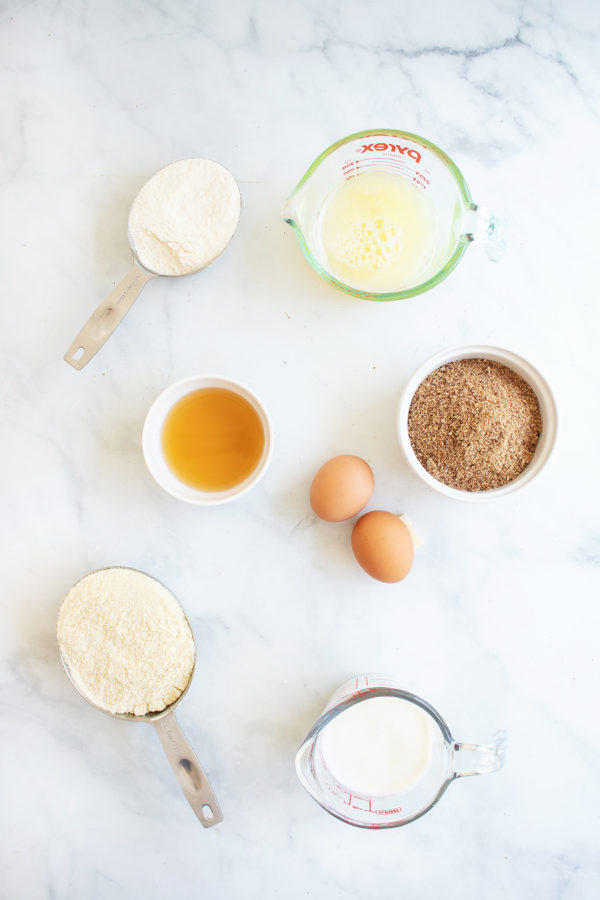 For sourness, you hydrate the dough with a combination of buttermilk and either sauerkraut juice or apple cider vinegar. Together, they make the perfect tangy sourdough flavor.


Your Keto Partner in Crime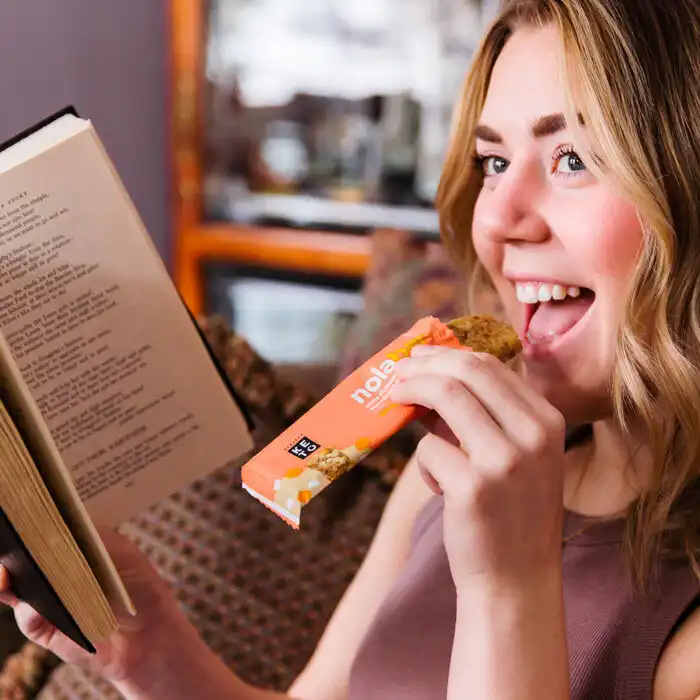 Embrace the Power of Quality Keto Products. Stay Fueled, Motivated, and Ready to Tackle Your Day.
Hurry
Keto Low-Carb Sourdough Bread Tips and Substitutions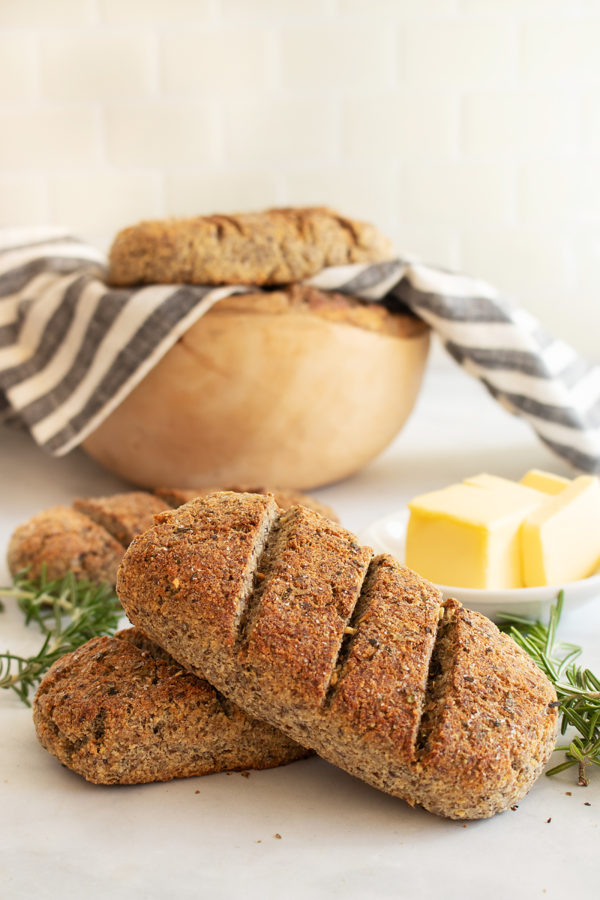 Short on ingredients? Not a fan of dairy?
You can modify this sourdough recipe to suit your diet, or to make use of whatever you have in the pantry. Here are a few tips:
No buttermilk

? No problem! Take 3/4 cup normal milk and squeeze the juice of half a lemon mixed into it. You'll end up with an excellent buttermilk replica. You can also just use kefir, if you have it.

Dairy-free

. You can also replace the buttermilk with 3/4 cup coconut milk and the juice of half a lemon, and replace the melted butter with olive oil. The result is a delicious dairy-free sourdough. 

Make keto sandwiches.

This recipe makes for a delicious sandwich bread that fits your ketogenic diet macros. Just swap your baking tray for a loaf pan. Once the bread cools, slice it into pieces and add mayo, cheese, salami, cold cuts, lettuce, tomato — whatever you want.

Change the shape

. You can adapt the shape of this bread in a lot of other ways, too. Sourdough baguettes, muffins, loafs, burger buns — this recipe works for all of them! Just note that you may have to shorten the baking time by 3-5 minutes for muffins or other smaller baked goods. 
Make your own mayo. This sourdough calls for egg whites, which means you'll be left with quite a few egg yolks. Don't let them go to waste! Instead, whip them up into a delicious mayonnaise, then serve it with the low-carb sourdough bread, avocado, and some meat and cheese for a tasty keto meal.
Print
The Best Keto Sourdough Bread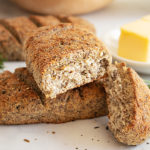 This keto sourdough bread recipe takes under an hour to make and yields airy, delicious sourdough rolls that are perfect for keto sandwiches.
Author:
Total Time:

45 minutes

Yield:

8

rolls

1

x
Scale
Ingredients
1 ½ cup

almond flour

⅓ cup

psyllium husk

½ cup

coconut flour

½ cup

flax meal

1 teaspoon

baking soda

½ teaspoon

baking powder

1 teaspoon

sea salt or kosher salt (plus extra for topping)

¾ cup

egg whites (about

6

large egg whites)

2

whole eggs

¾ cup

buttermilk

½ cup

sauerkraut juice or apple cider vinegar

½ cup

warm water

3 tablespoons

melted butter

1 teaspoon

Italian seasoning (optional)
Instructions
Preheat oven to 350F degrees and line a baking sheet with a silpat or parchment paper.  Set aside.

Add all dry ingredients to a large bowl (almond flour, psyllium husk, coconut flour, flax meal, 1 teaspoon salt, baking powder, and baking soda.  Whisk well to combine.

In a separate bowl add egg whites, eggs, buttermilk, sauerkraut juice, and water.  Whisk until frothy on top.

Slowly add wet ingredients to dry ingredients.  Mix well just until incorporated.

Divide and portion dough into small loaves.  Use a kitchen scale to make rolls all equal in size.

Score the tops of each roll with a sharp knife.  Bake for 30 to 35 minutes until the bottoms and edges of each roll are light golden brown.  

Remove from oven and brush tops of each roll with melted butter, then sprinkle with a little salt and Italian seasoning.  Place back in the oven under broil for 2-3 minutes until tops are a deep golden brown and crisp.  Keep an eye on the rolls to make sure you do not burn them.
Nutrition
Serving Size:

1 roll

Calories:

263

Fat:

20g

Carbohydrates:

12g (Net: 2g)

Fiber:

10g

Protein:

12g
Looking for more keto recipes? We've got you covered! 
Our recipe archives has hundreds of the best low-carb recipes that will keep you in ketosis. 
And if you're new to the ketogenic diet, this complete beginner's guide to keto has everything you need to get started today.