The best way to know what's in the food you eat is to make it yourself. This DIY keto mayo is surprisingly simple as long as you have the right tools and ingredients.
Mayo isn't generally at the top of health food lists with its high-fat and processed ingredients. But this keto mayo recipe is a good-for-you twist on the classic condiment.
This keto recipe for mayo can circumvent the pitfalls of the conventional stuff by skipping the processed oils and replacing them with healthy fats like coconut oil, extra virgin olive oil, avocado oil, or a combination of these. Toss in some pasture-raised or organic free-range eggs, and you have yourself a healthy condiment to include in your ketogenic diet.
What's Wrong With Regular Mayo?
While the nutrition community is changing its tune about the dangers of eating fat, it's true that most standard mayonnaise isn't healthy. But that's not because of the fat content. It's because of the types of fat used and other low-quality ingredients found inside the jar.
The main ingredients in conventional store-bought mayonnaise are either canola oil, soybean oil, vegetable oil, or a combination of these, eggs, white vinegar, unnamed seasonings, and preservatives like calcium disodium and potassium sorbate. You can see how such ingredients can put conventional mayo in the unhealthy category.
Canola oil, soybean oil, and vegetable oil carry a host of problematic issues, both for your health and for the environment. They are full of inflammatory omega-6 fatty acids and are also almost exclusively made with GMO seeds. These oils are also highly processed, to the point of rancidity. GMO crops are terrible for the environment, allowing for an excess of pesticide and herbicide usage, creating toxic runoff into lakes and streams, and poisoning the soil for future agriculture[*].
Add these unhealthy oils to the fact that, unless you're eating organic, your mayo likely also contains mass-produced eggs from chickens held in confinement without sun exposure. Beyond the humane concern for the animals themselves, these eggs are also devoid of the nutrition that you'd receive from eating eggs made by healthy pasture-raised chickens exposed to sunshine[*].
Healthy Keto Mayo Ingredients
Unlike other types of mayo you typically see in your local grocery store, this homemade mayonnaise comes jam-packed with key nutrients and healthy fats. The easy-to-throw-together ingredients for this satiating condiment include pasture-raised eggs, extra virgin olive oil, apple cider vinegar, and Himalayan sea salt.
Nutrition facts per tablespoon of this keto mayo recipe are:
14 grams of healthy fats
zero net carbs
124 calories
All of the ingredients in this yummy keto mayo contain healthy nutrients — especially apple cider vinegar (ACV). The health benefits of this type of vinegar are exceptional, especially when compared to the standard white vinegar used in conventional mayo.
Some of the benefits of ACV include fighting fungal and microbial infections, improving cholesterol levels, and reducing blood pressure.[*][*][*][*][*].
What other ways does ACV improve your health?
People use it to improve the health of their gut, regulate blood sugar, enhance blood flow, improve their skin, balance their pH levels, and more[*][*]. While more studies still need to be done, one small study showed that ACV aids in weight loss in combination with calorie restriction[*]. There's also a loose link between ACV topical usage and healthier hair[*].
Possible Recipe Substitutions
If you're in a pinch and don't have some of the ingredients for this keto mayonnaise, there are a few substitutions you can make and still end up with a delicious healthy alternative to standard mayo.
Lemon Juice 
If you don't have apple cider vinegar at home, it's also fine to use fresh lemon juice. Lemon juice is alkalizing and will add great flavor to your mayo. In fact, if you want the zing of lemon but want to reap the benefits of ACV, feel free to use 1 tablespoon of each in the recipe.
Mustard Options
If you don't have Dijon mustard, you can either omit it entirely or swap it with standard yellow mustard. Mustard powder will also work. Just drop the measurement down to 1/4 teaspoon.
Avocado Oil and Coconut Oil
If you don't have olive oil, substitute with either avocado oil or a combination of avocado oil and coconut oil. Using coconut oil on its own is great if you're immediately using the entire serving of mayo. If not, it will harden in the refrigerator and be difficult to use afterwards.
Coconut oil also imparts a stronger coconut flavor if it's the only oil you use. If you don't plan to cook with your mayo, you could also consider using straight MCT oil, but it doesn't have much flavor.
How to Use Keto Mayo
Whether you're staying in for the night and want a little snack, or you need a last-minute appetizer idea, this keto mayo goes with everything. It's a quick fix packed with all the vitamins and minerals your body needs.
Mix with a packet of sugar-free powdered ranch dressing mix, and blend in chopped herbs and veggies for a delicious dipping sauce. You can also add other seasonings for a delicious aioli that suits the cuisine you'll be eating. It's also a great base for a healthy keto tuna salad and salad dressings. Just add more vinegar and olive oil to thin it out and whisk until everything is thoroughly mixed. Blend in an avocado for something akin to goddess dressing.
Just remember: This condiment contains raw egg, so it needs to be refrigerated immediately.
Print
Healthy Keto Mayo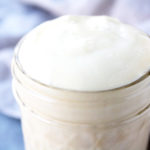 This yummy low-carb mayonnaise is the ultimate keto substitute for mayo. It's gluten-free, sugar-free, paleo, and dairy-free, and makes for the perfect condiment to include in any keto meal plan.
Author:
Prep Time:

5 minutes

Cook Time:

N/A

Total Time:

5 minutes

Yield:

1 cup

1

x
Category:

Sides

Cuisine:

American
Instructions
After allowing the egg to reach room temperature (leave out of refrigerator for 2 hours), carefully remove the egg yolk from the egg white. Dispose of egg white or refrigerate and save it for something else.

In the mason jar, add egg yolk, olive oil, apple cider vinegar, mustard, and salt.

Place immersion blender into the bottom of the jar, touching the bottom. Turn stick blender on and hold at the bottom of the container for 30 seconds. The mixture will quickly become the consistency of mayonnaise.

After 30 seconds of blending, turn off immersion blender. Bring immersion blender blade to top of mayonnaise mixture, turn on, and move the blender straight down. Do this three to four times, always turning the immersion blender off once the blade has reached the bottom of the container and turning it back on only once the blade is back to the top of the mixture.

Once emulsified, serve on your favorite savory keto dishes or refrigerate immediately.
Nutrition
Serving Size:

1 Tbsp

Calories:

124

Fat:

14.3g

Carbohydrates:

0g

Protein:

0.4g