Often times on a ketogenic diet, you might shy away from eating vegetables simply because they contain too many carbs. But for optimal health and nutrition, vegetables are absolutely necessary for adequate vitamins, minerals, and antioxidants that help you thrive. Fortunately, dishes like this keto taco salad can help.
The key to keto is incorporating a wide variety of greens, cruciferous vegetables, and colorful low-glycemic veggies that will help provide the specific nutrients and fiber your body needs without kicking you out of ketosis.
Some of the vegetables used in this salad are:
Spinach
Arugula
Cucumbers
Bell Peppers
Health Benefits of Keto Taco Salad Vegetables
The vegetables in this keto taco salad are loaded with health benefits. Just look at what these veggies can do for your body.
Spinach and Arugula
These leafy greens are filled with minerals, vitamins, antioxidants, and phytonutrients such as potassium, manganese, zinc, magnesium, iron, and calcium. They are also a rich source of vitamins A, B6, and K, as well as containing traces of the other essential vitamins[*].
Greens also include beta-carotene. This is not only beneficial for your eyesight, but it also offers anti-inflammatory compounds, which help protect your heart and reduce the effects of conditions such as arthritis[*].
Cucumbers 
This vegetable is made up of at least 95% water, making it an ideal option to help maintain proper hydration. Cucumbers also contain vitamins A, C, and folic acid[*].
They contain flavonols and polyphenols which help protect your brain, reduce the risk of cancer, and help to reduce inflammation in your body[*].
Bell Peppers 
The pepper family contains a wide variety of essential vitamins, antioxidants, and minerals. One serving of peppers contains over twice the daily recommended amount of vitamin C and is a rich source of vitamin A, which helps boost immunity[*].
Bell peppers also contain carotenoids, which are antioxidants that help battle free radicals that can lead to cancer and heart disease[*].
Not only do these low-glycemic vegetables provide a wide variety of healthful benefits, but they also make this salad colorful and enticing.  Each bite is different with so many amazing textures and flavors.
You will get spice from the seasoning on the meat and peppers, zest and tang from the lime, and coolness from the cucumbers.  This is a filling salad that you'll come back to over and over again.
Low-Carb Salad Dressing for Taco Salad
One of the best parts of a salad is the creamy salad dressing — it ties everything together. Luckily, being on keto doesn't mean you have to give up all salad dressings.
One of the easiest "dressings" is sugar-free salsa. Just spoon a little bit over the meat and veggies in this recipe and give it a toss to coat.
If you want something creamier, try this creamy keto avocado lime salad dressing:
Juice from one lime
1 teaspoon of olive oil
1 tablespoon water
1/2 avocado, pitted and diced
1 teaspoon chopped garlic
1/4 teaspoon salt
Mix all the ingredients together until creamy. You might want to use a food processor to make it all combine completely. You can also throw in a few pieces of cilantro if you want.
Low-Carb Taco Salad Toppings
Vegetables are required for optimal health and nutrition. Fill your keto taco salad with a variety of veggies. You can change it up from week to week and create an entirely new salad each time.
Need some ideas for salad toppings or mix-ins? Try one or all of these:
Jalapeno
Guacamole
Red onions
Green onions
Cherry tomatoes
How to Make Your Own Taco Seasoning
Conventional pre-packaged taco seasoning at the store will most likely have either flour or cornstarch in it. Either way, it adds carbs to your dish.
Making your own taco seasoning is super easy and will prevent you from ingesting those hidden carbs.
Bonus: homemade taco seasoning makes an excellent DIY gift idea too.
The recipe in the printable card below has an incredible recipe for homemade taco seasoning. These are the spices you will need:
Keto Replacement for Taco Shells
If you miss the crunch of taco shells in your salad, you aren't alone.
But as much as you miss them, avoiding them is beneficial for your health and your keto diet.
Sweet corn and corn tortillas will spike your blood sugar as much as rice noodles or oatmeal[*].
If the taco shell is made from a flour tortilla (rather than corn) you're no better off. A 12-inch flour tortilla contains almost 60 grams of carbohydrates or almost three days' worth of carbohydrates if you want to stay in ketosis[*].
To make a low-carb taco salad, do things the old-fashioned way. Serve it in a large salad bowl, forgetting the tortilla shell altogether.
Or, you can crisp up some low-carb tortillas and throw them in your salad. Another fun idea is to make a crispy low-carb salad bowl.
Make a Crispy Cheese Salad Bowl
It's easier than you think to make your own crispy cheese salad bowl for your salad. All you need to do is make a low-carb tortilla. Then, put them inside a greased muffin tin, and bake at 350°F for about 15 minutes or until crispy.
Keto Taco Salad Protein Options
By just making a few changes, you can keep this recipe fresh and new every week.
This recipe uses grass-fed beef. But there are other meats you can use instead. Keep in mind that if you are counting macros, when you use different meat it will change the number of carbs in the salad.
Here are some other protein ideas for taco salad:
Chicken
Chorizo
Steak
Ground turkey
Grilled salmon
Make this taco bowl for your next Taco Tuesday. Packed with healthy, low-carb vegetables, keto-friendly proteins, and lots of Mexican flavors, this is the perfect low-carb recipe to work into your weekly line-up.
Whenever you're at a loss for dinner or lunch ideas, remember to stick to the basics. High-quality proteins with a side of low-carb vegetables are always keto-friendly and provide a wealth of options. For more delicious meal ideas, view the recipe section on this website.
Print
Zesty Keto Taco Salad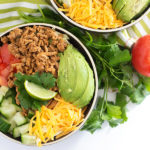 This delicious keto taco salad is loaded with all of your favorite taco fixings and bursting with ingredients so you can feel fuller longer.
Author:
Prep Time:

5 minutes

Cook Time:

25 minutes1

Total Time:

20 minutes

Yield:

4

servings

1

x
Category:

Sides

Cuisine:

French
Instructions
Heat a large skillet under medium heat and coat with butter, coconut oil, or nonstick spray. 

Add ground beef and add all seasonings to the pan. Stir well and cook until browned. 

Remove from heat and let cool slightly.

Build salads by adding lettuce and veggies, cheese, and sliced avocado. Top with ground meat, salsa, and a generous squeeze of lime. Toss to combine.
Nutrition
Serving Size:

1 1/2 cups

Calories:

430

Fat:

31g

Carbohydrates:

Net Carbs: 7g

Protein:

29g
Keywords: keto taco salad