on April 25, 2018
Often times on a ketogenic diet, people tend to shy away from eating vegetables simply because they could contain too many carbs which can interfere with ketosis.  However, for optimal health and nutrition, vegetables are absolutely necessary for adequate vitamins, minerals, and antioxidants that help us to thrive.  The key is incorporating a wide variety of greens, cruciferous vegetables, and some colorful low glycemic veggies that will help provide those specific nutrients and fiber we need, even on a ketogenic diet.
Some of the vegetables used in this salad are:
Spinach

Arugula

Cucumbers

Bell Peppers
What are the health benefits for these vegetables?
Spinach & Arugula-

These leafy greens are filled with minerals, vitamins, antioxidants, and phytonutrients such as potassium, manganese, zinc, magnesium, iron, and calcium.  They are also a rich source of vitamins A, B6, and K, as well as containing traces of the other essential vitamins. Greens also include beta carotene, which is beneficial for our eyesight, as well as anti-inflammatory compounds, which help protect the heart and reduce the effects of conditions like arthritis.

Cucumbers-

This vegetable is made up of at least 95% water, making it an ideal option to help maintain proper hydration.  Cucumbers also happen to be a rich source of vitamins A, C, and folic acid. They contain flavonols and polyphenols which help protect the brain, reduce the risk of cancer, and help to reduce inflammation in the body.

Bell peppers-

The pepper family is not only versatile in cooking, but also contains a wide variety of essential vitamins, antioxidants, and minerals.  One serving contains over twice the daily recommended amount of vitamin C and is also a rich source of vitamin A, which helps boost immunity.  Bell peppers also contain something called cartenoids, which are antioxidants that help reduce the risk of cancer and heart disease.
Not only do these low glycemic vegetables provide a wide variety of healthful benefits, they also make this salad colorful and enticing.  Each bite is different with so many amazing textures and flavors. You will get spice from the seasoning on the meat and peppers, zest and tang from the lime, and coolness from the cucumbers.  This is a filling salad that you will come back to over and over again.
Print
Zesty Keto Taco Salad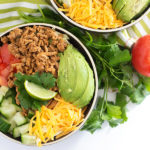 This refreshing keto taco salad is loaded with all of your favorite taco fixings and bursting with fresh veggies that will help to keep you fuller longer.
Author:
Prep Time:

5 minutes

Cook Time:

25 minutes1

Total Time:

20 minutes

Yield:

4 servings

Category:

Sides

Cuisine:

French
Ingredients
1 lb ground grass fed beef
1 teaspoon ground cumin
1/2 teaspoon chili powder
1 tablespoon garlic powder
1/2 tablespoon paprika
1 teaspoon salt
1/2 teaspoon pepper
4 cups romaine lettuce
1 medium tomato
4 oz cheddar cheese
1/2 cup cilantro
1 large avocado
1/2 cup favorite salsa
2 small limes
1 cup chopped cucumber
Instructions
Heat a large skillet under medium heat and coat with butter, coconut oil, or non stick spray. Add ground beef to pan and add all seasonings. Stir well and cook until browned. Remove from heat and let cool slightly.

Build salads by adding lettuce and veggies, cheese, and sliced avocado. Top with ground meat, salsa, and a generous squeeze of lime. Toss to combine.
Nutrition
Serving Size:

1 1/2 cups

Calories:

430

Fat:

31g

Carbohydrates:

Net Carbs: 7g

Protein:

29g
Keywords: keto taco salad