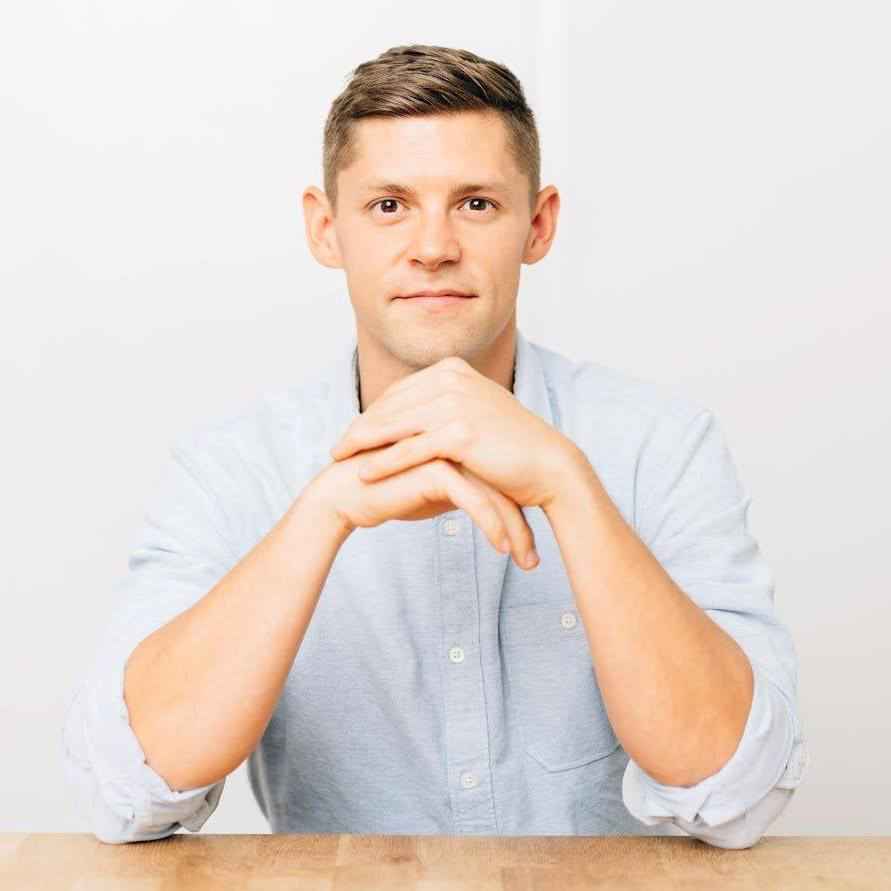 Dr. Anthony Gustin is a board-certified sports chiropractor, functional medicine practitioner, entrepreneur, podcast host, and founder of Perfect Keto.
on August 20, 2018
One of the most difficult aspects of eating a ketogenic diet can be eating out.
If you forget your keto-friendly lunch at home one day or find yourself starving without time to cook, it can feel impossible to find a fast food option that won't kick you out of ketosis and stall your weight loss.
If you follow our founder Dr. Anthony Gustin, you'll see that a quick keto meal can be a side of bacon with some cold brew coffee:
Not everyone has access to amazing bacon and coffee at all times, but we have good news:
You can eat keto anywhere (yes, even at fast food places) as long as you know what and how to order.
This keto fast food guide will show you exactly what's available at the top keto-friendly fast food restaurants, how to order and how many carbs each option contains so you can eat out confidently.
Remember: You should eat real, whole foods as often as possible.
Keto isn't healthy in and of itself; it's the quality and nutrient-density of your food that determines your long-term health.
Use these options when you're in a pinch — not as your main sources of food.
Before you dive in, we've put together a FREE keto meal plan for you so you don't have to eat out.
Click here to get your keto meal plan for free.
The Top 13 Keto-Friendly Fast Food Joints
Most of these restaurants are available just about anywhere. Whether you're out with friends or on a road trip, here are the best places to scope out your low-carb fix.
Subway
You can find a Subway just about anywhere, and although it's a sub shop, any of their sandwiches can be turned into a salad, instantly slashing the carbs.
What to Order
Choose a sub option, make it a salad, add cheese, focus on low-carb vegetables, and pick a low-carb dressing from below.
Just keep in mind some sub options are higher carb than others. Here are the lowest carb options with cheese, black olives, green peppers, lettuce, spinach and pickles as the veggie options (no dressing yet):


Subway also has a useful Nutrition Calculator so you can plan ahead.
Chipotle
Many people love Chipotle for its focus on sustainability and fresh food. If you're one of those people, you'll be happy to learn that it's very easy to stay keto at Chipotle!
What to Order
The salad bowl is the way to go at Chipotle. And don't be fooled by the name — you can make yourself a hearty salad here that will satiate your hunger. Start with: 



Choose from any of their meats:


Add any of these low-carb additions (you can ask for double meat, although they may charge you extra):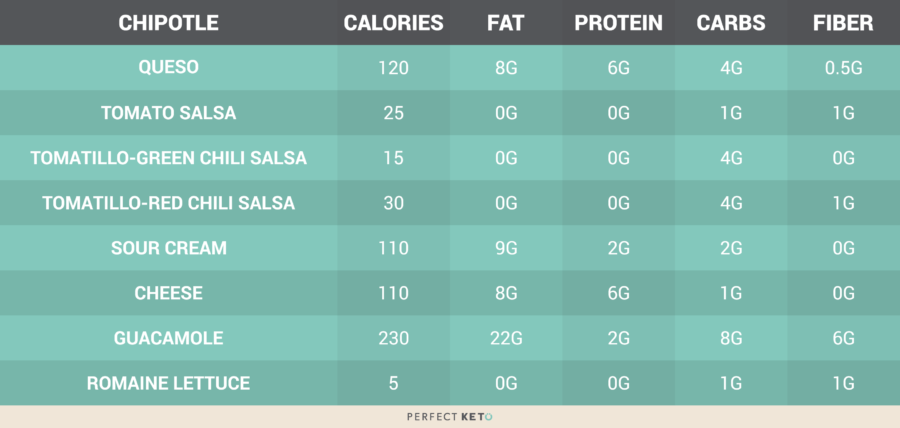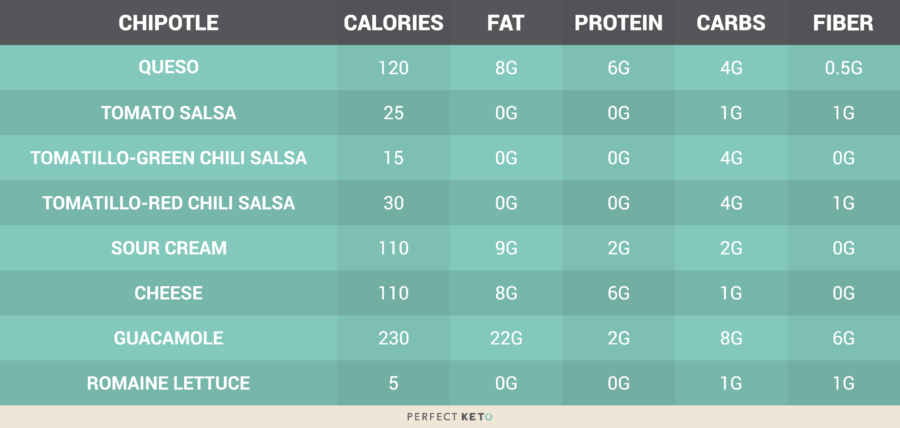 To plan ahead before going to Chipotle, check out their Nutrition Calculator.
McDonald's
McDonald's is a classic for quick and cheap fast food, and it's no enemy to the low-carb diet if you just toss the bread.
What to Order
Pretty much all of the breakfast sandwiches sans bread are fair game, including:


For a morning caffeine boost, add a black coffee.
For the rest of the day, any grilled chicken sandwich or burger without the bun or ketchup will work. Here are some of the lower carb options:


When you ask for no bread, they'll usually serve these in a bowl with some lettuce and a fork. Some places might not know what to do if you order "bunless," but just order and toss the bun.
Stay away from the hot cakes, hashbrowns, burritos, and oatmeal. Chicken nuggets are off limits, as the breading makes the carb count rise quickly.
And the fries are obviously a no-go.
For more, see McDonald's Nutrition Calculator.
Burger King
Stick with burgers, cheeseburgers, grilled chicken sandwich, Whopper, or Double Whopper without bread or ketchup. Some of the other sandwiches, like the Farmhouse King, creep up in carbs without lots of customization.
Options include: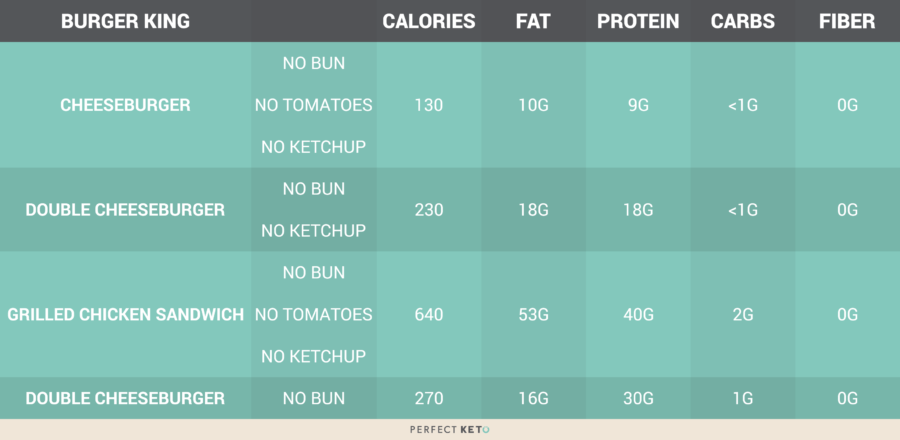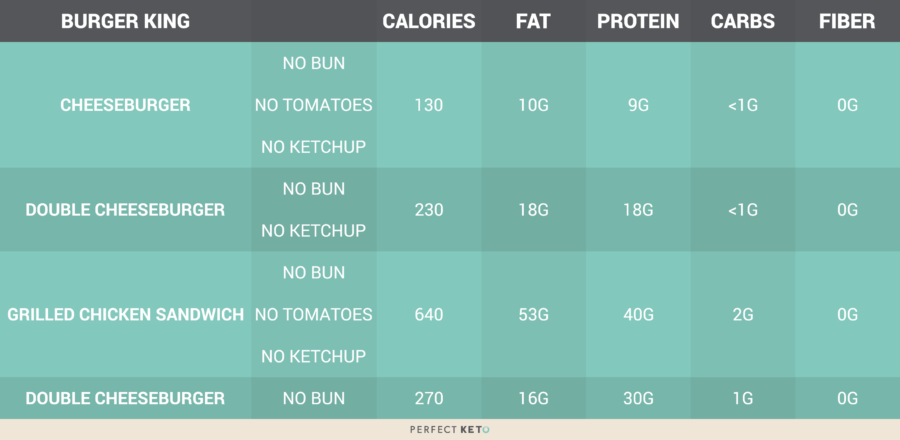 For more nutrition info, see Burger King's Nutrition Calculator.
Arby's
Arby's is known for its roast beef, but they have a variety of meat options and you can order many of them sans bread for a low-carb alternative.
What to Order
Many of the sandwiches are good without the bun. Here are your options:
Sandwiches: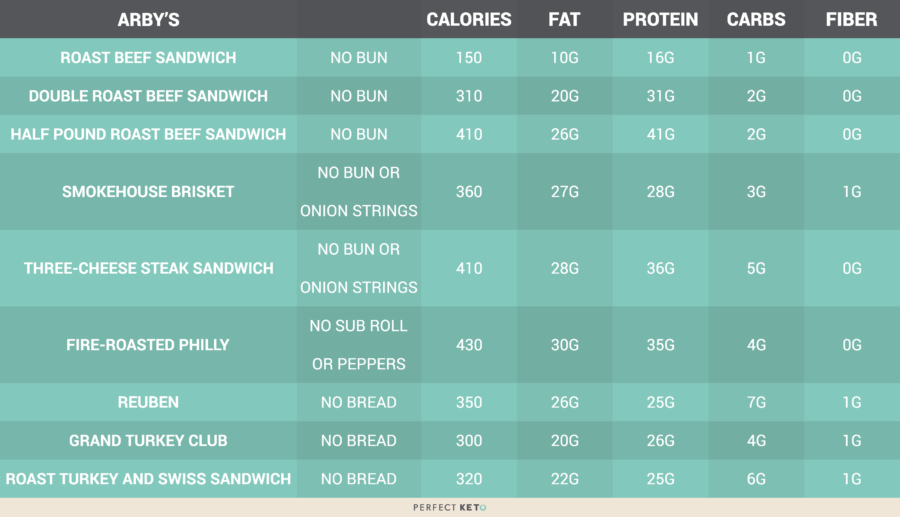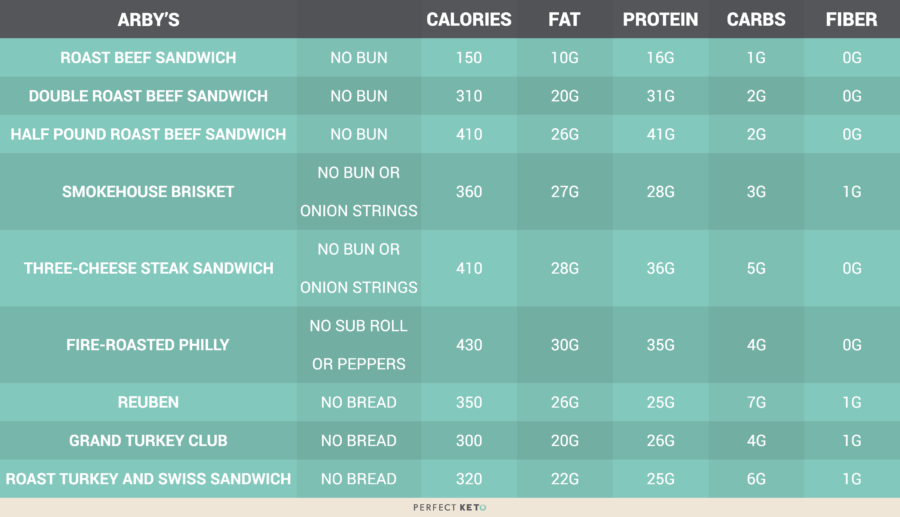 Sliders:


Salads:


Salad dressings:

Pair any of these breadless sandwich or slider with a side salad for a bigger meal.
See Arby's Nutrition Calculator here.
Taco Bell
To save money and get what you want at Taco Bell, stick to sides. Then you don't have to pay for taco shells just to throw them out.
What to Order
Order a side of lettuce, side of beef, side of chicken, and side or two of guacamole, then combine for a quick and cheap meal.
KFC
Just one medium-sized piece of fried chicken here is around 8-11 carbs. But if you still have a craving for some chicken, there are a couple of grilled options.
What to Order


There's one option for a side here:


Wendy's
Wendy's is another burger-heavy place, so like the others, you can make do without kicking your body out of ketosis by removing buns.
There's no nutritional information on the Wendy's site, so you'll just have to assume with this one.
What to Order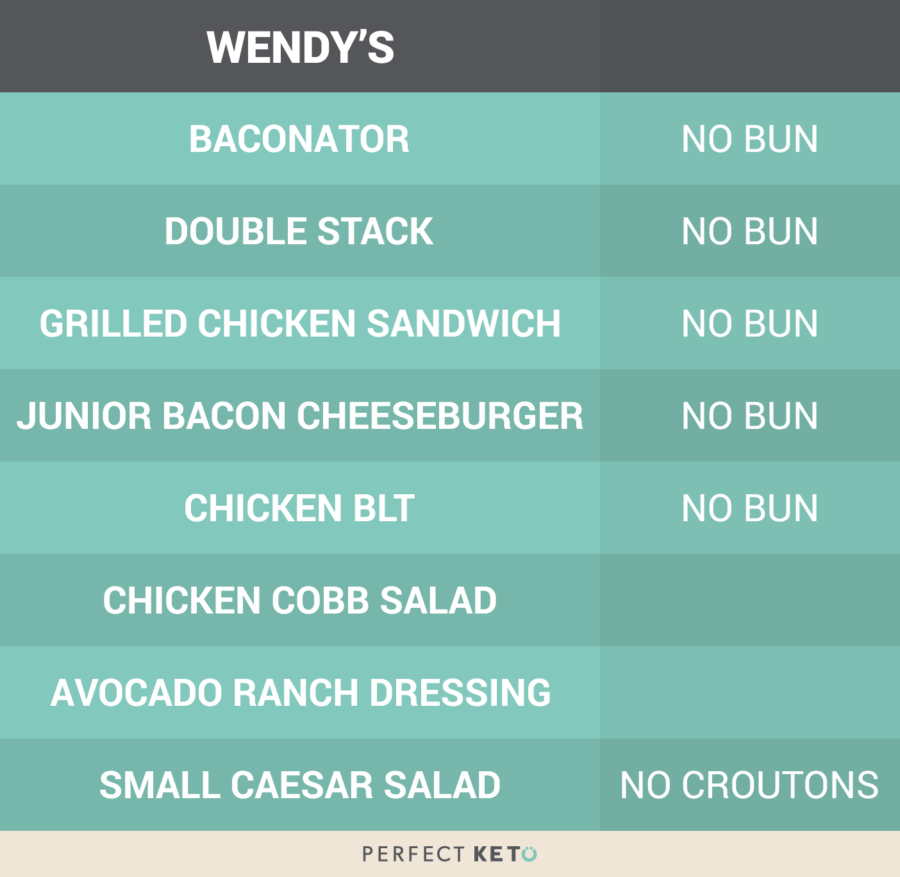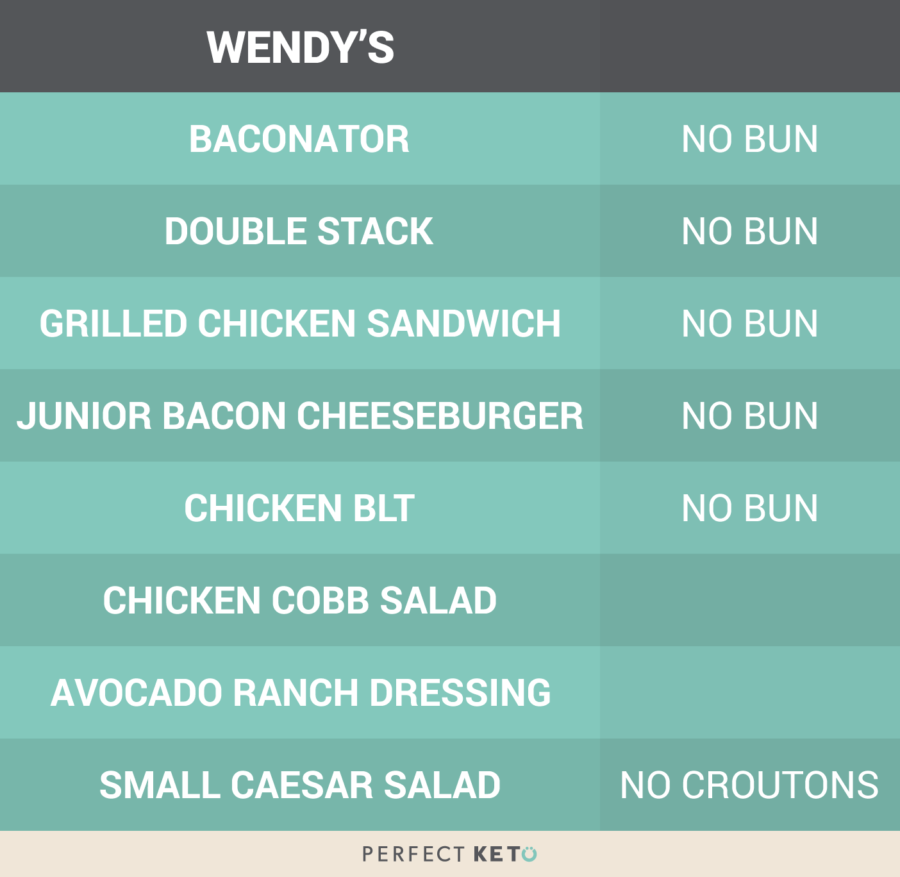 Extra tips:
Order any burgers from the value meal and chop the patties into a Caesar salad.

Order an extra chicken fillet on any sandwich.

Order the grilled chicken patty with cheese and bacon on top.

They have whole eggs! Order a bunless burger with an egg on the side.
Carl's Jr. and Hardee's
Carl's Jr and Hardee's are owned by the same company, so they have similar menu items with different names. Thankfully, there are plenty of keto options at both.
What to Order
You can have any of these burgers (except the Teriyaki Burger) in a lettuce wrap, just nix the bun, ketchup, and tomatoes if applicable.
Carl's Jr. has the advantage of the Lettuce-Wrapped Thickburger in both ½ and ⅓ pound sizes.
At Hardee's, you can just order the Thickburger without the bun for the same experience.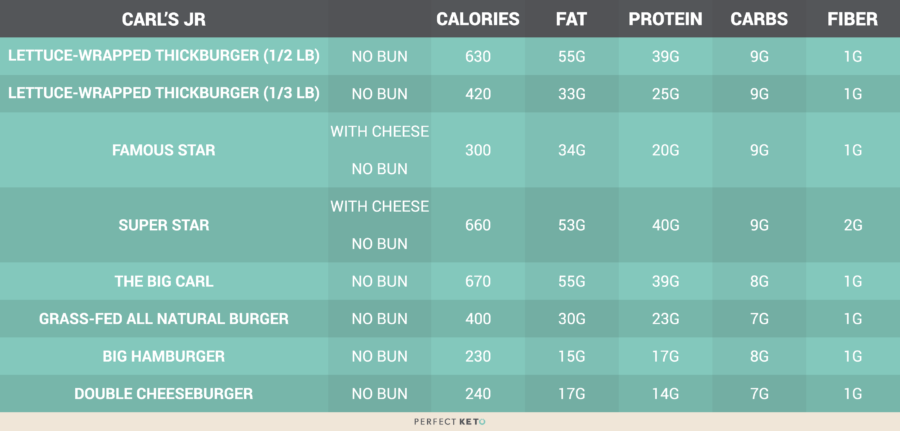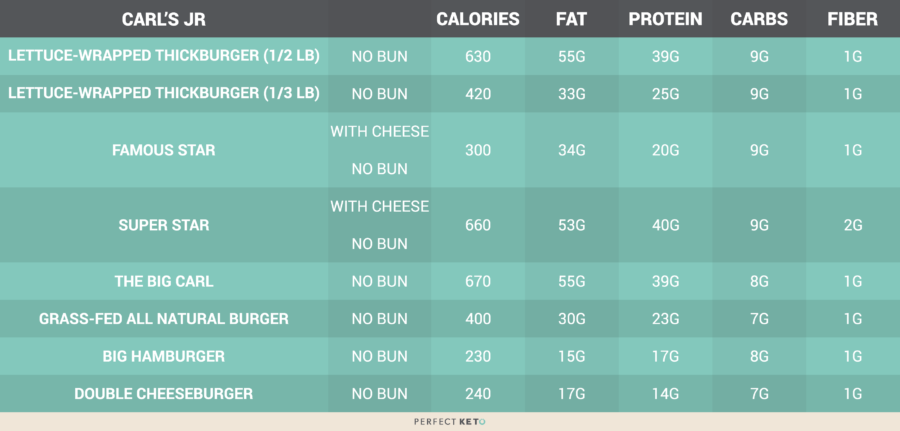 Hardee's breakfast options:
Low-Carb Breakfast Bowl

: 660 calories, 52g fat, 38g protein, 10g carbs, 2g fiber
For extra fat, add bacon and/or guacamole. For some extra veggies, get a side salad but don't use the dressing.
See Carl's Jr Nutritional Calculator and Hardee's Nutrition Calculator.
Jimmy John's
Like Subway, any sandwich option can be ordered without bread. Just order it as an "Unwich" and you'll be good to go with a low-carb lunch or dinner.
The only downside is Unwiches can be pretty pricey for the lack of bread. But you can order "Slim" Unwiches too, which still give you a good amount of substance for a lower price.
What to Order
Any of the sandwiches as Unwiches, but here are our top recommendations:






Sides here are chips or cookies, so stick with the Unwiches only.
See Jimmy John's Nutrition Calculator here.
Jersey Mike's
Another sandwich place where you can nix the bread (order it as "in a tub.") Plus, their meats are sliced-to-order, so you'll know they're fresh.
What to Order
All of their Cold Sub sandwiches are good "in a tub," but quite a few of the Hot Subs are higher in carbs — especially the BBQ Beef with 38 grams of carbs in one serving.
Here are the best high-fat/low-carb options:


You can see Jersey Mike's Nutrition Facts here.
Five Guys Burgers
You can order any of the burgers with a lettuce wrap or order it as a "salad" option. All of their toppings are virtually no-carb too, except for the BBQ sauce, ketchup, and relish.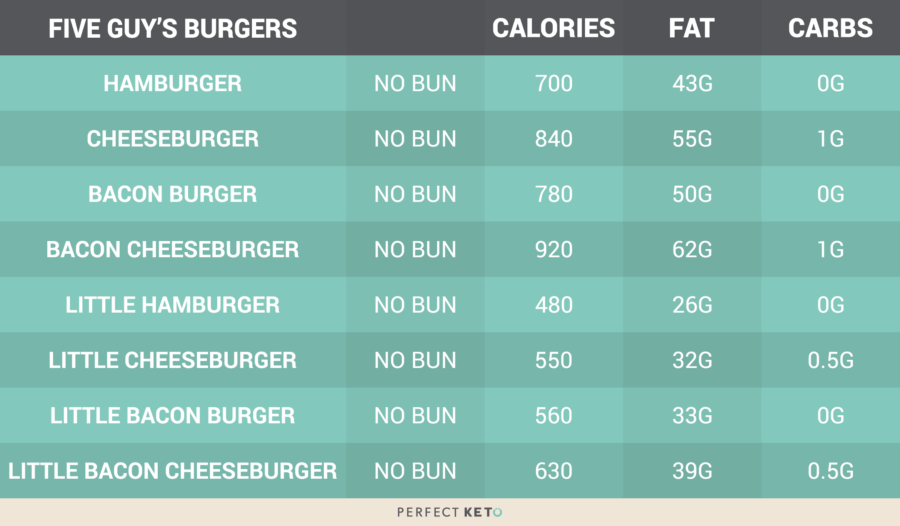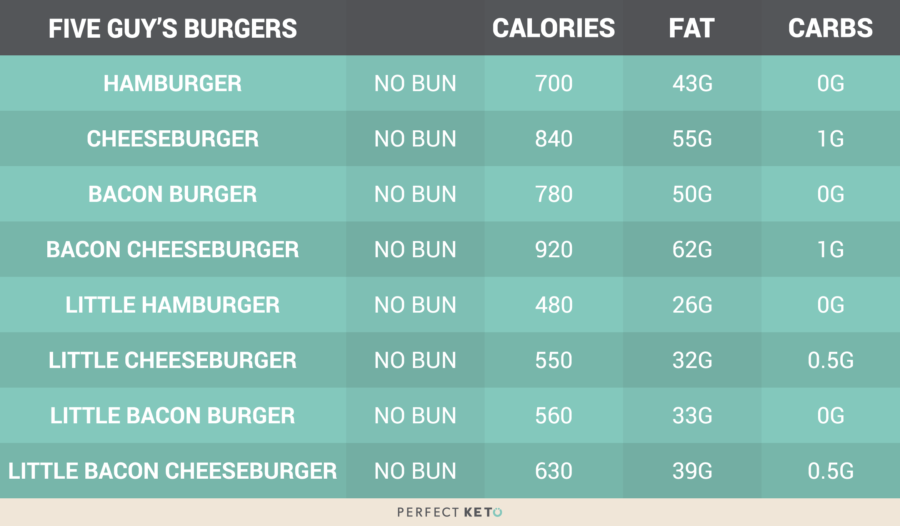 See their Nutrition Information here.
In-N-Out Burger
The simple menu and easy low-carb options at In-N-Out make it perfect for keto fast food.  Order any burger "Protein Style" to replace the bun with lettuce.
What to Order


You can also order your burger Double Meat, 3×3 (three beef patties), 4×4 (four beef patties), with mustard-cooked patties, or the Flying Dutchman — a "cheese sandwich" with two meat patties as the bun.
See their Nutrition Info here.
Tips for Eating Keto Fast Food Anywhere
If you're in a food desert or don't come across any of the above places while traveling, never fear. Here are some quick tips for making meals keto at any place on the road:

DIY Keto Fast Food
Fast food options are convenient, but remember the healthiest choice is almost always homemade.
Thankfully, it's easy to make keto versions of fast food at home. Here are some recipes to try:
Low Carb Fast Food Options 
Yes, You Can Eat Fast Food on Keto
The ketogenic diet is all about reducing carbohydrate intake so your body can go into ketosis, using fat for fuel instead of glucose (carbs).
The ketogenic diet is only as healthy as you make it. And even if you're technically in ketosis, getting real, whole, nutrient-dense foods is the key to living a long and healthy life.
These recommendations are for emergencies only. And most of your diet should revolve around high-quality, fresh protein, plenty of vegetables, and healthy fats.
If you rely on this list too much, you can completely stall your fat loss efforts. Inflammation can spike and mental and physical performance can suffer. 
Just because it's low-carb doesn't make it healthy.
One way to avoid needing to opt for unhealthy options is to make sure you're meal prepping every week. We've made that easy for you by creating a keto meal plan:
Click here to get the keto meal plan for free.
But if you must eat fast food, rest assured that there are some ketogenic fast food options out there.
Use the above options to guide you during your next fast food run, and don't be afraid to get creative and customize.