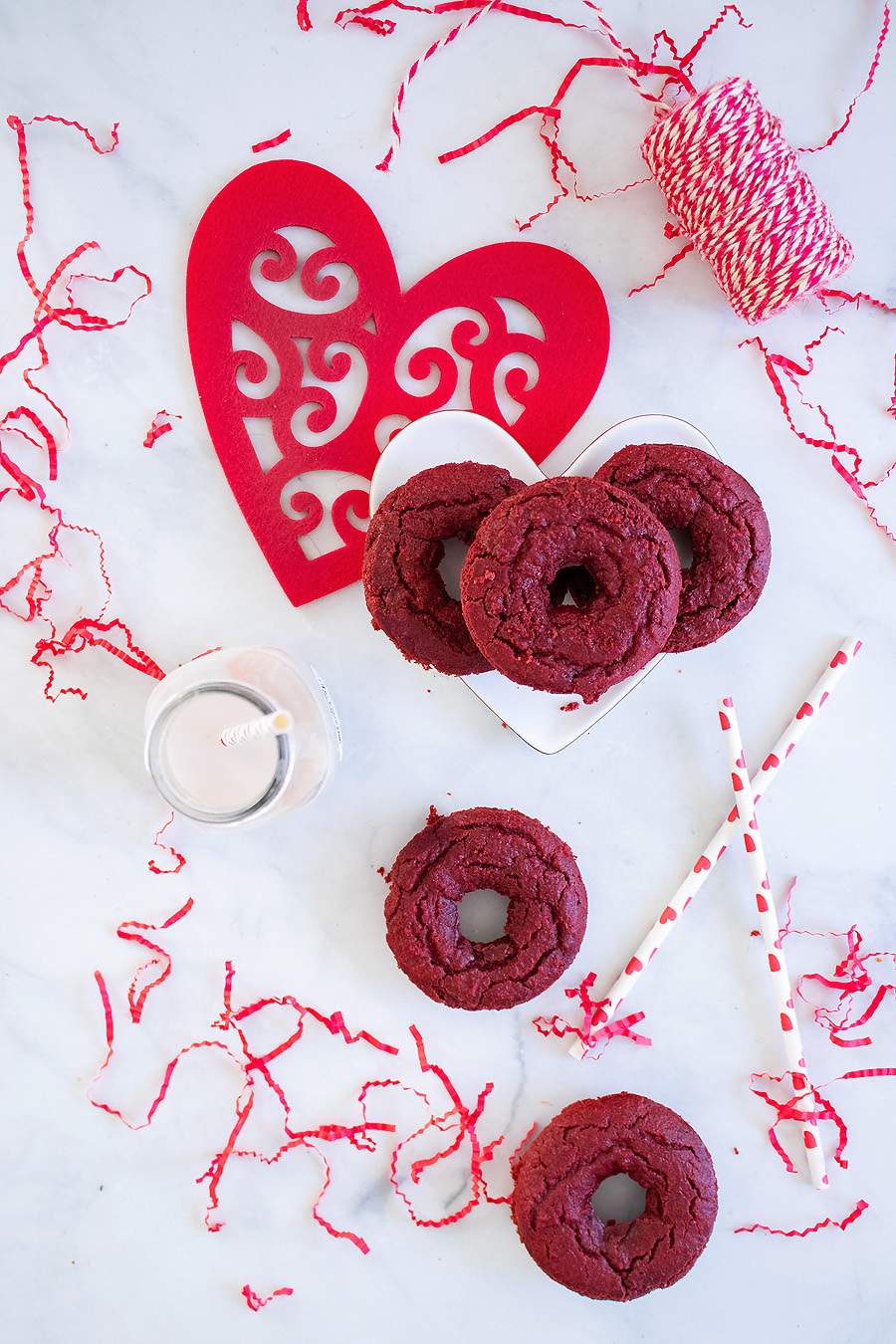 Time to spice things up with your sweetheart? Sure, you could make them some run of the mill low-carb desserts like brownies, chocolate cake, cheesecake, or red velvet cupcakes — but why not try something new?
This year, surprise your valentine with some keto-friendly donuts. These low-carb sweets can serve as a healthy dessert or even stand-in for your typical breakfast recipe.
Goodbye low-carb muffins — hello keto donuts.
These flourless, grain-free donuts are gluten-free, sugar-free, and paleo-friendly. You can even replace the eggs and butter to make them vegan if you so please.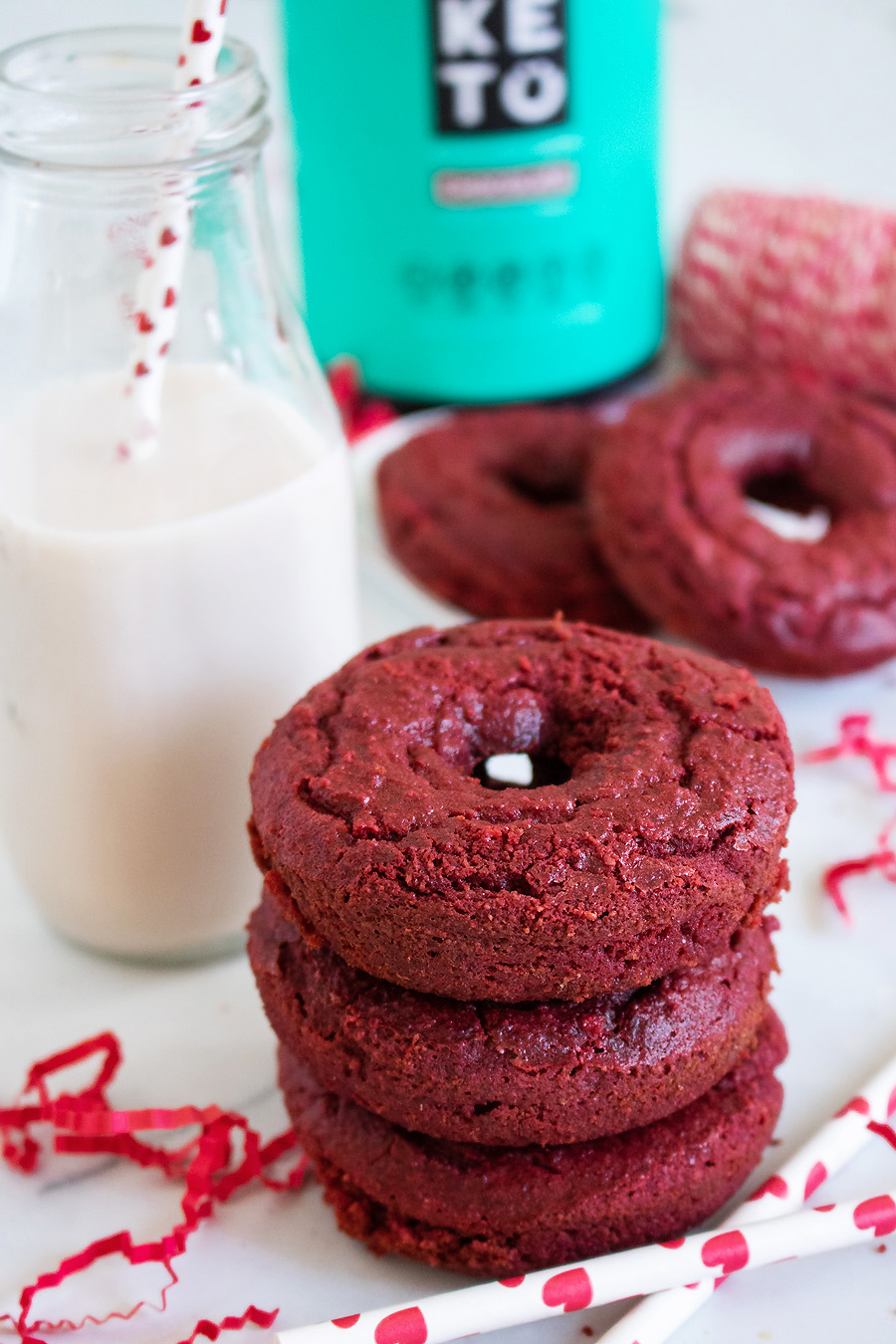 This Valentine's Day treat is:
Sweet
Comforting
Delicious
Spicy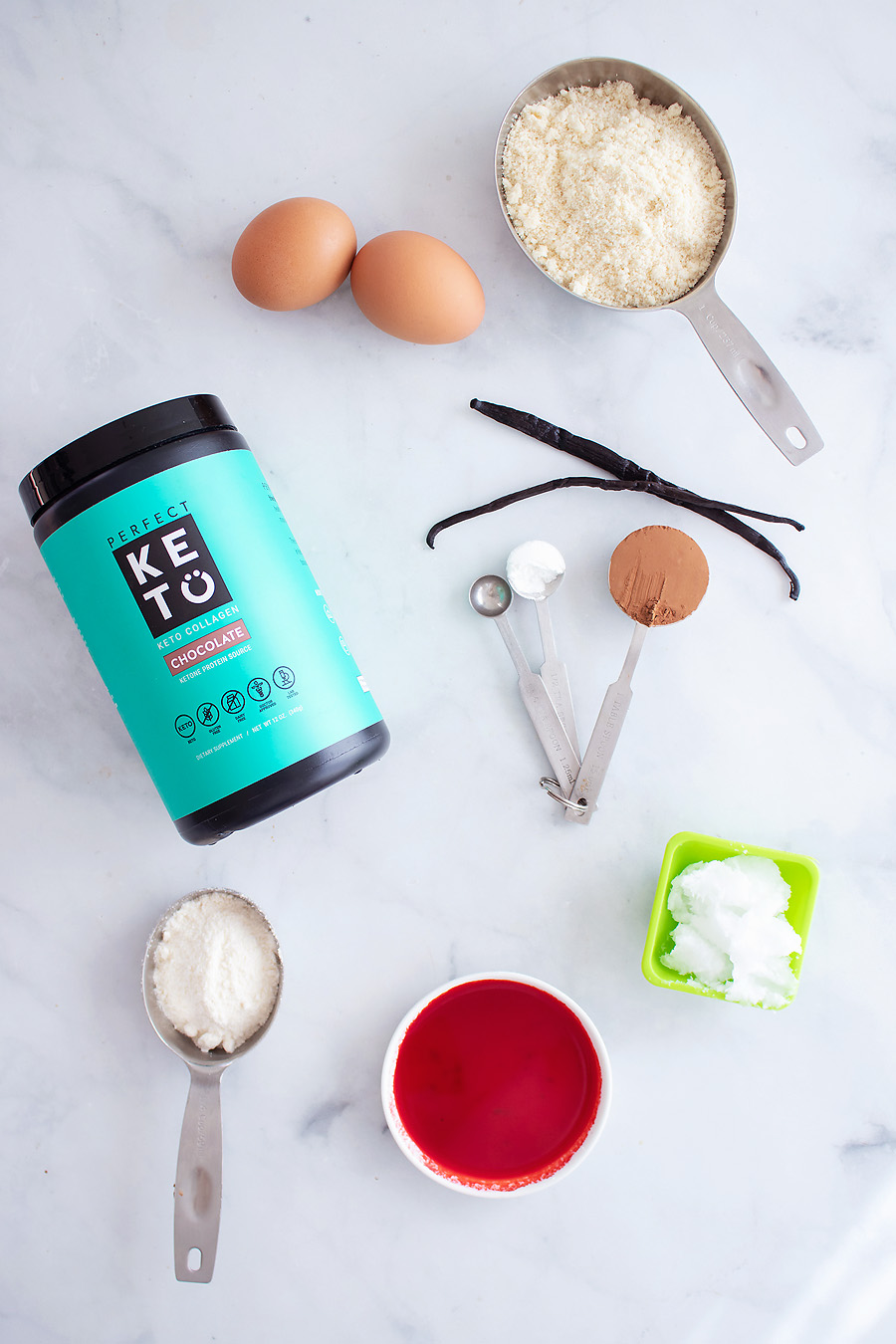 The main ingredients are:
Optional additional ingredients: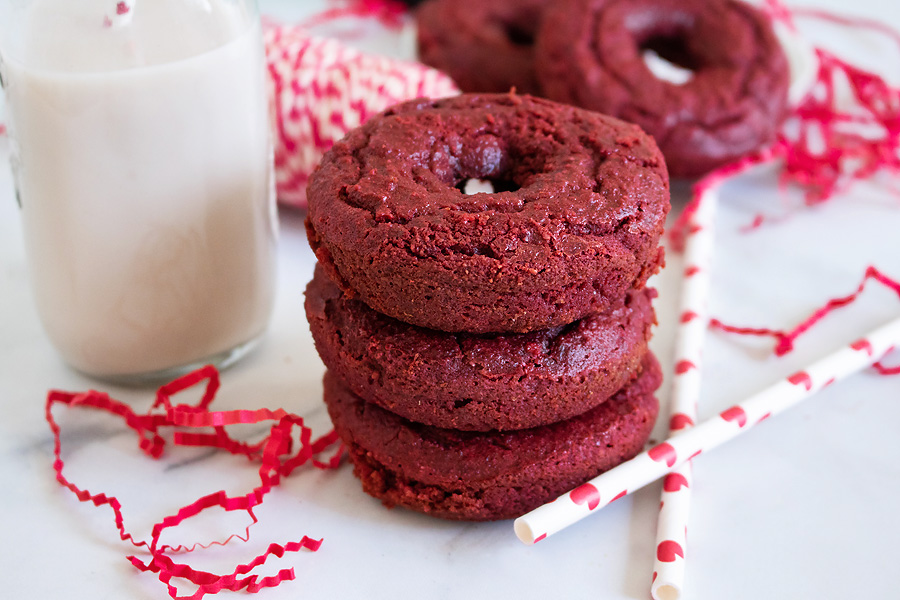 Health Benefits of These Keto Valentine's Red Velvet Donuts
One of the benefits of following a ketogenic diet is that you get to use ingredients that you wouldn't necessarily come across if you weren't eating low-carb. Turning sugar-laden desserts into healthy recipes means that you not only get to enjoy your favorite treats while staying in ketosis, but you also get some fantastic health benefits as well.
Rich In Protein, Low in Carbs
While there are plenty of low-carb keto desserts out there, you don't find as many that are high-protein as well. What's the benefit of having a high-protein dessert?
Protein increases satiety, which means you feel more satisfied with less food. It also has a higher thermic effect than other macronutrients (i.e., you burn more calories when consuming it). And finally, it contributes to muscle maintenance — so you get to keep that lean muscle mass while you burn away fat stores on your keto diet[*].
Multiple Sources of Antioxidants
Antioxidants are crucial to maintaining a healthy balance of oxidation in your body. While some oxidative stress is natural and normal, too much can lead to tissue damage or disease[*].
Chocolate is known for being a potent source of flavonoid antioxidants that are particularly beneficial for heart health, and in this recipe, we're going straight to the source with cacao powder[*].
But chocolate isn't the only antioxidant-rich ingredient in these keto red velvet donuts.
Almond flour is a fantastic source of vitamin E — an antioxidant that protects your cell membranes from damage. And eggs happen to be packed with two antioxidants that protect your eyes — lutein and zeaxanthin[*][*].
What's more, the sweetener monk fruit contains a compound called mogroside that not only imparts a naturally sweet flavor but also helps to fight off free radicals that cause oxidative damage[*].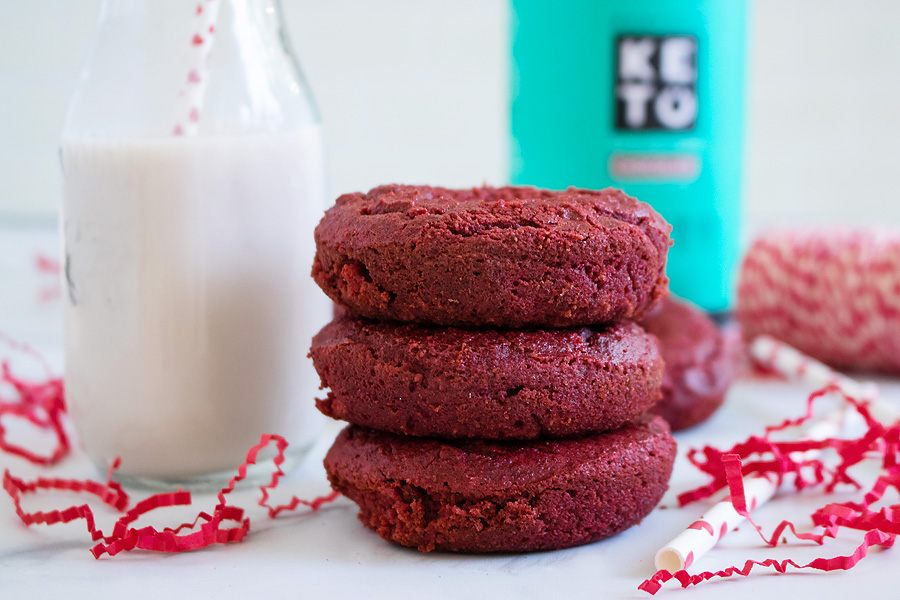 Valentine's Day Red Velvet Donuts
If you've run out of novel low-carb breakfast ideas or gluten-free dessert recipes, this keto donut recipe is the tasty answer to your prayers.
To begin, preheat your oven to 350 degrees F and coat your donut pan with non-stick spray, butter, or coconut oil.
Next, add all your cake recipe ingredients to a large bowl and mix until well-combined.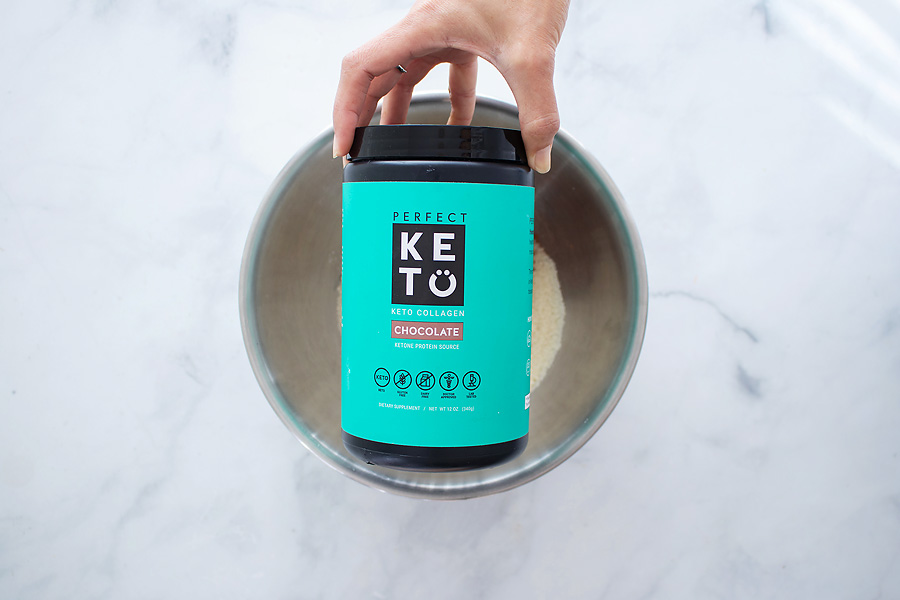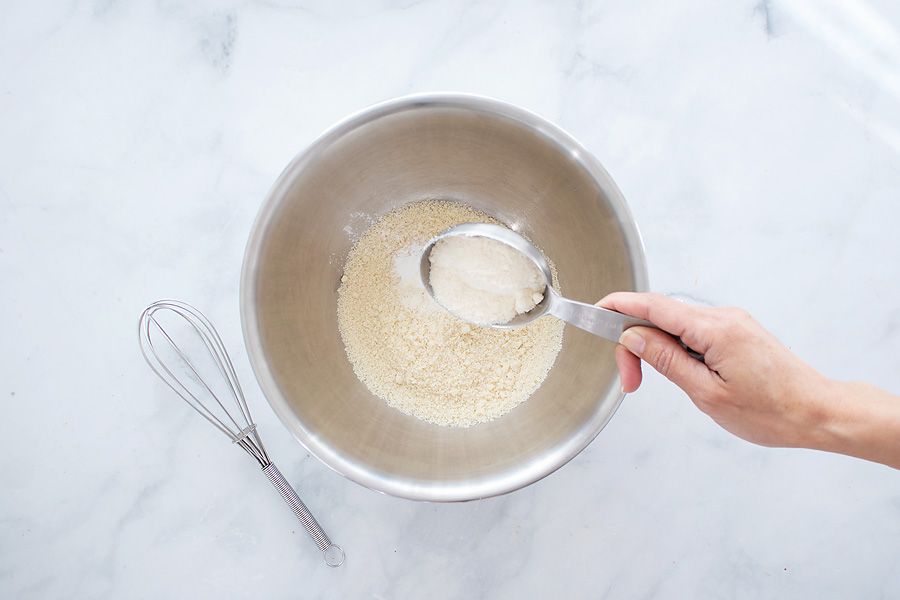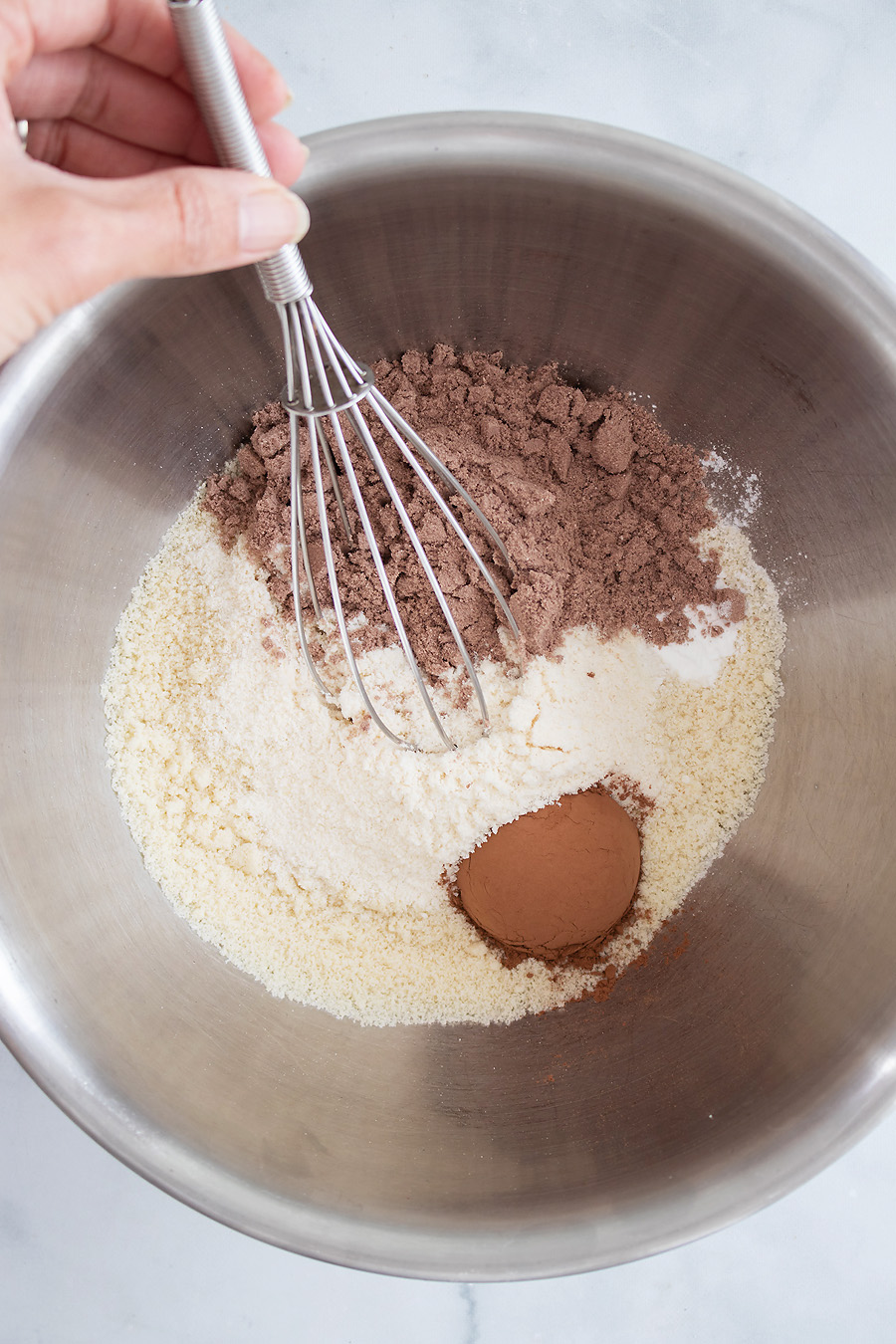 Divide and pour your batter into your donut pan and bake for 13 to 15 minutes, until a toothpick comes out clean when poked through the center of the donuts.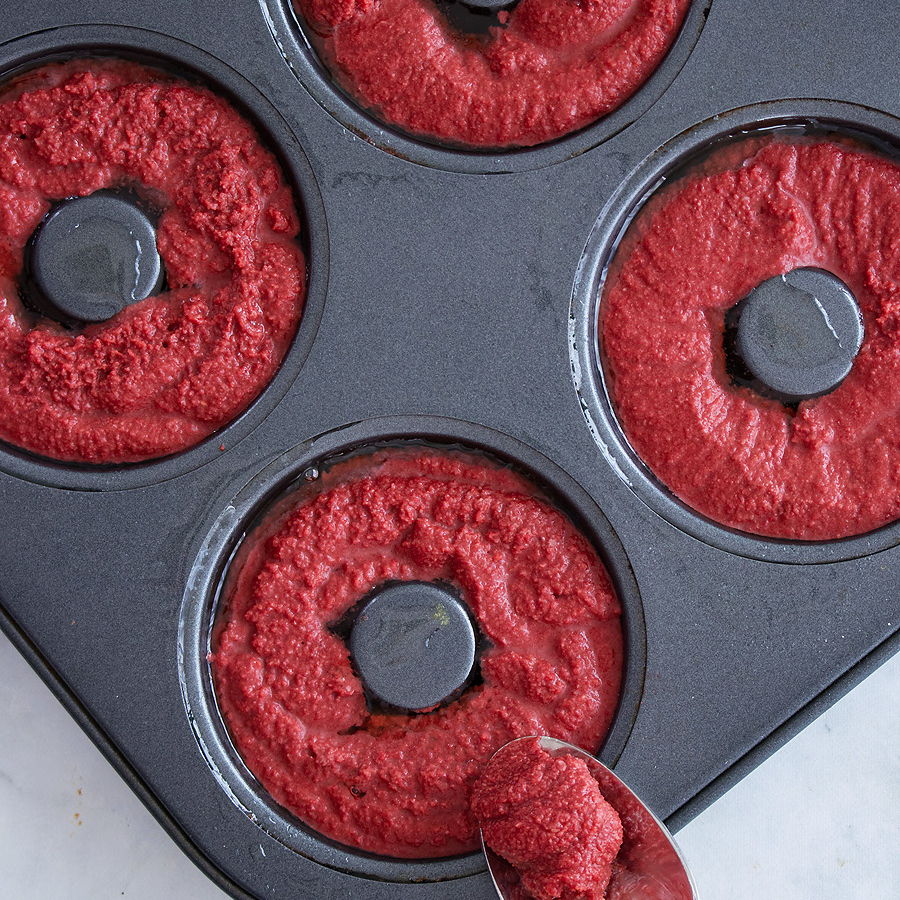 Remove the donuts from the oven, and allow them to cool before adding your frosting.
To prepare the topping, add your frosting ingredients to a small bowl and whip on high until smooth. If you want your icing loser, add heavy whipping cream.
Finally, frost your donuts and add any keto-friendly topping that you like.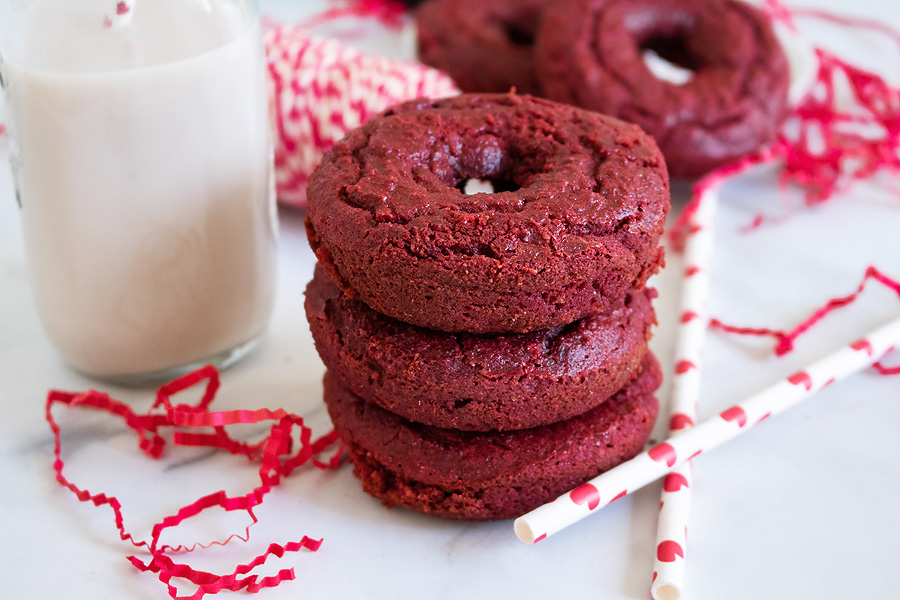 If you have leftovers, enjoy these donuts as a replacement for your standard keto snacks like fat bombs or keto trail mix.
Baking Tips:
If you're looking for an alternative to stevia and monk fruit, you can try erythritol in this recipe. It's a sugar-alcohol with a slightly cooling flavor.
You can use any type of milk in your cake recipe — coconut milk, almond milk, or full-fat dairy milk all work great.
And to make these donuts even more special, top them with sugar-free sprinkles, low-carb chocolate chips, or coconut shavings. You can also serve them with a scoop of ice cream if you're having them as an after-dinner dessert.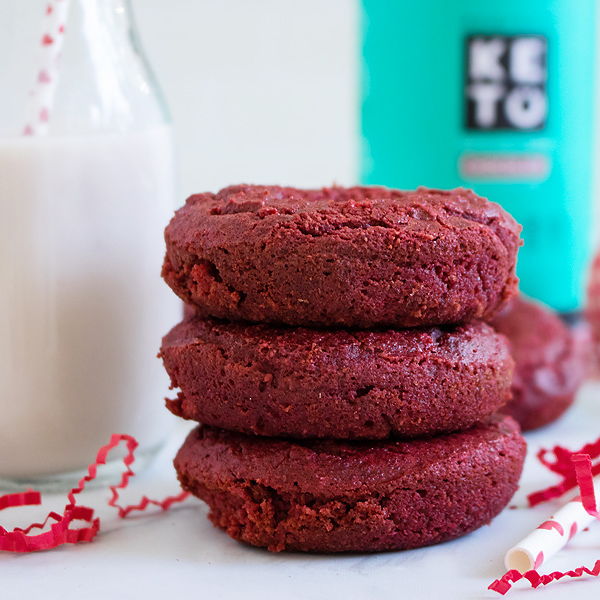 Print
Low-Carb Red Velvet Donuts (Keto and Gluten-Free)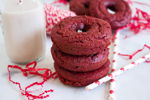 Make something unique for your sweetheart this Valentine's Day. These low-carb red velvet donuts are warm, satisfying, and delicious. 
Author:
Total Time:

20 minutes

Yield:

6

donuts

1

x
Scale
Ingredients
For the cake:
For the frosting:
Instructions
Preheat oven to 350F degrees and coat a donut pan with non stick spray or butter.  Set aside.

Add all cake ingredients to a large bowl and mix well until smooth and color is even.

Divide and pour batter into prepared pan and bake for 13-15 minutes until a toothpick comes out clean when poked through the center of each donut.  Remove from oven and let cool.

Prepare topping by adding frosting ingredients to a small bowl.  Whip on high until smooth. Add extra heavy cream for a looser icing if desired.
Nutrition
Serving Size:

1 donut

Calories:

178

Fat:

17g

Carbohydrates:

6g (Net: 3g)

Fiber:

3g

Protein:

8g