If you're someone who appreciates a strong coffee on a Summer day, Vietnamese style iced coffee will blow your cold brew out of the water.
A staple in coffee shops throughout the East, traditional Vietnamese coffee (AKA ca phe) is made with condensed milk and a dark roast coffee bean.
The coffee is made in a stainless steel container called phin, which is apparently much more challenging to operate than it looks.
The addition of condensed milk is called "ca phe sua da," and imparts a creamy, sweet flavor.
And where did this Asian inspired coffee come from?
In fact, it was the French who brought coffee to Vietnam in the mid-1800's.
At that time, there was a scarcity of fresh milk available, so they opted for sweetened condensed milk, and the deliciousness that is now the Vietnamese coffee was born.
In true keto fashion, however, this Vietnamese iced coffee recipe switches out the condensed milk for some highly nutritious coconut milk. Can't get enough of those MCTs.
As an added bonus; you don't have to mess with any Vietnamese coffee filters, this recipe couldn't be easier.
This coffee recipe is:
Energizing
Sweet
Satisfying
Refreshing
The main ingredients are:
3 Health Benefits of This Vietnamese Iced Coffee
#1: Curbs Appetite
If you're looking for an incredibly satisfying beverage that will give you a boost of energy, then you've hit the jackpot.
This Vietnamese coffee is made with coconut milk — a type of dairy-free milk that's known to help curb appetite and may reduce your food intake.
How does perform this miracle? Through its abundance of medium-chain triglycerides(MCTs).
MCTs are digested by your body differently than other types of fat. While most fatty acids have to travel through your lymph before they can be used for energy, MCTs can go straight to your liver.
Once in your liver, MCTs can be converted to energy and supply you an immediate boost.
In one study, a group of healthy volunteers consumed diets rich in either long-chain fatty acids or MCTs. The MCT group reported significantly lower energy intakes (they ate less food), as well as reductions in body weight[*].
#2: Supports Blood Sugar
Cinnamon is a powerful healing spice that's been used for thousands of years in Eastern cultures as a plant medicine.
Among the many health benefits of cinnamon is its blood-sugar supporting activity.
It may seem counterintuitive that this natural sweet spice can balance your blood sugar, but nature doesn't always work the way you think it will.
When cinnamon is consumed with carbohydrates, it has an inhibitory effect on some of your intestinal enzymes. These enzymes are tailor-made to break down carbohydrates, but in the presence of cinnamon, they can't carry out their duties properly.
This creates a reduction in the number of carbohydrates that can enter your bloodstream at one time, effectively lowering your blood sugar[*].
#3: Boosts Brain Function
Do you ever wonder why you're able to get work done two times as fast after drinking a nice strong cup of coffee?
Sure, the caffeine will wake you up — that's a given.
But coffee has a little bit more magic up its sleeve when it comes to work performance as well.
By activating your central nervous system, caffeine makes you more vigilant and aware. This can have a positive effect on your memory and your ability to learn new tasks.
It also helps increase your coordination, making it easier for you to multi-task and get things done[*].
it makes sense then, that when you start to feel that afternoon slump, you head to the coffee machine for a boost.
Vietnamese Iced Coffee
Forget the hassle of ground coffee, boiling water, coffee filters, and French-presses — who has the time?
This quick and delicious coffee recipe will be in your hands in just five minutes.
And if you are more of a hot coffee fan, no problem, just skip the ice cubes.
Print
Vietnamese Iced Coffee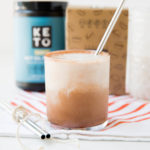 This Vietnamese iced coffee recipe (AKA ca phe) is a satisfying dark roast coffee drink. Just grab a tall glass, ice cubes, coconut milk, and coffee.
Author:
Total Time:

5 minutes

Yield:

1

iced coffee

1

x
Instructions
Add the coconut milk, cinnamon, and vanilla to a high-speed blender, blending until well-combined

Add the coffee to hot water and whisk until combined.

Pour the coconut milk mixture into the coffee.
Nutrition
Serving Size:

1 iced coffee

Calories:

184

Fat:

16g

Carbohydrates:

4.5g (3.2g net)

Fiber:

1.3g

Protein:

1.8g
Keywords: keto vietnamese Iced Coffee