"No, I don't want to give up my love of bread!" That might have been your initial thought when hearing about the ketogenic diet for the first time. Some assume that going keto means having to say goodbye to baked goods forever. But let this recipe inspire you to go ahead and make your favorite sandwich… without feeling guilty! This low carb bread is a great and easy alternative to those high carb classics that you might be missing.
Let's go Nuts
If you recall our post on the pros and cons of nuts on the ketogenic diet, nuts are low in carbohydrates, high in healthy fats and offer a good dose of nutrients and anti-inflammatory benefits. A commonly used low carb baking substitute is almond meal, often interchangeable with almond flour even though they are not the same thing. Almond meal contains the skins and is more coarsely ground while almond flour is finely ground blanched almonds without the skins; however, both do have the same nutrition with around 160 calories and 6 grams of carbs.
What's the Big Deal?
In comparison to the conventional flours (wheat, corn, and rice) found in the standard American diet, almond meal/flour has higher fiber and protein content and is also a good source for magnesium and potassium.  Almond meal/flour is a keto-friendly alternative to the flour you might be familiar with as it has less effect on blood sugar. While white flour might have fewer calories, the higher amount of carbohydrates plays the role of rapidly raising blood sugar. Remember that with the ketogenic diet, the goal is for our body to use fat as fuel rather than what it primarily uses as its fuel source, glucose. If you consume breads higher in carbohydrates, the body will convert those carbs to glycogen and will keep using glucose for fuel. However, if you want to get into and maintain ketosis, the best way to go is with the lower carb option—and we've found that in almond meal/flour!
Don't worry about tossing bread from your diet completely. You don't even have to give up on baking! We've found the perfect recipe to make sure you can keep that avocado toast in your life!
Print
Low Carb Bread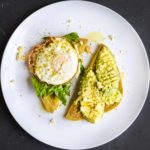 Author:
Prep Time:

5 minutes

Cook Time:

25 minutes

Total Time:

30 minutes

Yield:

1

1

x
Scale
Ingredients
4

rounded tbsp fine ground almond meal

1/4 tsp

baking soda

1/4 tsp

salt

1

large egg

2 tbsp

fat (melted coconut oil, olive oil, bacon fat etc)

2 tbsp

water (a splash more if the mix seems thick)
Instructions
In a small, shallow microwave safe container whisk together the flour, salt and baking soda.

Make a well in the center and crack an egg open into it.

Whisk well, then add in the fat and water while you continue whisking.

Once it becomes frothy start making bigger circles with your whisk or fork to incorporate the flour mix.

Mix well, getting all the edges and sides. You can use a spatula to make sure you have it all mixed in.

Tap the container down on the counter to settle the mix.

Microwave on high for 90 seconds, or until the center is cooked (add cooking time in 30 second intervals).

If you're baking it, use a greased glass dish, and bake at 350F (or 325F convection) for 20 minutes.

Run a spatula around the edges to separate and remove it from the container.

Pop it in the toaster for 3-4 minutes until crisp.

Top with yummy things, enjoy!
Nutrition
Serving Size:

1

Calories:

350

Fat:

47

Carbohydrates:

7

Protein:

12