Blondies, not to be confused with their relatives the brownie, are traditionally super sweet dessert bars that taste like a cookie but look more like a light brownie square.
These low-carb blondies are a mix of edible cookie dough with sugar-free chocolate chips, plus gluten-free almond flour flavored with delicious vanilla extract.
And because they're low-carb and keto, the brown sugar, wheat flour, and other harmful ingredients have been replaced with high-quality keto ones.
And the best part?
Each blondie only has 4.5 grams of net carbohydrates and is packed with over 5 grams of protein per serving.
So next time your sweet tooth starts talking to you, whip up a batch of this delicious low-carb dessert and enjoy guilt-free.
These low-carb blondies are:
Soft
Gooey
Flavorful
Satisfying
The main ingredients in this blondie cookie dough recipe are:
Optional additional ingredients
3 Health Benefits of Keto Cookie Dough Blondies
#1: Boosts Immunity
Monk fruit provides the delicious sugar-free sweetness that makes these low-carb blondies so irresistible. But its role as a sugar stand-in isn't where the benefits of monk fruit stop.
What else does this fascinating plant have going for it?
Monk fruit (also known as Luo Han Guo), has been used for thousands of years in Eastern cultures as a medicinal plant. Among the many health benefits of monk fruit is its ability to enhance your immune system.
Compounds in monk fruit have antioxidant, anti-microbial, liver-protective, and immunomodulatory effects. That pretty much makes it an immune-enhancing powerhouse[*]
#2: Rich In CLA
There's a reason this recipe calls for grass-fed butter and not your standard grain-fed butter. Grass-fed butter comes from cows that are allowed to graze and eat grass (as cows are meant to do).
This not only helps support humane farming practices, but it results in more nutrients in your milk products.
CLA is a type of fatty acid that's found in meat and dairy. Grass-fed butter happens to be a fantastic source of CLA with up to 500% more CLA than grain-fed milk[*].
CLA supports your body in a variety of ways, from reducing body fat, to protection against cardiovascular disease and cancer. So maybe you should pour yourself a glass of full-fat grass-fed milk to enjoy with these delicious blondies[*].
#3: Antioxidant Support
Almond flour is full of nutrients that you wouldn't find in processed white flour.
One of those nutrients is a mineral that gets very little time in the spotlight but has a significant impact on your health: manganese.
Manganese is part of an antioxidant complex called superoxide dismutase (SOD). Even the name sounds like a compound you don't want to mess with.
SOD is said to be one of the most crucial antioxidant systems in your body. It works at the level of your mitochondria (the powerhouse of the cell) to protect your cells from oxidative damage.
When SOD isn't working correctly, it can have serious effects on the function of your metabolism and potentially lead to the development of a number of diseases.
Getting enough precursors for this antioxidant system (like manganese) is one way to ensure its proper function[*].
Keto Cookie Dough Blondies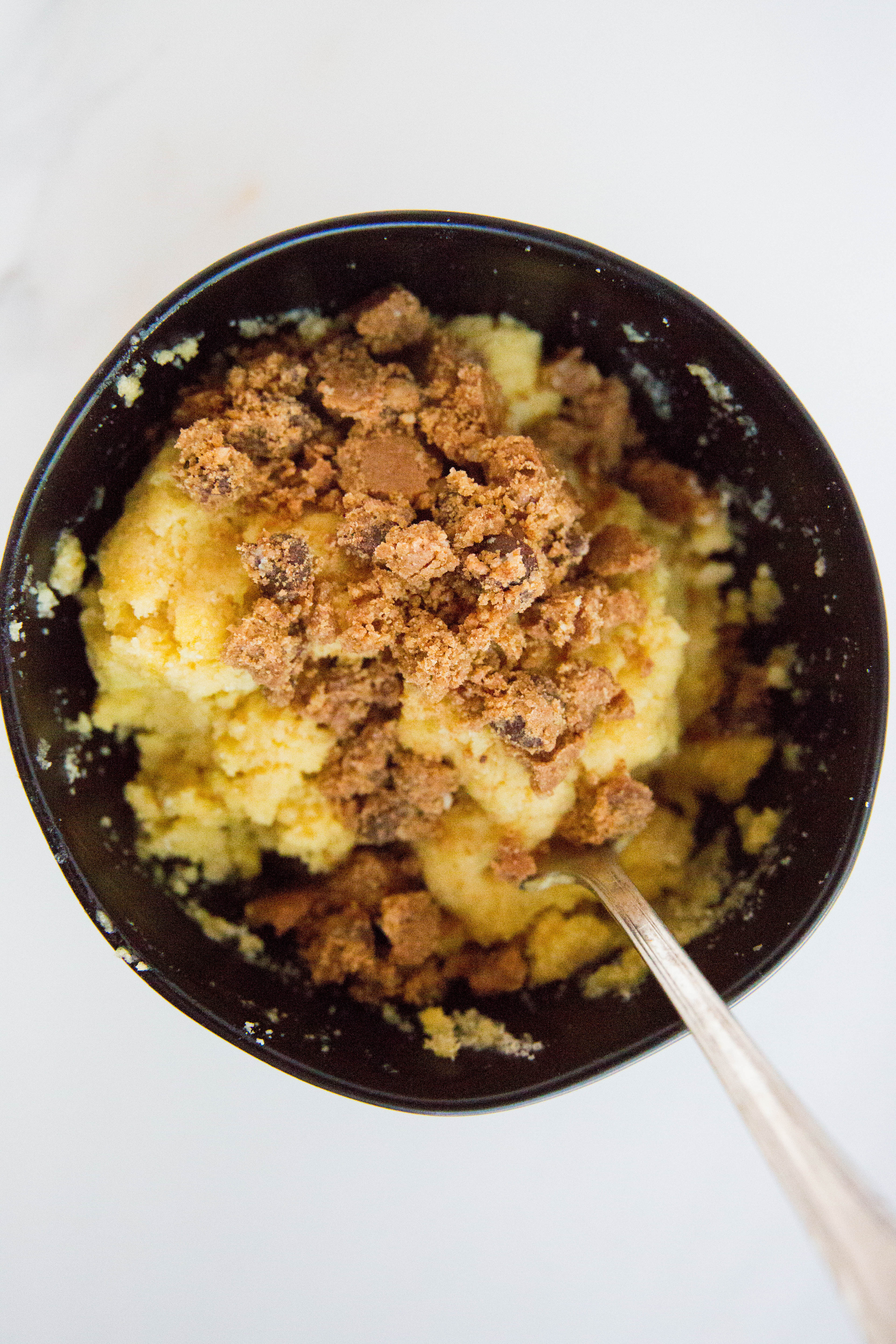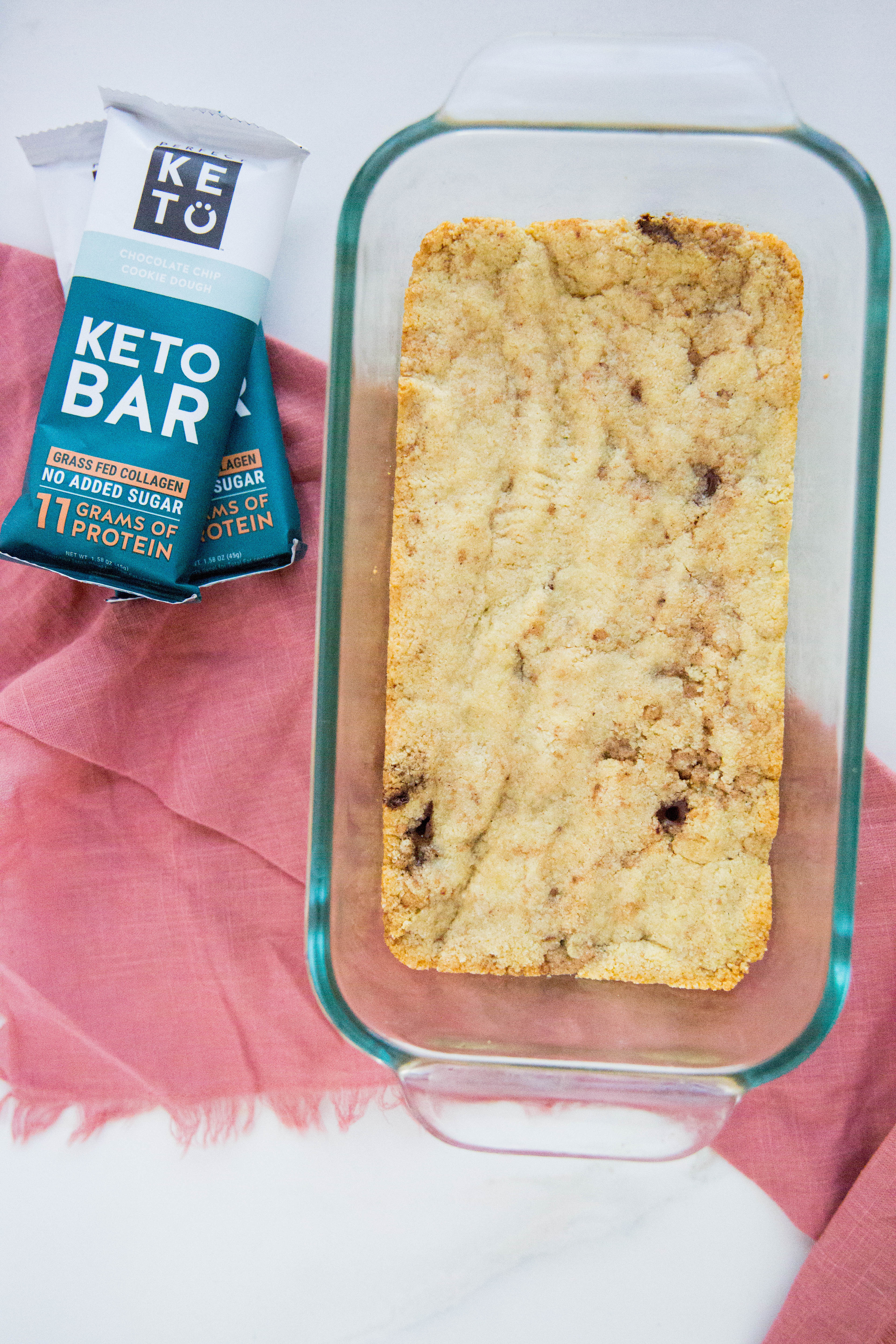 No one wants to admit it, but sneaking bites of raw cookie dough is the best part of the cookie making process. Ice cream makers get it — ahem, cookie dough ice cream.
So why not combine blondies and cookie dough as well?
And this time you don't have to worry about raw eggs because the cookie dough you're using comes in the form of a low-carb snack bar. Win-win.
If you want to jazz them up a bit, you can go wild and add your own ingredients like coconut or sugar-free chocolate chips. You can even add your blondies to a bowl of keto ice cream.
So grab a large bowl and preheat your oven to 350°F, it's blondie time.
Print
Keto Cookie Dough Blondies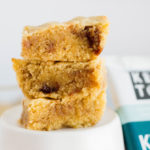 Blondies are a cookie dough-like brownies and these chocolate chip cookie dough blondies are sugar-free, gluten-free and keto. So grab your almond flour and sugar-free sweetener and let's get baking.
Author:
Cook Time:

18 minutes

Total Time:

23 minutes

Yield:

1

loaf (12 slices total)

1

x
Instructions
Preheat oven to 350°F.

Grease a loaf pan with grass-fed butter or coconut oil and set aside.

In a medium-sized bowl, mix together the dry ingredients, except the cookie dough bar.

In a small bowl, mix together the wet ingredients.

Add the wet ingredients to the dry ingredients, mixing until well-combined.

Fold in the bar crumbles and pour the mixture into the loaf pan.

Bake for 16-18 minutes.

Allow to cool slightly and slice down the middle (lengthwise) then into 6 rows, totaling 12 brownies.
Nutrition
Serving Size:

1 slice

Calories:

128

Fat:

9.4g

Carbohydrates:

6.3g (4.5g)

Fiber:

1.8g

Protein:

5.4g
Keywords: Low-Carb Cookie Dough Blondies