Everyone loves cookie dough ice cream. The chewy cookie dough texture plus smooth ice cream are a match made in dessert heaven.
While most ice cream is loaded with sugar, this ice cream recipe is strictly keto. Even the chunks of cookie dough are from sugar-free keto-friendly cookie dough bars (and yes, they're gluten-free).
This ice cream goes great on top of some keto chocolate chip cookies or topped with melted peanut butter.
So grab a few ice cream bowls and get ready to dig in.
This low-carb ice cream is:
Cooling
Flavorful
Sweet
Satisfying
The main ingredients are:
Optional additional ingredients
3 Health Benefits of Chocolate Chip Cookie Dough Ice Cream
#1: Promotes Healthy Skin
From cream to serums to needles prodding your face, there are more skin care treatments out there nowadays than hours in a day to use them all.
One secret to healthy skin that cosmetic companies won't tell you is having a healthy diet. Introducing foods like collagen (the main structural protein found in your skin) may be the key to anti-aging.
In one double-blind, placebo-controlled study, researchers gave a group of women aged 35-55 either collagen supplementation or placebo then measured the effects the supplements had on their skin.
After four weeks the women taking the collagen showed significantly improved skin elasticity, with improvement to skin moisture as well[*].
#2: Supports Eye Health
Have you ever wondered where your egg yolks get their beautiful golden color? The same place that marigolds do — the carotenoids lutein and zeaxanthin.
These two antioxidant phytonutrients are found in abundance in your eyes, and protect your retina from harmful blue light, and fight off oxidative damage[*].
Years of damage to the eye can result in age-related eye diseases like macular degeneration and cataracts.
Lutein and zeaxanthin may protect your eyes against age-related diseases through their antioxidant activity and affinity to your eyes[*][*].
#3: Immune Boosting
While ice cream may not be your go-to flu remedy, the coconut cream used in this recipe is loaded with immune-boosting nutrients that may help you fight off infection.
Lauric acid,  a medium chain fatty acid (MCT), found in coconut is well-known for its immune boosting activity. In your body lauric acid is converted into another compound, called monolaurin.
Monolaurin acts as a powerful antiviral and antibacterial helping your immune defenses fight against foreign invaders like viruses and bacteria[*].
One issue with traditional antibiotics is that bacteria often become resistant to them over time. In one study, researchers tested monolaurin against skin infection-causing bacteria. They found that monolaurin had a statistically significant sensitivity against the bacteria, showing very little resistance[*].
Chocolate Chip Cookie Dough Ice Cream
Searching for an edible cookie dough treat? Look no further.
The dark chocolate chips from the keto cookie dough bar, plus the creamy coconut base make this dairy-free treat the perfect summertime dessert.
Rich in fat, and low in carbs, this is one keto recipe you can enjoy as often as you like.
Make sure to store any leftovers (if you have them), in an airtight container, so your ice cream stays fresh.
Print
Chocolate Chip Cookie Dough Ice Cream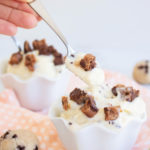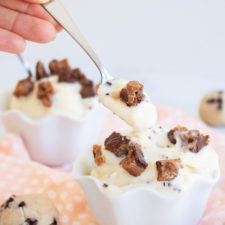 This delicious sugar-free keto chocolate chip cookie dough ice cream is dairy-free and gluten-free, and full of flavor. Enjoy it with keto chocolate chip cookies.
Author:
Prep Time:

15 minutes

Total Time:

15 minutes + freezing time

Yield:

2 cups

1

x
Instructions
Add coconut milk, extract, and sweetener to a small pot. Under very low heat, bring mixture to a very soft boil (just heat until small bubbles appear). Turn stove off and let cool slightly.

Add in egg yolks to a stand mixer or large bowl and beat on high for 20-30 seconds until pale and fluffy.

With the mixer still on high, SLOWLY drizzle in 1/4 cup of the hot cream mixture to the egg yolks to temper. Add additional cream mixture slowly in 1/4 cup increments. If you add the hot mixture to the eggs too quickly, it will result in scrambling the eggs. Let cool 5 minutes.

Pour contents into an ice cream maker and churn until it is soft serve consistency.  Chop Perfect Keto cookie dough bar into small pieces and then stir into ice cream. A

dd ice cream to a container and freeze. Let container sit out for 10-15 minutes before scooping.
Notes
This recipe can also be used without an ice cream maker, simply pour the mixture into a container after it has cooled slightly. Stir every 10 minutes until thick and creamy.
Nutrition
Serving Size:

¼ cup

Calories:

262

Fat:

24g

Carbohydrates:

7g (6g net)

Fiber:

1g

Protein:

5g
Keywords: Chocolate Chip Cookie Dough Ice Cream