A cookout filled with delicious grilled and smoked meats deserves the best keto BBQ side dishes.
But you know macaroni and cheese, french fries, and corn on the cob won't fit in your low-carb macros.
So use the easy recipes in this roundup to keep your ketogenic diet going strong all summer.
You'll find low-carb versions of classic barbecue side dishes and a few totally unique recipes to surprise your friends and family.
And they're all so tasty no one will ever believe they're part of a low-carb diet.
This first set of recipes replaces the greasy potato chips commonly served up alongside hot dogs and hamburgers with even better alternatives.
Keto Chips and Dip for a Crowd
Almost every get-together has a version of chips and dip.
This inexpensive party food is fun to eat and you can enjoy it as an appetizer or side depending on the rest of your menu.
And unlike high-carb potato chips and dip, these recipes won't make you feel too bloated to jump in the pool later:
#1. Low-Carb Chip Substitutes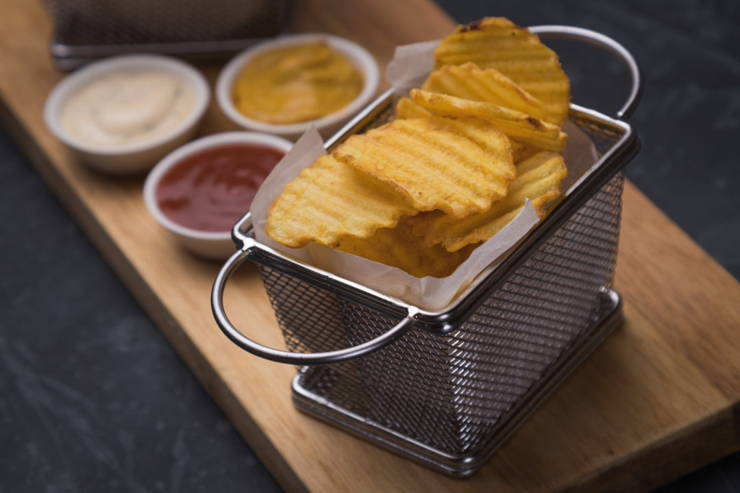 When you're craving potato chips or worried your BBQ guests will miss them, try one of these keto chip substitutes.
Read that guide and you'll learn how to roast radishes, cucumbers, and kale chips to crispy perfection.
If you prefer your chips cheesy and spicy, the next recipe will not disappoint.
#2. Spicy Keto Cheese Crisps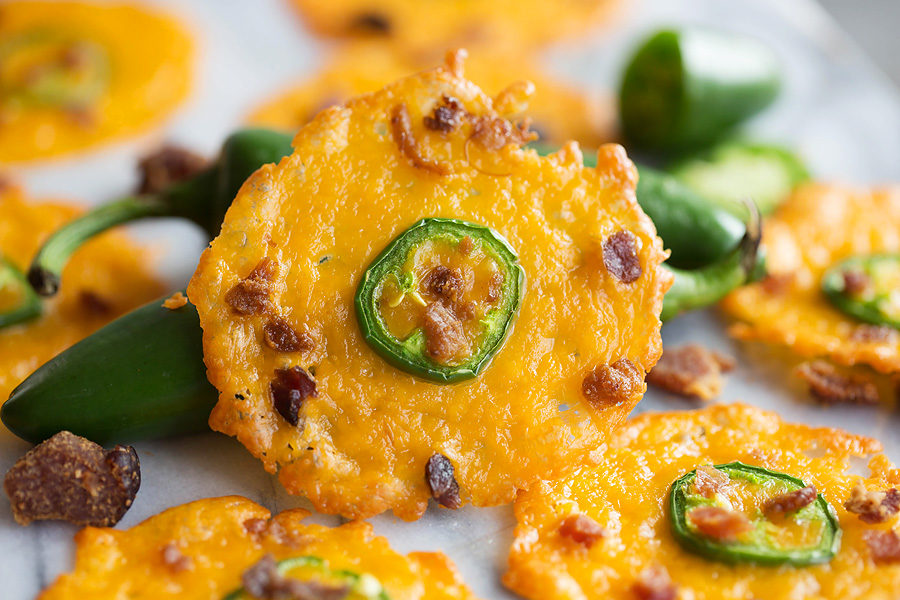 Impress your guests with this recipe for a combination of chips-meets-spicy nachos. You only need three ingredients to make them: cheddar cheese, bacon, and jalapeno.
If you'd rather make these with parmesan instead of cheddar…
#3.  Parmesan Crisps with Jalapeno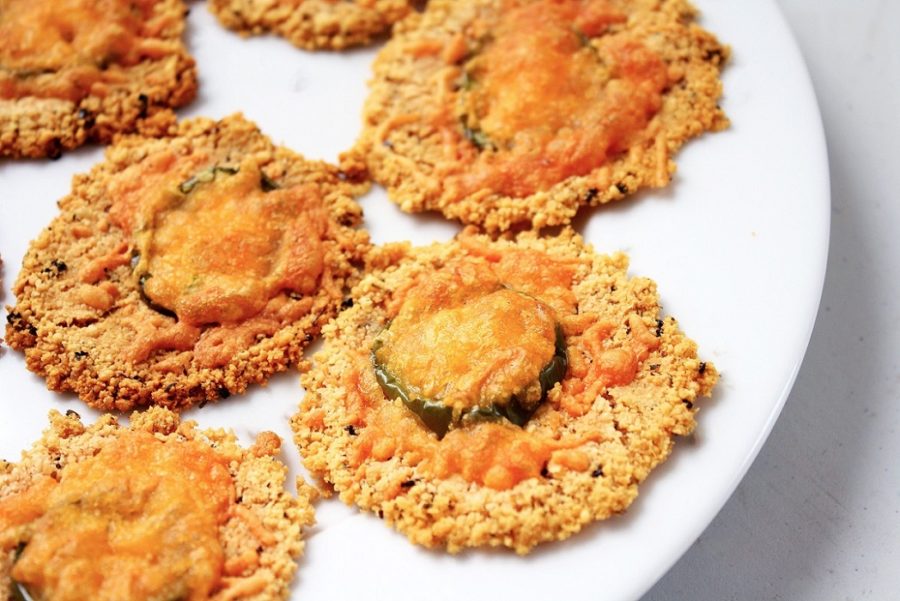 Upgrade your side of chips with these simple parmesan crisps. You can make some with and without the jalapeno if you're making them for a crowd.
Like these, guests will be sneaking seconds of the next recipe too.
#4. Crunchy Keto Rosemary Crackers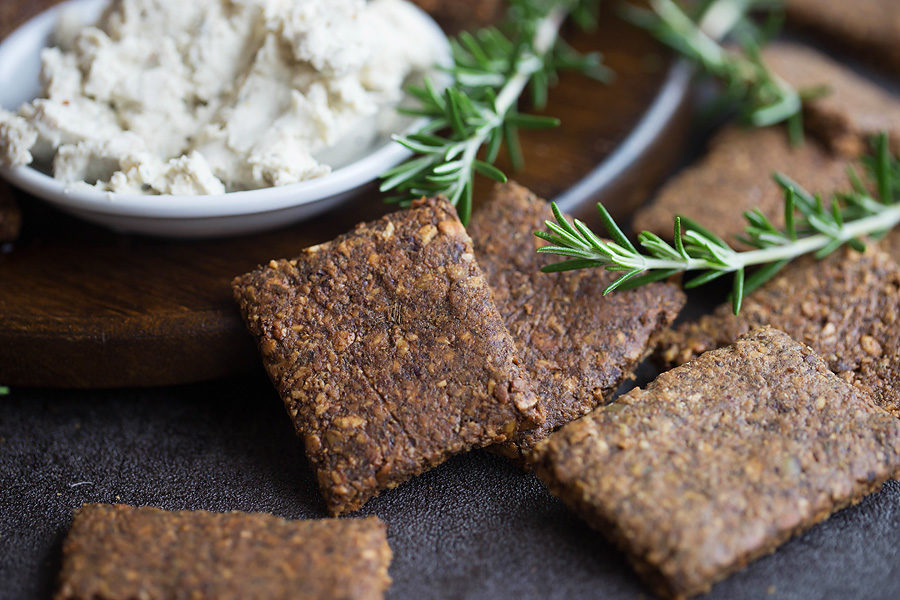 These crunchy keto rosemary crackers are flavorful alone and delightful when paired with dips and different cheeses.
If rosemary doesn't complement your barbecue menu, check out these low-carb flaxseed crackers or chia seed crackers.
All those recipes make crackers thick enough to support heavier dips like spinach and artichoke without falling apart.
Speaking of dips, these keto dips are flavorful and super satisfying.
#5. Creamy Keto Spinach Artichoke Dip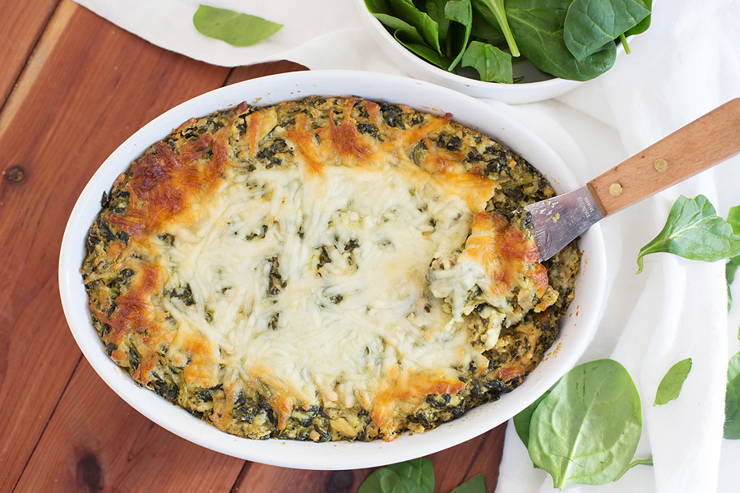 Some spinach artichoke dips are soupy and flavorless. Not so with this creamy keto spinach artichoke dip.
Serve it with those aforementioned keto crackers and wow your guests with your killer low-carb food substitutes.
You can also use this dip as a topping for meat dishes that don't contain much fat, such as grilled chicken and veggie skewers.
This recipe and the next show you don't have to give up the flavors of your favorite foods to get or stay in ketosis.
#6. Easy Low-Carb Cheese Dip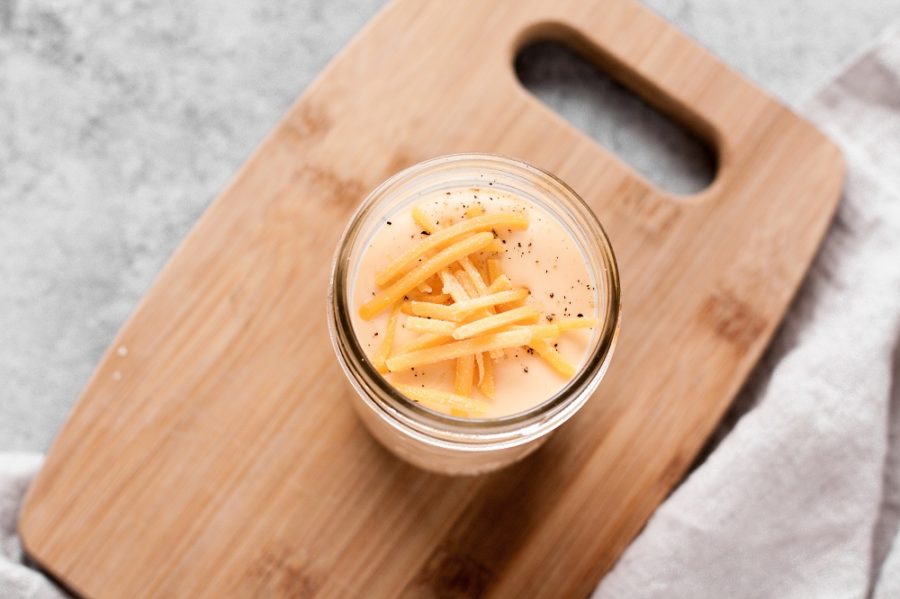 Skip the cheesy fries with your burger and dunk your low-carb crackers and veggies in this easy low-carb dip.
You can also use this cheese dip as a condiment on your hamburger or hot dog. There are way fewer carbs in it than ketchup or BBQ sauce.
The same goes for the next dip recipe.
#7. Cheesy Keto Buffalo Chicken Dip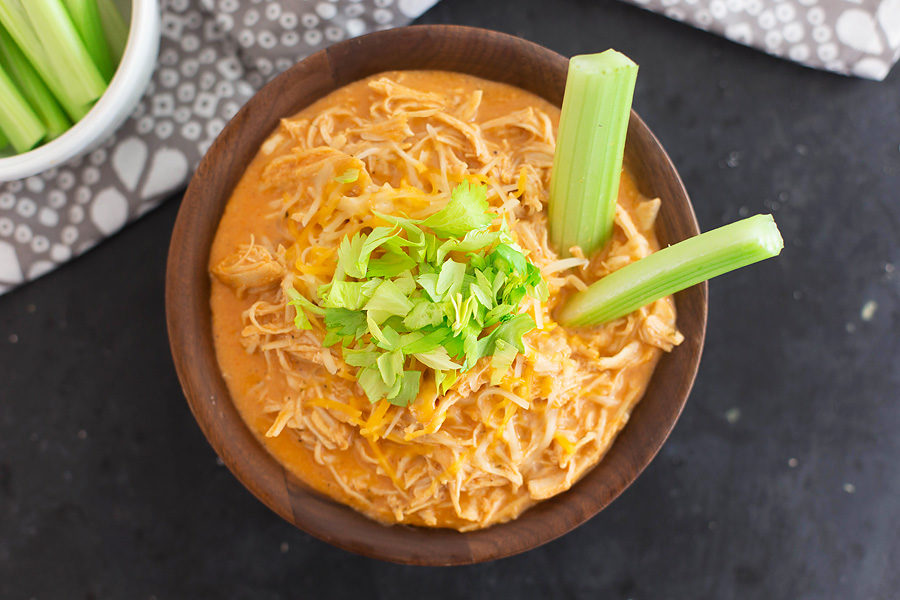 Enjoy this cheesy keto buffalo chicken dip on fresh-cut celery chunks or with the low-carb crackers listed above.
No matter what you eat with it, you know it's all going to be delicious.
The final dip recipe highlights the best keto fruit: avocado.
#8. Chunky Keto Guacamole and Avocado Salsa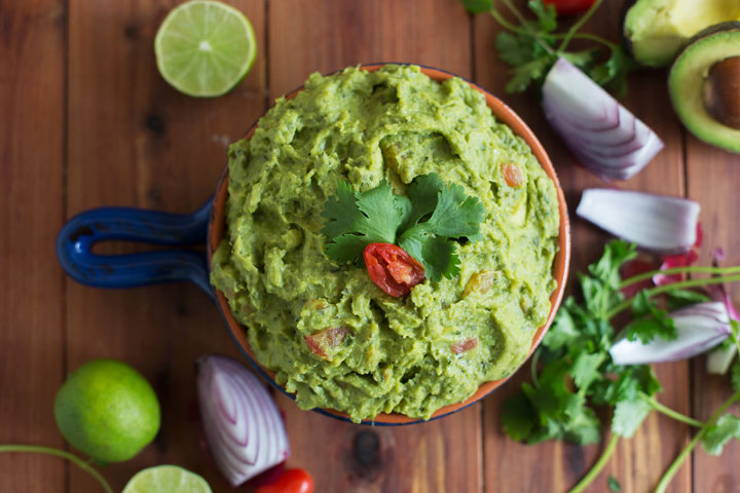 Fresh guacamole is filling, keto-friendly, vegan, and perfect for summer BBQs.
For chunky, traditional guacamole, use this low-carb recipe (pictured above). And if you prefer having a salsa-like consistency to your guacamole, try this one.
Similar to the last two dips, guacamole works well as an appetizer, condiment, and side for grilled and smoked meat dishes.
Cold salads are another category of crowd-pleasing summer sides.
Keto BBQ Side Salads
A big salad with lots of low-carb add-ins like veggies, nuts, and seeds makes an ideal keto side dish for heavy meats.
Mix one up with a homemade keto salad dressing like:
Cold, creamy, and low-carb, these other salad recipes will add a light freshness to all the main dishes at your next cookout:
#1. No Potato (No-Tato) Salad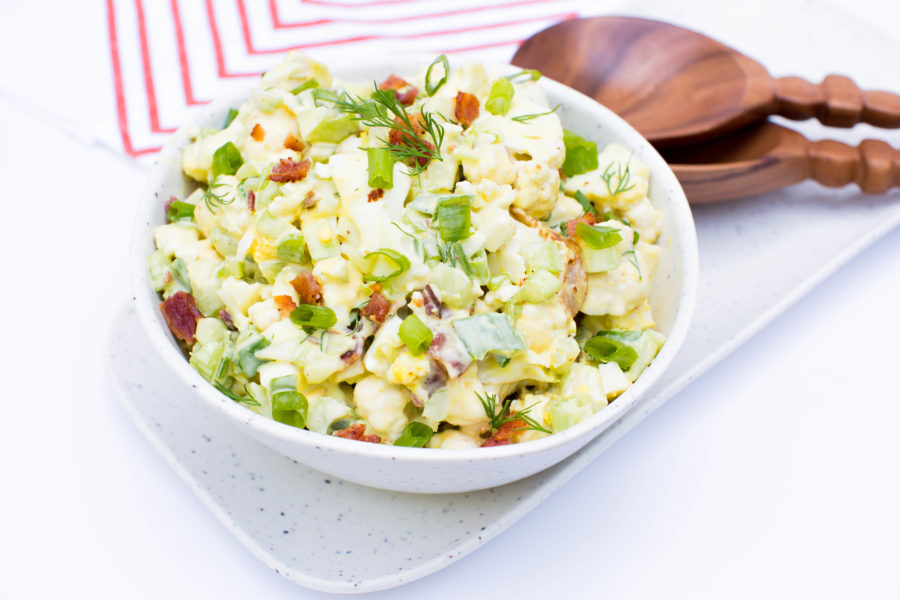 You'll need to say sayonara to the potato salad and macaroni salad you grew up eating when you switch to a keto diet.
But just like cauliflower rice, cauliflower makes the perfect stand-in for high-carb potatoes and pasta.
This low-carb recipe for cauliflower salad includes eggs, celery, bacon, dill, green onions, mustard, and mayo.
If you're not into cauliflower, switch it out with broccoli for a broccoli-based no-tato salad.
The next classic side doesn't need much tweaking for a low-carb diet.
#2. Easy Keto Egg Salad

Don't have the time or patience to make a tray of deviled eggs for your next BBQ?
You'll be grateful for the ease and quickness of this low-carb egg salad recipe.
This creamy, protein-rich side pairs well with grilled chicken, barbecue ribs, and grass-fed burgers.
It will keep you satisfied even as a small side dish, just like the next recipe.
#3. Keto Chicken Salad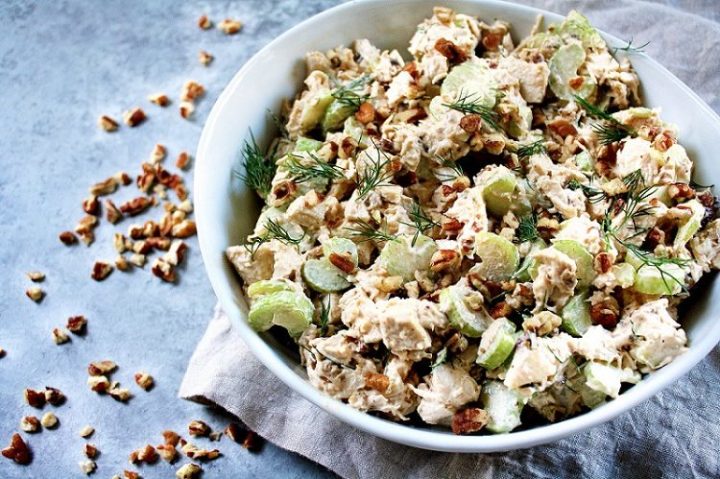 This chunky keto chicken salad recipe packs crunch, protein, and major flavor.
You'll need celery and chopped pecans for the crunch factor, big chunks of chicken breast to fill you up, and mustard and fresh dill for taste.
The next recipe transforms a classic side so you can actually work it in your macros.
#4. Loaded Keto Coleslaw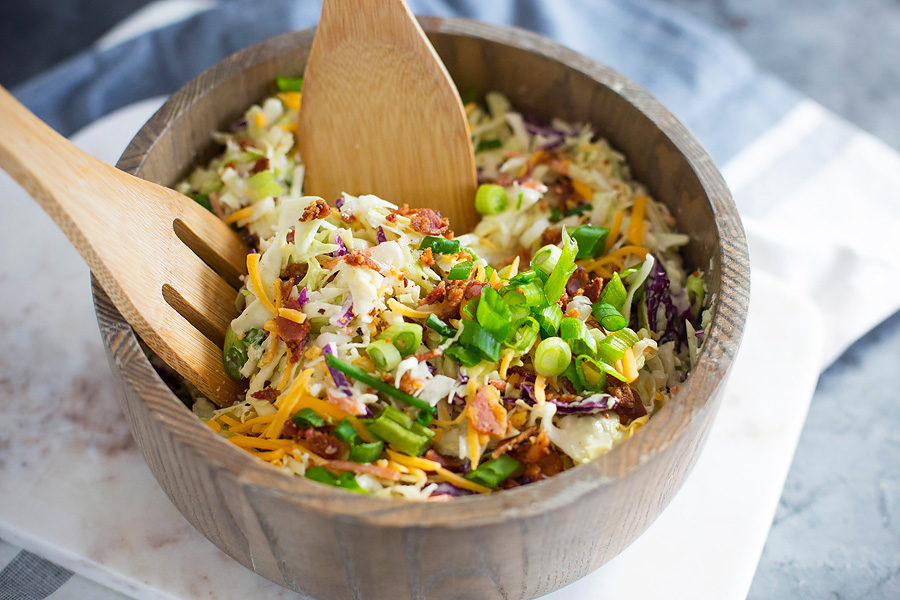 Coleslaw may sound safe on a keto-diet because it's only shredded veggies and mayo.
But that's until you learn that most coleslaw dressings contain enough sugar to kick you out of ketosis.
So skip the guessing game and make this loaded keto coleslaw recipe.
As the name suggests, it contains bacon, cheddar cheese, and green onions layered between light coleslaw veggies.
Try this recipe once and you won't miss the high-carb versions you've had before.
The next recipe combines two of everybody's favorite summer salads.
#5. Cucumber Caprese Salad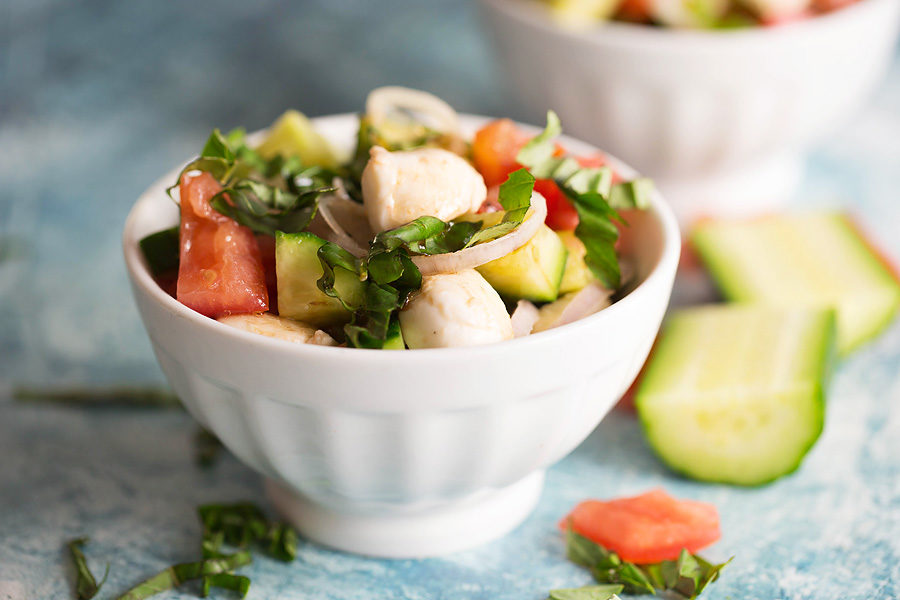 This cucumber caprese salad is loaded with minerals and light enough to eat in the summer heat. Top it with plenty of fragrant basil, sea salt, and pepper for the perfect Italian side.
Craving pasta salad? This next recipe is a low-carb, keto version of "macaroni" salad the whole party will love.
#6. Two-Step Garlic Parmesan Zucchini Pasta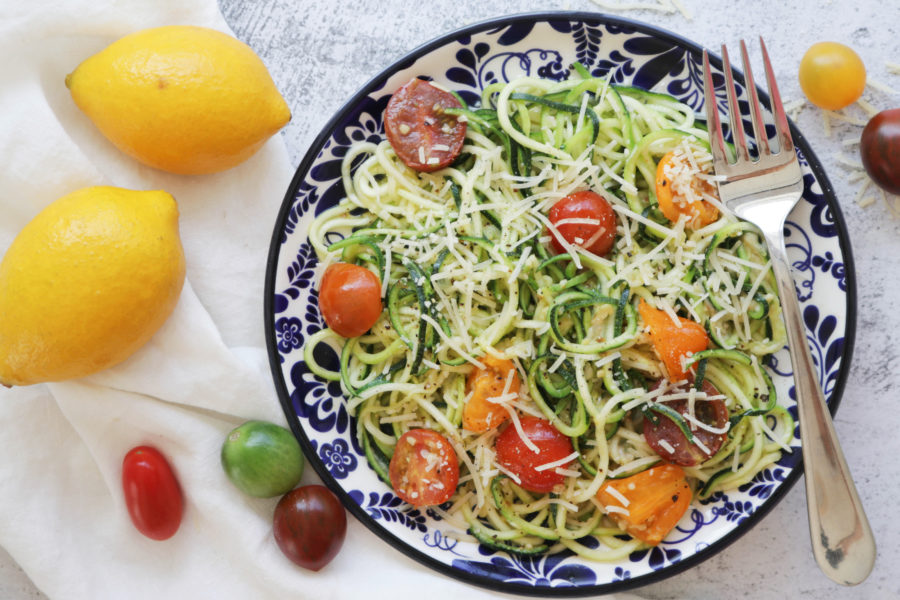 This gluten-free garlic parmesan zoodle salad with ripe tomatoes makes an excellent pairing for BBQ meat or grilled shrimp.
But if you'd rather not have garlic breath at your BBQ, try this creamy avocado pesto for your zucchini noodles instead.
Up next you'll find knock-off recipes for your favorite high-carb BBQ side dishes — minus the insulin spike.
Traditional Keto BBQ Sides
Salads and dips might be easy to modify into keto-friendly dishes. The same can't be said for traditional BBQ sides like biscuits and mac and cheese.
Read on for keto versions of your favorite barbeque side dishes.
#1. Fluffy, Low-Carb Keto Biscuits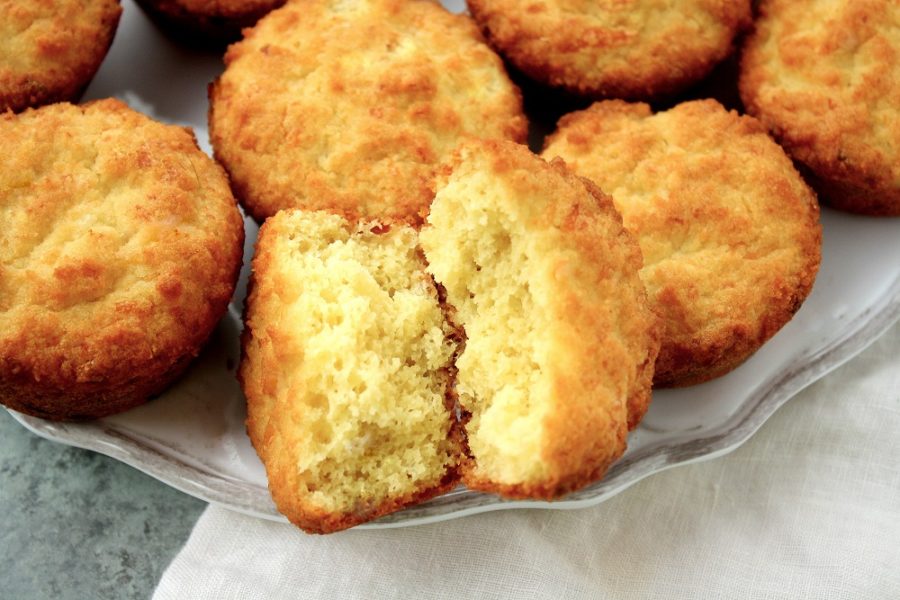 You can swap your grandmother's high-carb biscuits for this keto-friendly one and keep everyone happy.
You'll need to ditch the processed white flour usually found in biscuit recipes for high-fat, nutrient-packed almond flour.
Adding mozzarella and heavy whipping cream prevents your biscuits from drying out and helps them maintain their fluffy, dough-like consistency.
The next recipe shows you don't need a dough or batter to score the same cheesy, fiery greatness of jalapeno poppers.
#2. Keto Jalapeño Poppers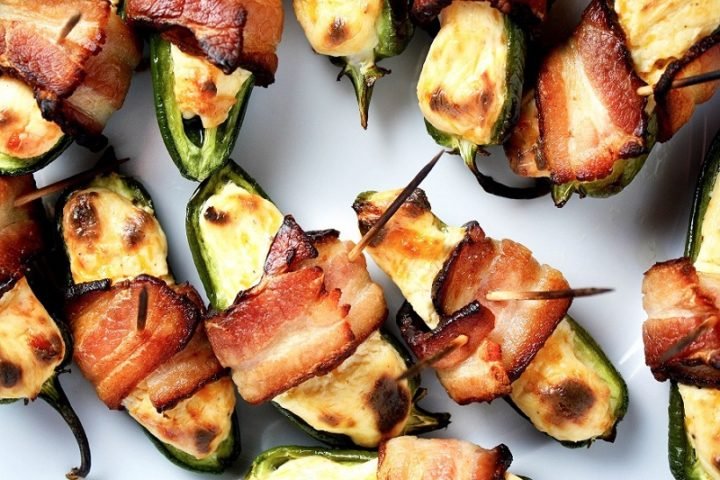 Traditional popper recipes for breaded and fried finger foods are a no-go on a keto diet.
This keto jalapeno poppers recipe puts those old ones to shame — and it's much better for you.
In this version, you'll fill your jalapenos with a mixture of cream cheese and sharp cheddar. Then each jalapeno gets wrapped in half a slice of bacon.
No breading. No unhealthy oils.
The next recipe also gives you a better version of a classic cookout staple.
#3. Avocado Deviled Eggs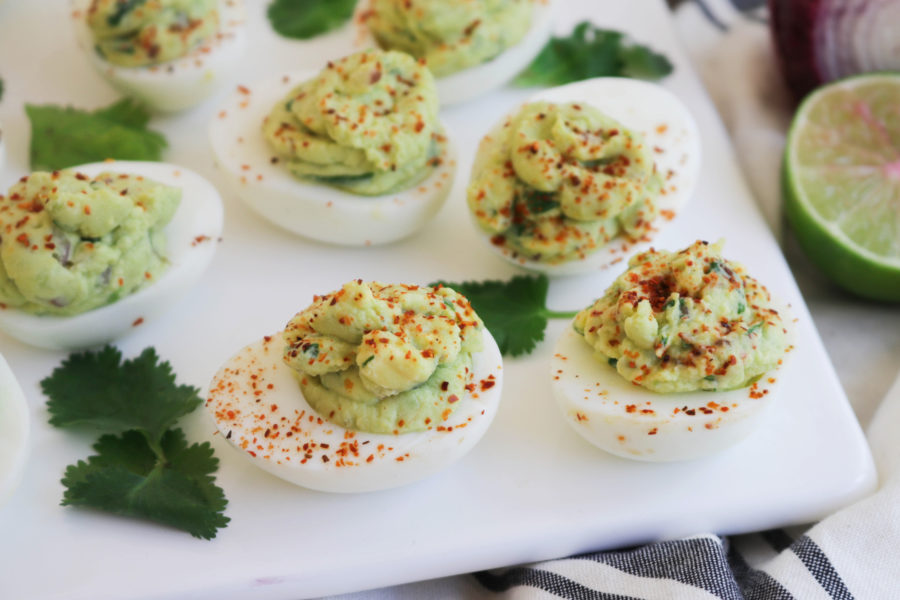 Traditional deviled eggs are generally low-carb if you see them on the buffet table.
These avocado deviled eggs with cilantro up the ante with 4g of fat for zero net carbs per egg half.
Serve them up chilled for a creamy contrast to your hot grilled or barbecued meats.
You'll want the next side warm so you can savor all the gooey, melty cheesiness.
#4. Low-Carb Cauliflower Mac and Cheese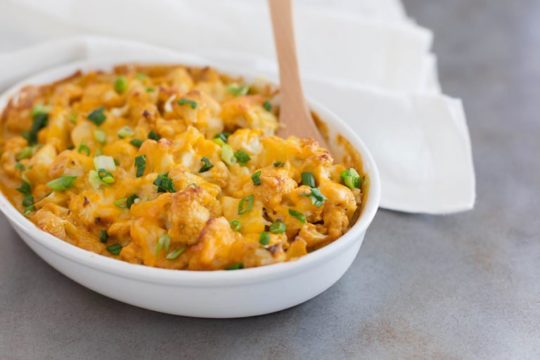 Macaroni and cheese is another typical BBQ side dish you may miss on a keto diet, just like pasta salad.
Fortunately, you can use cauliflower for the noodles and this low-carb mac and cheese recipe. You'll create a keto-friendly version that's just as — if not more — delicious than your old recipe. You can also be interested in our New Keto-Friendly Mac & Chesse.
Besides giving you a taste of what you enjoyed pre-keto, you'll also reap all the health benefits of cauliflower.
Another high-carb favorite that's usually paired with ribs, pulled pork, and other barbecue staples is mashed potatoes.
#5. Mashed Potatoes: Three Ways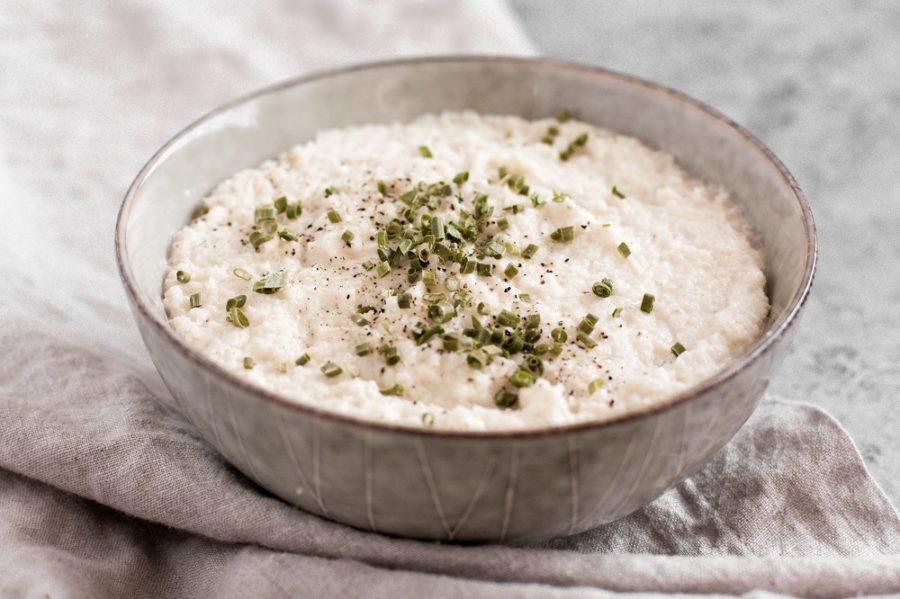 Potatoes are one of the first high-carb veggies you'll need to cross off your list when you're lowering daily carbs.
The good news is low-carb veggies like turnips and cauliflower make incredible faux mashed potatoes. Your guests may not even realize the veggie switch.
This first recipe cleverly uses turnips in place of potatoes, along with bacon bits and grass-fed butter for that loaded potatoes flavor.
The next two mashed potato recipes both use cauliflower, which makes them lighter than traditional versions.
The garlicky mashed "potato" recipe (pictured above) is super simple and creamy while the other recipe bakes up with a parmesan crust.
If you or your kids need french fries with hot dogs or cheeseburgers, the next recipe uses a surprising veggie as the tasty low-carb replacement.
#6. Low-Carb, Celeriac Everything Keto Fries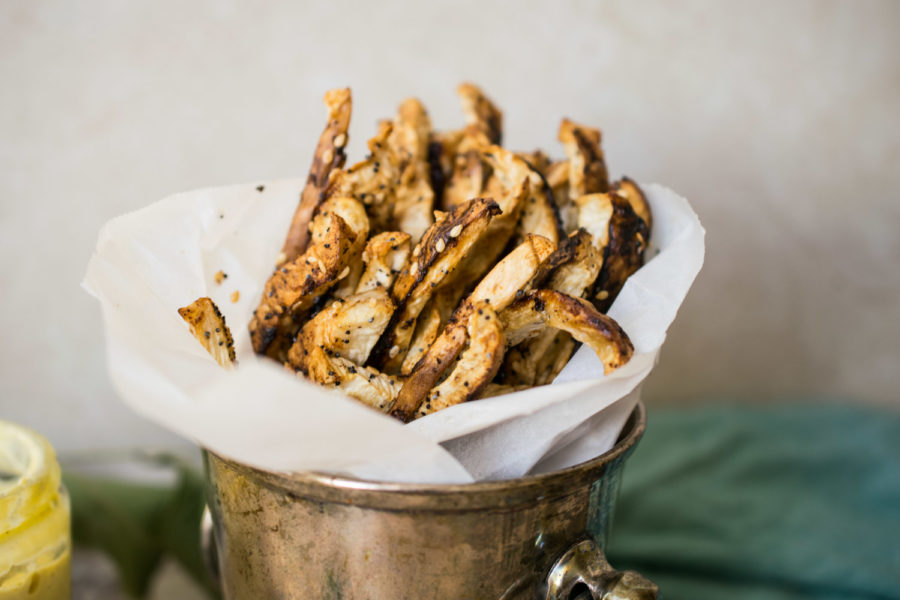 Offer your guests a little indulgence with these everything keto fries.
Using celery root instead of potatoes gives you the same crunchy-yet-soft consistency of french fries. And celery root is lower in starch and packed with fiber, vitamins, and minerals.
Sprinkle with seasoning and dip those fries in homemade keto ketchup, keto BBQ sauce, or low-carb ranch dressing.
The next recipe helps add more healthy greens to your plate.
#7. Deliciously Perfect Keto Creamed Spinach: Two-Ways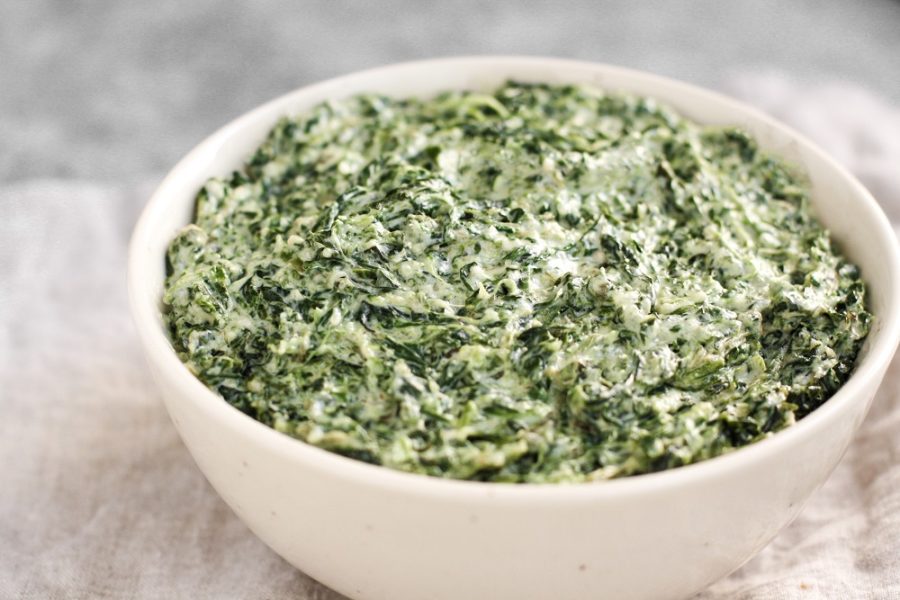 Creamed spinach is one of the best marriages of healthy greens and satiating, mouthwatering fats.
And it's one of the smartest ways to hide the taste of a superfood veggie for picky eaters.
This thick keto creamed spinach recipe (pictured above) stands up to hearty grilled meats while this recipe is a bit creamier.
Though creamed spinach is a traditional veggie side dish, it's not the only option for your cookout.
Low-Carb Veggie Side Dishes
You can keep sides for your meal plan simple with low-carb veggies like broccoli, green beans, or salad.
Or you can say yes to these easy keto recipes for vegetable side dishes everyone will devour:
#1. Crispy Keto Bacon Wrapped Asparagus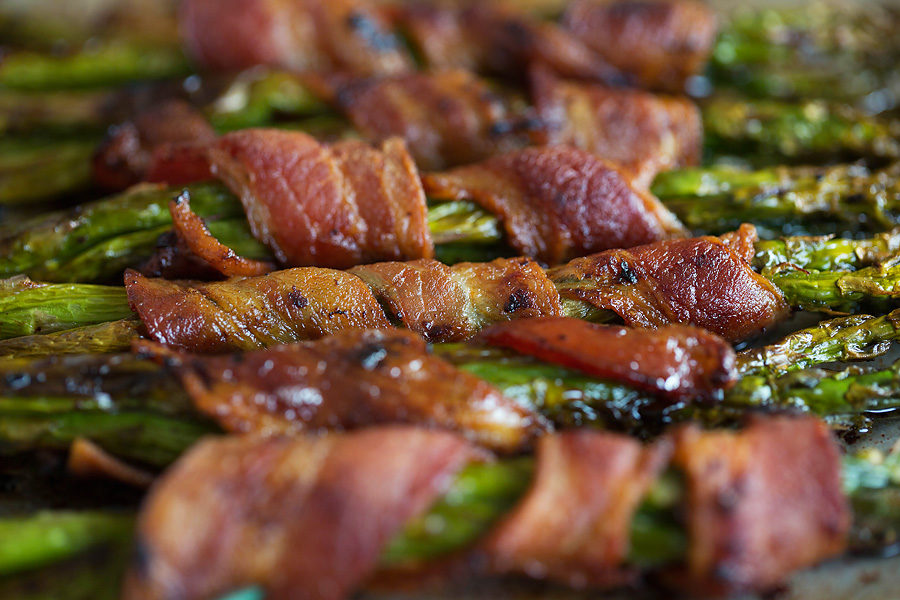 Bacon makes everything better. And these bacon wrapped asparagus spears are no exception. The crisp and flavor of the bacon makes this keto side irresistible.
Plus, you can easily throw these on the grill next to your burgers and hot dogs — no complex baking required.
Bacon will also entice everyone to eat this next low-carb veggie.
#2. Sheet Pan Brussels Sprouts with Bacon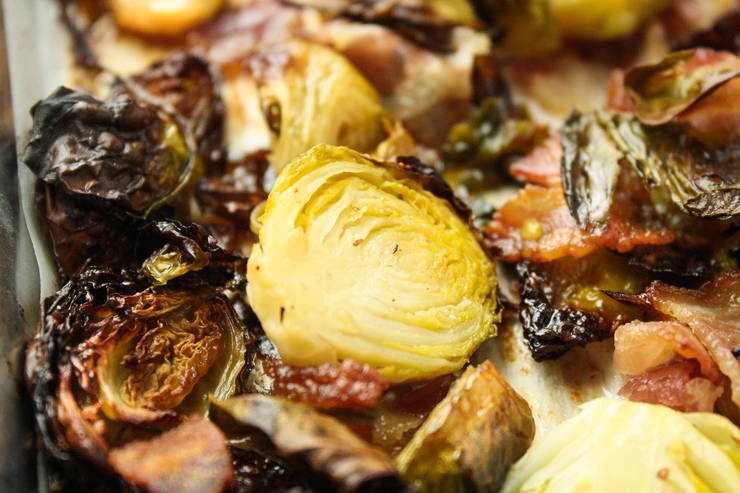 What's great about this low-carb side dish, besides adding more veggies to everyone's plate, is that you can make a large batch for a crowd.
Have these brussels sprouts roasting inside while your meat cooks outside and they'll be a perfect match when it's time to eat.
You'll be pleasantly surprised when your kids start snacking on the next veggie with their meals.
#3. Crispy Kale Chips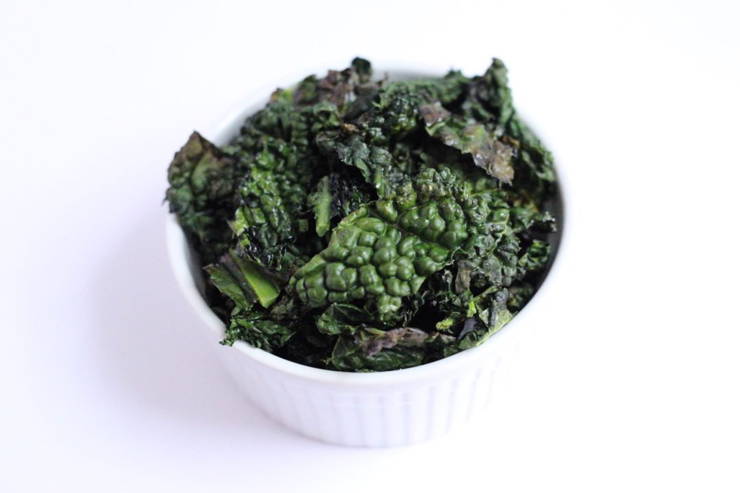 No one said the veggies on the side of your bunless hot dog or hamburger need to be boring. These crispy kale chips are as delicious and fun to eat as they are nutritious.
Consider the next recipe an upgrade to the typical meat-and-potatoes pairing.
#4. Balsamic Roasted Turnips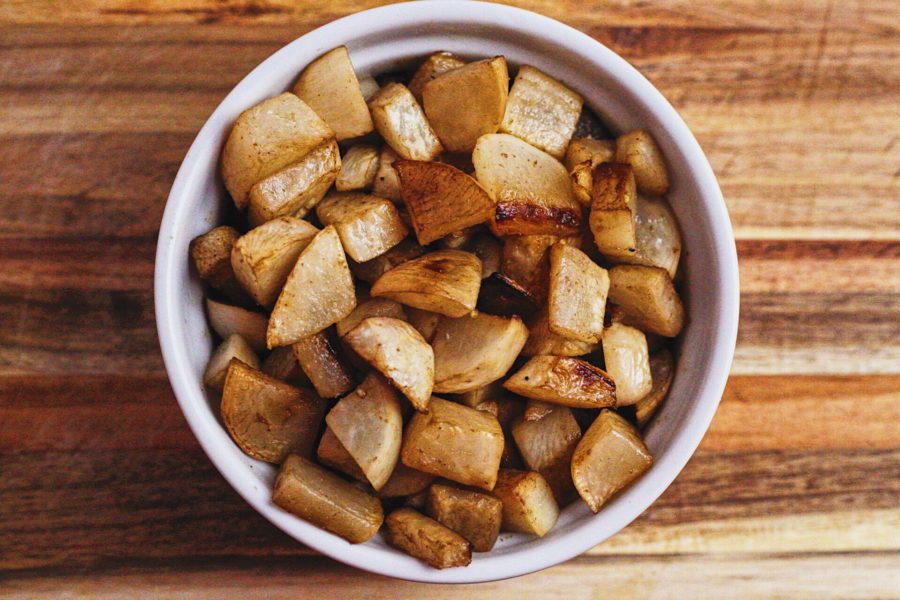 These balsamic roasted turnips look like potatoes and have a similar fibrous texture — but way fewer carbs.
Since they're roasted with garlic and balsamic vinaigrette instead of the standard avocado or olive oil, they'll add an elevated flair to your cookout.
Try These Free Keto BBQ Side Dish Recipes Today
You don't have to go straight carnivore to enjoy barbecues and cookouts on a keto diet this summer.
These keto BBQ sides complement your main dishes and prove you don't have to give up your favorite traditional sides to stay in ketosis.
Now it's time to try a few of these to learn which side dish becomes your favorite keto go-to for summer get-togethers.
And if you'd rather make a sugar-free dessert for your BBQ — like classic American-style cheesecake, ice cream, or cookies — click here for those recipes now!