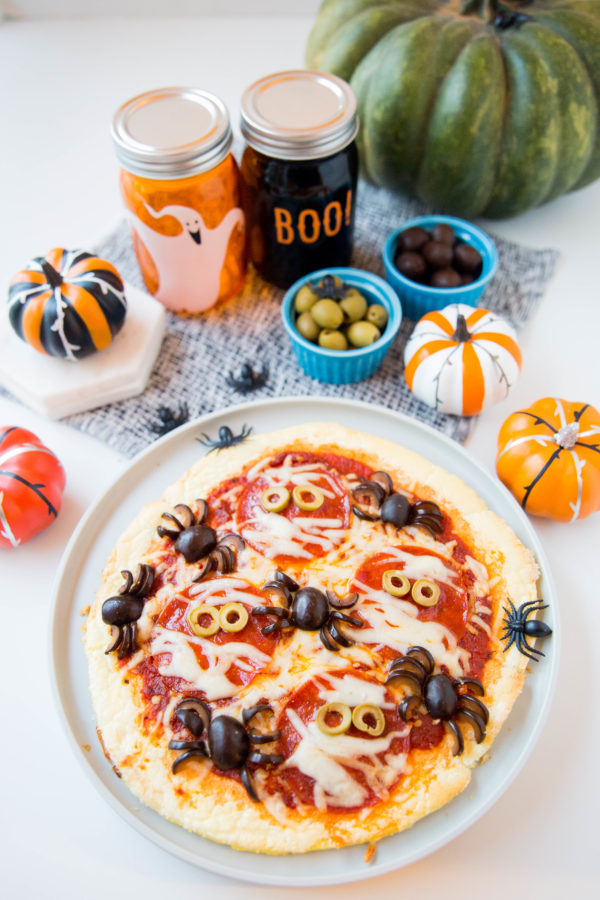 This spider web pizza makes an excellent Halloween dinner. Whether your trick-or-treating or going to a Halloween party it's always good to get a meal in before the festivities.
You can make one big pizza with this recipe, or several mini pizzas, depending on how you plan to serve it.
So grab some ripe olives, tomato sauce, and DIY pizza dough and have some fun with this one!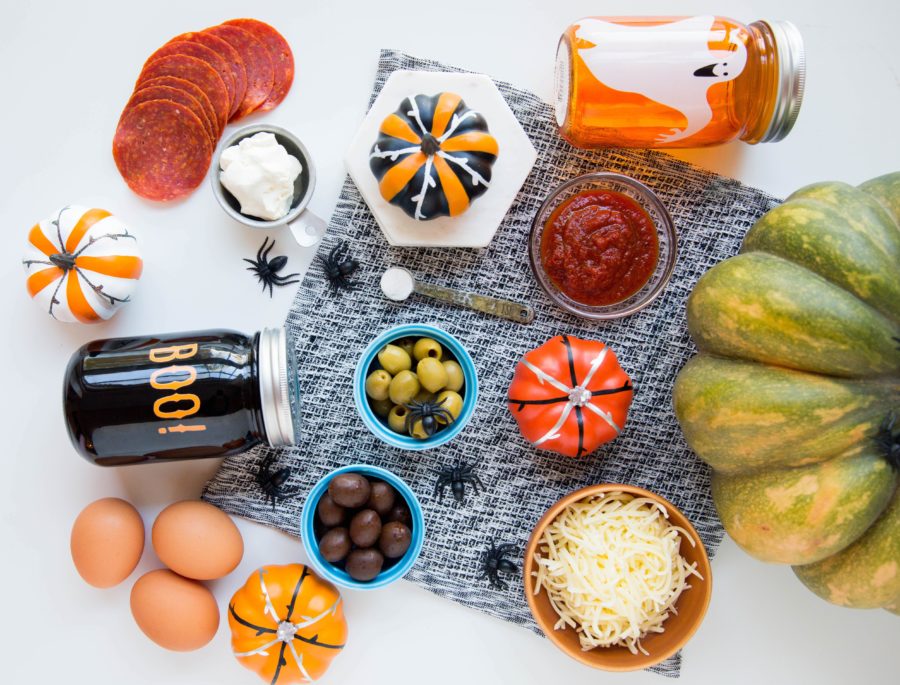 This Halloween pizza is:
Soft
Chewy
Savory
Flavorful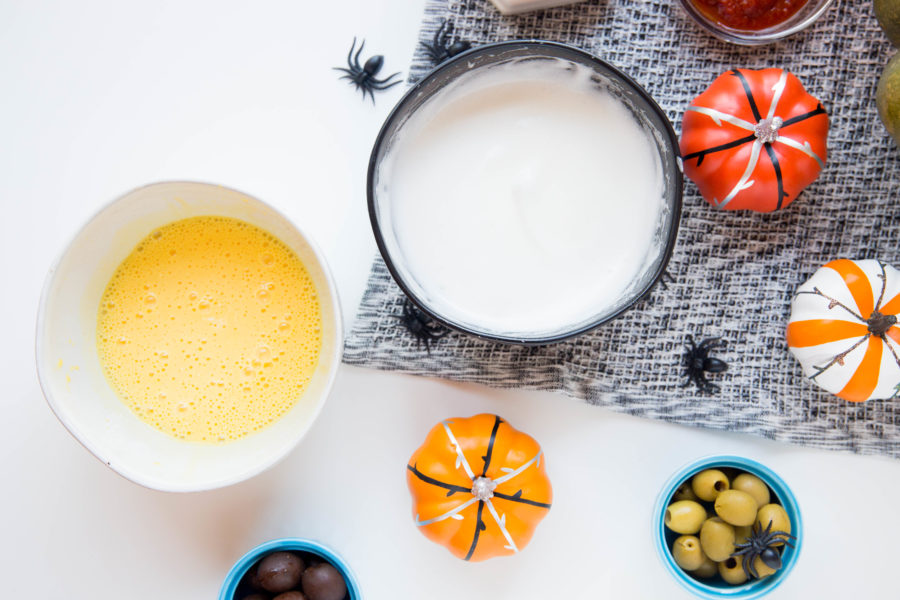 The main ingredients are:
Keto-friendly pizza sauce
Mozzarella cheese
Olives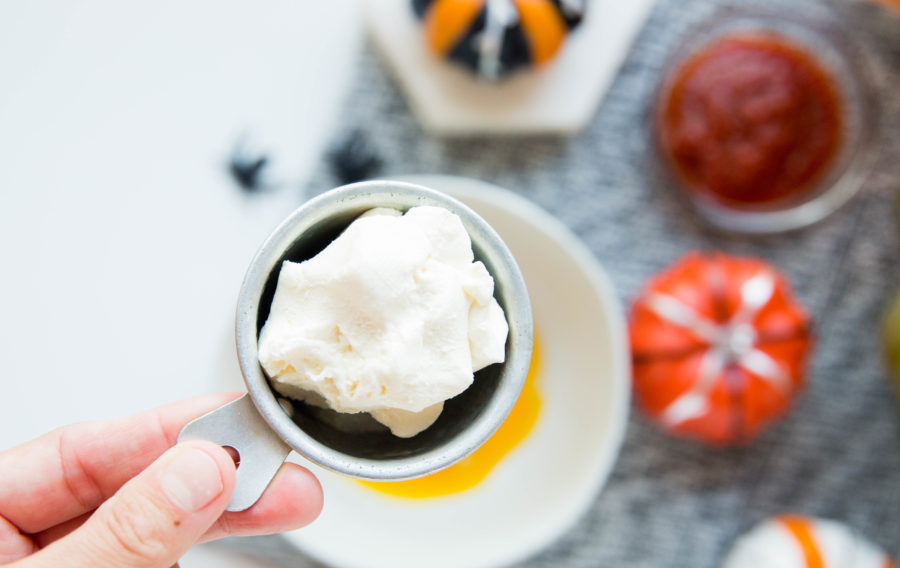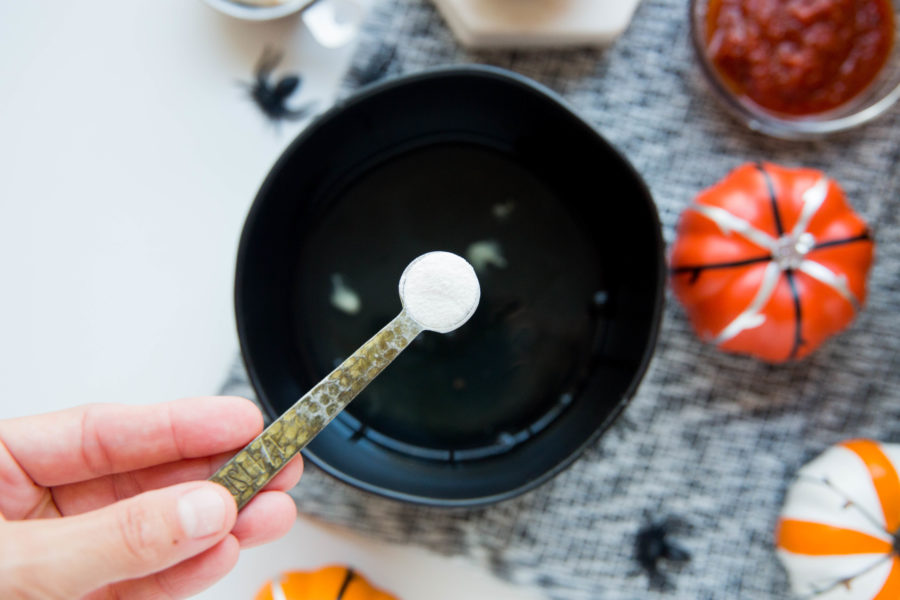 Optional additional ingredients: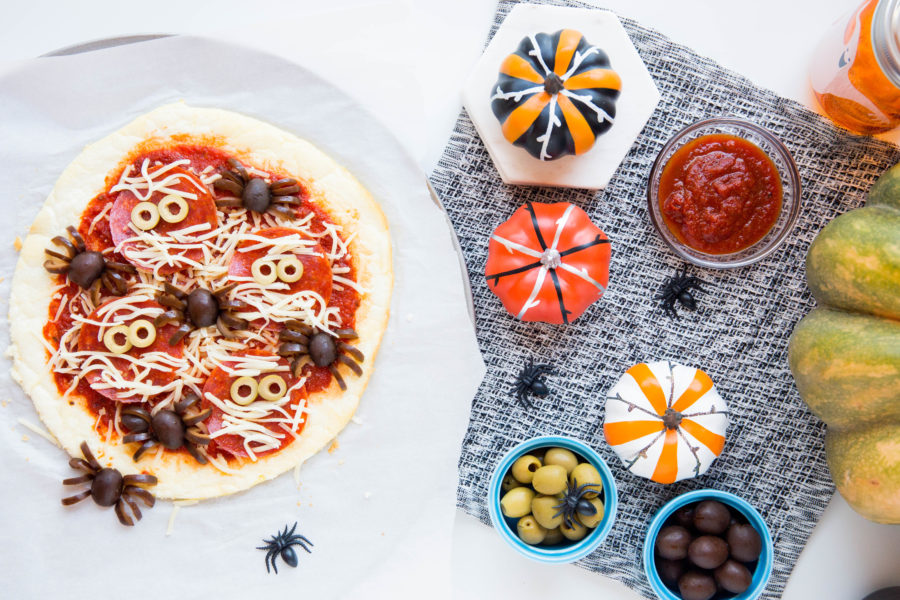 3 Health Benefits of Spider Pizza
#1: Supports Eye Health
Eye health is one of those things that most people take for granted. When you can see correctly, and your eyes are healthy, not much thought is given to it.
However, once vision starts to go or issue arise like cataracts and macular degeneration, eye health becomes a much bigger priority.
What you may not be aware of is that one of the best ways to take care of your eyes is through a healthy diet.
Eggs, in particular, happen to be a rich source of eye-health promoting nutrients. They contain two phytonutrients, lutein and zeaxanthin, that have an affinity for your eyes.
In the retina of your eye these two antioxidants help fight off free-radical damage caused by blue light, and support the function of your eyes.
By doing so, these compounds may play an essential role in the prevention of both cataracts and macular degeneration[*].
#2: Promotes Heart Health
Cheese has been one of the victims in the war against fats for heart health. Along with eggs, people were made to believe that cheese consumption was a risk factor for heart disease, and it should be limited or even better — avoided altogether.
Luckily for cheese, and for you, research is now revealing that cheese is not only in the clear as a risk factor for heart disease, but full-fat dairy is actually a rich source of high-value nutrients.
These nutrients include anti-inflammatory chemicals, and in dairy foods that are fermented (like cheese,  they may even support heart health[*].
Another ingredient in this spider pizza that supports the health of your heart is the olives. Olives are a high-fat fruit, and they're especially high in monounsaturated fatty acids (MUFAs). Research shows that including more MUFA-rich olive oil in your diet can lead to reductions in blood pressure, and even a reduced need for hypertensive medications in some[*].
#3: Anti-Inflammatory
The MUFAs in olives, specifically the fatty acid oleic acid (OA), have been shown to have a wide range of benefits in your body. It's suggested that OA has a role in building immunity in your body and may have a beneficial effect on inflammatory diseases like autoimmune disease, cancer, and heart disease[*].
It's no surprise then, that people who live in areas where olives and olive oil are consumed on a frequent basis (like the Mediterranean diet) have a lower incidence of anti-inflammatory conditions like atherosclerosis and cancer.
It's likely that two antioxidant compounds, hydroxytrolos and oleuropein, also contribute to olive anti-inflammatory effects[*].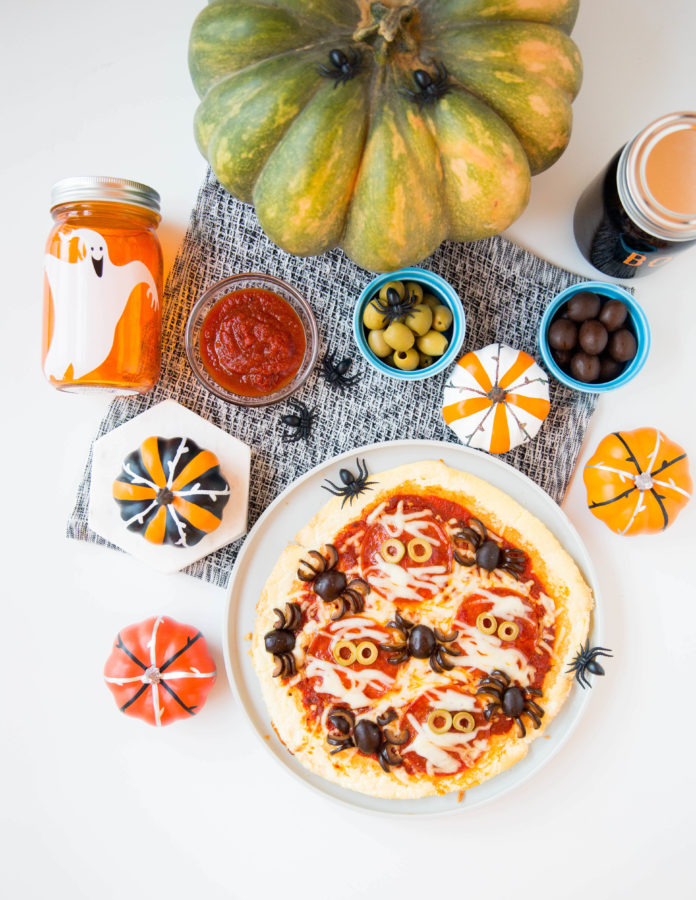 Print
Halloween Spider Pizza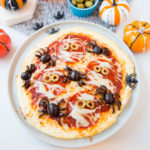 Halloween only happens once a year — make the most out of it with this Halloween inspired pizza. And don't worry, those creepy crawly olive spiders won't bite.
Author:
Total Time:

40 minutes

Yield:

6

slices

1

x
Scale
Ingredients
Toppings:
¼ cup

keto-friendly pizza sauce

1

–

1½

cups mozzarella

cheese
Instructions
Preheat the oven to 300 F. and line two baking sheets with parchment paper.

Carefully separate egg whites from yolks. Places whites in one bowl and yolks in another.

In the bowl of egg yolks, add cream cheese and mix together with a hand mixer until well-combined.

In the bowl of egg whites, add cream of tartar and salt. Using a hand mixer, mix together at a high speed until stiff peaks form.

Pouring slowly, use a spatula or spoon to add yolk mixture to egg whites and carefully fold in until there are no white streaks.

Gently pour mixture onto prepared baking sheet and bake for 30 minutes, until top is lightly golden brown.

While it's baking, slice the green olives, and slice 3 of the black olives in half lengthwise. Slice the remainder of the black olives in half, lengthwise, but slice them into half-moon shapes for the spider legs.

Remove the pizza from the oven and add the pizza sauce, some cheese, the pepperonis, 6 halved olives and the legs to match. 

Place two sliced green olives on each pepperoni, then cover the pepperoni with cheese to resemble a mummy.

Bake for an additional 10 minutes.

Slice into 6 pieces and serve.
Nutrition
Serving Size:

1 slice

Calories:

150.8

Fat:

11.25g

Carbohydrates:

1.8g (Net:1g)

Fiber:

0.8g

Protein:

8.5g