Among the top choices among breakfast food today is none a warm, comforting bowl of oatmeal.
Most of us can remember growing up and having a steaming bowl of oatmeal for breakfast. This infamous breakfast dish is featured in homes, restaurants all around the world. In fact, it's even mentioned in some of the most popular fairy tales known today — did someone say porridge?
Oats used in oatmeal are found in many other dishes besides this high carb meal, including cookies, granola bars, pancakes and more. While most people today have heard of some variation of oats, whether it be steel cut, rolled or just plain oatmeal.
However, this still leaves the question of what are they exactly and are oats low carb or keto friendly?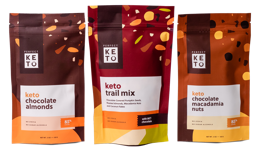 Keto Chocolate Snacks
Sweet. Salty. Decadent. Finally, you can indulge in healthy chocolate snacks with no artificial sugars.
Buy Now
What is Oatmeal and Why Isn't it Low Carb or Keto Friendly?
Oats are technically a grain grown primarily for its seed to produce oatmeal, rolled oats and even feed for livestock populations that are fed grain instead of living off their natural diet of grass.
Compared to other grains, oats have a much higher tolerance for rain and are best grown in temperate regions. They're considered an annual plant that can be planted in spring or fall.
Although oats are extremely popular in America, it is surprisingly not the country with the highest production of this grain. Russia is the biggest producer of oats in the world, with over five millions of tons of oats in 2014.
Following Russia, Canada came in second in production with just under three million tons.
The first oat bread factory dates back to 1899, where it was established in Britain. Along with Britain, Scotland has a large oat fan base as well, as it is still a mainstay of their national diet today. Now that we know the history of oats, let's talk about why they've become so popular in the first place.
While oats are generally considered healthy, the real question is whether or not they're low carb or keto friendly.
It is true — oats are loaded with micronutrients that pack some serious nutritional value. Some of the vitamins and minerals found in just three and a half ounces of oats include thiamine, riboflavin, niacin, pantothenic acid, vitamin B, folate, calcium, iron, magnesium, manganese, phosphorus, potassium, sodium and zinc.
It's powerful punch of micronutrients is equally matched by it's macronutrients. A three and a half ounce serving (or around 100 grams) of raw oats is about 389 total calories, including 17 grams of protein, 66 grams of carbs, 56 grams of net carbs and seven grams of fat.
While oats may come packed with key vitamins and minerals, this carb count is simply too high for those following a low carb or ketogenic diet.
Even if you were to split the serving size in half and only consume 50 grams of oats in a sitting, it would still make up about 28 grams of carbs. For individuals just beginning their keto journeys, their daily carb intake should be anywhere from 20-50 grams of carbs, depending on the person.
With 50 grams of oats taking up over half your daily carb limit, you have a good chance of kicking yourself out of ketosis and ruining any progress you've made in alternating your metabolism. Remaining below a certain carb intake is key in the ketogenic diet due to your body's natural inclination to pull energy from your glycogen stores instead of your fat stores. In order to get your body to pull from your fat stores for fuel, you have to first deprive it of enough carbs and glycogen.
This huge change in diet may be a bit overwhelming at first, which is why it's recommended to find low carb substitutes for all of your favorite high carb foods to make the transition to a low carb or ketogenic diet easier.
4 Low Carb Substitutes for Oatmeal
Are you new to a low carb or ketogenic diet and think you have to get rid of your favorite breakfast dish? Think again. Not only can you recreate this high carb meal with a great low carb alternative, but you have options, too! Some of the best low carb substitutes for oatmeal include:
#1: Chia Seed Oatmeal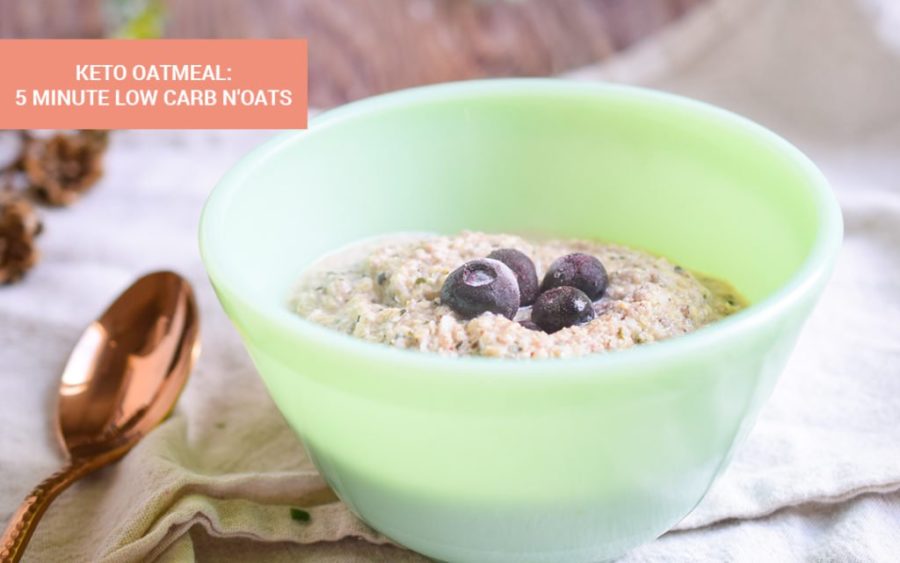 Image: Keto Oatmeal: 5-Minute Low Carb n'Oats
Chia seeds not only resemble the texture and consistency of oats, but they're considered a nutritional powerhouse as well. In fact, in Mayan culture the term chia actually stands for "strength". With their ability to be added into almost any recipe, chia seeds are packed with key nutrients that are guaranteed to improve your health and wellness.
Some of these factors include being an abundant source of antioxidants, a good source of certain vitamins and minerals such as calcium, magnesium and potassium, being high in omega-3 fatty acids and being extremely rich in fiber. These components help make chia seeds the superfood they are by helping them improve digestive health, heart health, diabetes, bone health and metabolic function.
While it's no question that chia seeds come with some amazing micronutrients, what about it's macronutrient make up? For a one ounce serving of chia seeds, there are 137 total calories, two grams of net carbs, ten grams of fiber, eight grams of fat and four grams of protein.
Yep, you read that right. Only two grams of net carbs per one ounce. (Insert mic drop here). These macros are perfect for your keto macronutrients or low carb intake needs.
When it comes to preparation, chia seeds are not very different from oats. They both require water, soaking it up and expanding in size once cooked. Whether you're eating them alone or adding them to another meal, your breakfast is guaranteed to level up in terms of nutrients and sufficiency.
#2: Flaxseed Oatmeal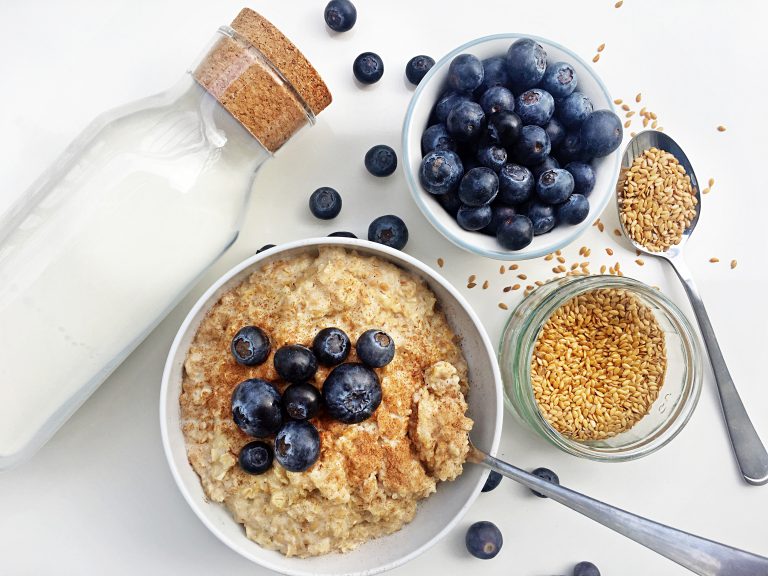 Image: Keto Flaxseed Porridge
Another seed that's finally getting the credit it deserves is flaxseed. Whether you're adding to to coconut cream of full fat coconut milk, flaxseed oatmeal is a phenomenal low carb substitute for the classic bowl of oatmeal for breakfast.
But, what makes flaxseed so great?
Flaxseed has been around since the beginning of civilization, first appearing in the country when brought over by colonists. While it was originally intended to be used for fiber in clothing and other material, people quickly realized the health benefits of this little seed. Similar to quinoa, flaxseed is a great plant-based protein and even more beneficial when consumed sprouted and ground as flaxseed meal.
Like chia seeds, flaxseed provides many different health benefits. Some of these benefits include improving the digestive system, improving weight loss, helping lower cholesterol, helping control blood sugar levels, being abundant in fiber and being high in omega-3 fatty acids — alpha-linolenic acid, specifically.
Alpha-linolenic acid (ALA) is is an extremely important fatty acid that helps to fight off free radical damage. While free radicals are naturally occurring within our bodies, they tend to cause harm when they create dangerous chemical bonds during oxidation. ALA contributes to overall health in many ways including the preservation of eye health, the improvement of cognitive abilities and even in glutathione production (one of the top antioxidants).
Two tablespoons of flaxseed come to 110 total calories, including zero grams of net carbs, six grams of fiber, four grams of protein and eight grams of fat.
In terms of keto macronutrients, flaxseed beats chia seeds for net grams of carbs. However, you can prepare them in similar ways.
#3: Hemp Heart Seeds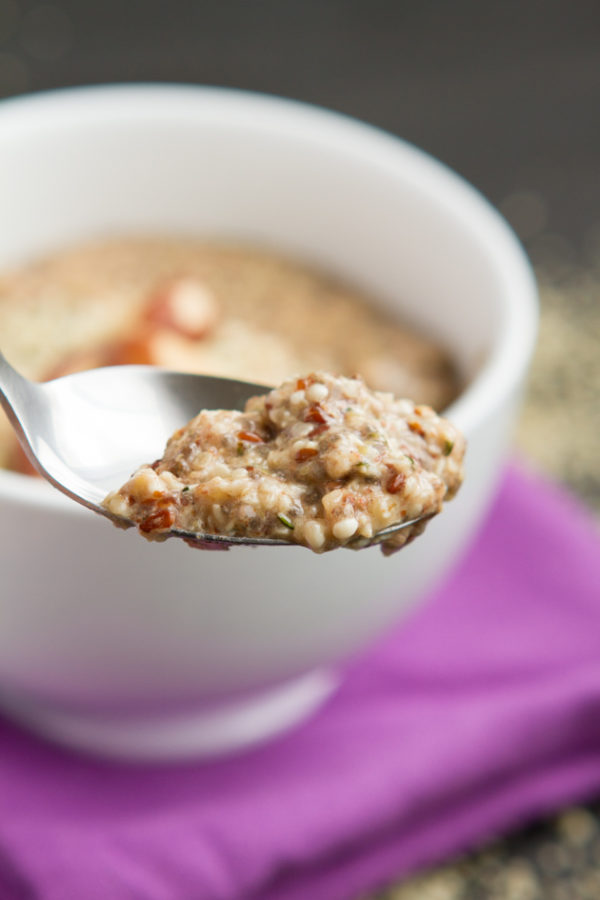 Image: Keto Grain-free Hemp Heart Porridge
Busy mornings call for quick, easy meals. While classic oats don't require anything more than adding water and warming up on the stove or microwave, other low carb alternatives may not be as simple. However, hemp heart seed oatmeal is one of the few that are guaranteed to get you out of the door in time for the busy day ahead. Simply add them to a cup of full fat coconut milk, heat it up and you're ready to go.
Besides this quick prep, what other benefits do hemp heart seeds provide?
Hemp heart seeds are the seeds of the hemp plant — one of biggest industrial crops in the world in terms of variety. This seed is as powerful in it's nutritional value as it is in diversity. One of the benefits of hemp hearts is it's abundance of gamma-linoleic acid (GLA). GLA helps with hormones that help with muscle growth and repair as well as inflammation and other vital bodily functions.
A one ounce serving of hemp seeds contains about 161 total calories, one gram of net carbs, two grams of fiber, nine grams of protein and 12 grams of fat. These killer keto macronutrients make it the perfect low carb substitute to add in to your favorite oatmeal with water or full fat coconut milk for a serving of extra healthy fats.
#4: Coconut Flakes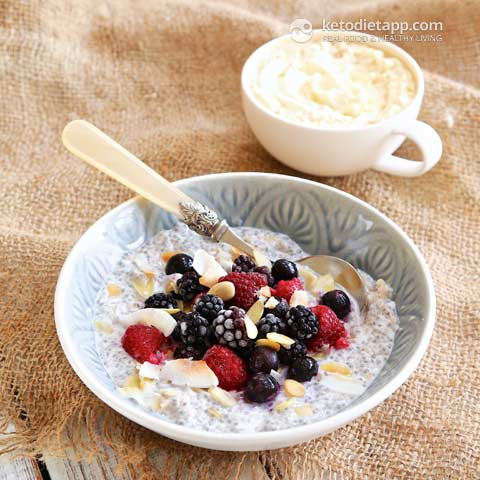 Image: Quick Keto Oatmeal
With coconut oil being the new buzzword in the health and wellness industry today, it's no wonder that coconut flakes are making a name for themselves as well. Coconut flakes (or shredded coconut) provide more than just a low carb alternative to oatmeal.
Shredded coconut flakes give you that sweet taste of coconut while satisfying that crunch you crave. If you're worried about them becoming a soggy consistency when combining it with milk or water, all you have to do is toast the flakes by baking them in the oven for 10-15 minutes before adding them to your oatmeal.
You can even save some leftovers to sprinkle on top of your favorite low carb desserts.
Coconut is jam-packed with all the key nutrients you need to reach optimal health and wellness. The meat of the coconut in particular (where the shredded flakes come from) is where you'll find all the benefits of this flavorful food.
Consuming more coconut has been shown to improve the digestive system, improve the absorption rate of key vitamins and minerals and improve blood sugar and insulin levels, which is important to note for individuals struggling with diabetes. Coconut has also been shown to improve good cholesterol, help protect the body from certain cancers and help fight off free radical damage.
One cup of shredded coconut flakes (unsweetened) comes to a total of 260 calories, including 25 grams of fat, three grams of net carbs, seven grams of fiber and three grams of protein. Not only are coconut flakes the perfect low carb alternative for individuals following certain keto macronutrients or a low carb diet, but they make a great snack in general.
Whether you're preparing them in overnight oats or making a big bowl the morning of, these low carb alternatives to oatmeal are a guaranteed way to stick to your macro goals without the worry of getting kicked out of ketosis. The next time you're at the store, pick up some of these substitutes to your favorite breakfast dish and start seeing the benefits right away.