Do delicious keto cake recipes really exist?
Or do low-carb, low sugar cakes only live in your dreams?
Keto cakes are no unicorns though they are just as magical.
Made with healthy ingredients instead of white flour and sugar, keto cakes not only taste close to the treats you're craving, they're just as easy to make as those from a box.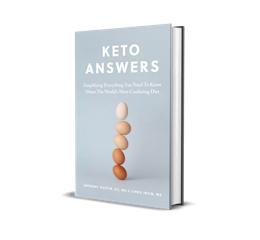 Keto Answers Book
Have a conversation with a leading keto doctor and keto researcher at your fingertips so you can feel better and keto with confidence.
Buy Now
And even non-ketoers will devour them at your next party.
Wondering how it's possible to have cake on a ketogenic diet?
Let's start with everything you need to know about making your next cake keto-friendly before we get to all 18 killer recipes.
What Makes These Keto Cake Recipes Different?
It all comes down to the ingredients.
Keto cake recipes still call for traditional baking staples like large eggs, baking powder and cocoa powder, but they swap out high carb ingredients like white flour and sugar to stay within low carb keto macros.
These substitutions don't affect the taste or texture of your cake so they'll be a hit even with your non-keto friends.
Plus, these ingredients won't wreak havoc on your blood sugar levels afterwards, which means everyone can party on these cakes worry-free.
Many keto cake recipes require these common low carb ingredients:
#1: Almond Flour or Coconut Flour
Processed white and wheat flour are both high in carbs and gluten while being low in nutrition.
But that's not the case with almond and coconut flour. Both of these flours are made from the "meat" of two healthy keto foods: almonds and coconut.
The almonds used to make almond flour, or almond meal, deliver a rich serving of healthy fats (56g per cup), plus important micronutrients like calcium, potassium and magnesium[*].
Almonds and coconuts are also naturally gluten-free so their flour isn't just lower in carbs, it's also safe for anyone with gluten sensitivities.
Almond flour has a similar texture to regular flour so your cake recipes won't take on any strange cardboard-like consistencies.
For keto almond flour recipes, check out this recipe roundup when you're done here.
Coconut flour, which is made from the meat of dried coconuts, is lighter than almond flour, which makes it nice for cakes.
Though slightly higher in carbs than almond flour, it does pack those healthy medium chain fatty acids we all love.
After flour, you'll need to drop the sugar from your cake recipes with these substitutes.
#2: Stevia, Erythritol, and Monk fruit
The three major sugar alternatives to use in keto cake recipes that won't spike your blood sugar are: stevia, erythritol and monk fruit.
Stevia, which is actually an herb, has been studied to help:
Fight cancer cell growth

Regulate blood sugar

Improve cholesterol

Reduce high blood pressure
And you'll get these benefits without having to fork over any calories, which means your macros won't take a huge hit when you use stevia in your recipes.
As for erythritol (pronounced e·ryth·ri·tol), this is a natural sugar alcohol so it also doesn't contain any calories or cane sugar and is safe for low carb baking.
You can find erythritol in forms that look like both granulated sugar and powdered, confectioners sugar. Psst! You can add granulated erythritol to a blender to make powdered erythritol if you don't have any.
Since erythritol won't cause a blood sugar spike, it's another great low-carb alternative to sugar as long as you buy an organic, non-GMO bag without hidden glucose (sugar) in it.
Monk fruit is also a zero calorie sugar substitute for those with a sweet tooth because it contains compounds which are just as sweet as cane sugar, but lack the calories or negative effects on blood sugar.

It's been used as a sweetener for hundreds of years and it's slowly gaining cred in the U.S. as low carb lifestyles become more popular.
You can find monk fruit, erythritol and stevia in the baking aisle of your grocery store or online at places like Amazon and Thrive Market.
For more sugar alternatives that work well on a keto diet, try these other low-carb options too.
#3: Butter and Coconut oil
Box cake recipes rely heavily on margarine and vegetable oil, but these are both notoriously bad for your health.
These two are high in trans fats and increase your risks for developing:
Cardiovascular disease

Obesity

Type 2 diabetes

Visceral adiposity, or the dangerous fat that deposits in your belly and around your organs[

*

].
Bad fats give all fats a bad name.
So when it comes to following a keto diet, the type of fat you use makes a huge difference
Swapping out harmful trans fats for healthier options like grass-fed butter and coconut oil can improve your health on keto and boost the amount of ketones your body produces.
That's why you should always choose grass-fed butter; it's better for you and:
Contains more saturated fats and omega-3 essential fatty acids than non-grass fed butter.

Has 500% more CLA, or conjugated linoleic acid, which can prevent cardiovascular disease, reduce your risk for developing cancer, combat inflammation and give your immune system a boost.
This powerful combination of nutrients is why grass-fed butter comes with these incredible health benefits:
Reduced inflammation

Leaky gut relief

Reduced cancer risks

Improved heart health

More calcium in your bones

Increased mental focus

Improved physical performance
As for coconut oil, don't believe the hype about it being bad for your health.
Coconut oil contains over 85% medium chain fatty acids which turn into a useable form of energy and don't require much processing from your body to use.
Did I mention they also don't get stored as fat?
Yep. Your body uses all of it right away instead of storing it for later like with glucose.
So your cake indulgence won't hang around your midsection the same way a carby cake would.
Coconut oil also helps with:
Revving up your metabolism and appetite suppression

Reducing your fat reserves

Building muscles

Keeping your gut healthy

Preventing UTIs and kidney infections
And the list goes on.
There are two more important swaps to consider when it comes to keto cake recipes.
#4: Xanthan Gum
Switch to xanthan gum instead of using a binder like cornstarch (which clocks in at 7g of carbs per tablespoon[*]) to hold ingredients in your recipes together.
This low-carb alternative is produced by fermenting specific carbohydrates to become a sugar-free binder and stabilizer that works well in pastries and cake recipes.
Xanthan gum is also a soluble fiber which means your body does not break it down; it simply ushers it out after it binds to water and slowly moves along your digestive tract.
And finally, the last swap you'll make when it comes to baking these keto cake recipes is also where you'll have the most fun.
#5: Homemade Frosting
There are no plastic tubs of store-bought frosting on keto.
You know this type of frosting and icing is loaded with sugar and artificial chemicals, flavors and preservatives.
What you may not know is how simple it is to make your own.
The four most popular homemade keto frostings are:
Cream cheese frosting

, which you can make with organic cream cheese since it's loaded with high-quality fats and protein.

Buttercream frosting

, which lets you add more grass-fed butter to your life.

Whipped topping

,

which is made with

heavy whipping cream, keto sweetener and a bit of vanilla extract.

Glaze

. Just mix your sugar substitute with liquid and flavor (like almond extract or fresh lemon) to drizzle over your keto cakes.
By using these healthier frosting recipes, you'll ensure every part of your cake is keto-friendly.
With these ingredients on hand, you're ready to get down to business.
Pro Tips for Perfect Cakes Every Time
Newbie keto bakers and those used to only baking cakes from a box, make sure to always:
Start with a good recipe that has several high recipe ratings, comments and pictures. Read through all the recipe notes before you begin so you know what to expect and prepare for.
Line your pans with non-stick parchment paper and you'll have an easier time getting it out when it's done. This also makes cleanup a piece of… you know.
Temp everything right. Wait 10 minutes after your oven preheats before putting your cake in to make sure it's the right temperature. When it's too low you may not get your cake to rise correctly.
Your eggs and butter should also be taken out of the fridge and left at room temperature before using them.
Whip it up! The secret to light, fluffy cakes is incorporating as much air as you can into the batter.
While you can use a whisk and your arm muscles to get the job done, a hand mixer will create stiff peaks of egg whites or whipped cream in literally half the time.
Now you're ready to pick out a recipe.
18 Keto Cake Recipes for Any Occasion
Fair warning, you won't find any mug cakes on this list.
I've already shared my top mug cake recipes in this guide, which doesn't include our latest nut butter mug cake recipe, so I'm only putting full-sized cake recipes with at least four or more servings in the spotlight today.
And of course we have to start this cake recipe roundup with a classic keto birthday cake.
#1: Chocolate Buttercream Keto Birthday Cake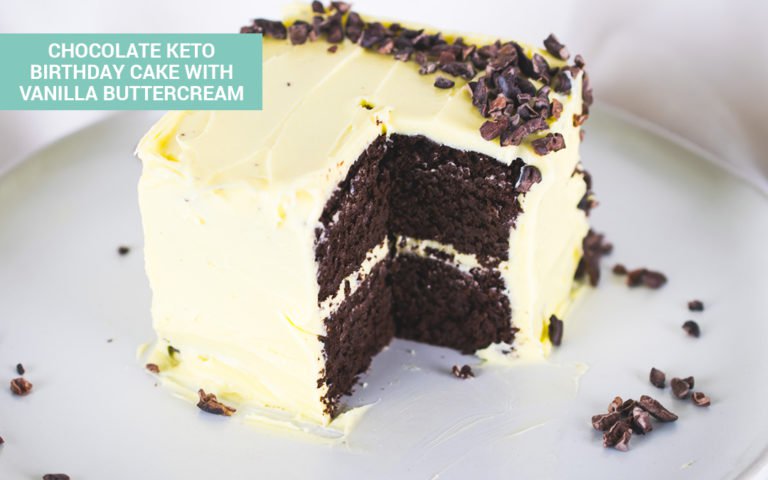 For just 40 minutes of your time, including prep and baking, you can have an almost-identical-to-the-real-thing chocolate buttercream keto birthday cake.
This cake is worth celebrating thanks to the MCT oil powder our very own recipe creator Cristina Curp managed to sneak in there.
Without altering the taste of the cake, this healthy addition can help:
Support mental clarity and metabolic function

Promote gut and cellular health

Give you sustained energy minus the crashes
Plus, you'll only have to fork over 5g of net carbs per slice to enjoy this sweet treat.
If you're #TeamVanilla, this next birthday cake recipe is for you.
#2: Vanilla Gluten-Free Birthday Cake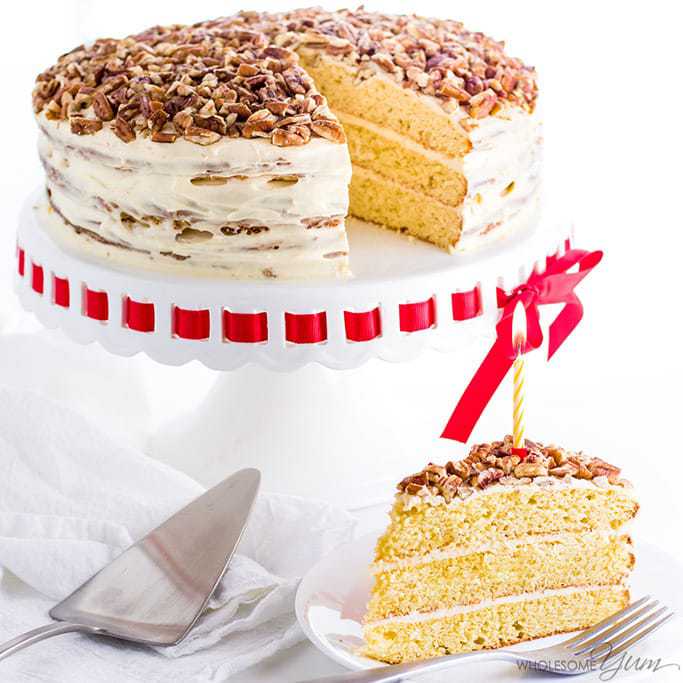 Maya over at Wholesome Yum created this vanilla gluten-free keto birthday cake using only 10 ingredients.
With both almond flour and coconut flour, this cake is three wonderful layers high and has the same great flavor and texture of a traditional yellow cake.
Since the ingredients are all loaded with nutrition, including the pecans on top, this cake is also satisfying and filling so you won't be as tempted to eat a second serving.
The next keto cake recipe is a low-carb twist on a classic.
#3: Gluten-Free, Sugar-Free Flourless Keto Chocolate Cake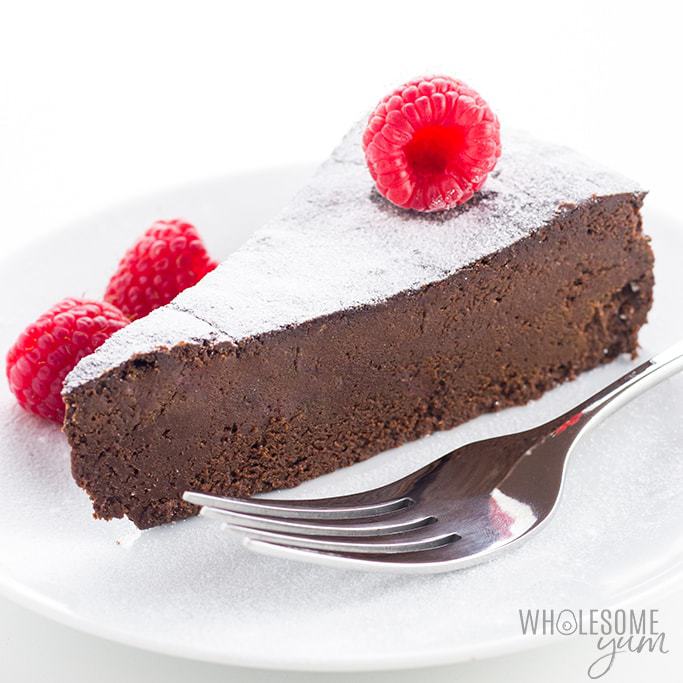 Flourless cakes are a great option for anyone on a keto diet.
Maya also created this decadent yet airy gluten-free sugar-free flourless chocolate cake, which only requires five ingredients.
Since the recipe calls for sugar-free chocolate, you'll only have to spare 5g of net carbs for this silky slice of heaven.
And if you're adventurous enough to try these next two chocolate cake recipes, you'll have a delicious way to sneak in your veggies too.
#4: Low-Carb Keto Chocolate Cake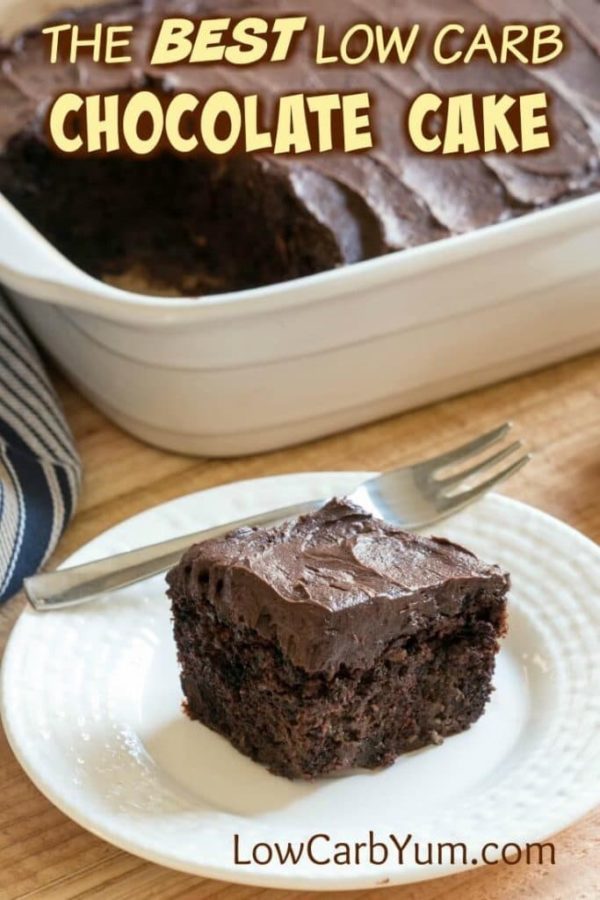 If you're looking for a simple low-carb chocolate cake recipe you just have to throw in a cake pan and frost right there when it's done, look no further.
This one from Lisa of Low Carb Yum is cleverly packed with healthy ingredients like zucchini and coconut oil yet you'll never tell the difference in the taste.
She also pairs her healthy cake base with an impossible-to-resist chocolate buttercream frosting.
But with macros like these, you may not have to: each slice of cake only costs 96 calories and 2.7g of net carbs, which is pretty awesome.
The next chocolate cake also smuggles in hidden zucchinis though no one would ever know if you didn't spill the beans.
#5: Keto Chocolate Zucchini Bundt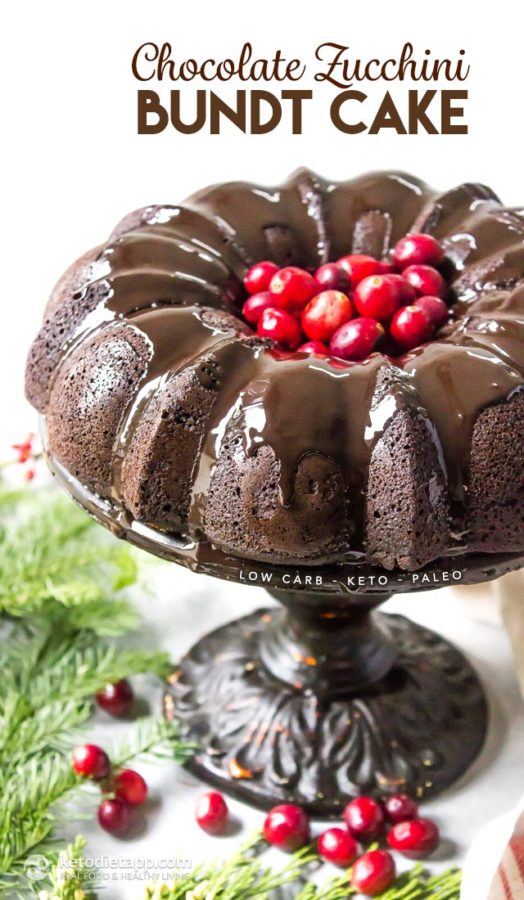 Martina of Keto Diet pureed zucchinis to create the same moist, smooth, velvety texture you'd expect with a chocolate bundt cake minus all the carbs and sugar.
You can also make this next pound cake in a bundt pan.
#6: Lemon Poppy Pound Cake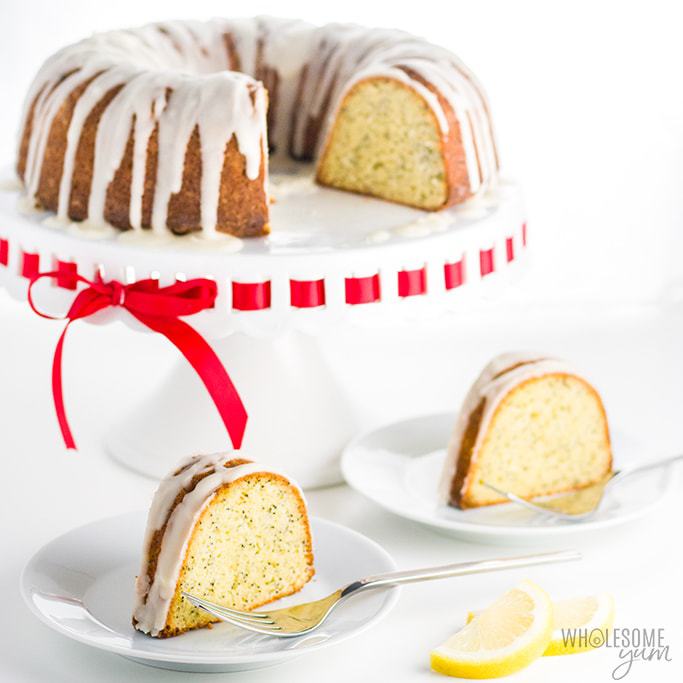 This lemon poppy seed keto bundt easily satisfies your cravings for light, moist lemon cake.
Made with almond flour and drizzled with a lemon glaze, this cake isn't just naturally gluten-free, it only requires three ingredients to make!
If lemon or poppy seeds aren't your thing, try this vanilla pound cake recipe next.
#7: Vanilla Pound Cake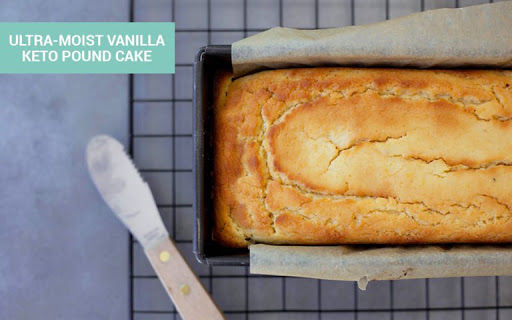 What if a delicious vanilla pound cake could also deliver a healthy dose of collagen protein?
This ultra-moist keto pound cake recipe does just that.
As a quick recap, collagen peptides help to:
Strengthen bones, joints and connective tissues

Improve your gut lining

Give your skin a natural boost
Plus, that collagen protein is also paired with MCTs, or medium chain triglycerides, which help slow down how fast your body processes that protein and give you extra energy and mental focus.
Looking at the nutrition facts, you'll find a slice clocks in at:
175 calories

2g of net carbs

15g of fat

7g of protein
Not a bad way to celebrate or treat yo' self.
The next recipe also takes a classic and transforms it into a better low-carb version.
#8: Tiramisu Poke Cake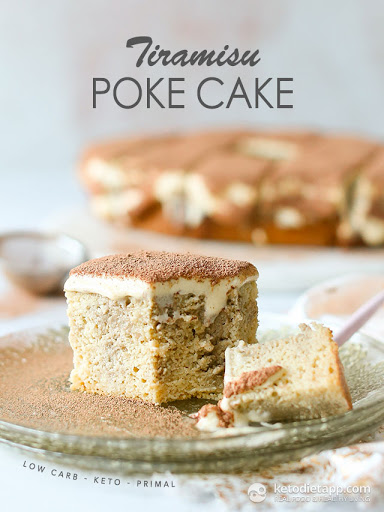 This low-carb keto-approved tiramisu cake is a little different than the others on this list because it's made in a slow cooker.
So you can mix everything together and add it to your slow cooker to "bake" without needing to keep a watchful eye on your cake. Now you can get ready for your party or work on appetizers.
The one key takeaway Martina recommends is using parchment paper to seal in the moisture and prevent the cake from burning or sticking to the edges.
Martina of Keto Diet App also happens to be the brains behind these next three delicious keto cake recipes too.
#9: Keto Carrot Cake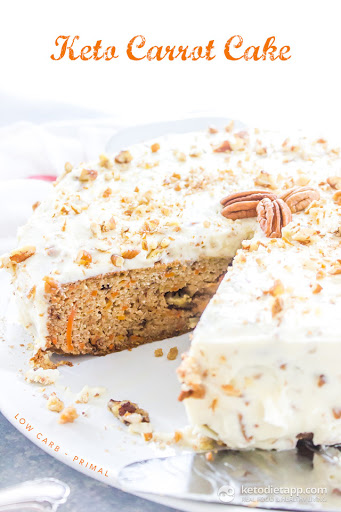 If you thought carrot cake was off-limits on keto since carrots aren't exactly low-carb, you're in luck.
Since Martina grates carrots for her keto carrot cake recipe, there's just enough to give you the flavors of traditional carrot cake without kicking you out of ketosis.
She tops this masterpiece off with cream cheese frosting that also makes you feel like you're having the same cake you're used to scarfing down.
Each slice has 4.7g of net carbs so you can't quite go crazy, but it's worth a single-serve splurge.
The next cake recipe also shares a similar rich flavor and almost identical macro profile so portion control is also key there as well.
#10: Keto Pumpkin Bundt Cake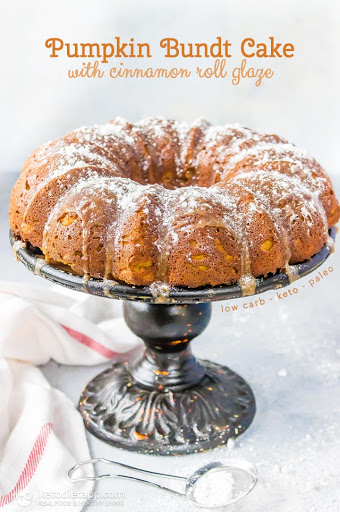 While most pumpkin spice cakes are anything but keto-friendly (looking at you, Starbucks!), this one from Keto Diet packs the same great pumpkin flavors in a moist and airy cake that's also low-carb and keto-approved.
Using real pumpkin in this recipe means you also score all the nutrition that comes with it, such as key vitamins and minerals.
Martina also drizzles a cinnamon roll glaze on top you'd swear is made using real sugar.
So that's a pumpkin spice cake with cinnamon roll glaze. How do you say no?
Her next keto cake recipe shares this crave-worthy appeal.
#11: Keto Nutella Cake Roll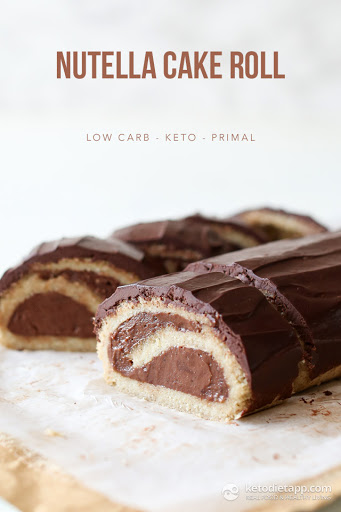 When you're craving a spoonful or two of nutella, try this keto cake roll recipe instead.
Using a homemade sugar-free Nutella and mascarpone mix, you'll have a low-carb dessert that's even better than licking the spoon straight from the jar.
Don't believe that's possible?
Make this keto cake or the next one for your guests and they'll forget you even mentioned they're both sugar-free and low-carb.
#12: Keto Tres Leches Cake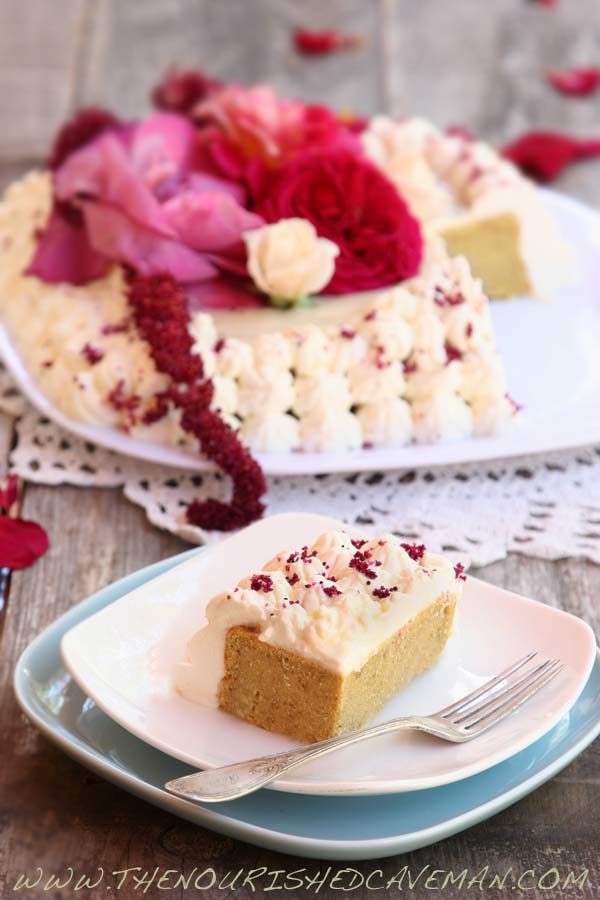 This tres leches keto cake recipe is a low-carb take on a Mexican classic.
Rather than reinvent the wheel with this traditional recipe, healthier substitutions such as using coconut flour over all-purpose flour, creme fraiche instead of sweetened condensed milk, and erythritol in place of white sugar make it keto-approved.
The next keto cake recipe on the list is for those who want the best of both worlds.
#13: Keto Celebration Brownie Cake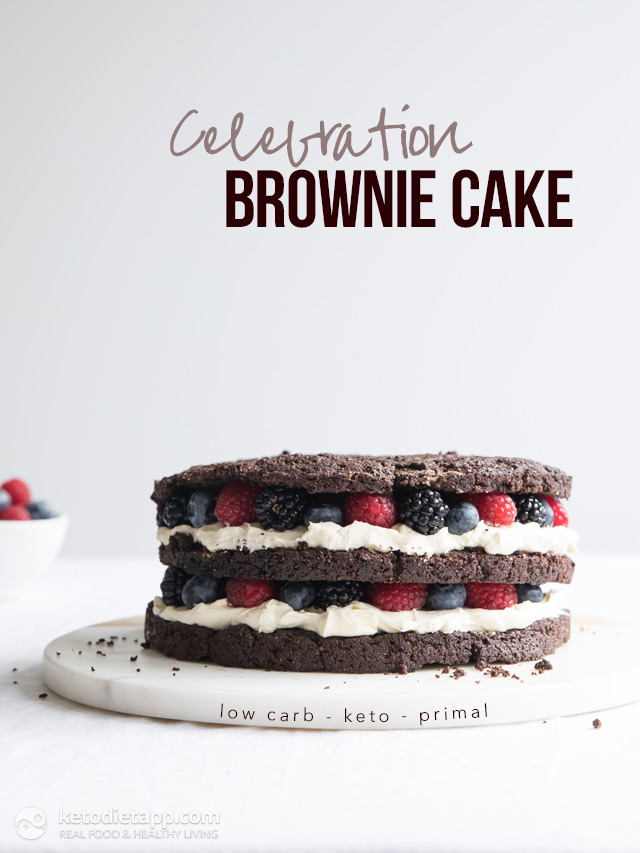 Don't want to choose between having your cake and eating a nice warm, gooey brownie?
Try this keto celebration brownie cake and never settle for one over the other.
Martina balances the richness of the brownie cake combo with a light yogurt and fresh berry filling to brighten up that deep chocolate flavor.
And if cheesecake is more of what you're craving when it comes to finding keto cake recipes, these next five will make your tummy smile.
Keto Cheesecake Recipes
"Thank you for being a friend," your body will sing after you swap out your traditional cheesecake recipes for these keto-safe crowd pleasers.
Cheesecake is one of the easiest makeovers in low carb recipes because all you need to make one is:
A crust

Cream cheese

Eggs

Sugar

Flavor enhancers like vanilla extract, chocolate chips or fruit

And sometimes sour cream or heavy whipping cream
Most of those ingredients are keto friendly — and the ones which aren't can be easily substituted for.
These five cheesecake recipes show you how keto cheesecake is done right:
#1: Low Carb Decadent Keto Cheesecake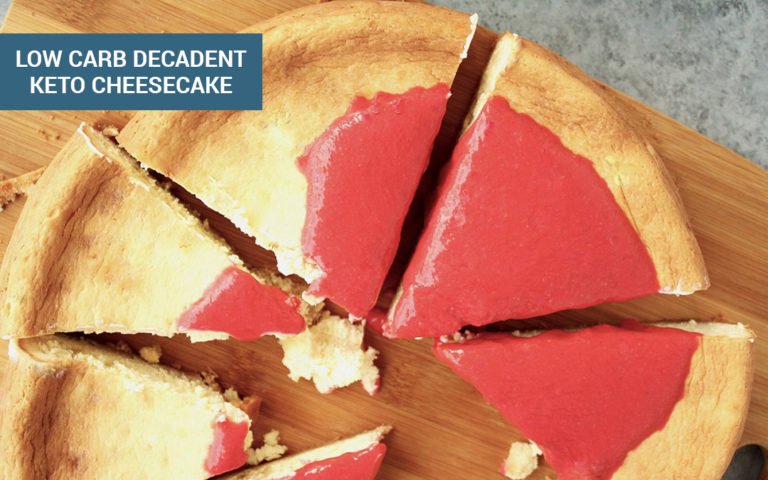 Using cream cheese and heavy whipping cream for the cheesecake filling, almond flour for the crust and frozen raspberries for the topping, this classic, decadent, low-carb cheesecake takes dessert to a whole new level.
And since this recipe serves 12, you'll have plenty to go around at your next party.
The next keto dessert recipe is also ideal for larger crowds.
#2: Keto Pumpkin Spice Cheesecake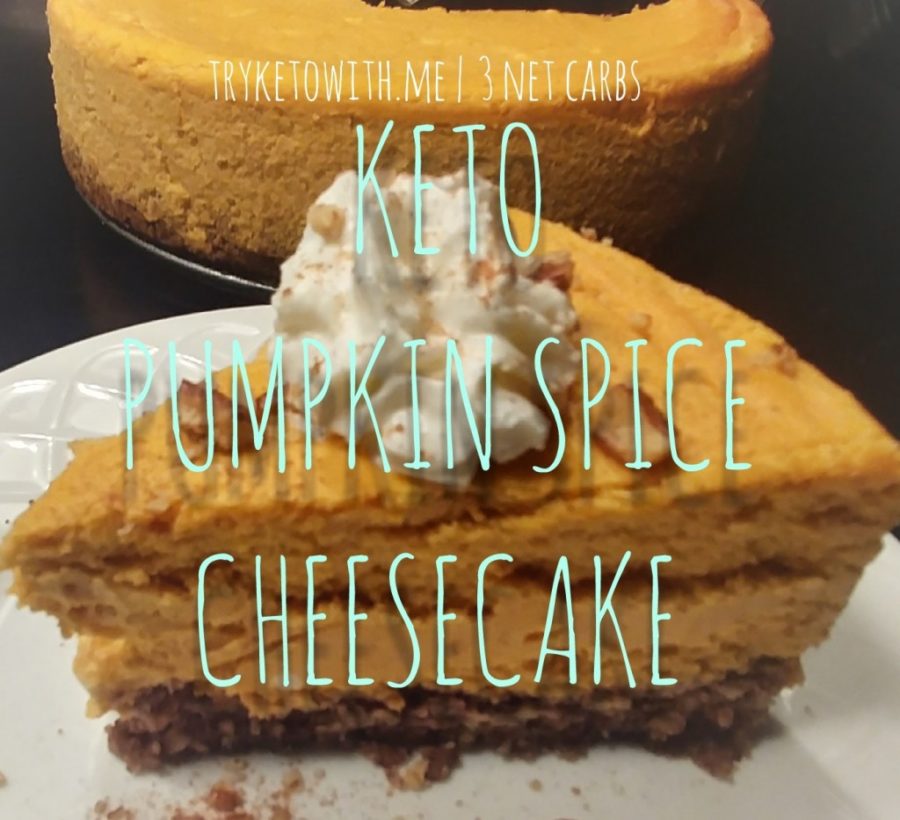 When you need a low-carb pumpkin pie recipe during pumpkin spice everything season, this keto pumpkin spice cheesecake from Try Keto with Me will have everyone addicted.
This recipe uses an almond flour crust and cream cheese filling mixed with pumpkin puree to create a flavor profile ultra similar to a traditional pumpkin pie.
Plus, this recipe yields 16 servings so it's perfect to share with friends or bring to a potluck.
The next recipe is also a huge hit at parties.
#3: Mini Keto Chocolate Cheesecakes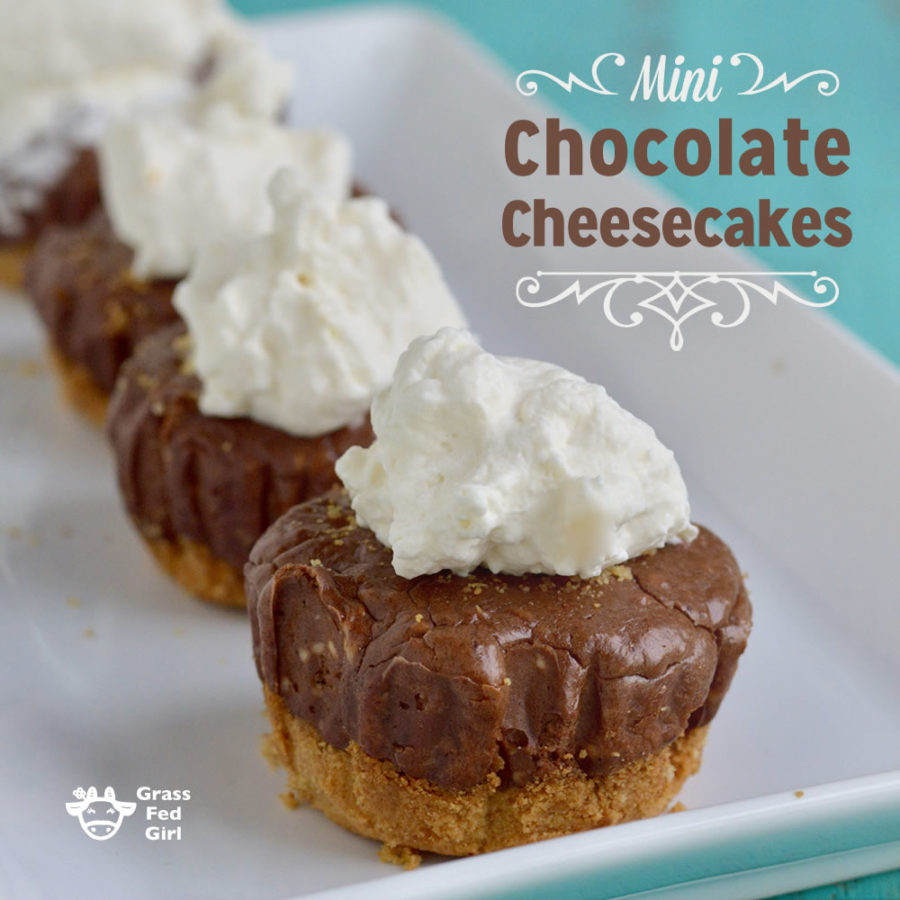 Bite-sized portions and popable desserts are always fun at parties and this mini keto chocolate cheesecake recipe is no exception.
The ingredients and process of these mini cheesecakes is the same as making a larger cake except you use a muffin pan to make individual portions.
Each small chocolate cheesecake only has 3g of net carbs and almost 8g of protein.
And if you'd rather have your chocolate swirled into your cheesecake, this next recipe grants that wish.
#4: Keto Brownie Swirl Cheesecake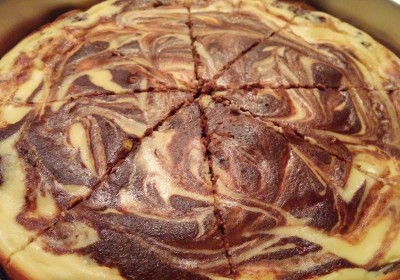 Who doesn't want brownies mixed into their cheesecake?
Using a low carb brownie mix swirled into a ketofied cheesecake, this keto cheesecake recipe will impress guests and show them keto doesn't have to mean sacrificing sweet, delicious foods for better health.
You can have both.
Just like this next cheesecake recipe uses two different types of cheese.
#5. Italian Lemon Ricotta Cheesecake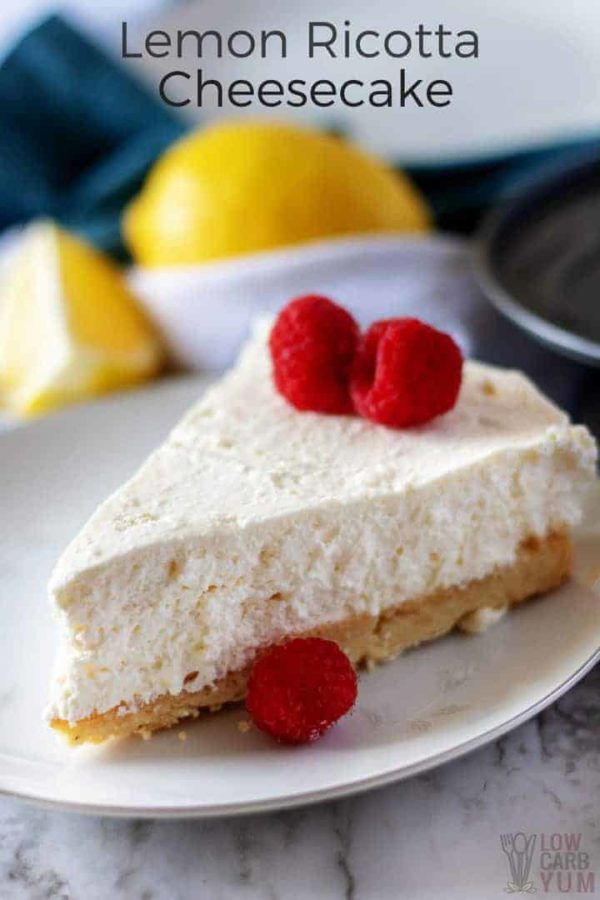 What's the difference between an American cheesecake and an Italian cheesecake?
Italian cheesecakes use ricotta cheese whereas American ones are all cream cheese.
This keto friendly recipe for lemon ricotta cheesecake from Low Carb Yum mixes ricotta and cream cheese to create this heavenly dessert your nonna would be proud of.
To compare carb counts, one cup of cream cheese contains 9g of carbs and 7g from sugar specifically; one cup of ricotta cheese has around 7g of carbs and less than 3g come from sugar.
This is just one swap of the many we've discussed today that will lead your keto cake recipes to greatness and beyond.
Share These 18 Keto Cake Recipes With Friends
Think you have all the keto cake recipes you could ever possibly need now?
Instead of keeping them all to yourself, try them out with your friends and family to show them a low-carb lifestyle isn't all about restriction.
Or share this roundup with your fellow keto squad and have a cake swap party where you each make a different one to share.
Just be mindful of portion control; while these recipes are low-carb, sugar-free and keto-approved, eat too many servings and you'll definitely kick yourself out of ketosis.
So strike the right balance between satisfying your cake cravings without going overboard and you'll be able to safely enjoy your cake on keto.
Bookmark or pin this page so you'll know exactly where to go when you need a keto cake recipe fast.