Thinking oatmeal is completely off limits when you're on the ketogenic diet?
Think again.
You can always have keto noatmeal. With this recipe you never have to worry about feeling deprived of this go-to breakfast comfort food. This meal is sure to keep you in ketosis with it's shocking macronutrients of only one gram of net carbs and 44 grams of fat per one serving.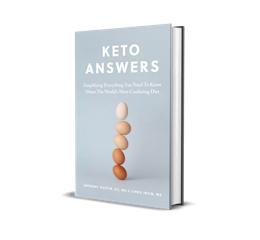 Keto Answers Book
Have a conversation with a leading keto doctor and keto researcher at your fingertips so you can feel better and keto with confidence.
Buy Now
Those macros are hard to beat.
So what's in this Keto N' Oatmeal that gives it that comforting taste of oatmeal while keeping your body in ketosis?
Some of the main ingredients include:
Hemp hearts

Flax meal

Chia seeds

Coconut flakes
Why Are Hemp Hearts So Beneficial to Your Health?
Rich in Gamma-Linolenic Acid (GLA)

Improve digestion

Improve hair, skin and nail health

Decrease arthritis and joint pain
#1: Rich in Gamma-Linolenic Acid (GLA)
Supplementing with GLA has been shown to improve the function and health of hormones[*]. While GLA and foods abundant in GLA (such as hemp hearts) have been shown to have positive effects on those with ADHD, heart disease, obesity, multiple sclerosis, breast pain, etc, it's mainly a building block for prostaglandins (hormone-like chemicals in the body that control inflammation, body temperature and the smoothing of muscles).
#2: Improve Digestion
Hemp hearts are known for improving digestion due to their main feature of being a high-fiber food. The fiber contents of hemp hearts help relieve any constipation but also feed the good bacteria in the gut (probiotics) to help maintain a strong immune system.
#3: Improve Hair, Skin and Nail Health
While hemp hearts are good for digestion, their benefits can have a substantial effect from the inside out. You can even use it topically on the surface of your skin. The oil produced from hemp seeds improves cell growth which is the number one factor in health skin. Research has shown that applying hemp seed oil exogenously on individuals with eczema significantly improved their skin[*].
#4: Decrease Arthritis and Joint Pain
One research study published in the Journal of Ethnopharmacology examined the effects of hemp seed oil supplementation in patients with rheumatoid arthritis (RA). The results showed that treatment with the oil not only lowered the rate of MH7A RA fibroblast-like synovial cells, but even increased the rate of cell death[*].
Finding yourself craving a big, warm bowl of fluffy goodness? You no longer have to be worried about the word 'oatmeal' on the ketogenic diet. With this Keto N' Oatmeal and it's perfect macronutrient count, you'll be sure to stay in ketosis while feeling satiated and full.
Print
Keto Oatmeal: 5-Minute Low Carb N'oats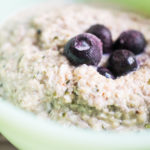 This low carb keto oatmeal recipe has (you guessed it!) no oats, but you wouldn't miss them. With only one gram of net carbs and 44 grams of fat per one serving.
Author:
Prep Time:

5 minutes

Cook Time:

10 minutes-15 minutes

Total Time:

20 minutes

Yield:

1

1

x
Instructions
Combine all of the ingredients in a small sauce pot, stir to combine.

Bring to a simmer until thickened to your liking, stir occasionally.

Serve and garnish with frozen berries.
Nutrition
Calories:

584

Fat:

44g

Carbohydrates:

17g

Fiber:

16g

Protein:

31g