What are the best low carb restaurants?
This just in: they don't exist.
But that doesn't mean you can't learn how to menu hack your favorite restaurants so you can stay in ketosis and still have a social life.
In this guide, we'll be using nutritional information from the most popular national chains to sleuth out the best keto options at low carb restaurants for: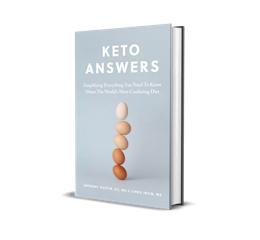 Keto Answers Book
Have a conversation with a leading keto doctor and keto researcher at your fingertips so you can feel better and keto with confidence.
Buy Now
Follow the tips in this guide and your favorite restaurants will become your fave low carb restaurants.
So let's go over a few basics in case you find yourself at a restaurant that's not on today's list.
The Basics of Eating Out On Keto
While the easiest way of sticking to a ketogenic diet involves meal planning and cooking your own food, you don't have to chain yourself to the kitchen to lose weight.
Learn these rules and you'll be equipped to stay in ketosis during a night on the town:
#1. Always Do Your Homework
Many restaurants now print calories on their menus, but that doesn't help when you're counting carbs. Before you head out, check the restaurant's website for their nutritional information so you're not ambushed by their potential lack of options.
Try to have a backup choice in case a specific menu item isn't available. PS: We've done some of the legwork for you in the next section.
#2. Learn These Menu Hacks
If there's literally nothing on the menu close to being keto-friendly, you can always get creative. For example:
Hold the bun/bread

. Order any sandwich or burger without the bun or bread to save obvious carbs.

Skip the sauces

. You'll save three grams of carbs per packet on ketchup alone, for example.

Go green

. Most entrees can usually be ordered with an appetizer salad or a side salad instead of carby alternatives like french fries or pasta.

When it doubt, Caesar salad it down

. Almost every restaurant has some form of a Caesar salad on the menu. As long as you add a healthy protein and hold the croutons, you should have more fat than carbs on your plate.
#3. Don't Be Embarrassed By Your Restrictions
Most restaurants are more than willing to accommodate your dietary restrictions (i.e., low sugar) and preferences (i.e., fewer carbs).
Nicely ask your waiter or waitress for their best meal recommendations and you may find yourself with a tasty secret menu item that checks all your keto boxes.
And remember, if that basket of dinner rolls or tortilla chips is too tempting, you can always ask your server to remove them from the table.
Now it's time to discover all the keto-friendly meals you'll find at these low carb restaurants.
What to Order at 17 Low Carb Restaurants
We pored over the nutritional information at 17 of the country's most popular restaurant chains to help you order smarter when you're going out for:
Breakfast
Whether it's the first meal of your day or the last one after a night out, breakfast or brinner is always a good choice on keto.
That's because staples like eggs, bacon, sausage, cheese and butter are all keto-friendly.
As long as you have the willpower to ignore temptations like biscuits, fruit, grits, hashbrowns, pancakes and waffles, you'll be in the clear here:
#1. IHOP
Though this breakfast chain revolves around pancakes, IHOP shines in the build-your-own omelette department.
What to Order [*]
Start with a plain omelette and let your creativity run wild (and within your carb macro, of course):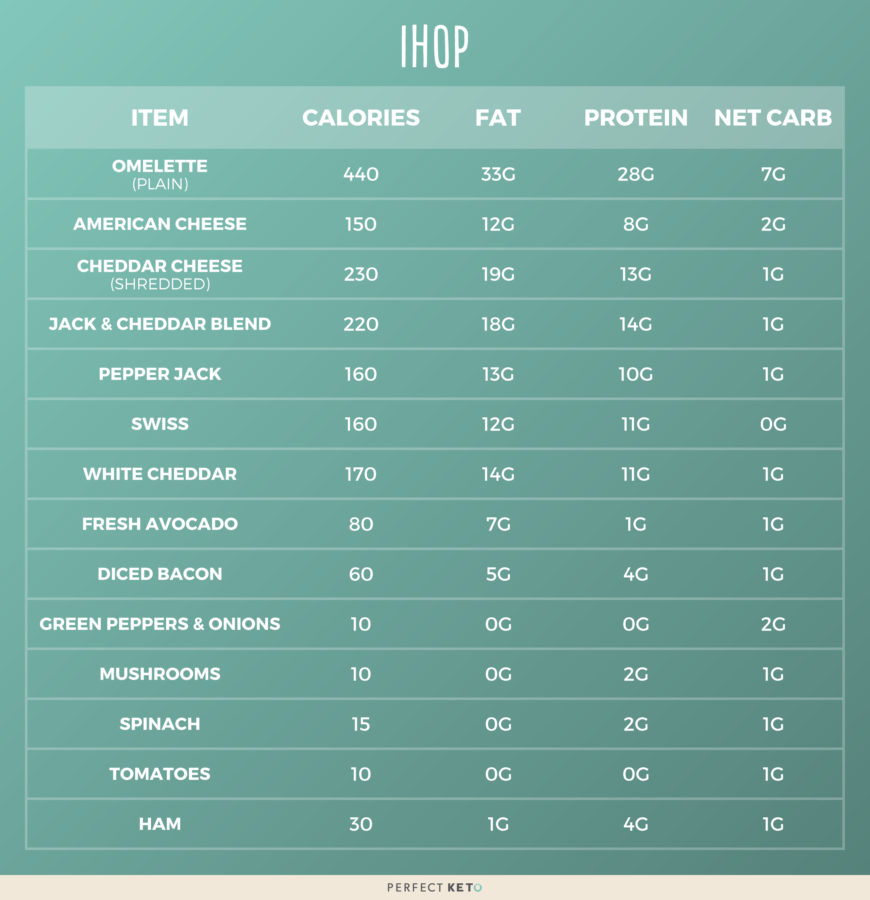 If you're not jonesing for an omelette, you can always order ala carte with these keto-safe breakfast alternatives: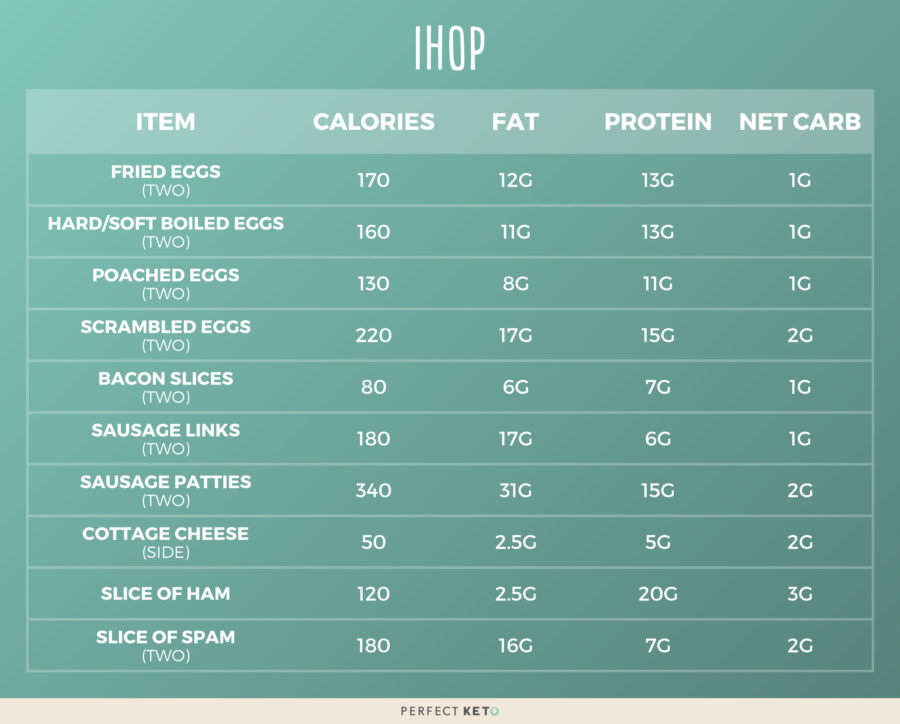 The next brunch favorite also comes with a side of Americana.
#2. Cracker Barrel Old Country Store
This kitschy home of Southern charm, fluffy biscuits, country fried steak and chicken n' dumplings all sounds like a raging carb nightmare.
But when you take a closer look, you'll actually find keto-friendly meals for both the AM and PM hours:
What to Order [*]
Choose from breakfast staples like these: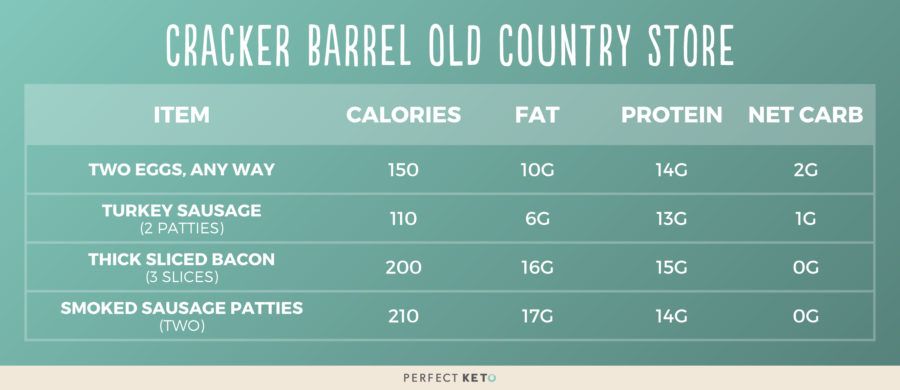 Or meet up for lunch or dinner and order these entrees: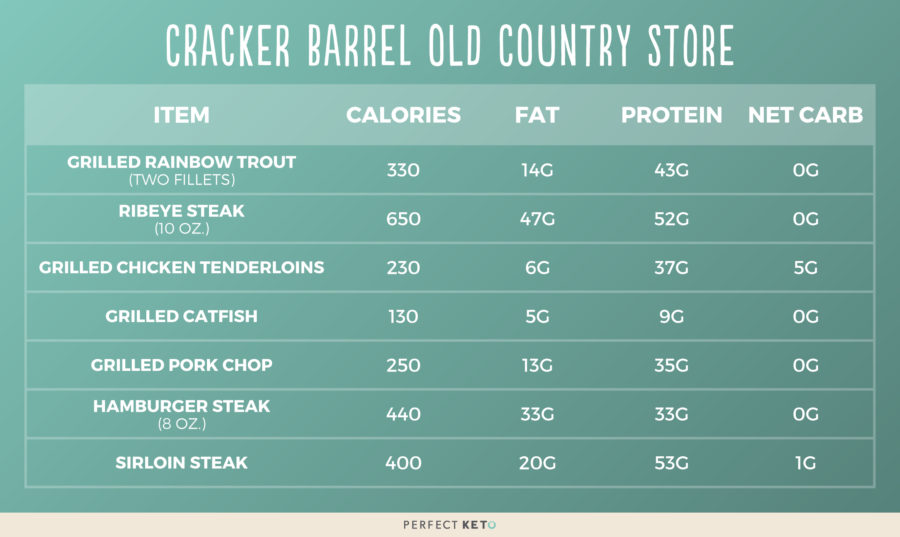 Unlike mashed potatoes and mac and cheese, these country sides will do your body good: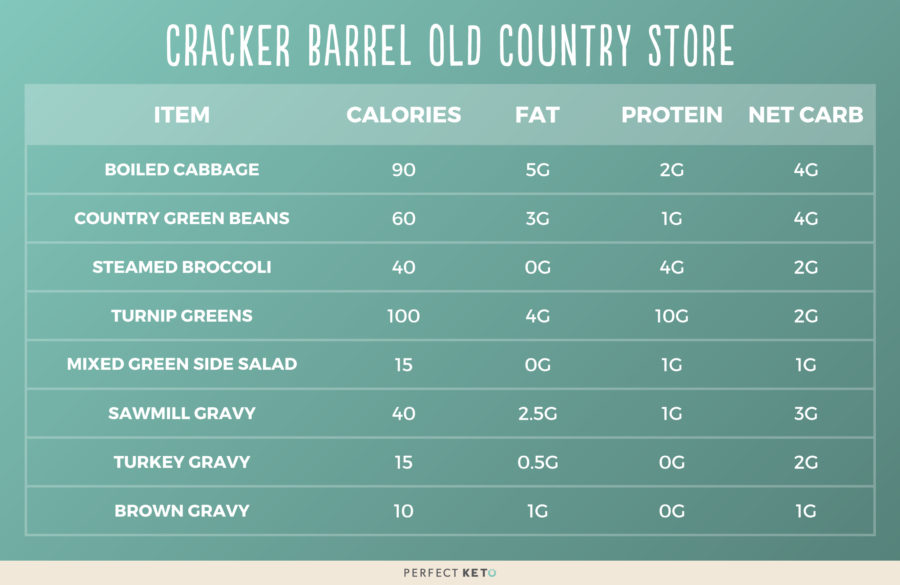 Now let's leave the countryside and sail to restaurants dishing up low carb seafood next.
Seafood
As a rule of thumb, most seafood has very few carbs for all the protein you'll find.
The trick is how you get that healthy fish cooked — and knowing which sides won't sabotage your good choice.
Avoid anything battered and fried and stick to fish or crustacean that's steamed, broiled, sauteed in butter or grilled. Be wary of blackening seasonings as these can contain hidden carbs like flour, breadcrumbs or cornstarch.
So where should you go?
#3. Red Lobster
If you can avoid the cheddar biscuits, Red Lobster doesn't have to be off limits on keto.
On the fresh fish catch menu, you'll find snapper, cod, flounder, grouper, halibut, rainbow trout, salmon, scallops, tuna and many other proteins from the sea clocking in less than 3g of carbs per serving.
Then there's always a classic Caesar salad, which you can add chicken, salmon or shrimp to. Remember to ditch the croutons (it's 14g of carbs with them).
What to Order [*]
Any of the choices below are great low carb meal options too: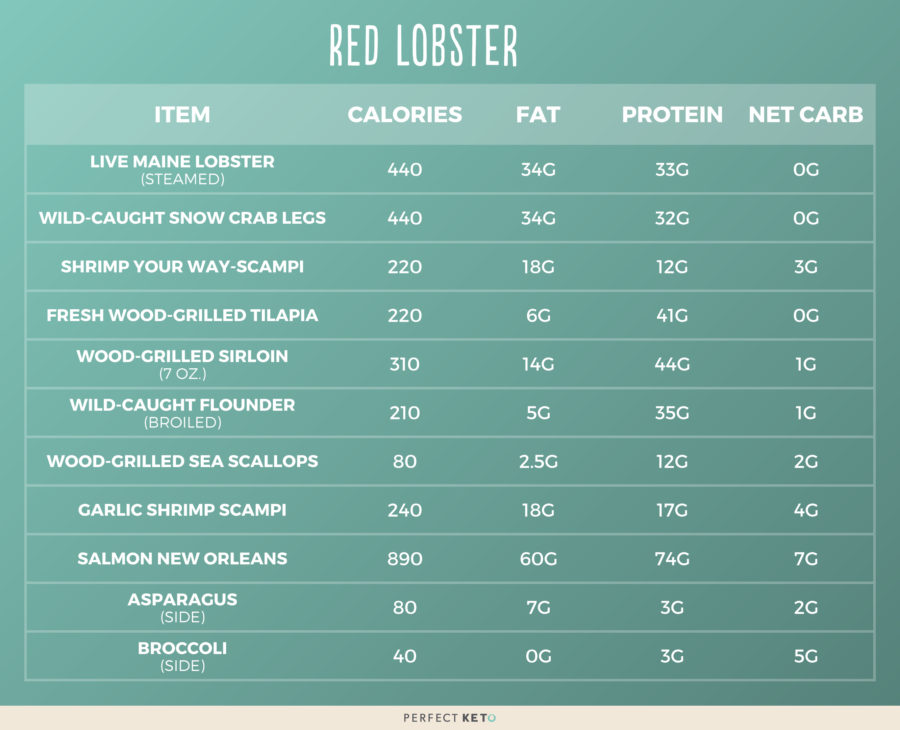 Stay away from the cocktail sauce (11g of net carbs) and tartar sauce (4g carbs) and stick to melted butter (og) for dipping.
#4. Bonefish Grill
Born of a love of catching and cooking fresh, local fish, you'll find simple, seasonal food at this south Florida chain. And lucky for you, both surf and turf keto choices abound.
What to Order [*]
Step one: pick a grilled fish (or seafood item) you're fond of, such as: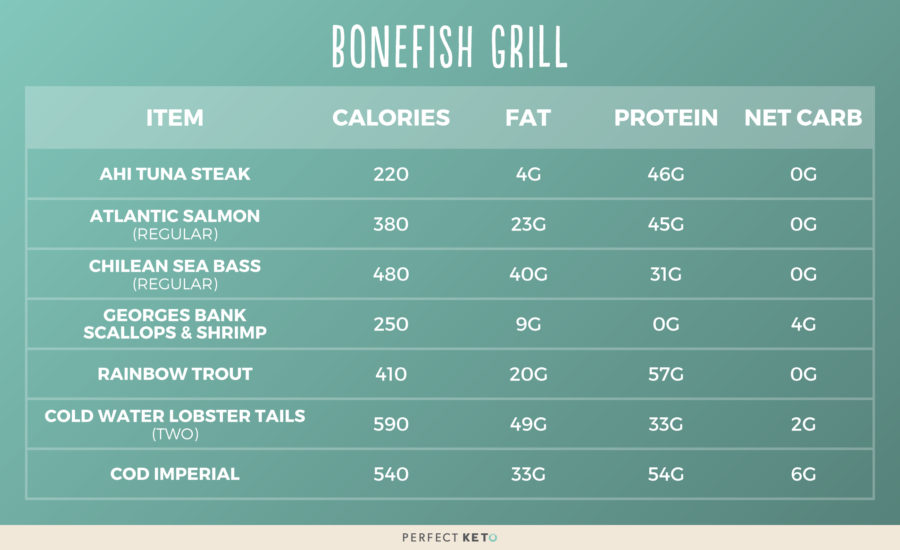 Step two: add one of these semi-guilt-free toppings: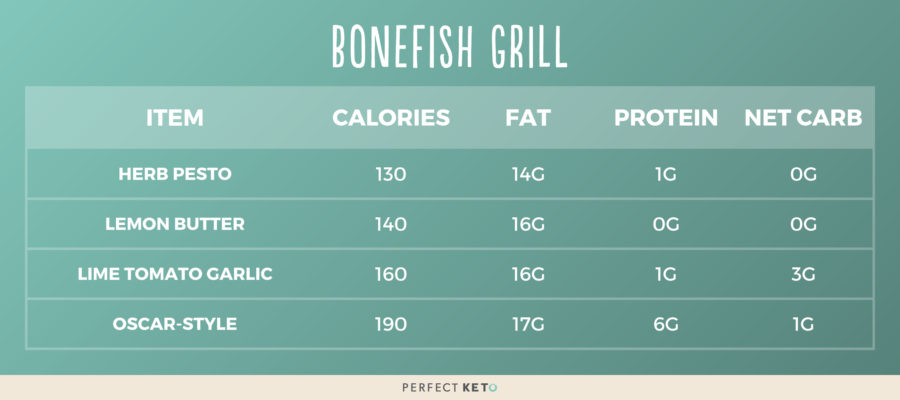 Step three: choose your low-carb side and enjoy your face off: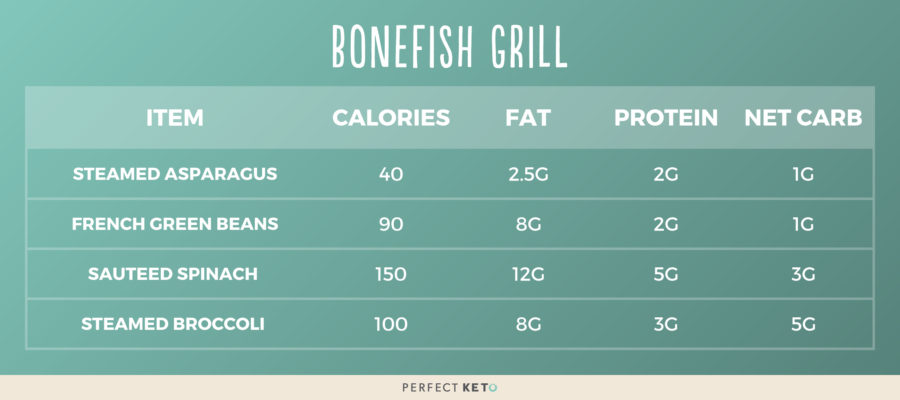 What if you're not feeling fish vibes? You can also nosh on steak or pork: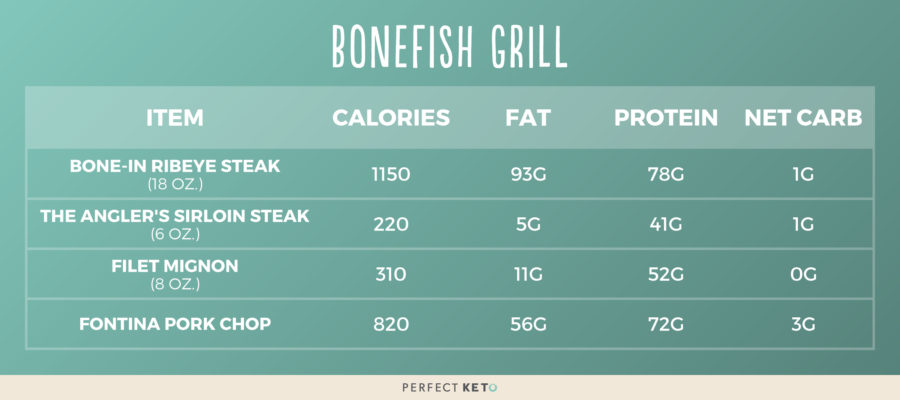 Speaking of those delicious land creatures, let's mosey on over to the steakhouse next.
Steak
Dining at a steakhouse is like going to an amusement park when you're on a ketogenic diet.
Every cut of meat is a front row seat on your favorite ride — even those fatty cuts most people give the cold shoulder.
The trick is avoiding the carb quicksand masquerading as a side of potatoes, warm bread on the table and sugar-bomb desserts.
Scope out classic low carb steakhouse sides like:
Broccoli

Asparagus

Mushrooms

Brussels sprouts

Side salad or Ceasar salad
Three keto steakhouse chains include:
#5. LongHorn Steakhouse
This casual spot is known for their tender cuts of meat, grilled salmon and flavorful chicken options. Don't fall for the sugary margaritas, ps.
What to Order [*]
You'll find different cuts of steak in a plethora of sizes. This is only a sample of the most popular choices: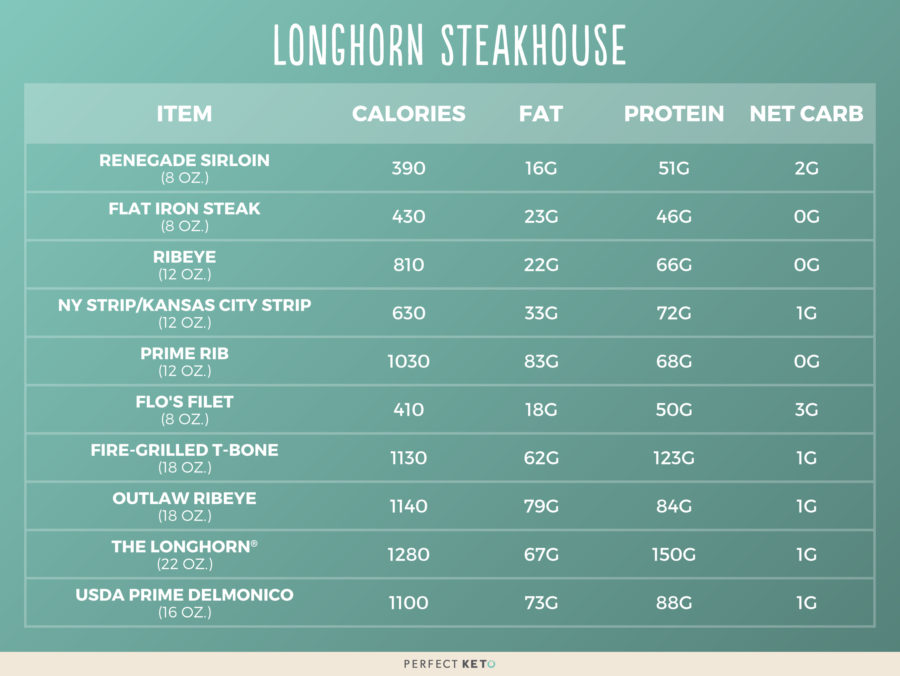 You'll want to take it easy when it comes to add ons and sides here: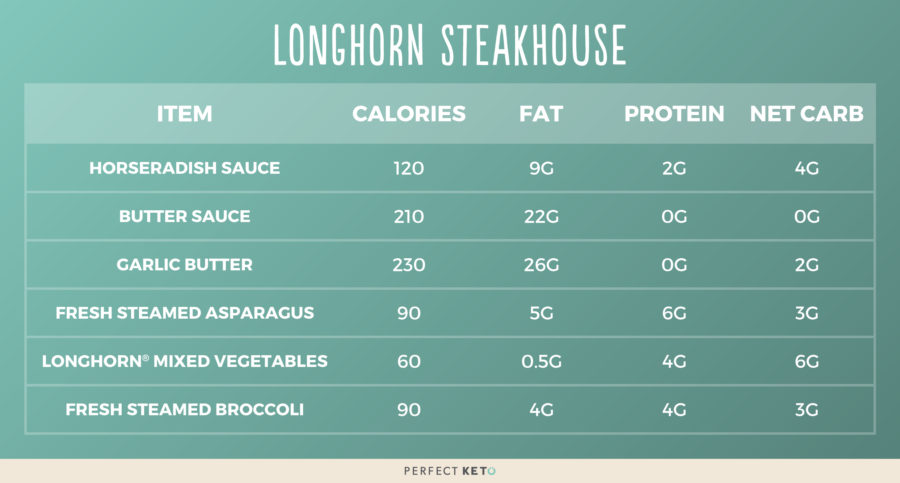 Can't decide between two options? Go for one of these pairings:

You can also opt for chicken, pork and salmon if you're not a steak person: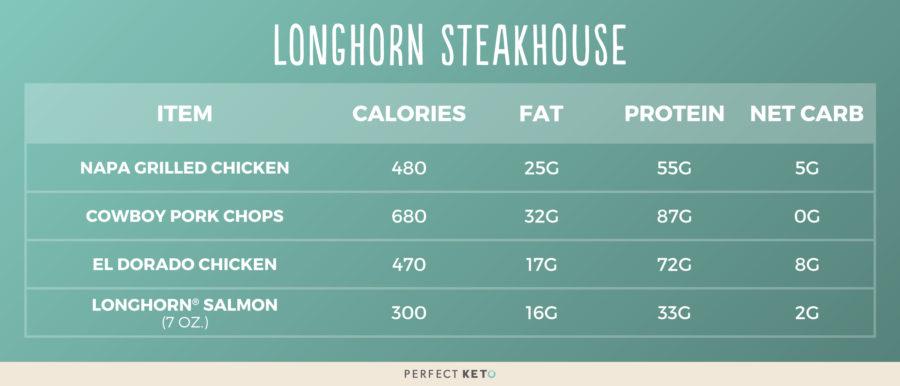 Another popular steakhouse takes keto diners to the sunny world down under.
#6. Outback Steakhouse
Though not an Australian chain officially, ketoers can get their fix of surf and turf at this Australian themed eatery without destroying their weight loss goals.
No, the Bloomin' Onion did not make the list, so don't even waste your time looking for it (because it's 109g of net carbs!).
What to Order [*]
Steak, glorious steak (and pork):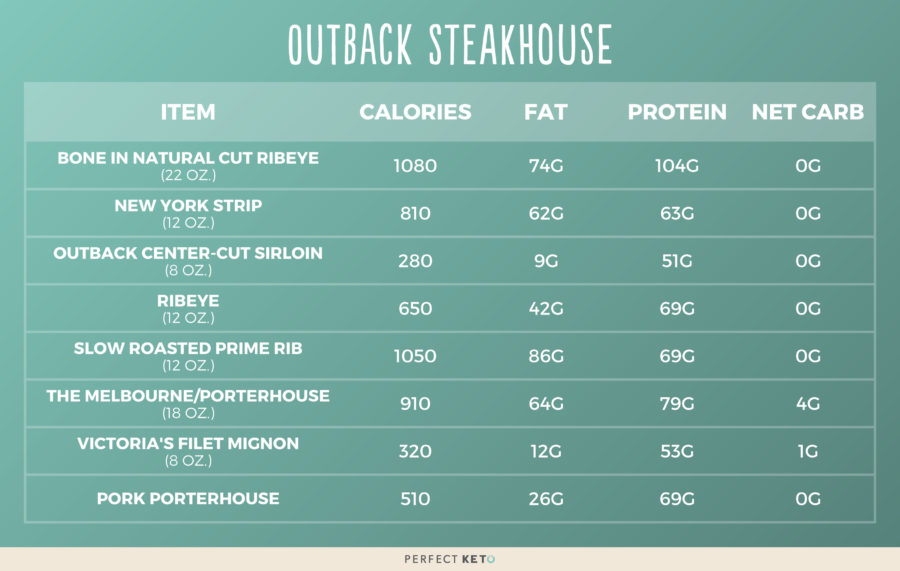 Top that steak (or pork) with these add ons and pair it with a low carb side: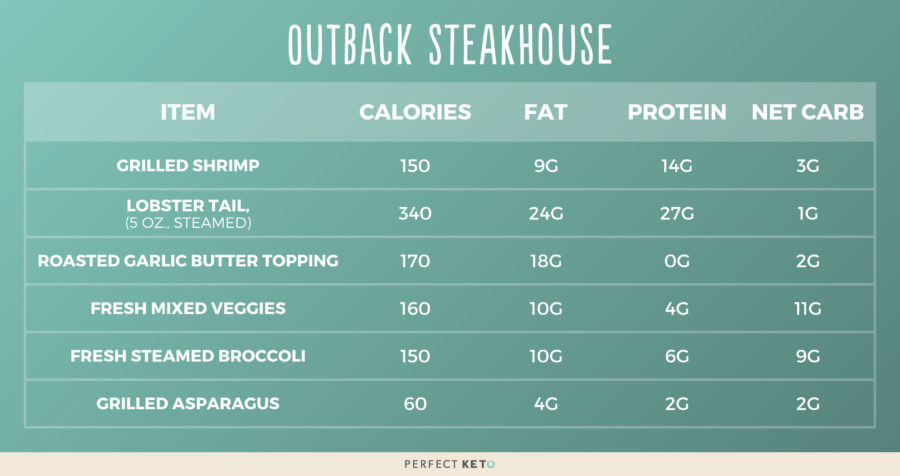 If you like when worlds collide, you can have it all with these surf 'n turf entrees:
Add a side salad and choose from these dressings: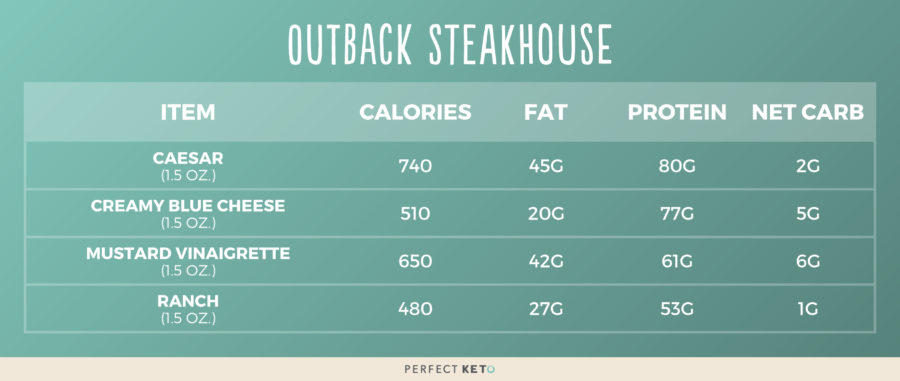 Now let's giddyup to our final steakhouse, partner.
#7. Texas Roadhouse
Family-fun and Western-themed, you'll find hand-cut steaks, ribs and sides to feed your whole entourage here — keto or not.
What to Order [*]
The star of this low carb rodeo is steak: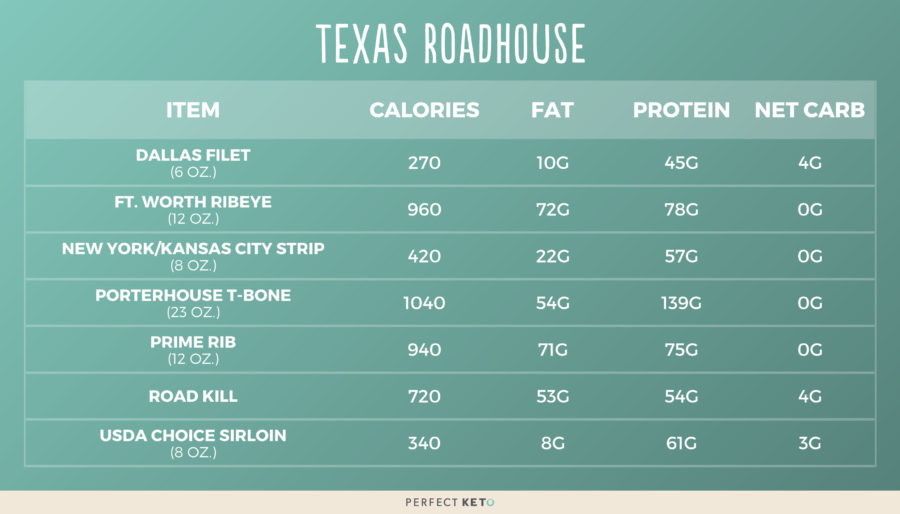 And you can top that steak with one of these add ons and also pick a side: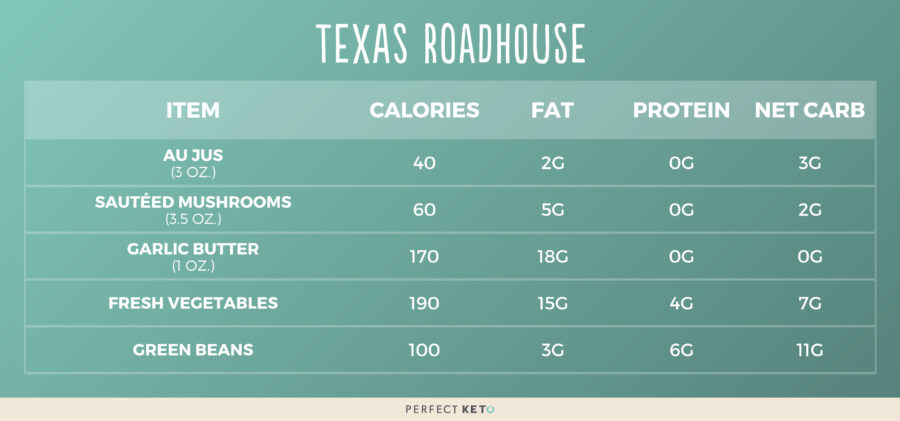 Just be careful here. Sauteed mushrooms as a topper? Cool. Sauteed mushrooms as a side? 18g of net carbs.
You can also chow down on a salad.
Note that salads here are listed with croutons so the actual net carbs will be less when you skip them (Texas Roadhouse doesn't state how many carbs their croutons contain):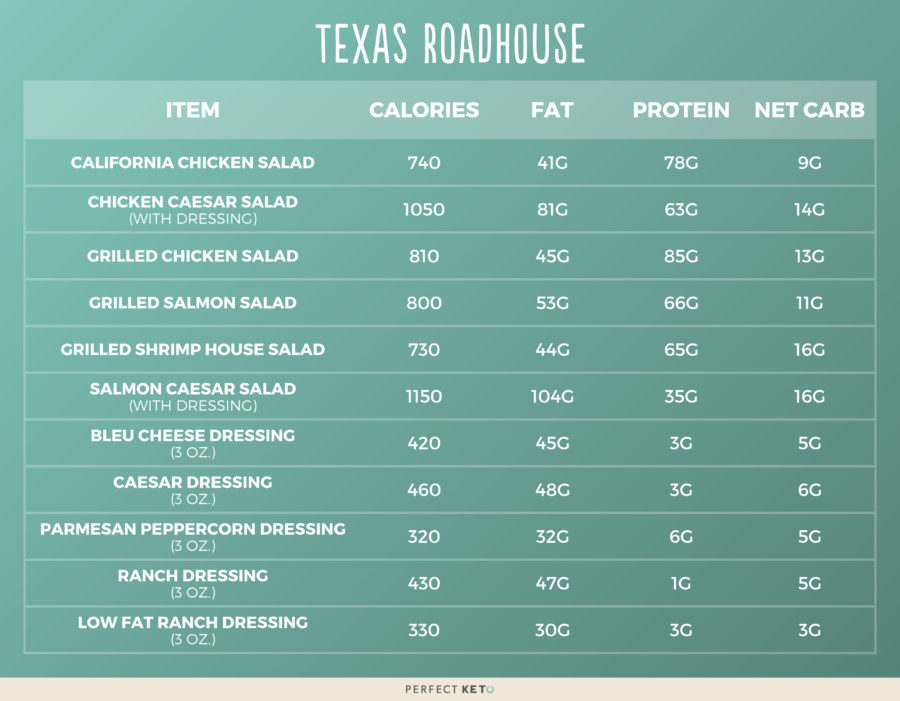 Or choose between chicken, pork and salmon: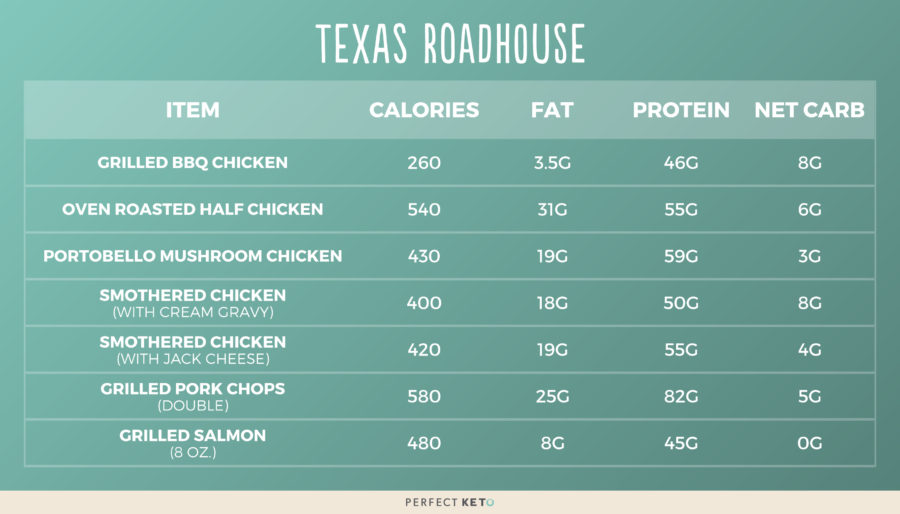 Or don't make a tough decision at all and order one of these combos: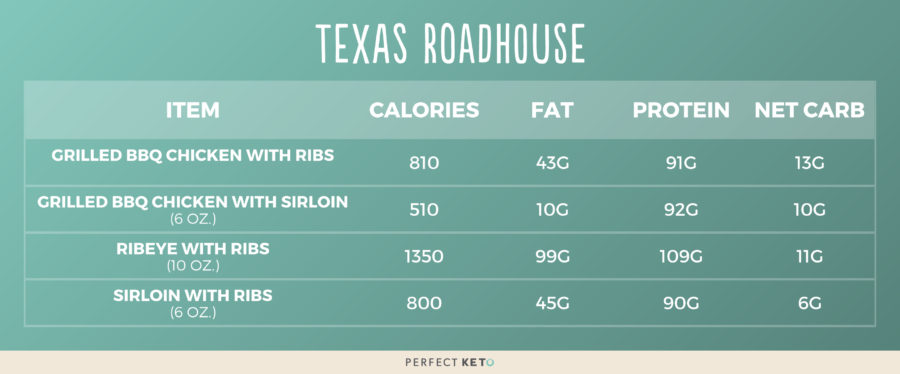 Newsflash: just one tablespoon of Texas Roadhouse® Steak Sauce has 6g of carbs thanks to 4g of sugar so just fuggedaboutit.
Can you tell we're dishing Italian restaurants next?
Italian (+ Pizza?)
There's more to Italian cuisine than pasta, pizza and gelato.
At any given Italian restaurant you can find that ol' low carb standby Caesar salad.
But you may also score a selection of charcuterie filled with fatty olives, cheeses like provolone and mozzarella and meats like salami and pepperoni.
Here's what you can order at these three popular chains:
#8. Carrabba's Italian Grill
Based on traditional Italian recipes passed down from generations in the founding family, Carrabba's has the largest selection of keto-friendly menu options of all three Italian chains on this list.
What to Order [*]
Start with or share one of these small plates or appetizers: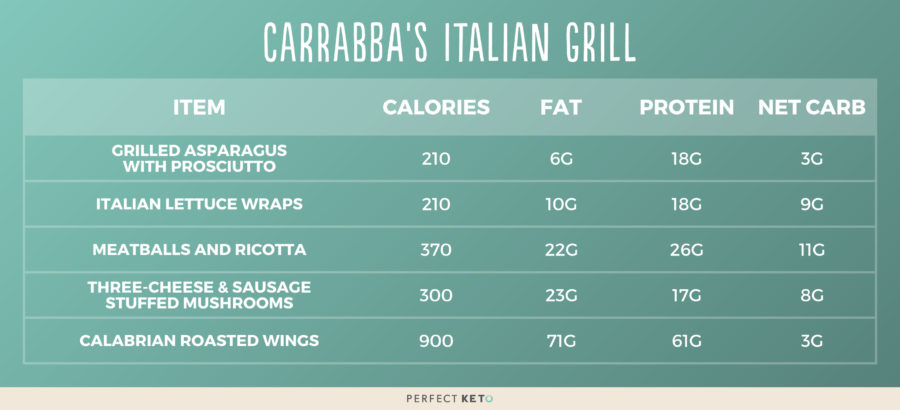 Then check out this selection of entrees: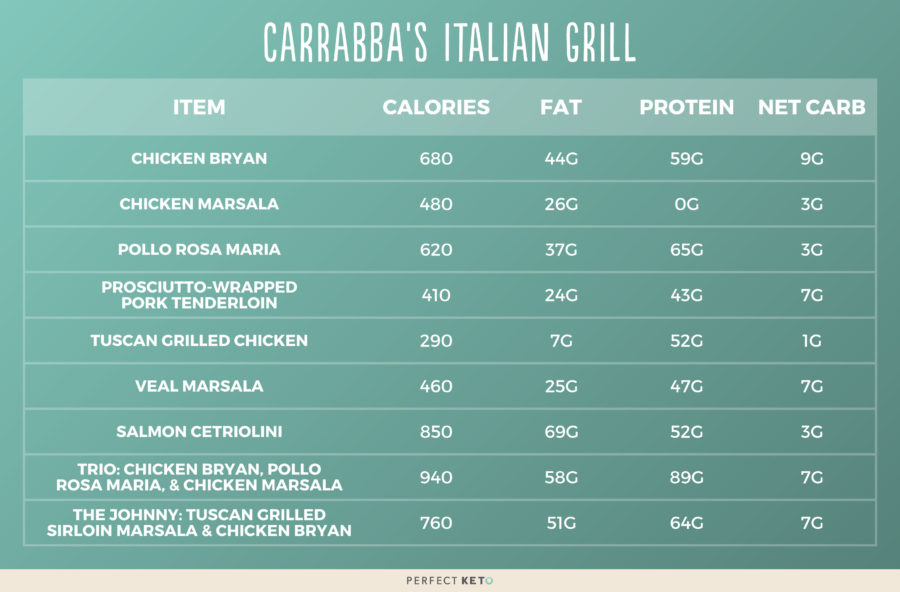 Or go with Tuscan style steak or pork: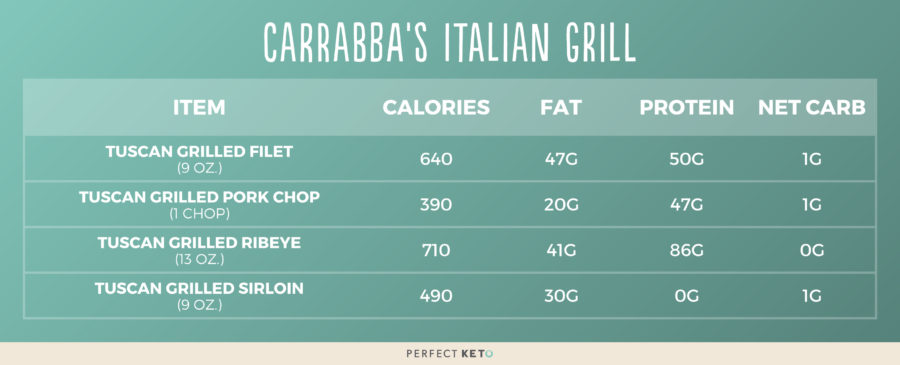 Which you can top with: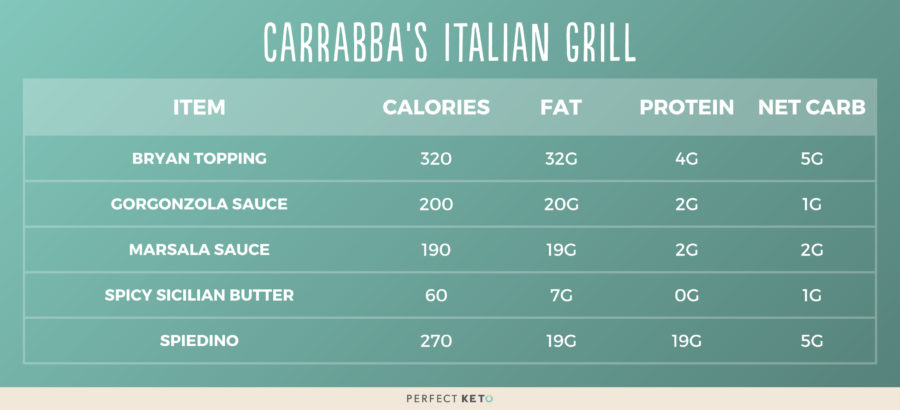 And finally, pick up a side salad or one of these lower carb veggies as they fit in your macros: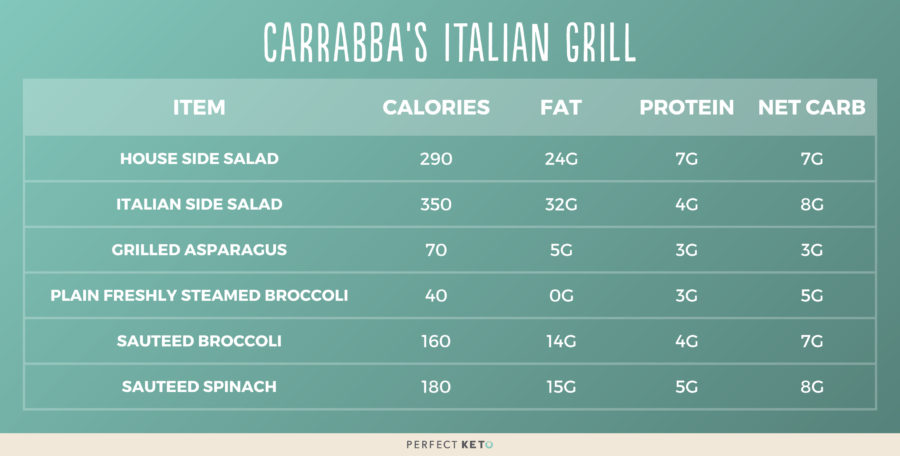 You can also go straight entree salad too: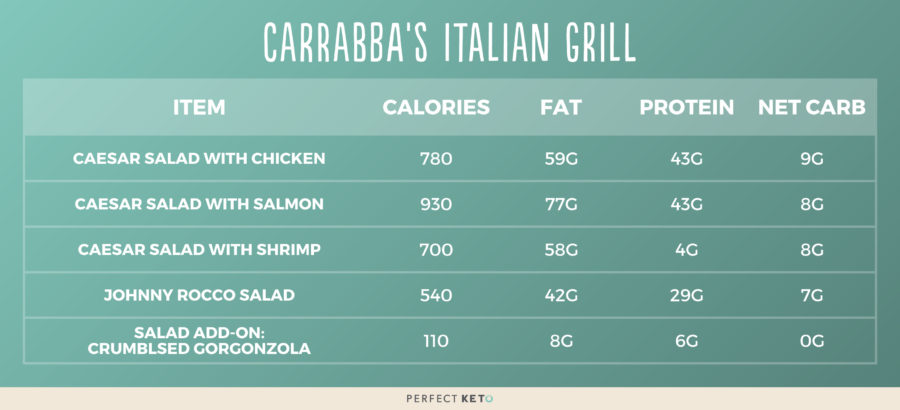 Moving on from one of the largest keto menus to one of the smallest…
#9. California Pizza Kitchen
If you're hoping to find a slice of pizza on this list, you're in for a bad time.
One slice of crispy thin pizza at CPK will cost you 19g of net carbs. Even a slice of their cauliflower crust pizza will set you back 13g of carbs.
Seems a little pricey.
So when you're dining at this West Coast establishment, it's salad or nothin'.
What to Order [*]
Half salads and lunch salads need a bit of tweaking (like asking for no croutons) but they can work when you're famished at the mall: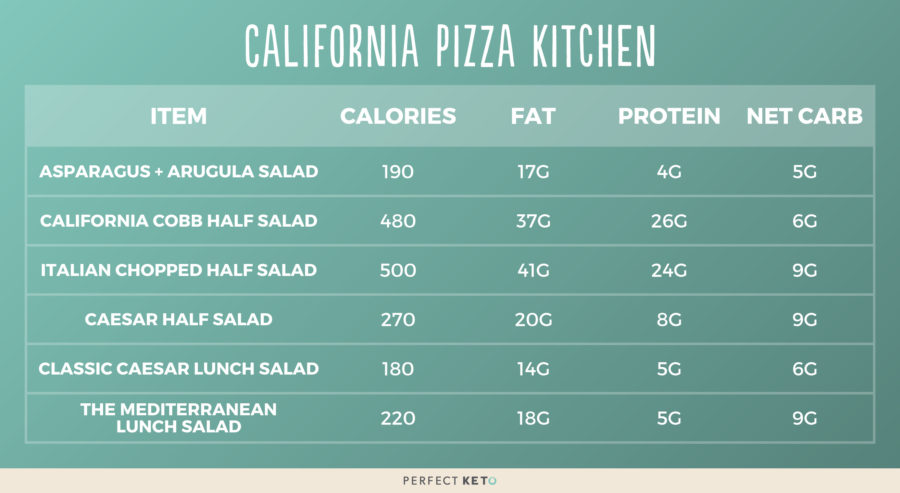 You can always boost the nutritional content of these salads with protein- and fat-rich add ons and dressings, such as: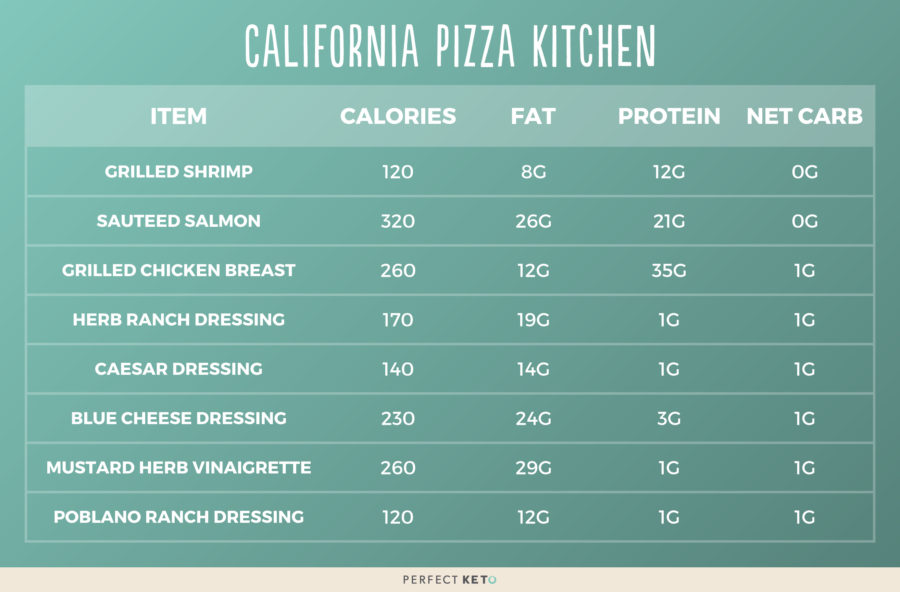 Finally, the last Italian spot on our list is one of the most common for work lunches.
#10. Olive Garden
Though it may be hard to ignore the unlimited breadsticks and never-ending pasta bowls, ketoers still have options even if the rest of your lunch crew chooses to take part in Carb Fest 2018.
What to Order [*]
If you're into their "famous house salad", the good news is you can enjoy it on keto: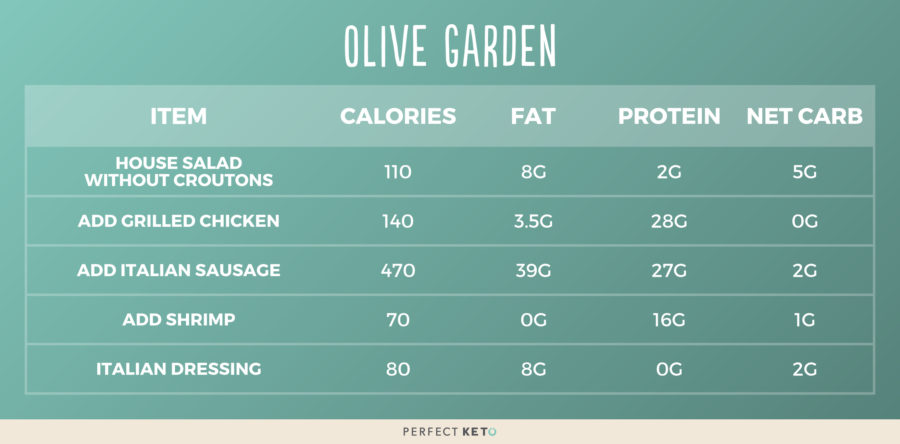 But if you want something with a bit more protein, you'll do better off with one of these entrees and sides: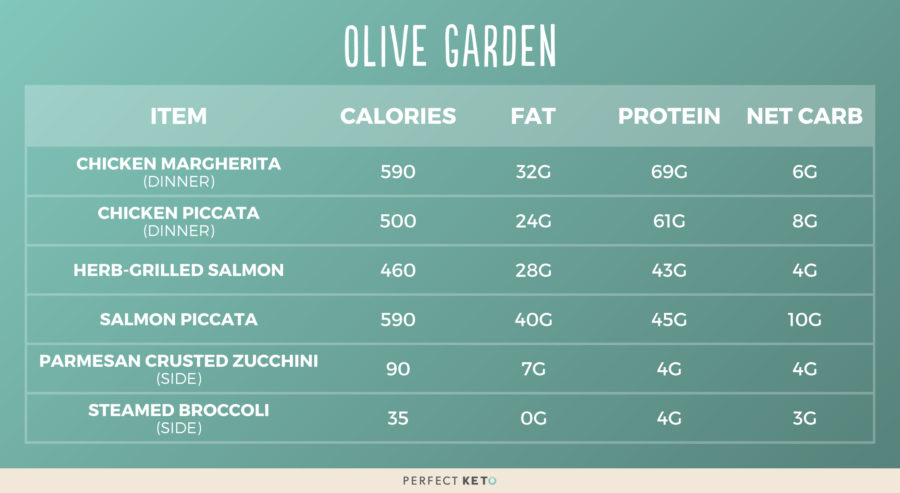 So now that you know how to get around lunches and dinners where pizza or pasta is usually the star, you're ready to take on those burrito and taco invites next.
Mexican
You can bypass all things tortilla and savor the flavors of that burrito without losing sight of your keto goals.
Remember most restaurants have carb-free meat options like beef, chicken, pork and seafood you can add to a bed of salad instead of a tortilla if you ask politely for the swap.
And as long as the guacamole isn't made with lots of wild card veggies (like beans or corn), you're golden there as well. Take it easy on the salsa as tomatoes and onions can add carbs quickly.
These two quick Mexican spots are ultra manageable on keto:
#11. Chipotle
As we discussed in our keto fast food guide, Chipotle is your friend on keto when you stick to salads and skip the rice, beans and tortillas.
What to Order [*]
Start with a salad bowl, choose your protein and add your toppings according to your macro allowance: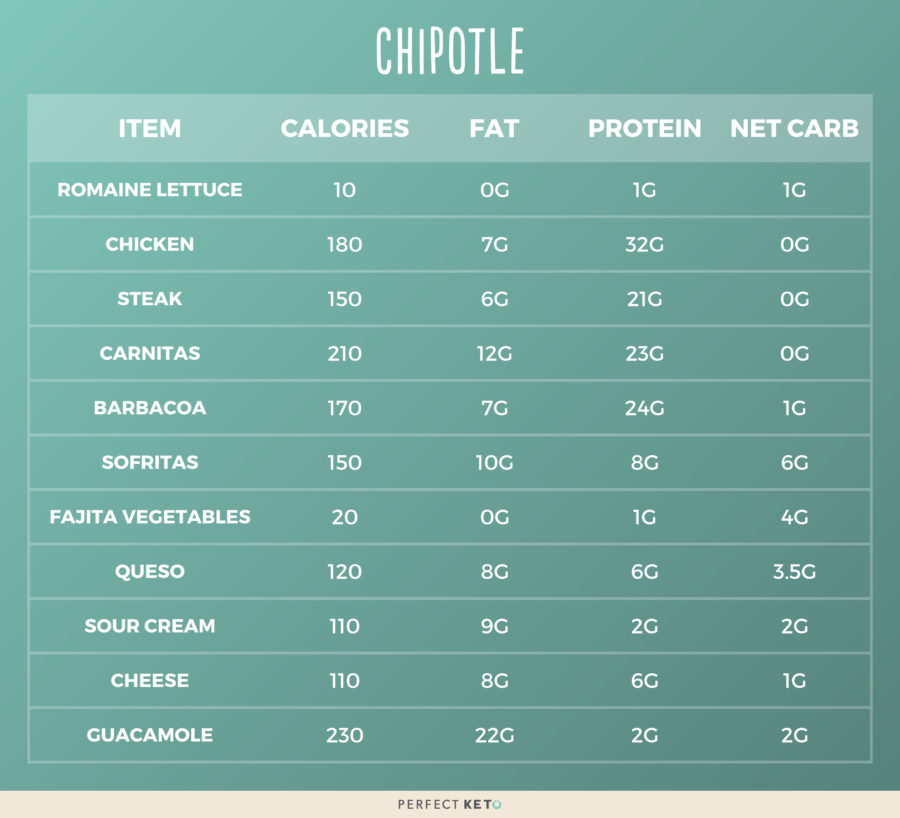 The same keto rules apply to this next spot.
#12. Moe's Southwest Grill
Welcome to (keto) Moe's!
Similar to Chipotle, your low carb choice here is a salad (womp womp).
But the good news is you have way more options for salad toppings here than you do at Chipotle, which may be a good or bad thing for your macros.
What to Order [*]
Ditch the carby salad bowl and choose romaine lettuce and one or more of these protein choices: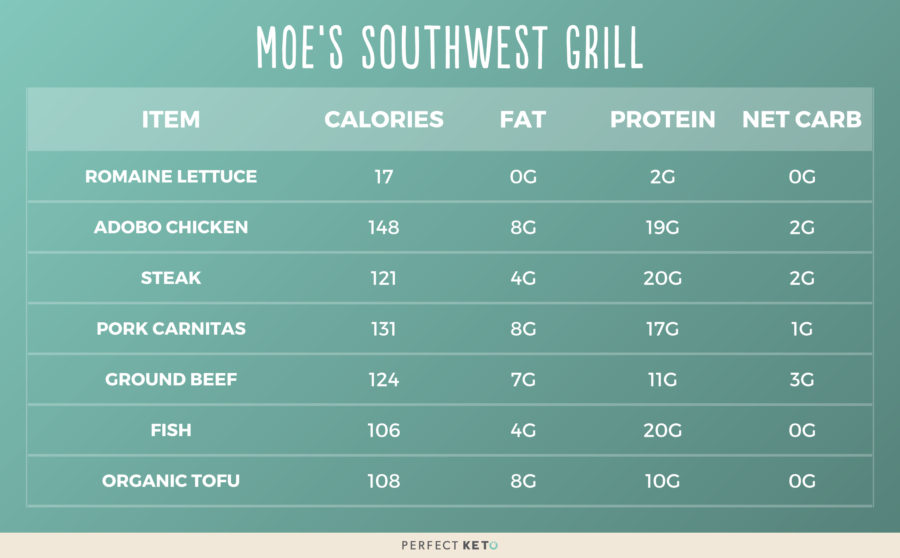 Then add on whatever you like but keep in mind these carbs do add up fast: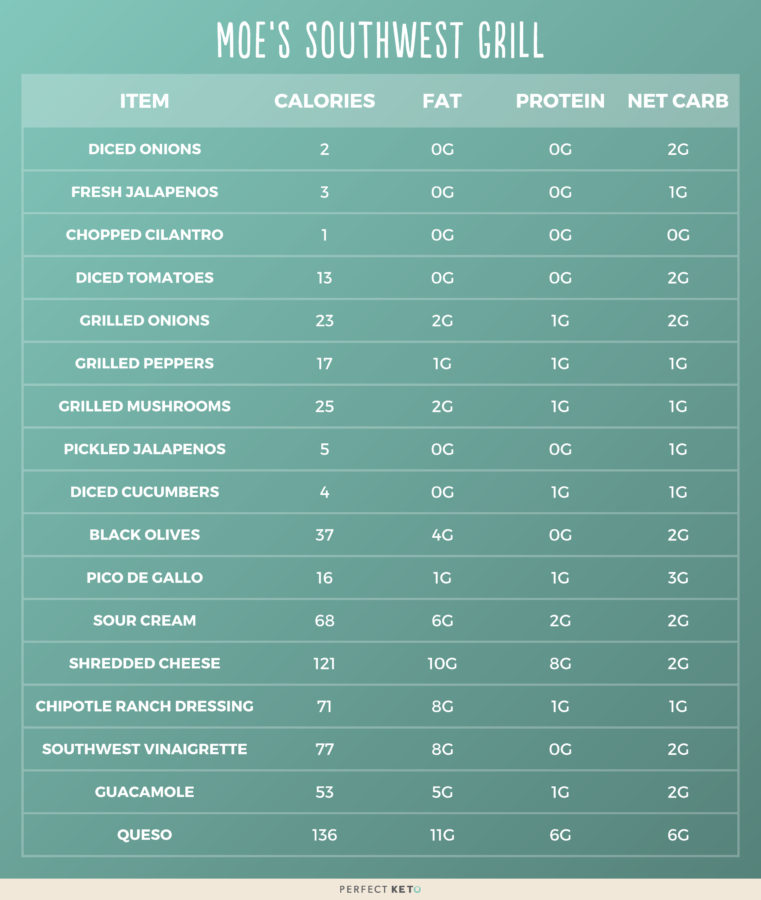 Now when you want to impress bae with dinner somewhere special, these next two chains will help you step it up a notch.
Date Night Faves
Date night keto-style doesn't have to feel any more awkward than a normal date night.
These keto-safe restaurants will help you steer the conversation away from your diet and back to each other:
#13. The Capital Grille
Treat yo' self and boo to dry-aged steaks hand-carved in-house by the experts at The Cap. Though the wine list has over 350 options, just remember you'll trade 2–4g of carbs per glass if you partake.
What to Order [*]
Break the ice and set the food mood by sharing one of these appetizers or snacks:

You can then choose one of these keto chef's picks: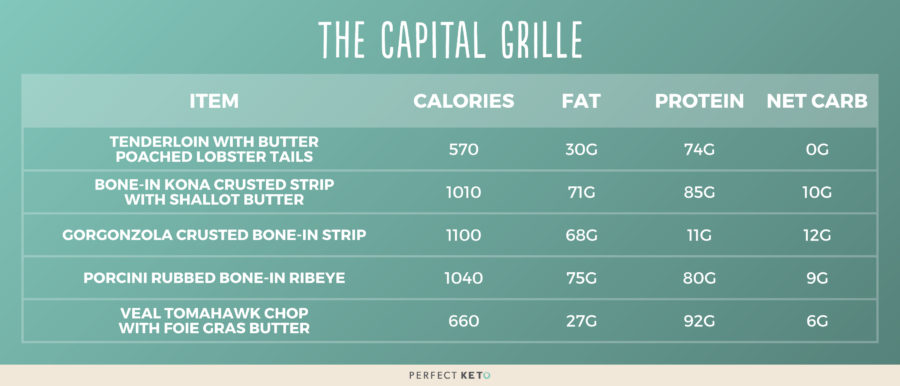 Or one of these killer entrees: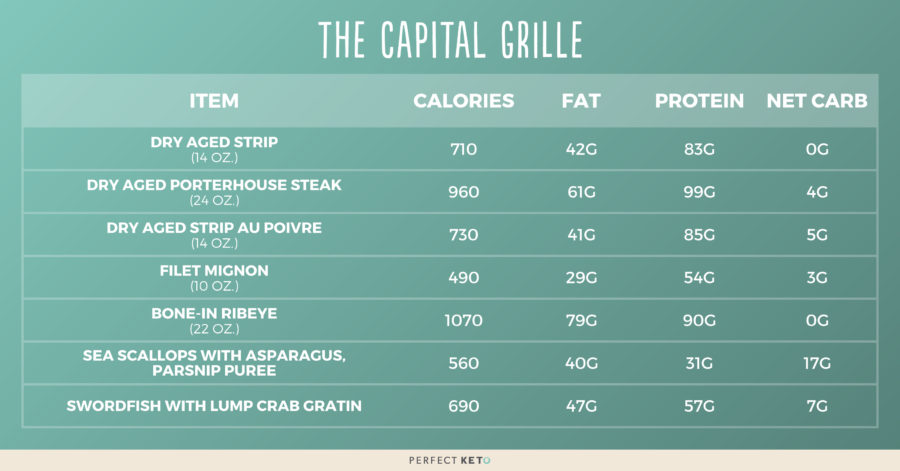 And don't forget that each side serves two, so they're perfect for sharing. Each serving will set you back:

Another Darden Restaurant chain worthy of date night also won't force you to cheat on keto.
#14. Seasons 52
With their emphasis on local, seasonal cuisine and their cozy atmosphere, you'll feel both at home and like you're someplace special at Seasons.
What to Order [*]
Make it for happy hour and you can snack on: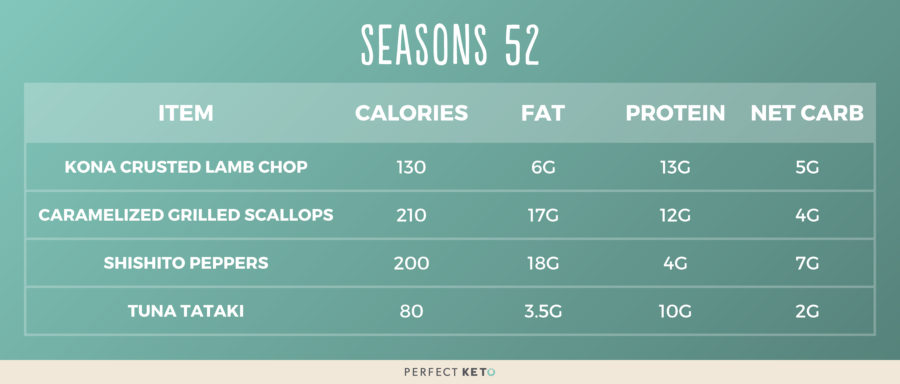 Or go with one of these entrees and sides: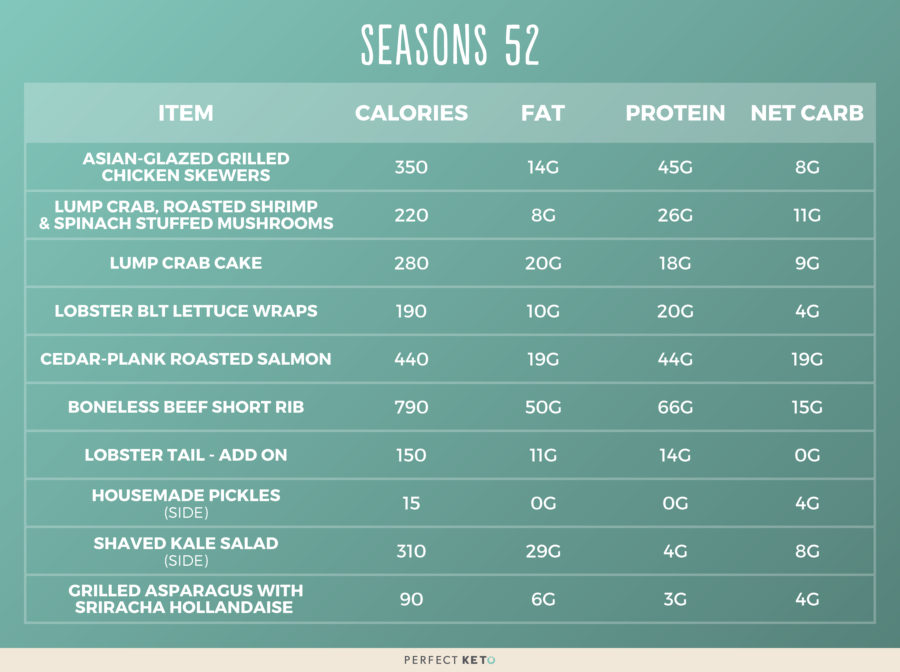 Shifting gears from date night to hanging out with your crew, this final restaurant roundup brings us to keto-friendly pub grub.
Hangouts to Watch the Game
Beer, french fries and bar food don't make any keto-friendly lists we know, but if you stick to bunless burgers, salads and grilled chicken sandwiches sans bread, you can still cheer on your favorite teams alongside your buds.
Wings are also safe on keto — provided they're not battered or smothered in sticky sweet sauces.
These three neighborhood hangouts have keto food options for every fan:
#15. Yard House
One of the fastest-growing national chains, diners love the food, awesome tunes and loads of TVs at Yard House.
Even though you'll find the world's largest selection of draft beer for a restaurant offering so much food, you'll want to stick to carb-free alcohol choices like vodka, tequila and whiskey on keto.
What to Order [*]
While you're sipping and cheering, pick up a snack or small plate to nosh on or share, such as: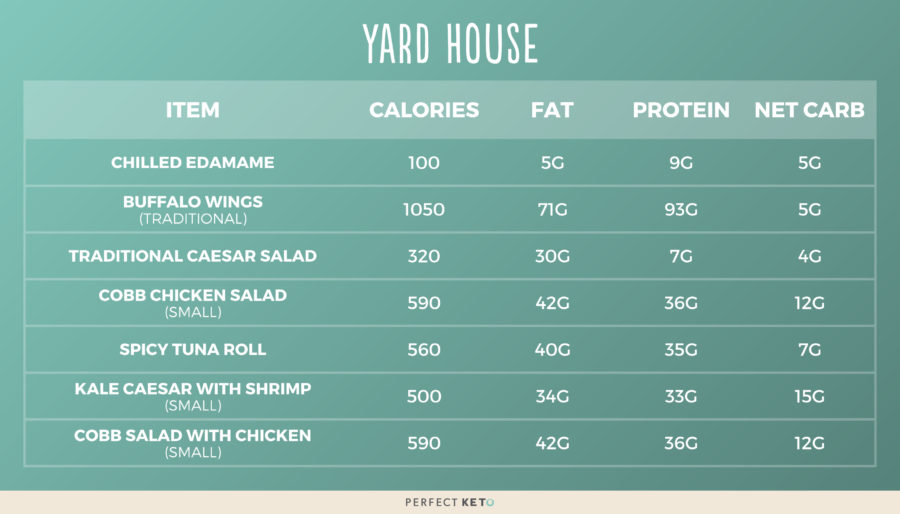 Now here's an interesting fact about Yard House: they have a Gluten Sensitive (GS) menu you can keto hack.
So for example, all GS grilled burgers and sandwiches come wrapped in lettuce instead of on a bun (score!).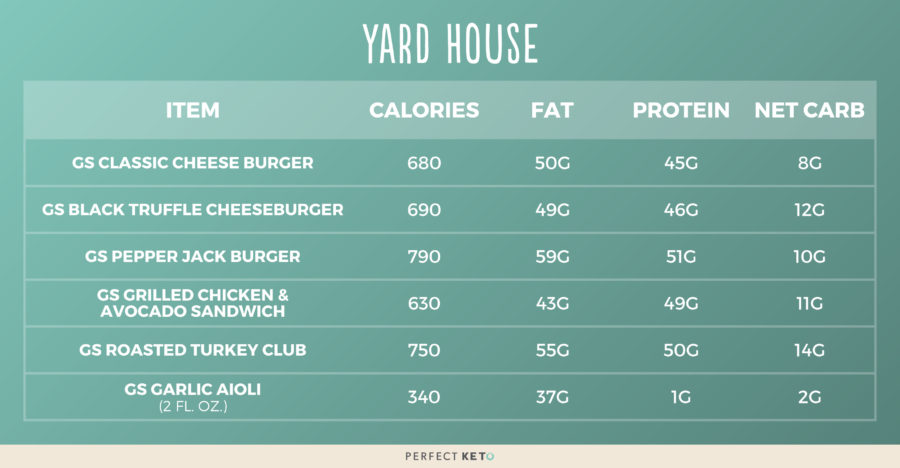 And instead of sides like fries, you'll be offered a mixed greens salad tossed in balsamic dressing or one of these dressings:

You can also sub out the salad for veggies with a bit more fiber:

If a basket of wings happens to be your team's lucky charm, this next restaurant will keep the tradition alive when you're in ketosis.
#16. Buffalo Wild Wings
Sports fans flock to Buffalo Wild Wings for their signature wings and specialty sauces.
The biggest keto rule to remember with wings is always choose traditional over boneless or breaded varieties.
A medium boneless wings order here, for example, weighs in at 123g of carbs! But a medium size order of traditional wings has 0g of carbs!
That's a huge difference, not to mention protein goes from 78g in boneless wings to 125g in traditional ones.
What to Order [*]
You can order wings in snack, small, medium and large sizes without sauce and the carb count doesn't change (although fat and protein macros do):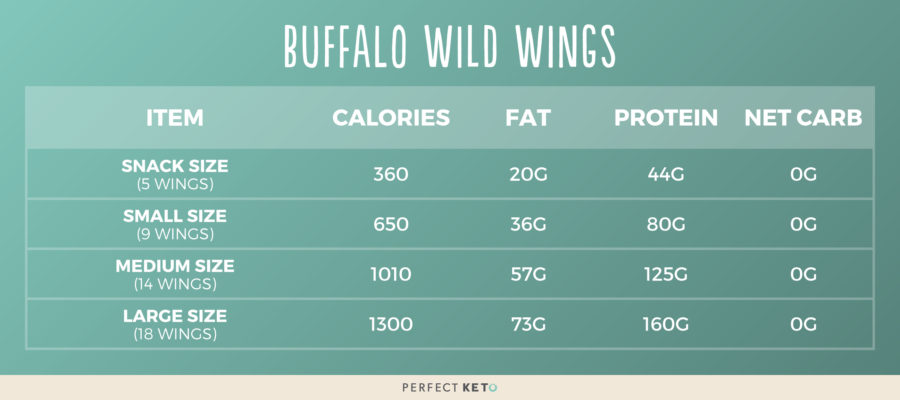 As you increase the number of wings in your order, the carb counts for the wet sauces also increase. So to make life easy, here are the macros for a serving of sauce in a medium size wing order: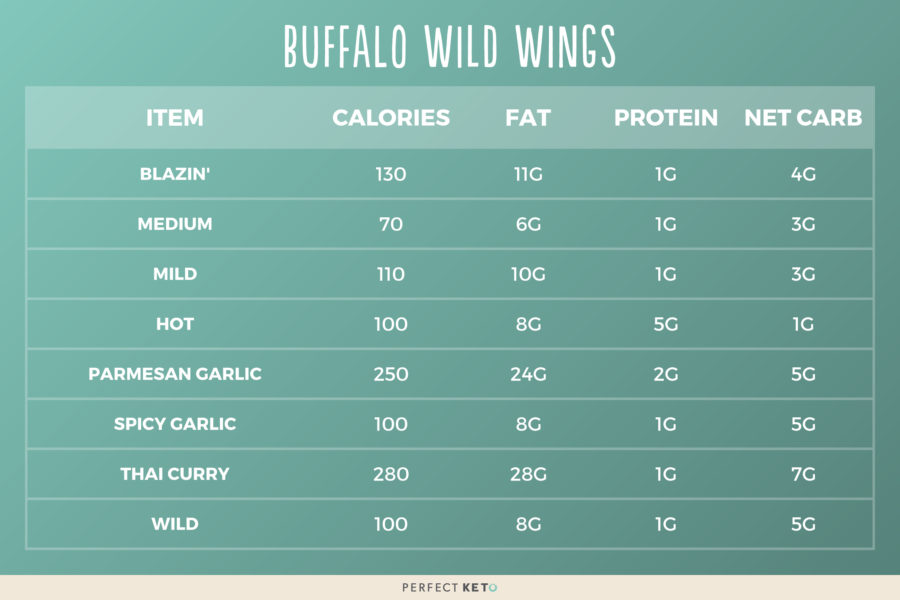 You can also skip the wet sauce for your wings and go for a dry rub to shave off a few carbs and a whole lot of calories in comparison: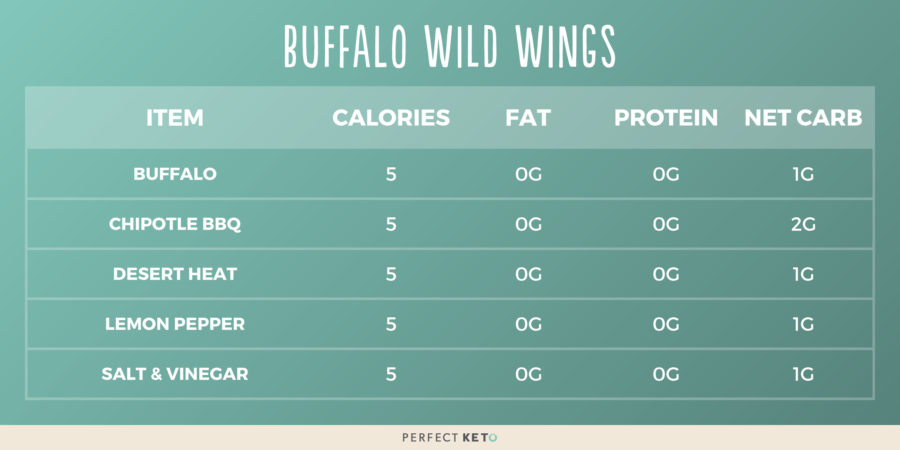 Accompany those wings with your fave dressing and crunchy veggie: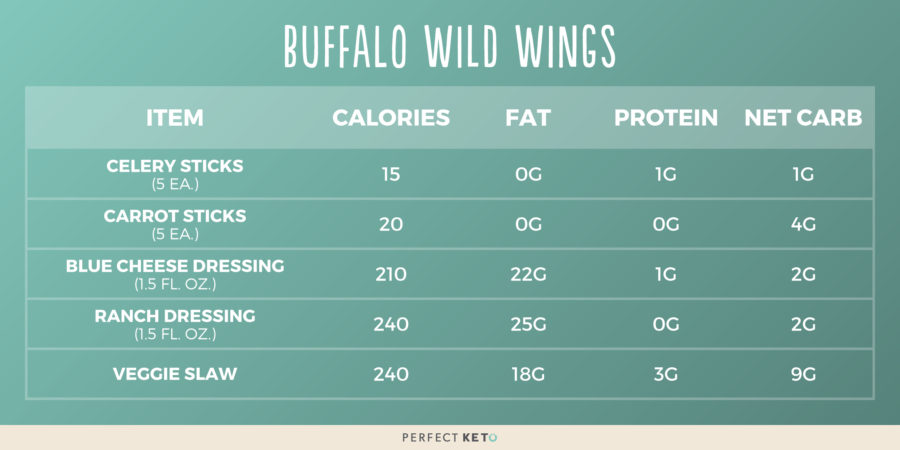 When your hunger demands more than wings, ketoers can also choose a bunless burger or grilled chicken breast with these toppings: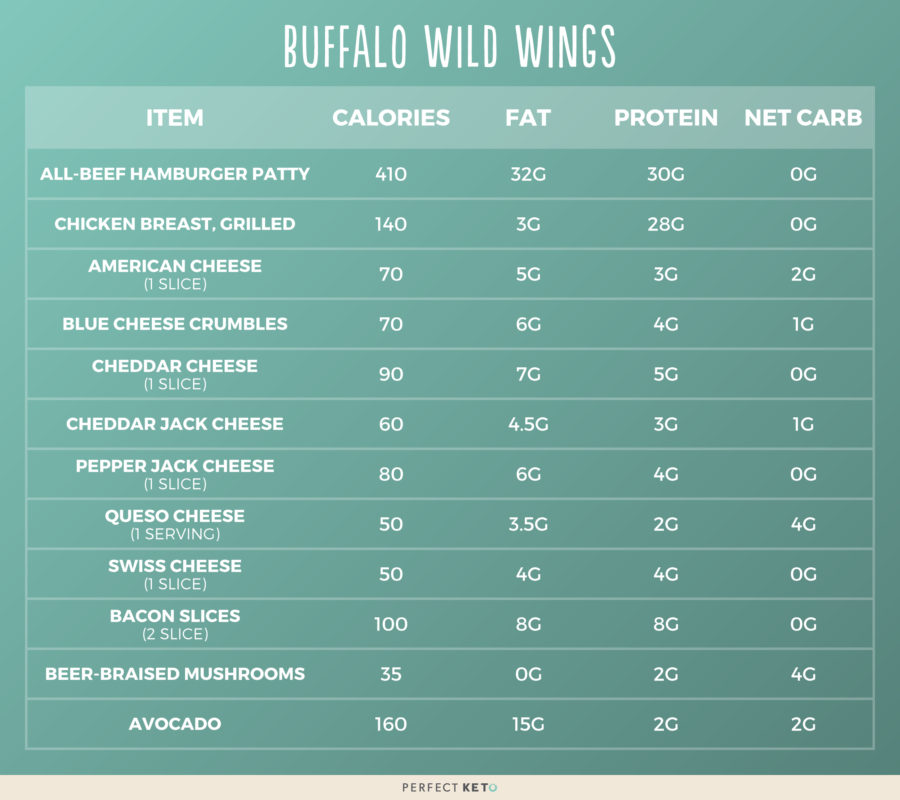 The final restaurant on our list may not be known as a sports hangout, but if your friends are meeting up for beers and deep-dish pizza, it may seem impossible for you to attend.
#17. BJ's Restaurant & Brewhouse
This family-friendly pizza and beer haven doesn't have to scare ketoers. When everyone meets to toss back a few, you can order these keto-safe meal options without FOMO:
What to Order [*]
Start with appetizers like: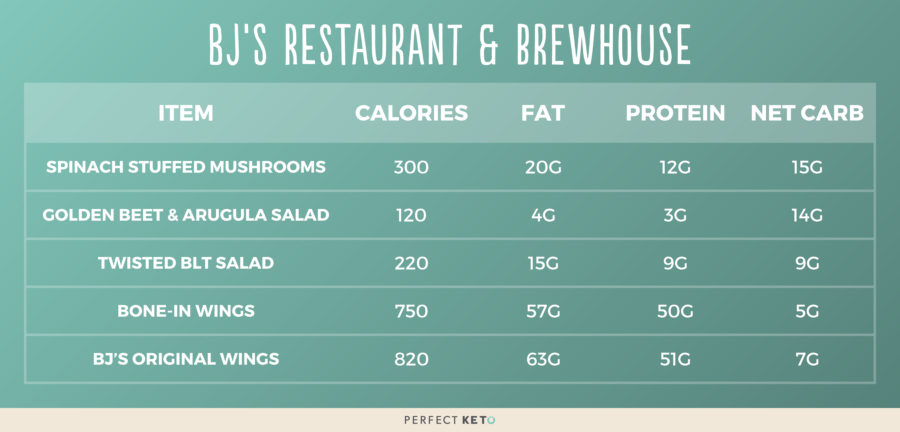 And salad and dressings such as: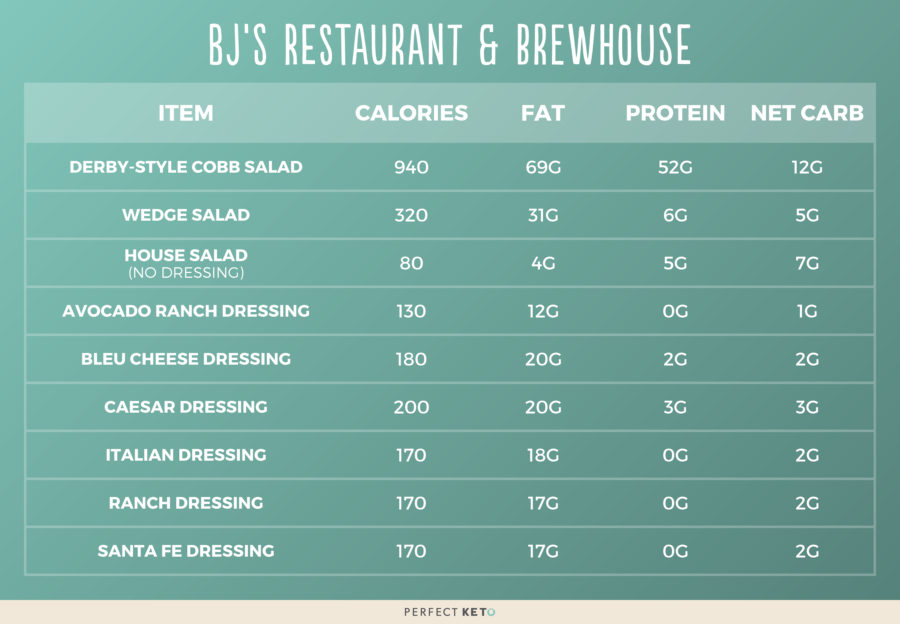 Every brewhouse offers a dynamite burger, but you'll need to go bunless. These additions should more than make up for tossing that bun: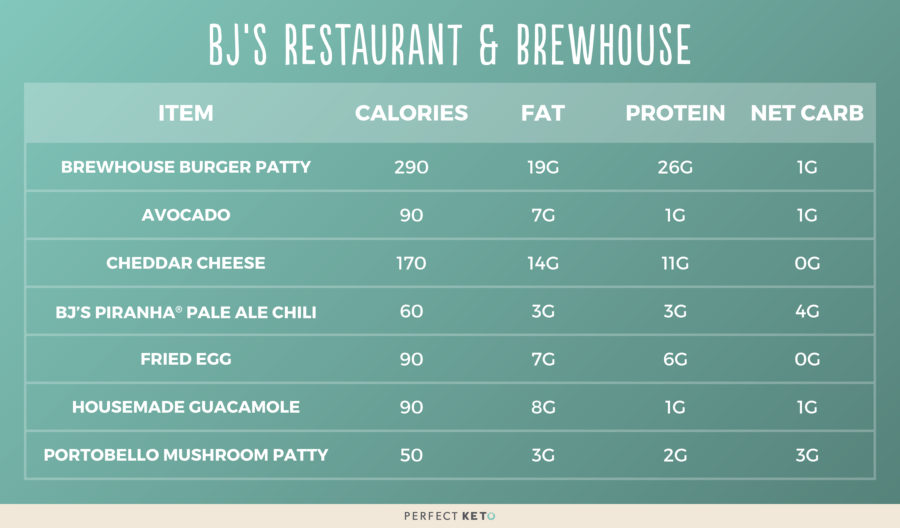 And if you're feeding a dinner-sized hunger, entrees and sides like these will set you right: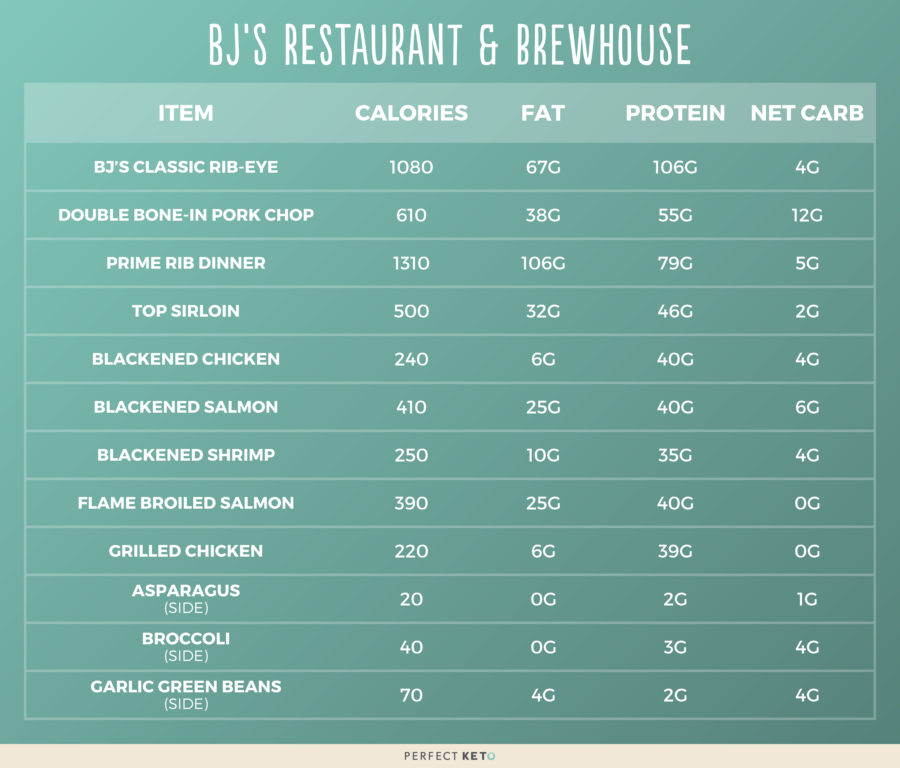 Get Out There, You Social Keto Butterfly!
With this guide of the best keto-friendly meals at the most popular low carb restaurants, there's no reason to feel like a hermit while you steadily chip away at your body goals.
So save this guide and you'll always know what to order when you go out.
And you'll never be tempted to cheat on keto or worry about your ketogenic diet getting in the way of your social life again.