This isn't your average salmon cake recipe. These keto salmon patties are crispy on the outside and tender on the inside, oh-so flaky, and bursting with spicy flavors.
Whether you need a new protein option to top a refreshing salad or a quick make-ahead snack for meal prep, these crispy salmon patties will never disappoint. Not only are they simple to make, but they are loaded with healthy fats — perfect for your ketogenic diet.
Main Ingredients of Low-Carb Salmon Patties
There's a reason these keto salmon patties won't kick you out of ketosis — they're full of healthy fats, protein, and just enough spice to keep you coming back for more. The main ingredients include:
Canned salmon or cooked fresh salmon
Chipotle mayonnaise
Sriracha hot sauce
Unlike other fish patty recipes, these salmon patties do not require any bread crumbs, which aren't keto-friendly since they contain too many carbs. Instead, all it takes is a little bit of coconut flour and almond flour to hold these spicy cakes together.
Alternatively, if you want breading on the outside of these keto salmon patties, you can crush pork rinds and use that as the "crumbs." If you like this option, simply coat the raw patties in the pork rind crumbles before placing in the frying pan.
Aside from being so easy to put together and keeping your macros in check, these crispy salmon cakes will also make you feel great about getting all those healthy fats and protein that salmon is known for.
Benefits of Wild-Caught Salmon
There are a number of measurable benefits to eating wild-caught salmon. Wild-caught salmon is higher in omega-3 fatty acids and many other beneficial micronutrients than farmed salmon, which are generally fed soy and corn pellets[*].
Wild-caught salmon is also an excellent source of lean protein. For these reasons, salmon has been studied for its potential effects on weight loss and cardiovascular health[*][*].
Weight Control
Salmon has been the subject of a number of preliminary studies on weight control and weight loss. A small study on rats published in 2008 showed adding salmon to the rats' diets actually inhibited overall calorie intake despite the fact that the rat subjects had impaired leptin response[*]. (Leptin is the hormone signal that tells your brain you're full.)
Other more general studies show the addition of seafood to a calorie-restricted meal plan also enhances weight loss efforts[*]. But not all fish have the same effect.
A Canadian study observed the difference in eating different varieties of fish and found salmon had a positive impact on insulin sensitivity[*]. This is an important finding, considering that type 2 diabetes has reached a nearly epidemic level in America[*].
Micronutrients and Omega-3s
Wild-caught salmon can help reduce oxidative stress and systemic inflammation. That's because it's rich in micronutrients, including vitamins, minerals, and antioxidants. It's also rich in the omega-3 fatty acids DHA and EPA.
Some vitamins and minerals are also considered antioxidants, like the whole suite of B vitamins, vitamin D, and selenium — all of which are found in high quantities in wild-caught salmon. These nutrients, in combination with a carotenoid called astaxanthin, offer a host of antioxidant protection. Astaxanthin is what gives salmon its rich orange color[*].
In combination with the omega-3s found in salmon, astaxanthin has been shown to help improve the balance of LDL to HDL cholesterol, offer cardiovascular protection, reduce damaging inflammation in the brain, and even improve elasticity in the skin[*][*][*][*].
Fighting inflammatory responses is key for preventing the majority of chronic diseases humans face, such as cancer, metabolic disorders, and heart disease.
High-Quality Protein
Like healthy fats, protein is essential for your body to function optimally. Protein helps your body heal from injury, maintain and build lean muscle, and regulate the hormones that control your appetite[*][*].
Protein intake is also an important piece of the weight loss puzzle. When losing weight, eating enough protein is critical to prevent muscle loss as your body burns the calories stored in your body[*].
By giving your body the protein it needs, you're telling your body that it doesn't need to spend time eating away at your muscle tissue. Making sure you're in ketosis will aid in this process, because your body will depend more on your fat stores for energy.
Protein is key in making you feel full and satiated, meaning there is less chance of overeating. Certain proteins help increase leptin sensitivity[*]. Since leptin regulates the feeling of fullness, increasing sensitivity would tell your body that you're full more quickly.
When you're on the keto diet, it's ideal to choose foods that not only keep you full but are nutrient-dense, so that you can maximize every bite. By eating wild-caught salmon at least twice a week, you're choosing a top-quality protein source that is less likely to contain the contaminants and artificial additives of farm-raised fish.
Cardiovascular Health
Salmon is rich in omega-3 fatty acids, which have been shown to help reduce heart disease-causing inflammation, strengthen cardiac muscles, reduce blood pressure, and even repair damaged tissues in your arteries[*][*][*][*]. Therefore, eating wild-caught salmon on a regular basis may help reduce your chances of these conditions.
Brain and Nervous System Health
The abundance of B vitamins and omega-3 fatty acids makes salmon a brain-healthy food. The B complex of vitamins includes:
Vitamin B1 (thiamin)
Vitamin B2 (riboflavin)
Vitamin B3 (niacin)
Vitamin B5 (pantothenic acid)
Vitamin B6
Vitamin B9 (folic acid)
Vitamin B12
Every one of these vitamins is in wild salmon, with niacin and B12 having the highest concentration levels[*]. B vitamins not only help reduce inflammation in the body — they also protect cell membranes, mitochondrial health, and repair DNA[*]. They play a key role in protecting the normal function of the brain and nervous system[*].
DHA is a type of omega-3 found in salmon. It's present in wild-caught salmon because they eat the algae that makes it. DHA has consistently shown in studies to offer brain and nervous system protection. Although not all mechanisms are clear, scientists believe this effect is due in large part to its anti-inflammatory properties.
Studies have linked eating DHA-rich salmon with reduced anxiety and depressive symptoms. It also protects the brains of fetuses as they grow, slows memory loss related to aging, and lowers dementia risk[*][*][*][*][*].
Print
Spicy Keto Salmon Patties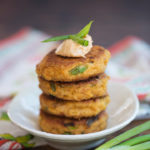 Whether you use leftover salmon filets or wild-caught canned salmon, these keto salmon cakes are sure to make regular appearances in your keto meal plan. They're great reheated in a large skillet, served cold out of the fridge on a green salad, or on the go.
Author:
Total Time:

10 minutes

Yield:

4

salmon cakes

1

x
Scale
Ingredients
1

heaped tablespoon chipotle mayo

1

–

2

teaspoons Sriracha sauce

1/2 teaspoon

salt

1/4 teaspoon

pepper

1

large egg

2 tablespoons

chopped green onion (finely chopped)

1/2 tablespoon

coconut flour

2 tablespoons

almond flour

1

canned salmon or ½ lb cooked salmon (preferably wild-caught sockeye or pink salmon)

1 tablespoon

avocado oil or olive oil

1/4 teaspoon

smoked paprika

4 tablespoons

green onion
Squeeze of lemon (optional)
Instructions
Add mayo, Sriracha, smoked paprika, egg, and green onion to a large mixing bowl. Add salt and pepper to taste.
Add in canned salmon, almond flour, and coconut flour to mixture. Carefully stir to coat.
Divide salmon mixture into four heaps and form patties.
Coat a large skillet or non-stick pan with avocado oil and set to high heat. Place patties into hot oil and cook for 3-4 minutes, flip, and cook on the other side until golden brown under medium heat.
Garnish with green onion if desired and serve with more chipotle mayo as your dip. You can also add a squeeze of lemon for a tangy finish.
Nutrition
Serving Size:

2 salmon cakes

Calories:

333

Fat:

26g

Carbohydrates:

3g (Net Carbs: 2g)

Fiber:

1g

Protein:

17g
Keywords: keto salmon patties