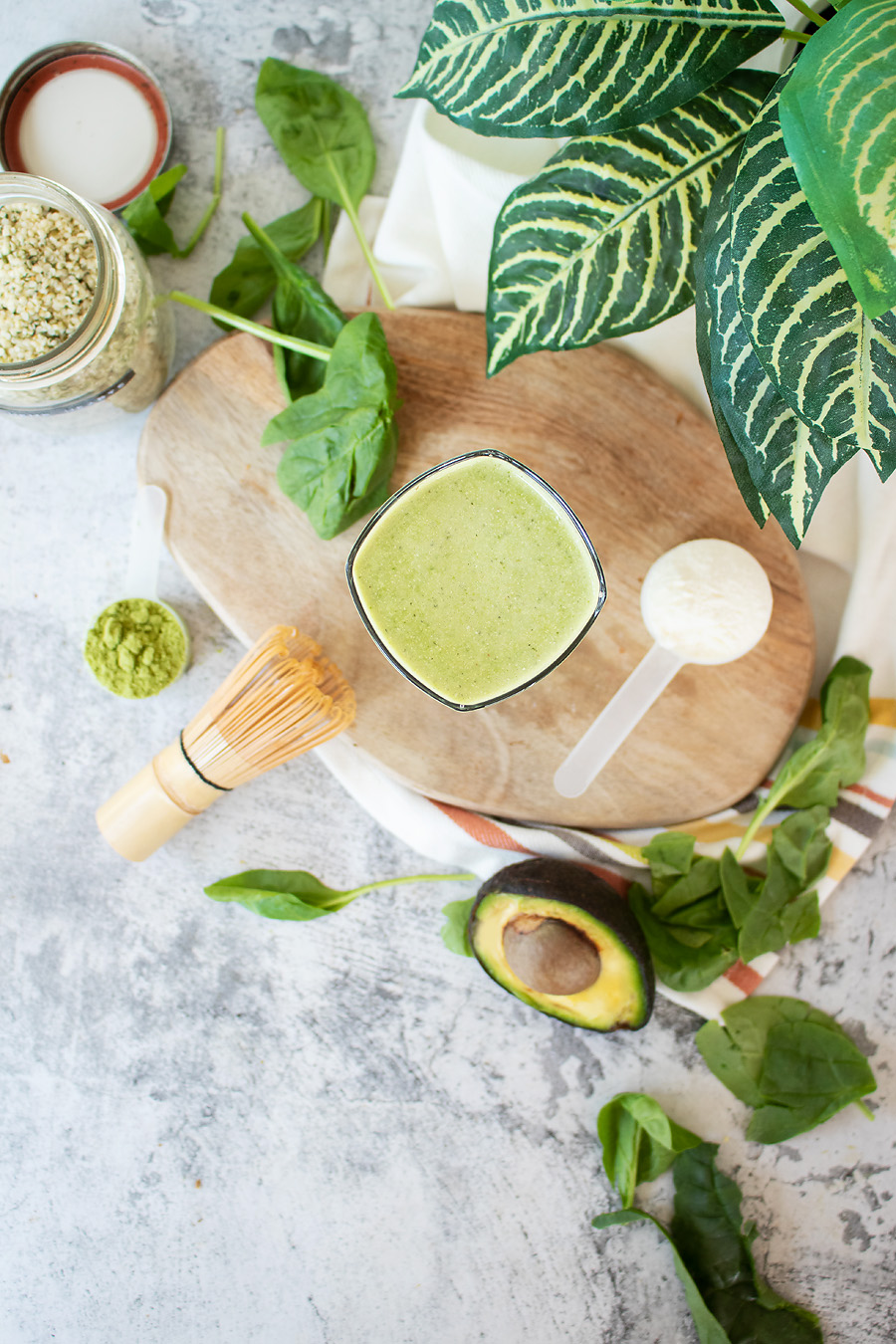 Whether you are looking for a new smoothie recipe for your busy weekday mornings or need an afternoon pick me up, this matcha smoothie is sure to make it into your daily routine. Unlike other smoothies that are loaded with sugar and carbs, this one will help nourish you from the inside out. The added collagen will help improve the appearance of your skin, support healthy brain function, and help protect your immune system. The matcha green tea will boost your brain power and provide you with clean and sustained energy. It is creamy, filling, and one of the best reasons to enjoy a smoothie during the day is how quick it can be prepared.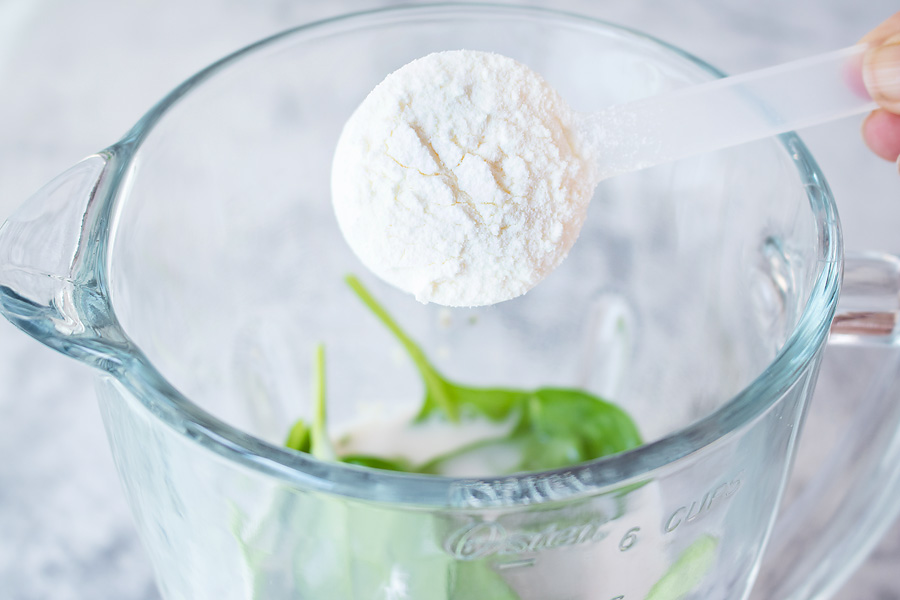 Keto Matcha Smoothie Ingredients
Matcha Green Tea Powder: Japanese green tea made from dry tea leaves. For the best tasting matcha beverages, go for a ceremonial grade tea that is bright green in color and free of sweeteners.
Avocado: This will create the creamiest texture in any smoothie recipe. It is also loaded with vitamins such as C, E, K, and B6, potassium, Omega 3 fatty acids, and is also a great source of fiber.
Baby Spinach: Adding greens to your smoothies will help boost your nutritional profile. Because baby spinach is so mild in taste, they are a great way to add "hidden" vitamins, minerals, and carotenoids.
Hemp Hearts: These are absolute powerhouses for nutrition. They have a mild, slightly nutty flavor and are loaded with linoleic acid (omega-6) and alpha-linolenic acids (omega-3. Hemp hearts are also a great source of protein.
Matcha MCT Oil Powder: Not only will this boost the matcha flavor and rich green color in your smoothie, but MCT oil is a great source of medium-chain triglycerides. These healthy fats can help raise your energy levels, boost your brain power, and help keep you in a fat burning state of ketosis.
Coconut Butter: Another addition to help make your matcha smoothie rich and creamy. It will also add a very subtle coconut flavor that pairs great with matcha.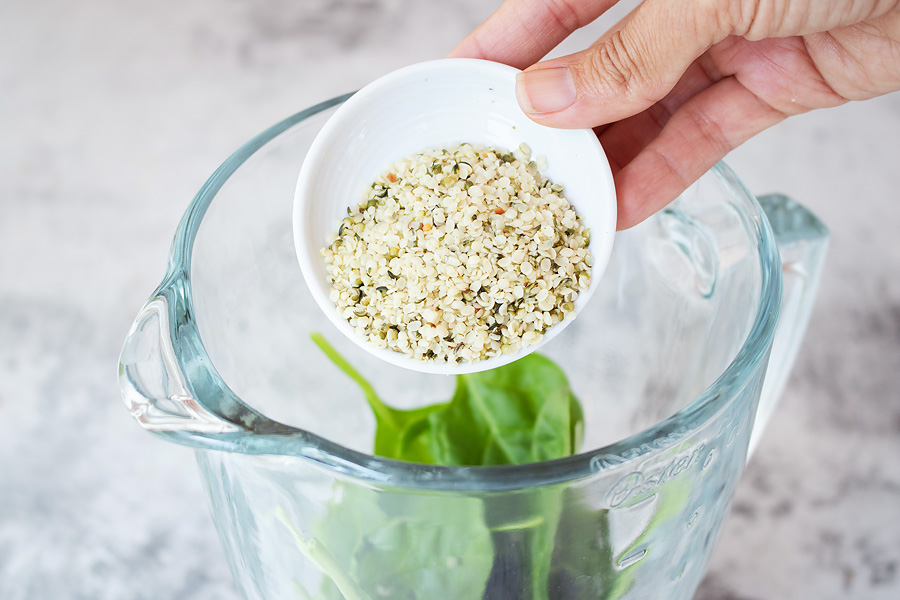 Print
Keto Matcha Smoothie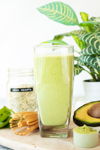 Author:
Total Time:

5 minutes

Yield:

2

servings

1

x
Instructions
Add all ingredients to a high speed blender and mix on high for 30 seconds.  Add ice and blend until smooth or pour over ice to serve.
Nutrition
Serving Size:

1 cup

Calories:

293

Fat:

23 g

Carbohydrates:

11 g(Net Carbs: 4 g)

Fiber:

7 g

Protein:

9 g
Keywords: matcha smoothie
Keto Matcha Smoothie Variations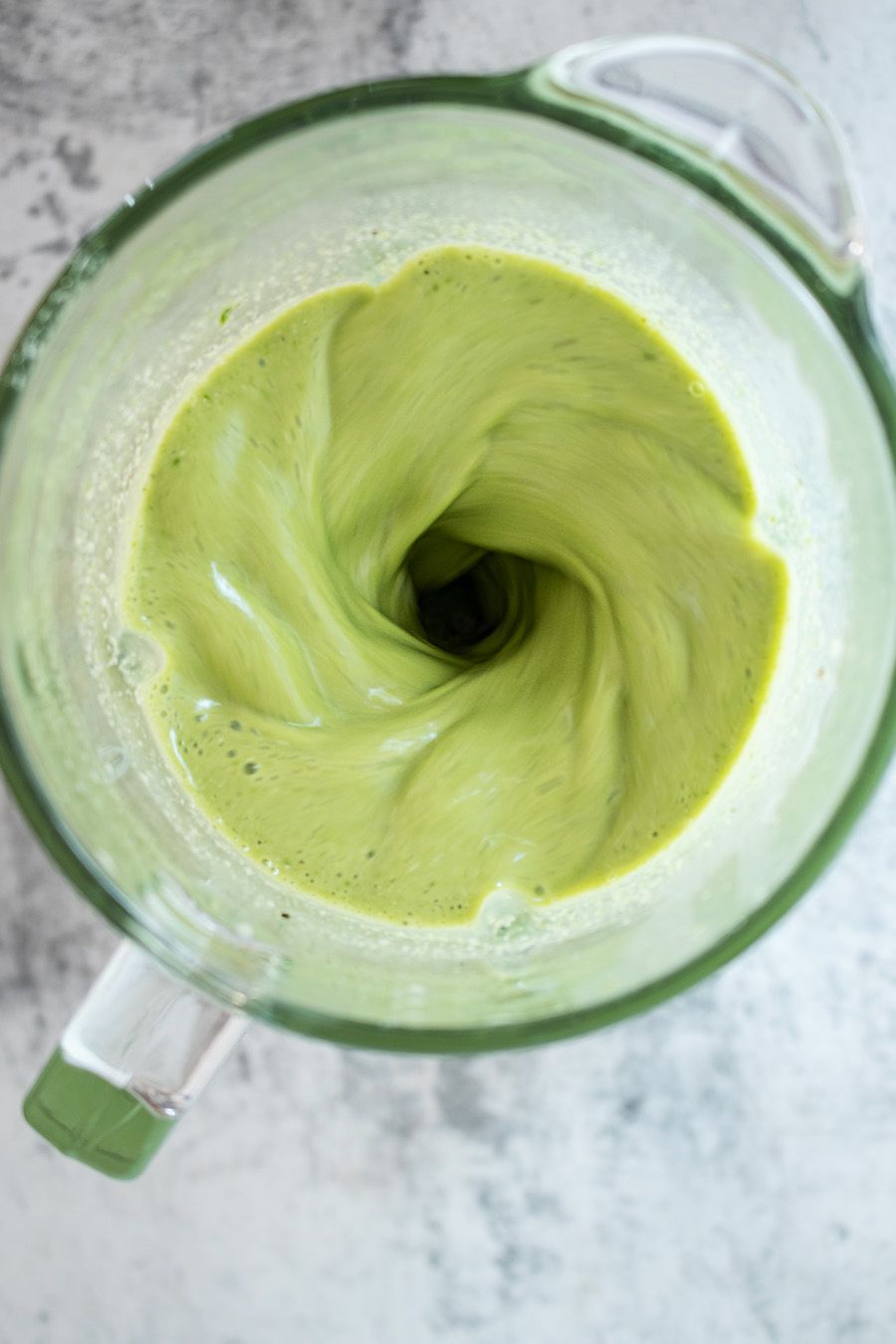 Green Tea Matcha Smoothie
Boost the flavor of your matcha by adding freshly made & cooled steeped green tea. Instead of using 1 cup of cashew milk, use the brewed tea instead as your main liquid and 1 tablespoon of coconut cream. Get all of the benefits of a regular matcha smoothie, but with an extra boost of green tea power.
Banana Matcha Smoothie
Unfortunately bananas are very high in carbs and sugar which will kick you out of ketosis, but if you are missing that traditional flavor in your smoothie add ½ teaspoon of banana extract! This will provide just the right amount of banana flavor without the added carbohydrates.
Vanilla Matcha Smoothie
Instead of using the Perfect Keto Unflavored Collagen, use Vanilla Collagen and ½ teaspoon of vanilla extract. The combination of vanilla and matcha is a match made in heaven.
Blueberry Matcha Smoothie
Adding a small handful wild, organic blueberries will provide a layer of sweetness to your matcha smoothie. These low calorie berries are also jam packed with antioxidants, fiber, vitamins C & K, and can even help protect your cholesterol levels.
Papaya Matcha Smoothie
Although slightly higher in carbs, adding ½ cup of papaya will provide additional antioxidants benefits. Papayas are also loaded with vitamin C which will help protect your immune system.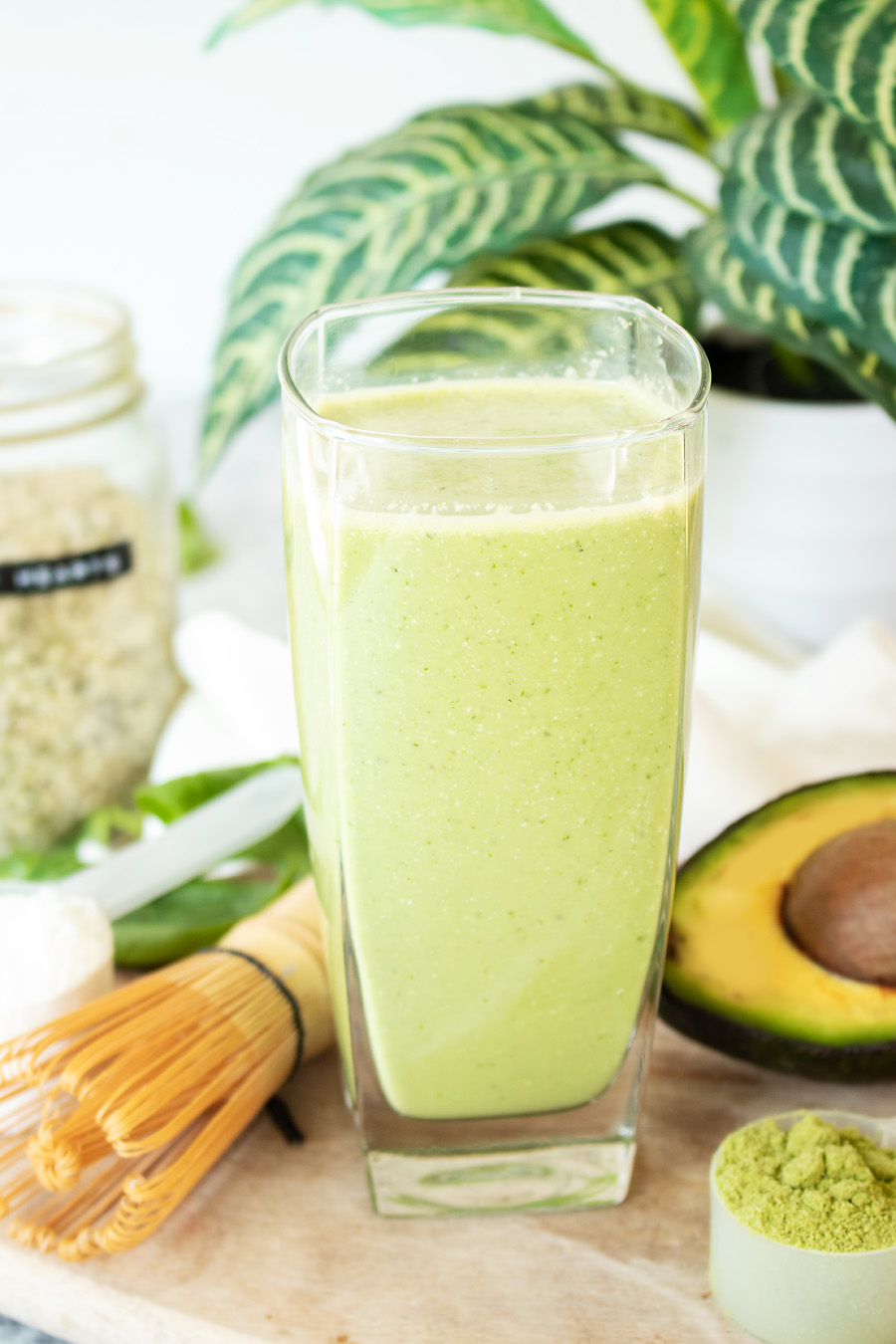 Keto Matcha Smoothie FAQs
Are matcha smoothies good for you?
One of the biggest reasons for adding matcha green tea into your daily routine is the health benefits. It is full of antioxidants to help protect your immune system, rich in polyphenols that can help reduce inflammation in the body and help control blood sugar, and provide you with a clean source of long-lasting energy. The addition of baby greens will help provide extra vitamins and minerals in your day. Hemp hearts are also considered a complete protein source which means they provide all of the essential amino acids. And the fat from the MCT oil, coconut butter, and avocado will all help fuel you on a ketogenic diet.
How many calories does this matcha smoothie have?
293 calories per serving (as written)
Are all the variations of this matcha smoothie keto?
Yes! Because the banana and vanilla variations don't actually use any additional fruit, both are still considered completely keto. Ultimately for the blueberry and papaya version,  it will depend on how much fruit you add.  Blueberries are lower in carbohydrates compared to other fruits so adding ½ cup to your smoothie will only increase the net carb count by 3 grams per serving. Similarly, adding ½ cup of papaya will also only increase net carbs by 3 grams as well.
What fruit goes well with matcha?
Matcha pairs well with most fruits, but to keep this smoothie keto we suggest using berries. Each type of berry can provide various health benefits, all while keeping the carbohydrates low and you in ketosis.
Does matcha help you lose weight?
Matcha is great for a weight loss tool. This powerful tea can enhance exercise by provide long lasting and clean energy to fuel your workouts. The additional energy will help speed up metabolism and boost fat burning.