Chicken wings are an American classic. But most of the wings you'll get out on the town are fried in questionable oil and drenched in sugary, high-carb wing sauce.
Not this chicken wing recipe. Baked to golden perfection, these crispy baked garlic parmesan wings use gluten-free breading and sugar-free dipping sauces to that will bring you straight back to game day — no Super Bowl required.
With zero net carbs and a gluten-free batter, these wings are a guilt-free pleasure you can whip up for any holiday or get together.
The flavorful, cheesy coating is enough to make these oven baked wings a meal all their own.
But if you like some variety whip up a batch of your favorite wing sauce. They go perfectly with blue cheese, garlic sauce, or a classic hot wing sauce.
This recipe serves four people, so there will be plenty to share; just make sure you save a drum stick or two for yourself.
These garlic parmesan chicken wings are:
Savory
Satisfying
Flavorful
Delicious
The main ingredients are:
Chicken wings
Pecorino Romano cheese
Optional additional ingredients
Red pepper flakes
Low-carb buffalo sauce
3 Health Benefits of Parmesan Chicken Wings
#1: Supports Joint Health
These crispy baked chicken wings contain added collagen powder, which is amazing for your joints. Here's how it works.
Your joints are where two or more bones meet. Between your joints lives a connective tissue called cartilage. And cartilage protects your bones from rubbing against each other and causing pain and inflammation.
One of the easiest ways to keep your joints from aging is to maintain healthy cartilage. Strong
cartilage leads to better bone health, and better bones lead to pain-free joints.
So how do you keep your cartilage happy?
One way is to ensure that your body is getting enough of the nutrients needed to provide the building blocks for this incredibly important tissue.
Collagen is an essential component of your cartilage. For people suffering from osteoarthritis supplementing with collagen powder can result in greater physical capabilities, less joint pain, and less stiffness in the joints[*].
#2: Anti-Inflammatory
Inflammation is a primary component of many common diseases that plague the U.S., including cardiovascular disease, diabetes, neurodegenerative disease, and cancer — to name a few.
One of the best ways to combat inflammation is by changing the way you eat. Limiting carbohydrates and adding plenty of healthy fats is a great place to start lowering chronic inflammation and stopping disease in its tracks.
Olive oil, found abundantly in the Mediterranean diet, contains a potent anti-inflammatory compound called oleocanthal. Oleocanthal has even been compared to Ibuprofen for its anti-inflammatory properties[*].
Research into oleocanthal suggests it may even be protective against cancer, cardiovascular disease, and neurodegenerative diseases[*].
#3: Boosts Immune Health
Garlic has been used for thousands of years as a medicinal plant for a variety of ailments. In modern times, identification of specific compounds in garlic validates the wisdom of our ancestors.
One compound in particular, allicin, shows great potential as an immune-enhancing agent.
In a placebo-controlled study, researchers gave a group of subjects either a control or an allicin-containing garlic supplement for a 12 weeks. The group taking the garlic supplement not only experienced fewer viral infections, but those who did get sick also recovered faster than the control[*].
Parmesan Chicken Wings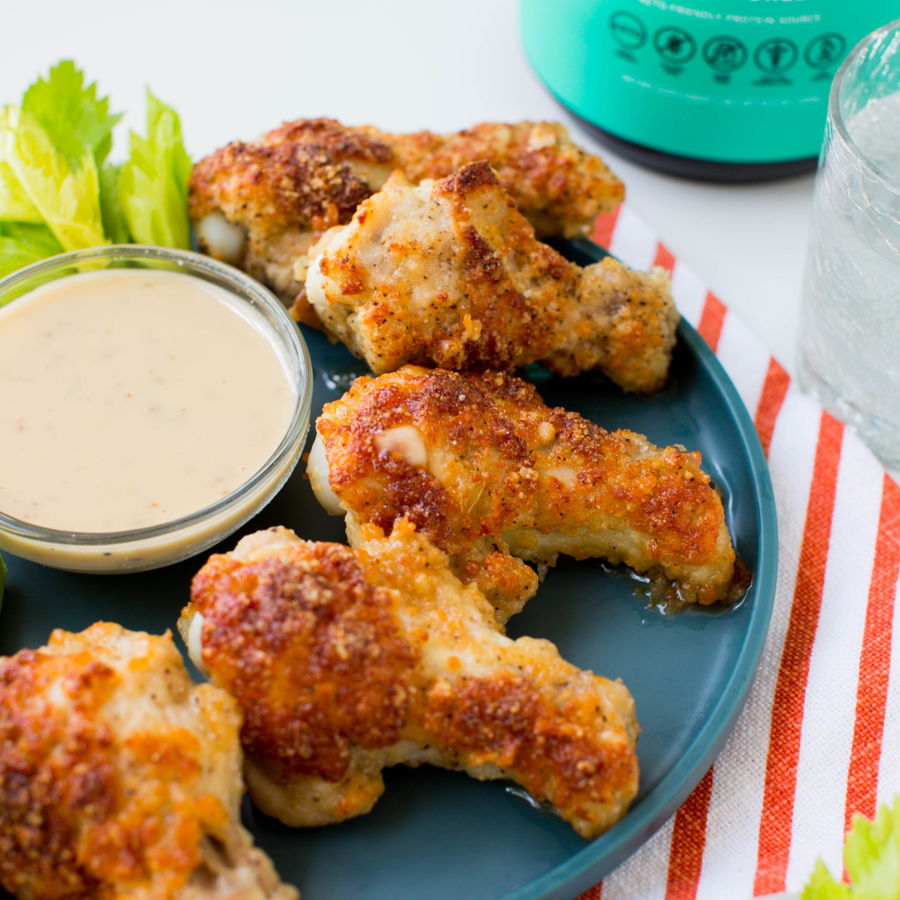 There's no shortage of chicken recipes out there. But if you're looking for the indulgence of oven baked chicken wings without the carbs — this is the best wing recipe around.
These parmesan garlic wings can serve as a base for a variety of different sauces. If you're in the mood for some hot wings, add a little kick to your keto-friendly sauce.
If you're more of a buffalo chicken fan, just add some buffalo sauce and viola — you've got buffalo wings.
You can even make some garlic parmesan sauce to really drive home the delicious cheesy and garlicky flavor that these wings provide.
Are you ready for some baked garlic parmesan chicken wings?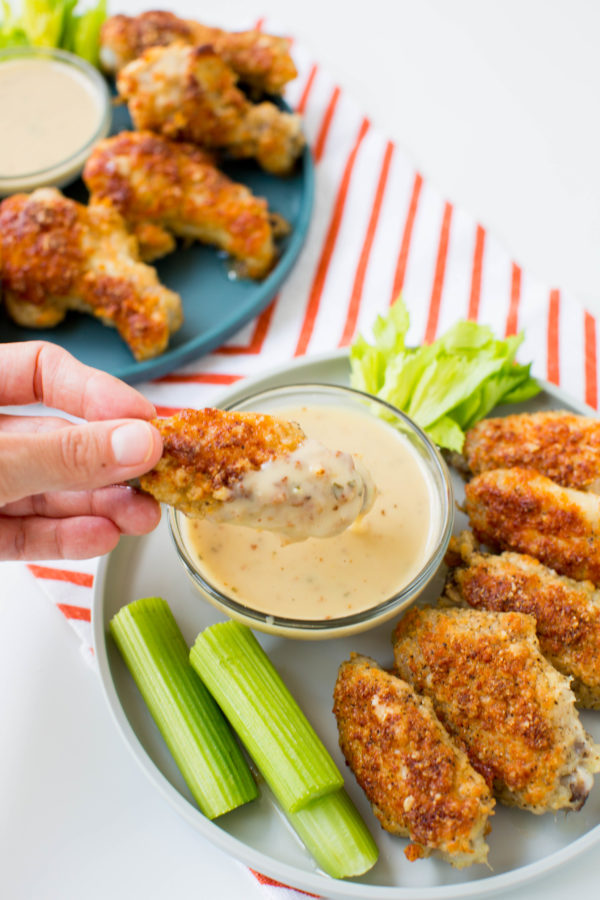 Print
Parmesan Chicken Wings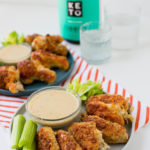 Baked garlic parmesan chicken wings with your favorite wing sauce, this low-carb chicken wing recipe is perfect for game day or any day.
Author:
Prep Time:

10 minutes

Cook Time:

25 minutes

Total Time:

35 minutes

Yield:

4

1

x
Instructions
Preheat oven to 350 F.

In a bowl, mix together the cheeses, garlic powder, sea salt, pepper, and collagen.

Brush the wings with olive oil.

Dip the wings into the cheese mixture and, using your hands, make sure to evenly cover the chicken in the mixture.

Place your wings in a single layer on a baking sheet and bake for 25 minutes, or until chicken reaches an internal temperature of 165 F.

Serve with your favorite keto-friendly sauce and enjoy!
Nutrition
Serving Size:

1

Calories:

674

Fat:

51g

Carbohydrates:

0g net

Fiber:

0g

Protein:

52.5g
Keywords: Parmesan Chicken Wings