Looking for sugar-free patriotic cupcakes for your next Memorial Day or Fourth of July party? You're in the right place.
This patriotic cupcake recipe uses a sugar-free, keto white cake and natural red, white, and blue food coloring to get you in the patriotic spirit — without the toxic ingredients of store-bought white cake mix and sugar-laden frosting.
If you want to add even more color, divide your cake batter and add more natural food coloring to make red batter, blue batter, and white batter. Or, keep things simple and add a pop of color with some red and blueberries.
However you decorate your red, white, and blue patriotic cupcakes, they're sure to be a hit — but not on your blood sugar! These cupcakes are sugar-free and only 2 net carbs per cake.
These red white and blue cupcakes are:
Soft
Comforting
Sweet
Satisfying
The main ingredients are:
Optional additional ingredients:
Natural blue food coloring
Natural red food coloring
Sugar-free cream cheese frosting
Raspberries
Blueberries
3 Health Benefits of Red, White, and Blue Cupcakes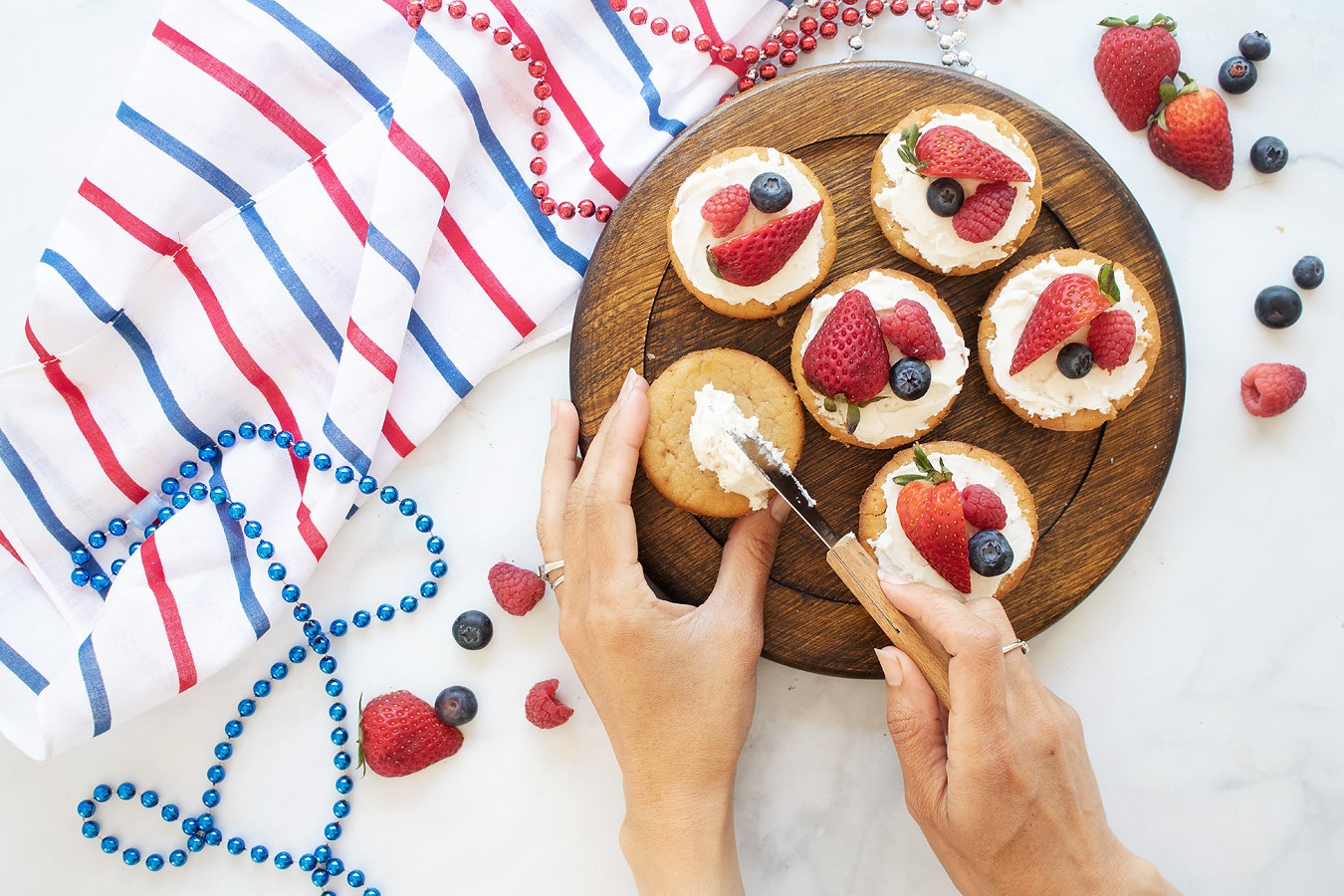 #1: Rich In Omega-9 Fats
Most cupcakes are made with your standard butter or canola oil. While that might be fine for a treat, why not make your cakes with a healthier fat?
These patriotic cupcakes use avocado oil instead — an abundant source of monounsaturated fatty acids (MUFA or Omega-9s). And about 70% of its fat comes from omega-9s.
While omega-6 fatty acids are pretty abundant in the food supply, omega-3s and 9s are a little harder to come by. Some health benefits associated with omega-9 fatty acids include heart health, enhanced insulin sensitivity, anti-inflammatory, and brain health[*][*][*].
#2: Promotes Skin Healing
Nutrition is always a factor in skin health. Getting an array of micronutrients and staying hydrated are essential to keeping your skin healthy and young looking.
But when it comes to supplements, collagen peptides are proven to increase elasticity and keep your skin looking vibrant.
However, recent research is also uncovering collagen's potential skin healing properties. In a study on pressure ulcers (also known as bed sores), participants taking collagen supplements noticed significantly faster healing than the placebo group[*].
That suggests that collagen may help with other types of wound healing and overall skin cell turnaround, which is great news for skin health.
#3: Anti-Inflammatory
The carefully chosen ingredients in these cupcakes make for an indulgent treat that's not just delicious, but equally nutritious.
By eliminating inflammatory foods like processed wheat and sugar, and replacing them with sugar-free and less processed alternatives, you're flipping the script on cupcake nutrition.
As mentioned before, one of the benefits of avocado oil and its rich omega-9 content is it's anti-inflammatory activity[*].
Monk fruit also has a place in the anti-inflammatory spotlight. An antioxidant compound in monk fruit, mogroside, can inhibit inflammation caused by endotoxins (toxins present in bacteria cells). This anti-inflammatory activity was shown in an animal study, with mogroside inhibiting inflammatory response in the ears of mice[*].
Memorial Day Red, White, and Blue Cupcakes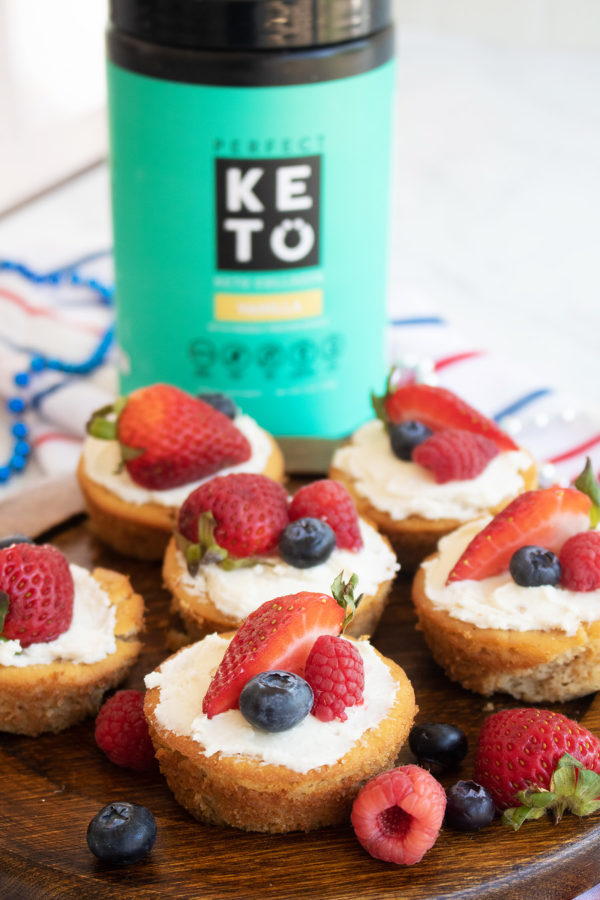 Are you ready to make some delicious patriotic cupcakes?
Preheat your oven and fill your cupcake pan with cupcake liners.
You'll begin by preparing your white cake mix, so gather your ingredients to have them handy.
First, add your dry ingredients to a large bowl: Perfect Keto Vanilla  Collagen, coconut flour, salt, baking powder, baking soda, and monk fruit.
Then, add in your wet ingredients; eggs, milk, avocado oil, and vanilla extract.
Mix well until all ingredients are well-combined into a cake batter. You can mix by hand or use an electric mixer on medium speed.
Once the batter is well mixed, slowly pour it into your prepared cupcake pan. Bake your cupcakes for about 18-20 minutes, or until a toothpick comes out clean when poked through the center.
While the cupcakes are cooking, you can begin on the frosting.
Add the butter, powdered sweetener, and vanilla extract to a large bowl. Using an electric mixer or a standing mixer beat on high until the frosting is light and fluffy.
Add in the heavy cream and beat for an additional one to two minutes.
At this point, if you want to color your white frosting, you can separate your frosting into three bowls and mix in natural colors.
Using a piping bag, you can decorate your cupcakes with your frosting and top with berries of choice.
Print
Memorial Day Red, White, and Blue Cupcakes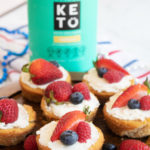 Looking for sugar-free patriotic cupcakes for your next Memorial Day or Fourth of July party? Grab this red, white, and blue cupcake recipe that uses natural food coloring and a keto white cake!
Author:
Prep Time:

5-7 minutes

Cook Time:

18-20 minutes

Total Time:

25 minutes

Yield:

12

cupcakes

1

x
Instructions
Preheat oven to 350°F and line a cupcake pan with paper liners or coat with cooking spray.

Add all ingredients to a large bowl and mix well until smooth.

Pour batter into prepared pan and bake for

25-30 minutes

until a toothpick comes out clean when poked through the center.

Let cool and make frosting by adding butter, powdered sweetener, and vanilla extract to a standing mixer or large bowl. Beat on high until light and fluffy. 

Add heavy cream and beat for an additional 1-2 minutes.

Frost cupcakes and add decorative toppers or berries if desired.
Notes
OPTIONAL: Mixed berries or decorative toppers as decorations
Nutrition
Serving Size:

1 cupcake

Calories:

213

Fat:

21g

Carbohydrates:

4g (2g net)

Fiber:

2g

Protein:

3g
Keywords: red white blue cupcakes