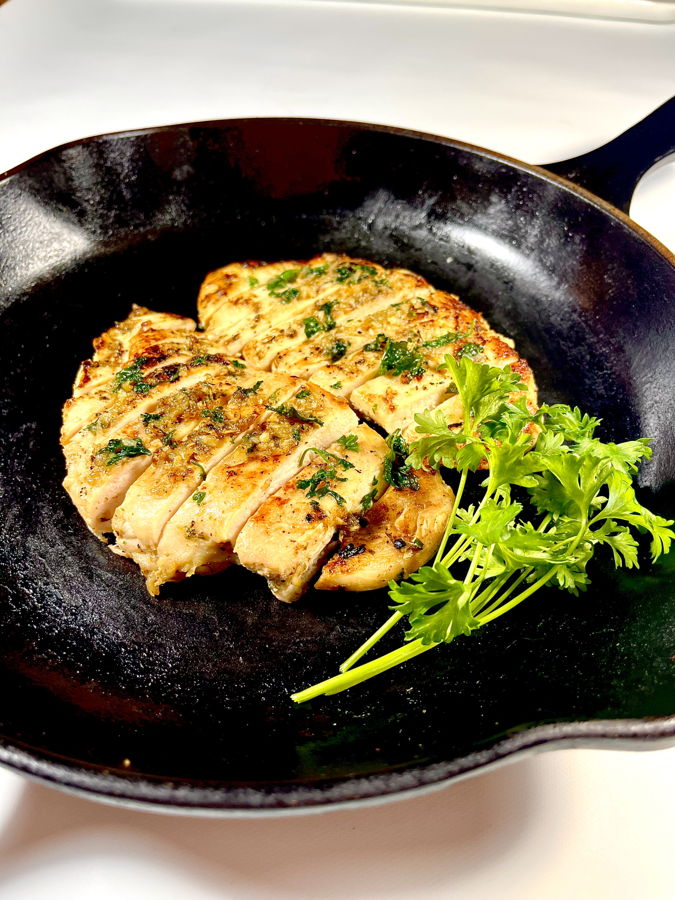 When it comes to keto friendly dishes, there is really nothing like a delicious skillet chicken breast dinner. Because the chicken in this dish is sliced thin, it cooks super fast, making it easy to get to the table in under 30 minutes.
A skillet chicken breast might sound basic when you are trying to have variety in the keto diet, but you can make this protein more appealing by playing around with a variety of innovative spices, oils and fresh herbs to shake things up a bit. The onion salt and buttery garlic mixed with  fresh parsley will definitely make this dish a favorite to whip up in your home.
Skillet Chicken Breast Ingredients
The main ingredients for this recipe are:
Chicken breasts
Olive oil
Garlic cloves
Onion salt
Black pepper
Unsalted butter
Fresh parsley
How To Make Skillet Chicken Breast
To cook chicken breast in a pan you will need two chicken breasts that you will cut horizontally (called a butterfly cut) to make them thinner. This makes it so your skillet chicken breast cooks quickly and evenly! You can also use a mallet or a rolling pin to pound your chicken so it cooks more efficiently.
Next, you are going to season the chicken. A generous dusting of onion salt and a sprinkle of pepper on both sides of the breast is all you need for flavorful chicken breasts.
Then you will set your skillet to medium/high heat and add olive oil. Let that heat up a bit and then add your seasoned chicken breasts. These will cook about 3-4 minutes on each side until they are golden and slightly crispy. The thinner the breasts are, the quicker they will cook. Once you have cooked them on both sides, remove your chicken breasts from the pan and set them aside.
The next step is to reduce the heat on the stove to medium/low and add your butter. Let it melt a little bit, then add your grated garlic and chopped parsley. Stir it in with the butter. Last, return the chicken back to the skillet and be sure to get the garlic and parsley butter sauce all over the chicken. Cook the chicken in the sauce for another minute or until the garlic turns a golden color.
Skillet Chicken Breast Variations
This dish is very versatile and it is easy to adjust the flavors. If you want a spicier chicken skillet recipe, try a chili lime seasoning with cilantro instead of parsley. You could play around with fresh dill or rosemary for something more earthy flavored. Try using oregano and fresh basil for something with more of a mediterranean flare. If you wanted a sauce for this dish, you could create a marinade with olive, coconut, sesame or avocado oil, but it's not necessary for this meal to be delicious.
Skillet Chicken Breast FAQs
How can I tell if the chicken is done?
One way to tell if your skillet chicken breasts are done is to poke or cut into the meat and see if the juices run clear. If the juices do run clear your chicken is fully cooked. If the juices are still a pinkish or red color, the chicken still needs to be cooked a bit more.
The ultimate no fail method is to use a meat thermometer. Insert the thermometer into the thickest part of each chicken breast. The temperature should read 165F. This is the ideal internal temperature of a cooked chicken breast. Cooking your skillet chicken breast over a low heat will help cook it entirely.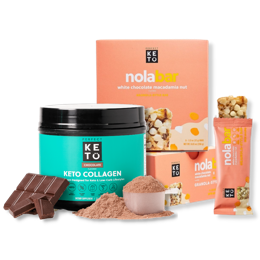 Browse our curated collection of fan-favorites and discover your new favorite snack or supplement.
Shop Best Sellers
Are there any chicken breast alternatives?
If you are looking for a vegan option, tofu, tempeh and seitan are all high protein, low carb and keto friendly. They can also be cooked in many different ways with a variety of spices, oils and fresh herbs.
What is best served with skillet chicken breast?
There are so many options to serve with this skillet chicken recipe. A side of steamed or roasted vegetables is always welcome. Mashed cauliflower would be a great option. Zucchini noodles or a fresh green salad would also compliment this recipe.
How do I store leftovers?
Ideally, you should store your leftover skillet chicken breasts in an airtight glass container. Silicone storage bags are great for these types of leftovers too. This way it will keep in the refrigerator for 4-5 days. If you want to freeze cooked chicken breasts, they can last up to 6 months, but be sure to let them fully defrost in the refrigerator before reheating them. This is ideal to prevent potential food poisoning, and you should only defrost and reheat cooked chicken one time.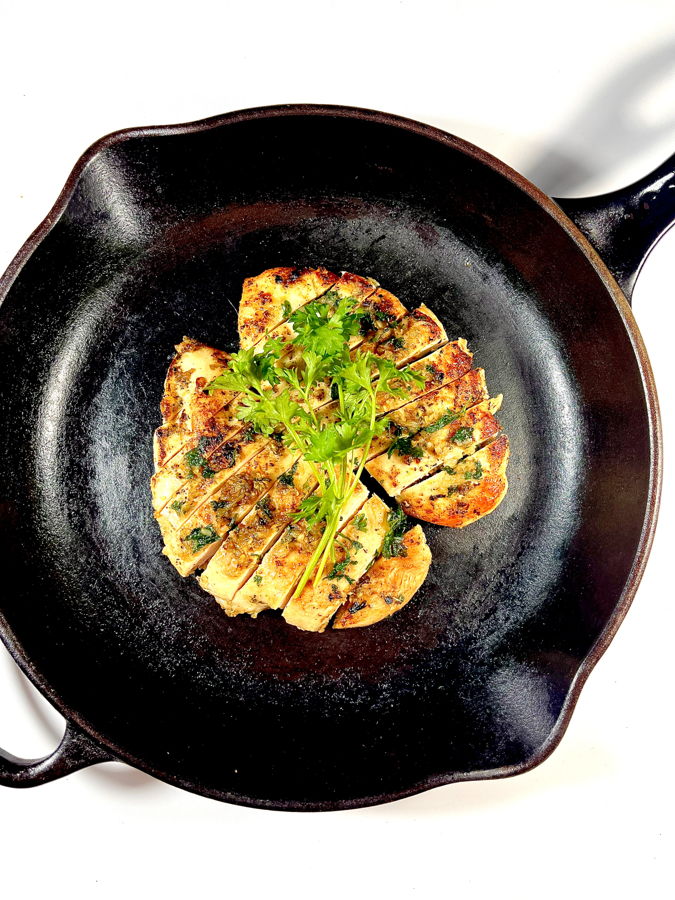 Print
Skillet Chicken Breast
Get ready for a simple, healthy and delicious chicken recipe topped with a fresh garlic and parsley infused butter sauce that is sure to be a hit in your household any day of the week!
Author:
Prep Time:

10 minutes

Cook Time:

10 minutes

Total Time:

20 minutes

Yield:

4

1

x
Category:

Dinner
Scale
Ingredients
2

boneless, skinless chicken breasts, butterfly cut (horizontally)

2 tbsp

. olive oil

1 tsp

. onion salt

4

garlic cloves, grated

2 tbsp

. unsalted butter

2 tbsp

. fresh parsley, finely chopped

¼ tsp

. black pepper

Extra parsley for garnish, optional
Instructions
Butterfly cut two chicken breasts, so you have four thin chicken breasts.

Season with onion salt and pepper on both sides

Heat 2 tbsp. olive oil on medium heat. Add the chicken breasts. Cook for 3-4 minutes on each side. Remove the breasts from the skillet and set aside on a plate.

In the same pan, add the butter. Let it melt a bit and then add the garlic and parsley. Stir it all together for about a minute on low heat.

Add the chicken back to the pan and using a silicone spatula, pour the garlic/parsley butter sauce over your chicken as best as you can. Cook for another minute or two then remove the skillet from the heat.
Nutrition
Serving Size:

4

Calories:

182 kcal

Fat:

14g

Carbohydrates:

1 g

Protein:

12g
Keywords: skillet chicken breast