There's nothing like the classic combination of cinnamon-sugar in a snickerdoodle cookie. But if you're keto, you're likely not pairing cookies with your morning cup of coffee.
That's where keto, low-carb snickerdoodle coffee comes in. All of the cinnamon sugar taste with none of the carbs. Use a whole bean French roast or try Perfect Keto instant coffee for an even easier recipe.
If you're getting tired of plain coffee and cream in the morning, this coffee recipe won't disappoint. You'll feel like you're splurging on a sugary coffeehouse treat in just five minutes.
This coffee snickerdoodle recipe is
Sweet
Spicy
Comforting
Flavorful
The main ingredients are:
Optional additional ingredients:
3 Health Benefits of Snickerdoodle Coconut Coffee
#1: Immune Enhancing
Cinnamon is a fantastic immune-enhancing spice. It acts as an antioxidant in your body, fighting off free-radicals and balancing oxidative damage[*].
It also has anti-inflammatory, antimicrobial, and anticancer activity coming from its volatile oils[*]
Adding cinnamon to your diet here and there is a great way to boost immunity.
#2: Increases Fat Burning
Caffeine is a great pick-me-up, but did you know it can also help you burn fat?
The caffeine in your coffee stimulates your sympathetic nervous system and increases the amount of fat that's broken down in your body.
When a group of volunteers was given either caffeine or a non-caffeinated placebo, the caffeine group showed increased fat oxidation (break down of fat)[*].
#3: Balances Blood Sugar
Monk fruit is an excellent alternative to sugar for several reasons. Unlike sugar, It not only keeps your blood sugar stable, but it also has anti-inflammatory properties.
Animal research has found that one way monk fruit may act an anti-inflammatory agent is by down-regulating genes that can turn on inflammation[*].
Snickerdoodle Coconut Coffee
Everyone likes a little sweet with their morning. Some go for coffee cake, while others may prefer a biscuit, scone, or sugar cookie.
On a keto diet those sugar-laden, carb-heavy extras take the backseat. But if you're in it for the long-haul, you have to come up with ways to get your kicks without getting kicked out of ketosis.
This snickerdoodle coconut coffee is the perfect solution, and with a prep time of only five minutes, you'll be sipping on this delightful beverage in no time.
So gather your dry ingredients and get your coffee brewing — you're in for a treat.
This recipe is meant to be made with BODIED Keto Coffee.
Start by heating up 8 ounces of water over the stove or in a tea kettle. Once your water is nice and hot, add the instant coffee and stir until fully dissolved.
Grab your coconut cream, monk fruit, and cinnamon from your cabinet. Add three tablespoons of coconut cream into your hot cup of coffee.
The coconut cream gives this recipe its smooth and rich mouthfeel. Cover and refrigerate the rest of your coconut cream, and you can use it for the same recipe tomorrow.
Add two teaspoons of monk fruit (or to taste), and 1/4 teaspoon of cinnamon to your coffee. Option to add cardamom and nutmeg as well.
Add the coffee and cream mixture into your high-speed blender and blend on high until all of the ingredients are thoroughly mixed.
If it's your first time making this recipe, take a sip and see if you need to adjust the spices or cream.
The recipe is best served hot, but you can also let it cool to room temperature and add in some ice for a snickerdoodle coconut coffee frappucino.
This coffee goes great with some gluten-free, keto chocolate chip cookies.
Print
Snickerdoodle Coconut Coffee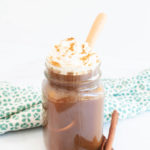 Coffee that tastes just like snickerdoodle cookies? Yes, please! Pair ground cinnamon with hot or cold brew for a dairy-free cinnamon sugar taste that won't mess with your blood sugar.
Author:
Total Time:

5 minutes

Yield:

1 cup

1

x
Instructions
Add all ingredients to a high-speed blender and mix on high until smooth. Serve hot with a pinch of cinnamon if desired. Or add ice and blend for a snickerdoodle coffee frappuccino.
Nutrition
Calories:

183

Fat:

16g

Carbohydrates:

6g (5g net)

Fiber:

1g

Protein:

2g
Keywords: snickerdoodle coffee